Want to teach your kids to cook? With a little bit of planning and some creativity, you can have your own kids cooking camp at home this summer!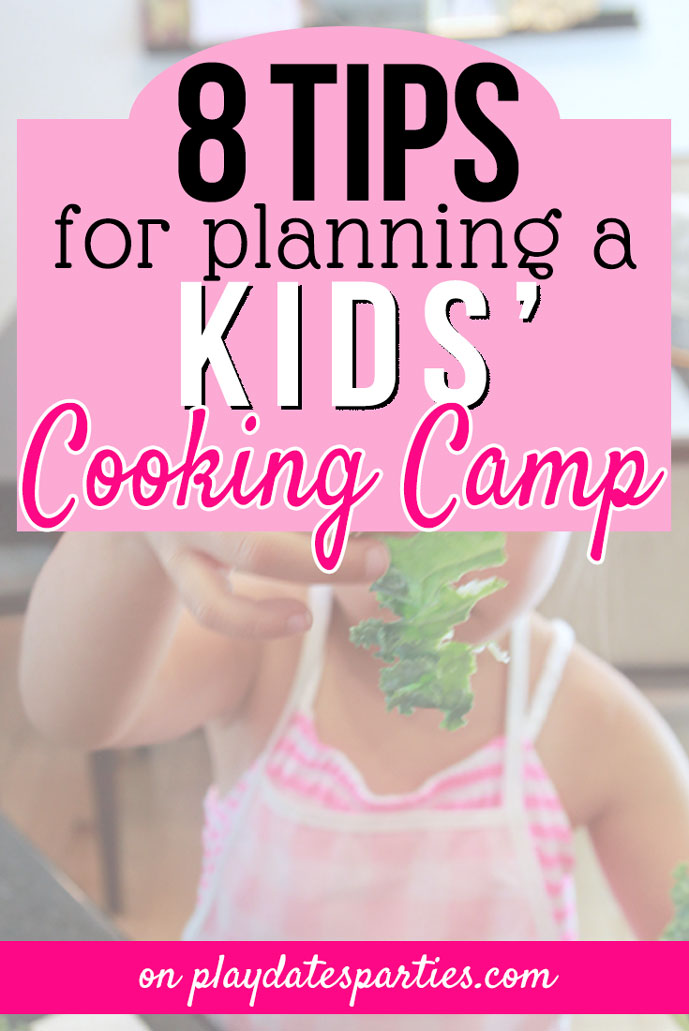 It's time to start thinking about what to do with the kids over the summer.
I know, I know, it's only April. But I just checked my calendar and summer break is less than 10 weeks away.
That realization may have caused us a bit of panic.
Last summer I spent several weeks with my oldest for the first time since she was born. We started with the best of intentions, planning a summer full of memories.
Thanks to pregnancy, most of those plans went straight out the window.
But we were sure to check off at least one item on our list: we turned one special week into kids cooking camp at home.
Not only did we live to survive it, but we both had a lot of fun! She's even asked to have another at-home kids cooking camp this summer.
And all it took to make kids' cooking camp a success was a little bit of planning and some creativity.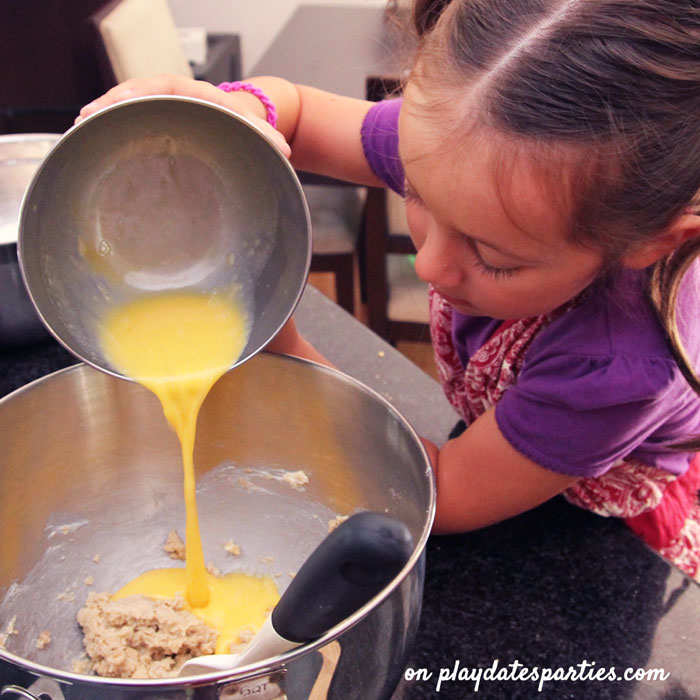 8 Tips for the Best Kids Cooking Camp at Home
1. Let the kids help choose the recipes
I still remember my first cookbook and how I would make recipe after recipe for my family from it.The Husband even has a few of his old kids' cookbooks.
Purchase or find an old kids' cookbook for the two of you to browse. Or just search the internet…it's full of kid-friendly recipes.
2. Think beyond the kitchen
We started each day by watching one or two YouTube videos of kids cooking shows. The videos are usually very short, but it was fun to spend time together finding our favorite kids' cooking channels and seeing what other kids were making.
I also think that seeing other kids being successful in the kitchen gave my daughter the confidence that she could do these things too.
4. Create a theme for each day
We had open-ended daily themes for each day of the week last summer. These themes got incorporated into cooking camp, and really made us get creative!
5. Know your child's maturity level
Toddlers and little kids can help with measuring, simple stirring, and assembling platters.
At age 5, my daughter was ready to use a paring knife, learn how to crack eggs, and how to work the oven.
Now that she's 6, she can move up to using things like a utility knife and placing items carefully in the oven. Each child will be different, and it's up to you to know your child's limits.
6. Sneak in some learning…but don't push it too hard
Cooking is a combination of science and artistry.
You can always reinforce addition and fractions when measuring out ingredients. But don't be afraid to take it further.
Find a recipe or two that involves a clear chemical reaction (this lavender lemonade recipe is a fun one), take a field trip to a farm, or to a local factory that offers tours.
6. Let the kids cook at least one meal on their own.
Our original plan included a meal completely prepared and cooked by our 5-year-old on the last day of our camp.
Then the Husband got her excited and she ended up picking out a grilled whole fish recipe to cook for the family.
Clearly, that included quite a bit of parental involvement, but she did everything she could. There are plenty of meals that kids can make, including salads, sandwiches, and some pizza recipes.
7. Don't forget the basics
Every time we got started cooking I remembered to emphasize cleanliness and safety:
Wash hands,
pull long hair back, and
don't be silly with the knives.
8. Have fun!
Add in a few extras just for fun. Colorful kitchen equipment (I've been eyeing some fun measuring spoons, and a brightly colored whisk) and kid-sized aprons and chefs hats turn cooking into creative role-playing, too!
The End Result
Unfortunately, a family emergency cut kids' cooking camp short last year. But our little camp sparked a love of food in our now 6-year-old.
Seriously, this kid now asks to be involved in everyday cooking and is willing to try just about any food at least once.
Now It's Your Turn
Teaching kids to cook doesn't have to be daunting. Start your own kids cooking camp at home during your next break and see just how much fun it is!
Don't forget to take a look at recipes to make with your kids right here on the blog, or on my Kid-Friendly Recipes Pinterest board:
How do you get kids involved in the kitchen?
What is your favorite kid-friendly recipe?
More Recipes and Tips for Cooking with Kids:
[pt_view id="4c6c957391″]
Subscribe via
Bloglovin, Facebook and Twitter
to get more updates!
SaveSave