"Abstinence from meat, or from some other food as determined by the Episcopal Conference, is to be observed on all Fridays, unless a solemnity should fall on a Friday." (Catholic Code of Canon Law)
Oops. Here I was, like most other Catholics in the country, thinking that abstaining from meat on Fridays was just a Lent thing.
Whether you're Catholic or not, eating meatless meals once a week is good for a number of reasons. Regularly going vegetarian saves money, reduces saturated fat, and encourages creativity in menu and meal planning.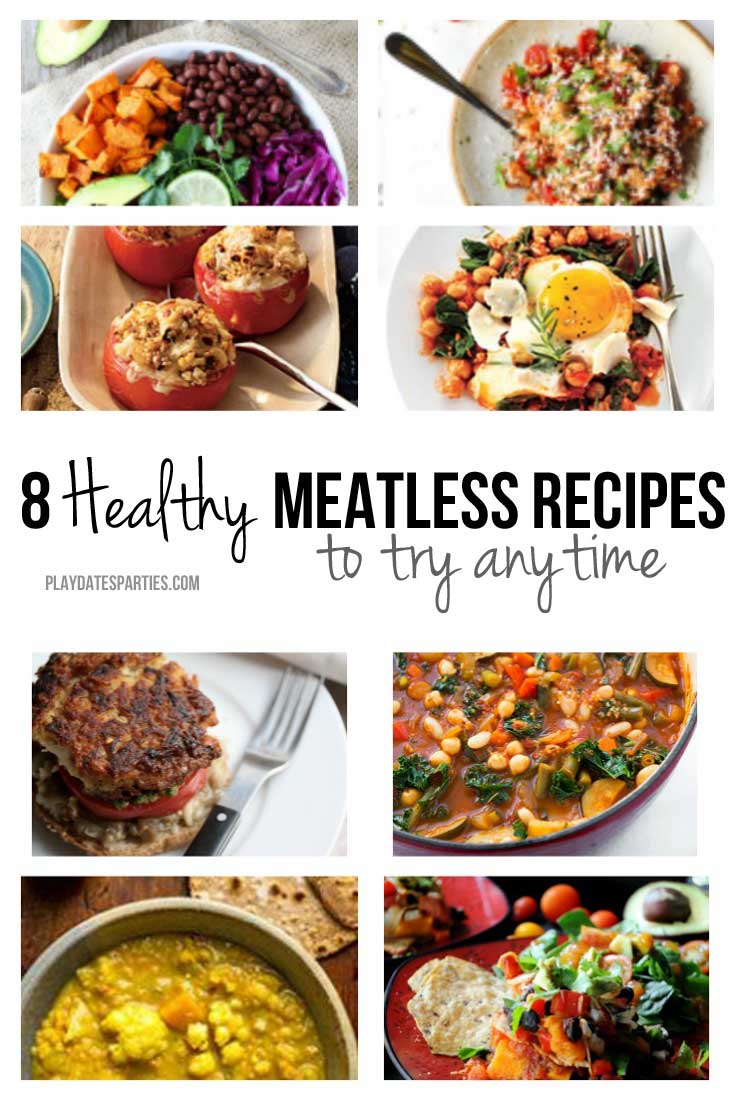 That said, finding a variety of tasty and healthy meatless meals is often a challenge for our family (Lent or not).  Let's face it, Friday nights are tired nights…after 5 days of getting up early and staying up late, I'm ready to go home and go to bed.  Sure, it would be easy to just turn Fridays into pasta nights, but that gets old fast, and it's really not healthy on such a regular basis.
So, in honor of Ash Wednesday, the next seven Fridays, and apparently the rest of the year, here are 8 healthy meatless meals to spice up everyone's menu.
1.  Asiago White Beans with Farro, Kale, and Tomatoes – From Pinch of Yum

Mmmmm.  I love farro, and this meal should be hearty enough for the Husband with the white beans.  I just hope I could get the beans and kale past both kids.
2.  Kale and Quinoa Minestrone – from Cooking Classy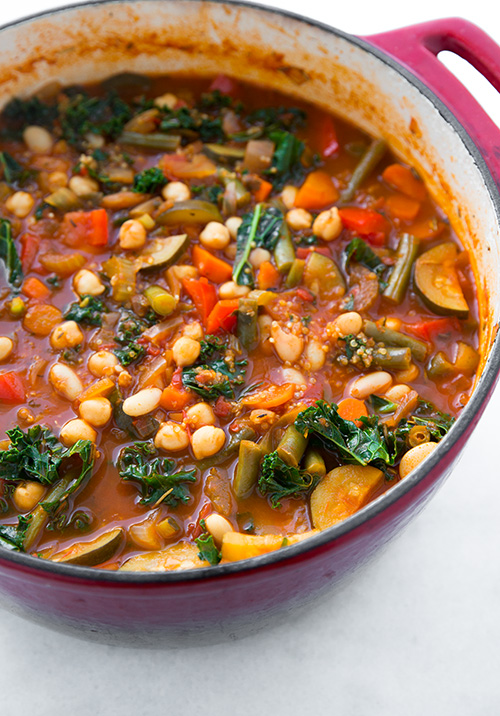 There's nothing like hot soup on a cold winter night.  And I don't see winter ending anytime soon here on the East Coast.  This very well may show up at our dinner table by early March.
3.  Eggs with Chickpeas, Spinach, and Tomato – from MyRecipes.com
My kids love eggs.  No, seriously.  We're the family with two gallons of milk and nearly three dozen eggs in our fridge on most weeks.  They're just such a versatile and inexpensive source of protein.
4.  Sweet Potato and Black Bean Mexican Salad – from Two Peas & Their Pod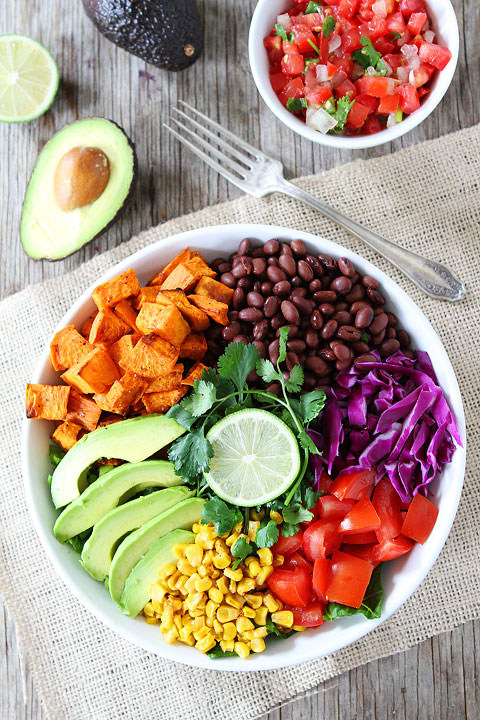 I love how pretty this salad is…and that each ingredient is in its own section. This is perfect for families with picky kids who will eat only a few things.
5. Winter Vegetable Dal – from Eating Well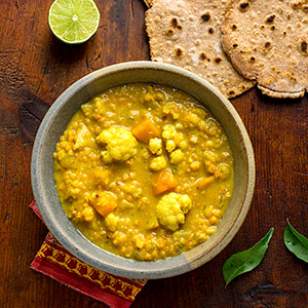 The Husband fell in love with Indian food at his last job.  Every Lent since then he asks for me to make Dal.  This recipe looks really tasty, and like a fun break from our normal flavors.
6.  White Bean Burgers – from Big Girls Small Kitchens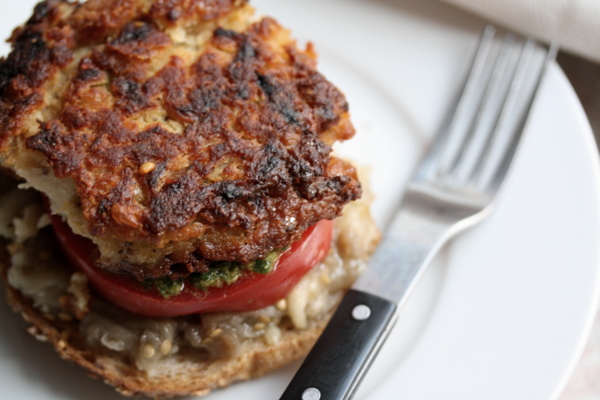 I don't typically like vegetarian burgers (you just can't get a firm patty with vegetables), but the eggplant spread that goes with this burger is intriguing!
7.  Sweet Potato Black Bean Casserole – from Hungry Healthy Girl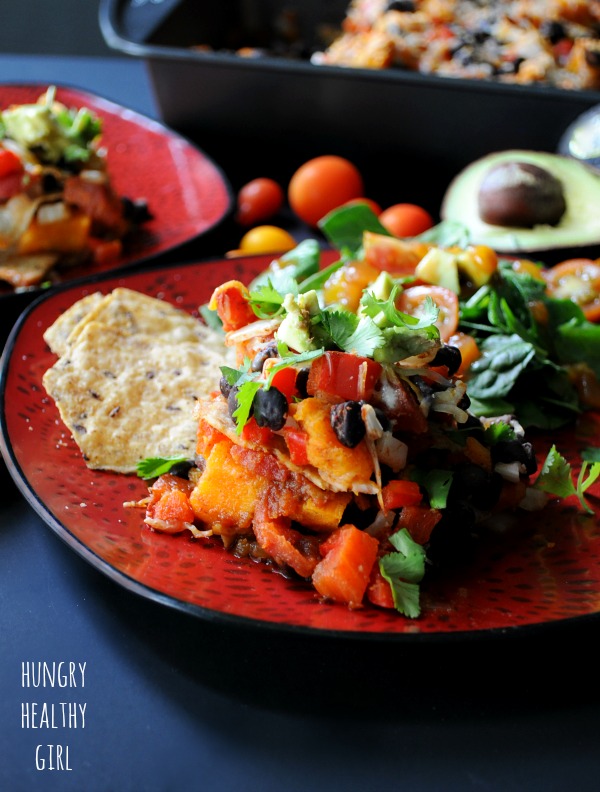 Some nights you just need to be able to shove a casserole in the oven and relax while dinner's cooking.  I don't think anybody in my family loves sweet potatoes as much as I do, so this would definitely be a meal for me!
8.  Baked Tomatoes with Quinoa, Corn, and Green Chiles – from MyRecipes.com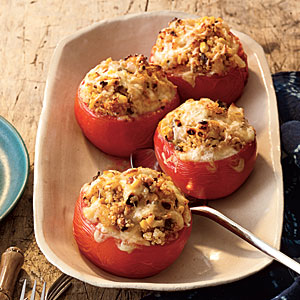 We love to grill whole tomatoes in the summertime.  Obviously, that won't work as well in the winter, but baking the tomatoes with Quinoa could be a fantastic way to get a good bit of protein straight from a vegetarian meal.  And just think of all the delicious things you could do with the leftovers!
Do you eat vegetarian on a regular basis?
What are your favorite healthy meatless meals for a family?