Who says pasta has to be off-limits?! This kid-friendly and healthy pasta sauce recipe is full of vegetables without any added sugar.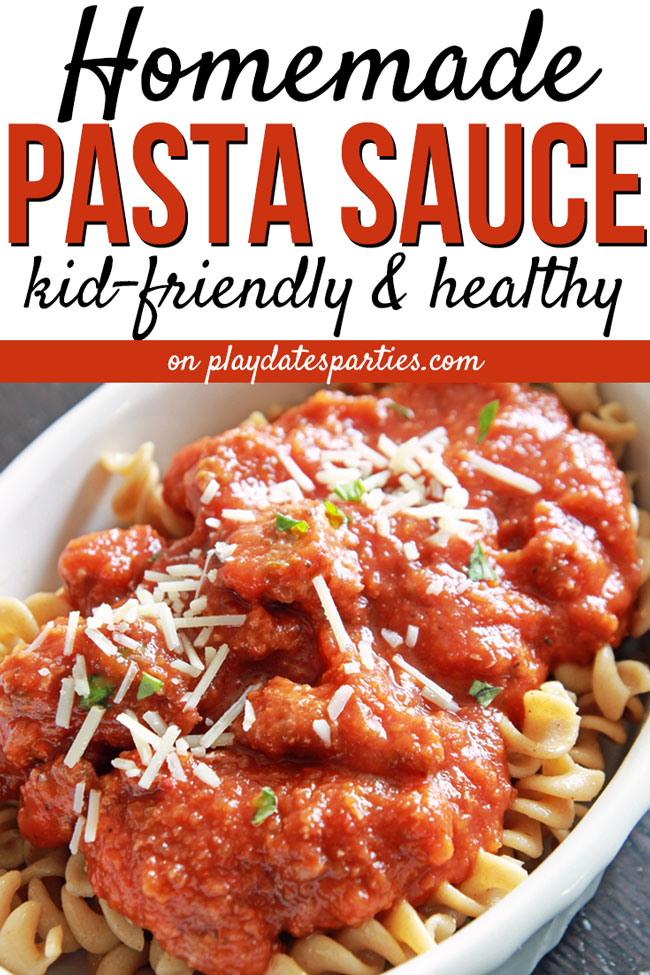 I know, I know. Pasta isn't generally considered "healthy". But hear me out on this one, okay?
We're in the trenches of the winter months here in Maryland. It's wet, gray and dreary most days. It's cold enough to chill you to your bones but doesn't have the decency to snow enough for the kids to really go out and play in it.
These are the days I long for comfort food. And for me, comfort food is pasta.
I grew up with 'pasta night' every Wednesday. My father would take a whole Saturday to make a giant pot of the family recipe that would later turn into spaghetti with meatballs, lasagna, and stuffed shells.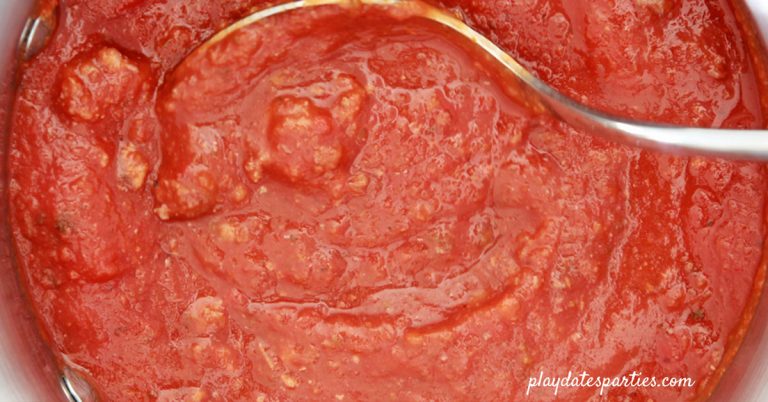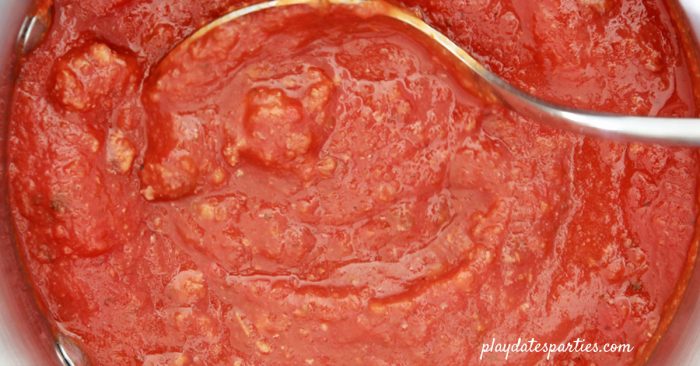 Sadly, he's never shared his secret recipe with me…even after plenty of begging.
BUT, aside from plenty of seasonings, what I remember most is that the family sauce required a good bit of sugar to balance out the acid in the tomatoes. That's definitely not healthy.
Years ago, I bought a copy of the book Cook Once a Week, Eat Well Everyday. Aside from how it changed the way I look at leftovers, it gave me the basis for what would become my go-to healthy pasta sauce.
The Best No Sugar Homemade Pasta Sauce Recipe
I don't think you can call any well-flavored meat-based pasta sauce healthier than this. It's all about the vegetables. And, instead of adding sugar to balance out acidity, it uses a super secret vegetable…
mashed winter squash.
Yes! Squash in pasta sauce!
The natural sugars in the squash are a fantastic counterpoint to the tomatoes while adding a few extra vitamins and some fiber.
After some research, I also found that draining and rinsing higher fat content ground beef can significantly reduce the saturated fat content.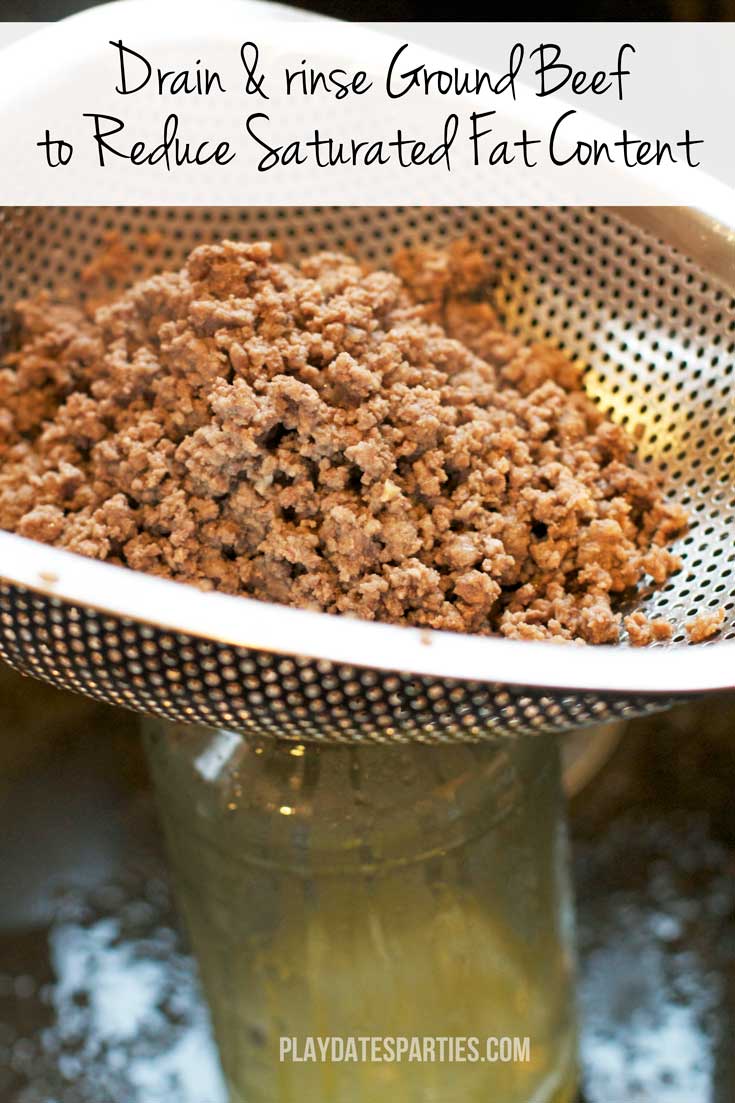 Fair warning, though: doing this can reduce some of the ground beef flavor, which I balance by cooking the beef in the stockpot that is going to hold the sauce.
Cooking the vegetables in the small amount of remaining beef fat avoids the need for any additional fats and also imparts a bit more of the beef flavor into the sauce.
This is our family's favorite sauce to gobble up on pasta night. Honestly, I'll even eat the sauce by itself with a spoon sometimes. (Don't tell the kids)
What you'll need
This recipe makes a triple batch, which is perfect for preparing LOTS of different pasta recipes to freeze for busy weeknights. So get your things together to make it as easy as possible:
Colander or sieve (I like to use the insert from an over-the-sink cutting board, similar to this one)
Empty jars for draining beef fat
Homemade Pasta Sauce Recipe
Yield: 24
Healthy Homemade Pasta Sauce Recipe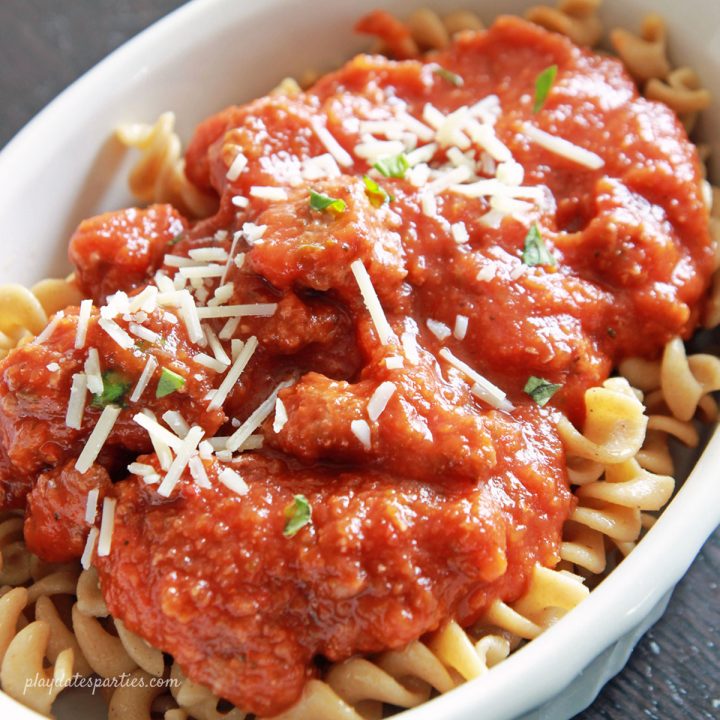 Who says pasta has to be off-limits?! This kid-friendly and healthy pasta sauce recipe is full of vegetables without any added sugar.
Cook Time
2 hours
30 minutes
Total Time
2 hours
50 minutes
Ingredients
1 pound ground turkey with Italian seasoning
2 pounds lean ground beef or ground turkey breast
3 onions, diced
8 carrots, diced
3 bell peppers, any color, seeded, cored and diced
3 cloves garlic, minced
3 T Italian seasoning
1 T fennel seed, optional
3 packages frozen mashed winter squash
3 26- oz cans tomato sauce
1 12- oz can tomato paste
1 bottle red wine, I prefer something bold like a Cabernet
Instructions
In a 12 quart stockpot, brown meat over medium-high heat. Remove from stockpot. Drain meat in a colander or sieve, and rinse if desired.
Cook vegetables over medium heat until soft, starting with the carrots, then bell peppers and finally onions. (This allows the firmer vegetables to soften without burning the onions, which are more tender). Add garlic and Italian seasoning and cook until fragrant; about a minute.
Add squash and heat through. Add tomato sauce, tomato paste and wine. Using an immersion blender, puree the sauce until smooth. Add fennel seed (if using) and return ground meat to the pot
Simmer for 2 hours on low. Enjoy with high-fiber pasta or spaghetti squash.
Notes
This recipe is for a triple-batch of sauce, made to fit in a  12-quart stockpot
To store for later use:  Let mixture cool completely.  Spoon about 5-6 cups into a gallon-sized bag and freeze flat.  (Note:  Each 5-6 cup portion feeds our family for two meals with some additional leftovers)
Nutrition Information:
Yield:
24
Serving Size:
1 grams
Amount Per Serving:
Unsaturated Fat:

0g
Now, It's Your Turn
Seriously, this pasta sauce is the BEST. Anytime we stray with jarred sauce, it's just not the same. But, it's not just the flavor that makes it awesome:
It's loaded with vegetables
You can limit saturated fat by rinsing the beef (if you want)
There is no added sugar, and
It's totally kid-friendly, for even the pickiest eaters!
Let's just call this a winner, winner, pasta dinner!
What is your favorite comfort food?
Do you have any tips for making your favorite comfort foods healthier?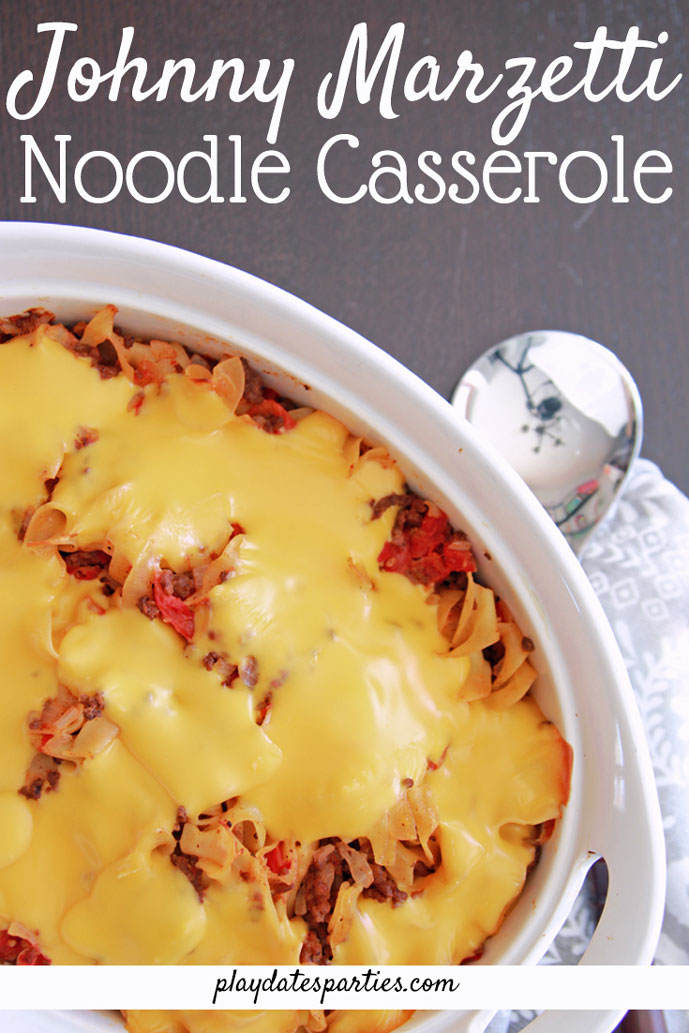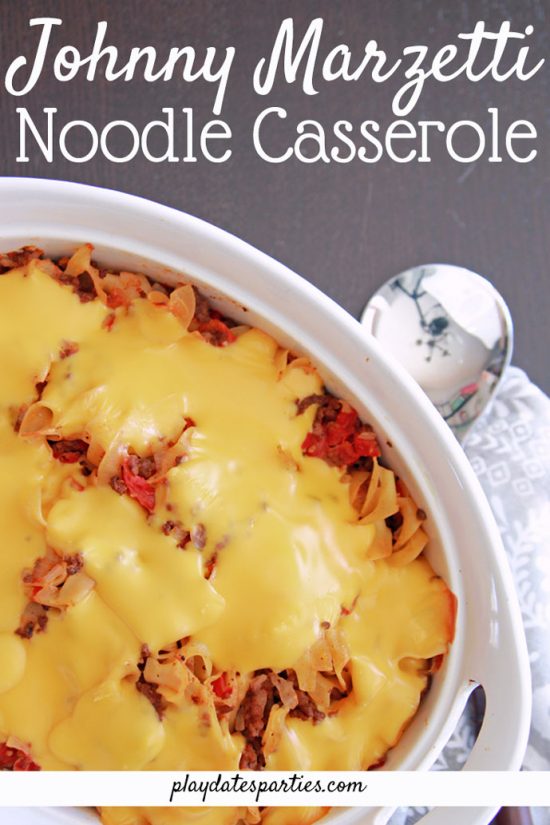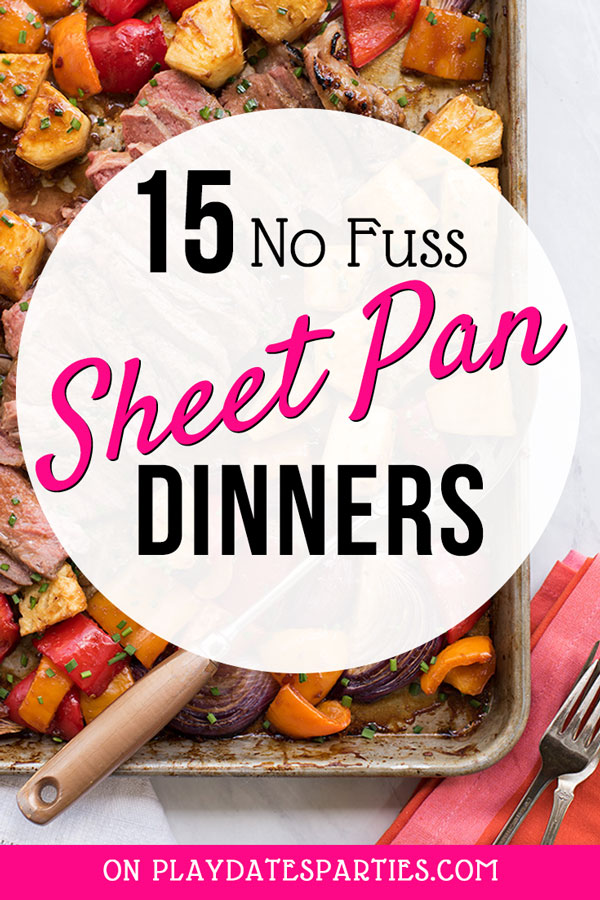 Subscribe via
Bloglovin, Facebook, and Twitter
to get more updates!
SaveSave