Creating a kitchen design plan is stressful anytime. Find out how to make last-minute decisions and catch the first week of kitchen renovation progress!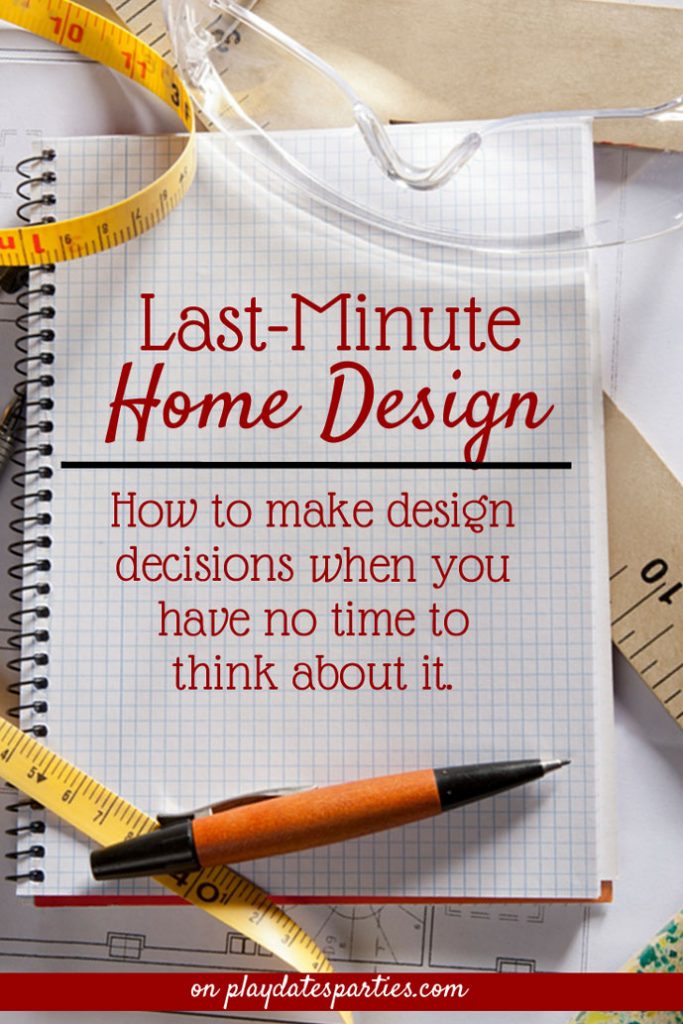 This post may contain affiliate links for your convenience. I am a participant in the Amazon Services LLC Associates Program, an affiliate advertising program designed to provide a means for this site to earn fees by linking to Amazon.com and affiliated sites.
Last week, I explained why we're renovating our kitchen for this round of the One Room Challenge-even though we had no plans to do so.
And although we knew something was going on as early as Father's Day, we ended up having to make decisions for our new kitchen design almost as soon as we realized a full gut and renovation was headed our way.
Which means I didn't have time to put a proper design plan in place.
That's just not a good place to start. Having a good design plan helps you keep the overall design consistent, and makes decision-making for those inevitable last-minute pop-up challenges so much easier.
BUT, there is a little secret to having a design plan in place, even when it's not as formal as the design plans I created for our linen closet storage or our modern boho master bedroom.
In fact, just like me, you may have been creating virtual design plans without realizing it.
You see, our family loves to visit model homes on the weekend. And I love to pin images of home designs that catch my eye.
As it turns out, those inspiration photos are a great way to come up with an on-the-fly design plan.
In fact, I even sorted through the pins and created a special board JUST for gorgeous kitchen inspiration. Take a look:
Almost all of those images were pinned before we ever had any idea that we were going to do a renovation. And as you can see, there are several common themes throughout the designs.
Which means I already had an idea of what I wanted before we even had to renovate.
Thank goodness for that, because we had about 3 days to pick out ALL THE BIG ITEMS, like cabinetry, tile, and counters.
Remember, we were dealing with getting estimates for contractors and juggling insurance concerns. There was no time to waste.
As we left to pick out our finishes, I was confident. I spent nearly 10 years longing for a kitchen worthy of entertaining. And I walked right into the showroom ready to tell the sales consultants exactly what I wanted:
Our Initial Kitchen Design Plan
Full height white shaker cabinets
Butcher block countertops along the perimeter
The backsplash carried all the way up to the ceiling surrounding the window.
Dark quartz or granite on the island
Upper and lower cabinets in the awkward open space next to the refrigerator
Stainless steel appliances
White subway tile in a herringbone pattern, completely surrounding the window and up to the ceiling.
And all of that was pretty much figured out by looking at what images I'd saved throughout the years and quickly noticing the common themes.
Score one for being a dreamer!
That said, if you've ever gone through a kitchen remodel, you probably know what happened when I actually walked into the showroom.
But you'll have to wait until next week to find out what really happened to our kitchen design plan, and what I did about it.
For now, let's take a look at the first week's progress…
6-Week Kitchen Renovation: Week 1 Progress
It's incredible to see how much progress can be made in just one week. Here's a quick video of all the progress, and a quick run-down of all the day-to-day action!
Day 1: Clear Out and Preparation
Last Wednesday was all about clearing out our kitchen and getting ready to be without a fully functioning kitchen for the next several weeks. Including:
Finding recipes that don't need a microwave or oven.
Spending about 2.5 hours preparing 12 freezer meal packs to cook in our

crock

pot

or on our

charcoal

grill

.
A last-minute run to the hardware store for a large pack of banker's boxes to pack up our kitchen cabinets.
It took us nearly 20 bankers boxes, 3 storage tubs, and until 4:30 am to get ready for the first day of demolition. Talk about exhausting.
Day 2: Demo Day 1
Our contractor met us in the morning to go over the plan and the general timeline. Then, he and two others got to work:
Laying down cardboard to protect our hardwood floors and plastic sheeting to reduce dust build-up
Moving appliances out of the way
Removing half of the cabinets
Day 3: Demo Day 2
A much larger crew arrived today to complete a full demo of the kitchen. I also got our first big hit to the budget: our electrical isn't up to code. (Why is it that electrical is always the first to go wrong?!) At the end of the day:
All of the appliances were removed from the house
All of the cabinets were removed
Four new electrical circuits were identified to bring the kitchen up to code.
Days 4 & 5 – It's the weekend!
Day 6: Plumbing and Electrical
I don't know why it took me by surprise how loud cutting those pipes would be. Our poor 2-year-old was scared by the noise, though, so we took a field trip for a special project.
I took the 2-year-old to a salvage yard to find wood for shelving. It was so much fun wandering around and seeing all the cool pieces!
Plumbing removal was started.
The electricians had already started preparing to add the extra circuits to our panel (meaning yet another room was getting dusty)
We moved out to a hotel until the water was safely turned back on.
Day 7:
I didn't make it to the house until midday, but was delighted to find that all the plumbing was completed. Yay! Plus, my contractor is awesome.
Interior plumbing and insulation is done.
The light switches are moved to a new wall
A new electrical outlet was added to the command center area (that's two outlets total)
There you go. One week in, I'm already tired of living in a hotel, and can't wait to move back in a few days!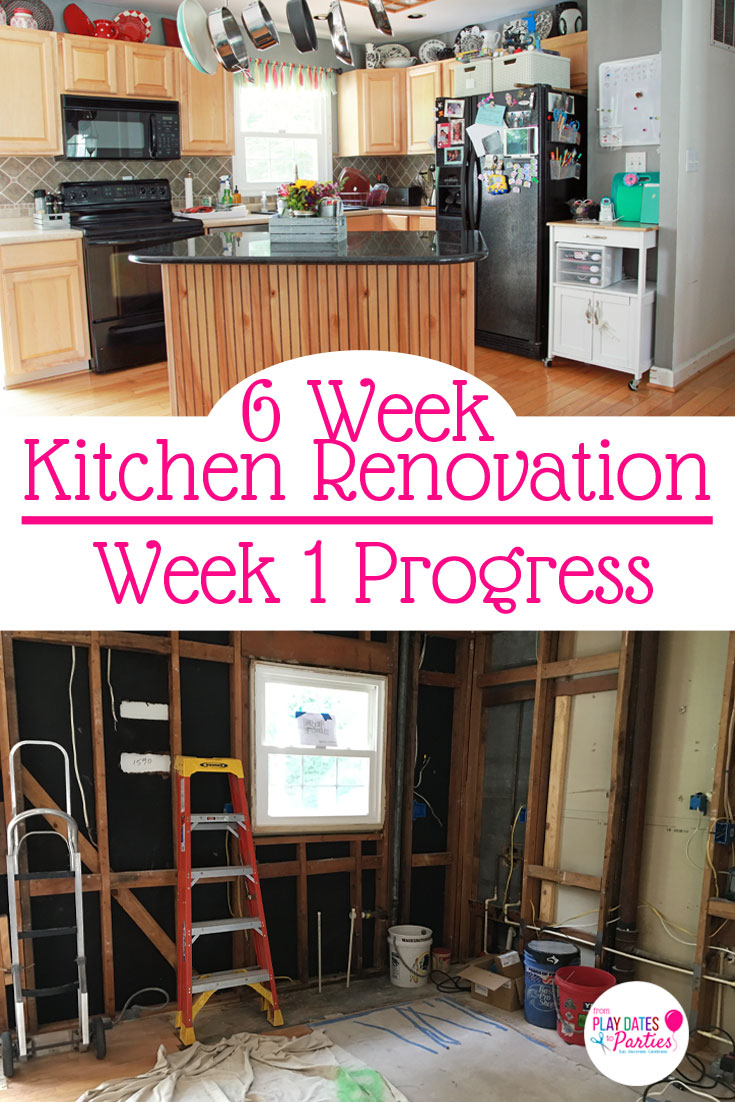 Don't forget to head on over to Calling it Home to check out the other fantastic One Room Challenge progress!
See the Rest of the Renovation:
SaveSaveSaveSave
---
I want to extend many thanks to the readers who have enjoyed renovation and home DIY posts over the years. Unfortunately, in January 2018 I was diagnosed with Stage II breast cancer and had to stop doing home renovation posts due to treatment.
Since that time, my focus has been on making this website an amazing resource for the everyday mom's parties. Due to their popularity, the DIY posts and tutorials will remain on the website, but comments are now closed. Thank you again and I wish you the best in your DIY endeavors!