We never planned to take on a 6-week kitchen renovation, but it's happening. Follow the ups and downs of gutting and replacing a kitchen in only 42 days!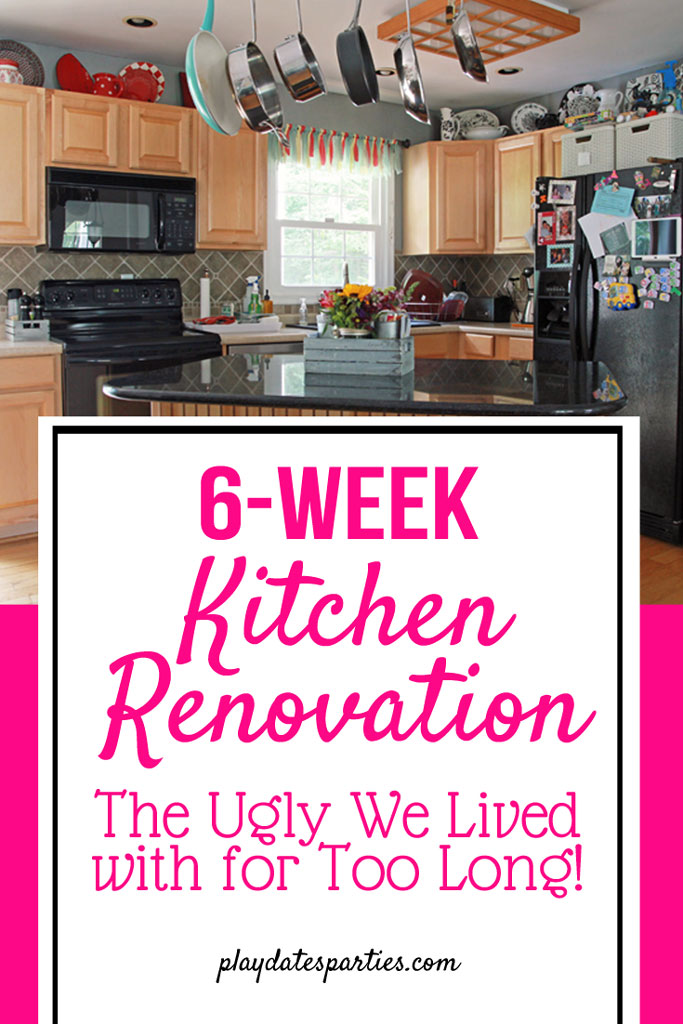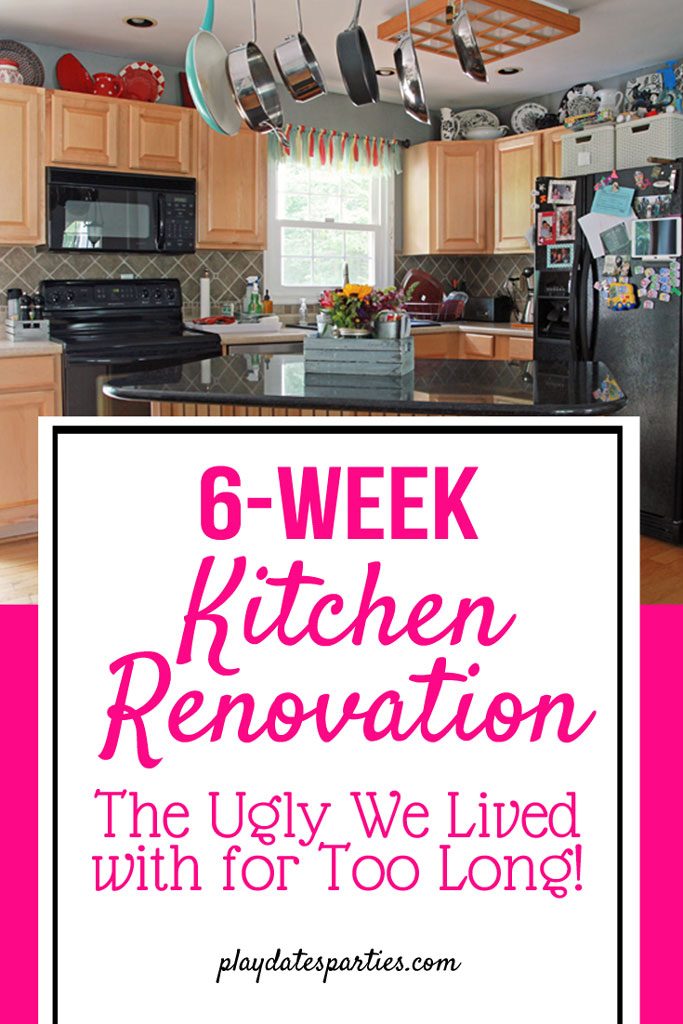 We noticed it on my husband's birthday. The slow drip-drip-drip of water leaking out of the ceiling in our family room…right below the kitchen sink and dishwasher.
Just weeks before, I had finished renovating our Master Bedroom for the One Room Challenge. It was so exhausting that the husband made me promise I would take a break from the One Room Challenge in the fall.
But…drip, drip drip.
At first, we hoped it was something simple. Maybe the dishwasher we love was malfunctioning and not draining properly. Or perhaps a pipe needed tightening.
I frantically sent a midnight email to our contractor/handyman about the leak, and prayed that it wasn't something worse.
In the meantime…drip, drip, drip went our ceiling.
After multiple visits between handymen and plumbers, we found out the horrible truth: that leak wasn't a sudden incident. A tiny leak in the wall behind our kitchen cabinet must have been going on for some time, and it wasn't until the pipe completely cracked that we realized what was happening.
And that was just the beginning…it turns out our 1960s plumbing is failing throughout the house.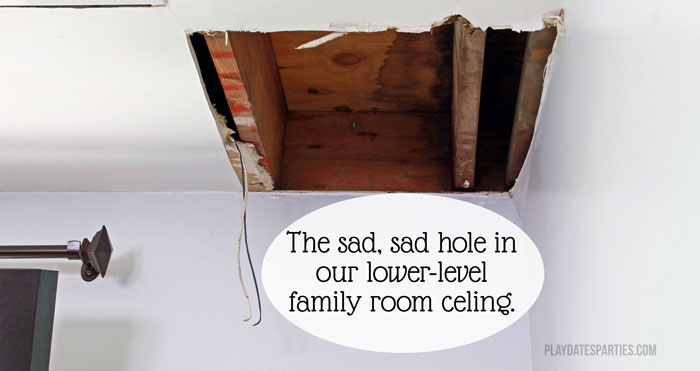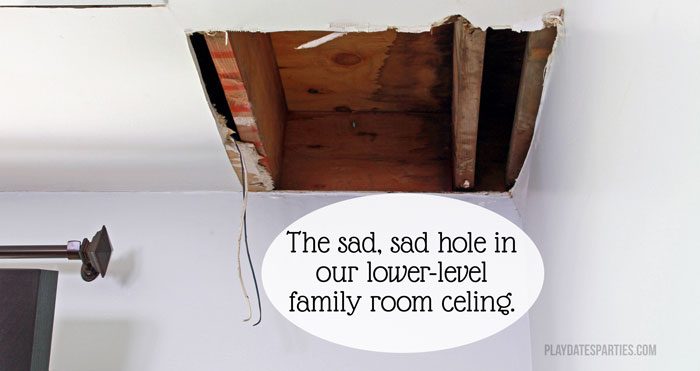 So, we had to make a decision.
We could fix just the leak and dry out the cabinet, hoping that no more leaks would happen, or we could be proactive and replace all the plumbing.
I don't know about you, but I'm not interested in finding any more drip, drip, drips in our house.
Not only that, but the bathroom just below the kitchen is in desperate need of a complete renovation. I can't bear the thought of sinking money into a new bathroom knowing that the pipes just above it could fail and ruin all that work.
So…we're taking on a 6-week kitchen renovation for this Fall's One Room Challenge.
And, yes, between figuring out the problem, discussing insurance issues, getting estimates, figuring out the design, and getting everything ordered…it's taken us this long to get started.
Not that the kitchen is in much better shape than the bathroom below. It wasn't until we committed to the kitchen renovation that I realized just how bad it is. Take a look for yourself.
Our 6-week Kitchen Renovation | The Ugly Before: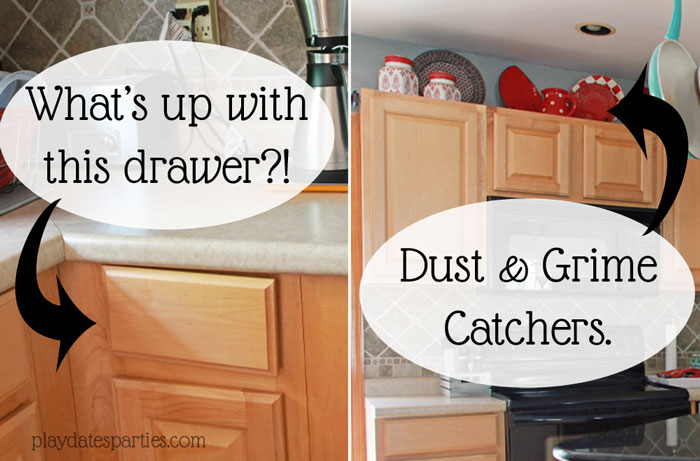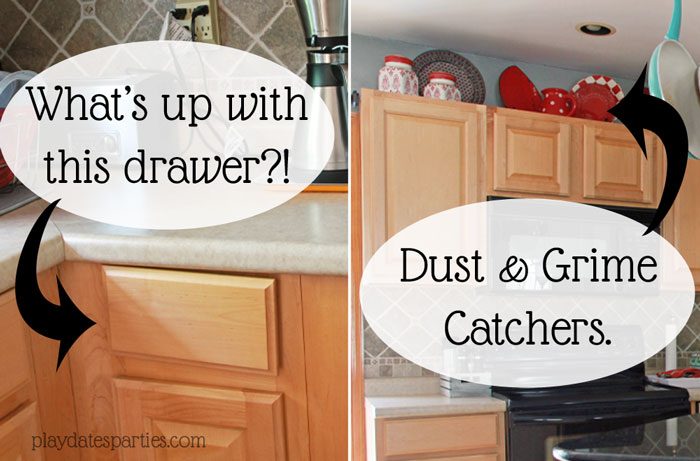 Cabinets:
The cabinets are only 13 years young, but there's so much wrong with them:
They are clearly big-box store cabinets, with stapled drawers and flimsy bottoms.
One drawer is installed crooked, but the screw is stripped, meaning it's a pain to fix…which is why we never did.
Another drawer has already had its front completely ripped off. It's been held together with wood glue for nearly a year now.
At least one of the upper cabinets is installed so poorly that it appears to be pulling away from the frame on the wall. I can't tell you how many times I've wondered if our dishes were going to come crashing down in the middle of the night.
30-inch upper cabinets in a small kitchen…just why?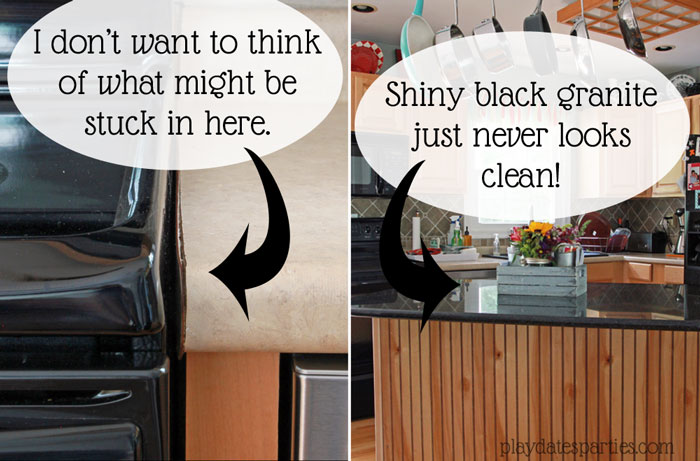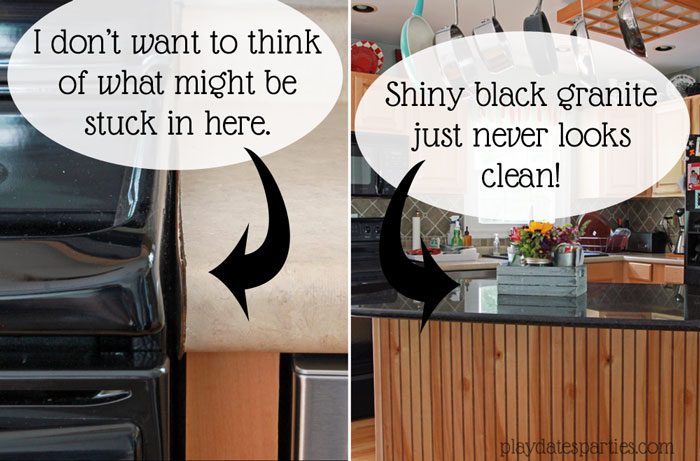 Countertops
Shiny black granite. It never looks clean no matter how much you scrub.
Formica countertops around the perimeter. Chipped, scratched and pulling apart. There's nothing worth saving there.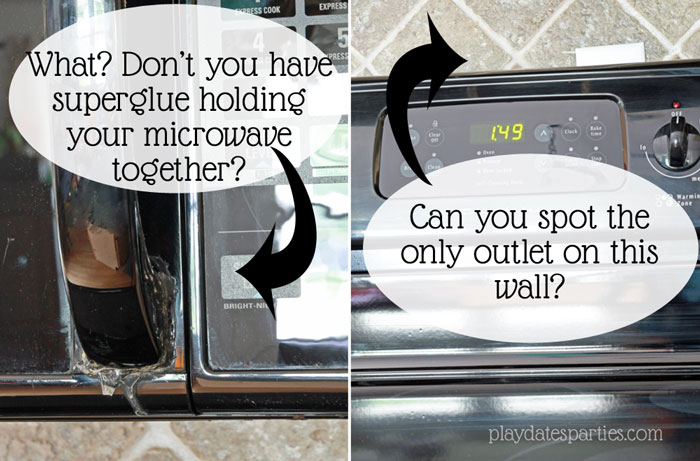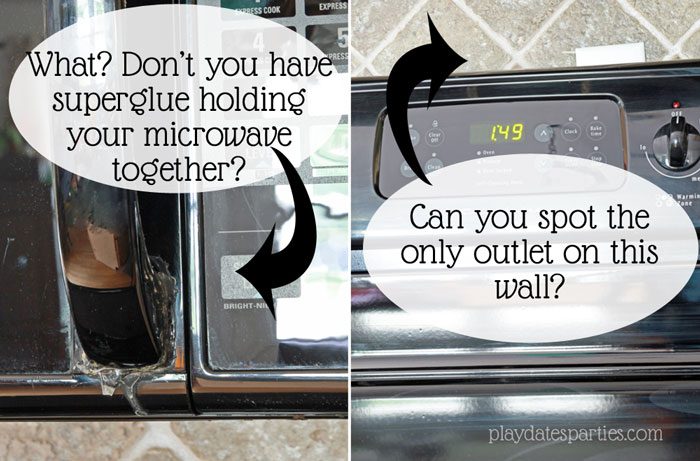 Appliances
Ugh, where do I get started. The only appliance we've replaced so far is the dishwasher (which we're keeping, because we love it)
The refrigerator is tiny. We estimate that it's probably only 19 cubic feet of storage space. With five people in our family, it's time to make room for something bigger! Not only that, but it no longer makes ice, the water filter compartment is broken, and apparently there is an electrical problem inside the fridge. So, we've been living with a fire hazard for a refrigerator for about three years now.
The oven is functional, but very dirty. The biggest issue with it is that the oven control panel covers the only outlet on that entire wall. We would have replaced it with a slide in range years ago, but the previous homeowners didn't install the tile backsplash behind the control panel. Thanks guys.
The microwave handle has broken a couple times already and has held up quite well with clear gorilla glue. Thank goodness for that.
So, while the drip, drip, drip of the leak is taken care of, it looks like we'll be feeling the drip, drip, drip of money leaving the bank for our 6-week kitchen renovation.
Though, secretly, I'm pretty excited. Don't forget to come back over the next couple weeks to get details on the design plan, and to see how our progress is going!
Here's one more look at the kitchen before it all goes poof in a cloud of demolition (and yes, this is the entire kitchen):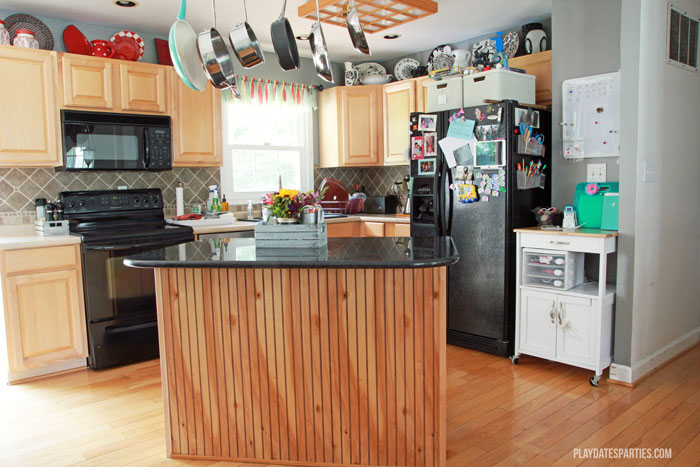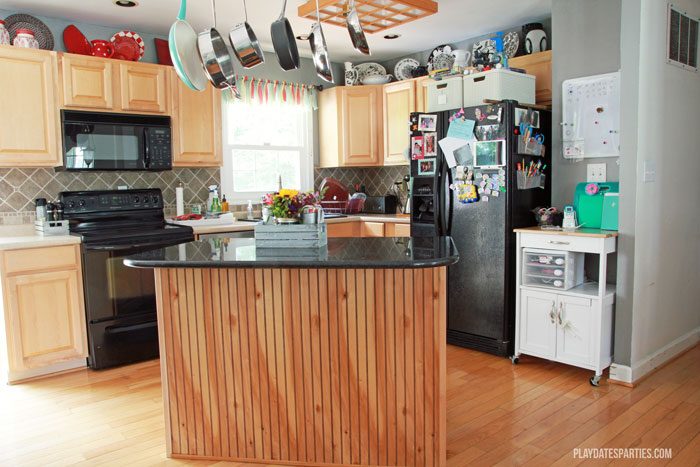 Buh-Bye Ugly Orange Kitchen!
See the Rest of the Renovation:
SaveSaveSaveSave
Have you ever had any surprise renovations?
Would you go through a 6-week kitchen renovation?
I'd love to know…what would your dream kitchen be like?
---
I want to extend many thanks to the readers who have enjoyed renovation and home DIY posts over the years. Unfortunately, in January 2018 I was diagnosed with Stage II breast cancer and had to stop doing home renovation posts due to treatment.
Since that time, my focus has been on making this website an amazing resource for the everyday mom's parties. Due to their popularity, the DIY posts and tutorials will remain on the website, but comments are now closed. Thank you again and I wish you the best in your DIY endeavors!
SaveSave
SaveSave