Revealing the pros & cons of open shelving in kitchens, 5 options to recreate the look yourself & updating four weeks of kitchen renovation progress.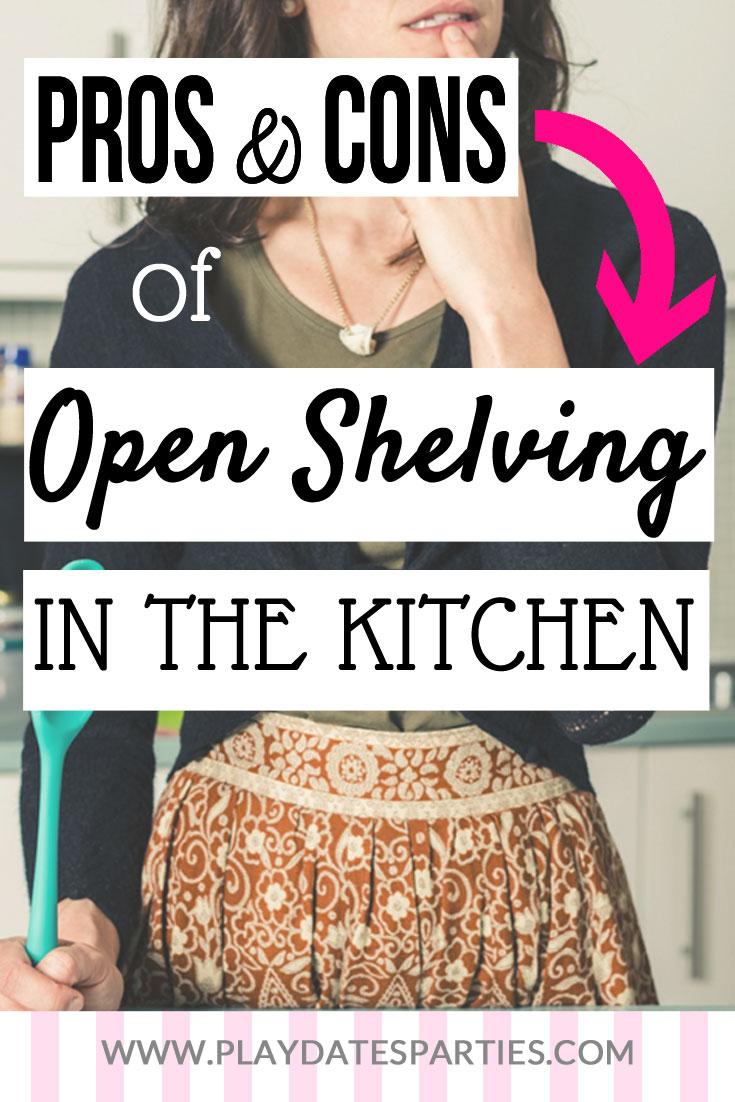 Open shelving in kitchens.
It's a huge trend right now, and I get the appeal. There is a certain airiness to them that just cannot be achieved with traditional closed cabinets.
However, after clearing out the many dishes and bowls that we kept stored above our old kitchen cabinets, I hesitated to jump on the open shelving trend for our kitchen. Y'all, they were downright disgusting.
But never say never, right?
The Pros and Cons of Open-Shelving in Kitchens
Benefits of Open Shelving in Kitchens
Makes small spaces feel bigger
Provides easy access to your supplies
Budget-friendly (less expensive than cabinetry)
Show off your collectibles
Drawbacks of Open Shelving in Kitchens
There's no way around it, if your shelves are anywhere near your cooktop, airborne grease will collect on your shelves and their contents.
Dusting is no longer optional. And it's that much more difficult with any level of grease build-up.
You must keep things neat and orderly. (Well, I suppose you don't have to if you don't mind clutter)
I'm not sure I can keep my shelves as organized and pretty as these from The Every Girl!
How to Achieve the Look without the Drawbacks
Looking for a way to incorporate open shelving, but concerned that it will be too much hassle? Try out these options.
Keep the shelves at least a few feet away from the stove top.
Mix open shelves with closed cabinets.
Use glass doors on your cabinets.
Put open shelving in spaces where full-depth cabinets won't work
Try a test run and remove the doors from your cabinets instead.
[clickToTweet tweet="5 #tips to get the look of open shelving, without the drawbacks. ? #interiors via @PlayDatesParty" quote="5 #tips to get the look of open shelving, without the drawbacks. ? #interiors"]
How We're Incorporating Open Shelving in Our Kitchen Renovation
Everywhere we had closed cabinets will be getting new 42″ closed cabinets. And since we're not the tidiest people (we do have 3 kids under the age of 8 after all), we will not be getting glass-front cabinets either.
But I just said we're incorporating open shelving, right?
Well, yes!
Before renovating, there was an awkward spot just to the right of the refrigerator that never quite seemed to fit. At only 22 inches wide and 12 inches deep, there isn't much that fits there.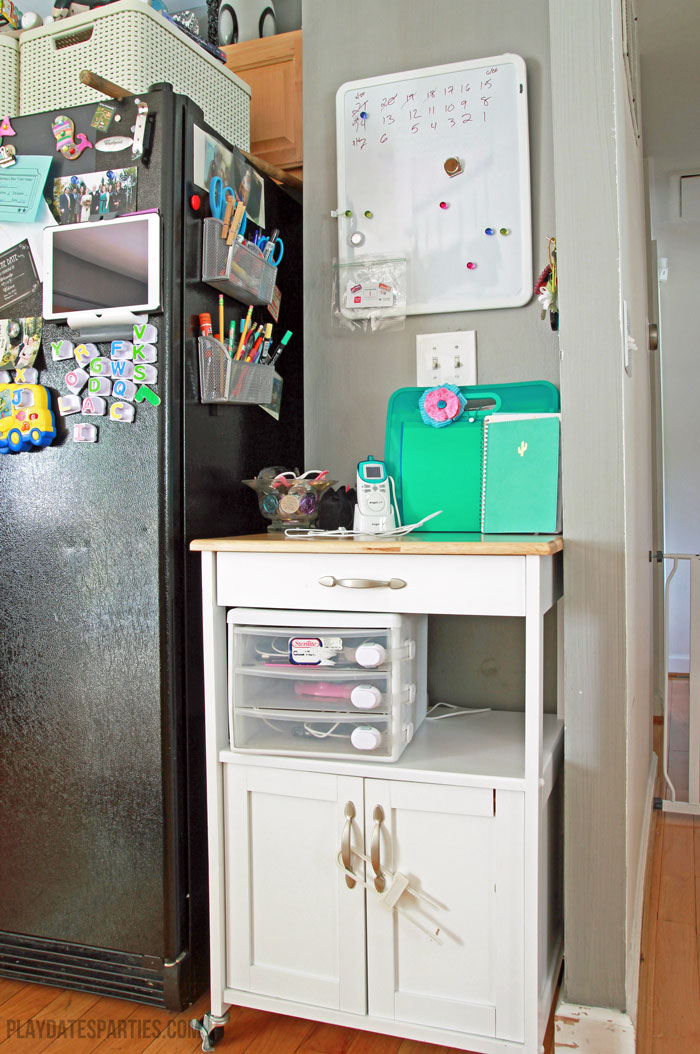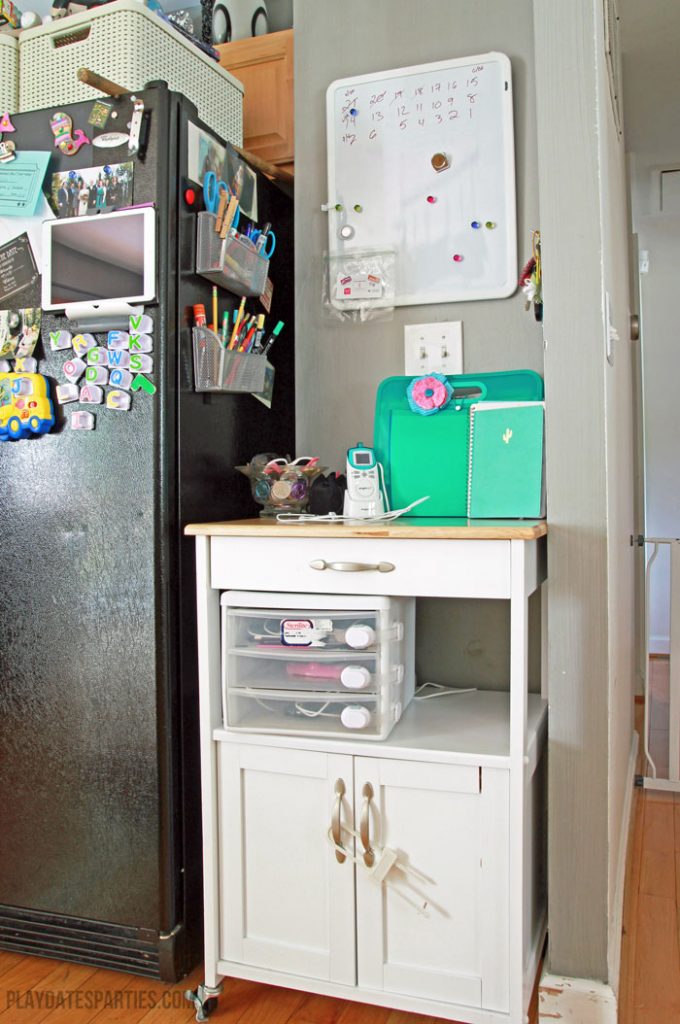 When we first moved in, we put our trash cans there. But eventually we added the kitchen cart you see in the picture above and it turned into an essential part of our family life. That little cart became our command center, charging station, and my workstation.
And with the kitchen already under renovation, it was time to install something that actually fit.
Our contractor's original proposal included plans to install a floor-to-ceiling pantry, but that would eliminate my workstation.
Installing upper and lower cabinets to match the rest of the kitchen just seems so wrong. Can you imagine trying to work with a closed cabinet right in your face?
Then, I reviewed our inspiration board again, and noticed how many of those kitchens included open shelving. So, open upper shelves it is!
Truthfully, it's the perfect solution:
The location is far away enough to avoid grease build-up
It's narrow enough to prevent too much clutter from accumulating, and
Well, it's the best option we've got.
So, I am getting open shelving! I can't wait.
The boards were cut the other day…let's hope I have time to finish and install them before the reveal next week!
6-Week Kitchen Renovation: Week 4 Progress
It's time for the latest weekly progress update! Take a look at everything else that's been going on:
Day 22
Appliances finally arrived! This feels like the last BIG thing that needs to be done.
The electricians came back and added outlet covers, installed the chandelier, and marked the new circuits on the electrical panel.
Bummer, my chandelier only installs with a downrod, making it too low for the space. Thankfully, the electrician is awesome, and modified it to hang on a chain.
Day 23 & Day 24
It's finally time to unpack boxes.
The last-minute tile order still isn't in, so we're living in a kitchen that is 90% done.
Also, the dust is insane.
Days 25 & 26 – It's the Weekend!
Day 27
Finally the tile arrives, so the last few pieces are installed and the whole backsplash is grouted
The electricians return again to install the new can lights. Suddenly the kitchen feels so much brighter!
My contractor helps cut down the wood for our new open shelving.
Even with all this work done, I'm so grateful that Linda extended the reveal deadline by another week. Now it's time to work on the details, like those shelves. I can't believe we're pretty much done with a week left to go! Now, it's all on me to get that shelving stained and installed. Here's a sneak peak at the progress since week one:
Don't forget to head over to Calling it Home to check out all the other One Room Challenge projects.
See the Rest of the Renovation:
Don't forget to share this post with your friends and family, and subscribe at YouTube, Facebook, and Instagram for more fun ideas and inspiration!

SaveSave
---
I want to extend many thanks to the readers who have enjoyed renovation and home DIY posts over the years. Unfortunately, in January 2018 I was diagnosed with Stage II breast cancer and had to stop doing home renovation posts due to treatment.
Since that time, my focus has been on making this website an amazing resource for the everyday mom's parties. Due to their popularity, the DIY posts and tutorials will remain on the website, but comments are now closed. Thank you again and I wish you the best in your DIY endeavors!