Almost every time the husband gets sick he buys a new package of cold and flu medicine – even though we usually have several packages of medicine in our linen closet. I can't really blame him, though. Not when our linen closet looks like this: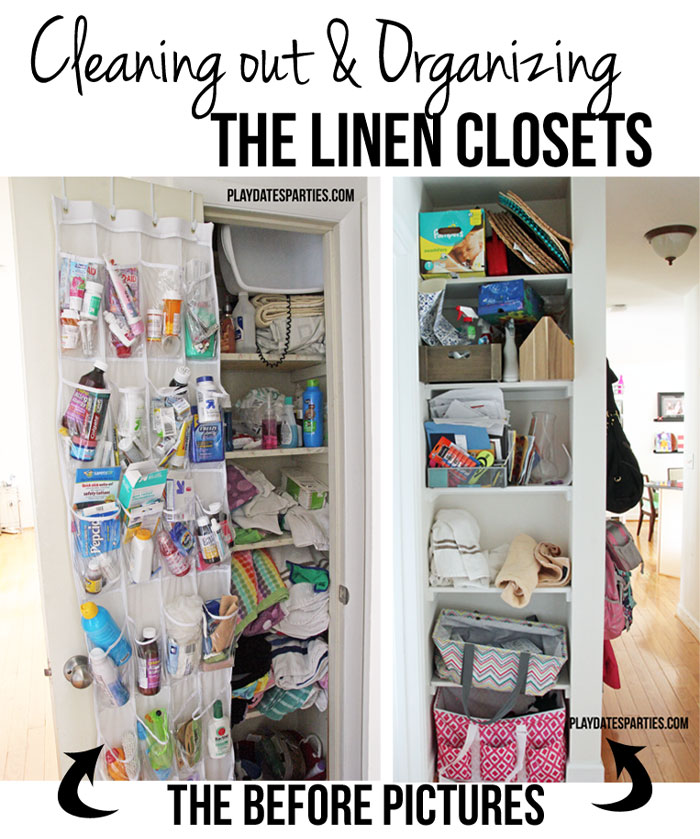 Yes, that is actually our linen closet…and a set of open shelves that was installed during our office renovation last year.
I walk by those spaces at least a dozen times every day, and every time I walk by them they make me cringe. That's why they are my targets for this fall's One Room Challenge (ORC).
If you don't know, the One Room Challenge is a six-week challenge for bloggers to completely renovate and/or redecorate one room of their house. It's short, it's stressful, and it's totally worth the effort. I joined in for the first time last spring by renovating our two-story back yard. Some of my favorite projects came out of that series, and I look forward to getting creative again this fall.
Back to our linen closet. It's tiny, and that open shelving isn't much bigger. Together they might be equal to 1/2 of a modern day linen closet. That might be why it's never been properly organized…ever. And as much as I planned to have a beautiful display in those open shelves, that never happened either.
So after 9 years of living in this house, it's time to get these spaces organized. But this time, I'm not going to wing it. I'm determined to create a system that is both manageable and beautiful. I wish it was as simple as it sounds.
It's not simple, but with the right planning, it is possible. And as much as I want to jump in with purging and organizing, we would probably just end up in exactly the same situation a few months down the line. A good plan is essential to avoid another mess like this in the future.
The Right Way to Plan an Organization Project
A good design plan starts with inspiration. Not purging, not pulling together a shopping list, not identifying what projects to make. About a month ago I started browsing Pinterest and Google image searches for closet and open shelving inspiration that I loved. I had no preconceived notions, and I didn't worry about trying to keep the images consistent. The only requirement is that I had to really love what I saw in the picture.
Why start with this method? It is incredibly helpful for determining what design elements you really like. You might think you know what you like already, but when you are looking at a collection of pictures that you know you love, you can clearly see the common elements. Those are the elements to focus on when you're designing your final space.
Good #design plans start with inspiration #oneroomchallenge #organization
Click To Tweet
A Beautifully Organized Linen Closet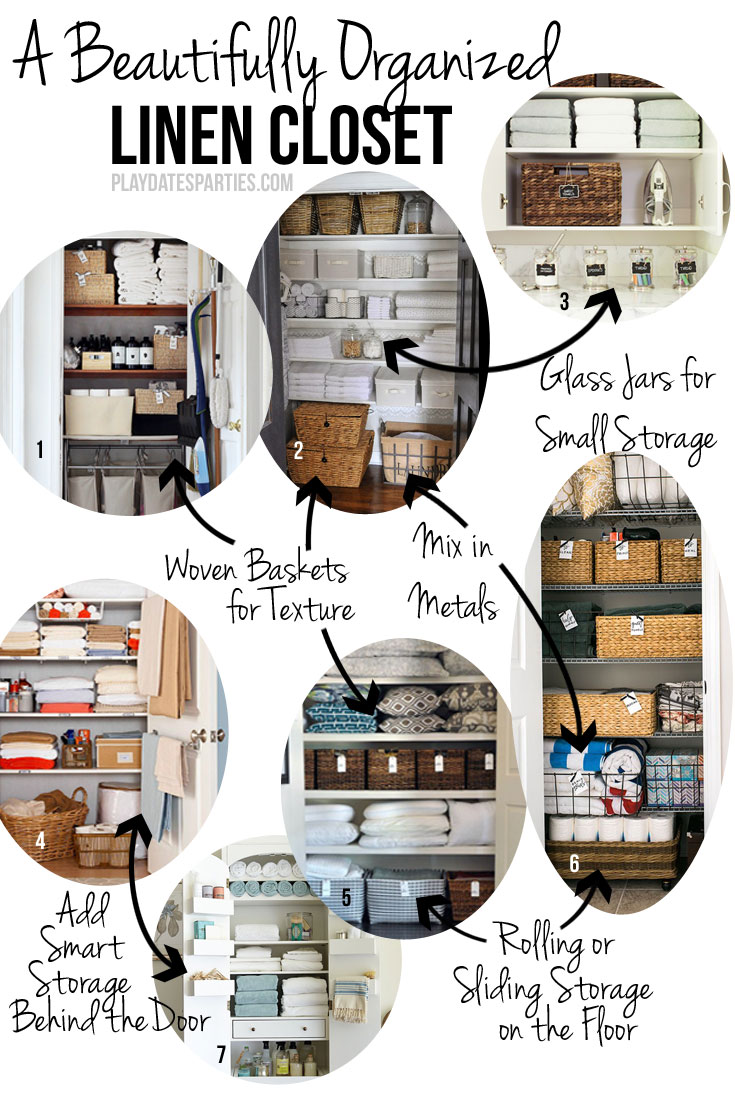 Credits: 1 – 5 Steps to the Perfect Linen Closet by Bliss at Home, 2 – A Little Peek at Our Linen Closet Makeover by Dear Lillie, 3 – Laundry Room Organization Using the NEAT Method from The Pottery Barn Blog, 4 – Pin Stripe Linen Closet from Better Homes and Gardens, 5 – Organized Linen Closet from Honey We're Home, 6 – Linen Closet Organization from Waiting on Martha, 7 – Paulette Pantry used as a linen closet from How to Decorate by Ballard Designs
All of the linen closets above are beautiful on their own. But when you see all the pictures together, the common design really becomes obvious. Clearly I like I am drawn to large woven baskets that close on top, bright whites, and neutral tones for the storage. Remind me of this if I start to incorporate brightly colored plastic bins in this project.
Clean & Bright Open Storage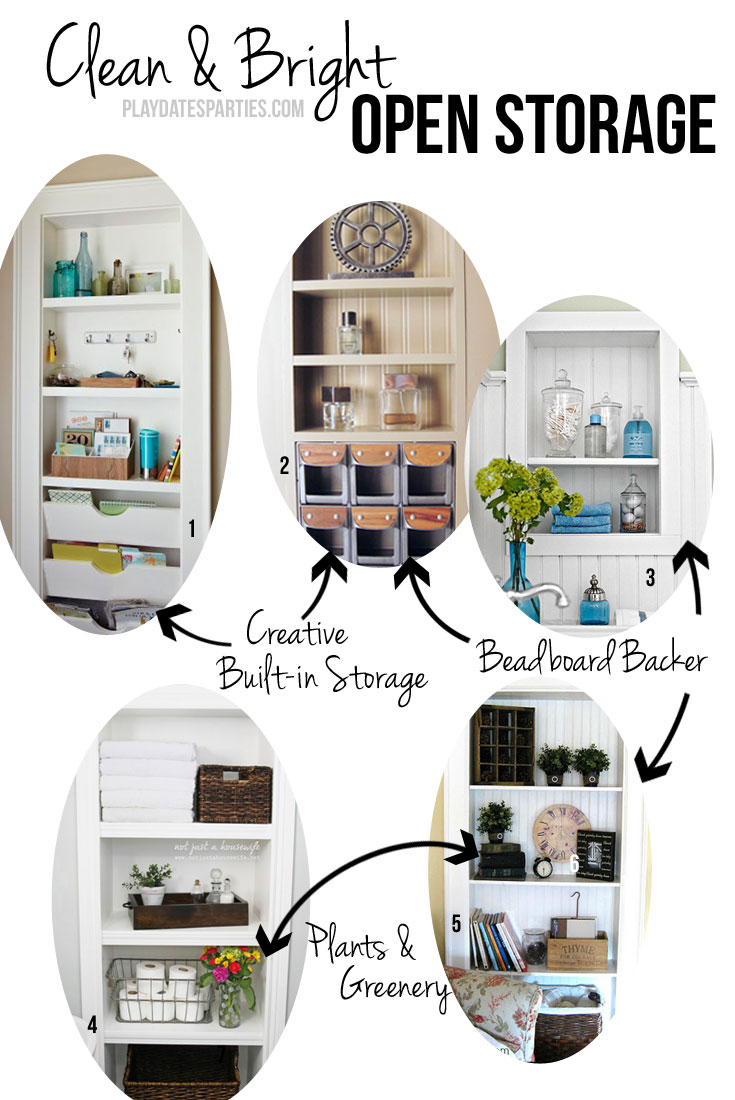 Credits: 1 – Unknown Source via Dawn Radke on Pinterest, 2 – DIY Between the Studs Shelf Closet Makeover by Remodelando la Casa, 3 – Trimmed Storage Niche at Better Homes and Gardens, 4 – Bathroom Storage Shelves by Stacey Risenmay (Not Just a Housewife), 5 – Open Shelving by Aimee Weaver Designs
Again, for the open shelving we see common elements of bright whites with natural woven baskets and a more styled look. Clearly, open storage needs to incorporate a bit more form since it is visible to anyone who walks past it. Hopefully, I can manage to get rid of plenty of clutter.
I'm so glad to have gone through this process of truly defining what I love to look at. Now it's time for the dirty work of purging before all the fun things like buying and crafting. I can't wait to get started. And since there's a nasty virus going around our house right now, I'm also really looking forward to being able to find the right medicine when I need it!
Have you ever organized your linen closets?
Do you prefer colorful or neutral designs?
See more ORC projects: