If you love to host parties, then you will want a kitchen perfect for entertaining. Here are 7 common recommendations with budget and small-space options.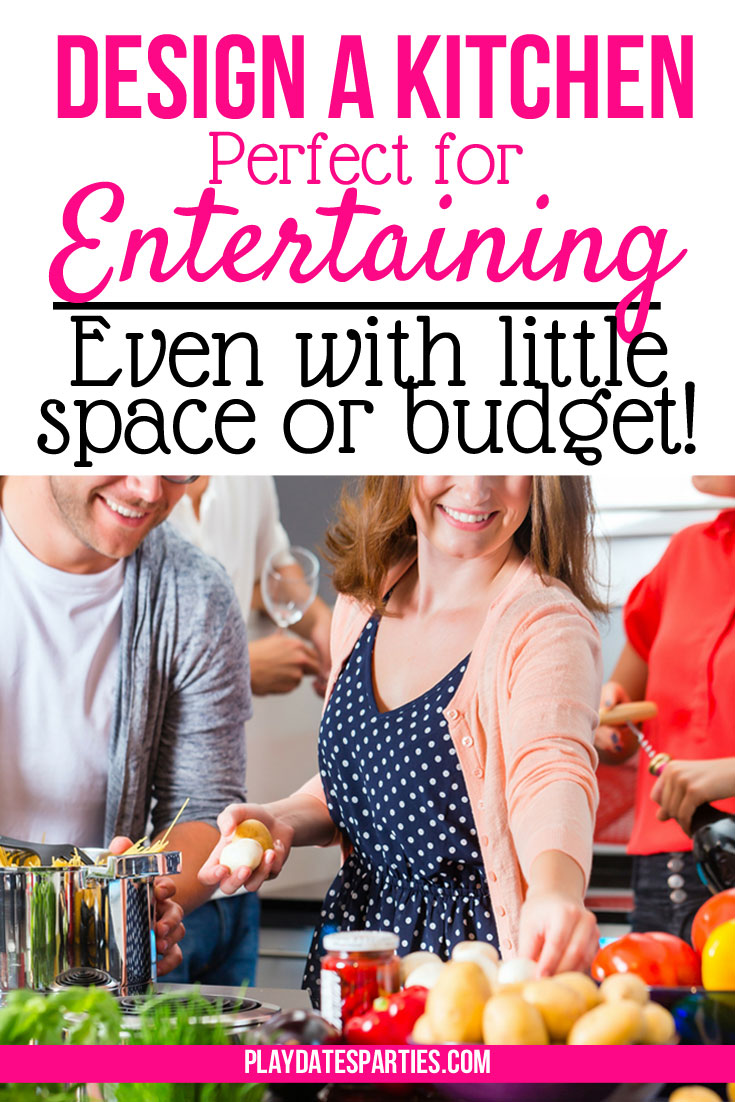 Between parents, siblings, and extended family members, I've had an up-close view of how at least 9 different kitchens worked for a variety of parties.
And that doesn't include the countless homes I worked in when catering.
Each time I visited or worked in a home during a party…I made mental notes of what worked and what didn't.
Now that we're forced to renovate our kitchen, I can finally make use of all those observations and a create a kitchen perfect for entertaining.
[clickToTweet tweet="You can design a kitchen for entertaining…even on a #budget! #home via @PlayDatesParty" quote="You can design a kitchen for entertaining…even on a #budget! #home"]
The reality is that we won't be able to implement many of my wish-list ideas. But that doesn't mean we can't find ways get the same or similar function in a budget-friendly way.
Here, I've compiled some of the best ways to design a party-friendly kitchen perfect for entertaining, including pros and cons, and even budget-friendly alternatives if you just can't stomach the cost.
Open Plan Design
Adding Butler's Pantry
Second Dishwasher
Second Oven
Integrated appliances for a seamless background
Consider a beverage/wine cooler
Budget Busting Extras (that are totally awesome)
Common Elements of a Kitchen Perfect for Entertaining
Open Plan Design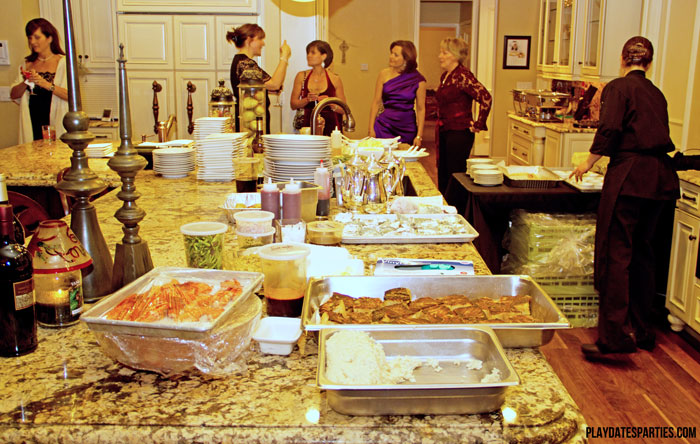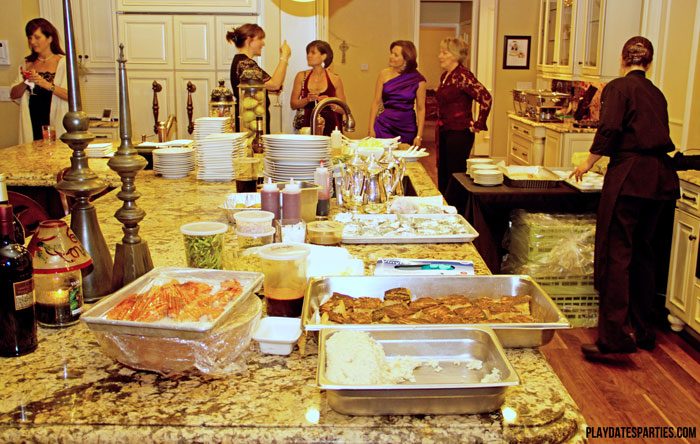 Open plan design seems to top most designers' recommendations when designing a kitchen perfect for entertaining. But, while I love our open concept kitchen for making our home feel larger and for keeping an eye on the kids while I prepare dinner, it's not always best for entertaining.
Pros:
You can engage with your guests as you cook.
Most open concept kitchens include an island, which is perfect for using as a buffet or drink station.
Open concepts provide more room for guests to move around.
Cons:
You MUST be extremely organized. There is no place to hide the mess of cooking in an open concept kitchen. Do as much work in advance as you possibly can.
Because the kitchen counters become the perfect space for serving food, you end up with less counter space for preparation.
If you have a small kitchen already, consider how much storage space you might be losing by taking down the walls.
Budget Recommendation
Consider how having an open concept space will affect your everyday workflow first before removing your kitchen walls for an open concept design.
If you have limited funds or space, you may want to consider opening up only one side of the kitchen to keep a bit of privacy, while allowing room for people to mingle.
What did we do?
Since this kitchen renovation wasn't planned, we're sticking with the original open-plan layout.
Adding a Butler's Pantry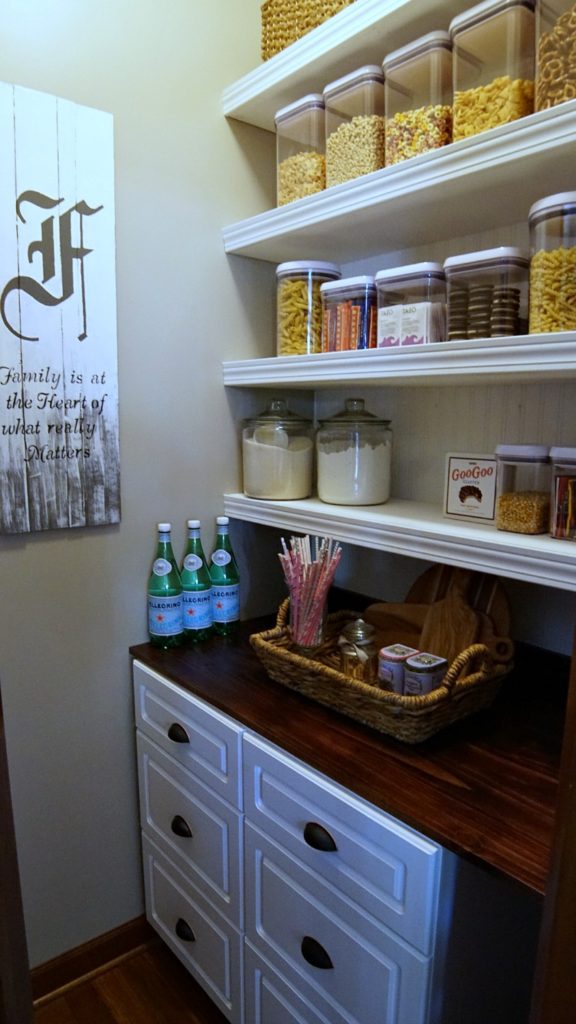 (image used with permission from Hey Fitzy)
Butler's pantries have become more and more common in today's kitchens, and are a fantastic option when creating a kitchen perfect for entertaining. But what exactly is a butler's pantry?
Butler's pantries are small rooms (or large pantries) that provide extra storage and counter space for foods that are going to be used for a dinner party.
They can be as small as pass-through spaces between the kitchen and dining room, or can be as big as a room the size of a walk-in closet.
The smallest butler's pantries will have at least a few cabinets for storage and a counter or two for holding platters. Gallerie B wrote a fantastic in-depth article about butler's pantries if you want more detail.
Larger butler's pantries may also have beverage refrigerators, sinks, or even a second dishwasher. In the photo above, you can see how my friend Tammy, of Hey Fitzy, turned her builder's grade pantry into a beautiful space that functions very nearly like a butler's pantry.
Pros:
Butler's pantries provide space to hold extra supplies such as napkins, plates and food that is waiting to come out to the table.
They can also be a good space to store your platters and large serving items between parties.
Cons:
If you're not well organized, butler's pantries can become another place to hold clutter.
For smaller homes, they can take up square footage you might not have to spare.
Budget Option:
Instead of rearranging your floor plan to create a butler's pantry, a well-placed storage cabinet, built-in-cabinets, or a serving buffet can help with storage and serving.
What did we do?
With only a 10×12 space, we have NO room for a butler's pantry. But, over the years we've added a couple storage cabinets to the whole space which act as extra serving space for parties and are a decorative way to hold much of our dishware between parties.
Installing a Second Dishwasher:
Second dishwashers are becoming more popular these days as people try to entertain more often. If you have the space, this is a fantastic option in a kitchen perfect for entertaining that makes cleanup a breeze.
Pros:
This one is obvious: get your dishwashing done faster!
Cons:
Expense. Not only do you have the cost of the appliance itself, but it must be used regularly to maintain water lines. (The Husband and I found out the hard way that if you don't run a secondary dishwasher often enough, it can be completely ruined from the neglect.)
Space. In a small kitchen, you don't often want to sacrifice storage for those types of amenities. And if you put an extra dishwasher in a remote area of the house, the convenience may become more of an annoyance than anything else.
Budget option:
If you can't afford a second dishwasher, consider getting a dishwasher that is quiet enough to run while you're entertaining, or find a portable dishwasher that you can keep in a garage or other storage space.
What did we do?
We've had a Bosch dishwasher for years, and intend to keep it. Because it's designed to be extremely quiet, we can easily run it during our parties to help reduce cleanup time at the end of the day…and our guests hardly notice that it's even on!
Installing a Second oven: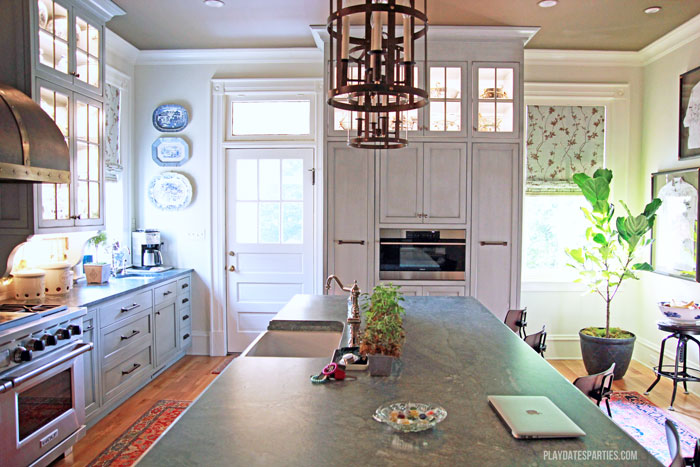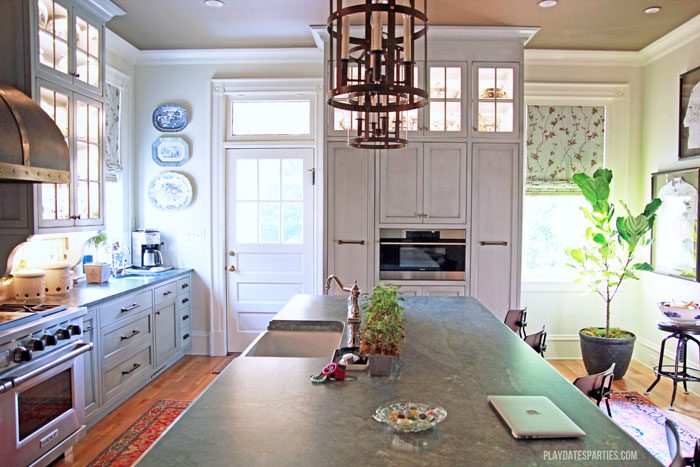 Second ovens are another popular option for new kitchens and are easier to incorporate in the design plan with options like steam and wall ovens.
Pros:
If you like to bake (like I do), having a second oven can dramatically speed up your baking time.
If you're preparing a large meal for a dinner party or Thanksgiving, you can better time your hot dishes.
Cons:
Space. You'll have to find a place to put the oven if it wasn't already in your floorpan.
It's also yet another appliance to keep clean,
Running two ovens can make your home very hot.
Budget option:
There's not a whole lot of choice here. You might want to consider using your grill for your dinner parties. Family members have also recommended investing in a convection countertop oven.
What did we do?
Again, we don't have room for anything extra. We've found creative ways to cook our Thanksgiving turkey, and to keep food warm for a dinner party. And we're actually considering a microwave that also does convection baking and roasting.
Integrated Appliances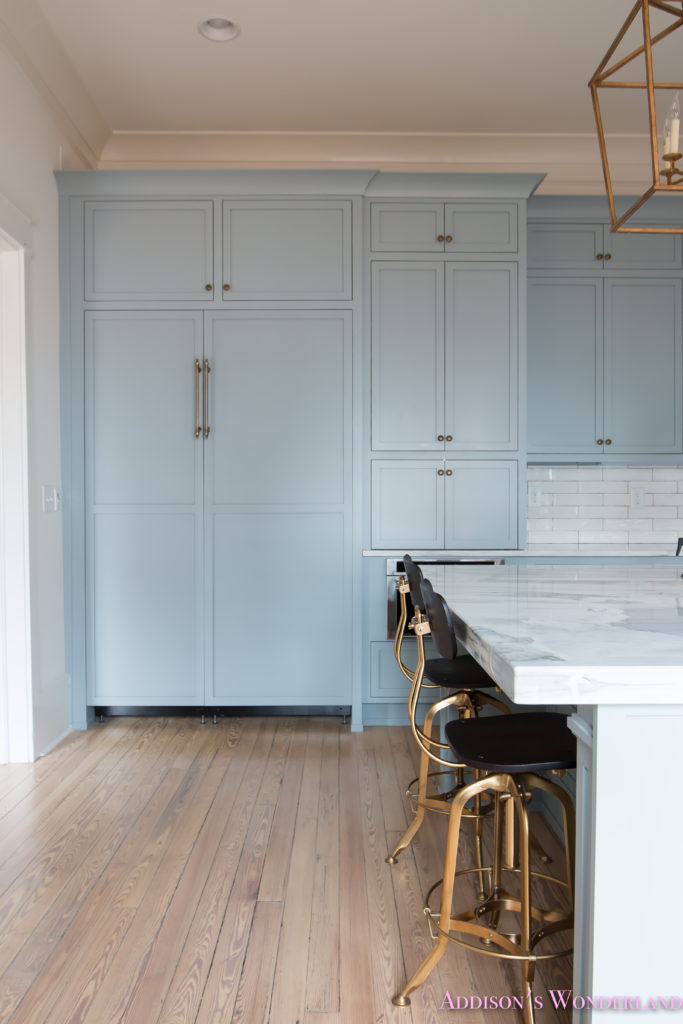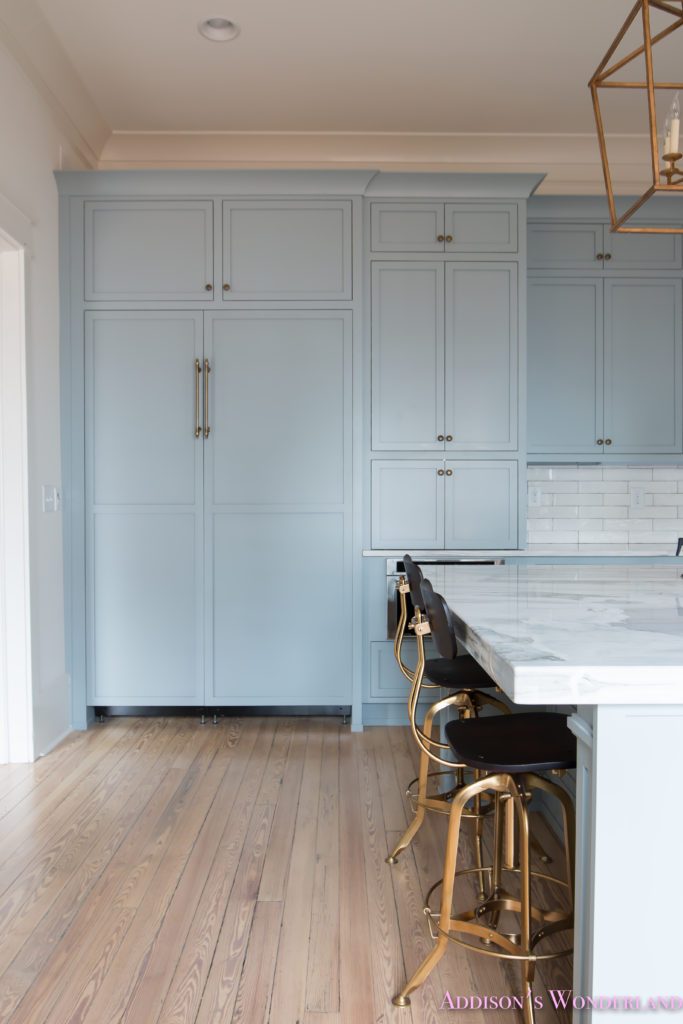 (Used with permission from Addison's Wonderland)
No matter what your space looks like, kitchens with a lot of contrast in pattern and/or color are difficult to decorate for events and holidays.
Integrated appliances, which are fitted with panels that match the surrounding cabinets significantly reduce those distractions. This kitchen from Addison's Wonderland is a fantastic example of just that. You can tell that there are appliances beneath those panels, and the color is fun and whimsical, but the integrated panels reduce the contrast from the appliances, creating a seamless effect.
Even with that blue color, I bet this kitchen can be easily decorated for all seasons and events.
Pros:
Create a seamless look with your cabinetry.
Cons:
Choices for integrated cabinetry are still fairly limited,
Integrated appliance cabinetry is more expensive than budget or mid-level cabinetry.
Not all appliances are available with cabinetry facades, which could increase costs even more.
Budget Option:
Consider Getting appliances that match your cabinetry. Appliance manufacturers are making some stunning finishes in black and white these days that are nothing to ignore.
What Did We Do?
Integrated appliances are too high-end for our neighborhood, so it doesn't make sense to incorporate those in the design.
And since we're keeping our old stainless steel dishwasher, that means we're stuck with stainless steel for now.
Beverage Refrigerators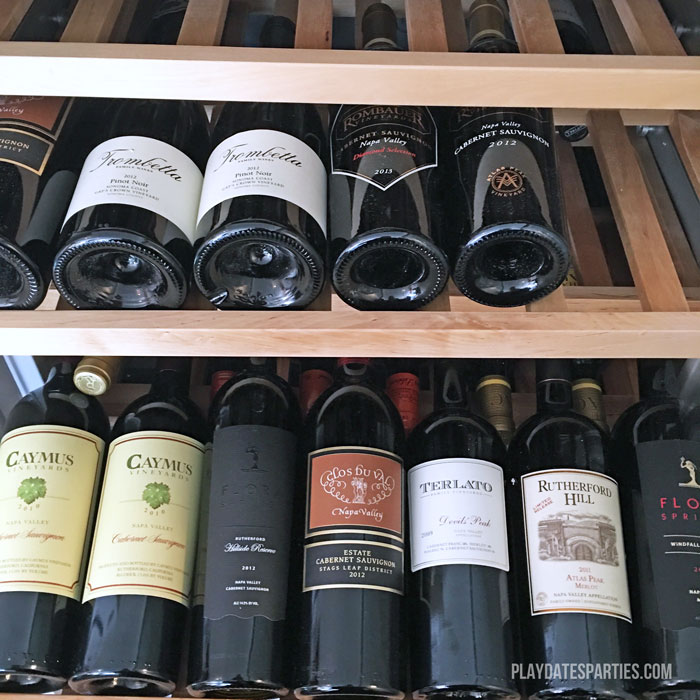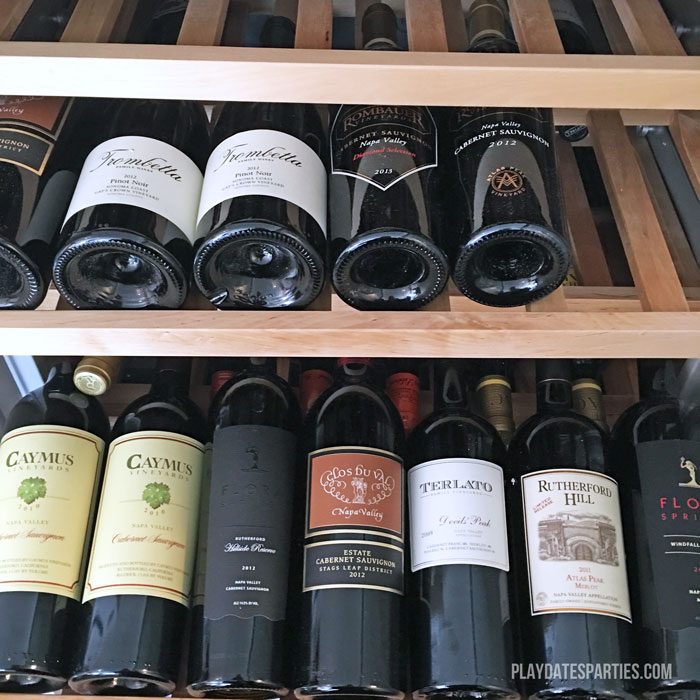 The Husband and I are amateur wine collectors. So we love to have our wine at the perfect temperature whenever we host a party. Including a beverage (or wine) refrigerator in your kitchen design ensures that you don't have to go running to get that next bottle, and you always know it's ready.
Pros:
Beverage coolers keep your wine, soda, or beer at the perfect temperature, and ready to open up at any time.
Having a small beverage refrigerator in your kitchen means you don't have to run to a storage area in a different part of the house in the middle of your party.
Cons:
Space (again). In small kitchens, there may not be room to spare for this feature.
Under-counter beverage refrigerators don't hold many bottles, which may be frustrating for collectors.
Budget option:
If you're not concerned about temperature, you could add some built-in wine storage without refrigeration like Honeycomb Home. Or, you could buy an inexpensive countertop wine cooler to keep your next bottle ready during the party.
What did we do?
Call me old school, but I feel like there's just something so festive about having a beverage bucket filled with ice and some wine bottles.
Because the husband and I are amateur wine collectors, we invested in a large wine refrigerator many years ago. We use that in conjunction with wine buckets when we entertain, and it's perfectly functional.
Extra Options to Create a Kitchen Perfect for Entertaining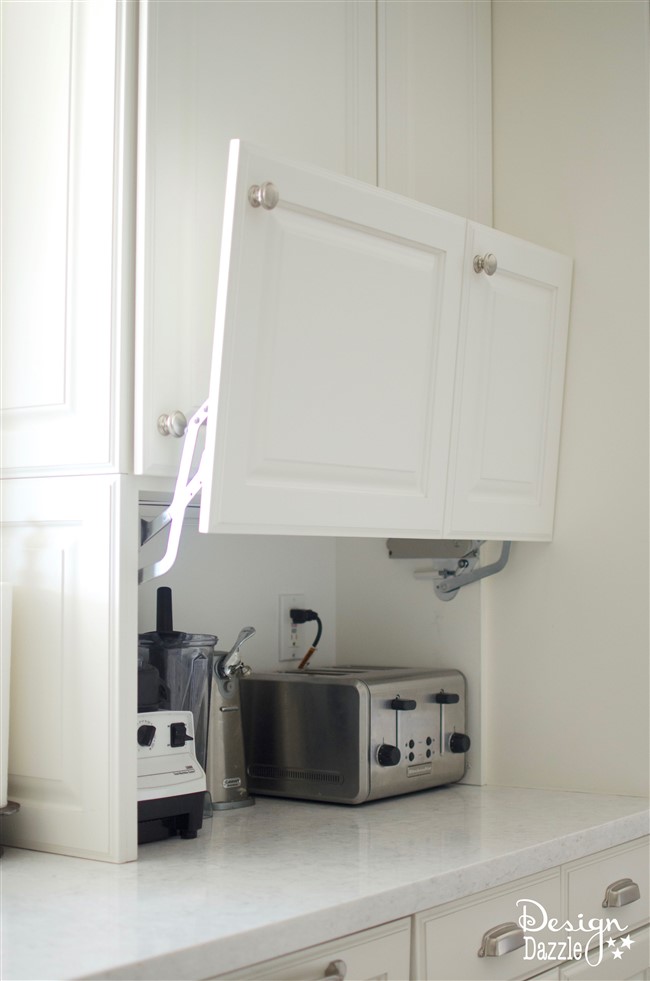 Appliance Garage via Design Dazzle
Want to take your kitchen over-the-top for your at-home parties? Consider some of these extras:
Steam ovens prepare food perfectly and in a flash.
Built-in Rotisseries turn cooking into entertainment.
A second island or peninsula creates a dramatic effect and maintains valuable prep space.
Add extra under-counter divided storage (which is often used for cutting boards or cookie sheets) to hold large serving platters.
Include outlets under your upper cabinets for extra appliances or for your guests to charge their devices during the party.
Now, It's Your Turn
Pretend you are going to design a kitchen perfect for entertaining your family and friends. Which of the above 7 elements would you include? Better yet, share your favorite entertaining tips and products in the comments section!
[pt_view id="c01b2f0of8″]
Don't forget to subscribe via
Bloglovin, Facebook, and Twitter,
to get more updates!
SaveSave
SaveSave
SaveSave
SaveSave
SaveSave
SaveSave