Choosing cabinet hardware can be downright overwhelming. Learn the 7 most common cabinet hardware finishes, & get tips to help you make the best decision.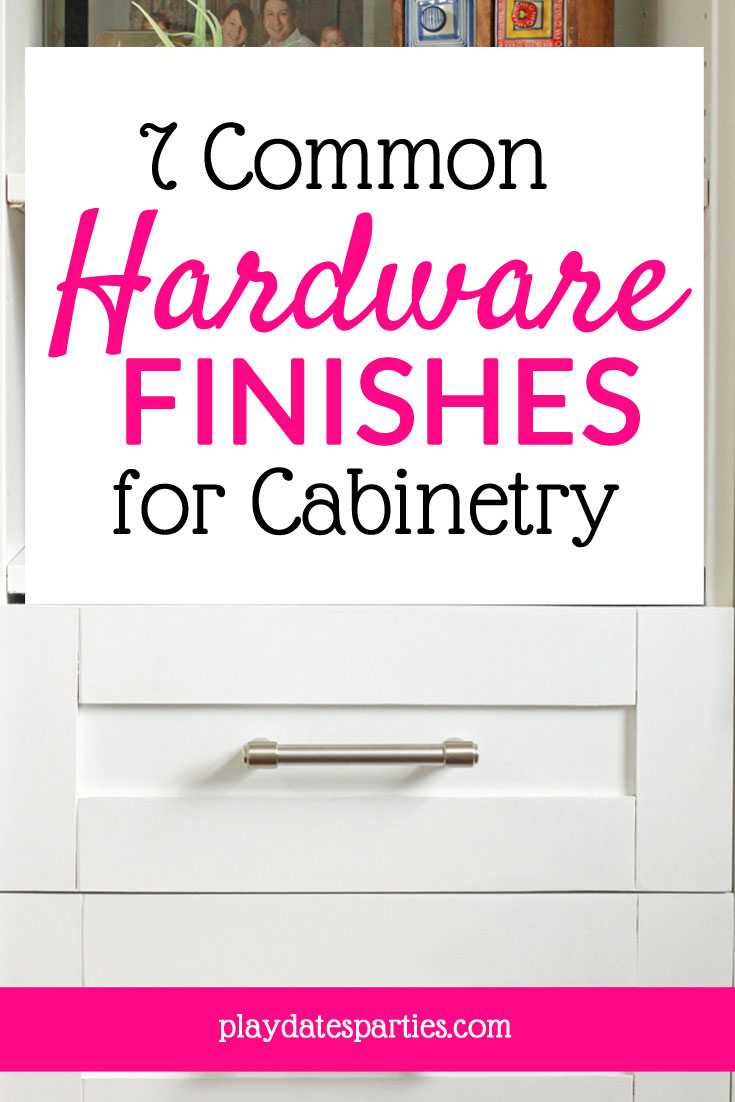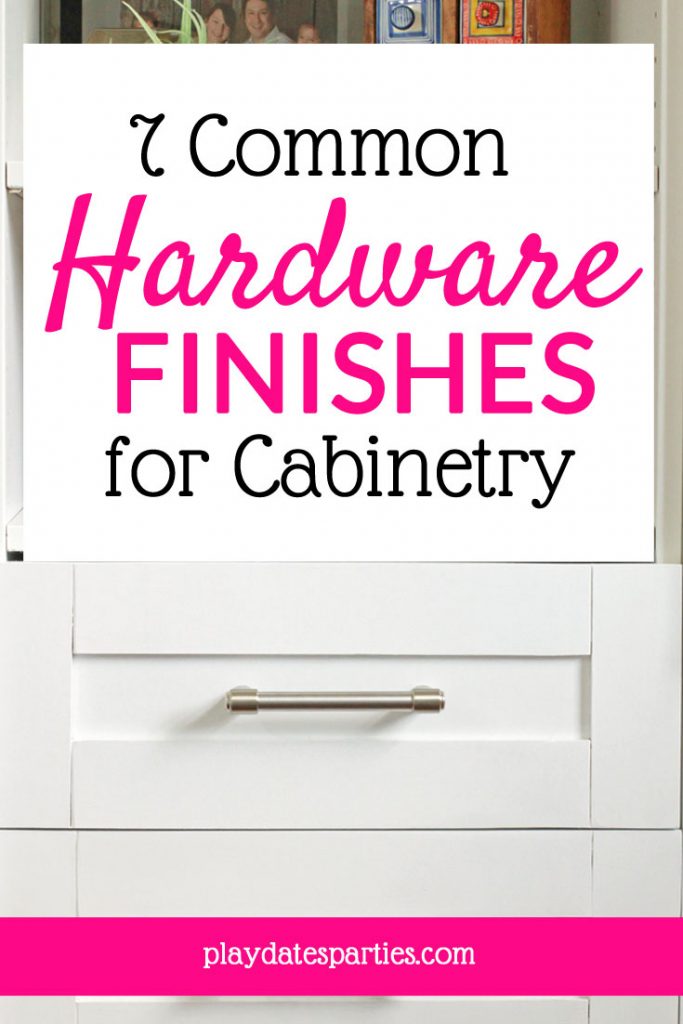 Why is it that the little decisions are always the hardest?
Even when changing the design plan, deciding on cabinets and counters felt fairly simple. But ask me to pick out cabinet hardware finishes, and suddenly I freeze.
First of all, there are so many choices! You start off with your basic question of gold, silver, or black? From there you have shiny, brushed, matte, and/or aged. And THEN you have to decide how decorative your hardware should be to match the style of your kitchen.
It's enough to make your head spin.
Of course, it would have been easier to pick out the cabinet hardware when picking out the cabinets themselves…but it didn't even occur to me at the time. Well, that and my kids were running around the showroom like crazy people.
We had to get out of there ASAP.
So I spent several days researching and running around town trying to figure out what on earth I wanted to put on our brand new kitchen cabinets.
In the end, it was a huge learning opportunity. If you saw the latest update, you already know the style we picked, and I absolutely love them.
If you are struggling with deciding what type of cabinet hardware to put on your kitchen cabinets, here is a basic run down of the 7 most common hardware finishes, with some awesome options to go along with each style.
And, after looking at the pretty stuff, I've also included some easy-to-use tips for how to make the right decision for your own home. Score!
The 7 Most Common Cabinet Hardware Finishes for Kitchens
Chrome
Chrome is considered a classic choice for cabinet hardware. Think of 1950s bumpers and Old farmhouse sinks with the white and chrome handles. You really can't go wrong with this finish. That said many shy away from chrome due to concerns over fingerprints and keeping that polished look.
I personally love the look of chrome because it's almost like jewelry for your cabinets being so shiny. And the best part is that the options are nearly endless.
Transitional cabinet pull from Cosmas
Modern bar pull from Southern Hills
Polished brass
Polished brass is your standard shiny gold tone. Once considered very 80s, most modern brass hardware has a much more updated style that won't make you feel like your home should be on an episode of Dallas.
Brass is also much warmer than chrome, so it's a beautiful way to break up all-white kitchens which can feel cold and uninviting.
Brass Cup Pulls from Hickory Hardware
Transitional Brass Pulls from Amerock
Modern Cabinet Pulls from Amerock
Polished nickel
I didn't even know that polished nickel existed until going through our kitchen renovation, but I'm totally in love. If you like the look of shiny silver finishes, but want a warmer look than chrome, polished nickel is for you.
Unfortunately, options in polished nickel are more limited than its shiny counterparts chrome and brass. But if you're persistent you can find the perfect option.
Transitional cabinet pulls from Amerock.
Classic cabinet pulls from Top Knobs.
Satin nickel
Satin nickel has dominated home design for well over a decade, and even with the resurgence of brass and bronze hardware, it is still the most popular hardware finish available. This is in part because it coordinates nicely with stainless steel appliances and is regarded as less susceptible to fingerprints than shiner hardware.
Like polished nickel, satin nickel has a warmer tone than chrome, and works well with most design styles.
Classic cabinet pulls from Franklin Brass.
Traditional cabinet pulls from GlideRite Hardware.
Antique brass
Antique brass has been gaining in popularity lately, and is a great option for those who want the warmth of gold tones, but don't want to risk appearing dated with highly reflective polished brass.
It's worth noting, however, that the finish color for antique brass varies widely between manufacturers. Some antique brass finishes are simply a lightly brushed brass while others can appear nearly as dark and brown as oil rubbed bronze.
Even the texture of finishes can vary widely, as shown in the two options, below.
Transitional antique brass pull from Design House.
Classic cabinet pull from Cosmas.
Aged Bronze/Oil Rubbed Bronze
Aged or oil rubbed bronze is a very popular choice for many homes. It is a deep brown (almost black) tone that is intended to be reminiscent of old-world finishes. As a result, it will provide a more traditional and sophisticated look to your kitchen overall.
As with antique brass, tones and finishes for oil rubbed bronze hardware can vary widely, so be sure to use hardware from the same manufacturer within the same room.
Modern cabinet pull from Southern Hills
Transitional cabinet pulls from Dynasty Hardware
Black
Black cabinet hardware has seen a lot of popularity lately with the resurgence of modern farmhouse design, especially in the kitchen. It's a great option for families as it doesn't show dirt as easily and will not show scrapes or fingerprints very easily either.
Modern Cabinet Finger Pulls from Atlas Homewares
Modern cup pulls from Hickory Hardware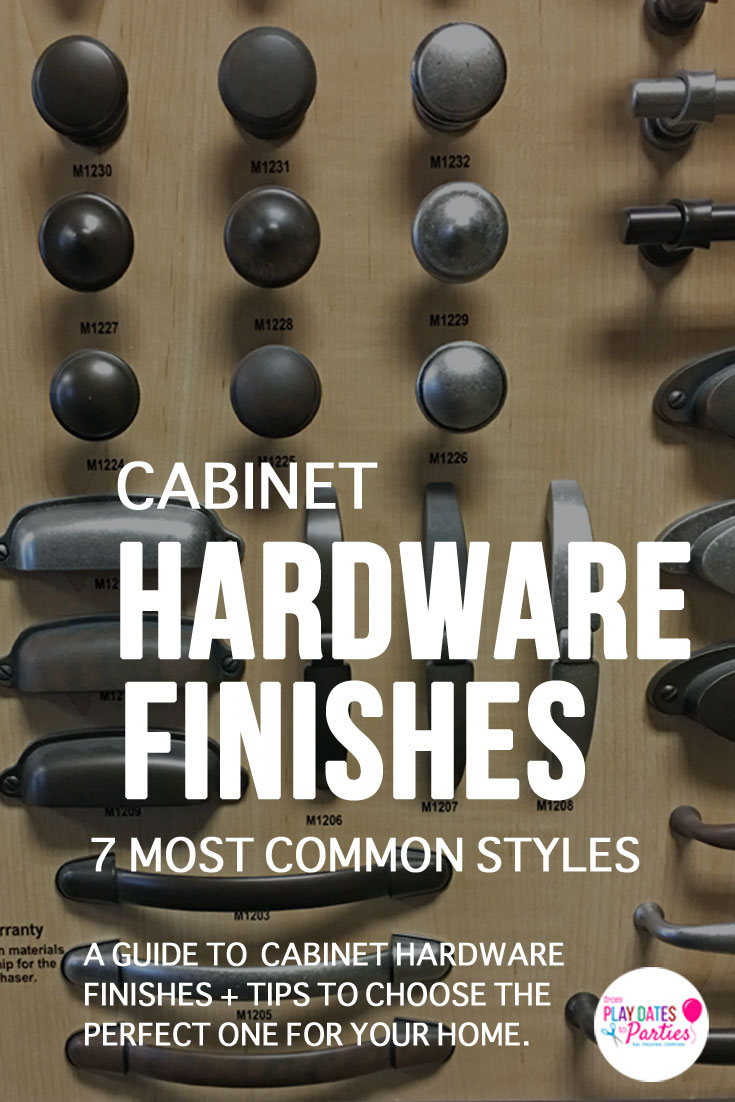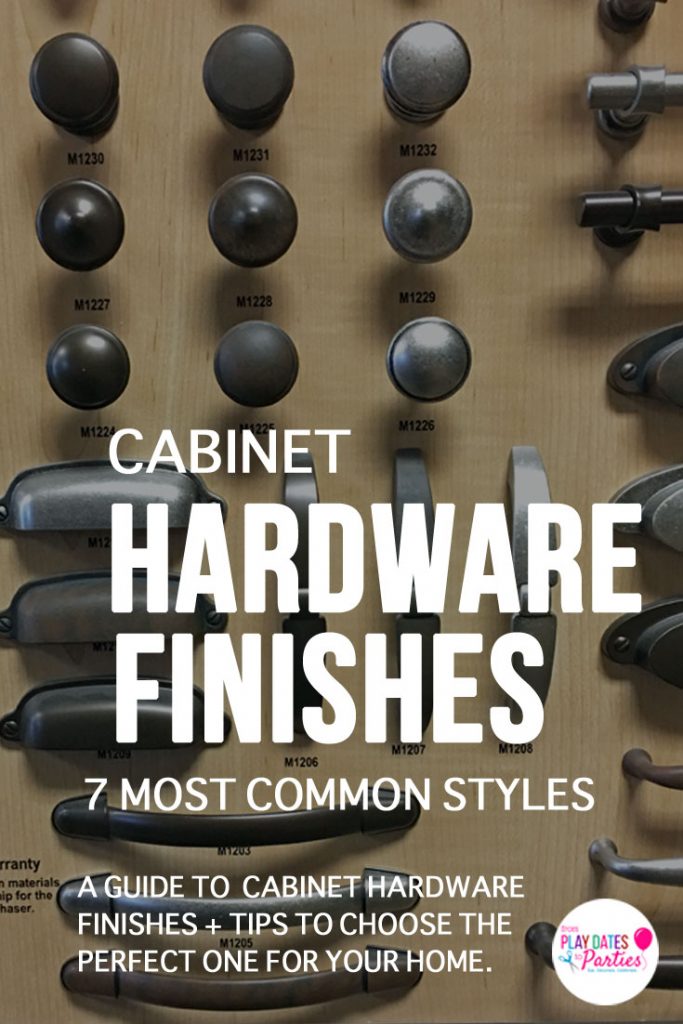 Tips for Choosing the Right Cabinet Hardware Finishes
Consider your primary design style.
Truthfully, any hardware finish can work with all design styles. However, some finishes are more common within certain styles.
If you prefer modern design, you may want to consider polished brass or chrome.
More transitional designs can use just about any finish, but more often rely on brushed or polished nickel.
Antiqued and oil-rubbed finishes are perfect for formal kitchens.
Black hardware is most common in casual and farmhouse designs.
Don't be afraid to mix finishes – carefully.
Mixed hardware finishes make a home feel more collected and less matchy-matchy. However, it's easy to go overboard. Here are some simple guidelines to make sure your mixed hardware doesn't go to far:
Stay within the same color family. Feel free to mix chrome and brushed nickel, but leave brass out of it if you do.
Mix color families, but not finishes. Want to mix gold and silver tones? Great! Keep the finish style either all polished or all brushed to maintain a sense of cohesiveness.
Have at least two items in each finish family. A single gold faucet will look out of place if all the other finishes are brushed nickel. But if there's a chandelier or pendant in the same gold finish…suddenly the look comes together.
Don't mix more than 2-3 finishes in a single room. Mixing more than 2-3 different finish styles reduces the impact of the mixed finishes, and makes it difficult to know where to focus.
Get some samples
Sometimes you just need to see your hardware in the space. Pick up a few inexpensive knobs from your local big-box hardware store and bring them to your home. Then you can see how each finish looks in your home's lighting and with your cabinetry.
Now It's Your Turn
Choosing details like cabinet hardware doesn't have to make you freeze in your tracks. Now you know the 7 most common cabinet hardware finishes: chrome, brass, polished nickel, satin nickel, antique brass, oil-rubbed bronze, and matte black.
Use the tips here to figure out the cabinet hardware finishes you like most. Chance are, once you do that, you'll quickly find the pulls and knobs you love.
See The Rest of the Renovation
---
I want to extend many thanks to the readers who have enjoyed renovation and home DIY posts over the years. Unfortunately, in January 2018 I was diagnosed with Stage II breast cancer and had to stop doing home renovation posts due to treatment.
Since that time, my focus has been on making this website an amazing resource for the everyday mom's parties. Due to their popularity, the DIY posts and tutorials will remain on the website, but comments are now closed. Thank you again and I wish you the best in your DIY endeavors!
SaveSave