Kitchen renovation design changes can be scary, especially if you're not prepared Find out how to use your design plan to stay on track and love the result.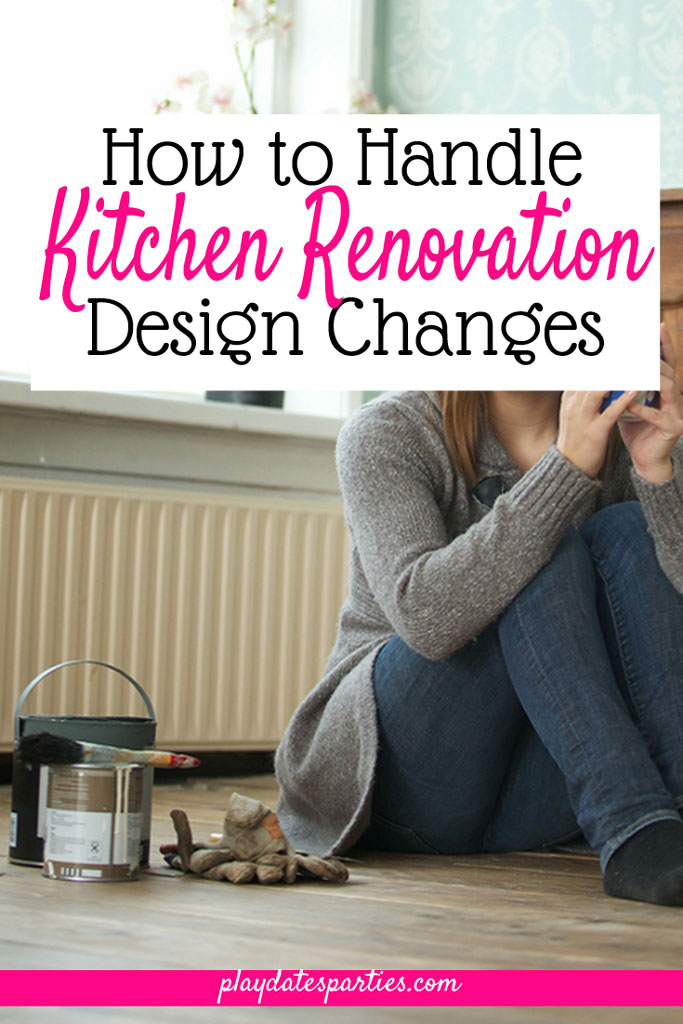 This post may contain affiliate links for your convenience. I am a participant in the Amazon Services LLC Associates Program, an affiliate advertising program designed to provide a means for this site to earn fees by linking to Amazon.com and affiliated sites.
You know how it goes, you look at gorgeous photos of kitchens for years and develop a dream of exactly what you want your kitchen to look like.
Then, the time comes to finally put that dream in place…and you second guess everything.
Sounds about right, doesn't it?
If you read the last two posts about our kitchen renovation, you already know that it was totally unplanned. The pipes in our home are failing, resulting in a massive leak that completely ruined one of our kitchen cabinets.
Of course that just set off a chain reaction, which means we're getting a completely new kitchen (and plumbing).
And because we hadn't planned for this renovation, we had to quickly pull together a last-minute design plan before heading off to pick out our big ticket items.
But then reality struck, and suddenly that plan needed changing while we were at the cabinet and tile stores.
Many would panic.
But thankfully, I've learned over the years that a design plan isn't set in stone.
The Real Purpose of a Design Plan
The true purpose of a design plan is to help pinpoint the style and feel of your room, not the exact details.
Before anybody gets too upset at me, I need to make this caveat: I'm not referring to design plans as space planning tools or floor plans. Some people consider what I call a 'design plan' a 'mood board', though that discussion is entirely for another post.
In this case, a design plan is used to identify the general style and direction of your space.
Most of the items I dreamed of choosing for our kitchen ended up getting changed in one way or another. But because I knew how to adapt based on the existing design plan, we were able to move forward quickly and confidently.
How A Design Plan Helped Our Kitchen Renovation Design Changes
Take a look at some of the major design elements that were part of our design plan, and how our changes stayed consistent with the original design plan.
Design plan Element: White Shaker Cabinets
I have dreamed of white shaker cabinets for years. But when I finally saw them in person, I hated them.
Talk about disappointed.
The cabinets just felt too cold and sterile. Seriously, it felt like we were standing in a cheap office kitchen.
Perhaps if we had a larger budget, then we could have purchased high-end shaker cabinets with that gorgeous bevel and a paint job that doesn't look like laminate.
But not this time.
Not to be deterred, I took a moment to think about the most important elements of my dream cabinets:
White, to brighten up our home
Clean lines,
Not too formal, and
Visual texture without glazing or color.
So, we looked through the other options and finally found a cabinet that fit all of those requirements. And I love our choice. They are still white, simple and elegant, perfectly transitional, and have just enough texture to provide interest without feeling busy and formal.
Design plan Element: Butcher Block Countertops
*Sigh* I wanted butcher block countertops so much.
Unfortunately, the Husband was dead-set against them, and for good reason.
I planned to install butcher block around the sink and stove. And while it can be sealed, butcher block counters in those areas definitely require maintenance.
Maintenance we honestly don't have time to do.
The husband's argument was sealed when he reminded me how splashy I tend to be when washing dishes. Seriously, water gets everywhere!
So, while the butcher block counters were intended to warm up the white cabinets, and coordinate with the oak wood floors already in the space, we're headed in the direction of a white and gray kitchen with a quartz that replicates marble.
BUT, we were able to go into the back of the store and choose a full slab of quartz, which made the selection process so much easier.
And to reflect the original design plan, we ended up choosing a warm faux-marble instead of something that is bright white. That will help tie in the warm tones of the existing wood and will be fairly versatile in the long run.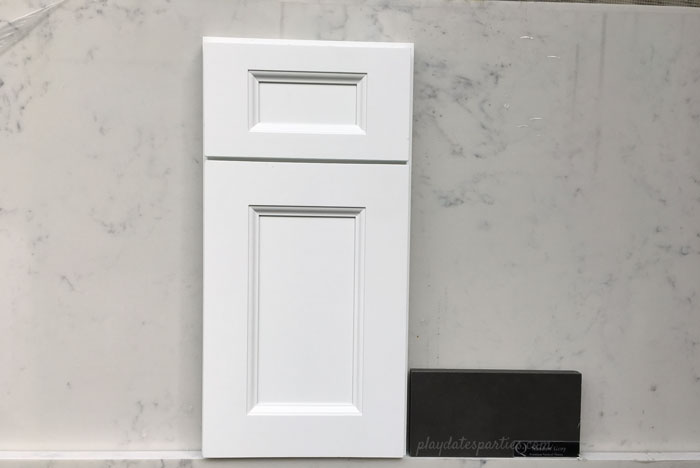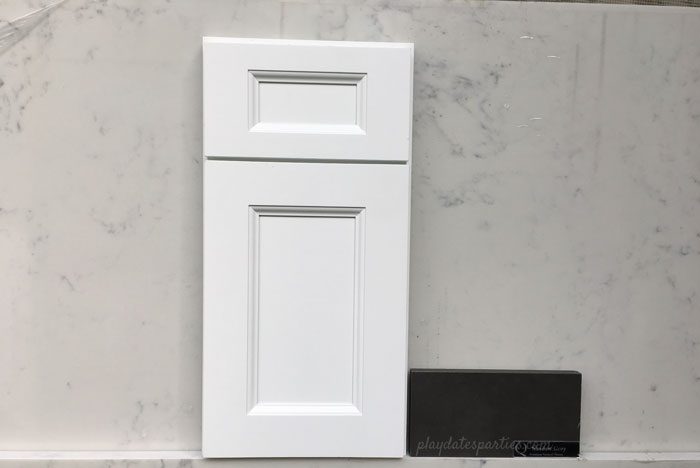 Design Plan Element: Dark Island Countertop
Finally, one element that didn't change. Wahoo!
Design Plan Element: Herringbone White Subway Tile Backsplash
Of all the changes, this is the one that breaks my heart the most.
When pulling together the plan, I hadn't considered how the tile would look around the window. It's a good thing my contractor and the tile installers did.
They brought to our attention that the herringbone would not work between the window and the cabinets. Even with smaller 2×4 tiles, there's just not enough space.
Instead of a beautiful, classic look, it would create the effect of having a different pattern on the sides of the window. And not in a good way.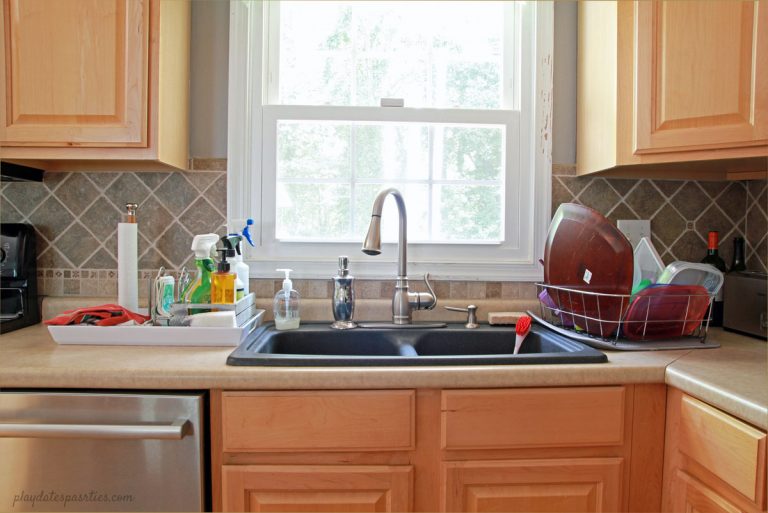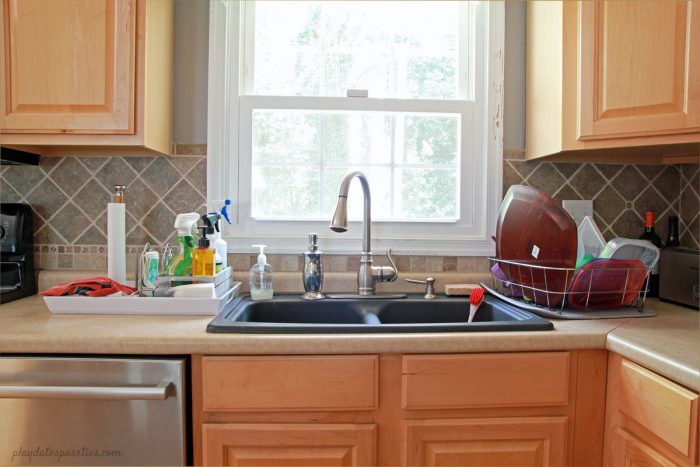 Plus, the extra cuts and placement would dramatically increase the budget.
So back to the tile store we went.
Based on the design inspiration, we knew we wanted to stick with a white backsplash that would coordinate with the new choice of countertops.
In the end, I chose Soho White Glossy convex porcelain tiles by Anatolia. It's more modern than I was originally considering, but I love it and can't wait to get it installed.
The Updated Design Plan
Even after all the kitchen renovation design changes, I'm still excited to see the what everything looks like when it's all done. So excited that I used my product photos to make a (terrible) mock-up of the new design.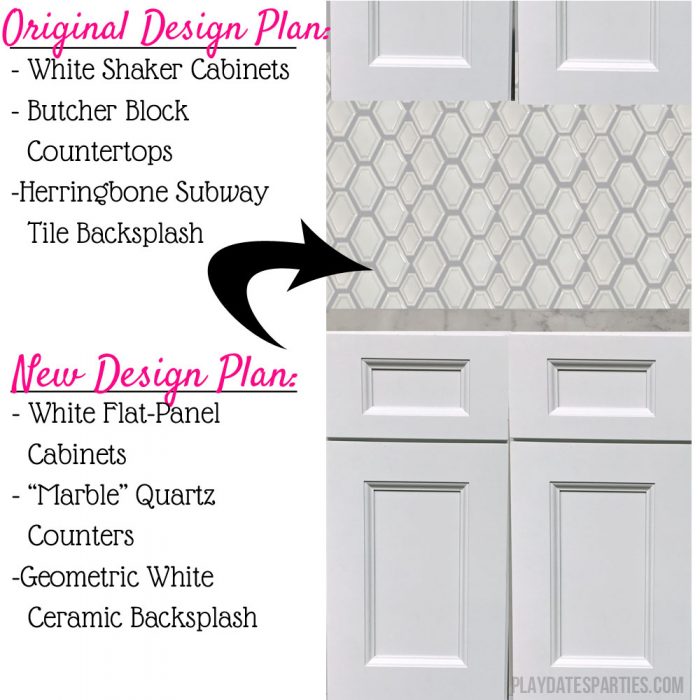 Week 2 Day-to-Day Progress:
Here's what's happened since last week:
Day 8
Most of the drywall is finally up and the space feels like it's actually a room!
In the awkward space next to the refrigerator, we now have wood "studs" in place to support the planned shelving and massive

floating

shelf

brackets

we ordered.
The family is still staying at the hotel, and getting tired of it
Day 9
More drywall is up on the walls
The contractor is now addressing a settlement crack that developed in our ceiling over the years. (More drywall to come!)
Day 10
Sanding & priming day.
It's super dusty, and we're moving back in. As much as I was tired of the hotel, I kind of wish we'd stayed there until the painting was finished.
Days 11 & 12 – Happy weekend!
Day 13
More sanding & priming
Electricians came back to check outlets
Contractor realized that the current recessed lighting trim might interfere with the cabinet doors, so the electricians are on that now, too. (They were old and yellowed, anyway)
Day 14
Cabinets are installed…yay!
After cabinets are in place, the space is measured again for countertops.
Whew, what a week. Take a look at the progress:
Don't forget to check out all the other awesome One Room Challenge renovations over at Calling it Home
See the Rest of the Renovation:
Don't forget to share this post with your friends and family, and subscribe at YouTube, Facebook, and Instagram for more fun ideas and inspiration!

SaveSave
---
I want to extend many thanks to the readers who have enjoyed renovation and home DIY posts over the years. Unfortunately, in January 2018 I was diagnosed with Stage II breast cancer and had to stop doing home renovation posts due to treatment.
Since that time, my focus has been on making this website an amazing resource for the everyday mom's parties. Due to their popularity, the DIY posts and tutorials will remain on the website, but comments are now closed. Thank you again and I wish you the best in your DIY endeavors!
SaveSave