Struggling to find the right shade of gray for your walls? These 4 tips will show you how to pick gray paint that works for your home every time!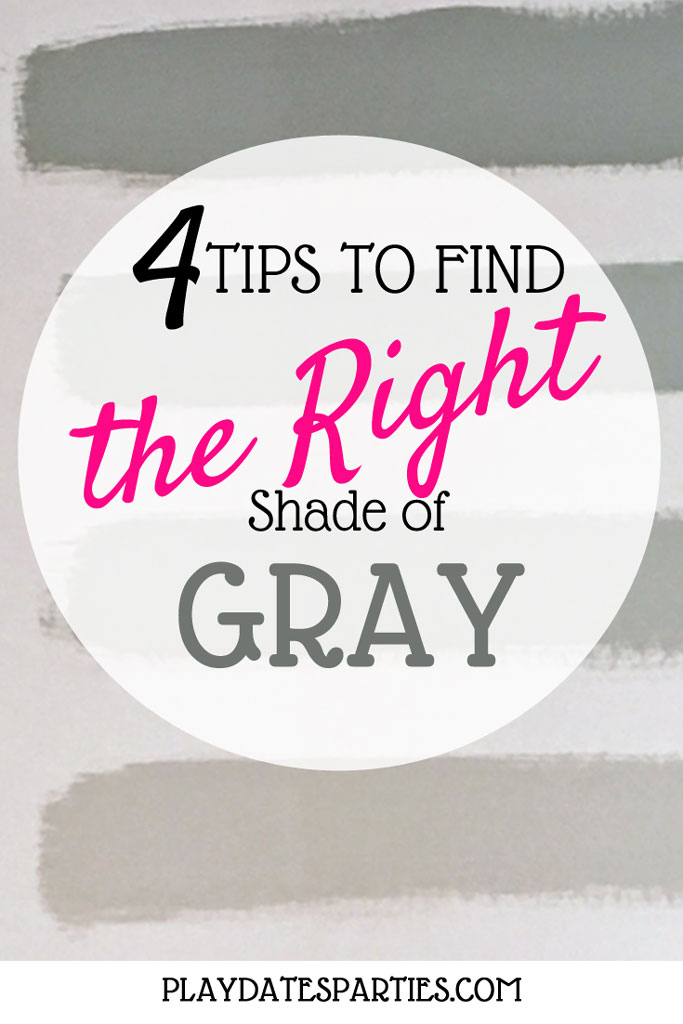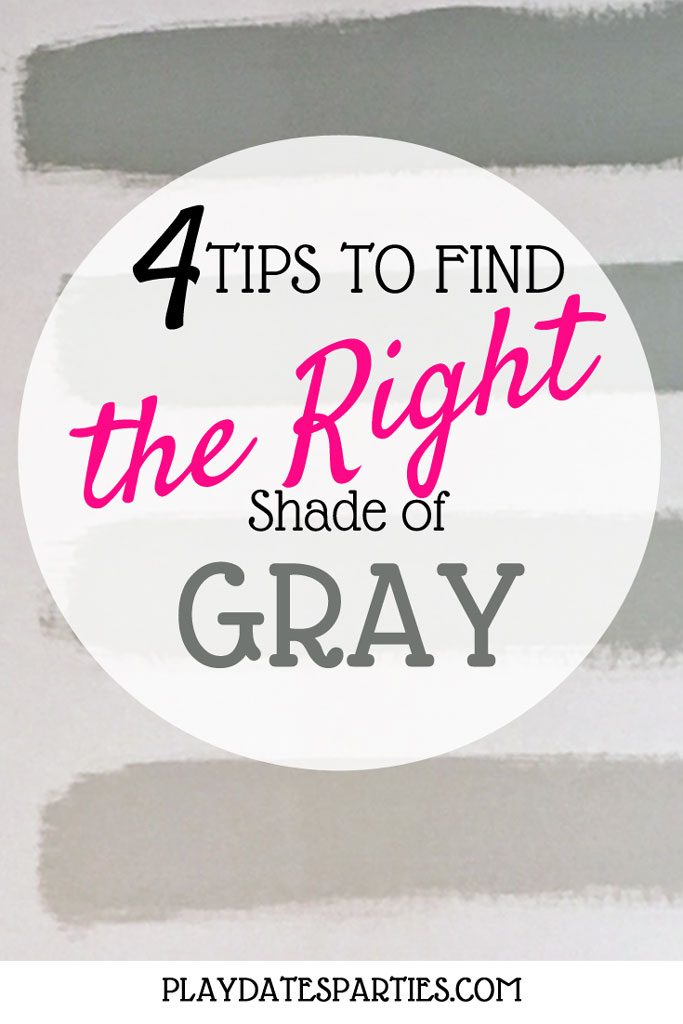 "It's purple."
"It's supposed to be gray."
"Well, it's purple"
When first decorating our home back in 2007 and 2008 the gray trend was just starting to emerge. And I was fully on board.
The first room I painted gray was – at the time – our guest bedroom. I was so excited for a soft, pretty new neutral.
But when the paint dried, it wasn't gray at all. It was a soft purple. And even though my friends and family tried to convince me that it was indeed gray, I knew I had messed up.
There are literally hundreds of shades of gray available on the market today. And if you don't take the time to research your color before committing to a gallon (or more) of paint, you will likely be as disappointed as I was when my beautiful gray room ended up being light purple instead.
How to pick gray paint that works for your home:
Don't trust the store lighting
Fluorescent store lighting is notoriously harsh, and is rarely complemented with any natural light at all. The end result is that the paint swatches in the store often look completely different than they do in your home.
Rather than guessing what the color actually looks like, grab a bunch of swatches (10 or more) and take them outside. Natural sunlight will give you a much better idea of the true shade on that little piece of paper.
Then, pare down that bunch to the 5 or 6 you like most.
Know Your Undertones
Is your home filled with warm colors or cool colors? Do you hate blue, but love green?
Gray comes in 3 primary undertones: blue, green, and purple. That said, I like to add in a fourth category for greige which tends to appear more beige or brown in some lighting.
Figuring out which undertone your grays have can be extremely tricky. Taking the swatches into natural light helps, but you may need to do more to see the true undertone of the color. Tidbits & Twine pulled together a fantastic post on how to see the undertone in your color selections that is especially helpful with gray.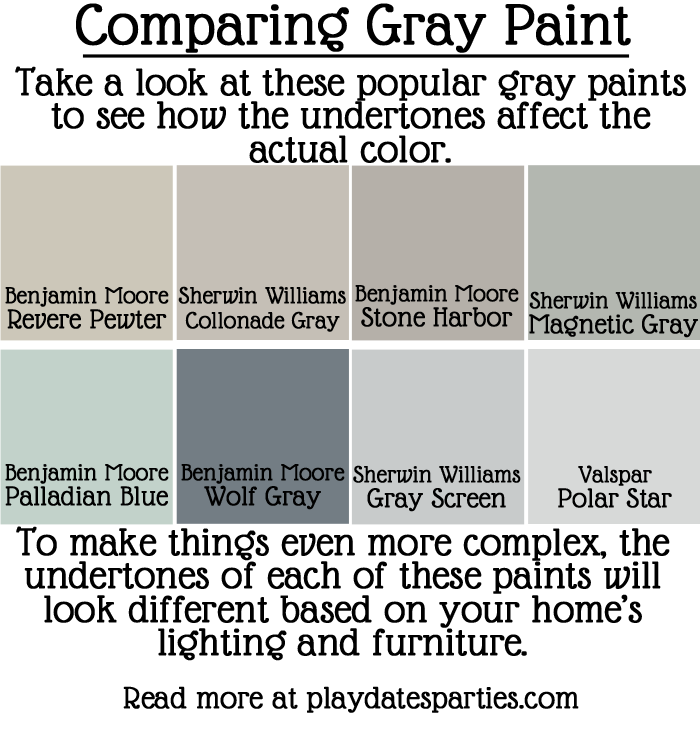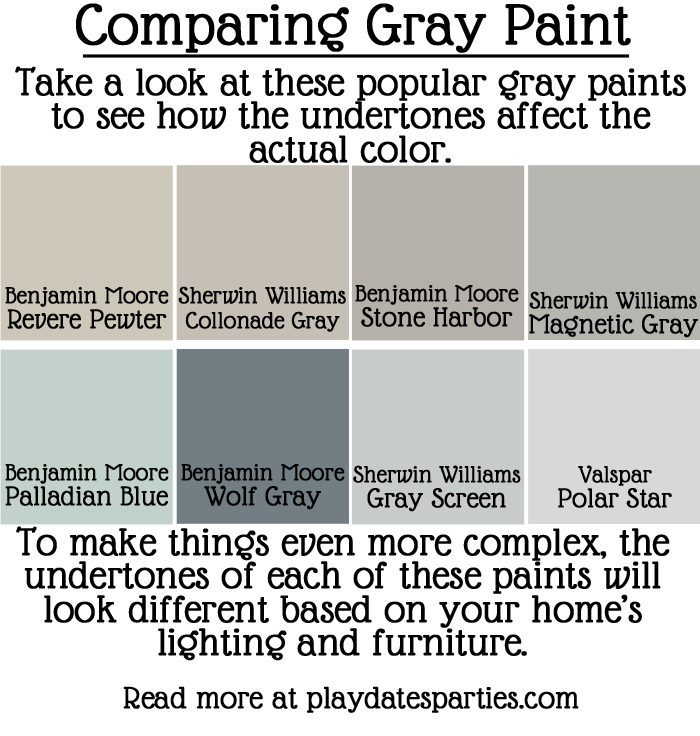 But knowing the undertones of the gray you choose isn't the only thing you need to consider.
You also need to remember the undertones of the furniture and fixtures in your home, because they will have a dramatic effect on the way your paint color will look.
For example, if your home is filled with warm furniture, then if you pick gray paint with even slight blue undertones, it will look far more blue than in a home with white or cool-toned furniture.
So, make sure you are considering all those undertones when standing in the store parking lot with your paint swatches.
Which leads me to the next step…
Buy the Paint Samples
Seriously, this is possibly the most important thing you can do.
It's totally worth the $5 per jar to make sure that the grays you are considering actually look good in your home. I usually pick gray paint samples in 4-6 shades:
1-3 colors that grabbed my attention right away (when in natural light)
If the first three have similar undertones, then at least 1 or 2 similar colors that have different undertones,
At least one color that is popular with decorators.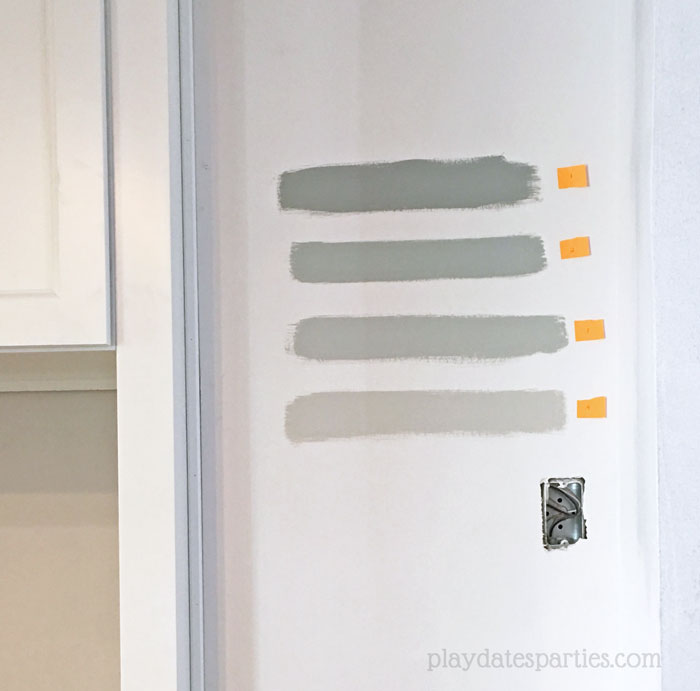 Use Your Paint Samples the Right Way
Now that you've purchased your paint samples, it's tempting to just slap up a little square on the wall and then make a decision, right?
Wrong.
If you want to get the best chance at knowing what the new paint sample will look like, remember this:
Put samples up all over your space. See how the color looks in both darker and lighter areas, as well as how it looks up against your trim.
Don't simply put a small patch of paint up on the wall. You will need a large enough swatch of color to really see how the light affects it. As you can see in the image above, there is a shadow on the paint swatches for our new kitchen that is created by the adjacent wall. Small (or vertical) test patches would not have shown how the colors look in both the light and the shadow.
Put up two layers of sample paint. If the first coat is too thin, the way it looks will be affected by the current color on your walls.
If your current paint color is drastically darker or lighter than the new color, it will affect the way the sample looks. Paint it on some

white

cardboard

sheets

instead and place those sheets all around the room. (

Command

strips

are great for this)
Give yourself time. If possible, you want to see how the color looks for at least 24 to 48 hours before making a final decision. That way you can see how the color looks at different times of day and in different lighting levels.
Mark your samples. When testing similar colors, it's very easy to get them confused. I like to number each paint sample right on the can and then use

small

sticky

notes

to number my painted samples.
6-Week Kitchen Renovation: Week 3 Progress
OMG it's starting to feel real. Take a look at everything that's been going on:
Days 15 & 16
No one is working on the house while we wait for countertops to come in, but there's a whole lot of shopping going on! Hours upon hours are spent:
Looking for cabinet hardware
Researching a million and one barstools to put at the island
Testing samples to pick gray paint that will work with both the oak floors and white cabinets
Picking out appliances! (We waited until the cabinetry was installed to verify the size opening we had available for the refrigerator)
Day 17
COUNTERTOPS!
So excited to finally see the counters come in. All the custom cuts were made on-site, which was loud, but awesome, because everything fits perfectly.
While the cabinet installers were here, they also installed a panel to close off the opening on the hidden side of our blind cabinet. No lost items for us!
The knobs and pulls I frantically searched for over the last few days were installed, and
That perfect shade of gray paint was added to the remaining drywall.
Day 18 & 19 – It's the weekend!
Day 20
I've been excited about the backsplash for months, and this is the day the tilers come to put it in. Unfortunately, there were a couple snags:
Without a microwave in place, the tilers had to rely on product page information. Fingers crossed the listed dimensions are correct!
It turns out our backsplash tile is actually sold in sheets that are slightly less than 12×12. With all the cuts around the window and in the corners, we are 3 sheets short. Tiling can't finish today.
A rush order was placed for a few more sheets of tile. Let's hope they get here in time to meet the 6-week deadline!
Day 21
Plumbing is back to install the faucet, and the lines for the dishwasher and refrigerator. Now all we need are our appliances and it will feel like we have a real kitchen again!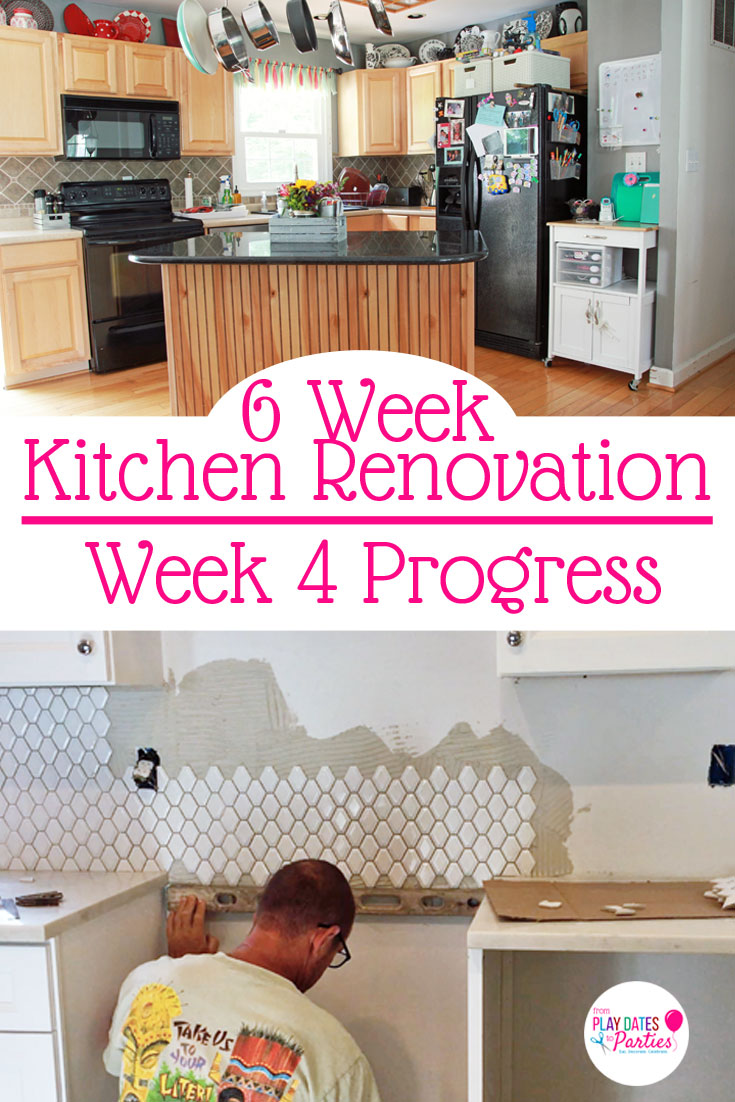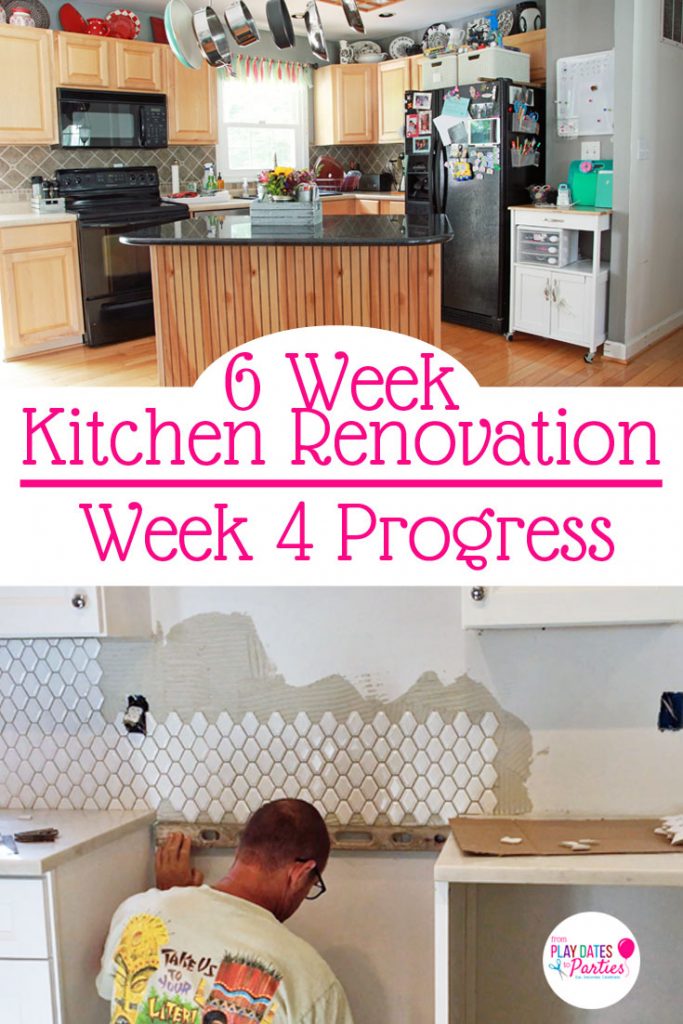 So…we're three weeks into our kitchen renovation.
So many people told me not to trust our contractor's 2-3 week timeline. But it was pretty much spot on. There are only a few details left, and he's been on top of the whole process. That said, I'm ready to be done eating out or using our crock pot for dinner, and we're all ready for the dust to settle on this one (literally!)
Don't forget to head over to Calling it Home to check out all the other amazing renovations happening for this One Room Challenge.
See the Rest of the Renovation:
---
I want to extend many thanks to the readers who have enjoyed renovation and home DIY posts over the years. Unfortunately, in January 2018 I was diagnosed with Stage II breast cancer and had to stop doing home renovation posts due to treatment.
Since that time, my focus has been on making this website an amazing resource for the everyday mom's parties. Due to their popularity, the DIY posts and tutorials will remain on the website, but comments are now closed. Thank you again and I wish you the best in your DIY endeavors!