You have to see the details of this small white kitchen renovation, including faux marble and grey quartz countertops, DIY shelves, & light wood floors. It just goes to show that big style can fit into small spaces!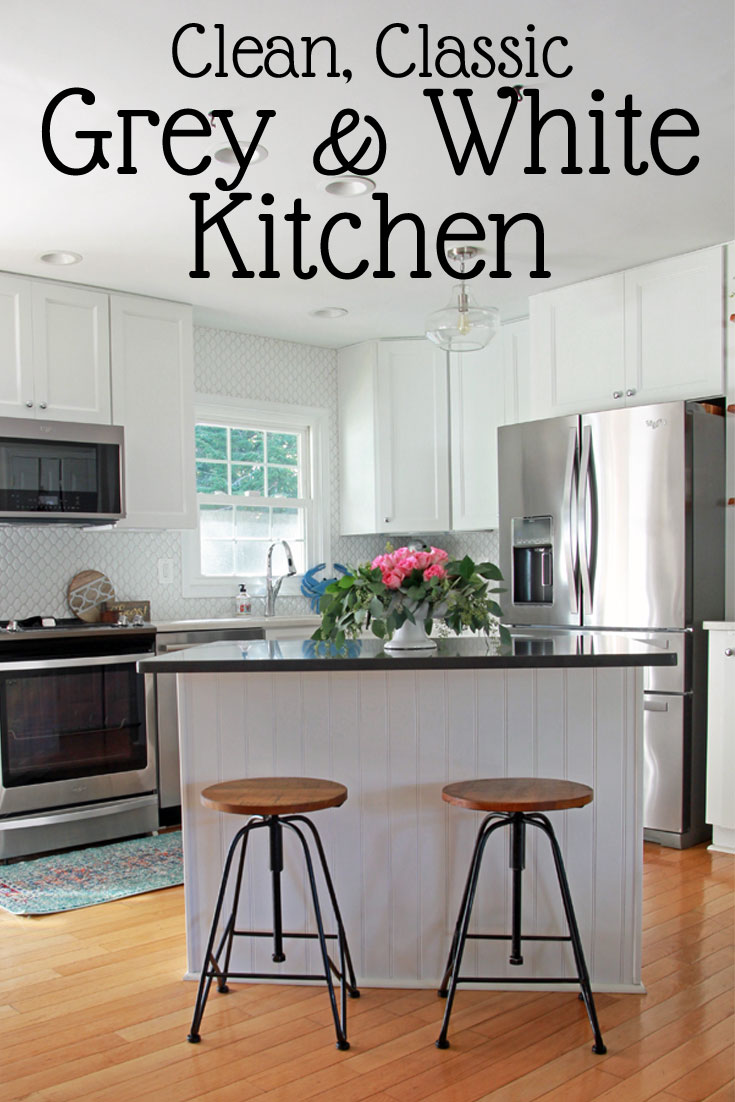 "Don't trust your contractor's timeline"

"Yeah, my contractor said 4 to 6 weeks, too. It took a lot longer than that."
This is just a small sample of the naysayers who said that a complete kitchen renovation couldn't be done in six weeks. And yet, here I am today with a completely different kitchen – even if it is just a small white kitchen.
Before we get started with all the pretty pictures (and there are lots of them), let's take one last look at where we began: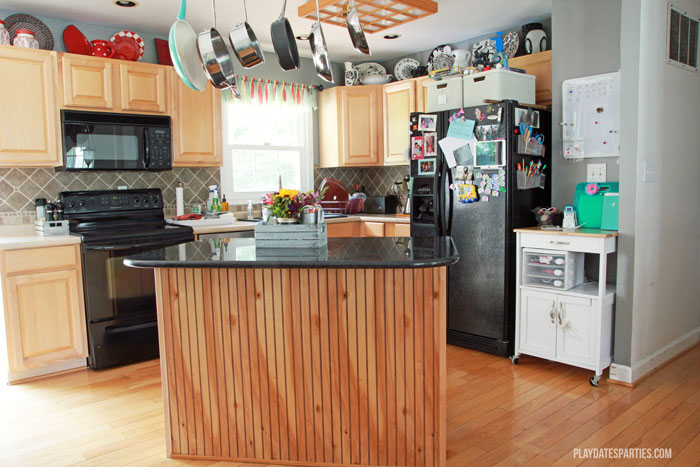 It was more than just cluttered. If you look back at the full story, you know that there were all sorts of problems with the kitchen, including a hidden leak, failing appliances, poor outlet placement, and cheap cabinetry.
And now, here is our small white kitchen:
Yes, this is now where where all the recipe and cooking magic happens.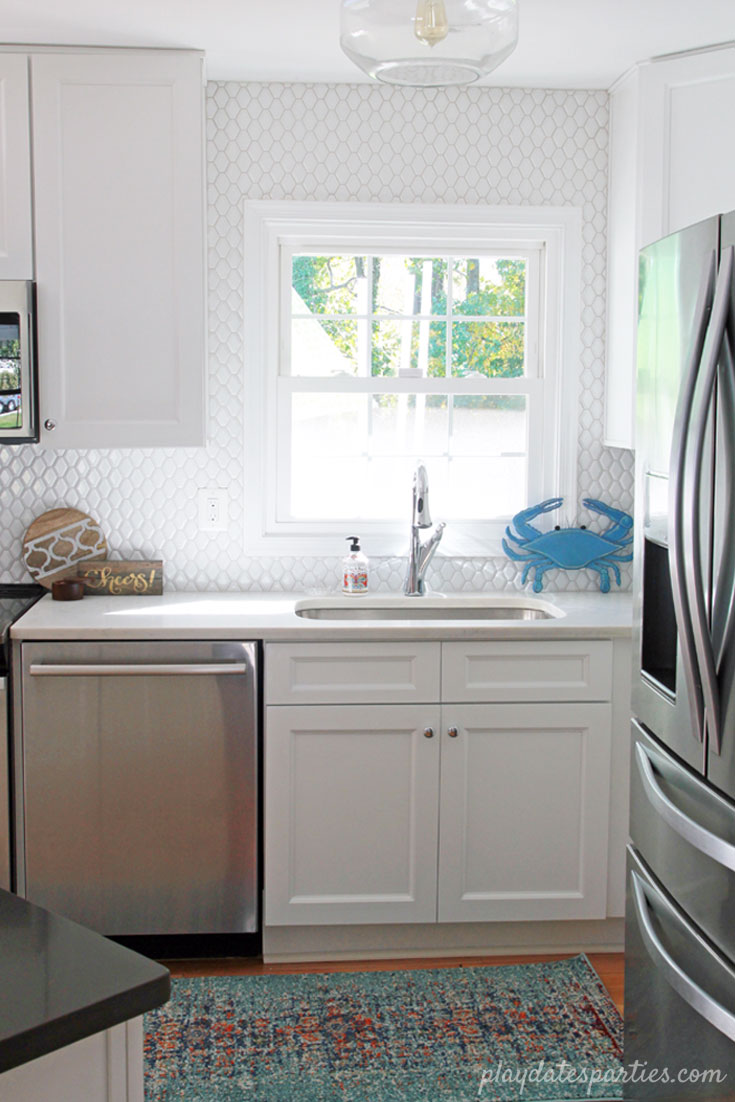 This is what you see as you walk up the steps from our entrance. It's so much brighter than it used to be!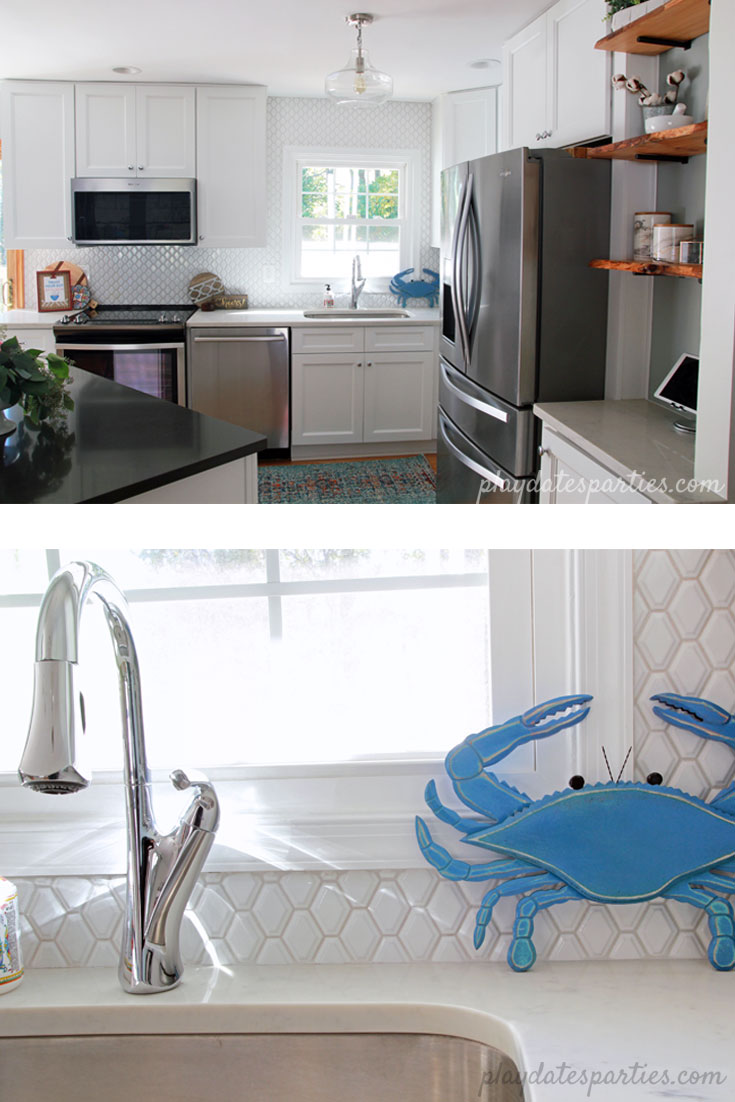 We decided to go with chrome hardware for our kitchen. Don't you just love how it sparkles against that gorgeous tile? And, of course we had to represent our home state of Maryland with a blue crab by the window.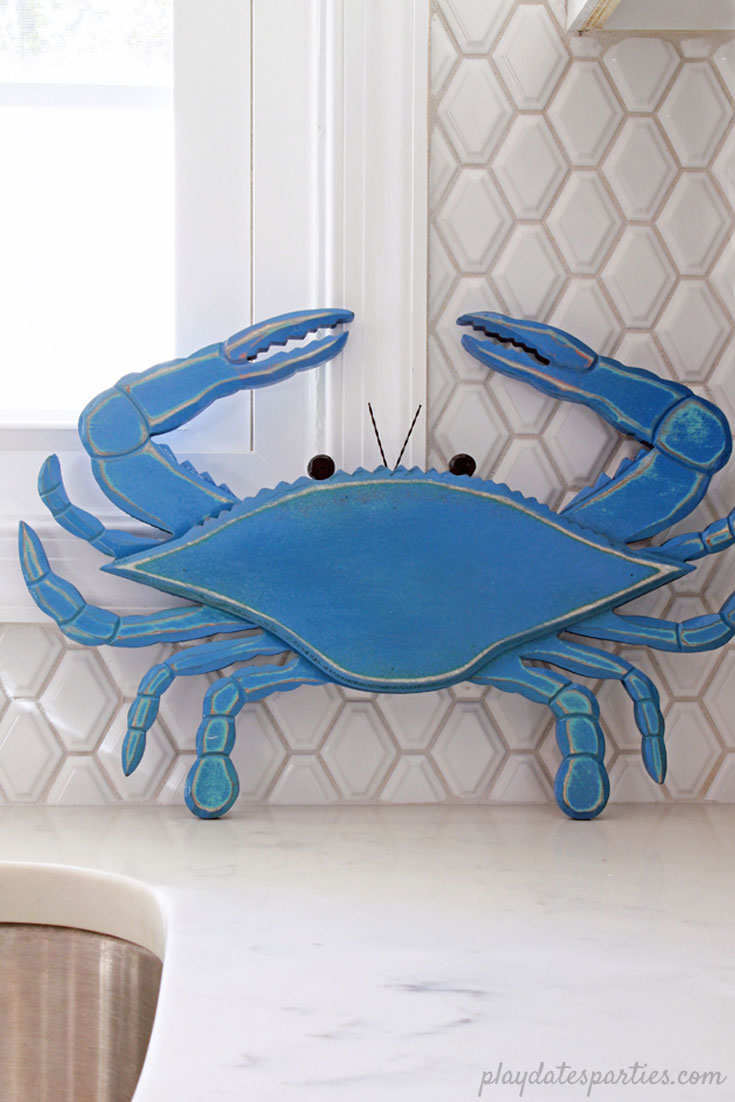 Isn't he adorable?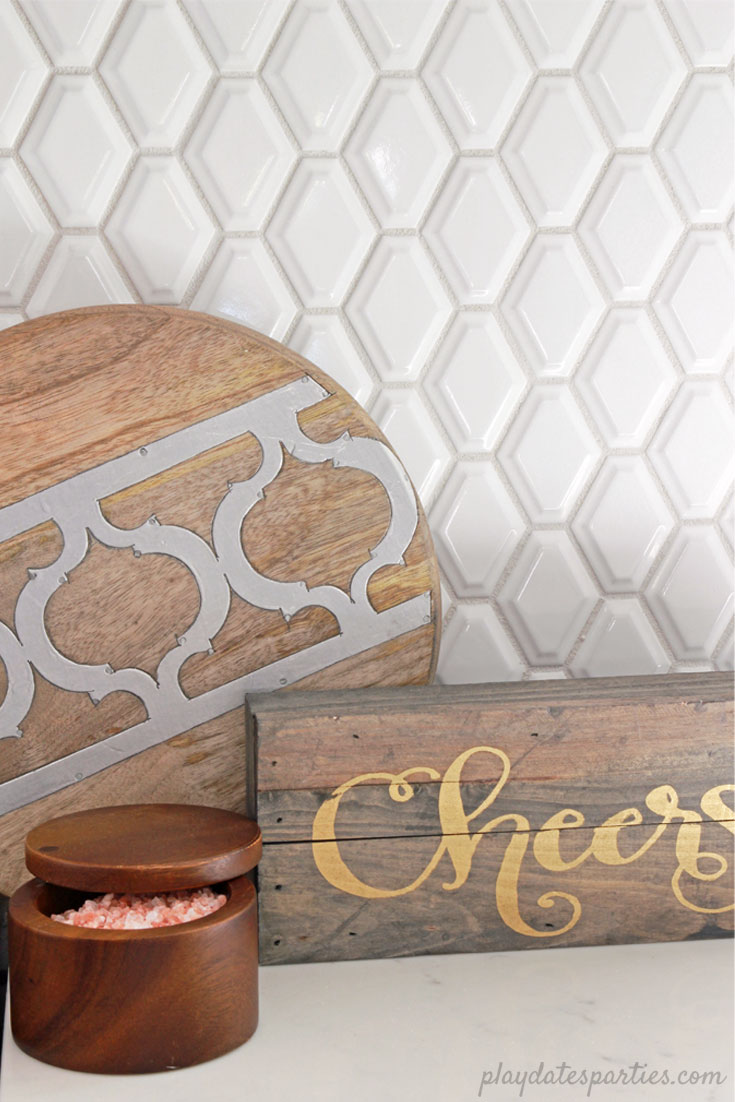 I'm still in love with the beveled tile we chose for the backsplash, and the fact that it goes all the way up and around the window.
Although the grout appears white in the photos, it's actually a very light grey, which accents the shape of the tiles without being too busy.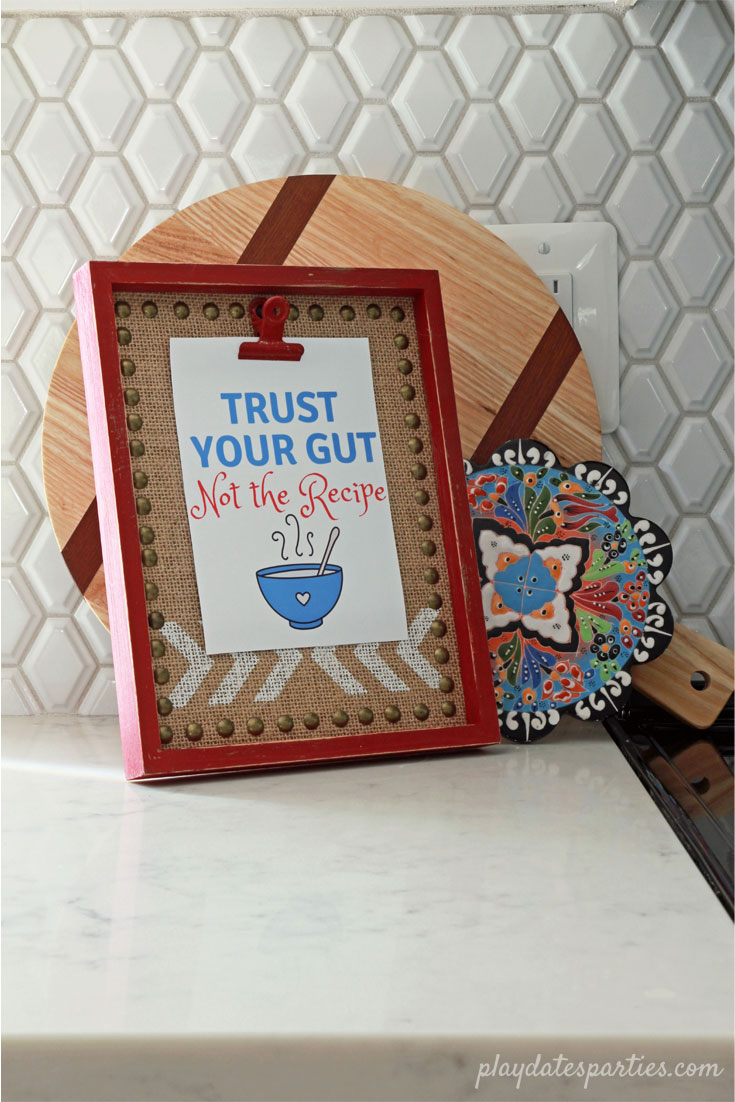 Do you remember how the ONLY outlet we had on that wall was covered by our range? Well, the electricians completely re-wired our kitchen and we now have two outlets on either side of the range!
Moving those outlets made a huge difference, especially since we opted for a slide-in range. Can you imagine how ugly that outlet would have been hanging out by itself?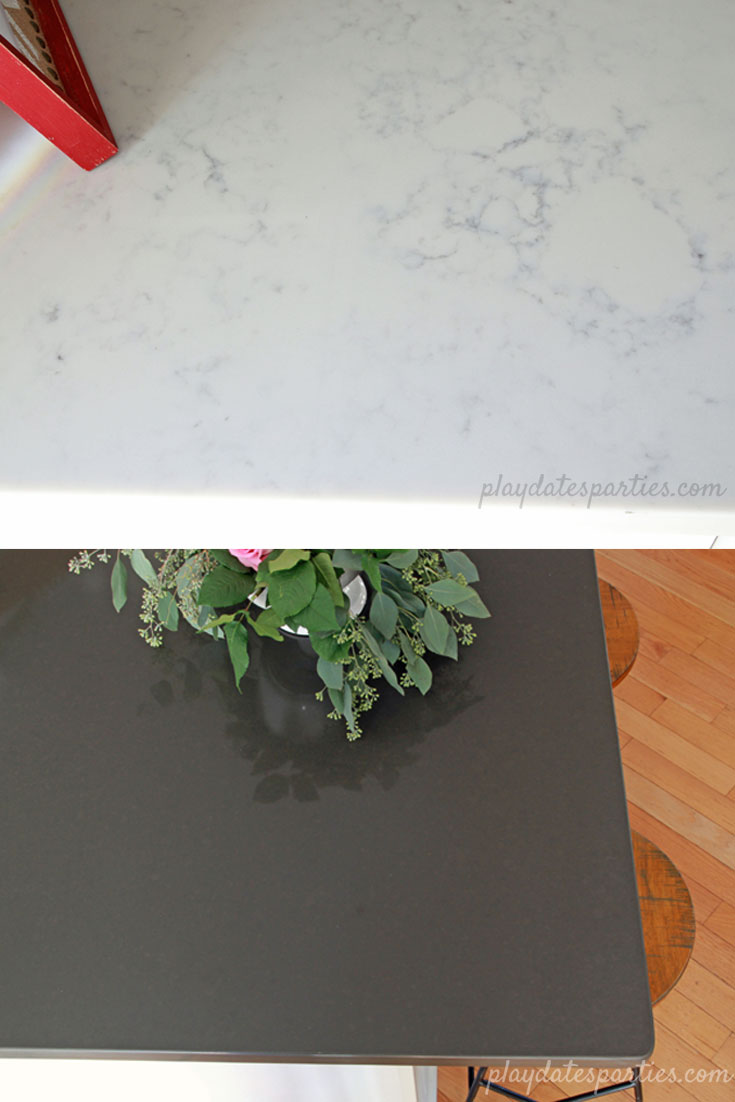 Of course, these countertops weren't even part of the original design. But the faux marble and grey quartz countertops balance out the warm oak floors beautifully.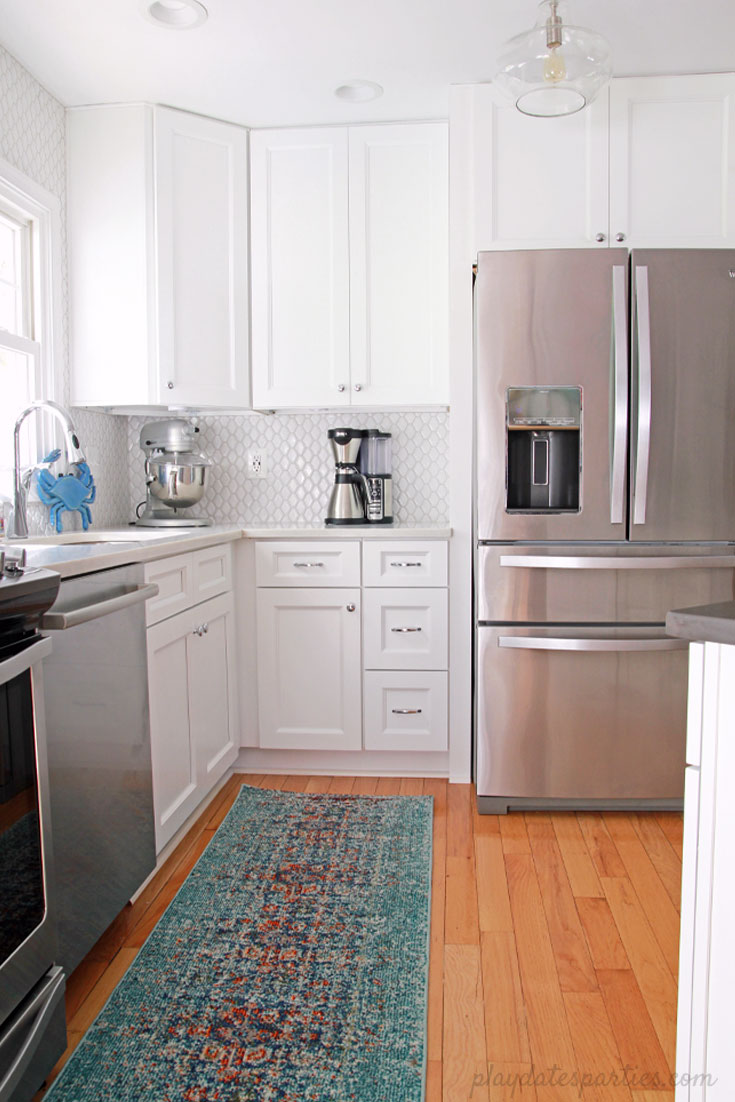 We gave up a little bit of drawer space to make room for the new 36-inch french door refrigerator. So far, I can say it was totally worth it!
The old side-by-side refrigerator feels so inadequate now.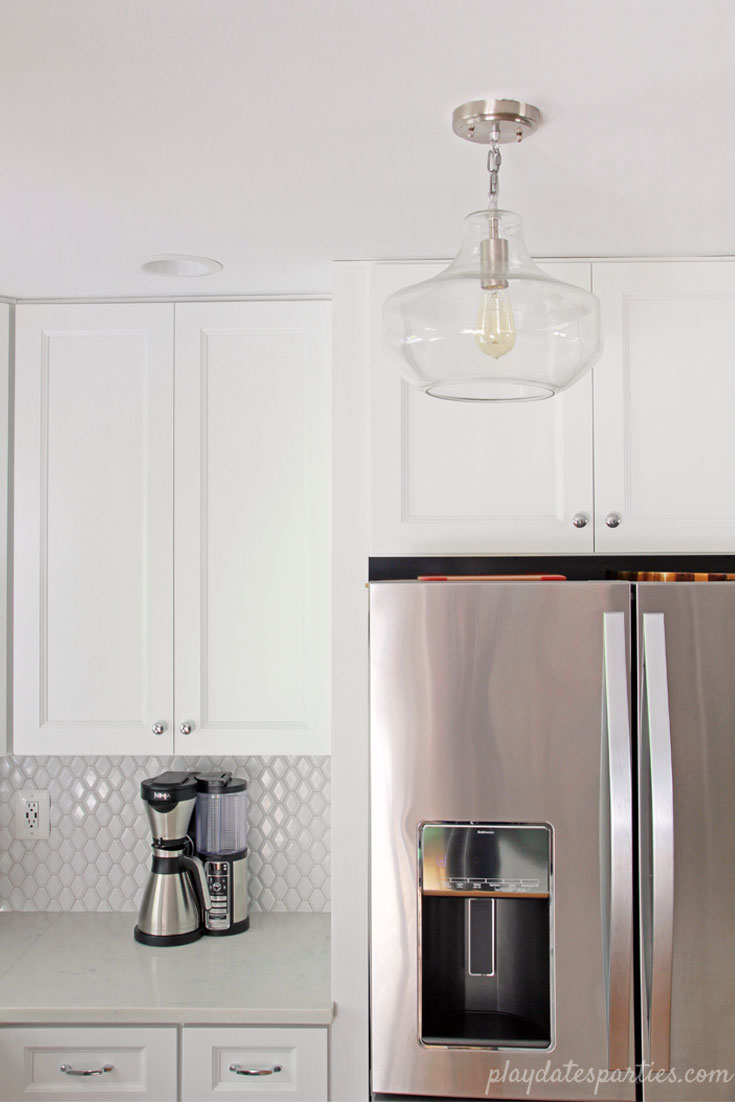 *Sigh* That pendant light was such an ordeal. It's right where the old fluorescent light box was, which is centered perfectly on the window…but not so much on the fridge.
Installing it turned out to be a beast, because it came with a down rod instead of a chain. Let me know if you want to learn how the electrician converted the light from a down rod to a chain, and I'll do my best to explain!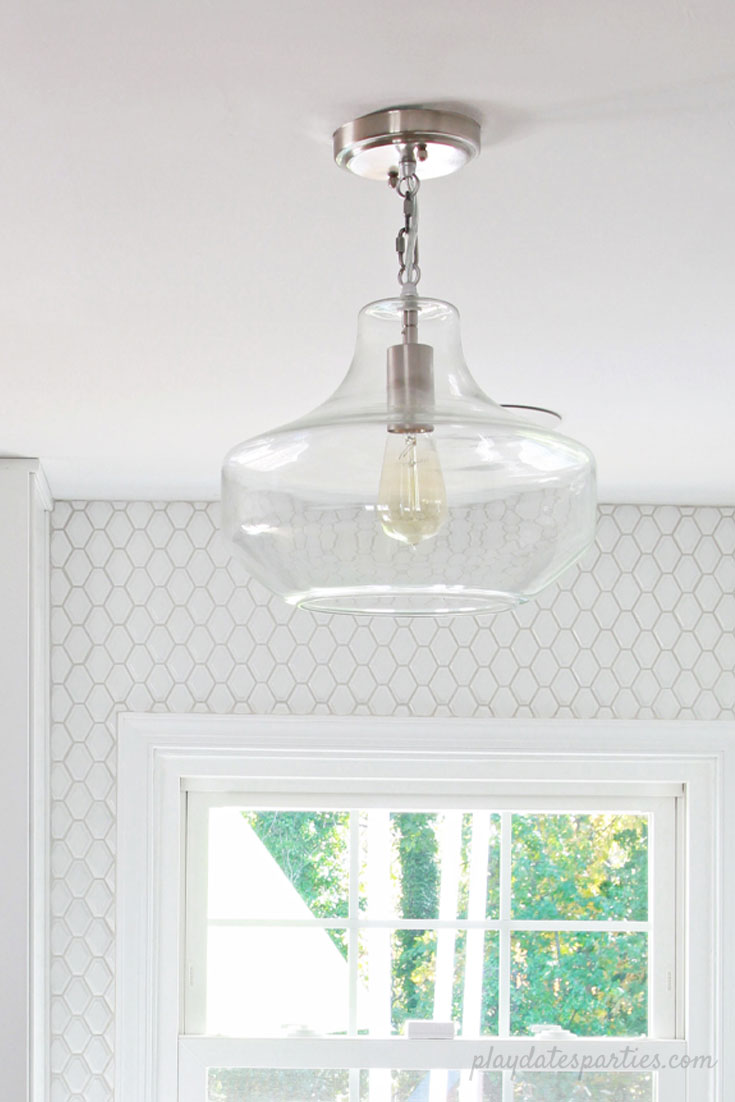 In all the years of dreaming about fixing up our kitchen, I never thought I would want anything other than shaker-style cabinets. But these inset cabinets have just enough detail to be interesting, while still remaining clean and crisp. *Love*
Plus, they're a huge upgrade to the big box store cabinets we used to have, with proper dovetail joinery in the drawers and soft closing doors and drawers. (Take that two-year-old!)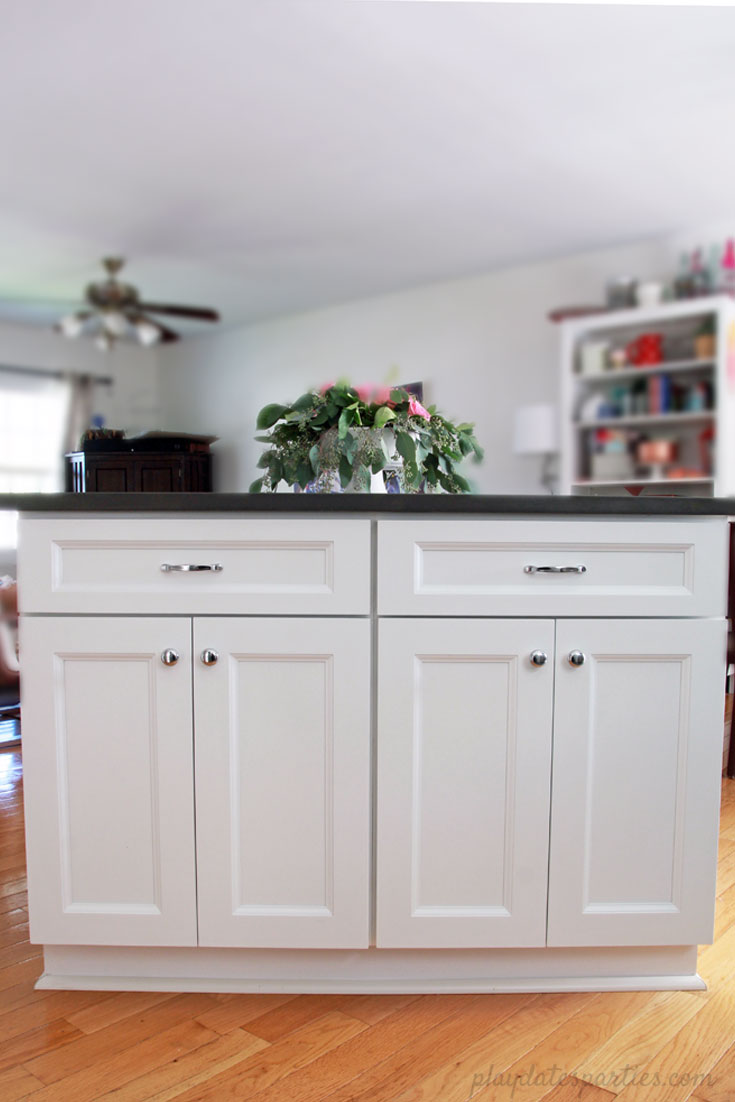 Please ignore the clutter and dated mess beyond the island. Those are projects for another time.
Even though it's pretty much the same size and placement as our old island, having double doors on each cabinet is just so much more functional.
Now for my very favorite area of the whole kitchen….
This is what it looked like before: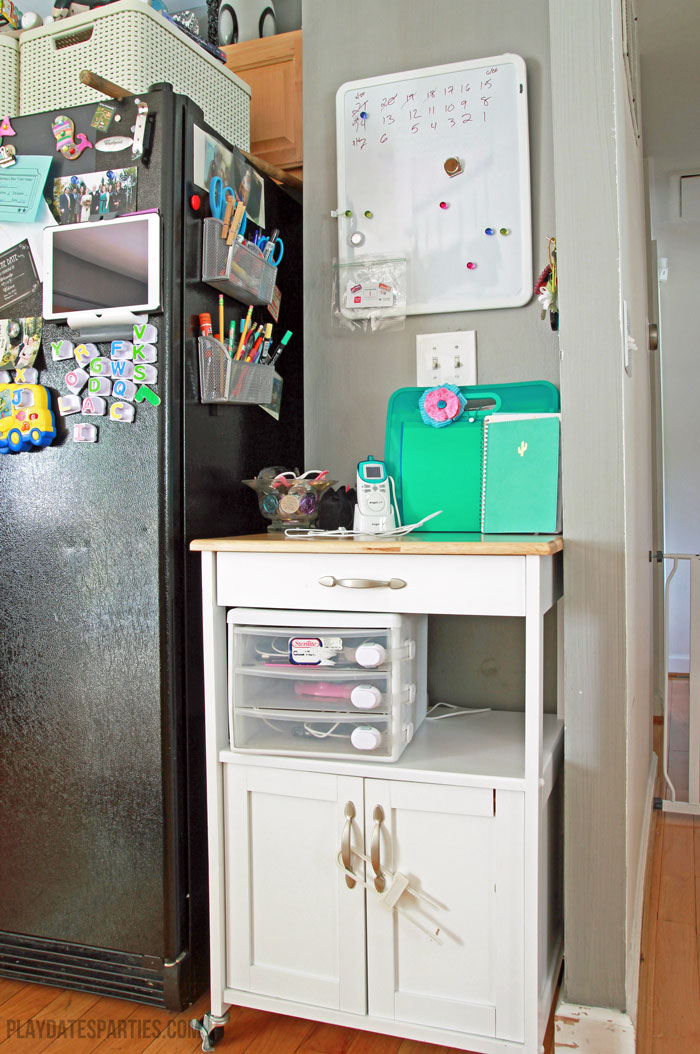 And here's what it looks like now: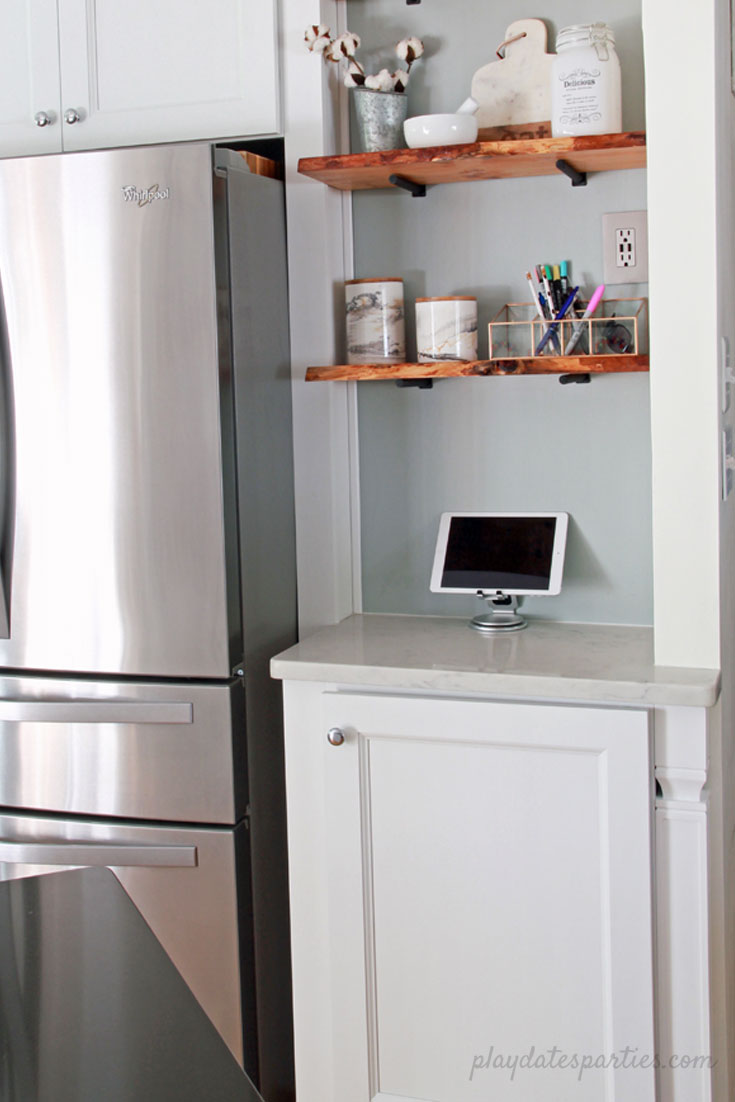 This is MY place in the house. It's where I work when my laptop needs charging. It's where I rifle through mail and school papers. And it's where we keep all our daily items.
So many people fought me on my vision for that space. But by pulling the cabinet forward and adding the post on the right hand side, we increased the countertop depth from a measly 13 inches to 16.5 inches.
It may not sound like much, but that's a huge difference when you're working on a laptop.
Plus, I love the way the counter looks wrapped around the support wall. It feels so much less random, and more like the space was always meant to be that way.
To keep things functional, we had a double outlet installed inside the cabinet with built-in USB outlets. Our plan is to keep our toaster and charging station inside. Hooray for hiding that necessary clutter!
Then, of course, there are the custom live edge shelves that my contractor and I made together: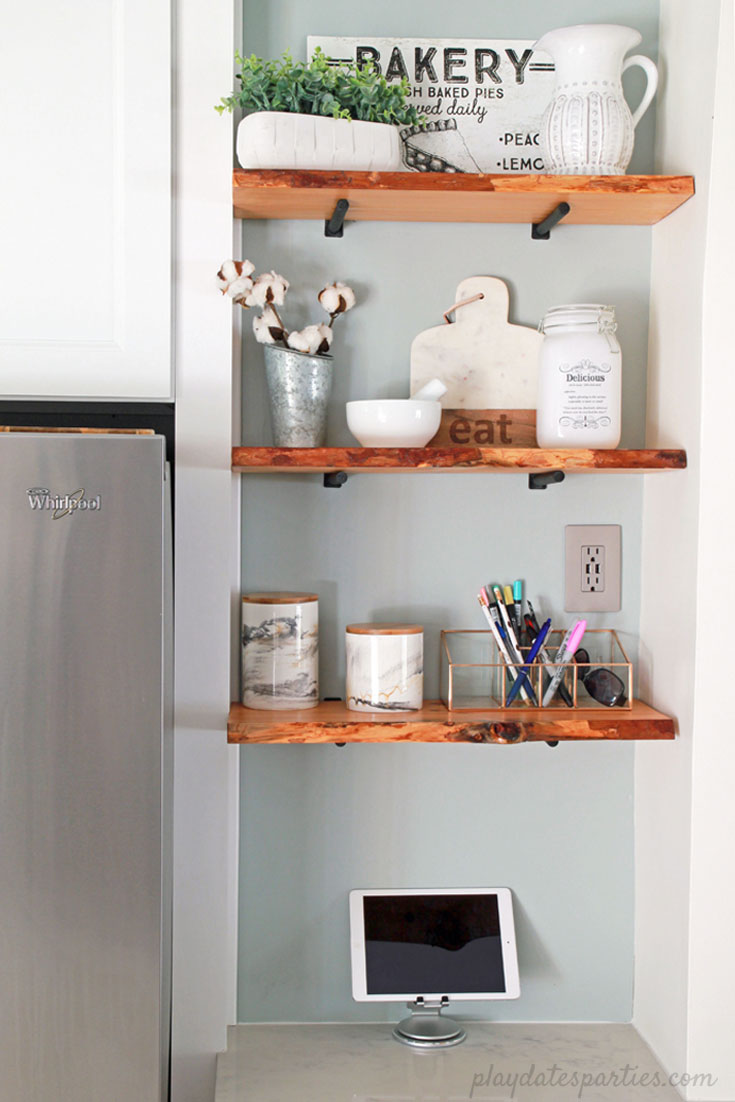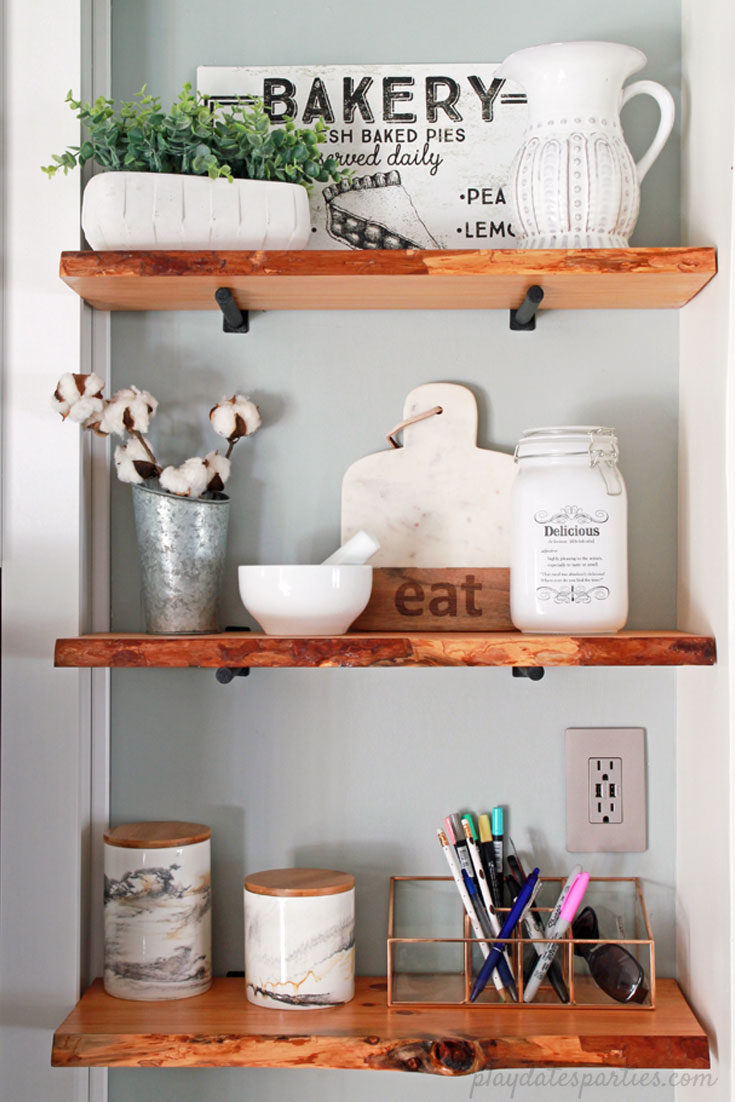 The bottom shelf holds all the things we need daily, like pens, pencils, sunglasses, and my keys-which are usually in that empty section. The canisters actually hold the kids vitamins, medicines, and a few other things that we need daily, but are total eyesores.
And that's pretty much it for our small white kitchen
Let's take one more look at the before and after, shall we?
[clickToTweet tweet="Wow! ? Take a look at this incredible #kitchen transformation (in only 6 weeks!) #homedesign via @PlayDatesParty" quote="Wow! ? Take a look at this incredible #kitchen transformation (in only 6 weeks!) #homedesign"]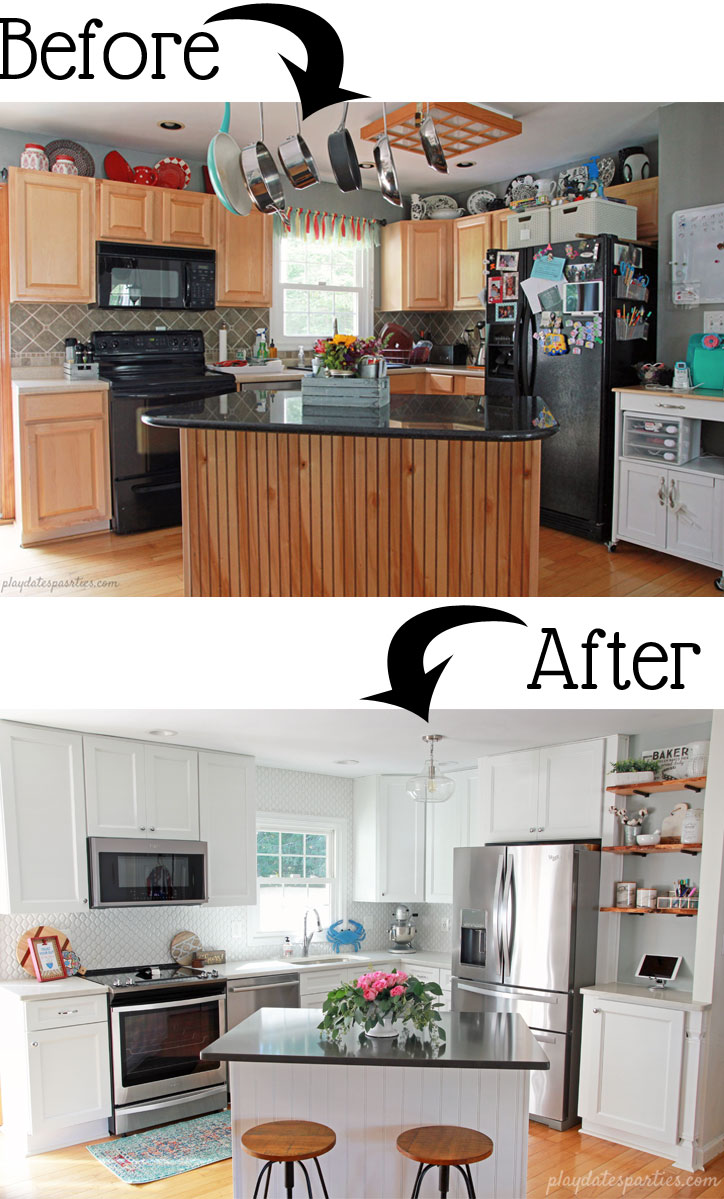 So, yes, it is possible to get a complete kitchen renovation done in just 6 weeks! Of course, it never would have happened without my amazing contractor Brown's Custom Contracting and his team of plumbers, electricians, tilers, and painters.
There's just no way we could have DIY'ed this type of renovation in the same time frame with three kids in tow.
Like something you see? Here's where you can find it:
Don't forget to stop by Calling it Home to see the other room reveals. (Seriously, they are always amazing)
Take a Look at How We Got Here:
---
I want to extend many thanks to the readers who have enjoyed renovation and home DIY posts over the years. Unfortunately, in January 2018 I was diagnosed with Stage II breast cancer and had to stop doing home renovation posts due to treatment.
Since that time, my focus has been on making this website an amazing resource for the everyday mom's parties. Due to their popularity, the DIY posts and tutorials will remain on the website, but comments are now closed. Thank you again and I wish you the best in your DIY endeavors!