Looking for the BEST Valentine's Day treats to share this February? You're in luck! We've got more than 20 cupid approved Valentine's Day desserts for you to enjoy.
Whether you're looking for a bite sized bon bon, a mini heart-shaped cake for two, a cupcake cake to share with a class full of kids, or a dessert and drink in one…we've got it all here. So put up some Valentine's day decorations, grab your apron, and read on for all the tasty goodness.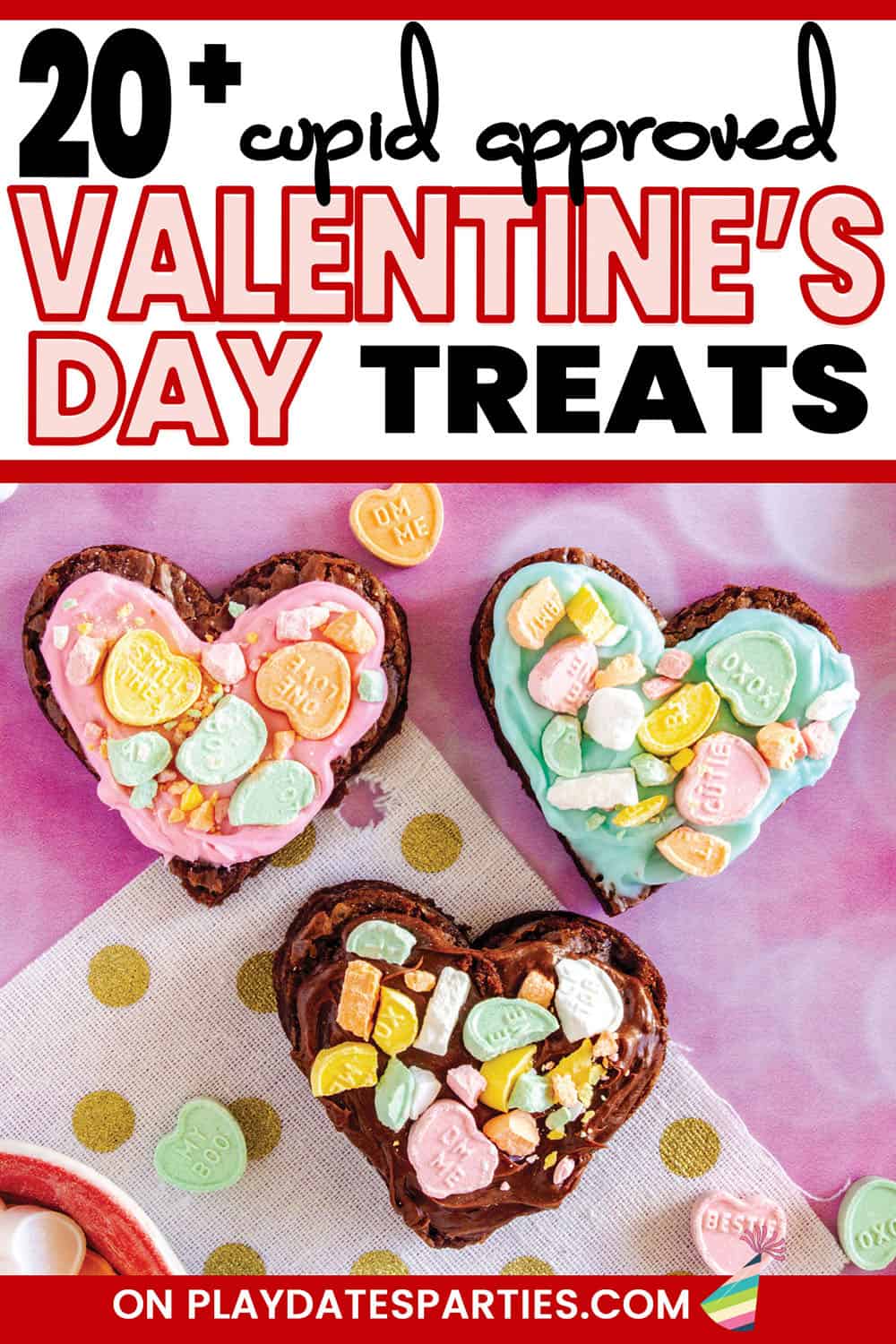 "All You Need is Love. But a little chocolate now and then doesn't hurt." ~ Charles Schulz
I'm with Mr. Schulz on this one. I guess that's why the most iconic symbol for Valentine's Day is a heart-shaped box of chocolates.
But as much as I love a good chocolate treat, there's so much better out there than that box of cellophane wrapped mystery chocolates.
Which is why I went in search of the BEST Valentine's Day treats to make with my kids this year. And, as it turns out, there are a ton to choose from.
Now I'm not sure which to make…the adorable fudge, the heart-shaped bark, cookie dough hearts…
Is your mouth watering just thinking of those, too?
Whether you're looking for a cutesy pink treat to share at the class party, or a romantic layered dessert for two, these Valentine's Day treats are the perfect way to celebrate.
Don't Forget these Essentials
Sure, you could try to make all those hearts by hand…but who has time for that? It doesn't matter if you're making cookies candies, brownies, or any other heart-shaped Valentine's Day treats, you're going to need the right tools.
These four products are a great place to start:
20+ Sweetest Valentine's Day Treats
More Amazing Valentine's Day Treats and Ideas
Now It's Your Turn
Spread a little chocolate love this year with one of these awesome heart-shaped Valentine's Day treats. Then you can not only have love, but chocolate, too!
Which of these heart-shaped Valentine's Day treats would you want to get this Valentine's Day?
---