Take your celebrations to a whole new level with these delicious pink Champagne floats. Tangy raspberry sorbet is topped with bubbly sparkling wine and then garnished with a few fresh raspberries for the perfect dessert and drink combo.
Best of all, there are countless ways to adapt your champagne floats for everyone's tastes. We've even got a couple delicious options to make your own non-alcoholic version.
Serve up raspberry sorbet pink champagne float at your next party and watch them disappear!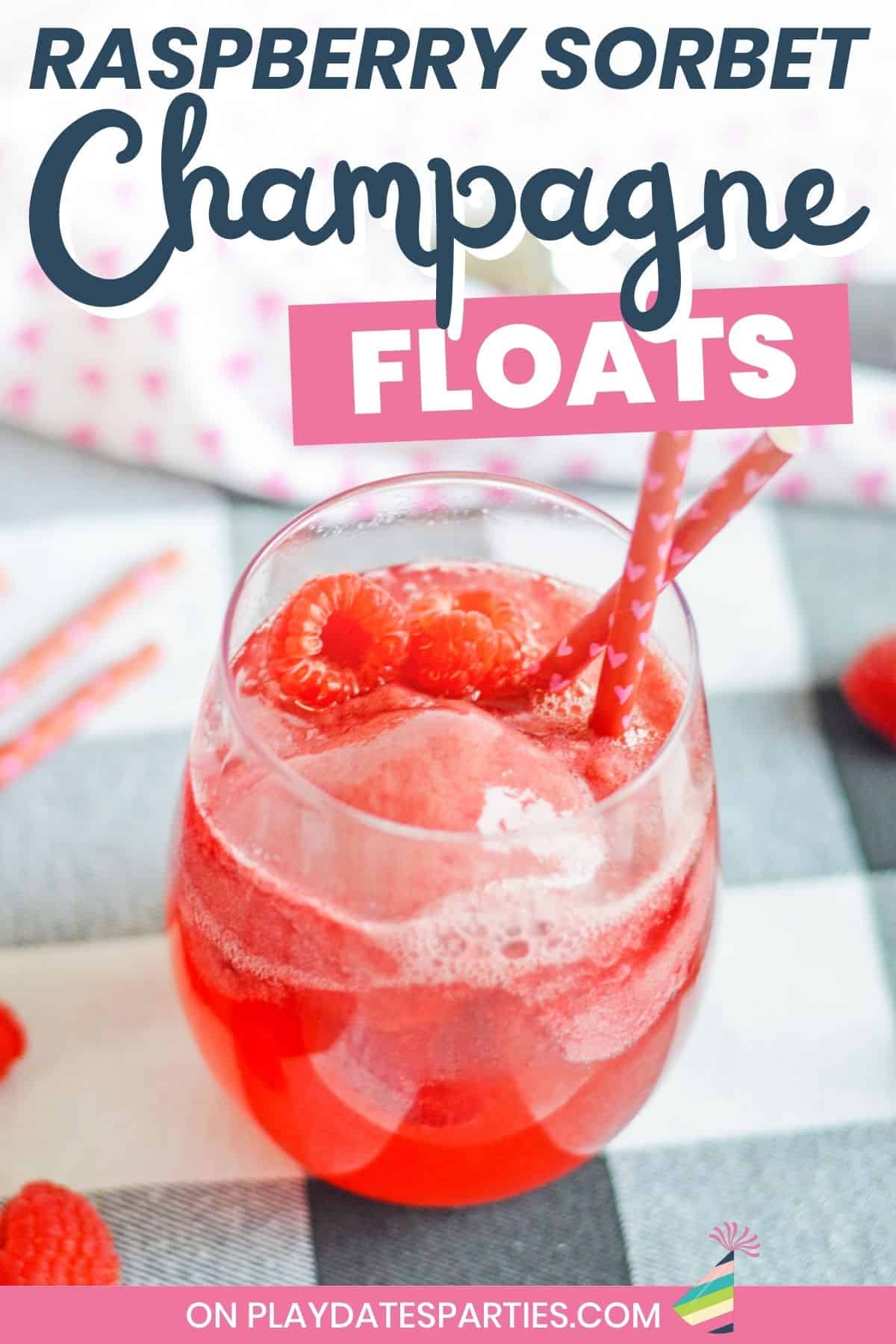 What Makes Pink Champagne Floats So Much Fun
It only uses 3 ingredients, which means it's ready in just a couple minutes. It's even easy enough for your guests to help themselves!
They combine dessert and champagne to create an extra festive treat after a tasty meal.
You can adapt the recipe in countless ways using the tips below. Yes, we even have a non-alcoholic version for you too.
The tartness of the sorbet with the foamy champagne is a delicious match made in heaven.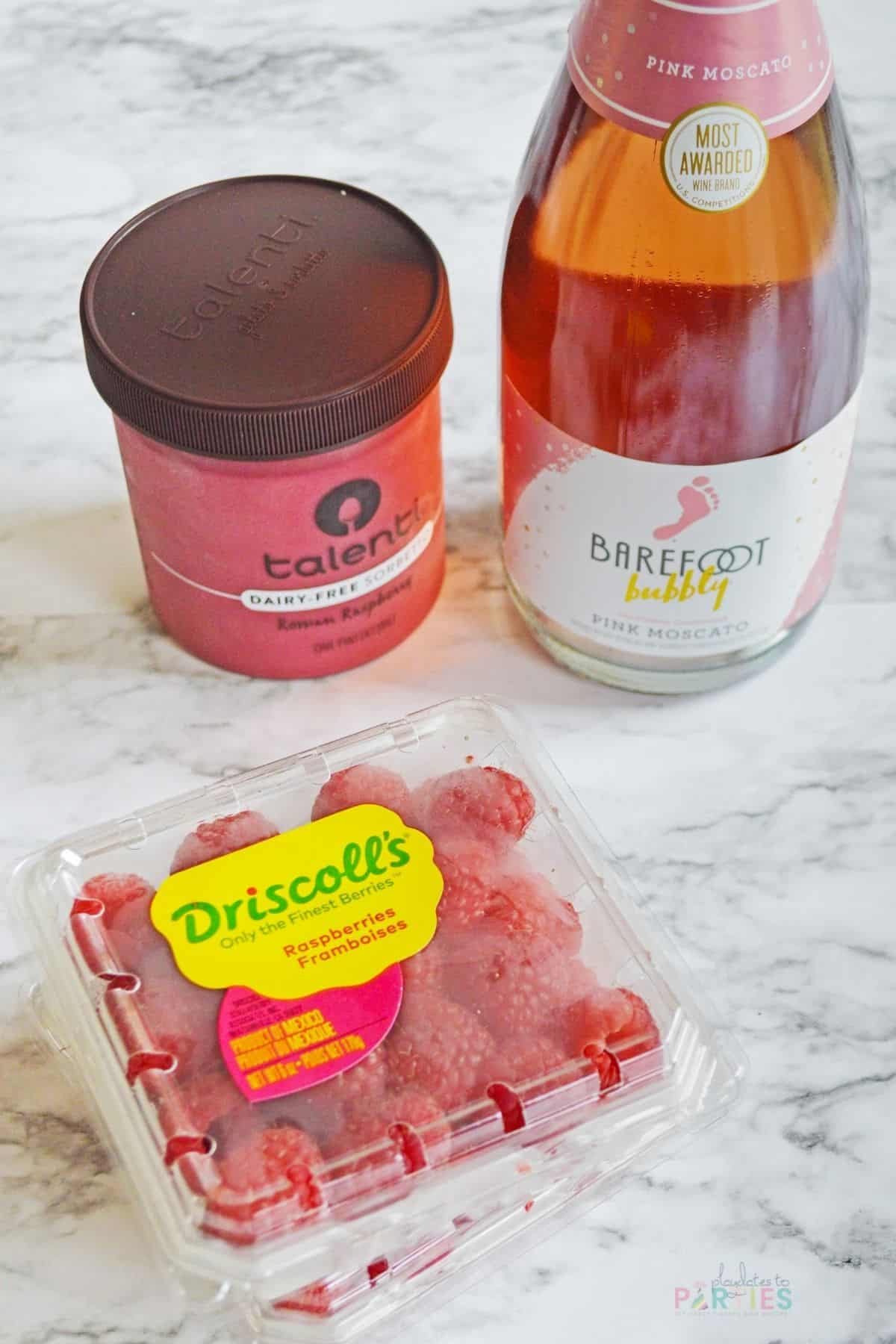 What You'll Need:
Champagne Floats Ingredients:
Raspberry Sorbet
Pink champagne or sparkling wine
Fresh raspberries
Materials/Supplies:
How to Make Pink Champagne Floats (Step-by-Step Directions)
Don't forget to check out the recipe card at the bottom of this page for a printable version of the recipe with all the detailed measurements and quick tips.
If you make this recipe, please leave a star rating in the recipe card and let me know how it turned out in the comments below. This provides helpful feedback for me and to other readers. And if you want more fun party ideas, subscribe to my newsletter and follow along on Instagram, Pinterest, and Facebook.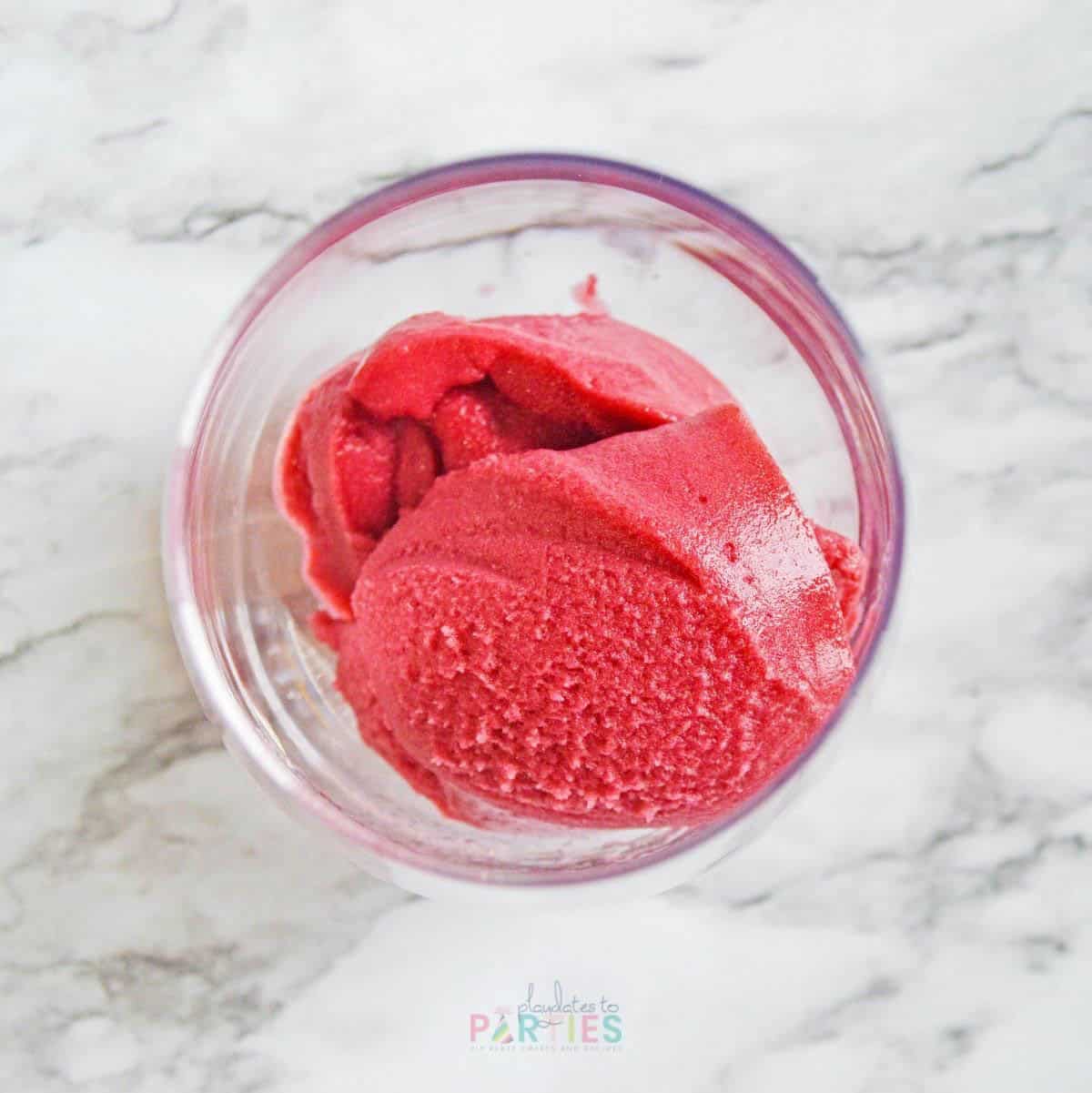 Step 1 – Place 2 scoops of raspberry sorbet into your cocktail glass.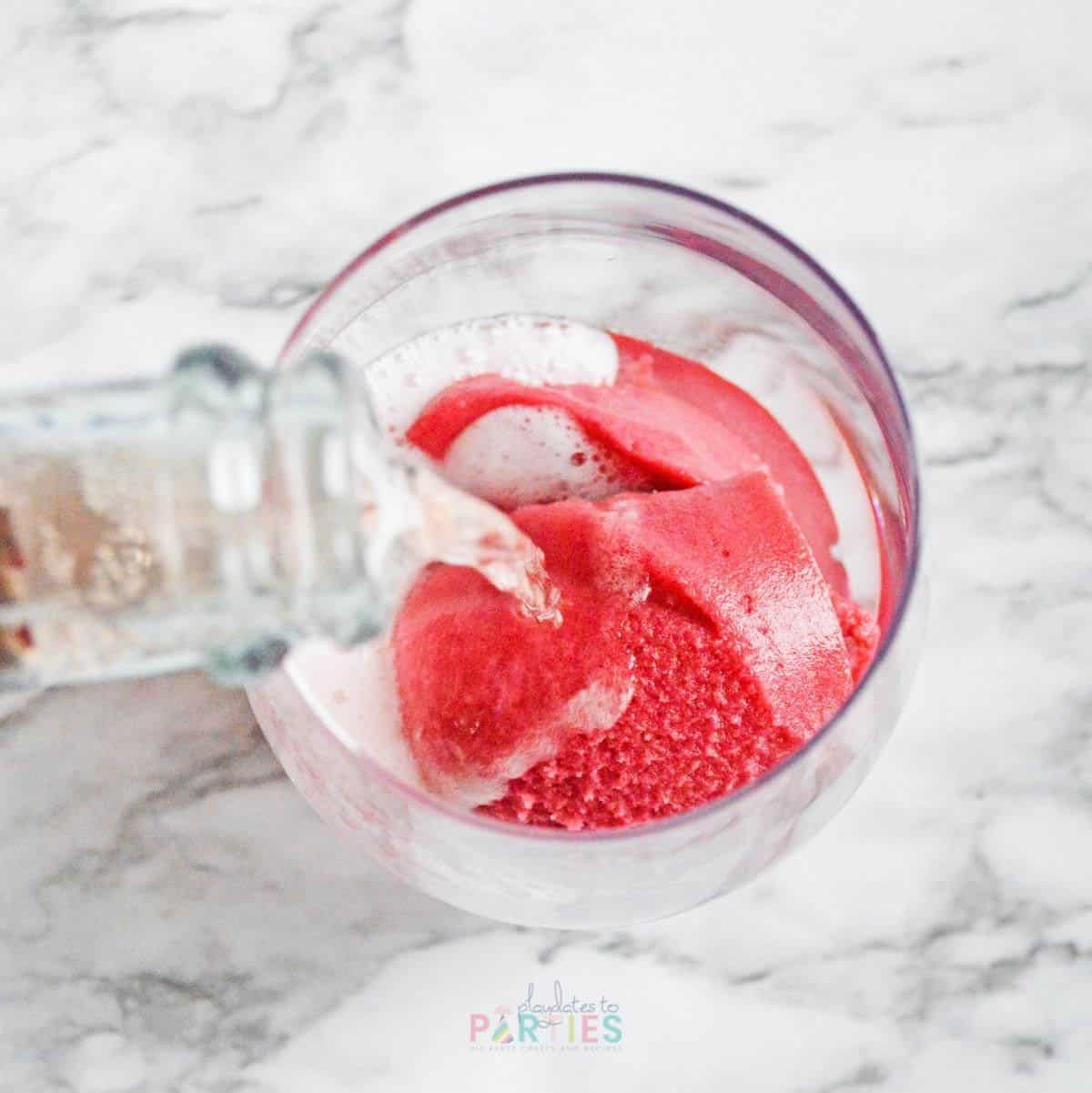 Step 2 – Pour pink champagne over the sorbet.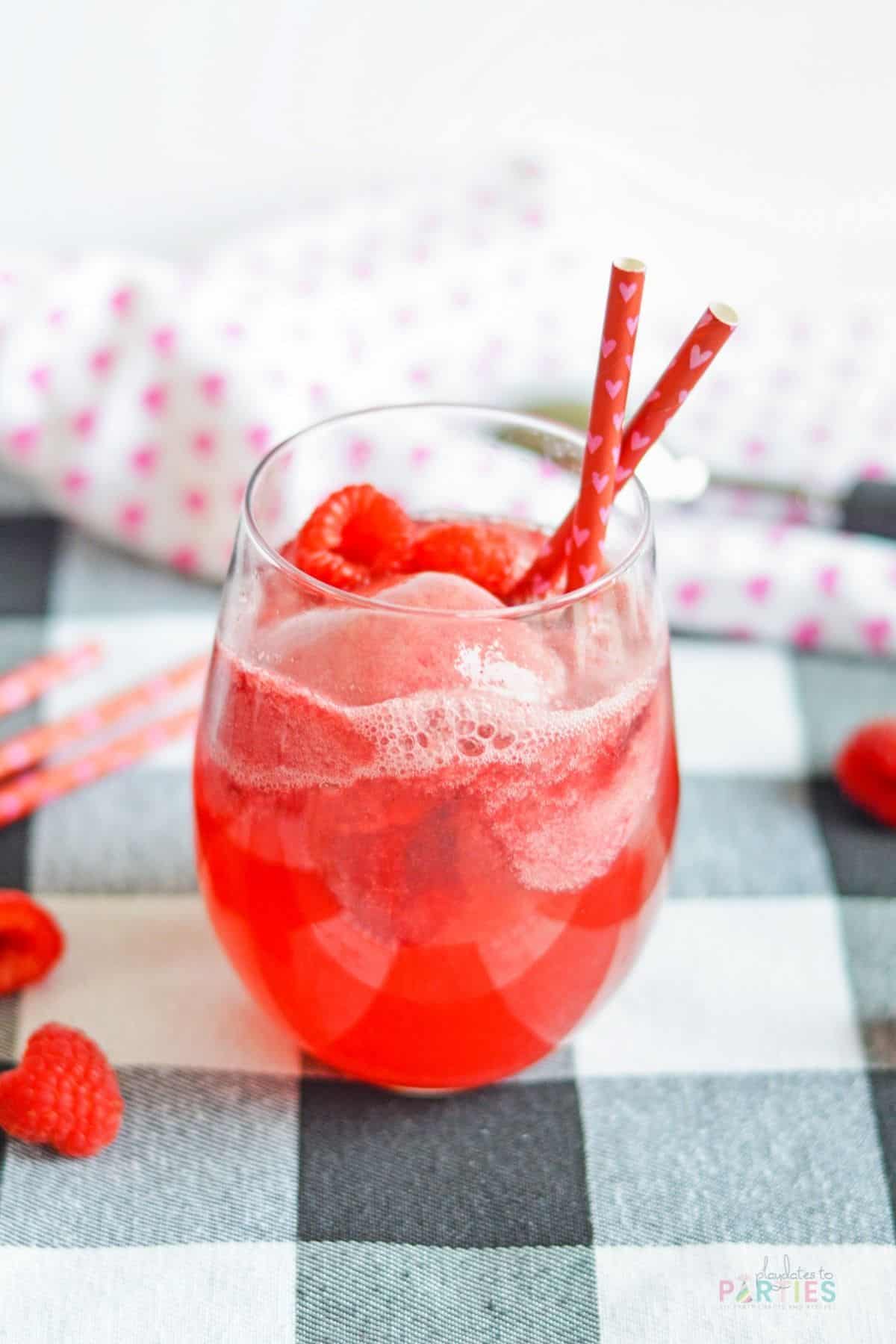 Step 3 – Garnish with fresh raspberries and enjoy!
See. This is one easy cocktail to make…and yet so tasty too!
Essential Tips:
Don't skip these tips – read them before mixing to avoid any potential mistakes.
Use smaller glasses and a small scoop when serving a crowd
A little bit goes a long way – especially if you're using sweeter sparkling wines like a Sec, Demi Sec, or Moscato champagne.
Plus, everything's cuter in miniature. Even these champagne floats!
Using coupe style champagne glasses and a small cookie scoop instead of the glasses shown here will help you get more servings out of a single bottle.
Pour Your Champagne Correctly
Slightly tip your wine glass while pouring, to avoid releasing all the bubbles in a frothy head. This way the bubbles last as long as possible.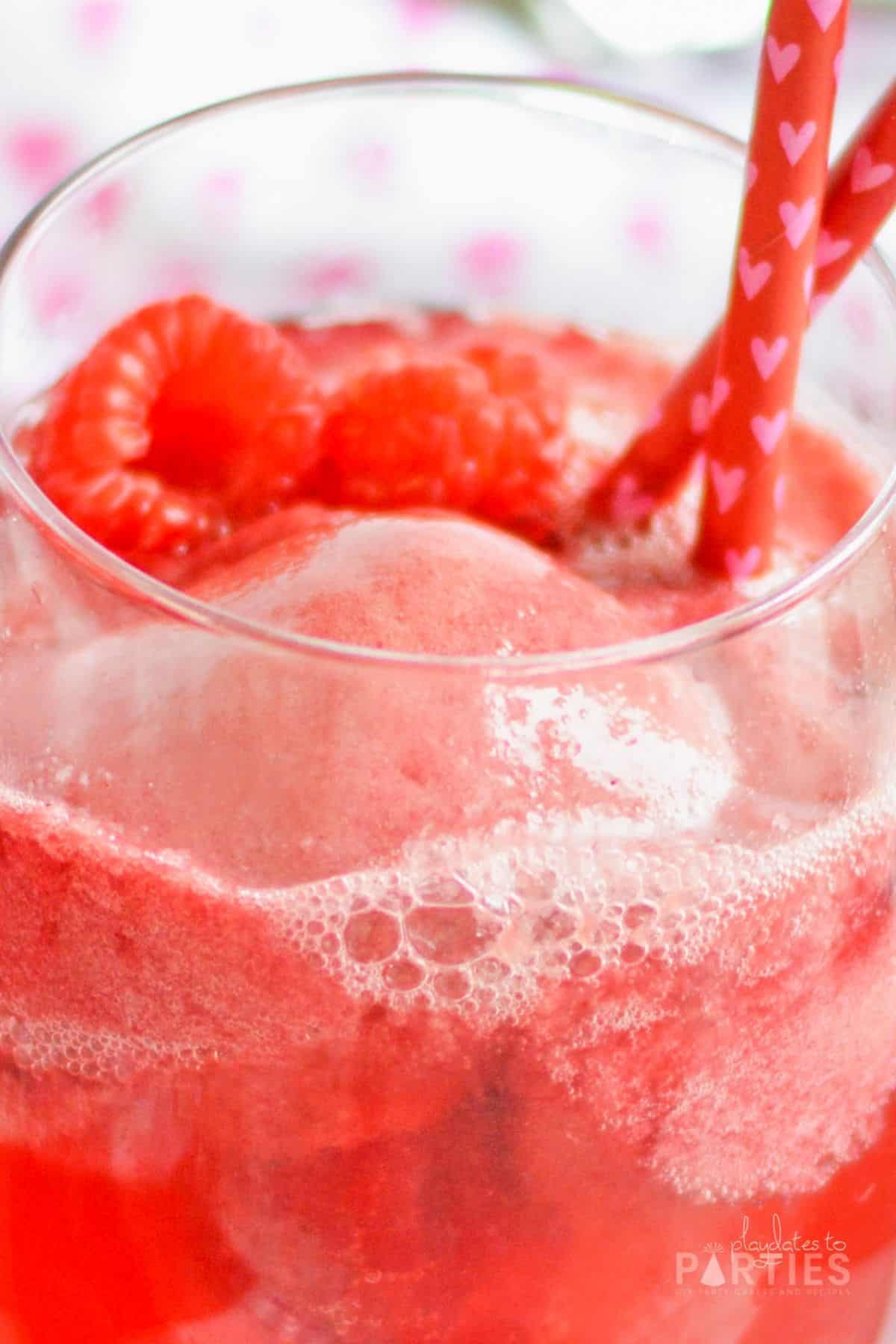 Serve with ice cream spoons and straws
You'll want a straw to drink this bubbly treat if you're using stemless wine glasses like the ones shown here. And don't forget a nice long ice cream spoon to scoop out the sorbet and fresh raspberries.
Make it a DIY Champagne Bar!
It's more fun to mingle than play bartender at your party, which is why a DIY champagne float bar is the perfect solution.
Here's how to set it up:
Place chilled sparkling wine, and a variety of sorbet flavors in a large ice bucket next to your glasses of choice. Put a bowl of fresh raspberries (cleaned, of course), on the other side of your champagne bar with spoons, cocktail napkins and some festive paper straws.
Substitutions and Adaptations
Add a dollop of whipped cream and some gold sprinkles on top to make it even more fun.
Experiment with different flavors of sorbet or sherbet. (See FAQs below for recommendations)
Want a creamy champagne float? Use a high-quality vanilla ice cream.
Make a non-alcoholic version with sparkling lemonade or your favorite flavored sparkling water.
FAQs about Raspberry Sorbet Pink Champagne Floats:
How many drinks can you get from one bottle?
A standard bottle of champagne is 750mL, which will get you 4 large raspberry sorbet pink champagne floats like these.
Coupe glasses would be a perfect alternative for smaller portions, without sacrificing style.
When to serve pink champagne floats?
Honestly, I think these are the perfect dessert after a long hot day at the beach, But they definitely work well for special occasions like
Bridal showers, and
Bachelorette Parties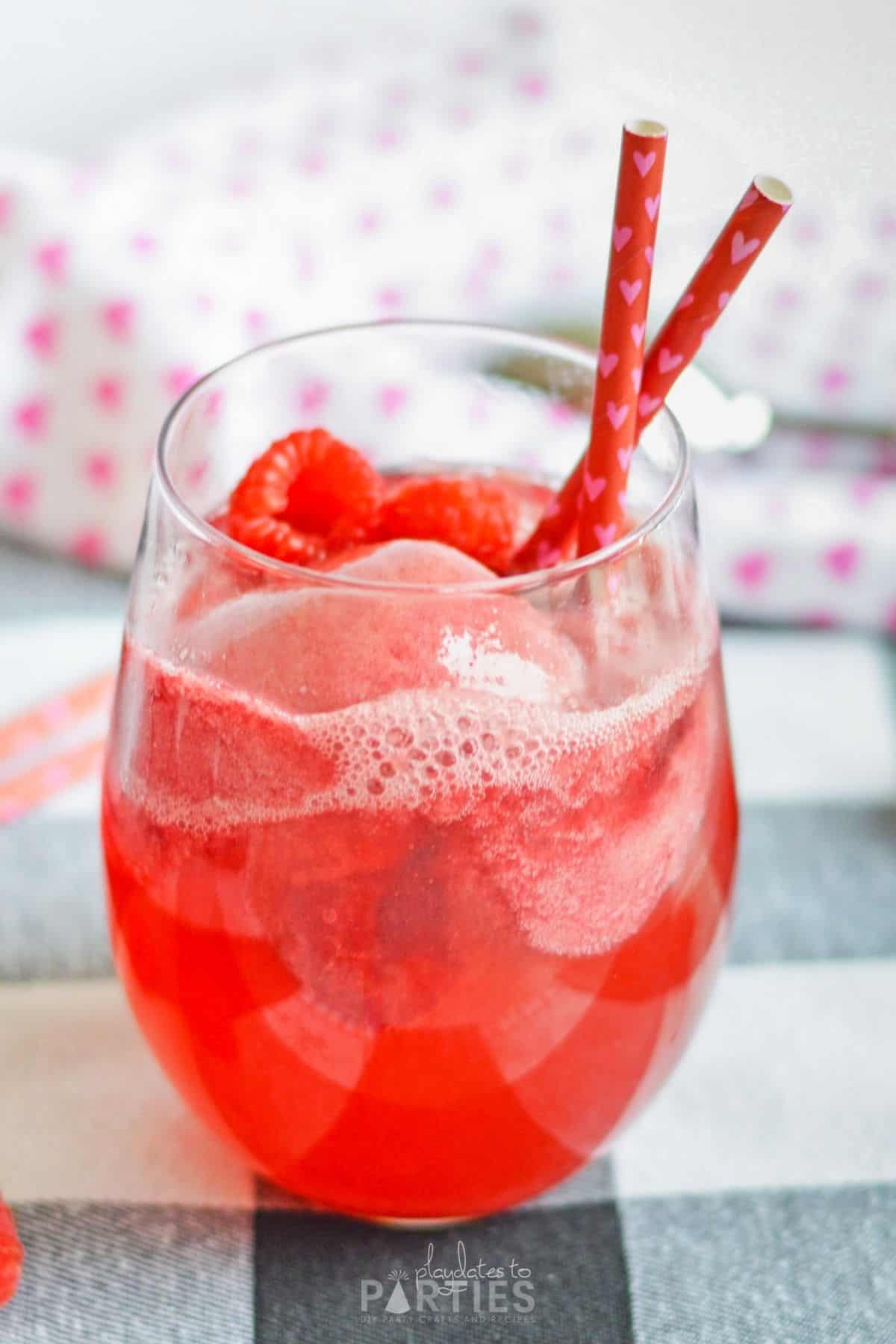 What type of champagne should I use?
Raspberry sorbet is already pretty sweet, so you'll want to take that into consideration.
We tested this recipe with Barefoot Bubbly Moscato Champagne and another sweet pink Prosecco. They were both definitely on the super sweet dessert side of things.
That said, I can't wait to make them again with a nice brut or extra brut champagne. The sweet-tart flavor of the raspberry sorbet will be the perfect balance to a good dry sparkling wine.
(I'll make sure to come back and update here when we've had the chance to test that out too!)
What other sorbet flavors go with champagne?
Most fruity flavors pair well with champagne. Here are a few of my favorites:
Strawberry
Blueberry
Mango
Peaches
Plums
Lemon, and
Blackberries
Just remember, if you use a sorbet that isn't red or pink in color, then you may end up with a different colored champagne float.
What to serve with pink champagne floats?
Serving these to Someone You Love?
Show just how much you care by printing off one of these gorgeous art prints as a heartfelt DIY card. Simply print out a 4×6 card on matte photo paper or cardstock and then add your special message to the back.
Check out these other Cocktail Recipes too!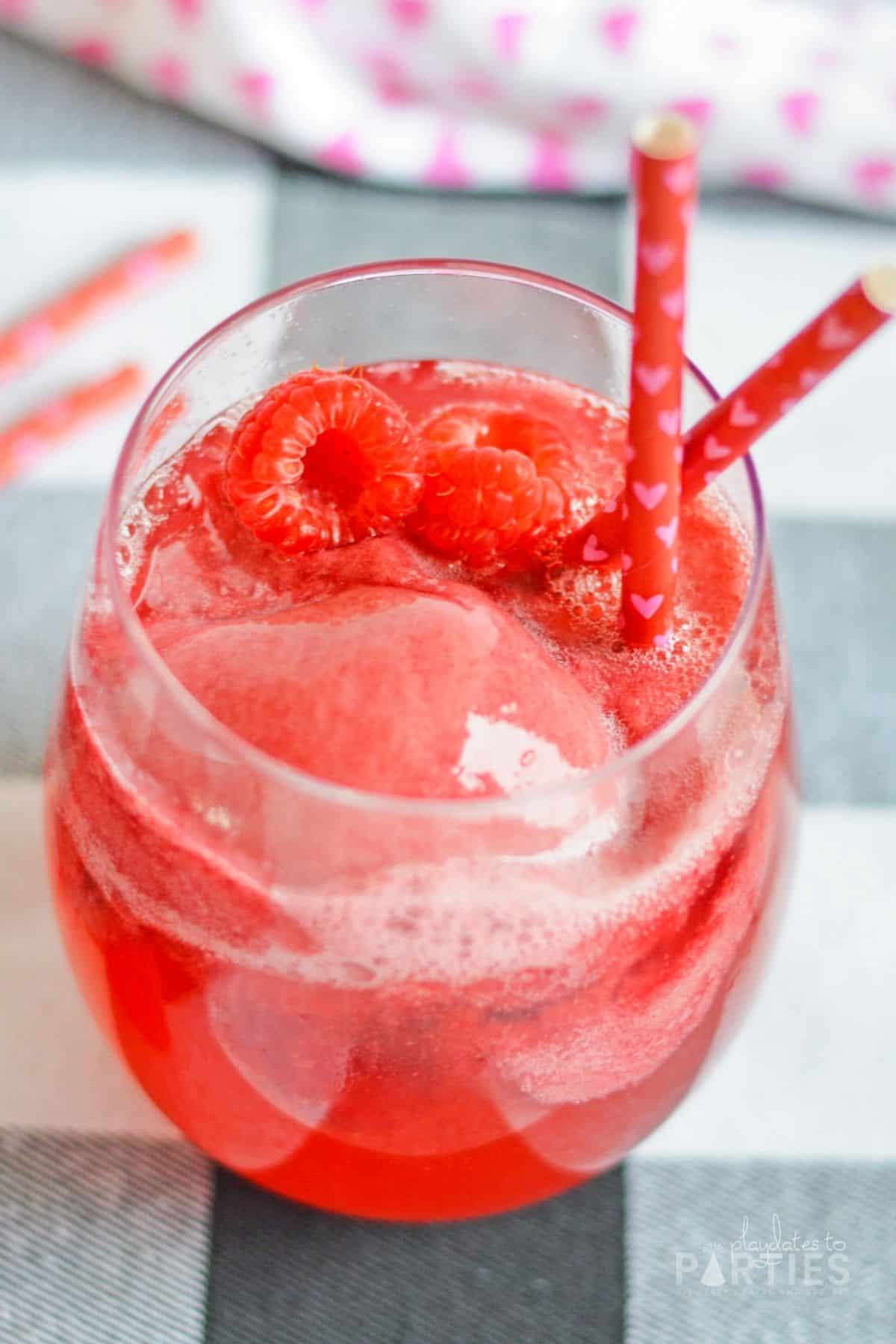 If you liked my raspberry sorbet pink champagne floats, you're going to love my Cherry Ginger Mock Margarita. With a festive pink color and a sherbet wreath in the center, it's alcohol-free fun for everyone.
Or you can check out all my other drink recipes here.
Yield: 1 pink Champagne float
Pink Champagne Float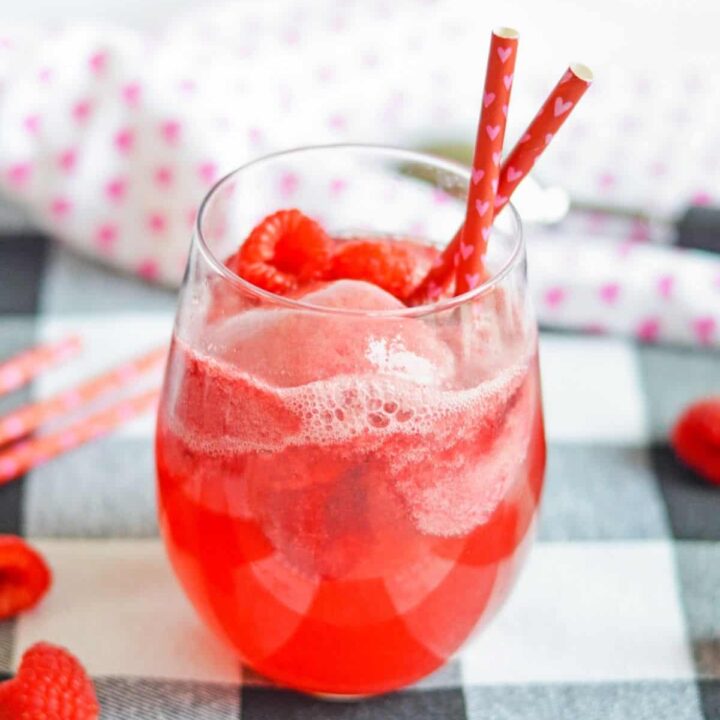 Pink champagne floats made with pink sparkling wine, raspberry sorbet and fresh raspberries are an easy and delicious cocktail for any occasion.
Ingredients
1/4 cup raspberry sorbet
6 ounces pink champagne or sparkling wine (see Notes)
3-4 Fresh raspberries for garnish
Instructions
Scoop 1/4 cup raspberry sorbet into your cocktail glass. (We like to serve it with two small to medium scoops)
Pour 4-6 ounces pink champagne over the sorbet.
Garnish with 3-4 fresh raspberries. Enjoy!
Notes
Don't forget, the step-by-step photos and FAQ in the recipe post are there to help you if you have any questions.
Slightly tip your champagne flute while pouring, to avoid releasing all the bubbles in a frothy head. This way the bubbles to last as long as possible.
Demi-Sec, Dry, Extra Dry, and Moscato sparkling wines will be create a very sweet dessert Champagne float. Brut, extra brut and brut nature sparkling wines should be less sweet and more refreshing.
Feel free to substitute the raspberry sorbet with other fruit sorbet or sherbet, such as strawberry, mango, peach, or lemon. (Changing the sorbet flavor may affect the final color)
Remember to serve with straws and long handled spoons to get all that yumminess from the bottom of the cup.
You should be able to get 4-6 pink champagne floats from one bottle of sparkling wine.
Reminder: This post and the included recipe is intended for those of legal drinking age. Please remember to drink responsibly and never drink and drive.
Recommended Products
As an Amazon Associate and member of other affiliate programs, I earn from qualifying purchases.
Nutrition Information:
Yield:
1
Serving Size:
1
Amount Per Serving:
Calories:

328
Total Fat:

0g
Saturated Fat:

0g
Trans Fat:

0g
Unsaturated Fat:

0g
Cholesterol:

0mg
Sodium:

21mg
Carbohydrates:

25g
Fiber:

1g
Sugar:

18g
Protein:

0g
__________________________________ The nutrition information provided above is estimated using an automated calculation system. Actual nutrition will vary depending on brand and measurements used in your recipe. To obtain the most accurate representation of the nutrition information for any given recipe, you should calculate the nutritional information using the actual ingredients you used in your recipe.
---