Valentine's Day is approaching quickly! Make your classroom gifts and party favors easy peasy with these printable Valentine's Day treat bag toppers. Bonus: They're Cricut Print and Cut Friendly!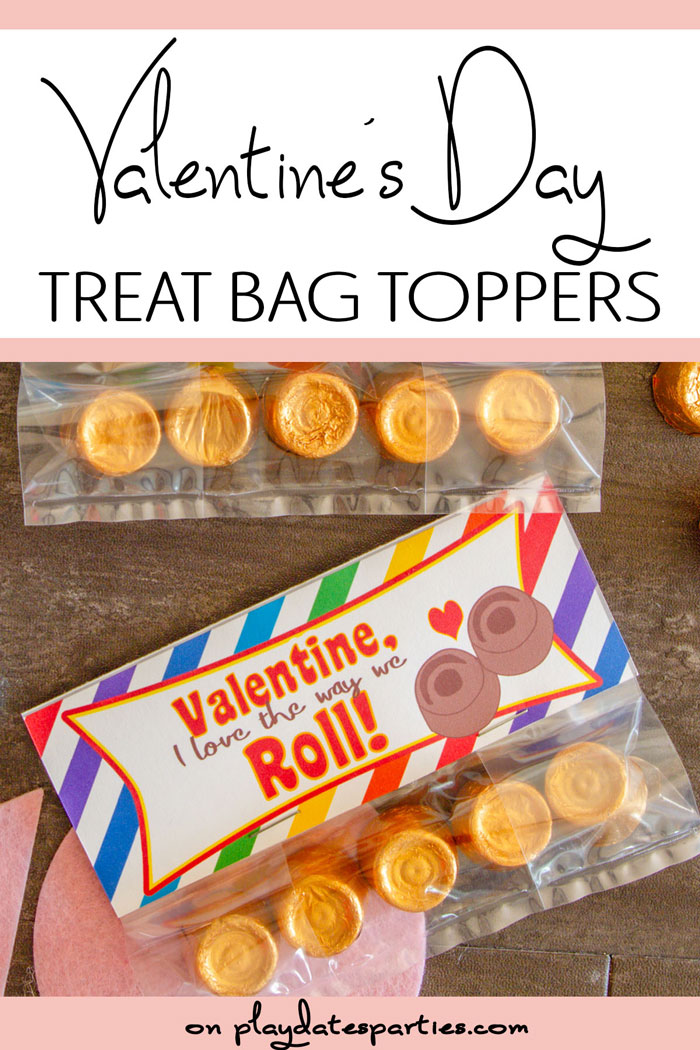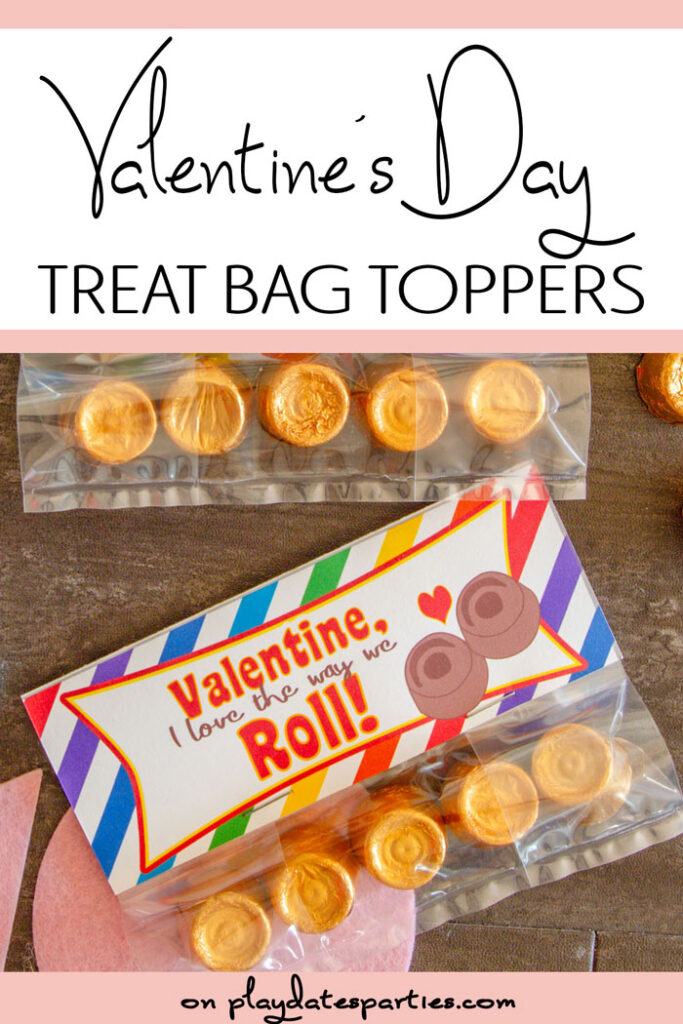 The inspiration for these Rolls inspired Valentine's Day bag toppers is simple – my daughter wanted to give Rolos candies to her classmates. She loves the combination of caramel and chocolate. (Who doesn't?)
Honestly, I also loved the fact that she picked a candy I can easily buy in a bulk bag, and is also individually wrapped.
One 32 ounce bag was just big enough to give each classmate 5 Rolos – not too many, not too few.
So I pulled together a few designs, and this one was the clear winner. We both love it. My daughters and I love lots of color, so the rainbow background was the perfect choice.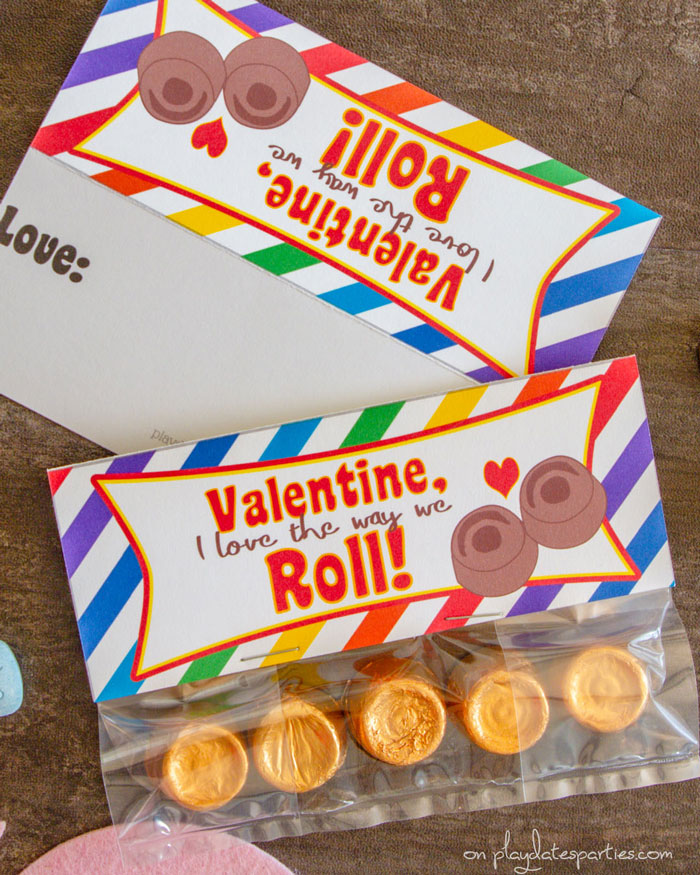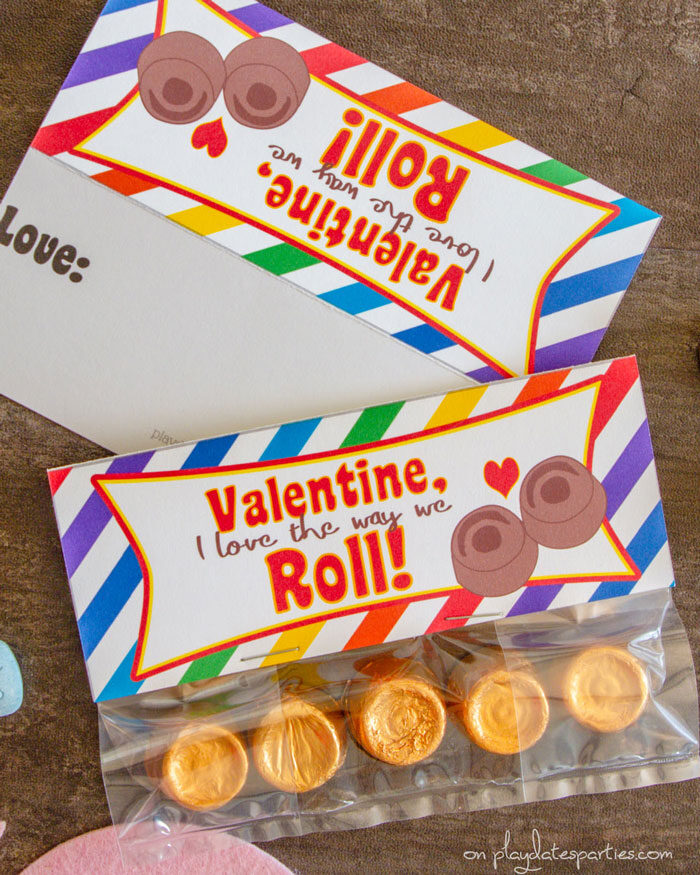 That said, I don't love wasting printer ink, and many of you have emailed me asking for designs to balance colorful designs with savings on ink costs as well.
So, while the front is still bright, fun, and colorful, the back is almost completely white. It saves you money and leaves plenty of room for children to write their name.
The other benefit to having a plain white back? It's super easy to see where the toppers need to be folded.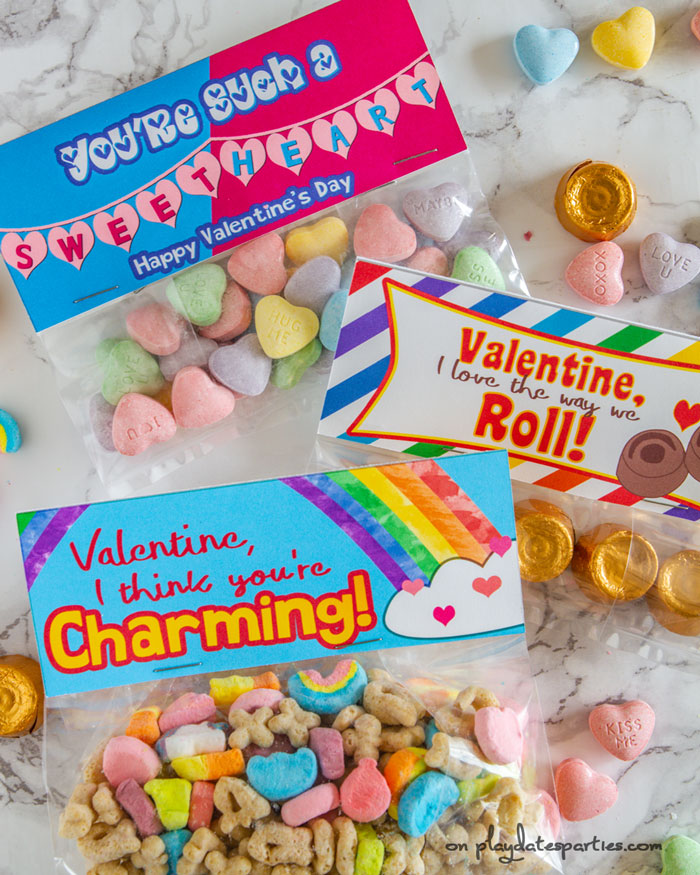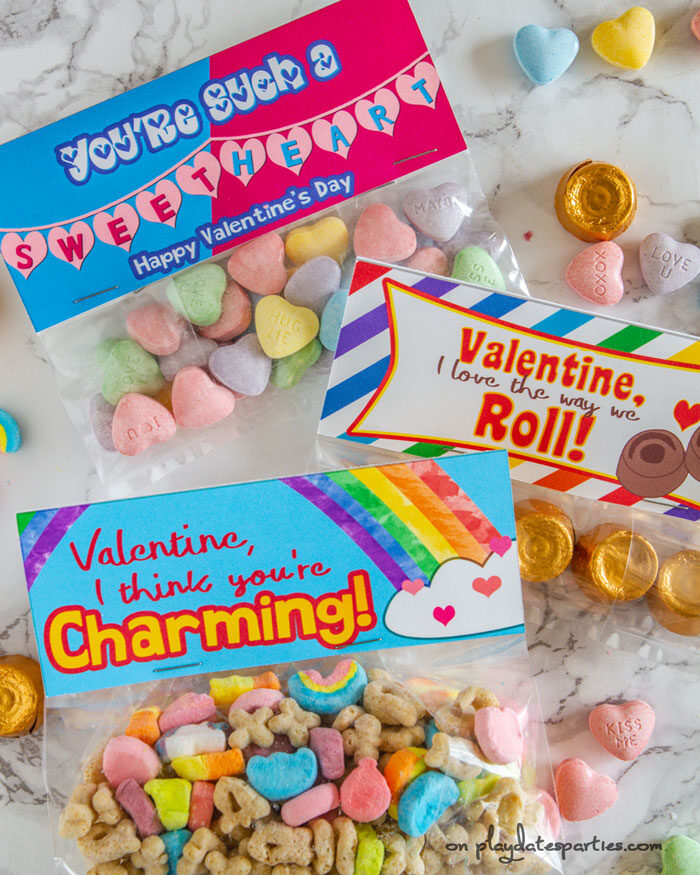 You can purchase these and other Valentine's Day treat bag toppers in my shop for a small price, but as an added bonus for subscribers, a special link is in the resources library that allows you to purchase a copy of the Rolo themed Valentine's Day bag toppers for free!
Make Your Valentine's Day Treat Bag Toppers Look Their Best
Now, there's nothing more frustrating than finding a bright and colorful design just to get streaky, pale prints. Here are a few tips to make sure your printables look their best from the very beginning:
Start with the Right Paper
Don't use plain printer paper for these. Photo paper will definitely give the best results. Card stock absorbs more ink, making the colors a bit less vibrant, but it's still a great choice if you're on a budget.
Check out this page to see my favorite papers for party printables.
Check Your Bag Size
The printable is provided for you in two sizes:
5-Inch Wide Treat Bags: I used bags like these for our Valentine's Day gifts and recommend that you do so as well. Honestly, the just look better and more professional.
Snack Size Zip-Top Bags: I also made a wider version that should fit the top of most snack size bags you can buy at the grocery store. But since each manufacturer has their own sizing I can't guarantee it'll be a perfect fit. It should still be cute, though!
Use the Proper Printer Settings
The printer you own matters less than the settings you use. We've used a cheap $70 printer and a $200 printer, and both had the capability of printing gorgeous bag toppers.
If your printer driver allows the options, select your paper type (card stock, photo paper, etc.) and always set it to "Best" or "Photo" quality before printing.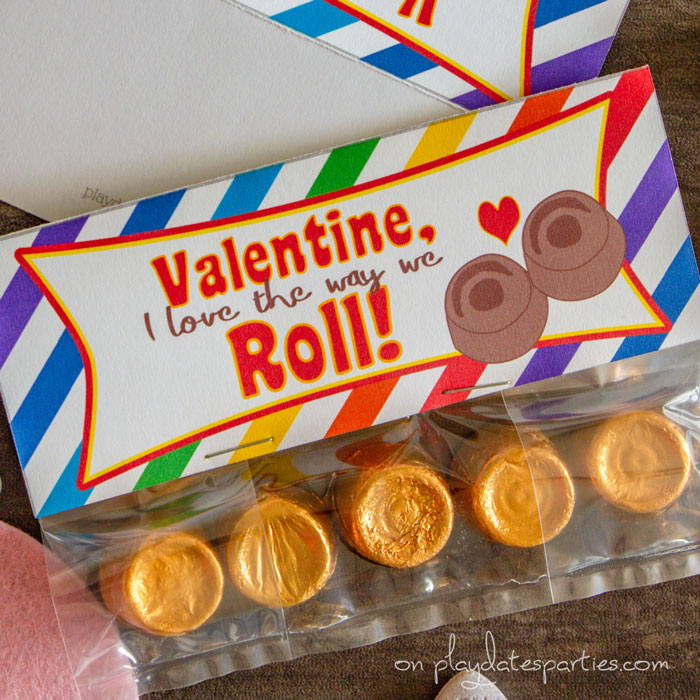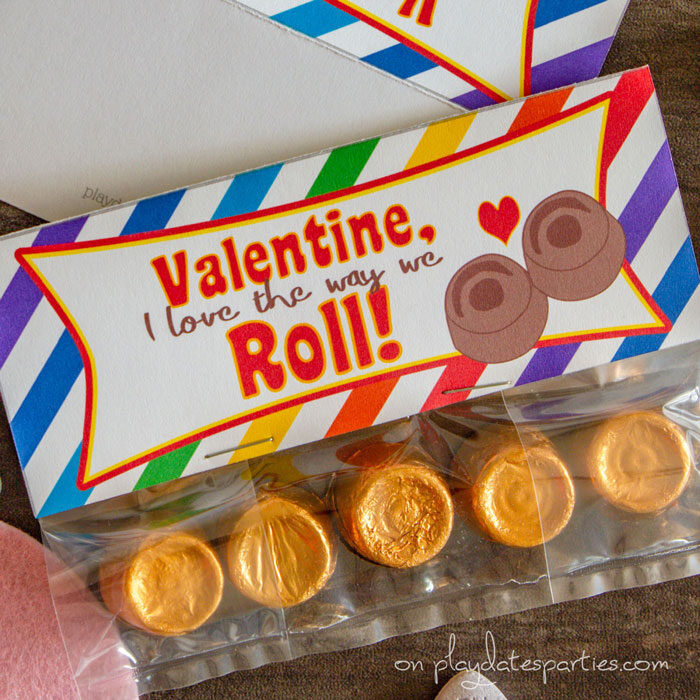 Use the Right Cutting Tools
I spent way too many years disappointed in the look of my party printables because I cut everything with a pair of scissors. It doesn't seem like it should make a difference, but it really does.
These printables will look great if you cut them with a straight edge paper trimmer. But if you really want to save yourself some time and make your projects look their best, you can use Cricut's Print and Cut feature to make this even faster.
(And when you're making 20+ bag toppers, every minute saved helps)
Here's how Cricut Print and Cut works:
Go to pdf2png.com and convert the download to a PNG file. (here's how to unzip a file)
Upload the PNG files to Cricut Design Space.
When prompted, choose "Complex"
On the next screen, choose the eraser tool and erase all the copyright information on the document.
Do not erase the corner marks. You must keep at least two marks opposite each other on the diagonal (catty corner) to keep the sizing right.*
Continue through and save the document as a Print and Cut file.
When the file imports into your project, it will be way too big. Simply lock the proportions, and resize the height to 9.25 inches. Double check that the short size automatically resizes to 6.25 inches or less, and you're ready to move on.
You may want to add a score line to the labels at this point as well. Don't forget to attach the score line to the file.
Once that's done, just follow the standard Print and Cut instructions and you'll be ready to go.
*Note: I can't guarantee that the file will fit within the Cricut print and cut dimensions if the corners are erased. If you erase the entire box by accident, try uploading the file again. (Someday, I hope Cricut will import high-quality print files to upload at their intended size!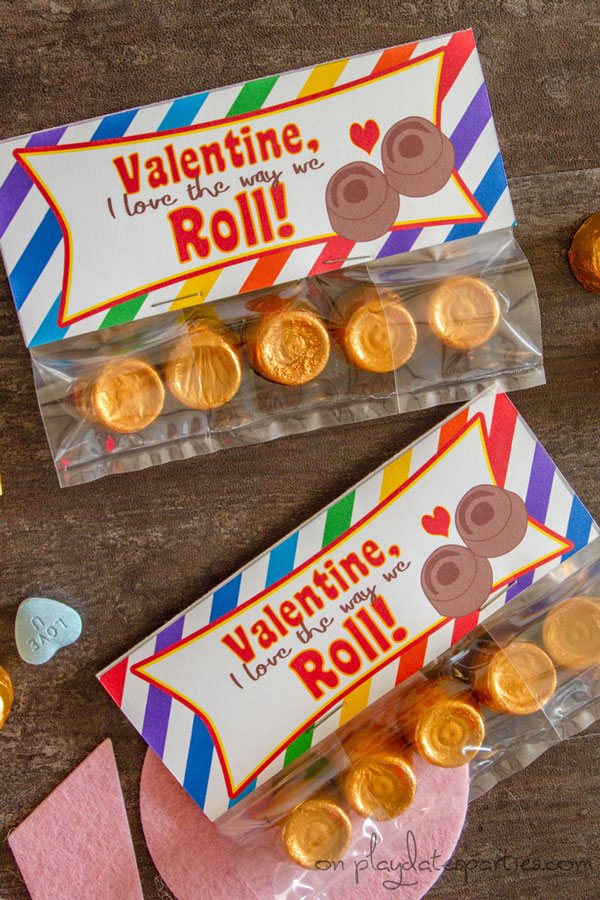 Popular Valentine's Day Posts:
Now It's Your Turn
This Rolos Valentine's Day bag topper is just perfect for party favors and classroom gifts. Download your copy today and have an amazing Valentine's Day.
Not a subscriber? Fill in this box below, and you'll be on your way! Don't want to subscribe? Feel free to check out the printables in my shop!
---