Are you looking for the perfect easy treat that can be adapted for any celebration? Hershey's pretzel bites are so delicious…and so SIMPLE! You'll be hooked with the first bite.
You only need four ingredients and 10-15 minutes to make this sweet and salty bite sized snack. You don't even need to pull out your measuring cups and spoons! The end result? A super cute snack that will be gone in minutes once everyone tastes how delicious they are.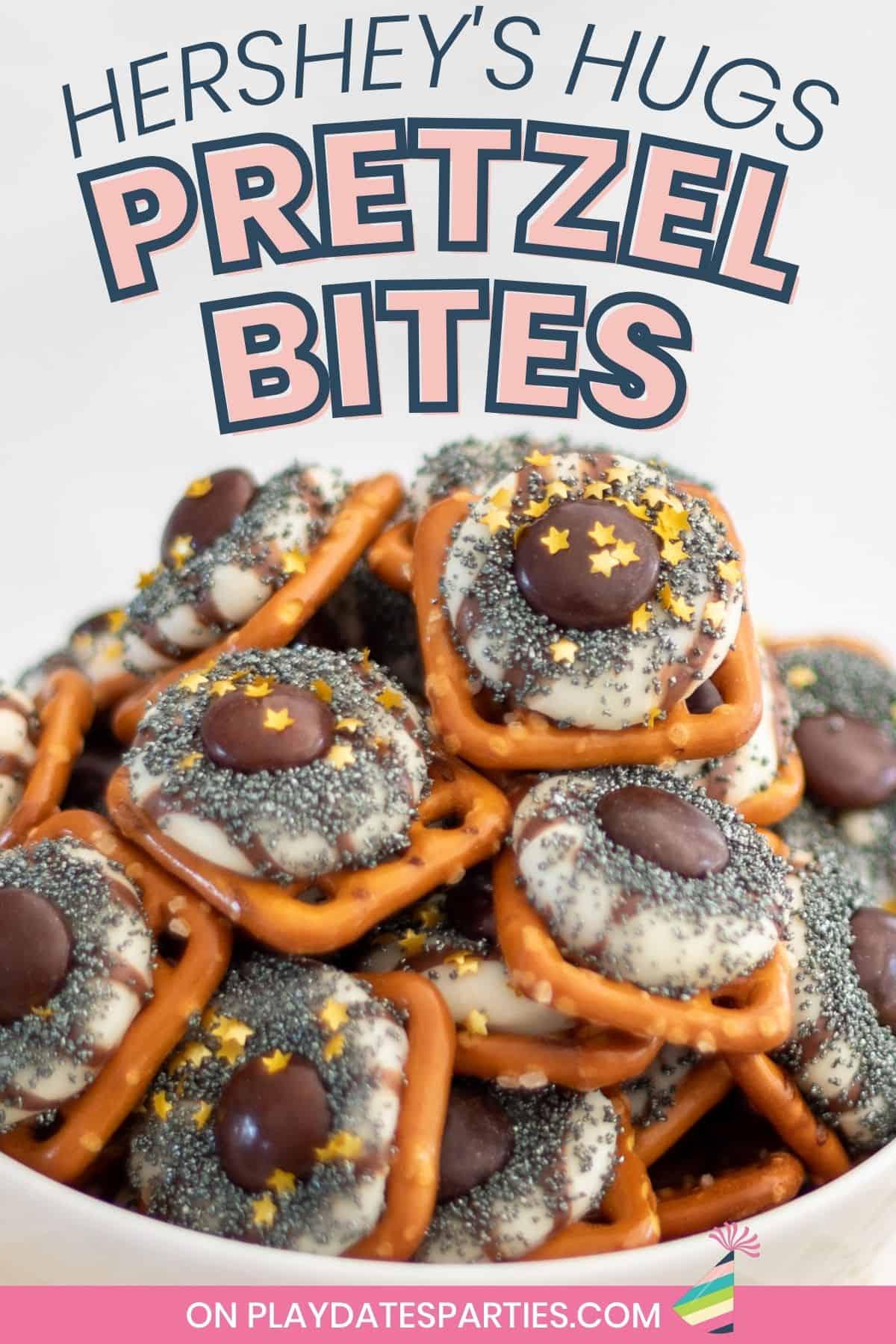 Why We love Hershey's Pretzel Bites
They're easy enough that the kids can help out (I love to put them in charge of unwrapping the Kisses)
You can adapt them for any holiday or celebration…just change up the kisses, the M&Ms, and the sprinkles to suit your occasion.
We love to include them on the holiday cookie platter, or as gifts for neighbors.
There is one thing I don't like about them, though…they're always gone too soon!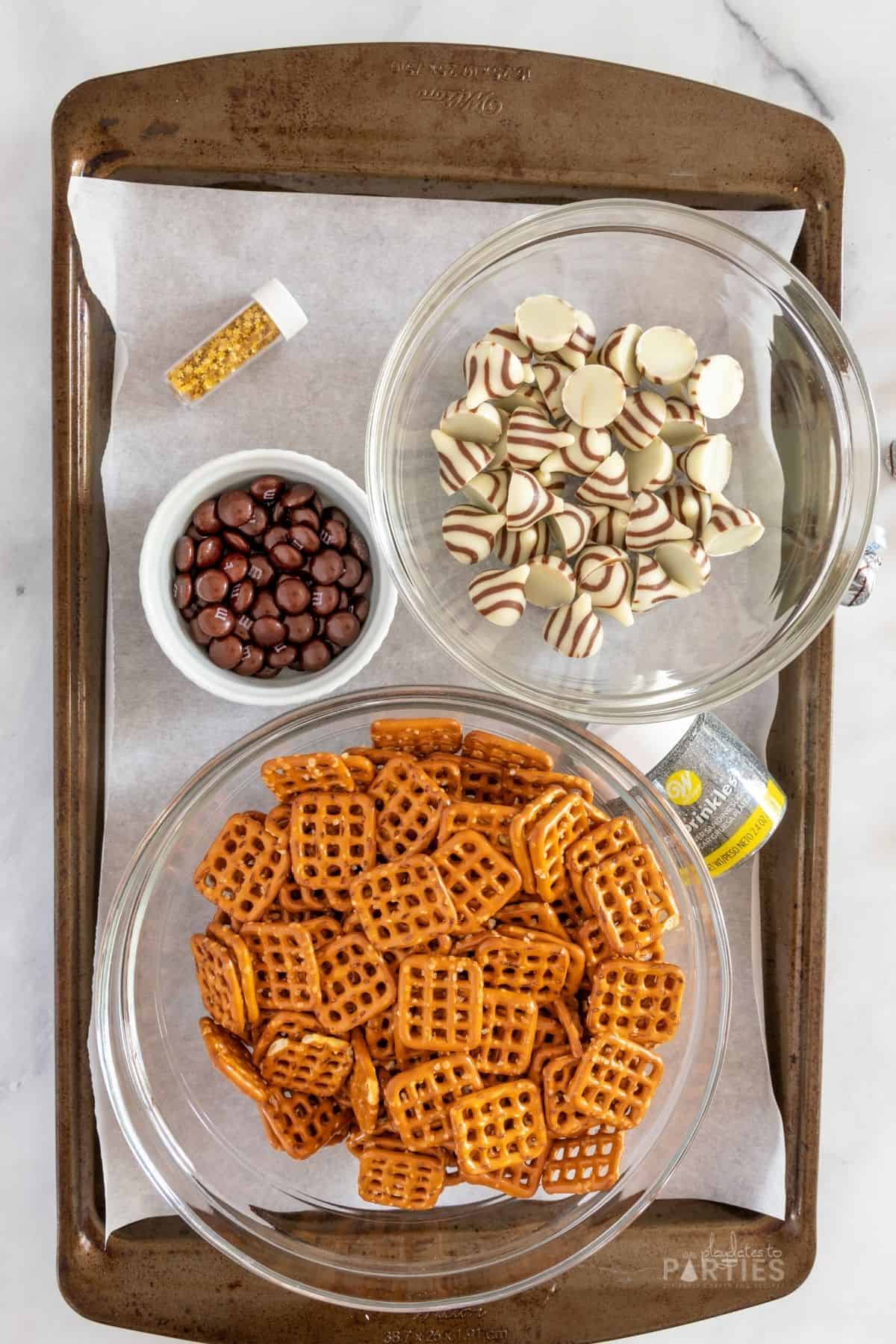 What You'll Need:
Ingredients:
Supplies:
Baking pan
Parchment Paper
Step-by-Step Directions:
To make things even easier for you, I created a simple photo guide below. For all measurements and a more detailed guide, check out the recipe card at the bottom of this page.
If you make this recipe, please leave a ⭐️⭐️⭐️⭐️⭐️ star rating in the recipe card and let me know how it turned out in the comments below. This provides helpful feedback for me and to other readers. And if you want more fun party ideas, subscribe to my newsletter and follow along on Instagram, Pinterest, and Facebook.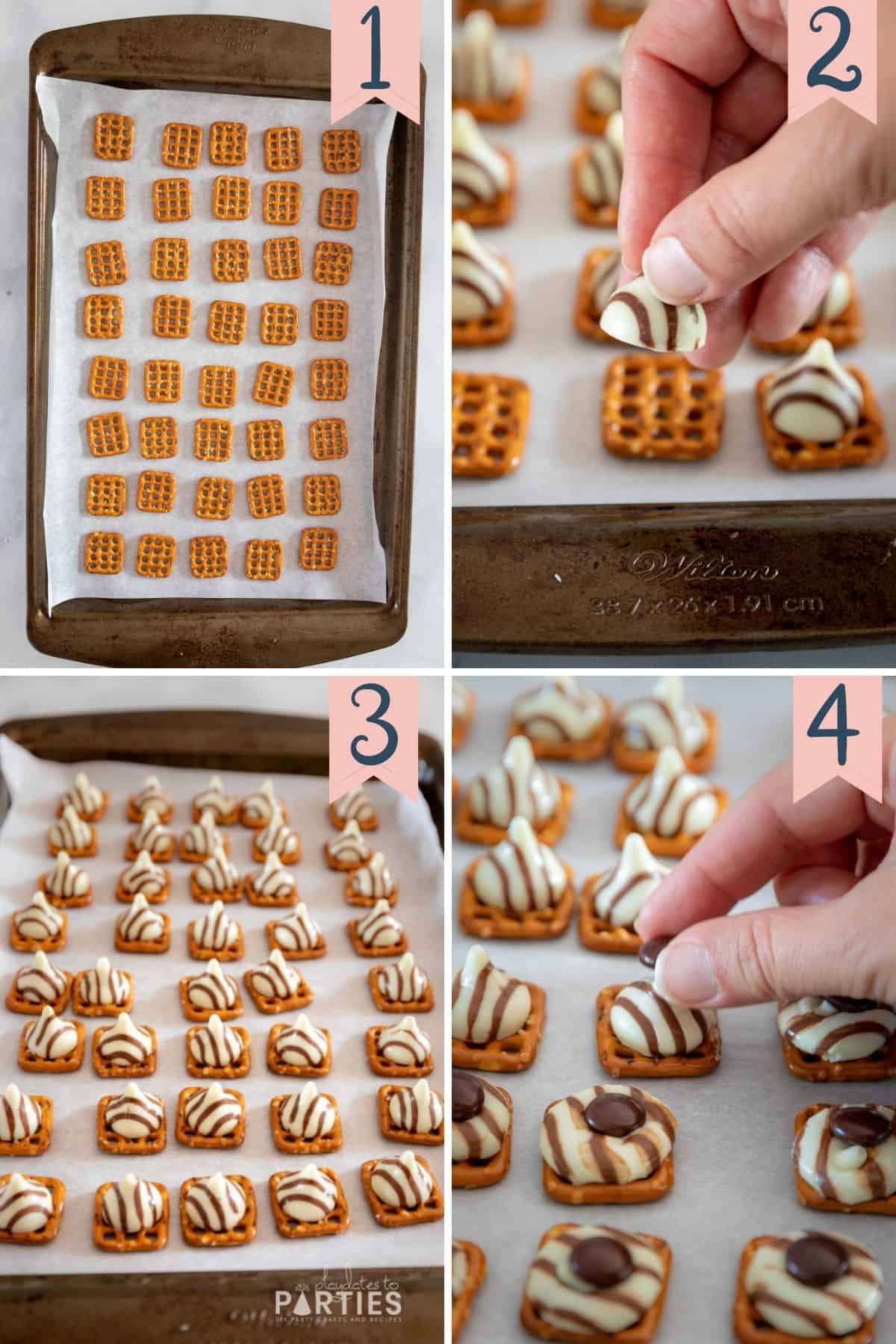 Step 1 – Place pretzels in a single layer on a baking sheet lined with parchment paper.
Step 2 – Add a single Hershey's Hug to the center of each mini pretzel.
Step 3 – Carefully move the pan to the preheated oven. Bake for 2-3 minutes, in an oven that is preheated to 275˚F – just until the hugs are soft. Remove from the oven.
Step 4 – Immediately press an M&M onto each Hershey's Hug. Add sprinkles on top, then cool until solid and enjoy!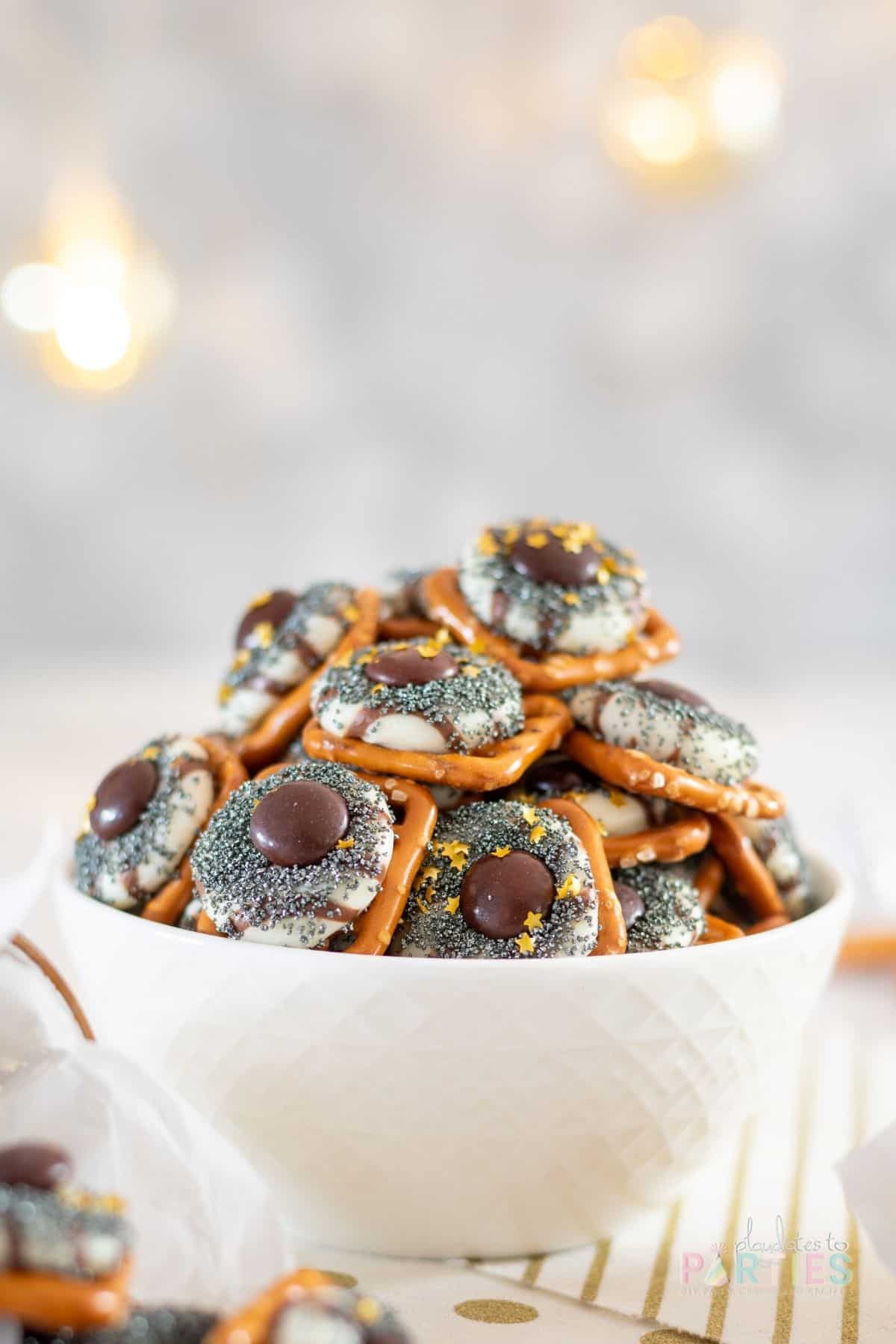 Essential Tips:
Don't skip these tips – read them before baking to avoid any potential mistakes.
How Much to Purchase
The recipe below is based on using one package of Hershey's Hugs. That said…
One 10.6 ounce bag of Hershey's hugs contains about 70 candies (yes, I counted!).
A 10 ounce bag of M&Ms contains about 320 candies, and
A 16 ounce bag of Snyder Snaps contains about 260 pretzels
So, all combined, you should be able to get at least 4 batches if you buy 4 bags of Hugs, plus one bag each of M&Ms and Snyder Snaps.
Don't overheat the chocolate.
You want the hugs to be soft enough that they collapse as a candy is pressed into them, but you don't want them overcookied to the point that the tips start to harden or puddles form.
Typically this only takes 2-3 minutes.
Work very quickly
Once the pretzels come out of the oven, they'll cool down quickly. Immediately add the candies as soon as they come out of the oven.
This is especially important if the temperature in your house is on the cool side (below 70˚F).
You can also work in smaller batches if you're making the candies yourself.
Cool completely before storing
Make sure your Hershey's pretzel bites are fully set before soring them or packing them up as gifts so they don't stick together.
I recommend that you let the treats cool down at room temperature for 5-10 minutes, then place them in the refrigerator to harden completely.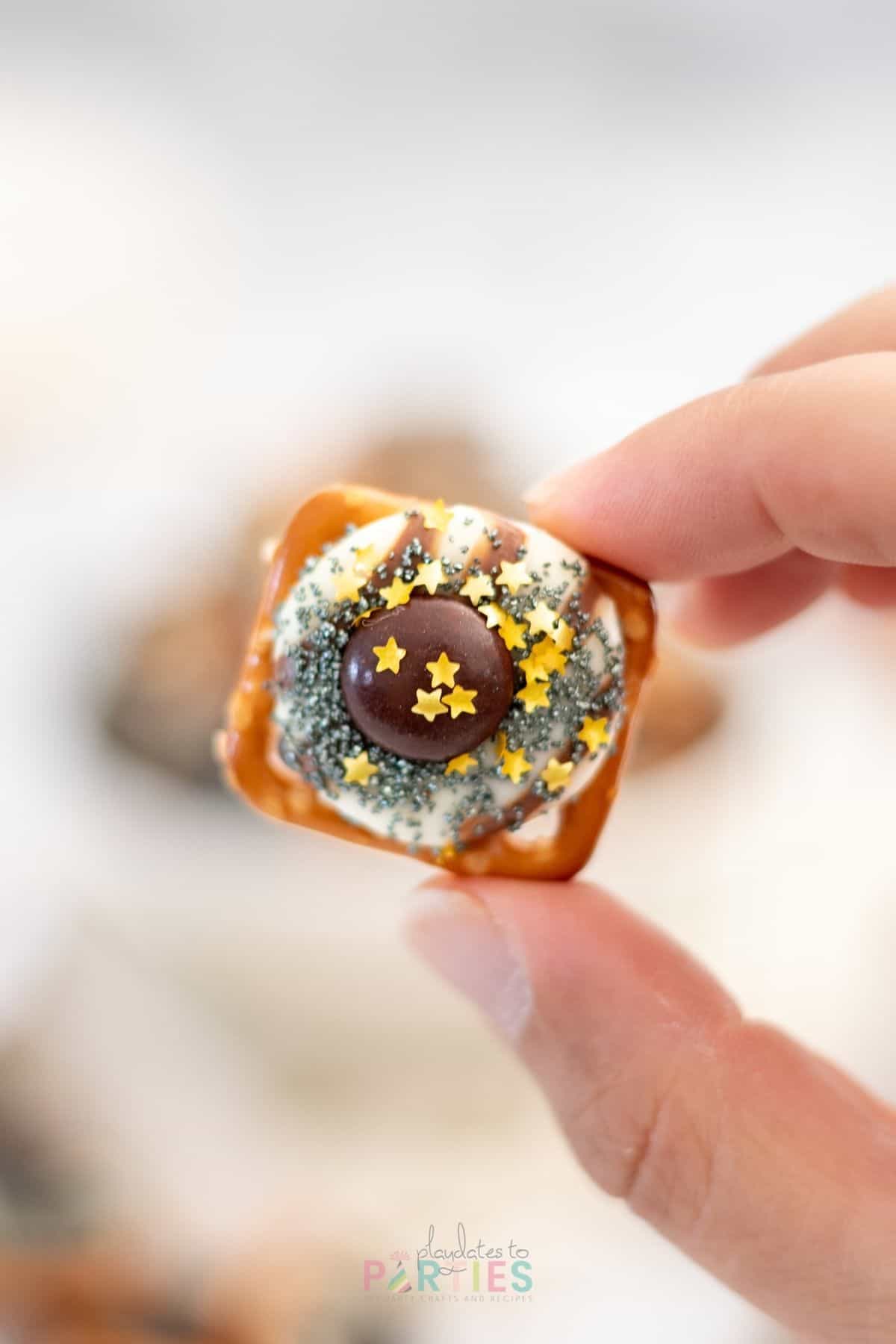 Substitutions and Variations
Pretzels – We used Snyder Snaps, but you can use any mini pretzel that's big enough to hold a candy inside like mini pretzel twists or even pretzel circles.
Kisses – I like the striped Hershey's Hugs for New Year's Eve, but you can easily use regular Kisses or other variations, like Peppermint Kisses, Hot Cocoa Kisses, Sugar Cookie Kisses, or even Rolos for a caramel twist.
M&Ms – I used brown M&Ms for these to reflect the New Year's vibe, but red and green are perfect for Christmas, or you can also top your Kisses with a candied pecan, Reese's Pieces, or Sixlets.
Sprinkles – We made the treats pictured here for New Year's Eve with silver sprinkles and edible gold stars. But you can use whatever sprinkles fit the theme of your celebration. Or just use what you have on hand. They'll still be a hit.
Giving these away as gifts?
Chocolate pretzel bites are always a hit as a Christmas gift. Put them in a cookie tin or another container to protect them. Don't forget to add a cute printable tag to your container so everyone will know that you made these amazing treats.
Storage Tips:
Store your chocolate pretzel bites in an airtight container or zip top bag in a cool location for up to 2 weeks (if they last that long).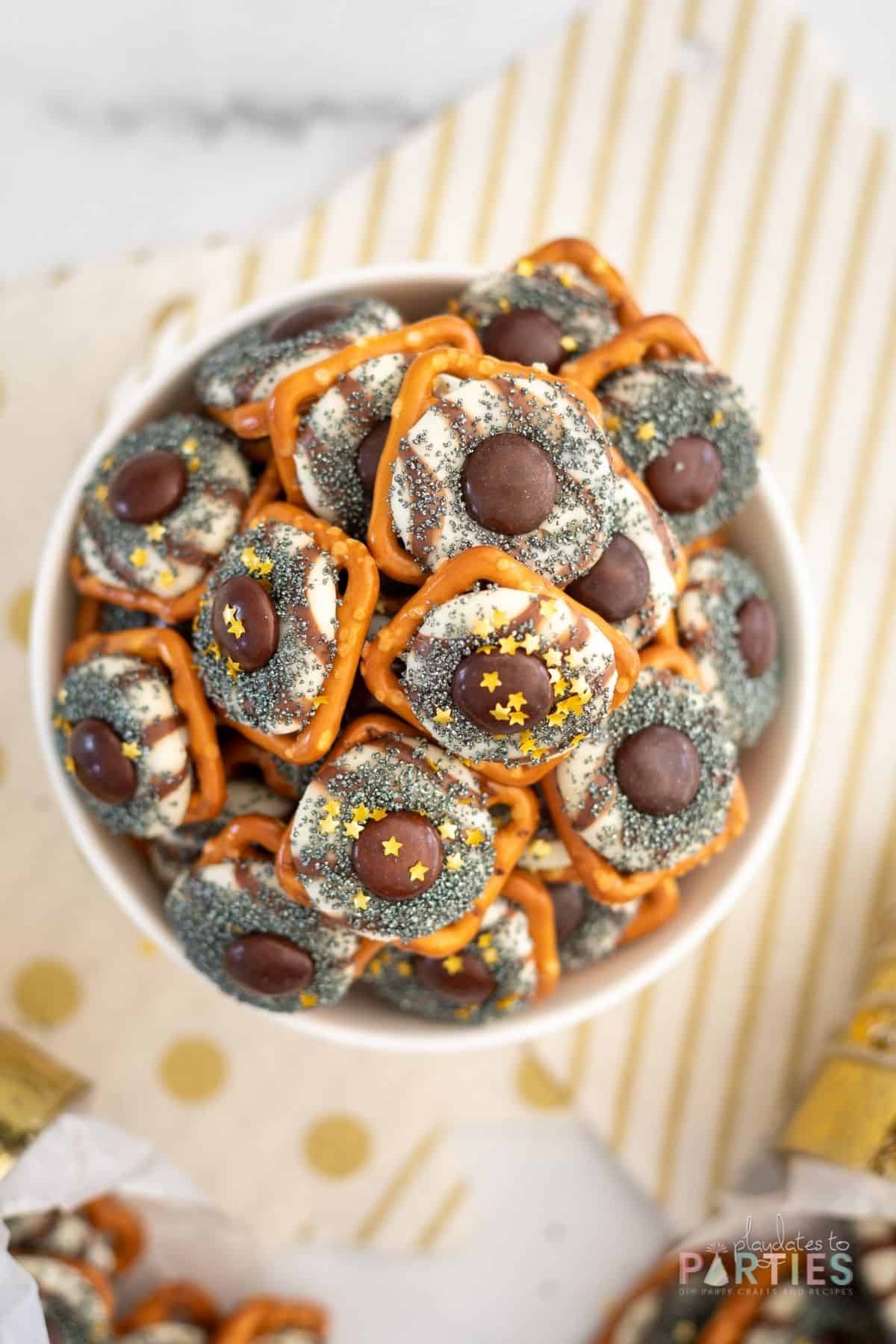 If you liked my Hershey's pretzel bites, you're going to love my easy candied pecans. They're a sweet and crunchy snack that is ready to enjoy in only 45 minutes.
Or you can check out my other desserts here.
Yield: 70 pretzel bites
Hershey's Pretzel Bites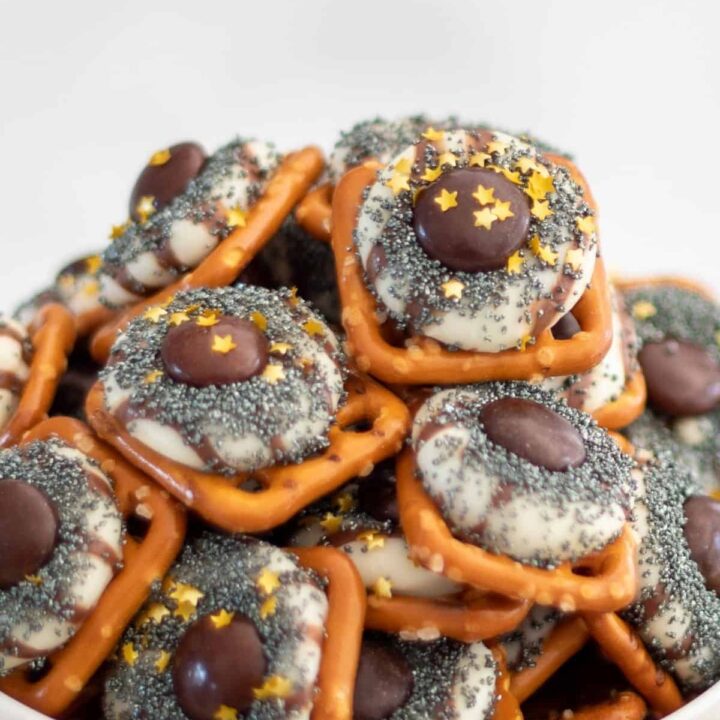 We love Hershey's pretzel bites for the holidays - or anytime. You only need 4 ingredients and 15 minutes to make these delicious little bite sized snack.
Ingredients
70 Hershey's Hugs or Hershey's Kisses (about 1 10.6 ounce bag)
70 M&Ms
70 mini pretzels
Sprinkles of Your Choice
Instructions
Preheat oven to 275˚F. Prepare a baking sheet with parchment paper and unwrap the Hershey's hugs.
Place pretzels in a single layer on your baking sheet.
Add a single Hershey's Hug to the center of each mini pretzel.
Carefully move the pan to the preheated oven. Bake for 2-3 minutes, just until the hugs are soft. Remove from the oven.
Immediately press an M&M onto each Hershey's Hug. Sprinkle with silver and gold glitter sprinkles.
Cool until solid and enjoy!
Notes
Remember, the step-by-step photos and FAQ in the recipe post are there to help you if you feel stuck at any point.
Be careful not to overheat the chocolate. You want it just soft enough to press down, but no puddles forming.
Work very quickly to put the M&Ms on the Kisses. If your home is cool, you may want to work in smaller batches.
Cool your Hershey's pretzel bites completely before storing so they don't stick together.
Chocolate pretzel bites will last up to 2 weeks in a sealed container kept away from heat.
We used Hershey's Hugs, silver sprinkles, and edible gold star confetti for a New Year's Eve version
Recommended Products
As an Amazon Associate and member of other affiliate programs, I earn from qualifying purchases.
---