Make Valentine's Day dinner fun for the whole family with these 17 cute and easy ideas that even the little ones will love.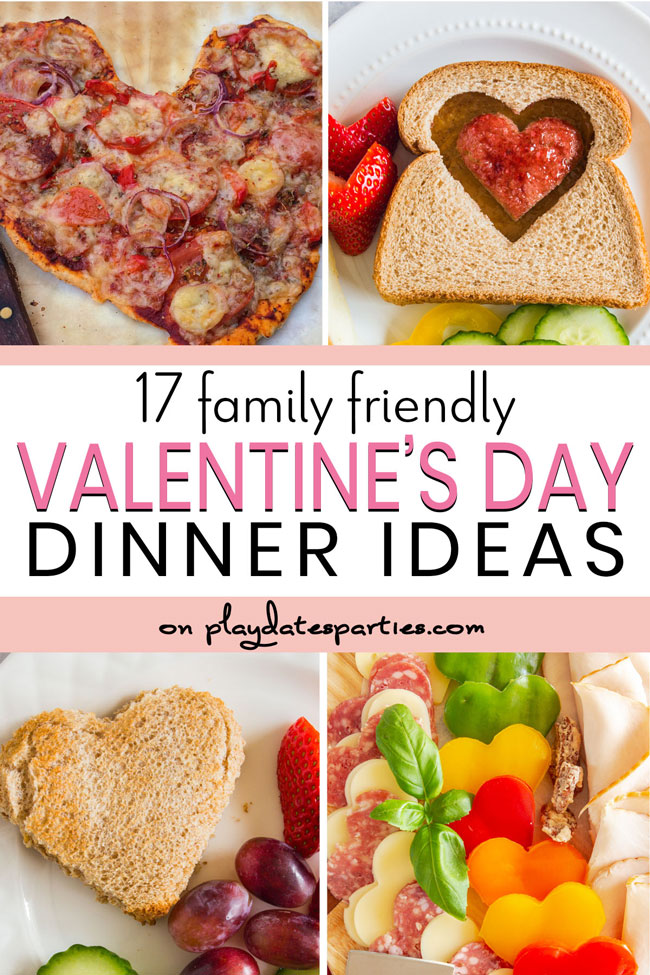 Me: Did you have fun at school today?
Toddler: Yeah
Me: What did you do that was fun?
Toddler: [Blank stare]
Me (referencing the end-of-day sheet): Did you talk about animals at school today?
Toddler: Yeah!
Me: What kind of animals did you talk about?
Toddler (stares blankly for a bit and then starts singing): I'm a little teapot, short and fat…
With three kids under age 10, dinners aren't particularly romantic around our house. We do try to sit down together just about every night. Even still, the conversation can sometimes be a bit…lacking.
But there's nothing like fun shapes and tasty food to get the conversation going with our little ones. So, it seemed fitting to pull together a few cute Valentine's Day dinner ideas that are great for the whole family.
Valentine's Day Dinner Ideas for Families
To make most of these recipes, you'll want a set of heart-shaped cookie cutters in a bunch of sizes and maybe a few skewers to add some cupid's arrows to your food.
Bonus: Heart shaped cookie cutters are good for more than just Valentine's Day! Use them to create animal shapes like bumblebees and reindeer, too!
Let's hope you're hungry, because this is going to be yummy and fun!
Valentine's Day Dinner Appetizers and Snacks
Does anyone else's kids love making a meal out of appetizers? Just add some cheese, cruditee, and some croutons to a Valentine's day charcuterie board, and you've got a fun and filling meal.
So, little kids may scoff at the idea, but older more adventurous eaters might love the idea of starting dinner with a tasty caprese salad made with heart-shaped mozzarella cheese. (from education.com)
RELATED>>>>11 Adorable Valentine's Day Crafts for Kids
How about a fun grab-and-go snack for the kids? Make hard-boiled eggs into the most adorable hearts. You can get all the instructions using household items here, or you can buy a mold to make a bunch at once!
Valentine's Day Dinner Main Course Ideas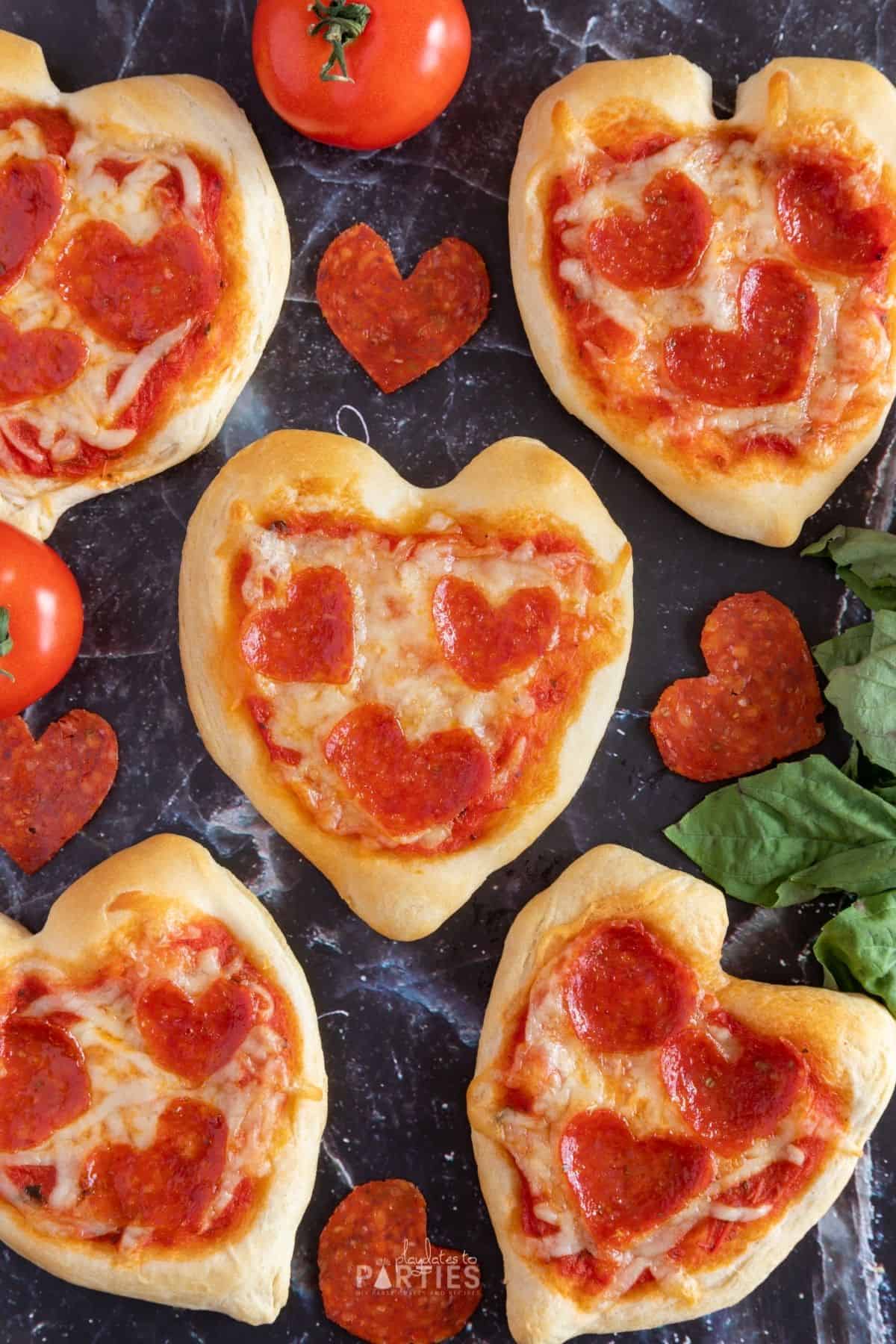 Pizza is a family favorite, so what better way to show your love than with mini personal-sized heart shaped pizzas for everybody?
M is for Monster shared Heart Shaped Quesadillas as a Valentine's Day lunch idea, but it would make a great dinner with the kids on top of some hearty chili.
I love that This Cookin Dad got help from his kids to make Chicken Parmesan with heart-shaped mozzarella cheese. I think we even have a heart shaped cookie cutter that's the perfect size for it too!
Tastes of Lizzy T took classic pot pie flavors and turned them into heart shaped Chicken hand pies that are just the cutest for Valentine's Day dinner.
It doesn't get much more kid-friendly than heart-shaped grilled cheese with tomato soup (even if my kids won't eat the soup!) by Make Myself at Home.
RELATED>>>>12 Blissfully Happy Valentine's Day Love Songs for Families
Then again, this heart-shaped tomato galette from Pretty Prudent is a lot like a pizza, but fancier!
Let's stick with the pizza/Italian theme a little bit longer, and make some adorable mini heart-shaped calzones by The Best of This Life. A little bit more work, but so worth it.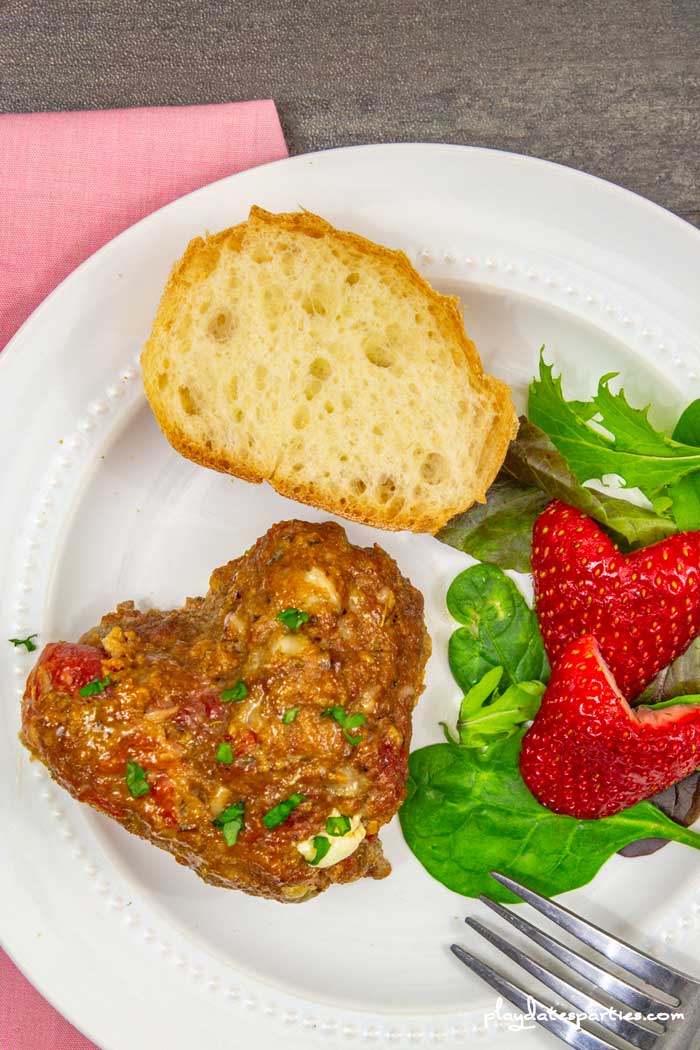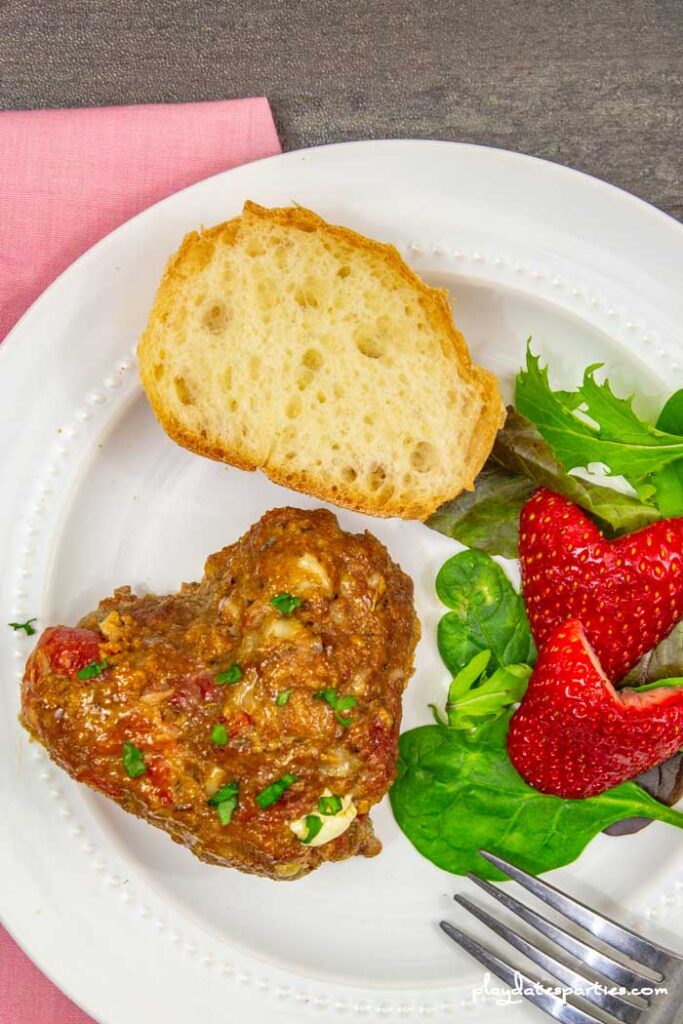 I haven't written up the recipe yet, but these little heart-shaped Italian meatloaves were a favorite for everyone in our family last year.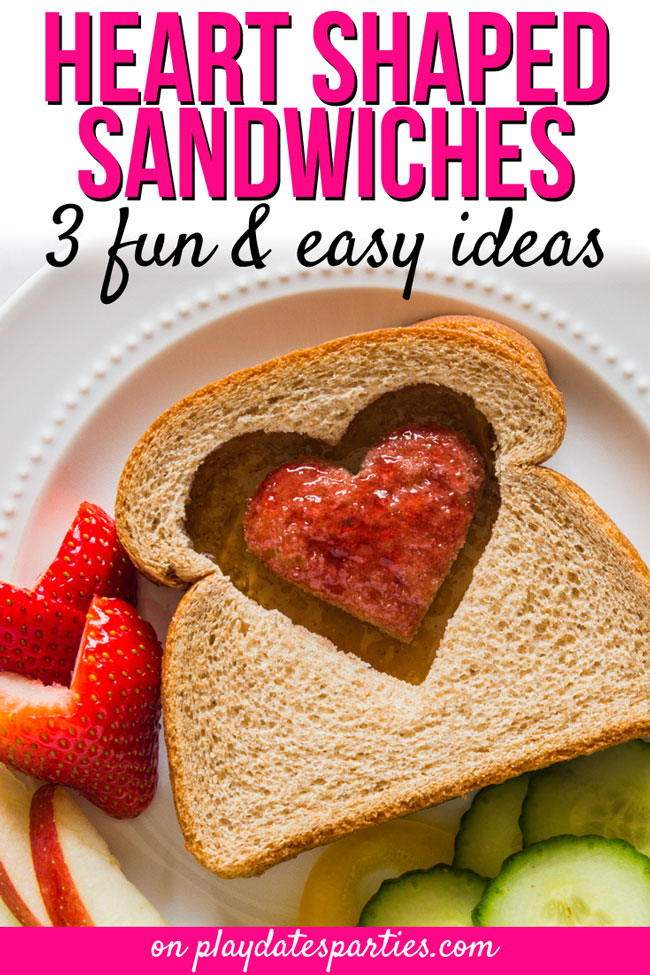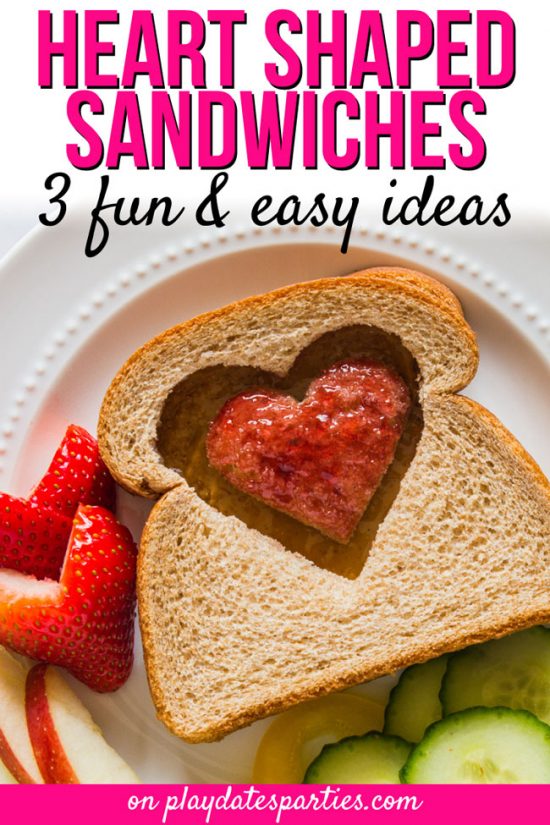 Make dinner super duper simple, and enjoy some heart shaped sandwiches! Here, I shared some tips for making 3 different versions, as well as tips for getting good cuts with your cookie cutters..
Side Dishes for Valentine's Day Dinner
My kids love dinner rolls of all kinds, and I know they would go gaga for these Heart Shaped Dinner Rolls over at Somewhat Simple.
RELATED>>>> 10 Perfect At-Home Date Nights for Busy Couples
Learn how to make heart shaped roasted potatoes over at Little Sunny Kitchen.
Even veggies are fun with A Thrifty Mom's heart-shaped brown sugar glazed carrots.
My kids LOVE fruit salad, and this heart-shaped fruit salad with a skewered heart arrow from Mommy Evolution is just adorable. (You can even make it mini sized for lunches by using a frilled toothpick!)
The Fit Fork will help you stay (or get back) on track with flavorful heart shaped herbed oven fries!

Now It's Your Turn
You know, the plan to get my kids talking with these Valentine's Day dinner ideas may just backfire, because I bet the kids will be too busy eating to talk much! Either way, if you make just one or several of these recipes, Valentine's Day dinner is sure to be a hit!
I want to know…
Do you make a special Valentine's Day dinner for your kids?
Which of these recipes is your favorite?