Looking for a cute treat to share this Valentine's Day? These Valentine's Day brownies with their heart shape and classic conversation heart candies are a sweet way to show someone you care.
Bright and colorful, these brownies are perfect as a fun treat to share with your kids, as a special dessert for your Valentine's Day class party, or you can package them up as gifts for kids to hand out. They're sure to be a hit!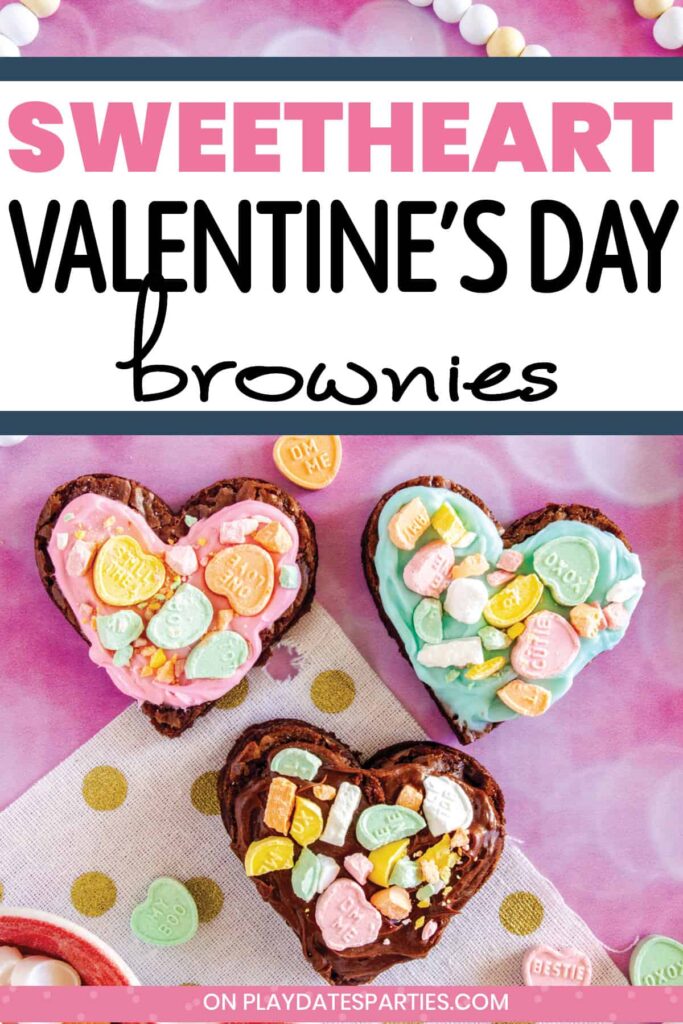 Heart shaped brownies for Valentine's Day are super easy to make. But this version takes it a couple steps further for a vibrant twist that will have all the kids wanting more.
I won't lie, these brownies take some time to make, but they sure are stunning when they're finished!
What You'll Need:
Ingredient
One box fudge brownie mix
2 eggs
Vegetable Oil
1 cup white frosting*
Food coloring*
1 cup chocolate frosting*
Water
1 cup conversation hearts
Supplies:
9"x13" pan
Parchment paper
Mixing bowl
Mixing spoon
Quart size zip top bag
Rolling pin or meat tenderizer
Small mixing bowls
Small mixing spoons
Heart shaped cookie cutters
6-inch offset spatula or wide spoon
* Feel free to use all white frosting, all chocolate frosting or any combination of the two
How to Make Valentine's Day Brownies with Conversation Hearts: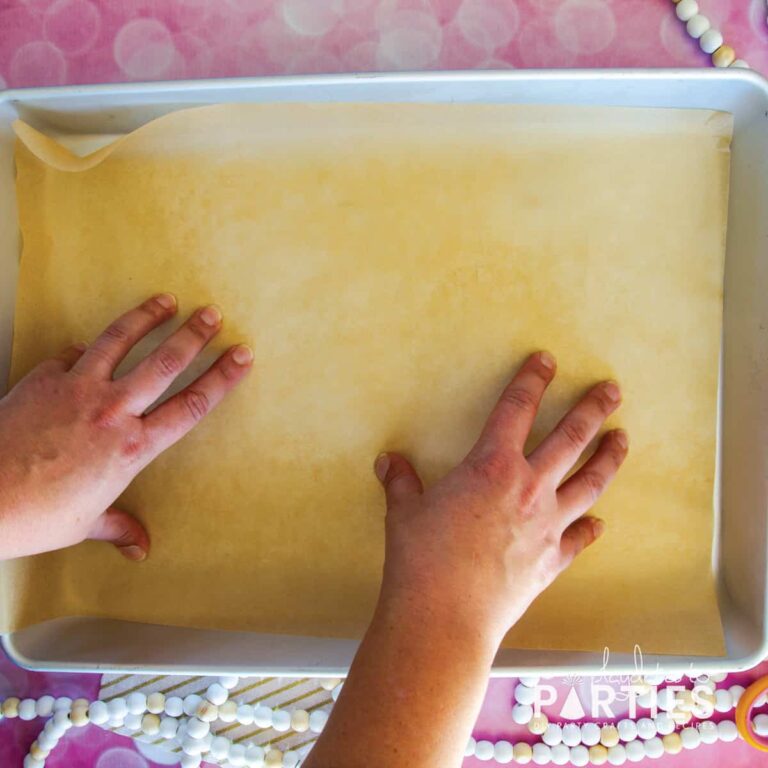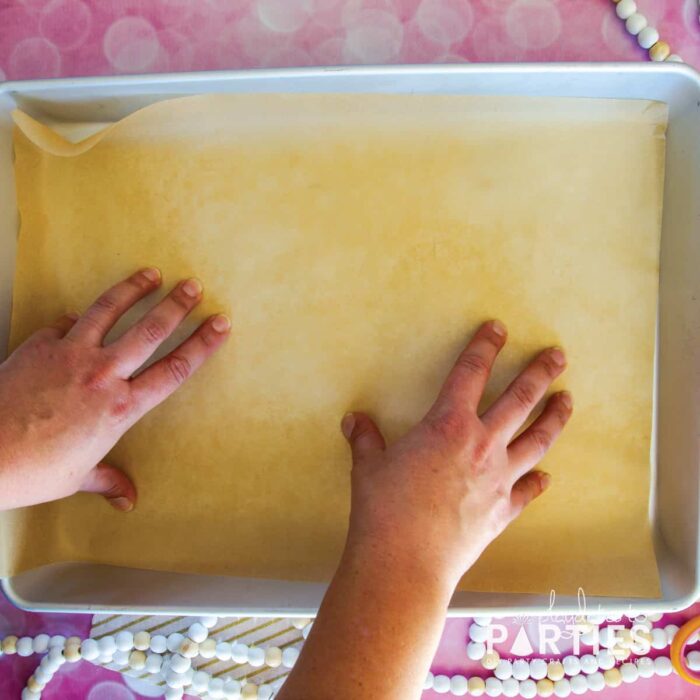 Prepare a Pan with a layer of parchment paper
Adding a layer of parchment to the bottom of the pan will make it easier to remove the brownies and will make it easier for them to release when using the cookie cutter later.
Quick tip: Add a little spritz of cooking spray underneath the parchment paper to keep it from slipping when you spread your batter.
RELATED>>>7 TIPS FOR AMAZING BROWNIES AND BARS
Mix the Brownies according to package directions
As you see in the ingredients photo above, I used two boxes of Betty Crocker Fudge brownie mix, which calls for oil, water, and eggs in each batch.
If your brownie mix calls for different ingredients, then make sure you use what's recommended.
Don't forget to grab a cute bag topper or tag if you're sharing these brownies as a gift. Click here for some fun ideas.
Bake until Set
Now, I know a lot of people like soft, fudgy brownies.
But in this case you want your brownies to be firm enough to hold the heart shape.That means you want a toothpick inserted in the center of the pan to come out clean – about 23 to 27 minutes at 350 degrees F.
When they're done, let them cool completely before moving along – about 20 minutes for a 9"x13" pan.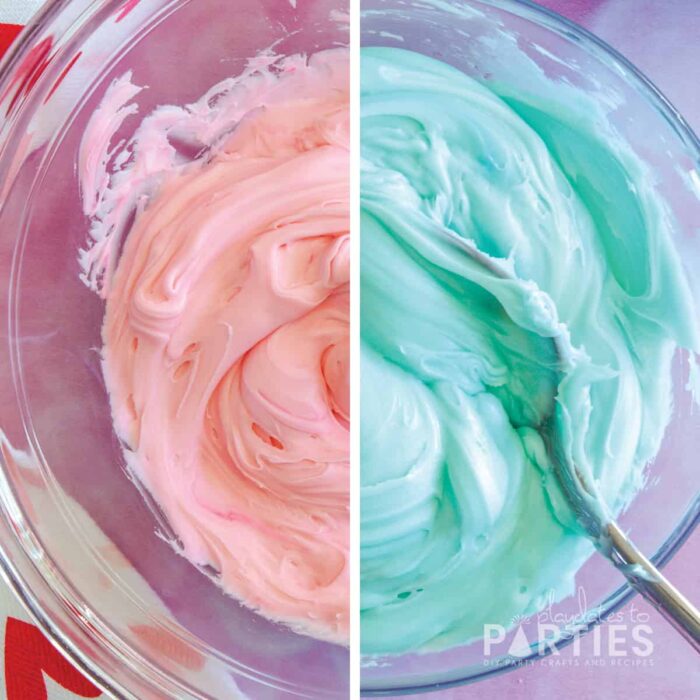 Prepare Your Frosting
Now, if you're running short on time, I definitely recommend sticking with just plain old chocolate frosting for your heart shaped brownies.
But if you have the time, there's nothing quite like the pop of color from the pink and blue frostings.
You won't need more than a half can of prepared frosting for heart shaped brownies from a single box of brownie mix, which is about a cup of frosting total.
To get the colors you see here, I used pastel pink and pastel blue gel food coloring by Wilton.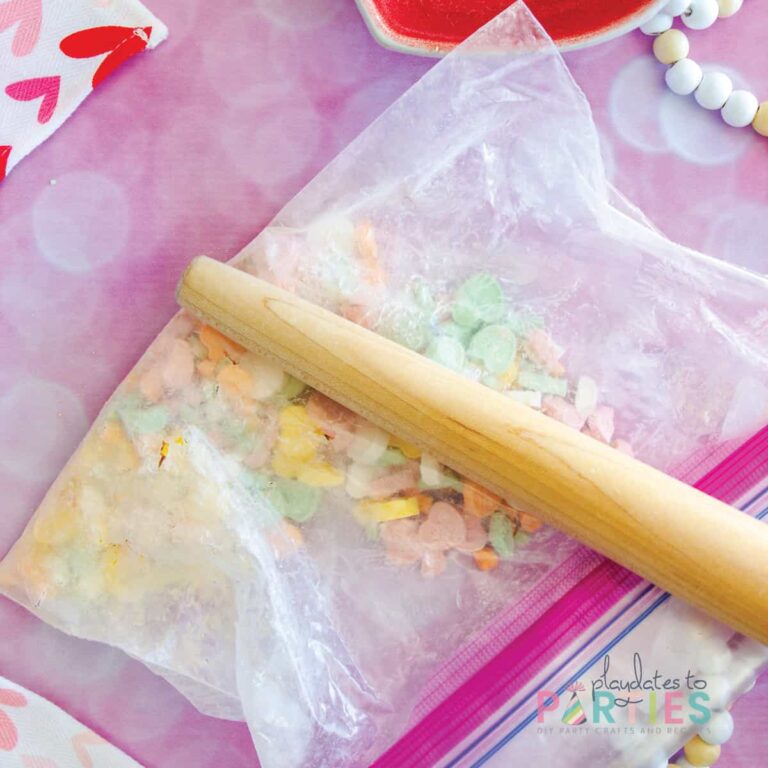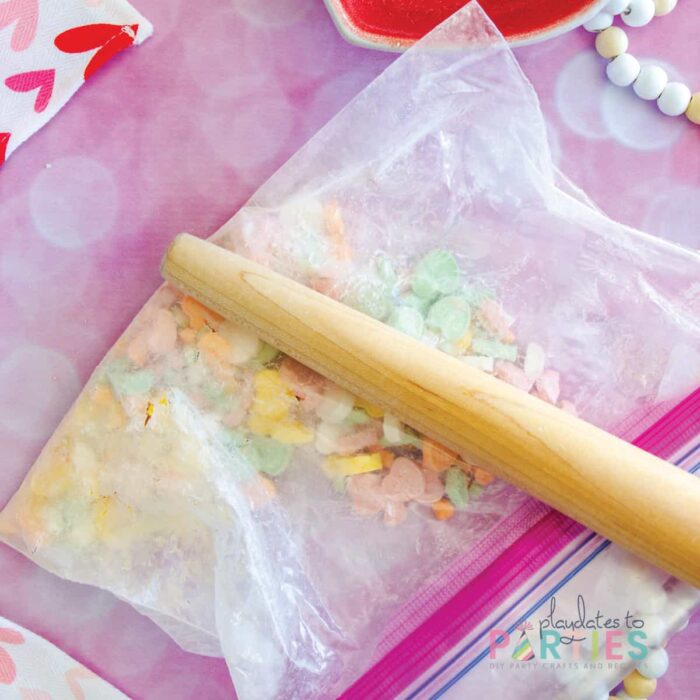 Crush Your Conversation Hearts
Place the conversation hearts in a baggie, and give them a bit of a beating!
I've used both a rolling pin (shown above) and a meat tenderizer. Both work well, so just use what you've got.
A word of caution: Go easy on them. The candies tend to puncture the baggie, and that dust can get everywhere. Besides, the brownies look awesome with a mix of big and small chunks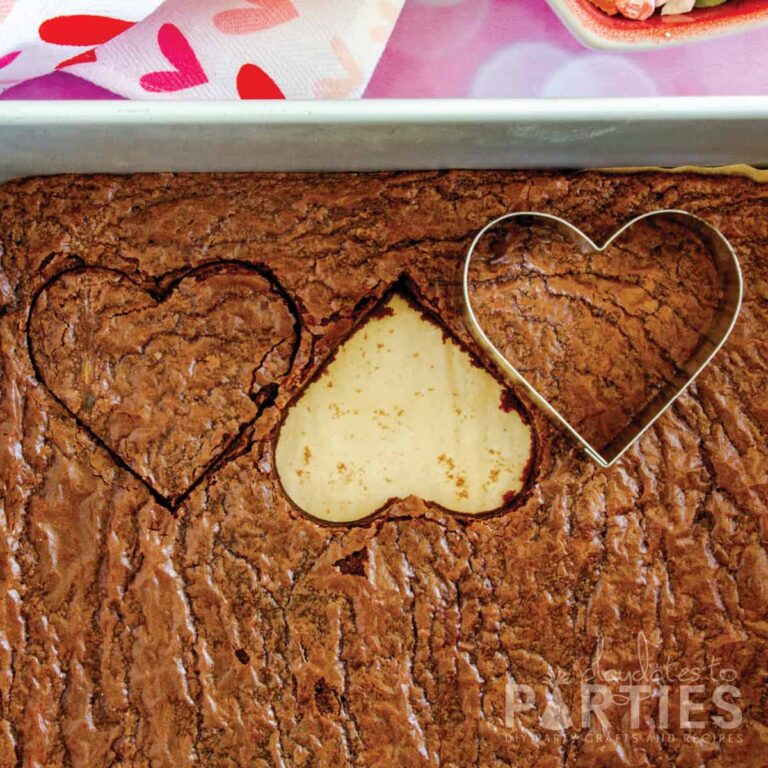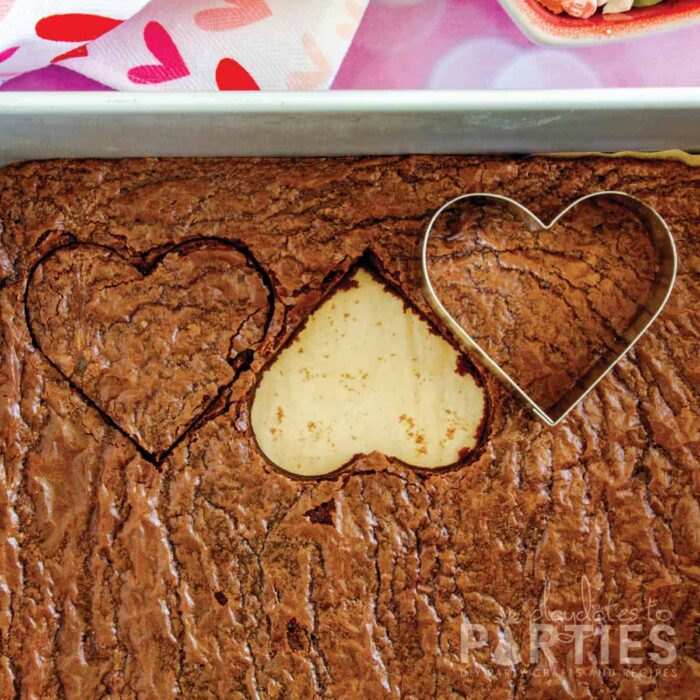 Cut out Your Heart Shapes
Once your brownies are completely cool, use a cookie cutter to make your hearts.
I recommend a cookie cutter about 2 inches wide. That way there's plenty of space to sprinkle on the candies.
Alternating the cutouts (some pointing down, some pointing up) will help you get the most hearts possible from your mix.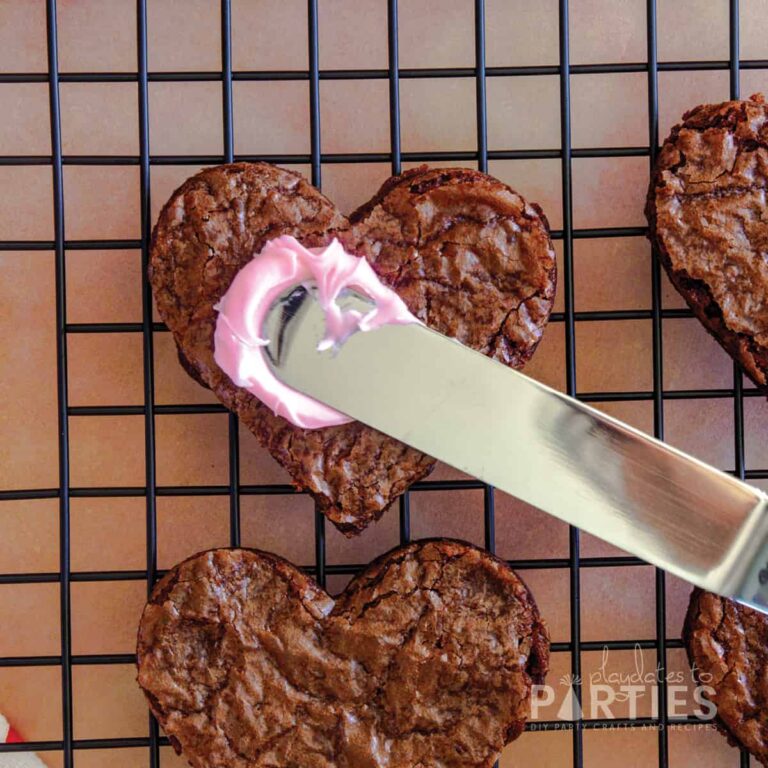 Add the Frosting to the Brownie Hearts
I used a 6-inch offset spatula, but you could just as easily use a small kitchen spatula or even the back of a spoon.
Start with a tablespoon or so of frosting, and spread it out in the shape of a heart. Feel free to add a little bit more frosting if you need to.
Also, don't worry about making them look perfect. The conversation hearts on top will hide a multitude of sins.
Sprinkle the crushed conversation hearts on top
Confession: The conversation hearts you see here were pretty deliberately placed. I made sure that each heart got a variety of large conversation heart chunks with tiny pieces fit in between.
But freel free to grab a handful and start sprinkling. Just remember to press them into the frosting a tiny bit so they stay in place.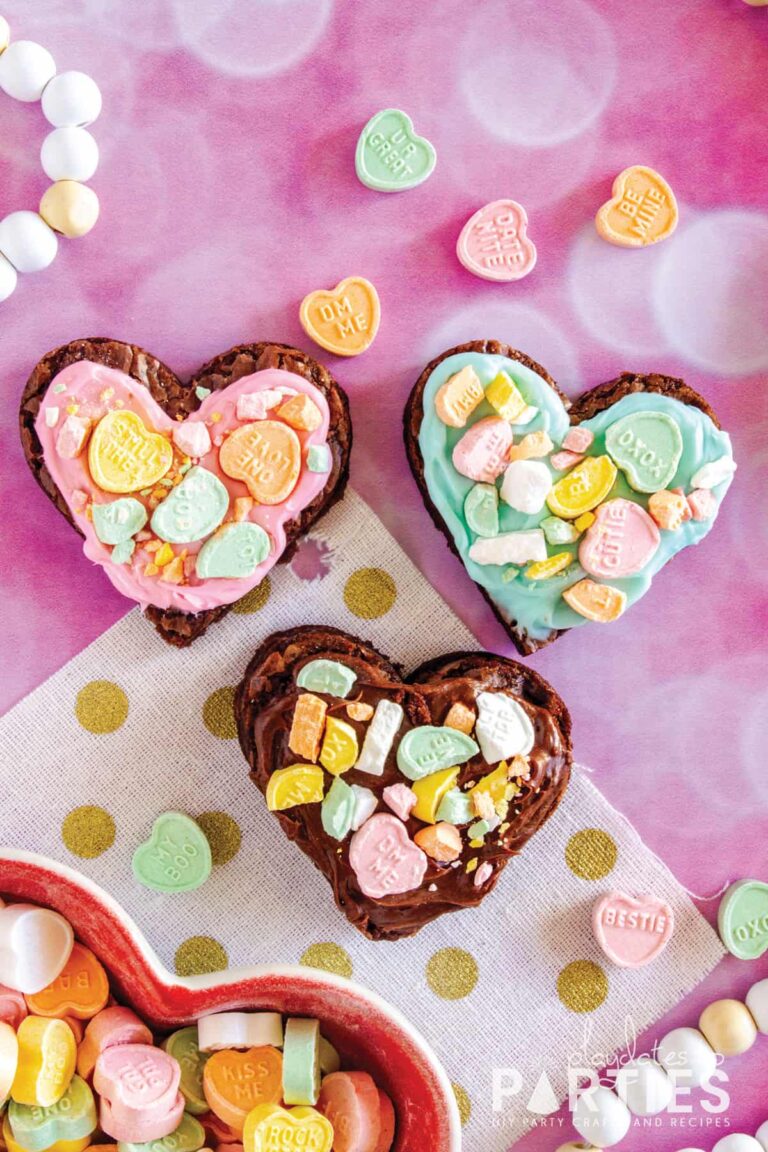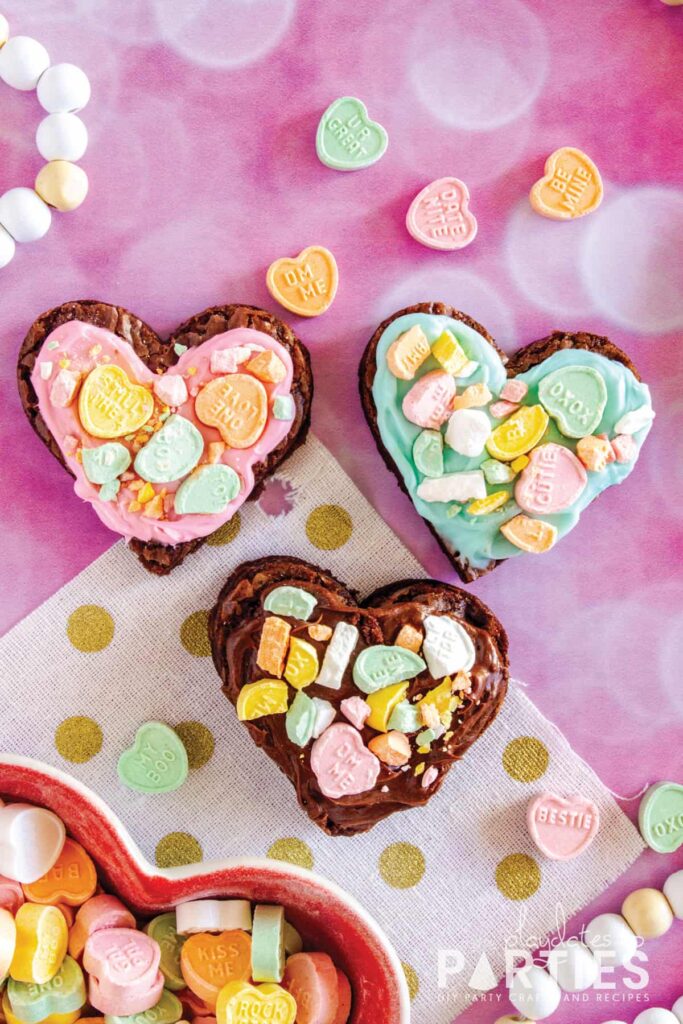 Recipe FAQs
How many heart brownies does a batch make?
Using a heart shaped cutter and a 9"x13" pan, you should get about 12 brownies from one box of mix. If you choose to use different pan, you may be able to get more brownies from each batch.
Can You Use a different pan?
Absolutely! I used to have a cake pan with mini hearts, and originally wanted to use that for this recipe, but it seems it got cleared out some time ago.
(Isn't that always the way things go? You never need something until you get rid of it.)
I also did a test batch which used a half sheet pan, which measures 13"x15". That's slightly larger than the size of a jelly roll pan. Those brownies were also delicious. They just cooked much faster and were thinner than the 9"x13" pan.
You could also use a jelly roll pan or lipped cookie sheet to make your brownies if you don't mind checking for doneness a few minutes earlier.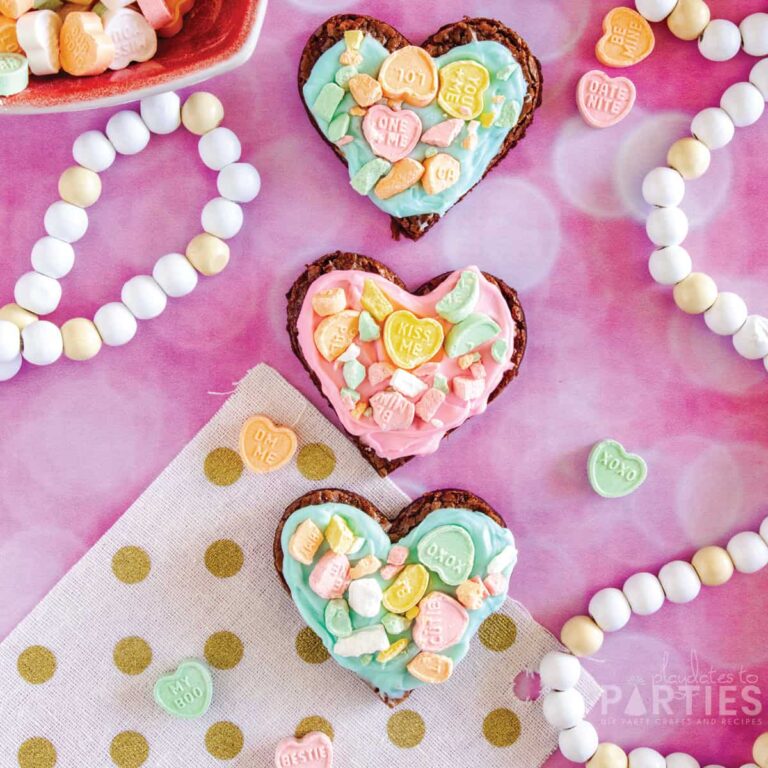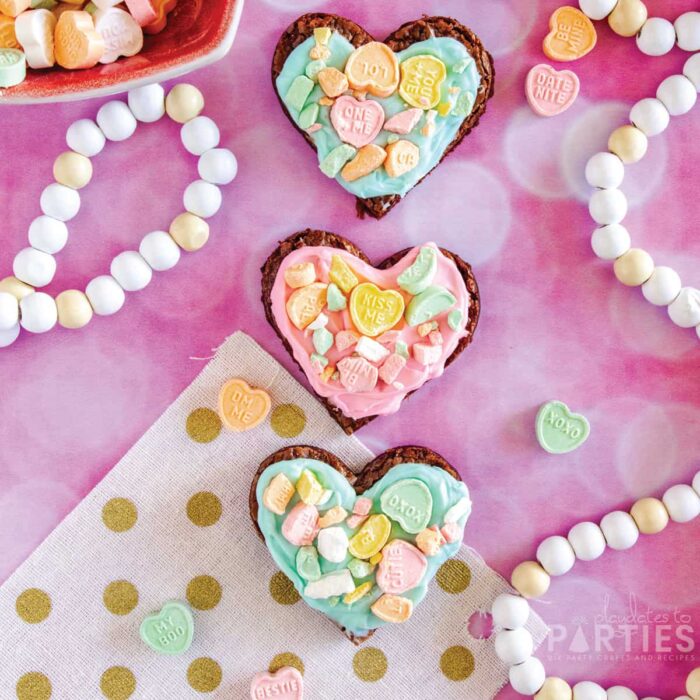 Can You Make the Brownies without a Cookie Cutter?
Yep! If you have a pan with heart shapes, then feel free to use that. I just find heart shaped cookie cutters easier to store and more versatile.
RELATED>>>> 3 Adorable Heart Shaped Sandwiches for Valentine's Day
More Sweet Valentine's Day Ideas:
Yield: 12 brownies
Valentine's Day Brownies with Conversation Hearts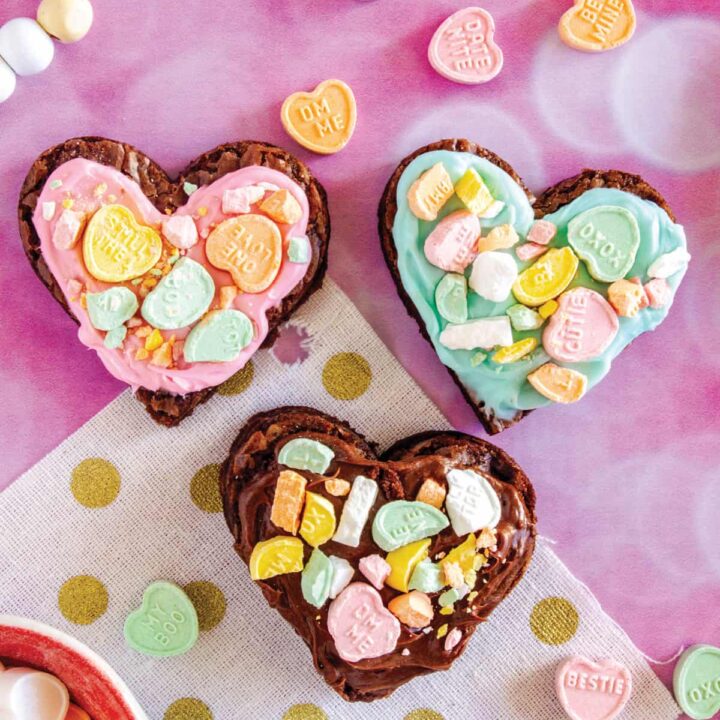 Decorating Time
30 minutes
Total Time
1 hour
40 minutes
Ingredients
One box fudge brownie mix
2 eggs
1/2 cup Vegetable Oil
3 Tablespoons water
1 cup white frosting (see notes)
Pink and Blue food coloring (see notes)
1 cup chocolate frosting (see notes)
1 cup conversation hearts
Instructions
Prepare the Brownies
Preheat your oven to 350F
Prepare a 9"x13" pan with a layer of parchment paper. Make sure the parchment paper covers the entire bottom and at least two sides of the pan.
In a large bowl, combine the brownie mix, 2 eggs, 1/2 cup vegetable oil, and 3 tablespoons water. Mix until smooth (see notes)
Spread the brownie batter and bake at 350F until a toothpick comes out clean from the center of the brownies, about 23-27 minutes.
Allow the brownies to cool completely, about 20-30 minutes.

Cut Out the Brownies:
Cut 12 heart-shaped brownies from the prepared pan using a 2-inch wide heart-shaped cookie cutter.
Gently remove the heart shaped brownies from the parchment paper and place them on a cooling rack for decorating.
Decorate the Brownies:
Place about 1/2 cup white frosting in a small bowl. Add a few drops of pink food coloring and stir until color is distributed evenly. Add more coloring until desired color is achieved.
Repeat with the remaining 1/2 cup white frosting and blue food coloring. (see notes)
Using a small spatula, spread about 1-2 tablespoons prepared frosting onto the cut out brownies. Spread the frosting in the shape of a heart.
Sprinkle crushed candy hearts on top of the frosting and gently push into the frosting to hold in place.
Notes
Frosting:

Feel free to color the white frosting whichever colors coordinate best with your conversation hearts. Or feel free to use only chocolate frosting. Both are beautiful.
Nutrition Information:
Yield:
12
Serving Size:
1
Amount Per Serving:
Calories:

398
Total Fat:

21g
Saturated Fat:

4g
Trans Fat:

0g
Unsaturated Fat:

15g
Cholesterol:

34mg
Sodium:

129mg
Carbohydrates:

55g
Fiber:

1g
Sugar:

50g
Protein:

2g
__________________________________ The nutrition information provided above is estimated using an automated calculation system. Actual nutrition will vary depending on brand and measurements used in your recipe. To obtain the most accurate representation of the nutrition information for any given recipe, you should calculate the nutritional information using the actual ingredients you used in your recipe.
This post was originally published on February 11, 2013. It has been updated with an improved recipe, new photos and additional details.
---