Appetizers, main courses, and don't forget dessert…these are the best super easy, super cute Halloween party food ideas to make for your kids!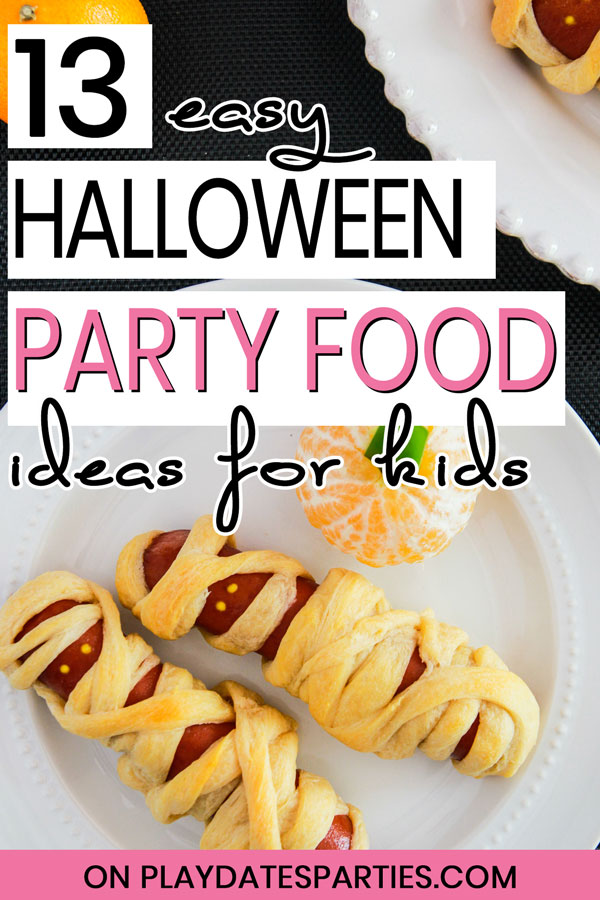 Are you planning a Halloween party this year?
My favorite party recipes are the kind that are easy to make, and embrace the creativity of kids imaginations. And there's no better time to do that than for a children's Halloween party.
This is the time of year you can really play with your food presentation. Go ahead and make something gross, something spooky, or something perfectly adorable for your Halloween parties.
Before Planning Your Halloween Party Menu, You Might Also Want to Read:
Now it's on to the fun stuff! It's time to get inspired with these awesome Halloween party food ideas for kids parties.
Halloween Party Appetizers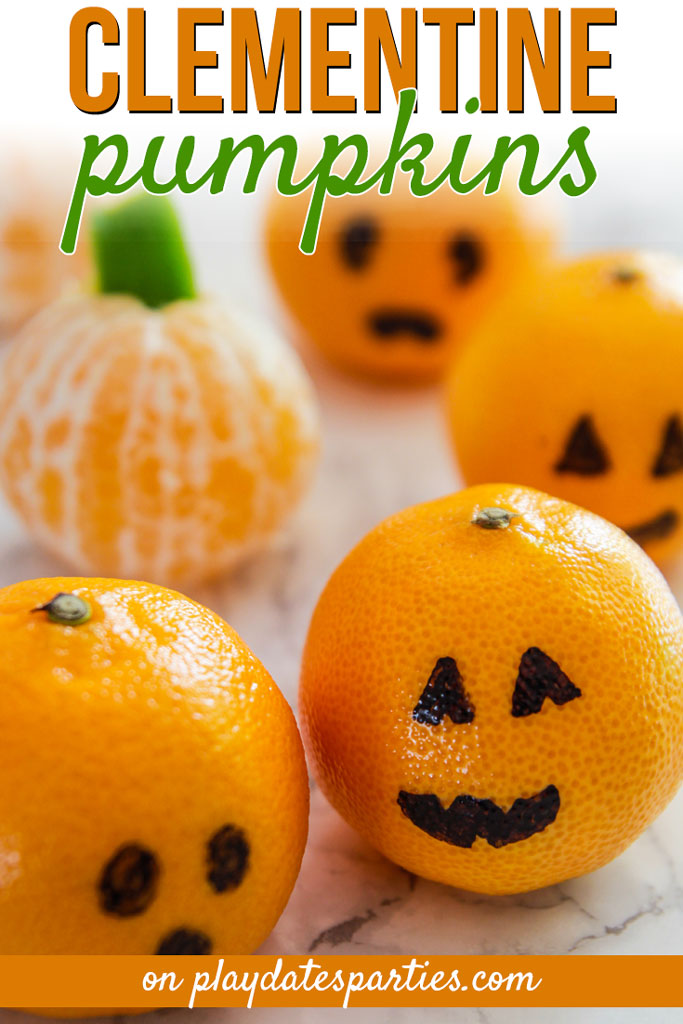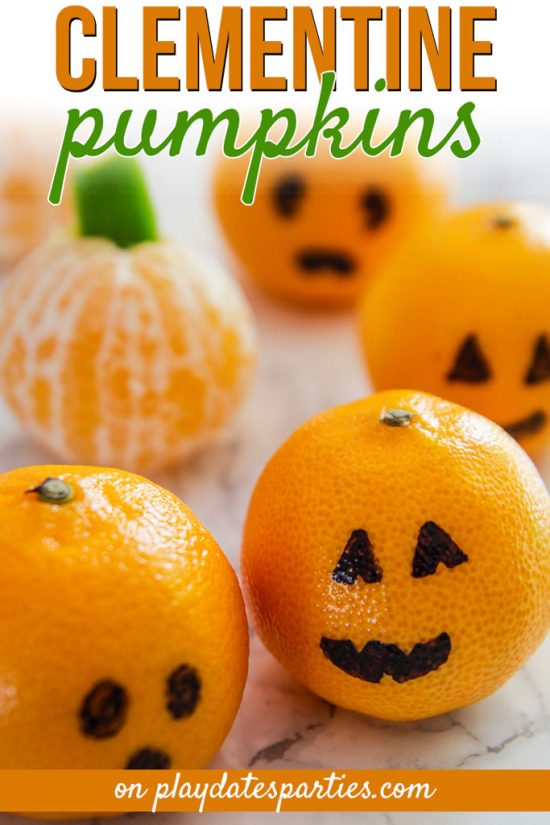 All it takes is a few minutes to turn clementines into adorable treats for your kids' Halloween party.
If you've got young kids and toddlers, you'll want to check out these tips for making peeled clementine pumpkins. But if your kids are older, save a few minutes and learn how to make clementine jack-o-lanterns.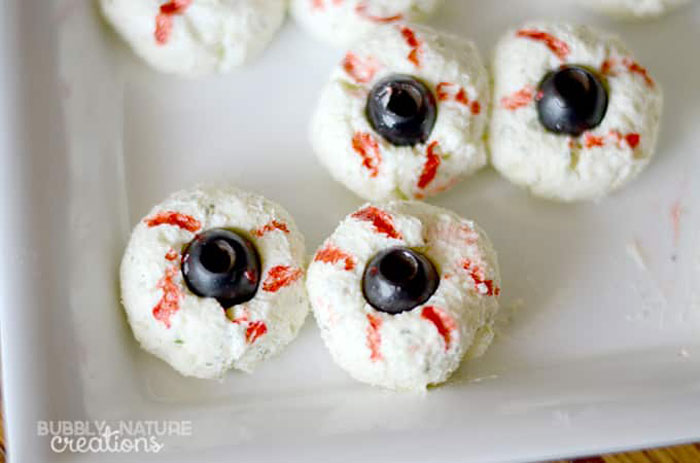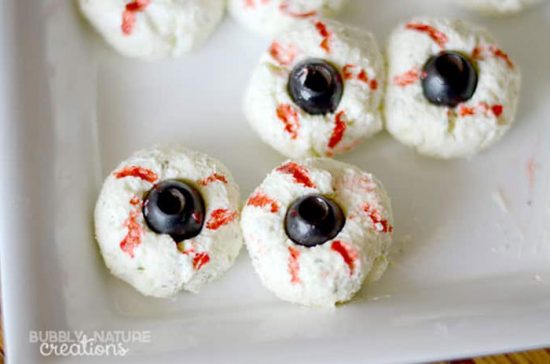 Fancy eating some eyeballs? I love the presentation of these easy eyeball cheeseballs by Sprinkle Some Fun.
Tip: Kids don't love olives? You can substitute an upside down chocolate chip, or some candy eyeballs too.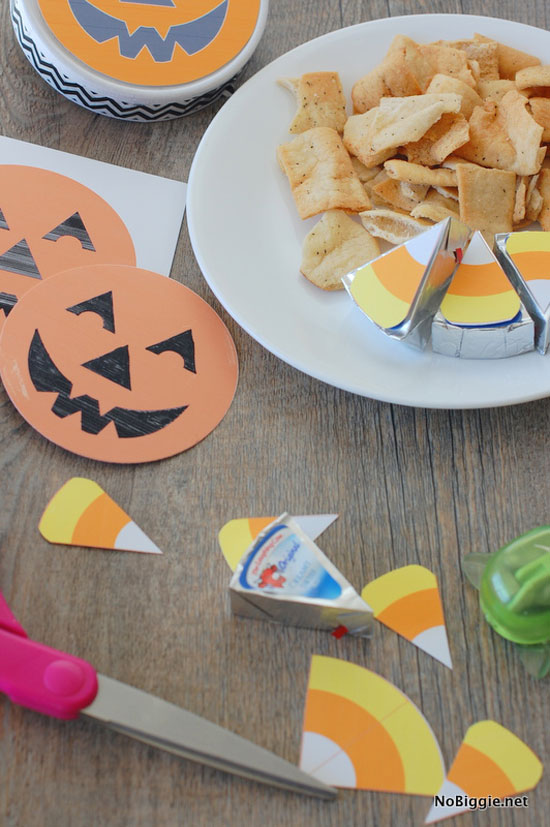 It doesn't get any simpler than this does it? No Biggie has a free printable that you can cut out and attach to cheese wedges for cute little candy corn appetizers. Just add them next to a plate of crackers and you're good!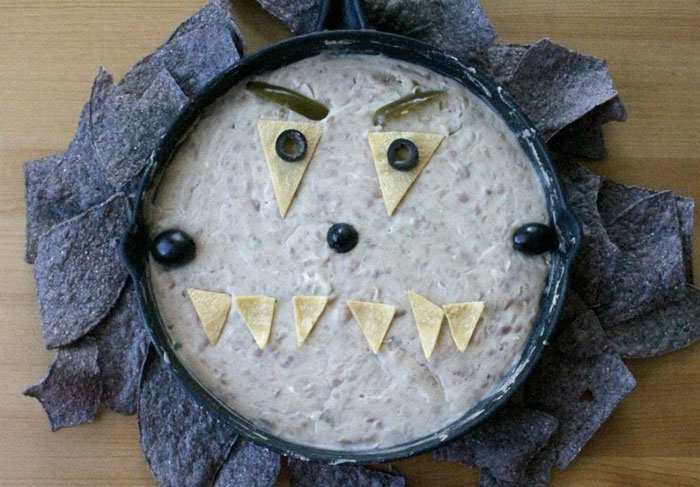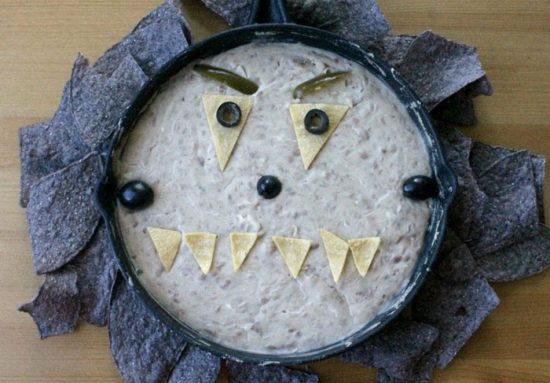 Now this is creative! You can turn pretty much any dip into a tasty monster for your table, but I love the bean dip recipe that In Mama Maggie's Kitchen used for her version.
Main Course Halloween Party Food Ideas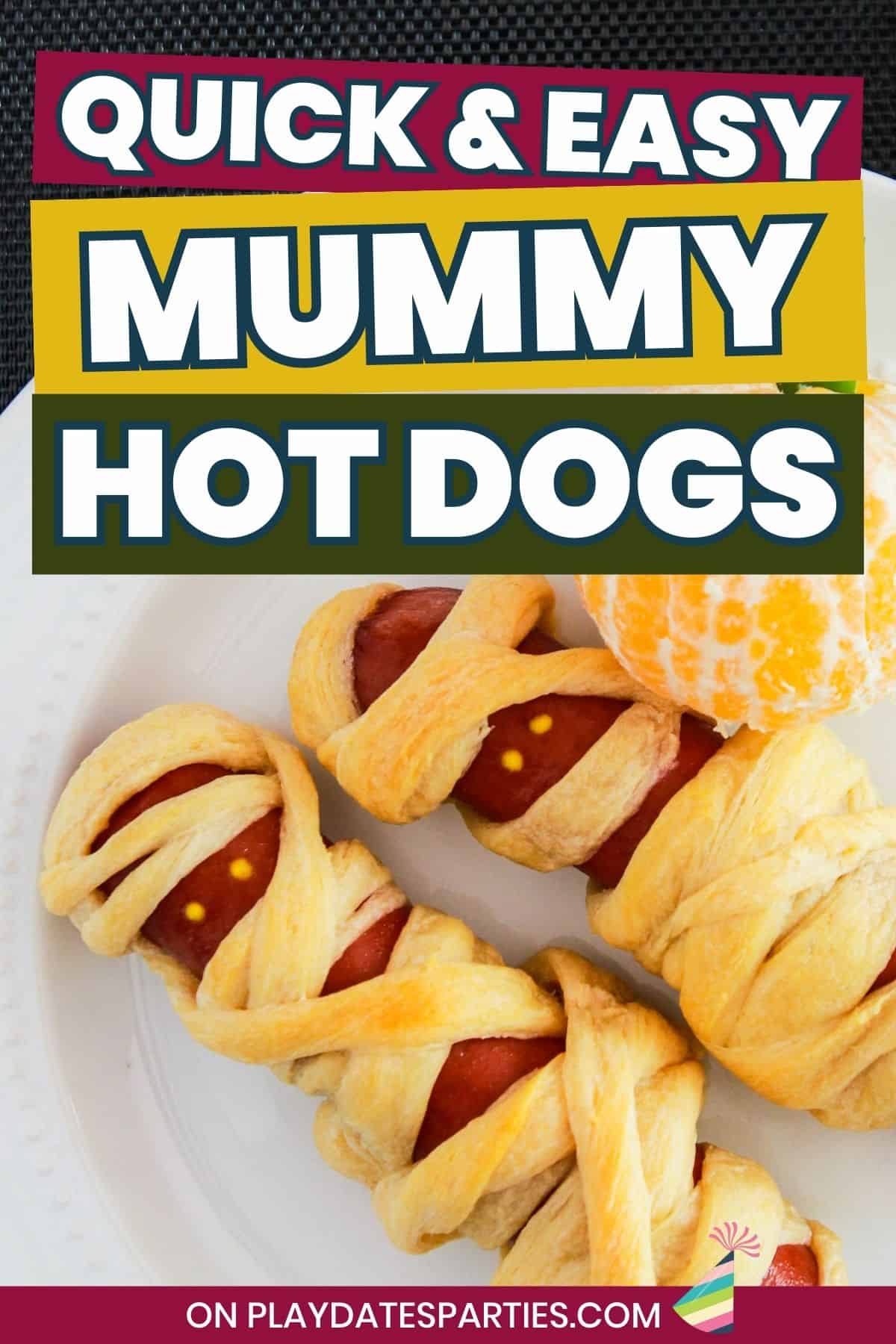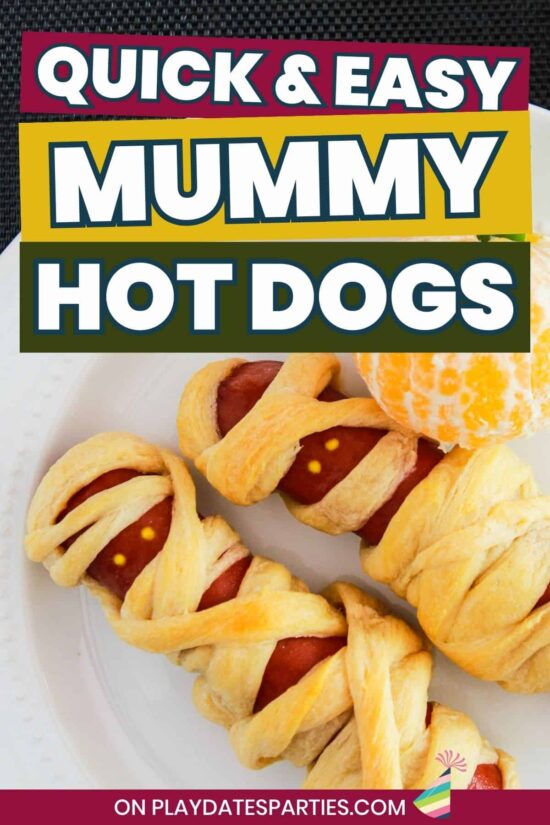 Mummy dogs are one of my favorite things to make for the kids at Halloween. They're easy, the kids love them, and you can actually make them ahead of time! I share all my tips and tricks for making Mummy Dogs right here.
Pizza is a classic party food, and you can't go wrong with individual mummy pizzas for a Halloween party. Make them yourself, or serve a DIY pizza bar where the kids can make their own Halloween pizzas.
All it takes is some skewered olives and a fun cut on your cheese to make cute monster sandwiches. And you don't have to make them chicken sandwiches.
You could do the same with burgers, pulled pork, chicken salad, or anything else that you can put on a bun or between two slices of bread.
Or you can make it even easier by stacking up simple sandwich wedges and adding a couple candy eyes to the top.
Tip: If you're like me, and hesitate giving sharp skewers to little kids, you can also make smaller sandwich stacks with long lollipop sticks. Or eliminate the sticks only and use the candy eyeballs as presentation on your party platter. Totally up to you.
Halloween Snacks and Desserts: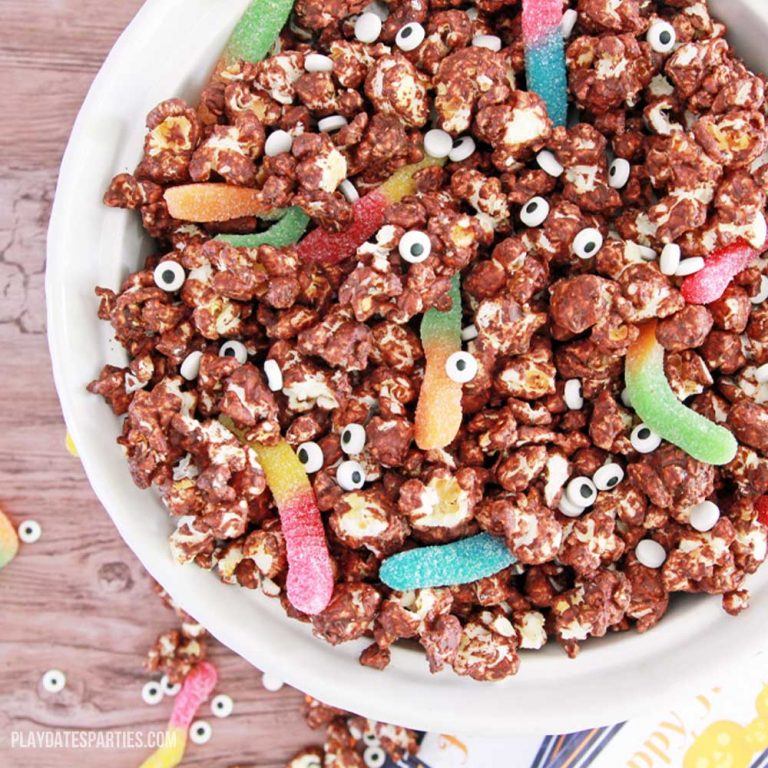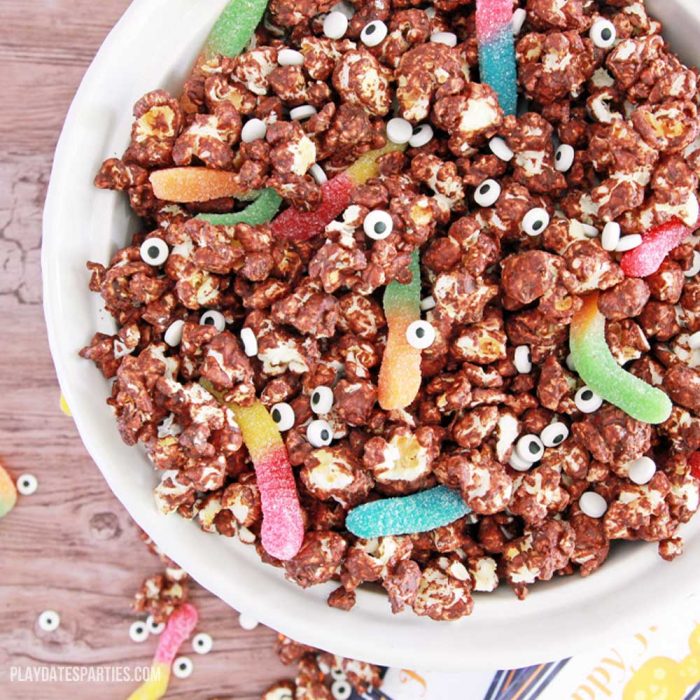 Our kids loooooove popcorn, especially when it's mixed with a little bit of chocolate and their favorite gummy worms, like this Monster Munch recipe.
Bonus: Make an extra batch and give it away as a party favor with these free bag toppers!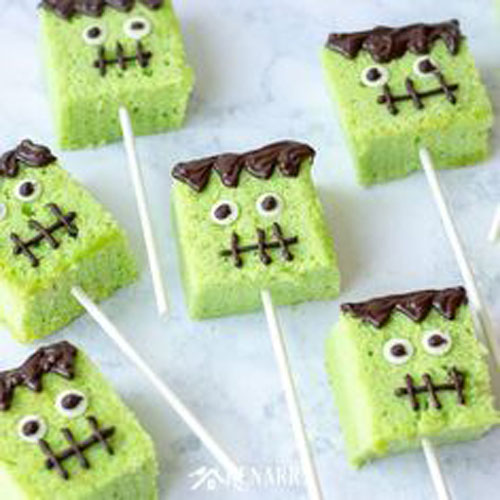 Now, these are my kind of cake pops! Kenarry's Frankenstein cake pops are so much easier than the traditional rolled and dipped version. Plus, they're super cute, and easy for the kids to gobble up.
>>>>RELATED: Check Out this Other Fun Cake Pop Hack!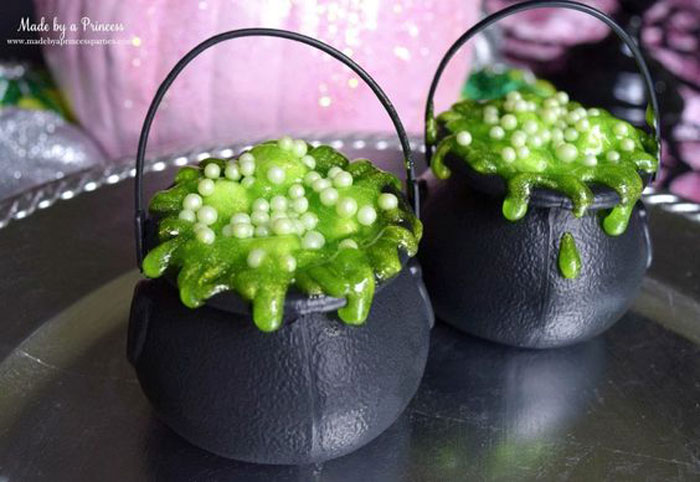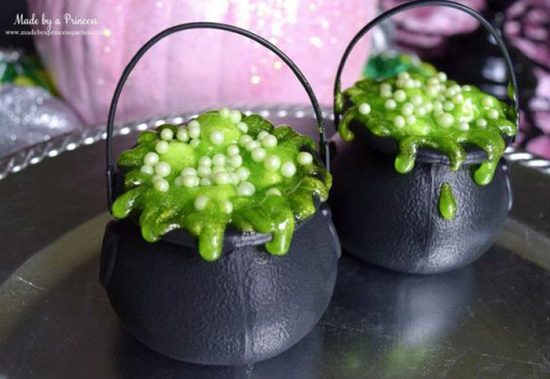 Sometimes recipes are all about the presentation, and Cauldron Pudding Cups by Made by a Princess Parties are a perfect example of just that. I bet it wouldn't take long at all to make a full party's worth of these fun treats.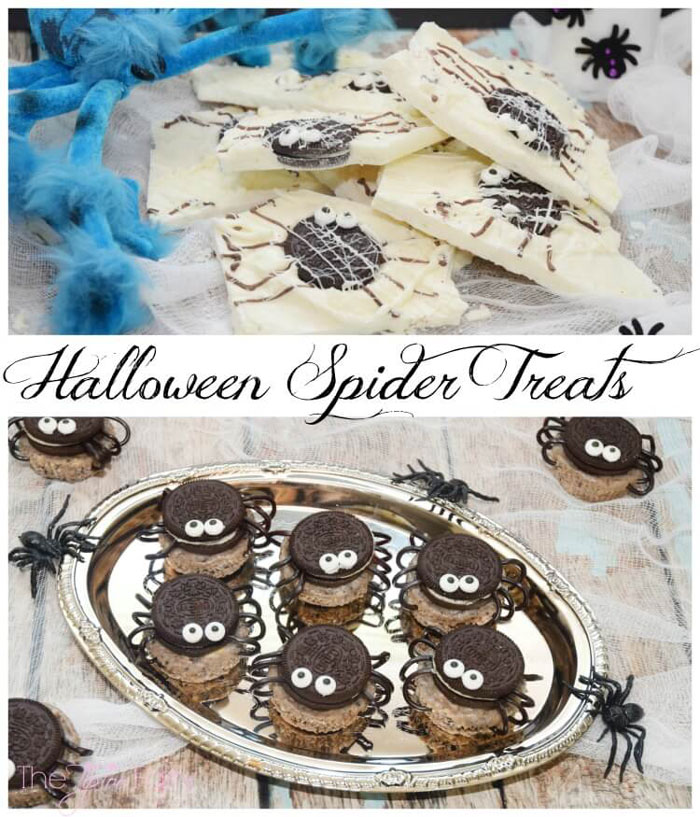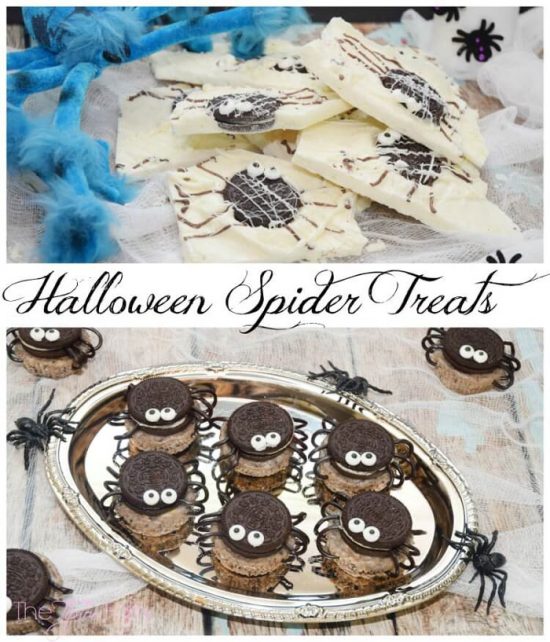 I can't decide which of these Oreo spider treats I like most. The bark recipe is great because it can be made so quickly, but those Oreo spider cheesecake bites are super cute! Which do you like best?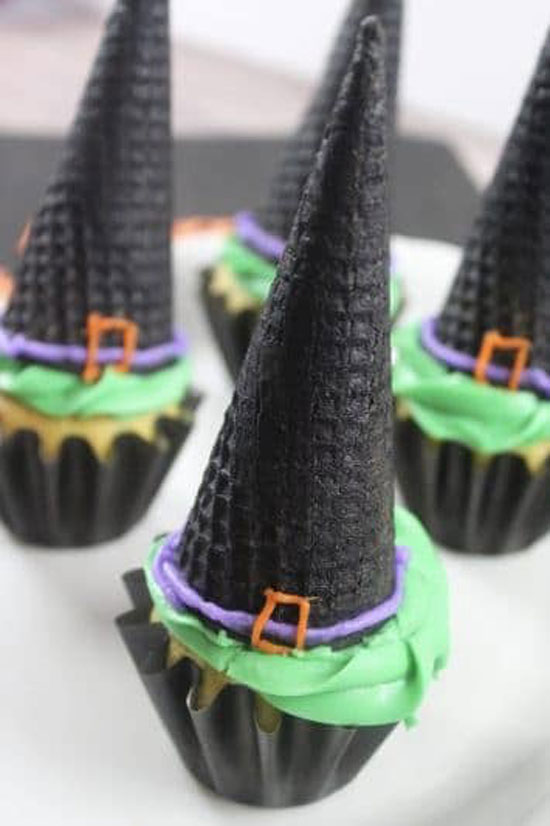 How fun are these? You know the kids will "oooh" and "aaahhh" when they see their favorite party treat turned into the Crayons and Cravings' witch hat cupcakes. Yes, there's a little piping necessary, but it's not much…you've got this!
So Many Fun Halloween Party Food Ideas
See? There are so many easy Halloween party food ideas out there that are fantastic for kids. And they don't have to take a lot of time or preparation, either.
Want more Halloween inspiration? Check out the Halloween archives for over 4 dozen Halloween party crafts and recipes! Don't forget to check out my other Halloween party ideas, and click here to learn how to get LOTS of free party printables, too.
Which of these Halloween party food ideas is your favorite?
Do you make an Halloween treat that's not on the list? Tell us about it in the comments below!
Don't forget to subscribe via
Bloglovin, Facebook, and Twitter,
to get more updates!