Wondering what food to serve at a first birthday party? These 25 first birthday party foods make menu planning easy, tasty, and safe for the guest of honor!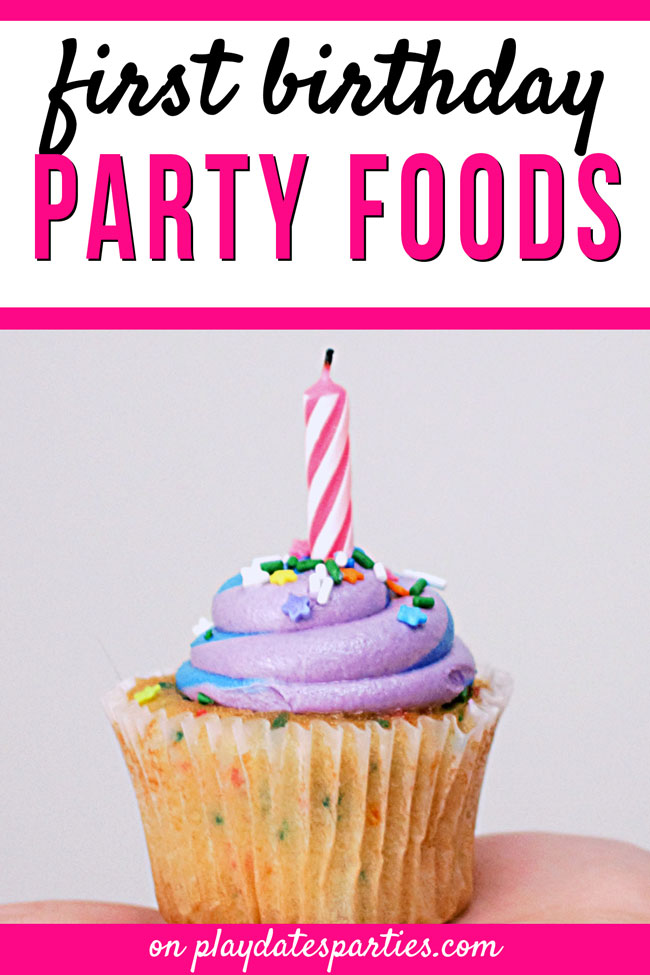 The first birthday.
It's such an awesome milestone, and totally worth celebrating. With our three kids, we've done a variety of first birthday parties that ran from big bashes with the whole family all the way to a smaller party decorated almost entirely with supplies we had on hand.
And while I love the freedom to decorate however I want, for our first two kids, I struggled with choosing the best foods to serve at our party. I wanted as much as possible to be safe for the birthday boy or girl, but then again, I also want the adults to enjoy the food too.
The best thing that we did was create an easy framework for first birthday party foods:
First, identify a main course that is perfect for adults
Second, fill in with toddler friendly finger foods
Third, plan the cake smash!
25 Easy First Birthday Party Foods to Serve
Main Course Ideas for a First Birthday Party
The main course is the most difficult to plan. You want options that the adults will love, but you also want to make sure you have foods that are safe for the little ones to grab, too.
I've listed below some of our favorite first birthday party foods that are great to serve for everyone as well as foods that are important to avoid due to safety concerns
Adult Friendly Main Course Ideas
Hamburgers
Barbecue sandwiches
Pizza
Toddler Friendly Main Course Ideas
Mini Pancakes
Small pasta (eg. pasta salad, Mac n cheese, etc.)
Crustless sandwiches cut with cookie cutters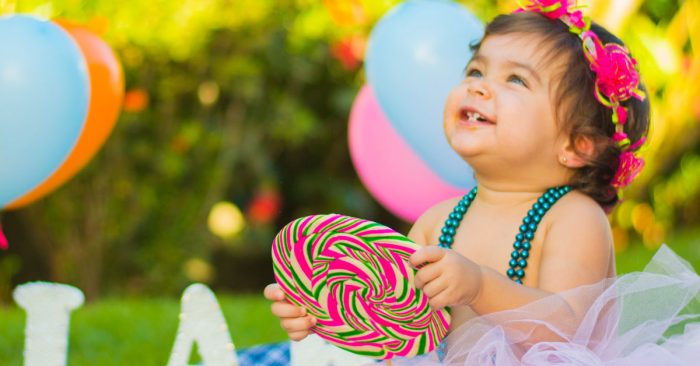 Finger Foods to Serve at a First Birthday Party
Once you've got the main course picked out, it's time to fill in with finger foods and appetizers. Here are some tasty ideas that everyone should enjoy:
Fruit Trays and Fruit Salad:
Blueberries
Grapes (halved)
Cut up strawberries
Cut up watermelon
Very thinly sliced apples
Want to avoid spending hours on end preparing food for your party? Click here to download 10 Fast and Easy Party Recipes that don't take more than 20 minutes of your time to prepare.
Birthday Party Snacks:
Cheerios
Goldfish crackers
Small cheese cubes (with supervision)
String cheese (with supervision)
Deviled eggs
Annie's bunny crackers
Yogurt melts
Toddler puffed snacks
Animal crackers
Nilla wafers
Pudding
Mini muffins
Sugar wafers
Thin pretzels
Foods to Avoid
It's important to make sure that babies and toddlers are supervised while eating. Please don't walk away without making sure a responsible adult is watching your child during a party.
You can, however, make life a little bit easier on yourself by avoiding some common party foods that are choking hazards for little ones, such as:
Hot dogs
Whole nuts
Popcorn
Raisins
Sticky or chewy foods (like most candy)
Raw vegetables (try serving small cuts of lightly steamed or roasted vegetables instead!)
More Party Tips You'll Love
Now It's Your Turn
With these 25 first birthday party foods, you can plan out an entire party menu, and know that your birthday boy or girl will be able to enjoy eating as much as everyone else. Next, you've just got to get the cake smash planned!
What do you serve at a first birthday party?
Do you avoid choking hazards for toddler parties?
---