Halloween is just around the corner, and with it comes costumes, class parties, and neighborhood get togethers. This year, make your parties even more fun with these cute monster apple teeth.
This recipe is sure to be a hit at any party or gathering – and the kids won't even notice that they're eating a healthier snack than all those cupcakes and candies.
(Don't worry…you're secret's safe with me!)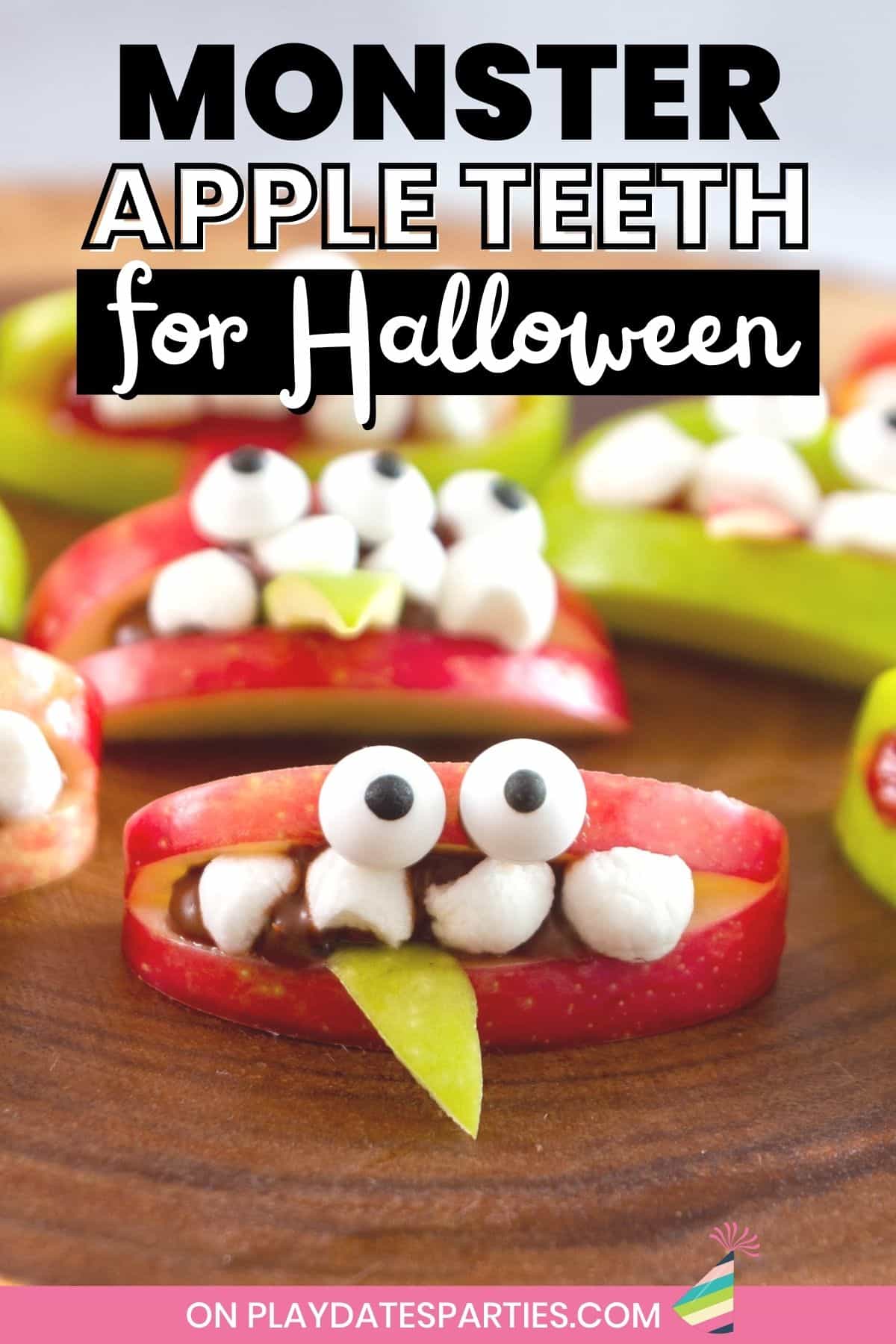 One of the best things about Halloween is that it's okay to play with your food. Seriously, between clementine pumpkins, mummy dogs, and so many more fun Halloween party foods, there's no shortage of creative ways to play with your food.
Just like these monster apple teeth! But these little guys aren't just cute…
They're bright and colorful! Who doesn't love the bright greens and reds from fresh apples.
They're low waste – Instead of buying a separate food to make the monster tongues, you simply use the discarded portions of the apple wedges. 🙌
The way they're cut means that you don't have to worry about party mishaps, like wedges that don't line up or end up sliding apart.
They're school-friendly! Either use only the jelly version, or if your child's school allows nuts that aren't peanuts, you can also use the Nutella. (Please remember to check with your school and/or teacher about other allergens)
The apple slices themselves are a healthy snack-with minimal sugary substances added-so you can feel good about the party food.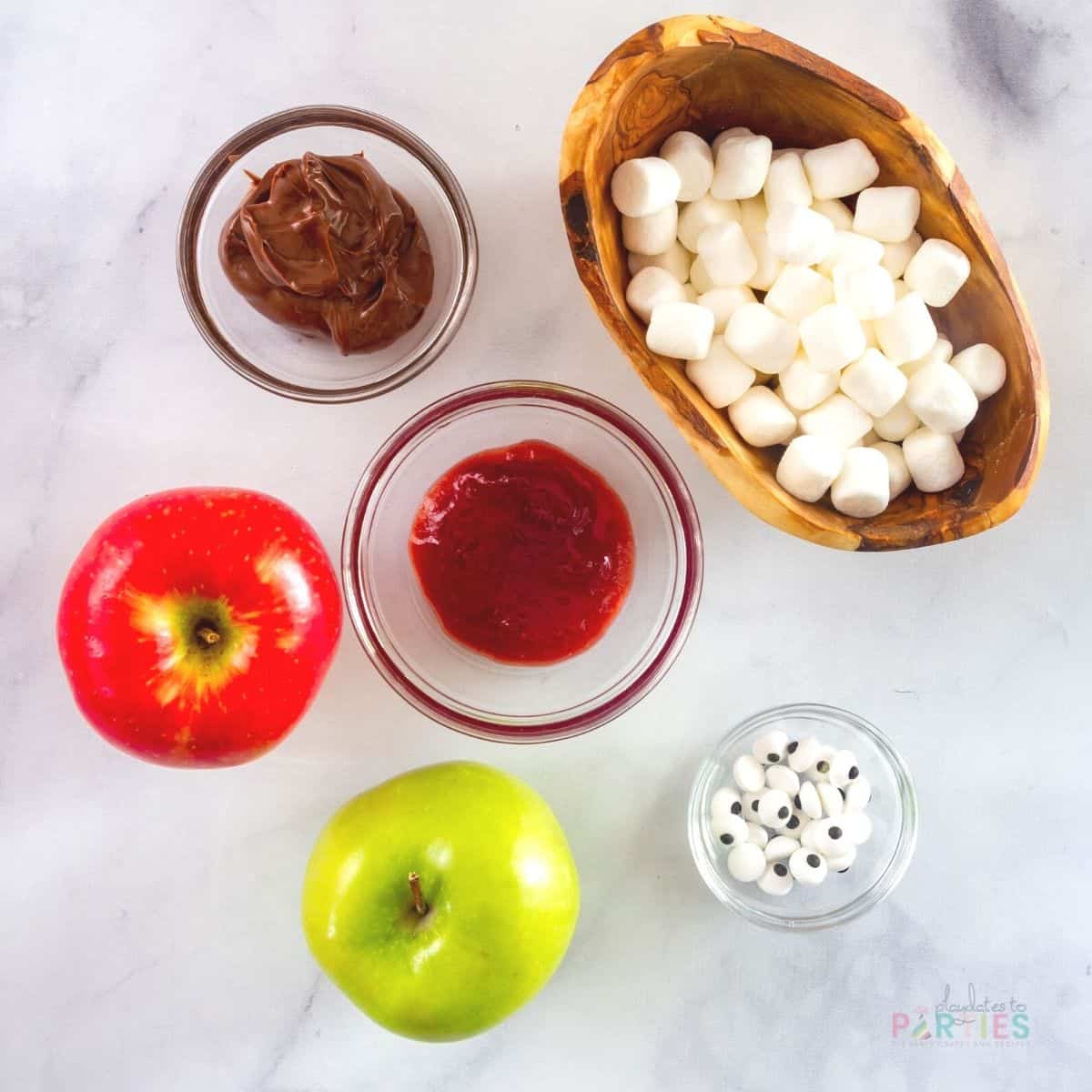 What You'll Need:
Ingredients:
Red apple
Green apple
Mini marshmallows
Strawberry or raspberry jelly
Supplies:
Cutting board
Sharp knife
Sandwich bags
Step-by-Step Directions:
To make things easy for you, I've got a photo tutorial right here to show the entire process. You can also watch the video tutorial right here on this page, or over here on YouTube.
For a detailed step-by-step process with all the measurements you need, you'll want to check out the recipe card at the bottom of this page.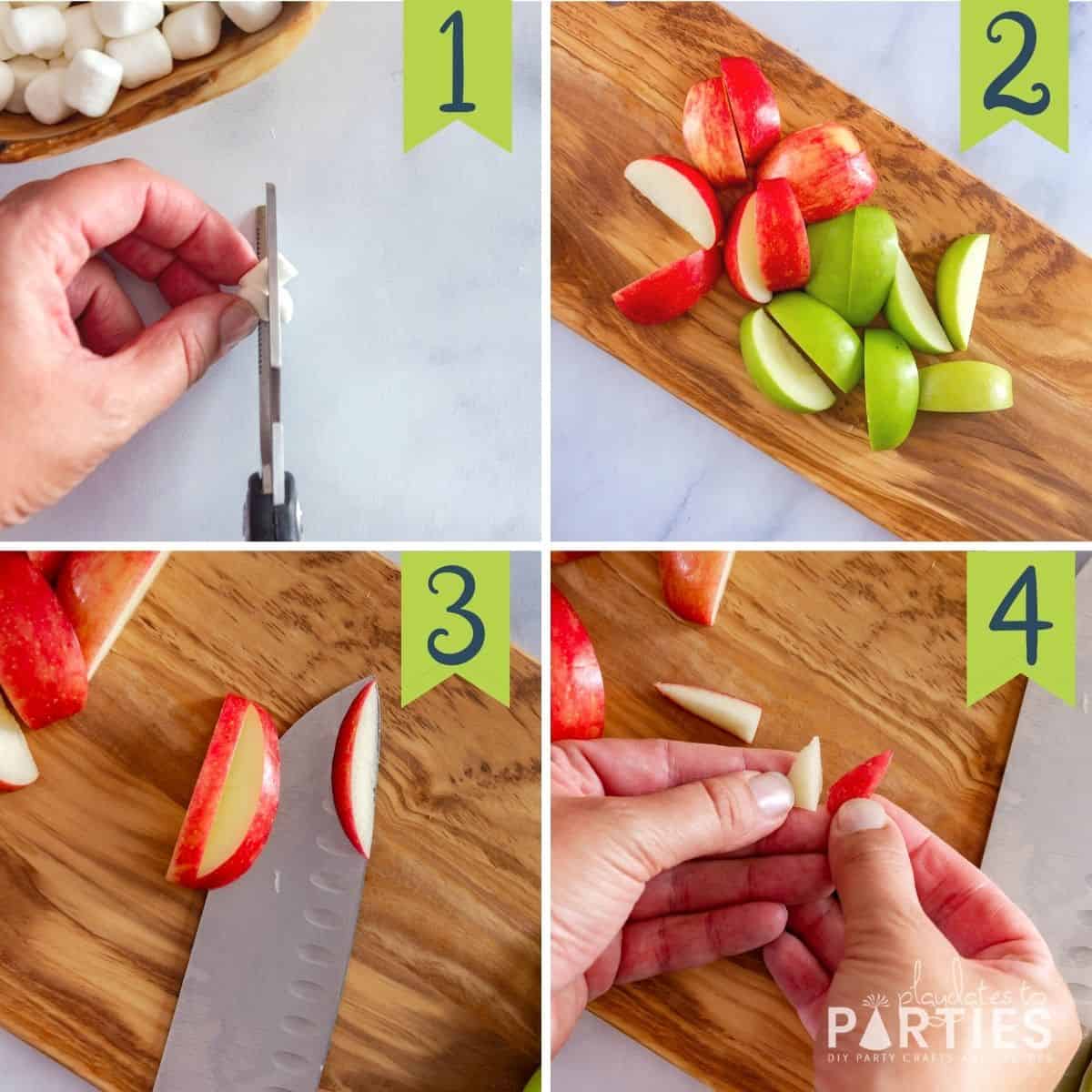 Step 1 – Cut the mini marshmallows into smaller pieces.
Step 2 – Slice apple into 8 wedges each.
Step 3 – Cut the mouth out of each wedge, creating a 'mini wedge'
Step 4 – Remove the skin from the mini wedges and cut the mini wedge in half to create the tongues.
Step 5 – Pipe the filling into the apple mouths (see tips below for more details)
Step 6 – Add a tongue to the mouth of the apple wedge.
Step 7 – Place 4 mini marshmallow pieces inside the apple wedge mouth to create funky monster teeth.
Step 8 – Stick a candy eyeball onto the apple wedge using a dab of nutella or strawberry jelly.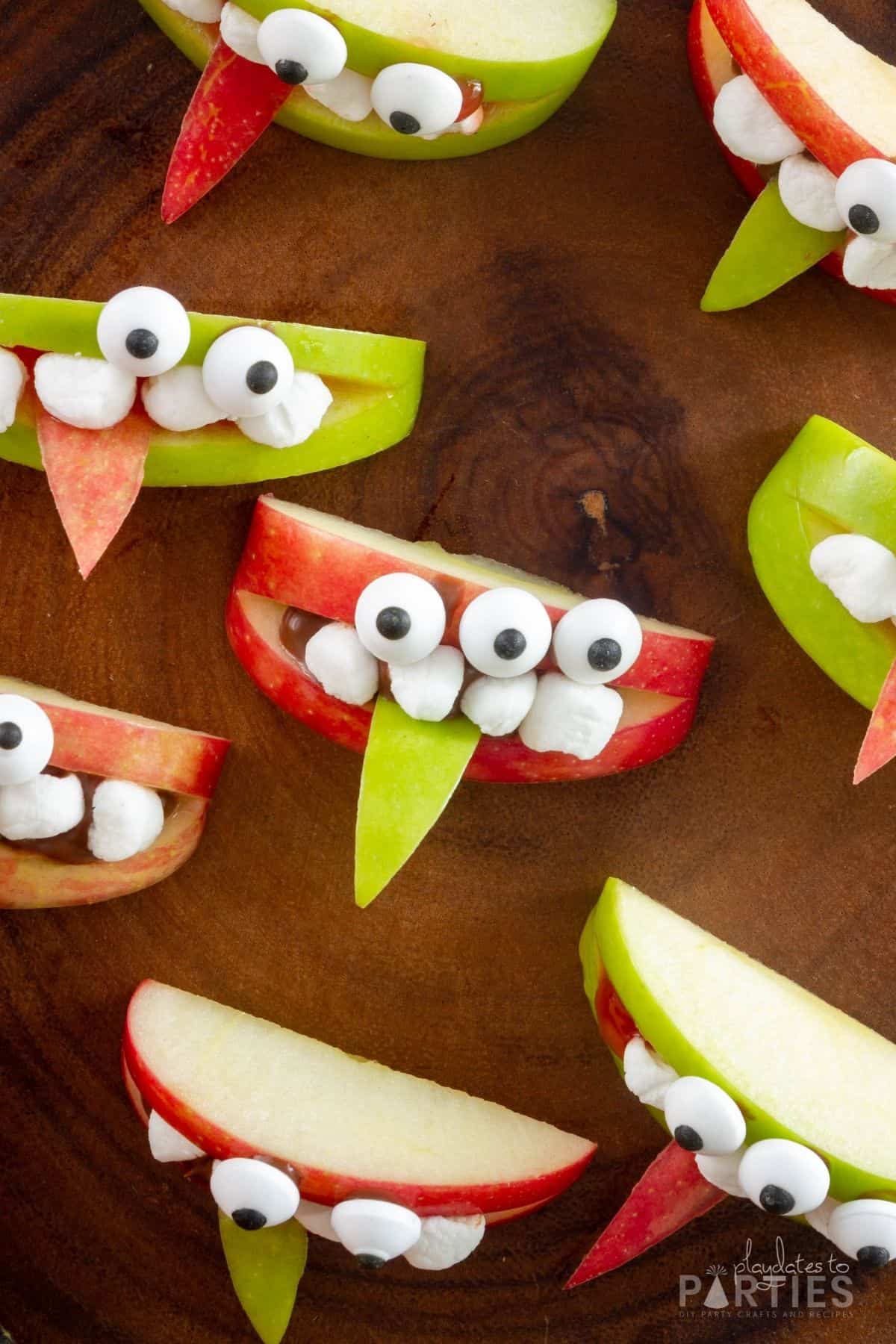 Don't skip these tips – read them before making your monster apple teeth to avoid any potential mistakes.
Make sure to get large apples
While you can make these Halloween monster apple teeth with smaller apples, it's much easier if you use bigger apples.
I like to use apples that are about 3-4 inches around. That way you can easily get 8 wedges out of each apple that are big enough to work with, but aren't too much for kids' mouths.
Use a sharp knife
Believe it or not, you're more likely to get cut if you use a dull blade. Make sure you use a sharp knife when making these Halloween monster teeth and you'll do much better.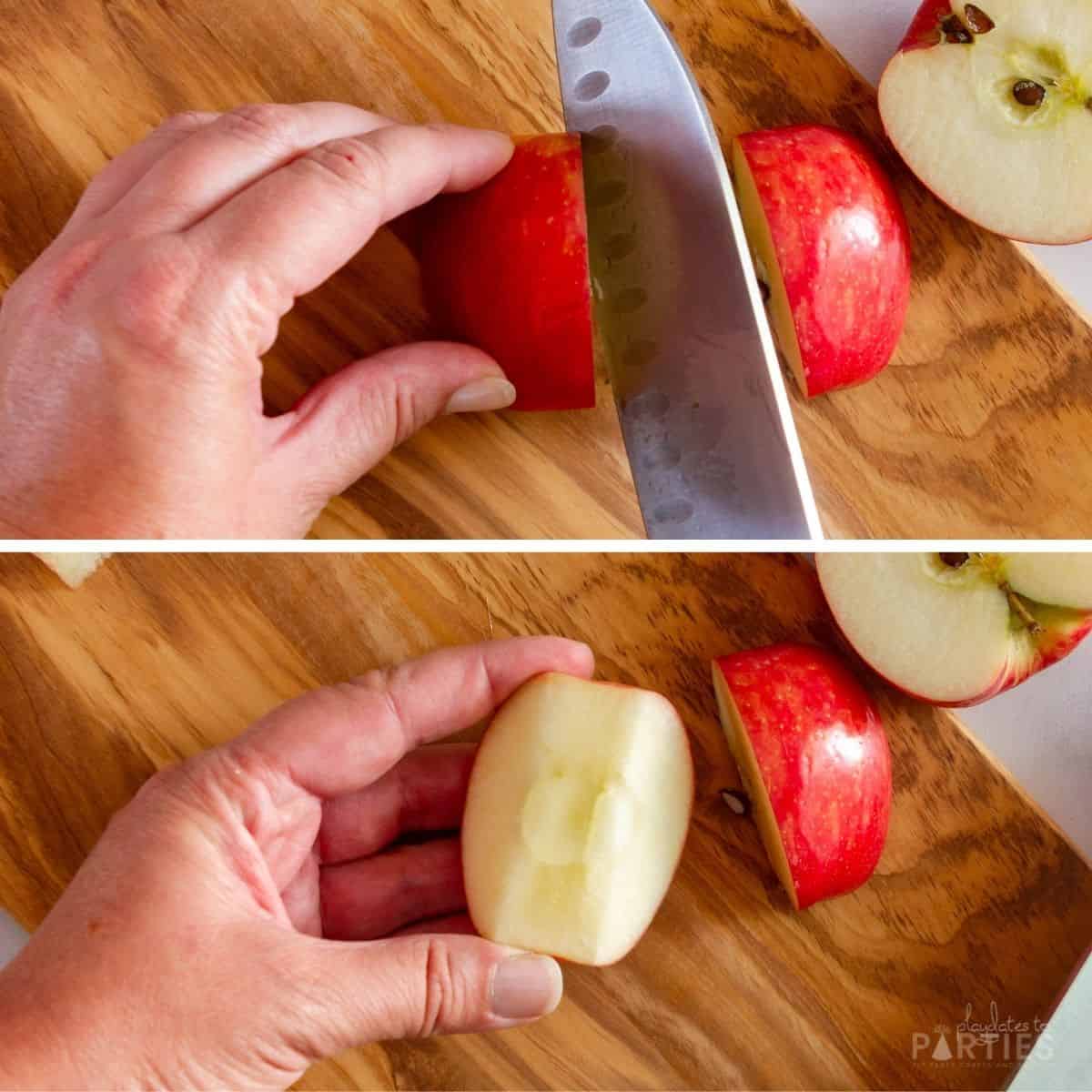 Cut the wedges to make the apple teeth stand up.
Want your apple teeth to lie flat so they face up from the plate instead of facing forward? To do this, simply cut your apple wedges at a 45-degree angle while removing the core. This will create a nice flat back so your apples can sit either way on your plate.
Tips for cutting out the mouth:
Start by cutting a small slit about 1/4 inch away from the edge of the apple skin. Don't cut all the way through the apple.
Repeat with a slit on the other side of the wedge just until your knife meets up with the slit you previously made. This will create a mini apple wedge.
It's this mini wedge that we'll use to create the tongue…which means less waste (and less $$).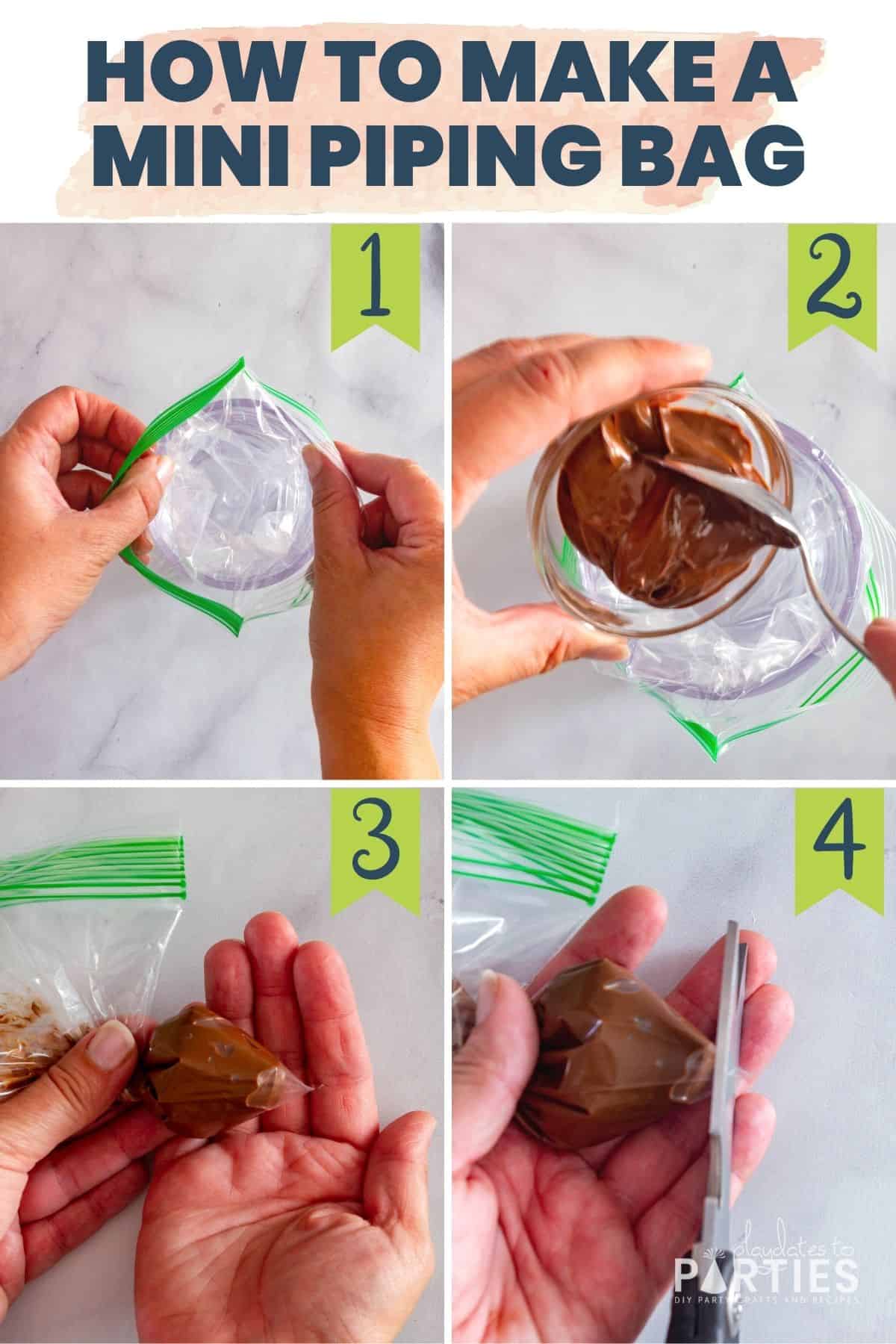 Use zip-top bags to pipe the filling
Sure, you could spread the Nutella and jelly with a knife, but that can get messy fast. Use a sandwich-sized zip-top bag to create a mini piping bag for an easy way to add the filling to the apples.
Here's how:
Fold a sandwich sized bag over top of a small cup.
Spoon the filling into the bag.
Twist the bag to push the filling into one corner.
Cut a small bit of the corner off of the bag.
Now you have an improvised piping bag that will make filling the apples easy peasy!
Vary the number of eyes to make it more interesting
These monster apple teeth are cute with just one eyeball (Mike Wazowski anyone?), but they're a lot more fun if you change up the number of eyes on each of the sets of teeth.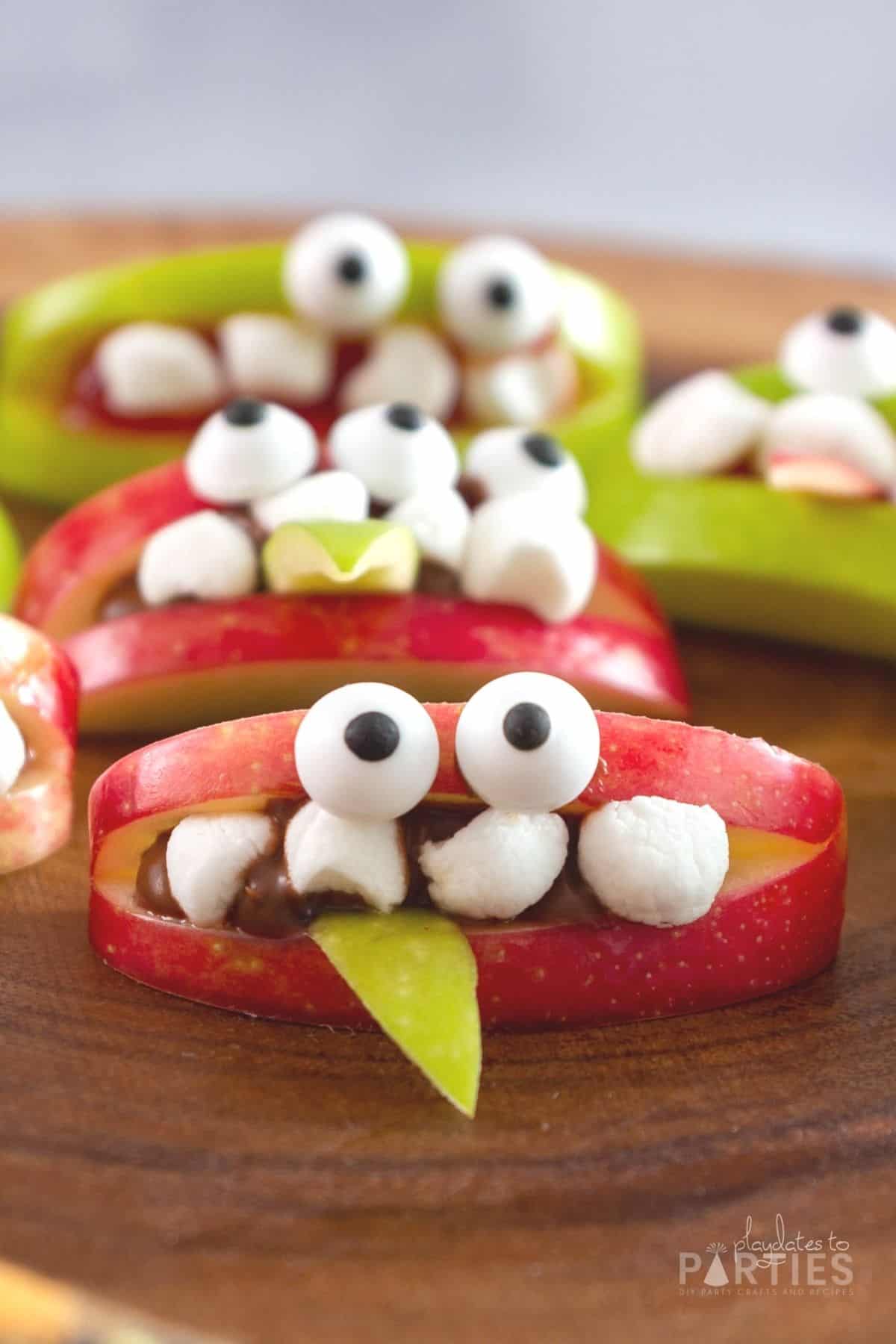 FAQs:
Can I use something less sweet to make the teeth?
Yes! Feel free to get creative. Many people like to use nuts or sunflower seeds to make the teeth
My candy eyes keep falling off. How can I make them stick?
Sometimes the jelly doesn't work so well as a 'glue' for the candy eyeballs. If this happens to you, I recommend you use the Nutella instead.
How can I keep the apples from browning?
My favorite way to prevent browning is to soak the apples in lemon-lime soda. The citric acid keeps the flesh white and is less bitter than lemon juice.
But if you're not sold on using soda, you can check out these other ways to keep apples from turning brown.
Can I make these monster apples in advance?
Yes…sort of. You can prepare the apple wedges and add the marshmallow teeth up to a day in advance. Then refrigerate them on a paper towel lined plate in a single layer.
I don't recommend adding the candy eyes in advance. The black of the eyes tends to bleed due to the moisture of the apples.
What types of apples work best?
We used Honeycrisp and Granny Smith apples for our monster mouths. But you can feel free to use whichever apples your family enjoys, as long as they're large enough to create 8 wedges each.
If you liked my monster apple teeth recipe, you're going to love my mummy dogs. They're a fun way to get dinner on the table for Halloween night without having to work too hard.
Or you can check out all my Halloween Ideas here.
Yield: 16 monster apple teeth
Monster Apple Teeth for Halloween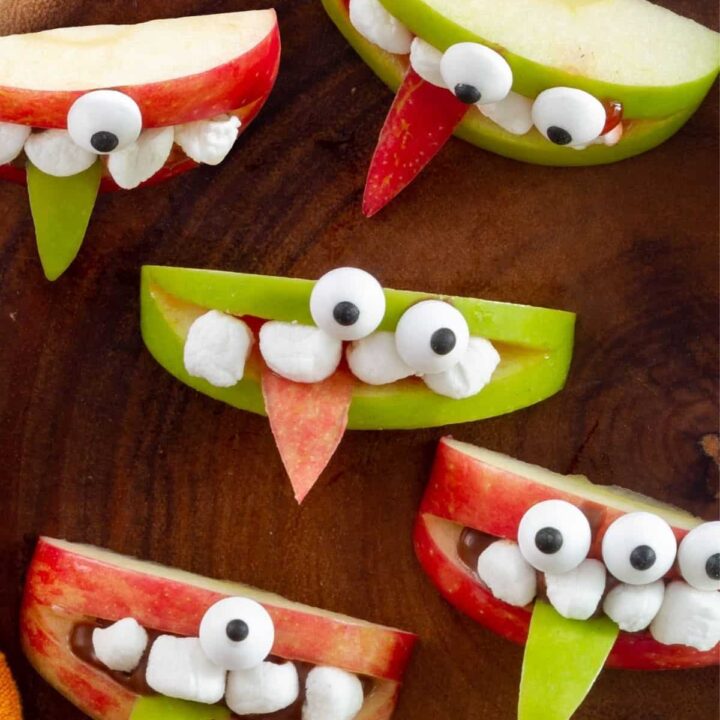 These cute little monster apple mouths are the perfect healthy party food for Halloween. Take a look at these two fun versions that kids and adults will love.
Ingredients
1 large red apple
1 large green apple
16 mini marshmallows
2 Tbsp Nutella
2 Tbsp strawberry jelly
Instructions
Cut each mini marshmallow into four pieces with kitchen shears.
Slice each apple into 8 wedges.
Cut a mouth out of each wedge: Start by cutting a small slit about 1/4 inch away from the edge of the apple skin. Then repeat on the other side of the wedge to cut out a mini wedge.
Use the mini wedges to create tongues for your apple monsters: Carefully remove the skin from the mini wedge and then cut the skin in half to create two triangles. Repeat with the remaining mini wedges.
Add the spread to the apple mouths: Spoon 2 tablespoons of Nutella into a sandwich bag, and cut the tip to create a small piping bag. Pipe a small amount of Nutella into the 'mouth' of the red apple wedges. Repeat with the green apple wedges, using the strawberry jelly.
Place one of the tongues into the mouth of the apple wedge. (I like to use contrasting colors to make them look more interesting)
Add 4 mini marshmallow pieces to each apple wedge mouth.
Use the piping bag to dab a small amount of Nutella or strawberry jelly to stick on candy eyeballs.
Notes
Remember, the step-by-step photos and tips in the recipe post are there to help you if you feel stuck at any point..
Make sure you choose large apples so they're easier to cut.
Prevent apples from browning by soaking them for a few seconds in lemon lime soda or lemon juice.
Create a flat bottom to your apple wedges by cutting the core out of the wedge at a 45-degree angle.
Monster apples can be made in advance with the exception of adding the candy eyes. To store, refrigerate the prepared apple wedges on a paper towel lined plate in a single layer.
Feel free to substitute the strawberry jelly with any other red jelly or fruit preserves.
Recommended Products
As an Amazon Associate and member of other affiliate programs, I earn from qualifying purchases.
---