When planning a Halloween party for toddlers, it's important to keep things simple.
We held this Halloween harvest party for a class full of 2-year-old preschoolers several years ago. It's full of simple ideas and decorations that are fun for little kids, and easy to copy.
If you're thinking of hosting a Halloween party for little kids in your neighborhood, here are some of the best things you can do to make it fun for everyone.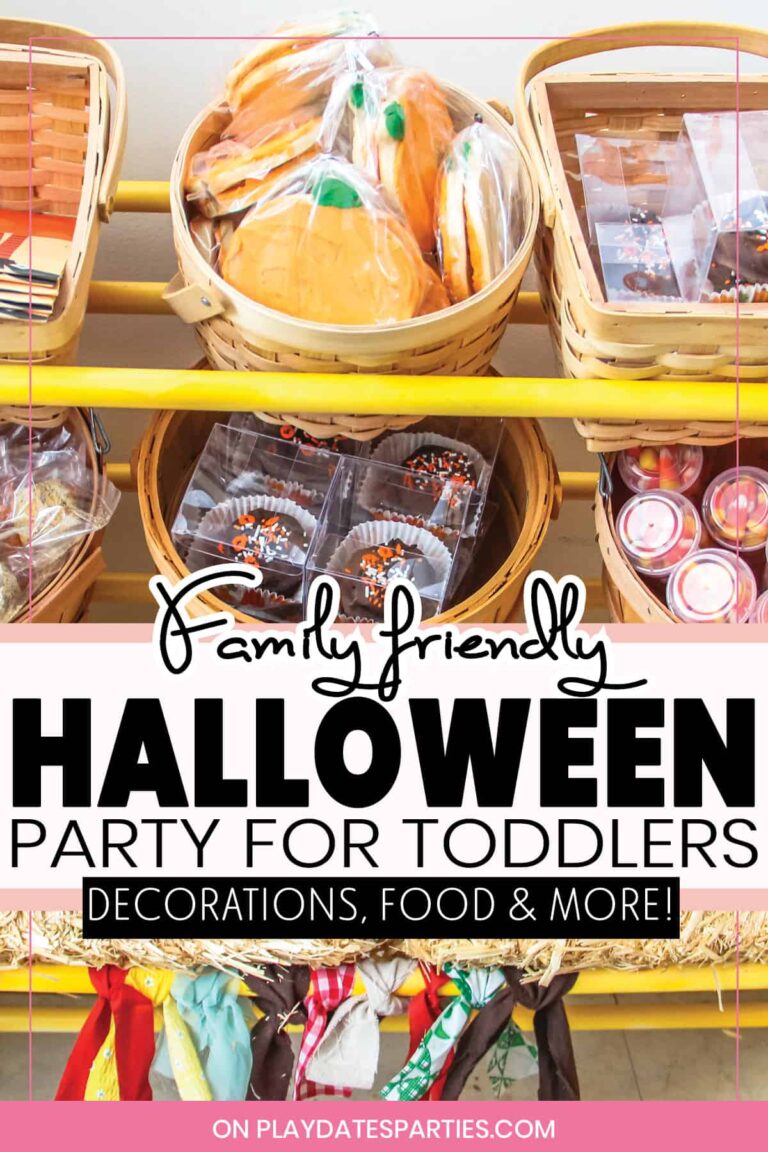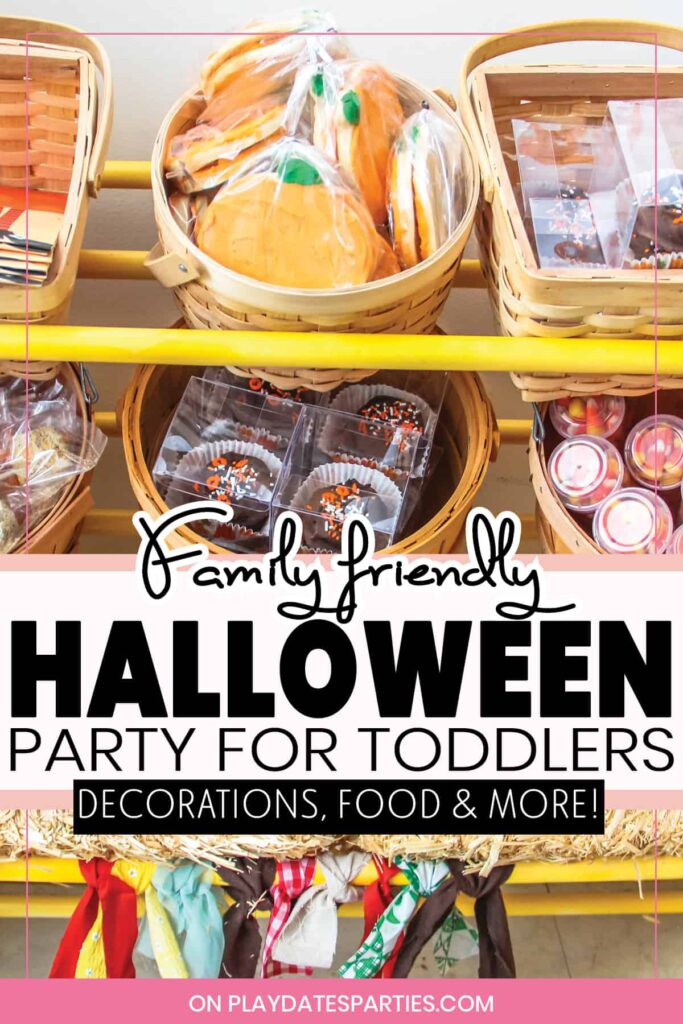 The most difficult part of decorating for this party was that my daughter was terribly afraid of most Halloween decorations at the time.
It's almost hard to believe that she's now 11 years old and watching scary movies with us at night.
But at the time, she would break into heaving sobs, even at the sight of a dancing Frankenstein.
Which is why we decided to have a Halloween party for toddlers in her class, we kept it sweet with a 'harvest' theme. Instead of ghouls and ghosts, we focused on all the wonderful produce and natural elements that are available in our area this time of year.
And it worked out really well…there were no tears from any of her classmates. 😊
About the Halloween Party:
What Was the Occasion? A Halloween playdate
How Many Guests Did You Have? 8 friends
Where Was the Party Held? Our Home
Halloween Party Decorations
From the moment the kids arrived at our house, they knew they were in for some happy harvest fun.
They were welcomed with an abundant display of harvest decorations on our front porch. You can do the same, too!
Simple But Stunning Harvest Decorations:
Hay bales and corn stalks. They're surprisingly inexpensive, and make a big impact with little effort.
Fall flowers: It's so easy to buy some inexpensive potted chrysanthemums. Bonus: They last long after the party is over.
Scarecrows: We used a store-bought version, but you could also try to DIY one with an old shirt and pair of jeans.
Pumpkins and Gourds: They come in so many sizes, shapes, and colors these days. Use a bunch of them to add texture and fill in any empty spaces.
Painted plastic jack-o-lanterns in bright colors are a fun way to add a pop of unexpected color and silliness.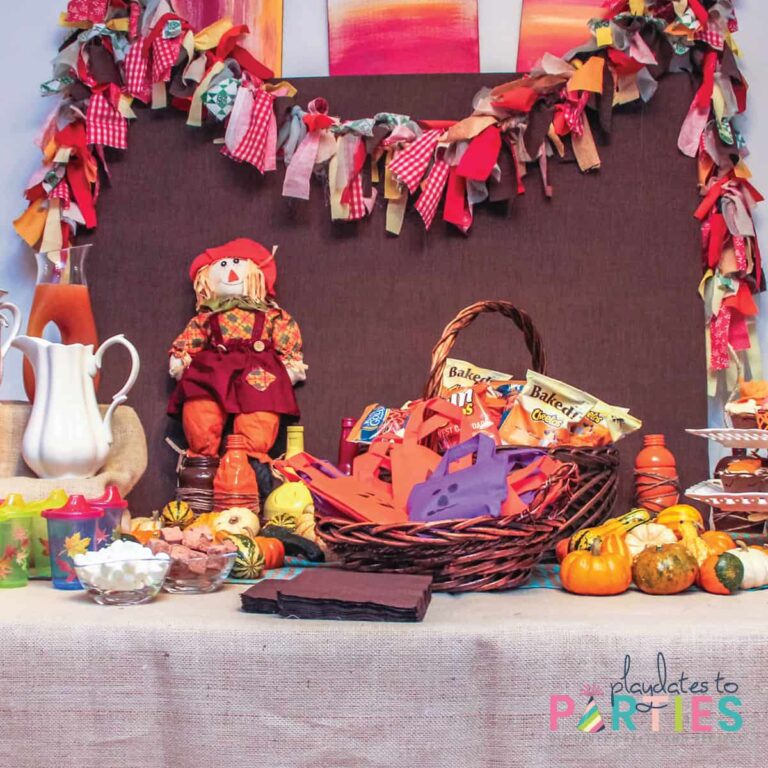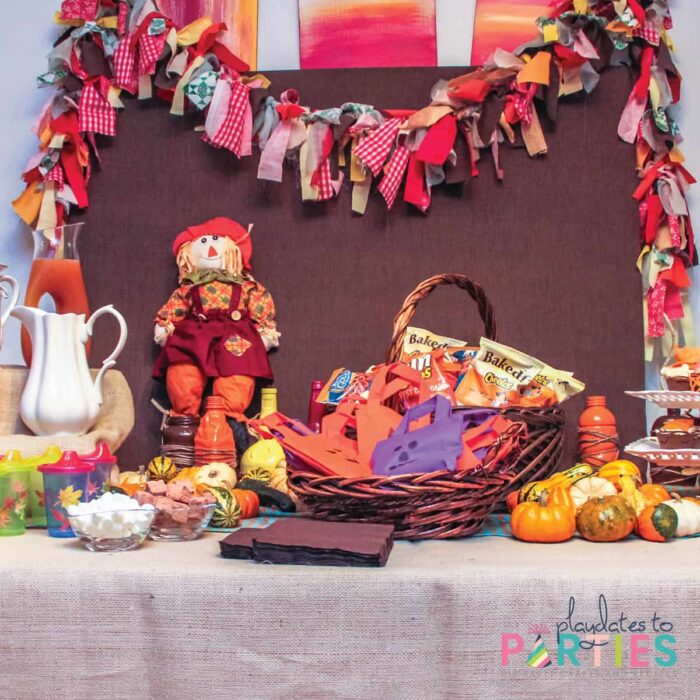 Family Friendly Decorations for the Buffet
The harvest fun continued inside at the buffet table, too. Here are some ways to set up a toddler-friendly buffet table for Halloween:
Fabric rag garlands are an easy way to add texture and color. Plus, they're a no-sew option (for those of us who don't want to pull out a sewing machine)
I also love that they won't get broken if curious toddler fingers pull on them.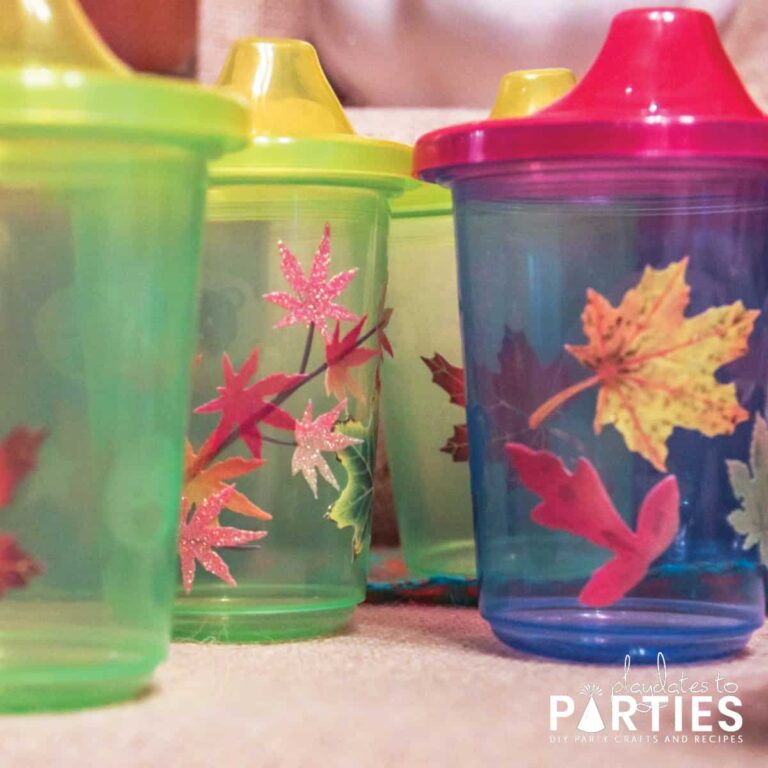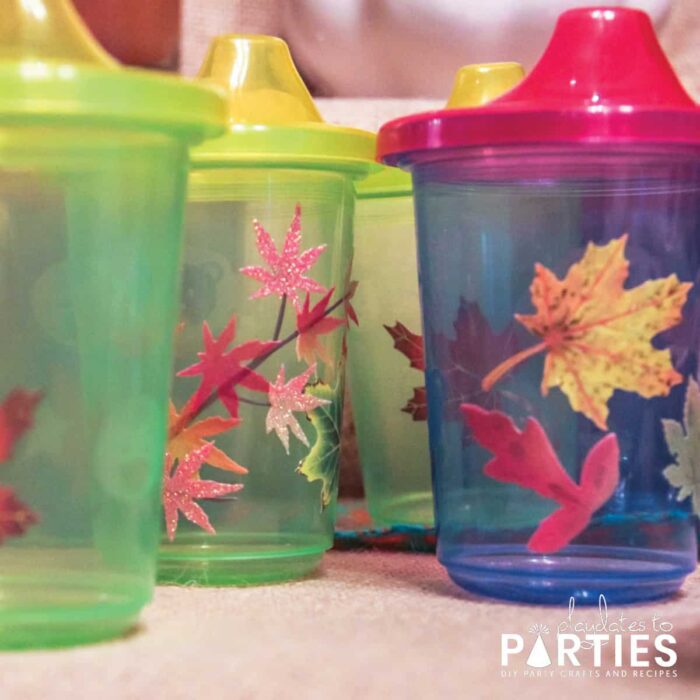 Age-appropriate cups. Decorated sippy cups for the win! Adding a few glittery leaf stickers to some inexpensive sippy cups helped with the decorations-and saved our carpets.
Fall-themed toys. We used a small scarecrow, but you probably have more than you think. Toys like tractors, straw dress up hats, and bandanas all work well.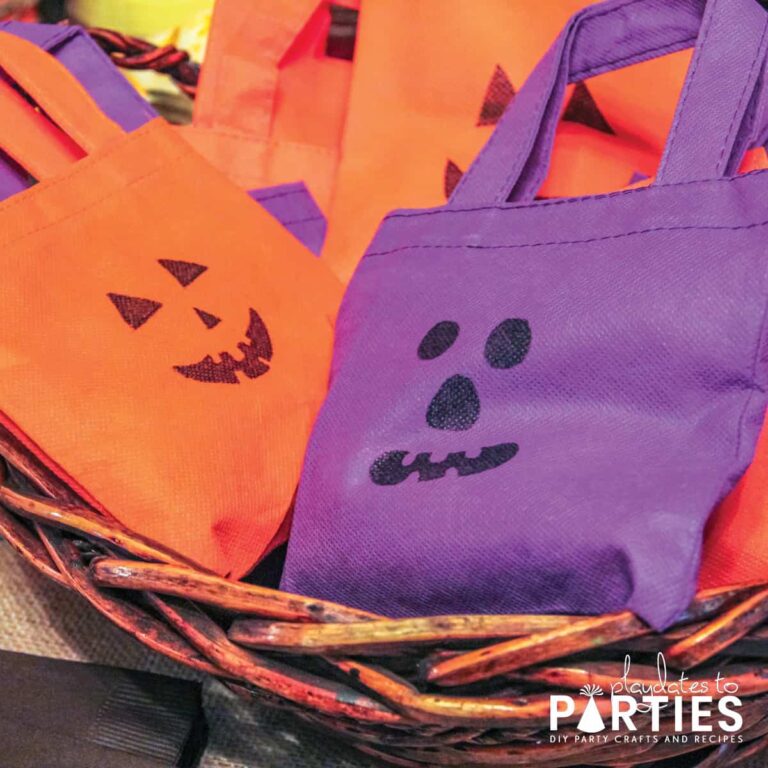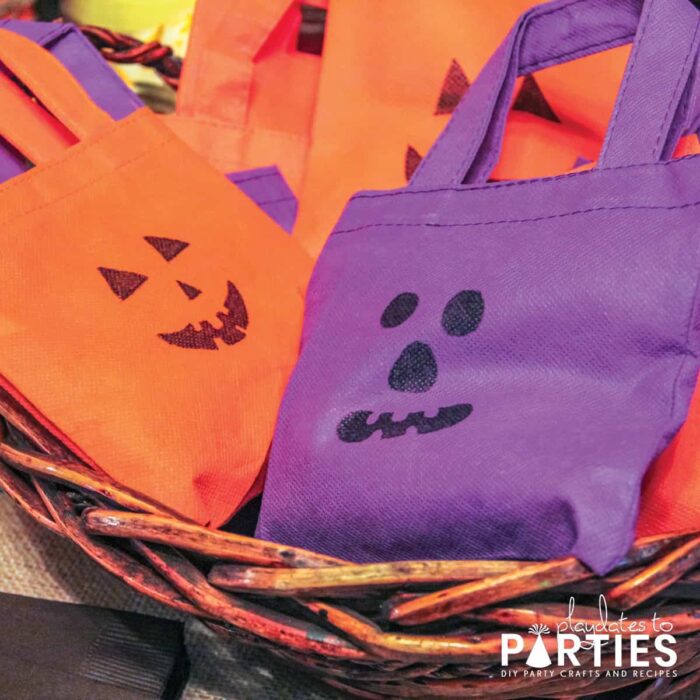 Reimagined Dollar Spot finds. I scored these fabric treat bags from the Target One spot.
They came without any decorations, but a sharpie quickly turned them into cute little jack-o-lantern bags that were the perfect size for packs of apple slices.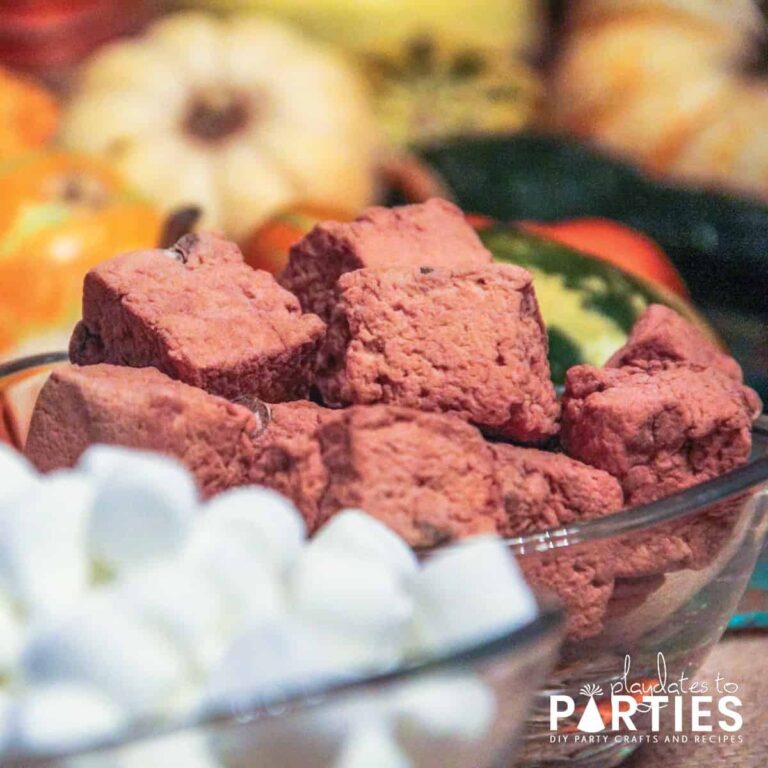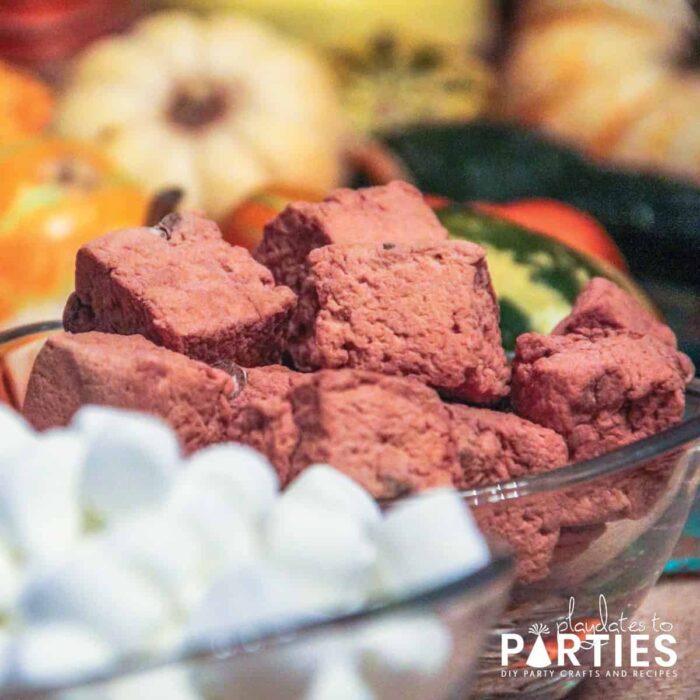 Halloween Party Food for Preschoolers
Since this was more of a playdate than a full-fledged party, we only served snack foods, and the kids loved it all. Here's what they found on the buffet table:
Assorted baked chips and snacks,
Prepackaged apple slices,
Hot chocolate, milk, and apple cider,
Gourmet white and chocolate marshmallows, and
Cupcakes with pretty fall leaf toppers.
You might also want to check out these Halloween mocktails for some not-so-spooky punch recipes, and this list of First Birthday party foods for toddler-safe foods to serve.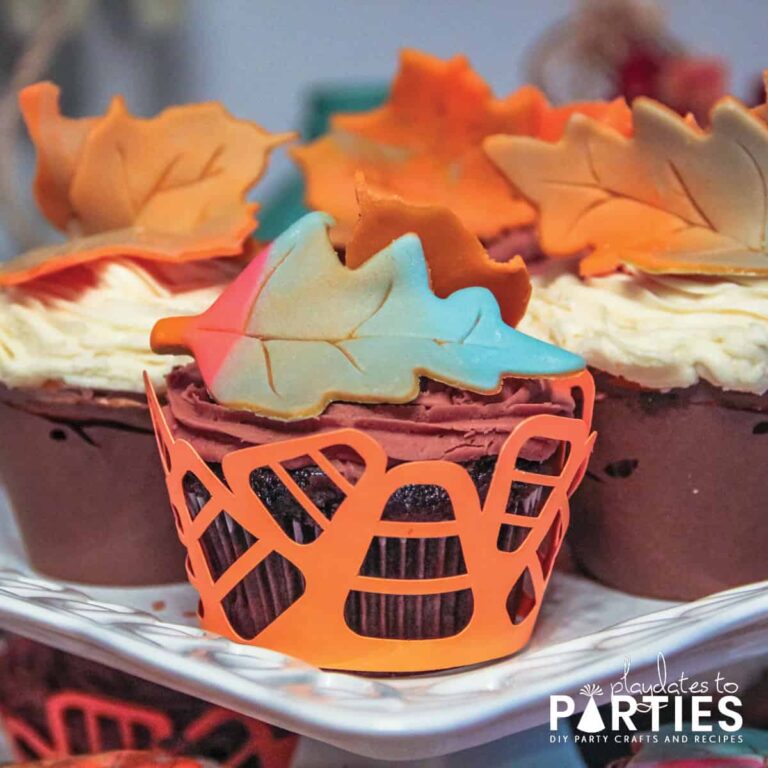 Games and Activities
Now, we had plenty of outdoor activities planned – even including a backyard maze!
But mother nature decided it was time for the earliest snowfall I've ever seen, and tons of rain on top of it.
Which means that the whole party got moved inside.
So, what activities did we do with a house full of toddlers? Well, basically, we let the kids loose in the playroom with LOTS of toys, like :
Play tents and tunnels,
Play kitchen
Dress up clothes (over top of costumes!), and
Made sure plenty of coloring books and coloring pages were available.
Even with the terrible weather, the kids had a great time just playing with toys and generally romping around the house. That's the most important part of any party anyway, isn't it?
Toddler Friendly Halloween Party Favors
This was probably my favorite part of the party.
Maybe it's because it's full of bright colors. Maybe it's because it's full of sweet treets-and I have a massive sweet tooth. Maybe both!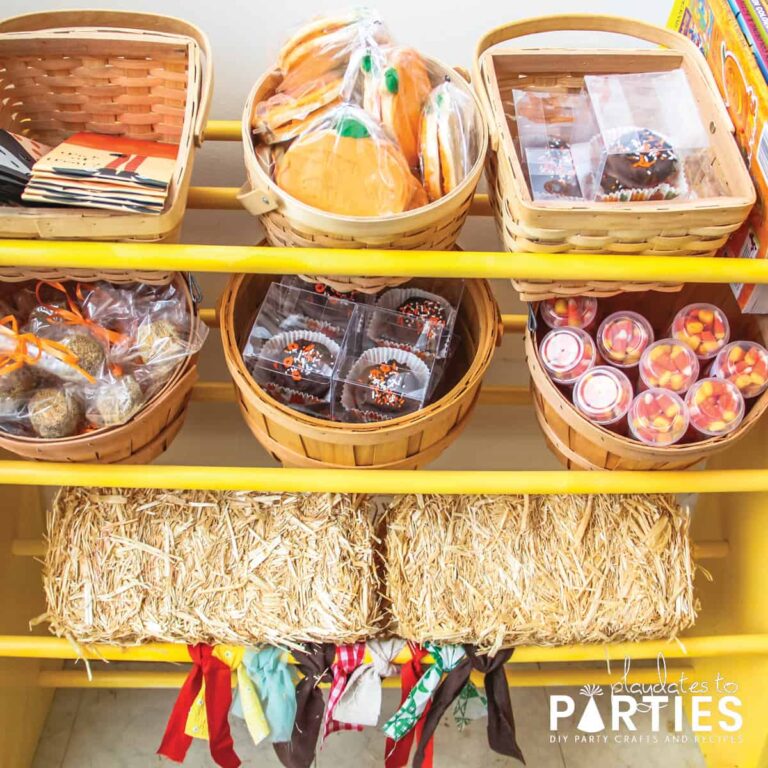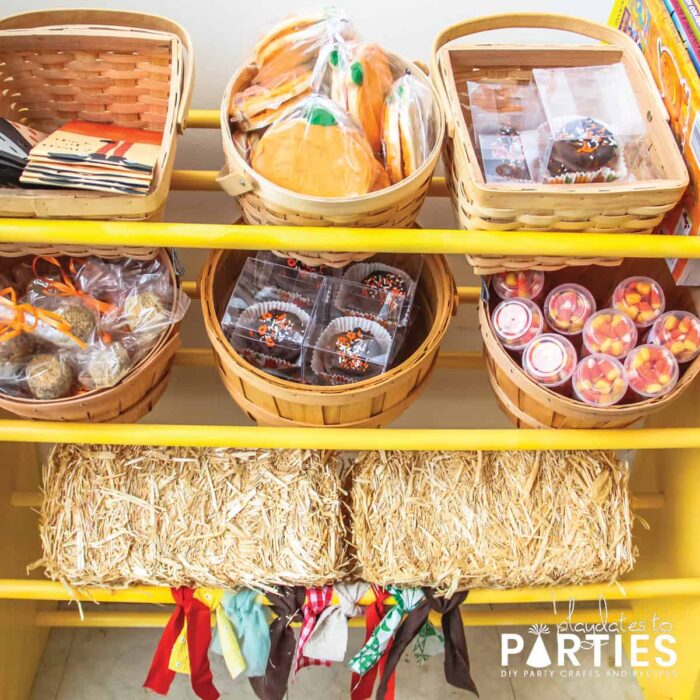 Either way, the yellow treat stand was a fun trash to treasure project. It's actually an old wooden shoe rack that was spray painted yellow.
All it took was some wood bushel and berry baskets to hold all the different treats. Then the kids got to pick and choose what they wanted to take home with them.
Here's what we offered:
Pumpkin shaped sugar cookies
Chocolate dipped Oreos with Halloween themed sprinkles
S'mores marshmallow pops
Push pop containers filled with candy corn, and
Halloween themed coloring books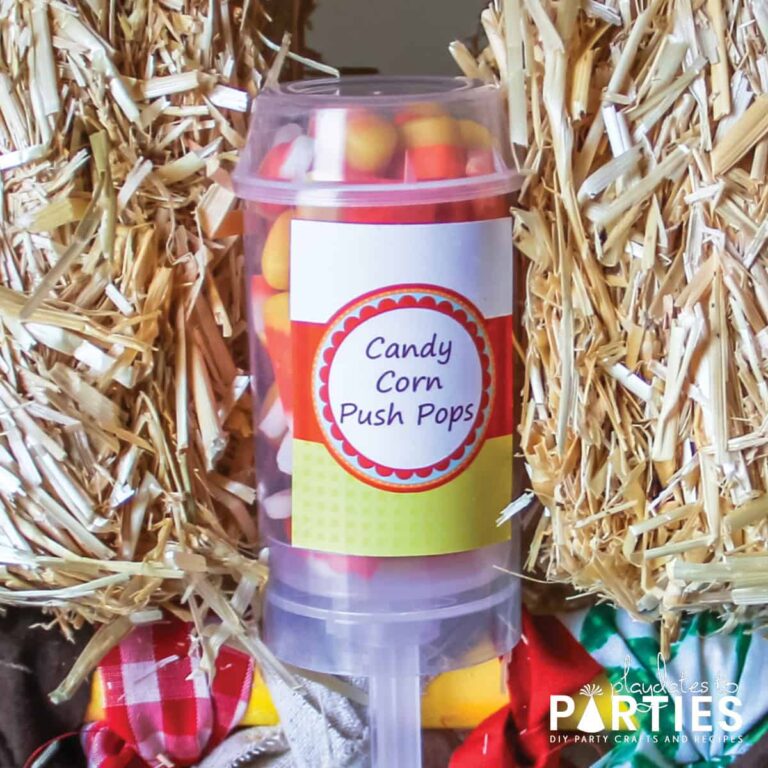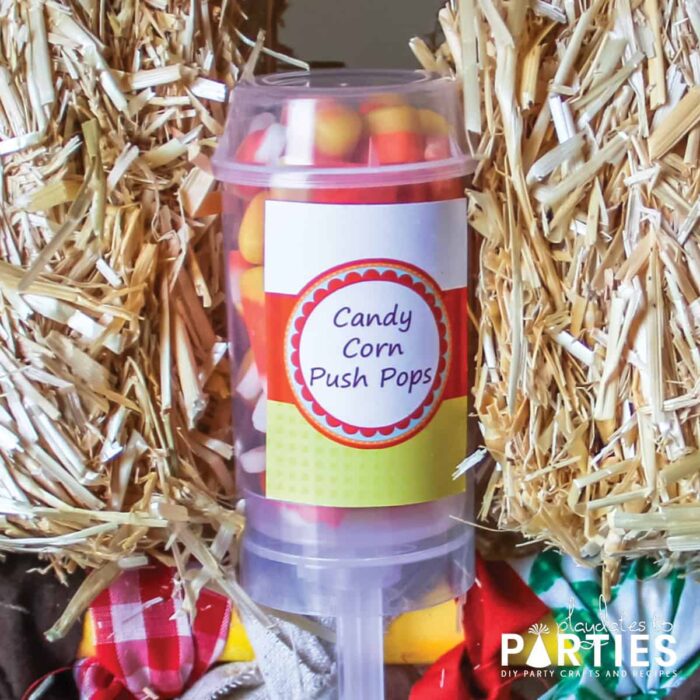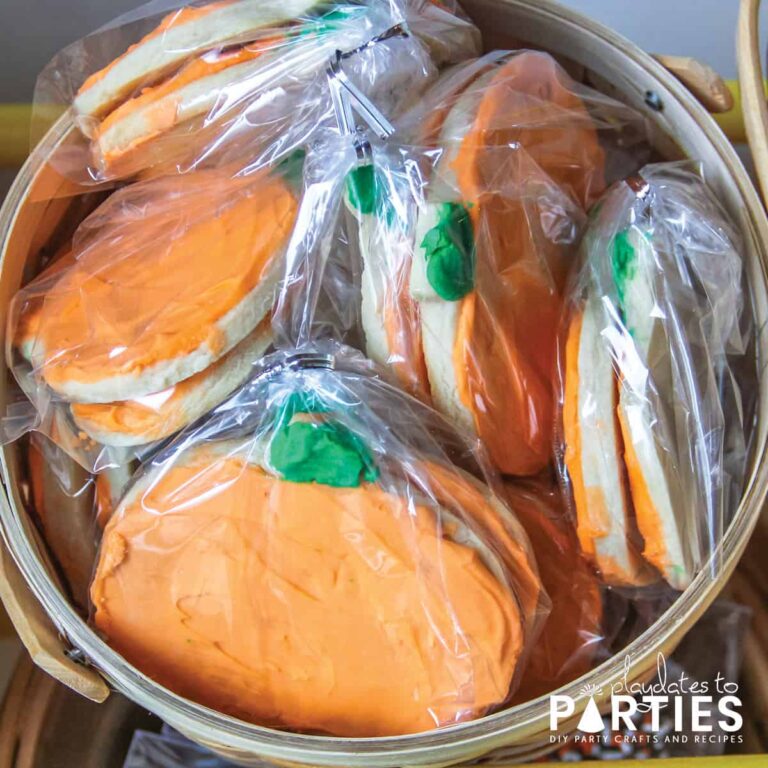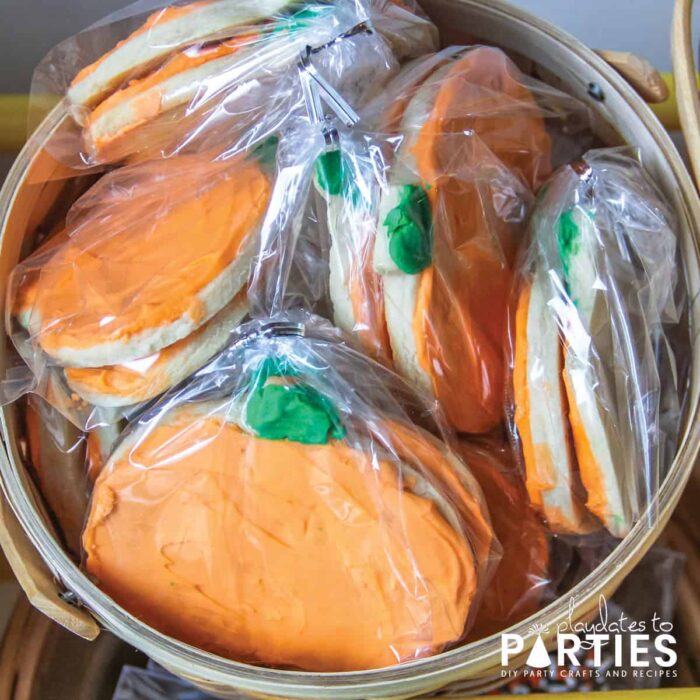 We placed the stand right inside the front door, so the kids could fill their baggies as they left.
But just to make sure its purpose was totally clear, we also hung a rag wreath and sign on the wall above it.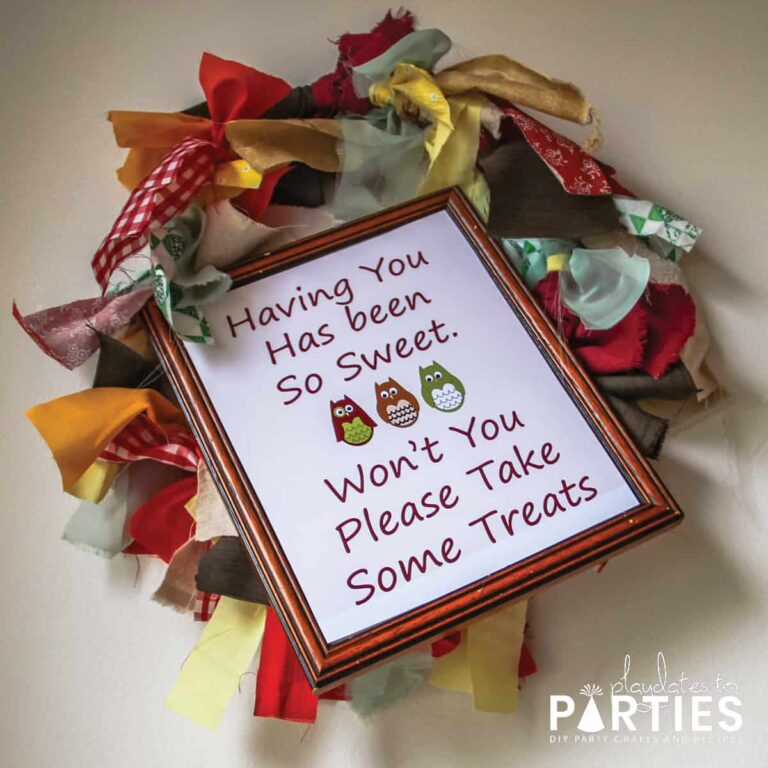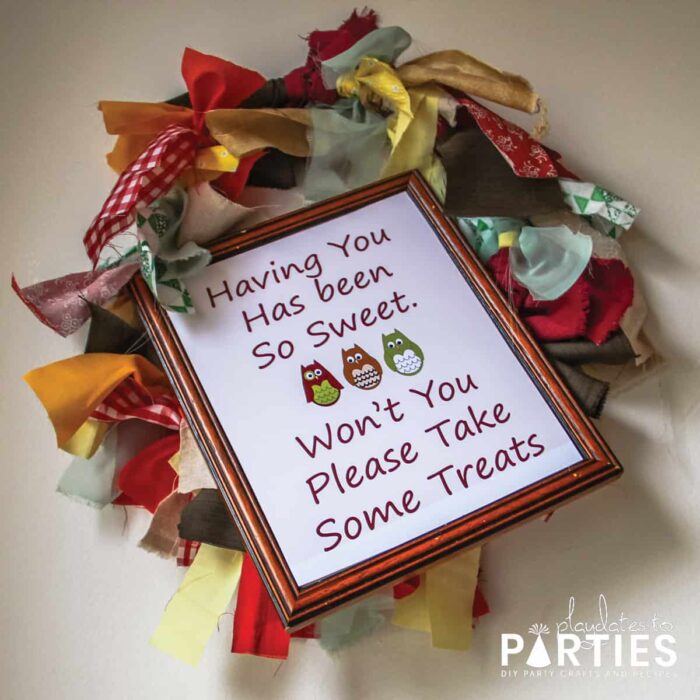 Thankfully, the Halloween party for toddlers was such a hit that our little girl took a nice long nap. Which means we were able to get the house cleaned up in time to play in the snow for a little bit.
Yep, I'd definitely call this party a hit.
What do you think? Would you do anything differently? What's your favorite part of the party? Let me know in the comments below.
Don't Forget to Check out these Other Halloween Party Ideas: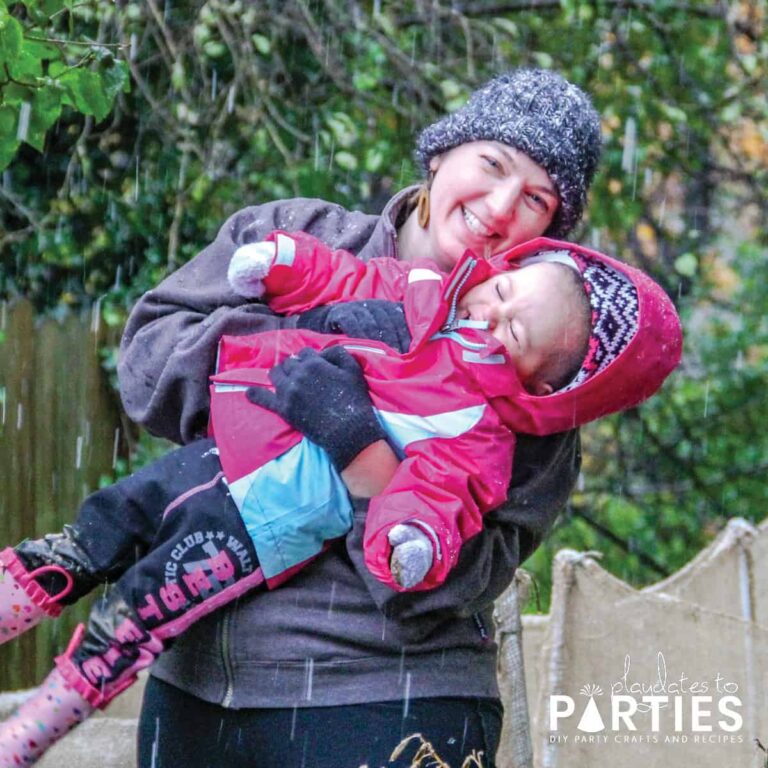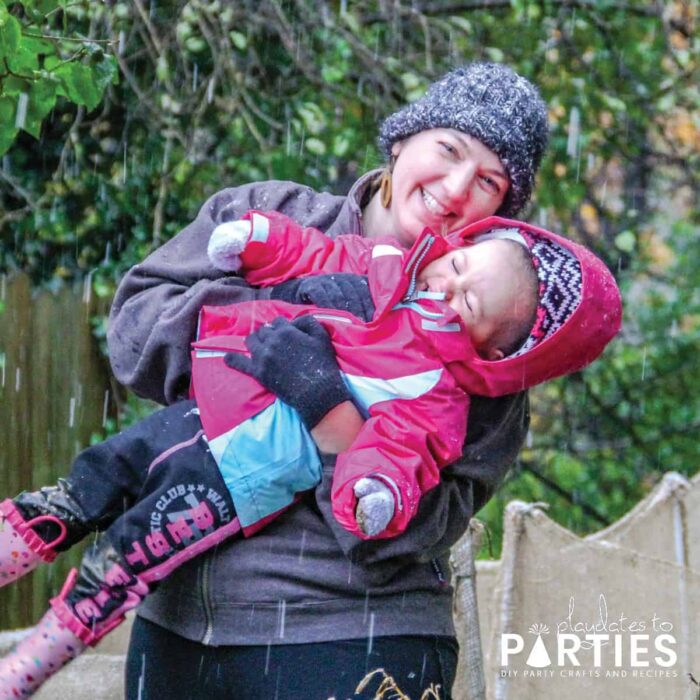 This party was originally published on October 31, 2011 and has been updated for new content and clearer photos.
---