If you're like me, life tends to get in the way, and you find yourself panicking a few days before Halloween looking for school appropriate Halloween costumes…which leaves you looking for last minute Halloween costumes for kids that won't get an email from the teacher.
No worries! We've got you covered! We'll go through how to select school appropriate Halloween costumes, and share with you more than 15 ideas you can pull off in no time flat.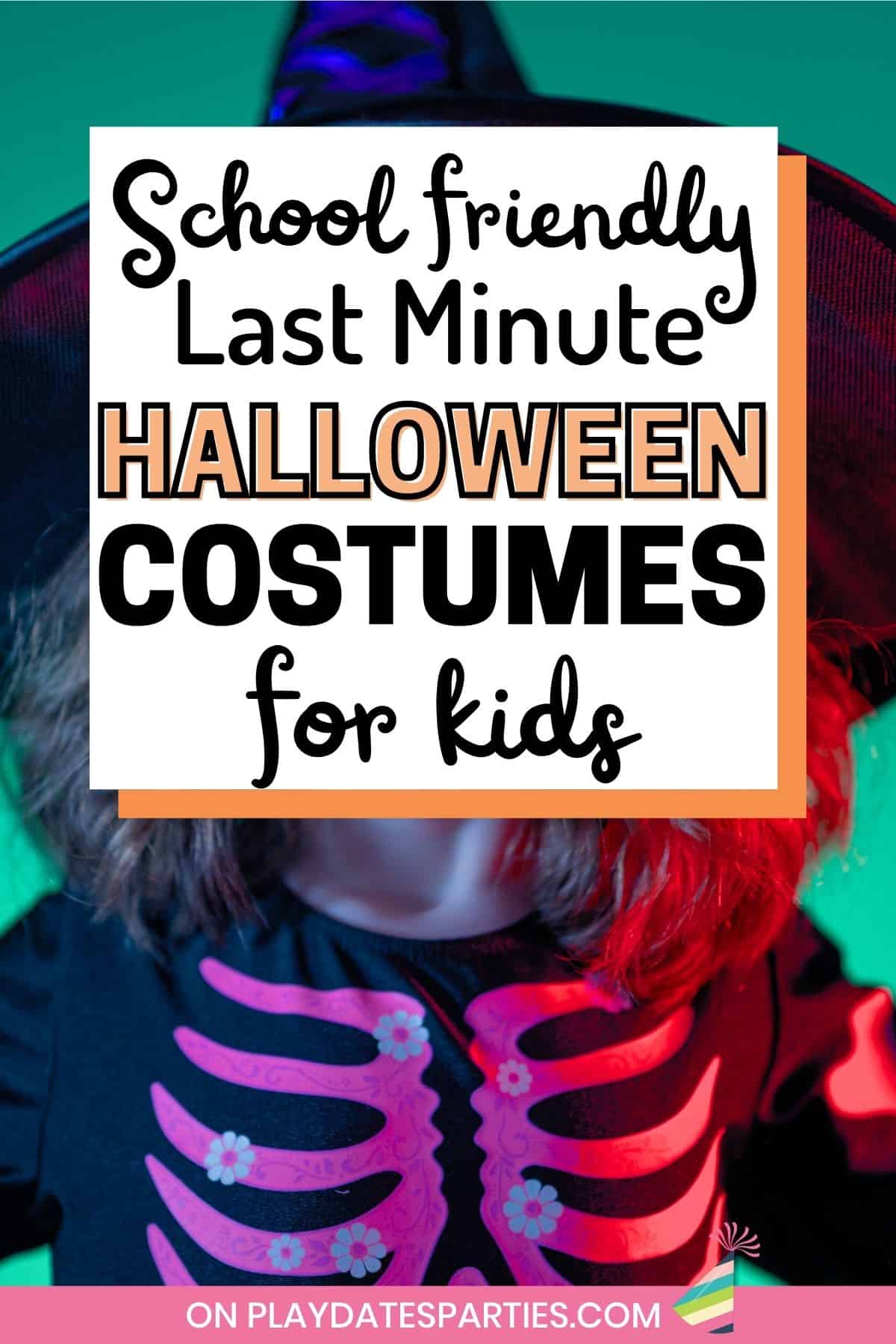 Does Halloween always creep up on you before you're ready for it?
Sure I always start the school year thinking I'll have plenty of time to make some fun school appropriate Halloween costume for my kids, but then life gets in the way and we end up scrambling to pull together a costume at the last minute.
Thankfully, there are some awesome last-minute Halloween costumes out there. The only problem is that many aren't actually school-friendly Halloween costumes.
What makes a school appropriate costume?
Our kids' school has some fairly strict guidelines on what is and isn't allowed for Halloween costumes. It's all meant to keep the kids safe and focused on schoolwork.
But even I admit it can feel pretty restrictive. Here's a quick summary of the rules:
No masks.
Children can't always see well through masks, making it difficult to work. But this rule is in place also because they quickly become a distraction during the school day.
No Face Paint
To be fair, this is really my rule.
If the kid is old enough to put it on themselves, then have at it. But I don't want to mess with face paint when we're rushing to get to school on time.
Not to mention, the tears that will result when it inevitably gets smudged.
No swords or weapons, or anything that can be used as a weapon
Seeing how my 6-year-old son handles his toys, this rule doesn't surprise me at all.
Not only do teachers want to avoid the inevitable sword fighting in the classroom, but fake swords or weapon like toys are a huge distraction. (For us, this includes items like umbrellas)
Easy to Move in
So many adorable costumes just aren't practical for all the different activities during a school day, like sitting during class or running around on the playground.
So it's a good idea to avoid costumes that have anything attached to the back or are very bulky.
After reading all those, you may feel like there's hardling anything that's allowed at school. But it's really not that bad. Here are over 15 last minute costumes you can have ready for your kids that won't send them to detention.
Don't miss these other fun Halloween Ideas:
15+ School Friendly Last Minute Halloween Costumes for Kids
Does your kids' school have Halloween costume restrictions?
What costumes will your kids be wearing this year?
---
---
This post was originally published on September 28, 2017. It has been updated with new photos and more costume ideas.