All the kids are going to love you this year when you whip up a batch of chocolate coated Monster Munch Halloween popcorn mix.
Better yet, download the free printable Monster bag toppers and make a quick and easy party favor or classroom treat.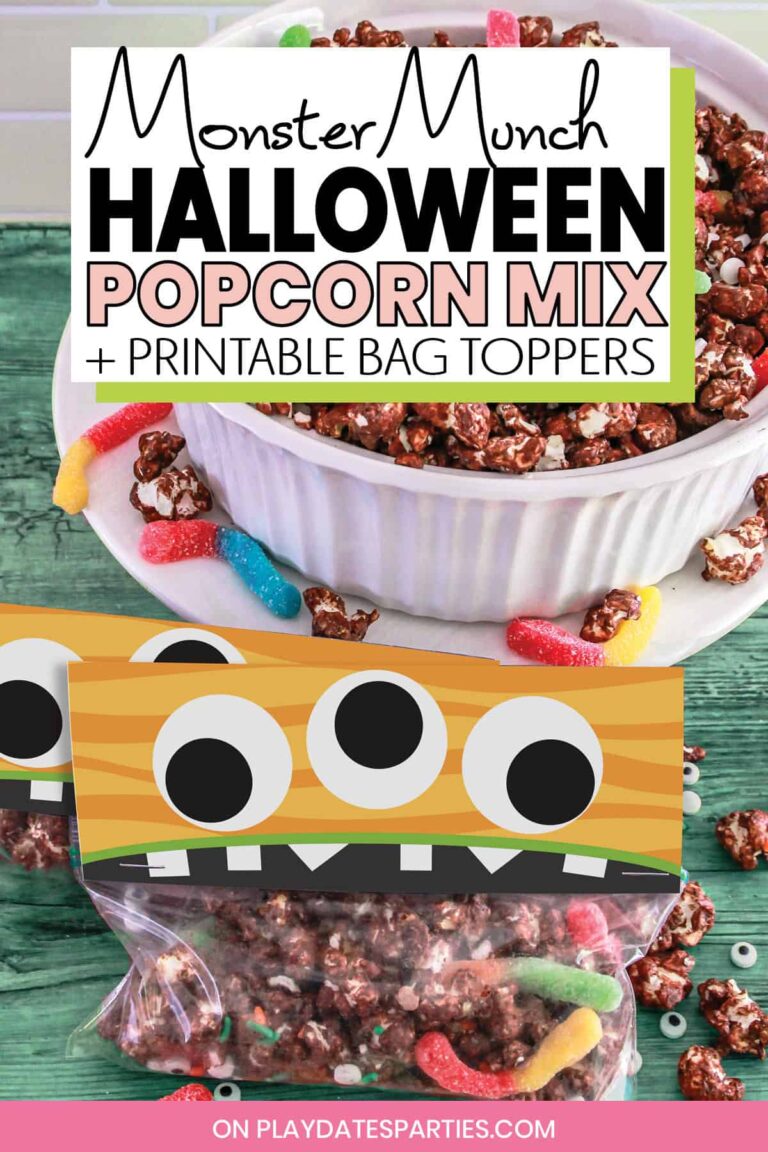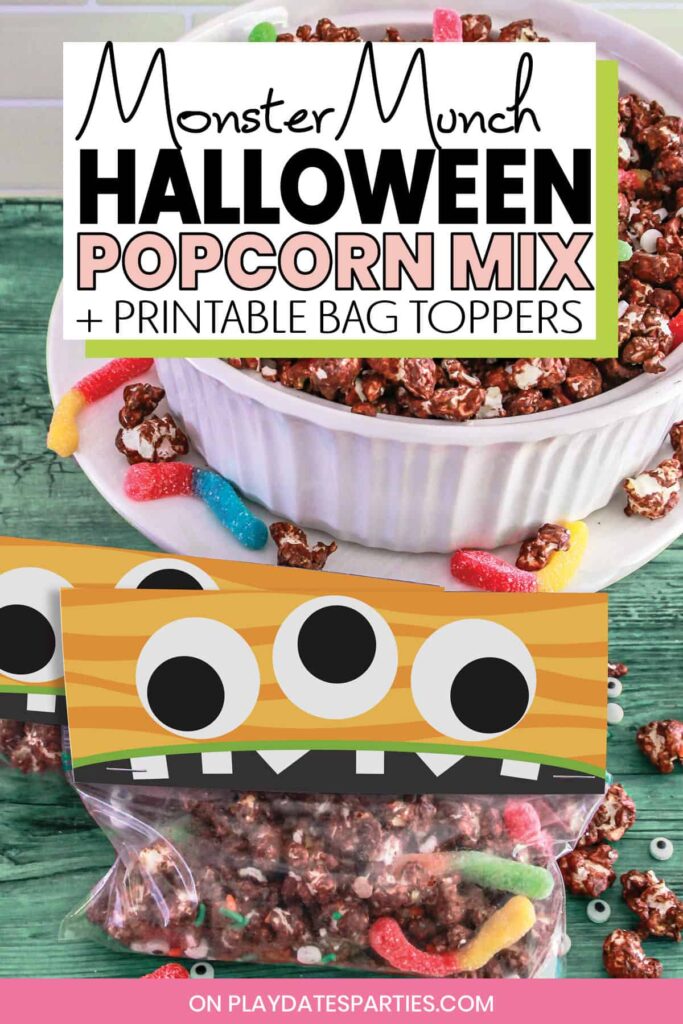 "I'm watching you Wazowski, Always watching"

Roz, Monster's Inc.
Can you believe that summer is coming to an end? The kids are already discussing Halloween costumes here. Of course, that assumes we will have a Halloween.
But it really makes me nostalgic for the days when Monsters Inc was my oldest's favorite thing to watch. Don't get me wrong, I like that our kids have a broader interest in movies, but even Harry Potter gets old after a while.
At least I know my kids aren't too old to enjoy a fun popcorn mix.
All three of our kids love popcorn. And I love how easy it is to adapt. Missing a recipe ingredient? No biggie. Just find something else to mix in.
We love to make popcorn mixes for family movie night…and we pretty much always mix in a few extra special treats.
Over the years, we've ended up with fun treats like Mermaid Munch popcorn mix, Easter popcorn munch, and Patriotic July 4th Snack Mix.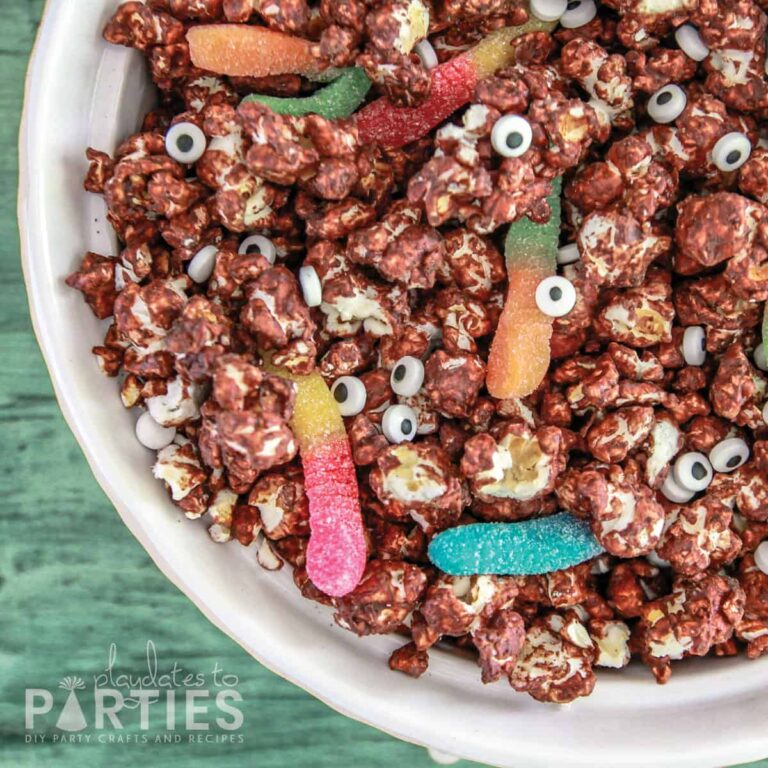 Halloween Popcorn Mix (Monster Munch)
Clearly it was time to make a version just for Halloween!
Inspired by years of watching Monsters Inc., this chocolate coated popcorn is filled with googly-eye candy and sour gummy worms.
It's simple, tasty, and so much fun!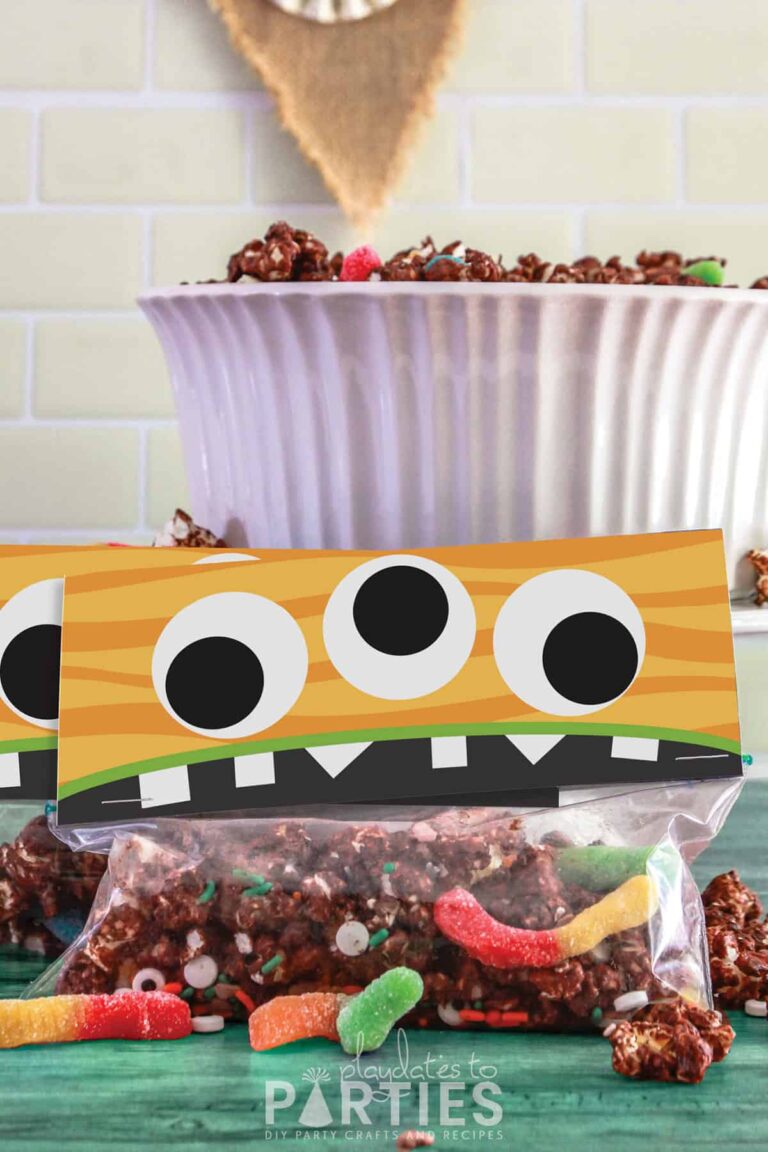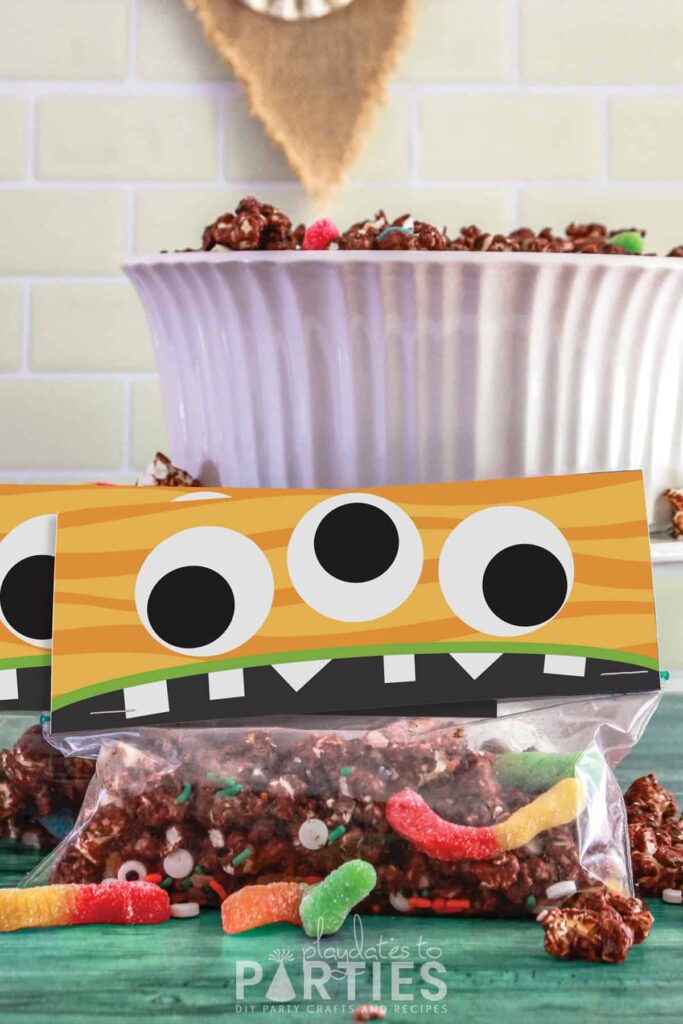 Monster Treat Bag Toppers
I even made a cute monster bag topper to go along with it. Now you can make easy (and affordable) treats for all the school friends.
Just add your name and email address to the box below and I'll send it right to you. (Don't want to sign up for the newsletter? The files are also available for a small price in my shop. 😊)
What Candy Goes Best with Popcorn?
We believe you can put pretty much any candy with your popcorn. That said, here are some of our favorites:
Chocolate Chips
Peanut butter chips
M&Ms
Gummy worms
Sprinkles
Marshmallows
Jelly Beans
Candy Corn
Truthfully, you can get so creative with this. Add in some nuts and candy corn to make it even more festive, or use what you have on hand. There's no right or wrong.
How long does it take?
Measuring out the food: 5 minutes
Melting the chocolate: 3 minutes (includes stirring time)
Mixing in the popcorn: 5 minutes
Fridge time: 30 minutes
Adding gummy worms & breaking apart popcorn munch: 5 minutes
Total Time: 48 minutes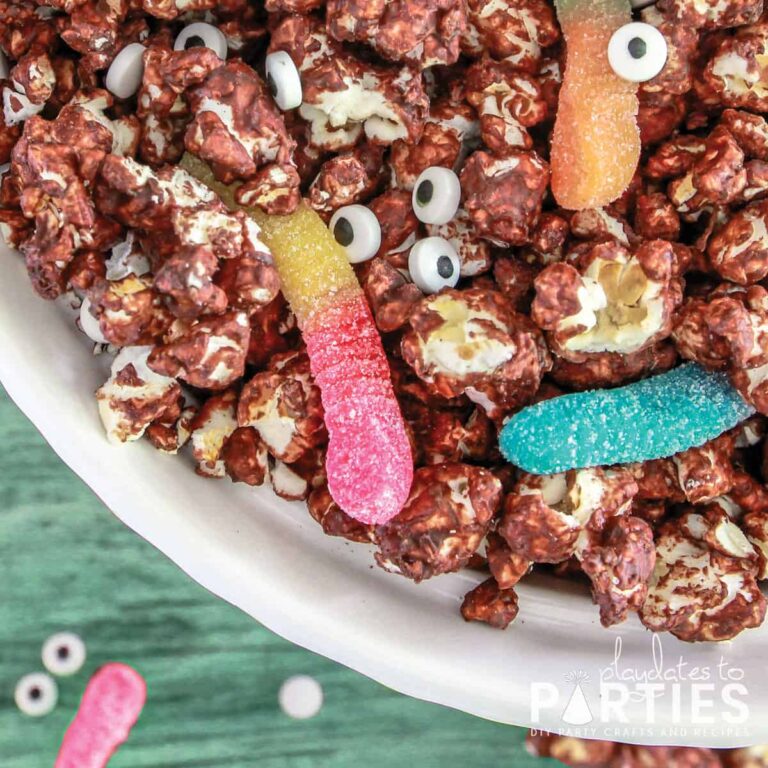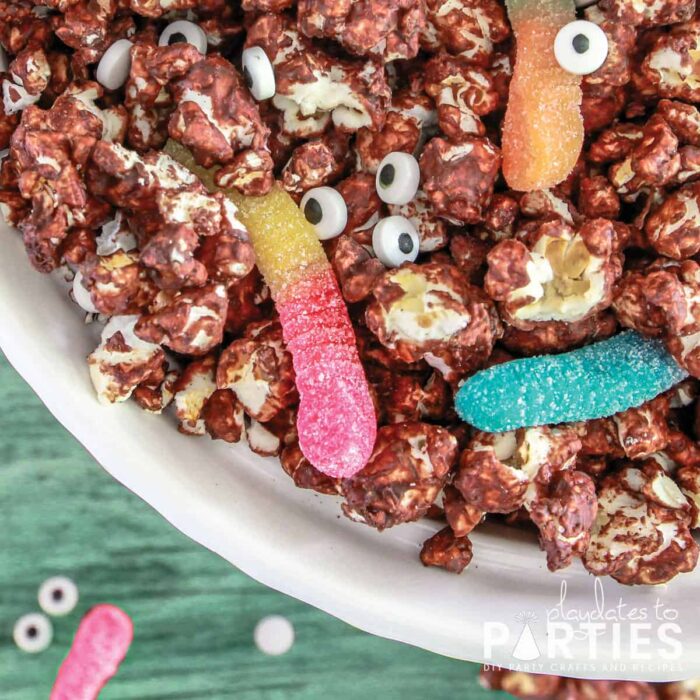 What do Kids think of Monster Munch?
My kids couldn't keep their hands off of it!
I felt like Roz from Monster's Inc, constantly threatening that I would be watching how much was left. ☺️
So, I might not make it again to keep around the house, but would absolutely recommend this mix as Halloween party favors, or gifts to school classmates.
More Halloween Treats to Love:
Yield: 6 cups
Monster Munch Halloween Popcorn Mix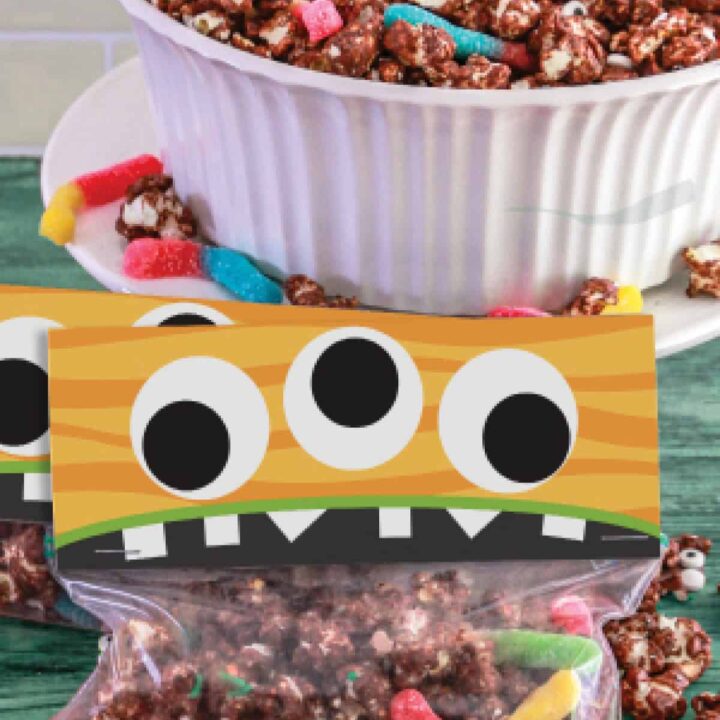 All the kids are going to love you this year when you whip up a batch of chocolate coated Monster Munch Halloween popcorn mix. Better yet, add it to a treat sack with the printable bag toppers and it makes the perfect classroom gift.
Ingredients
3/4 c semi sweet chocolate chips
7 C white cheddar popcorn
1 package google eye candy
1 package sour gummy worms
1/4 cup candy sprinkles in Halloween colors
Instructions
Place chocolate chips in a large microwaveable bowl.
Microwave the chips on high for 10 second intervals, stirring with a fork between intervals.
When chocolate is completely melted and smooth, gently stir in popcorn, mixing until the popcorn is evenly covered.
Sprinkle google eye candy on the popcorn and place in refrigerator to firm up, about 30 minutes.
When chocolate is firm, remove popcorn from refrigerator and add the sprinkles and sour gummy worms.

Popcorn mix is best served immediately.
Notes
Be careful not to overheat the chocolate chips. Typically, you can stop microwaving the chips when the lumps are very small.
If your chocolate starts to seize, you may be able to add a bit of heavy cream or oil to get it back to a smooth consistency. However, this may affect the final popcorn mix
Feel free to add more tasty mix ins like M&Ms, marshmallows, or candy corn
Do Your Kids love popcorn mix?
Whats your favorite Halloween treat to make?
---
SaveSave
SaveSave