Clementine pumpkins are the perfect make-ahead healthy Halloween snack for kids. Add them to your kids' lunchbox or make a bunch for a Halloween party!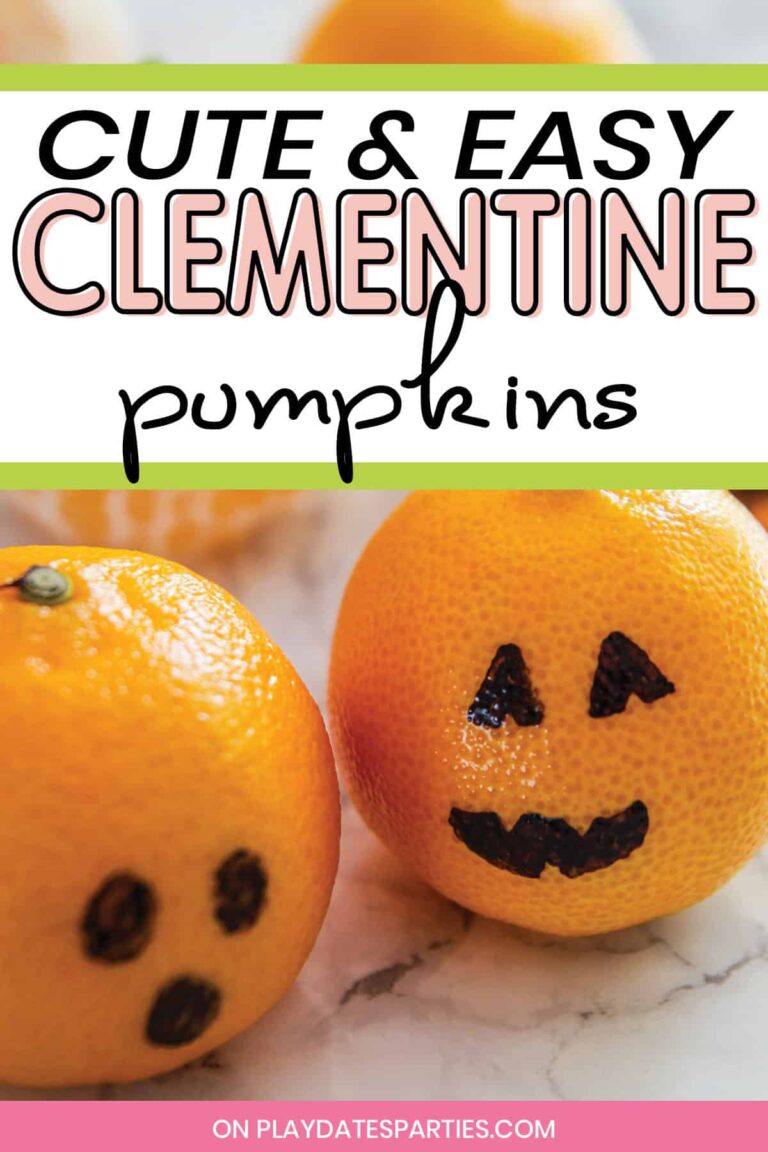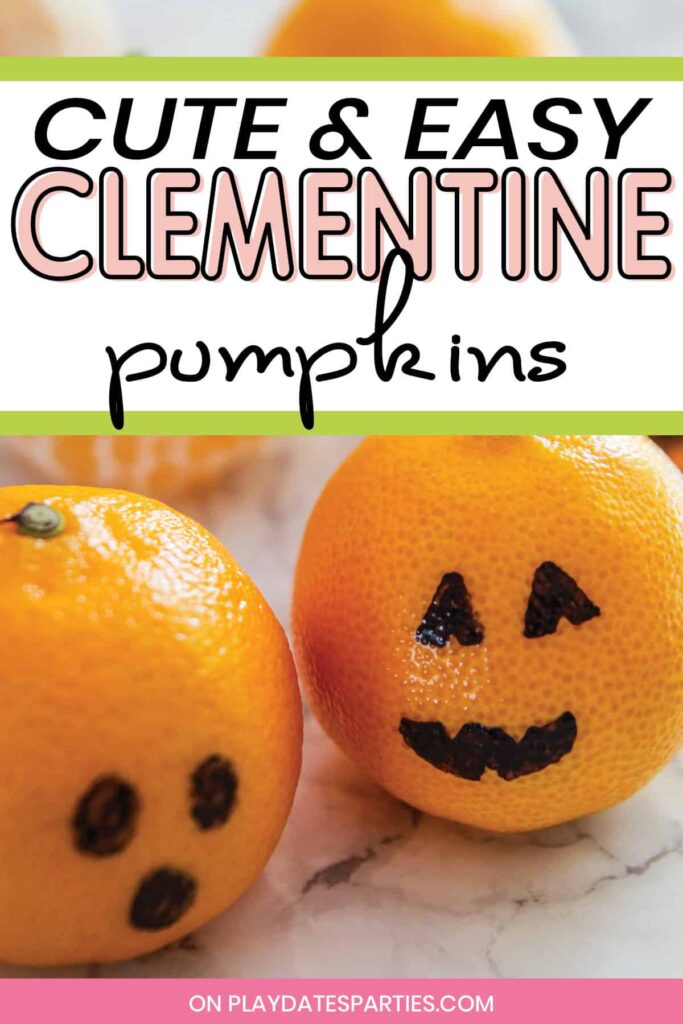 "When are you going to put pumpkins in my lunchbox again?"
This question pops up every fall with my girls – ever since the first time I surprised my now nine-year-old with the Clementine pumpkin in her lunchbox.
Now, I'm not a mom to make cutesy Bento boxes every day. That's just more time and energy that I have… especially when making lunches for three kids every day of the workweek.
But, I can easily pulled together something simple like a Clementine pumpkin. I don't know where I first saw the ideas for the these but they have become a full tradition ever since.
How to Make Clementine Pumpkins – Two Ways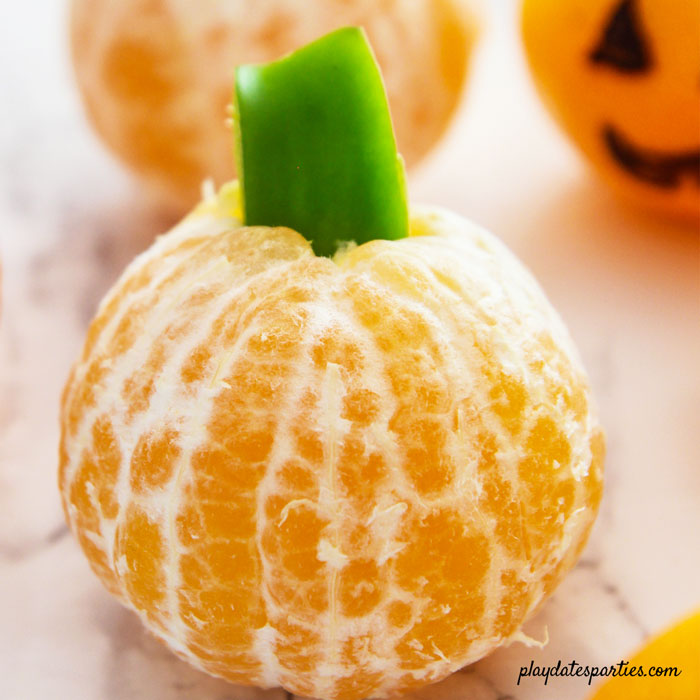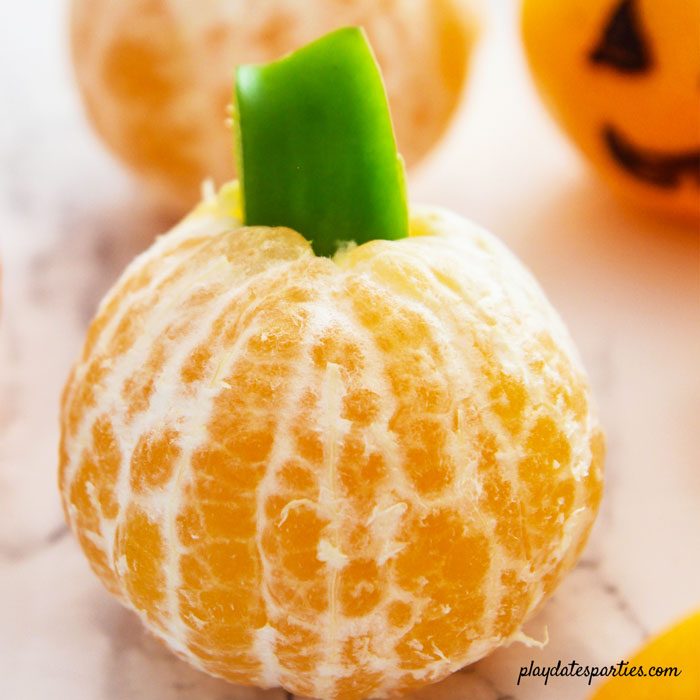 Peeled Clementine pumpkins
Peeled Clementine pumpkins are the best option for younger kids who can't peel a Clementine on their own. Plus, they're simply adorable. All you need is the following:
One peeled Clementine
Firm green vegetables, sliced about 3 inches long and about 1/4 to 1/2 inch wide
Directions:
Remove the appeal from the Clementine and any stringy remains from the peel
Gently insert You're child's favorite Green vegetable into the center of the Clementine where the top was.
Which vegetables work best with Clementine pumpkins?
We've used a few different vegetables over the years to make our Clementine pumpkins. Here are a few thoughts for each type
Celery Sticks
Celery sticks work well because they are mild in flavor on their own. Unfortunately, my children don't care for celery so the celery sticks end up getting wasted. Because of that these are not my favorites.
Sliced Green Bell Peppers
Sliced green bell peppers work well if you're like us and keep sliced peppers on hand every week already.
That said, they have a strong flavor which may affect the taste of the clementine. Picky eaters may not be happy about that.
Sugar Snap Peas
Sugar Snap Peas work well when they're still firm and fresh. They don't add any flavor to the clementine, but they also don't have the same characteristic shape as the celery or bell peppers.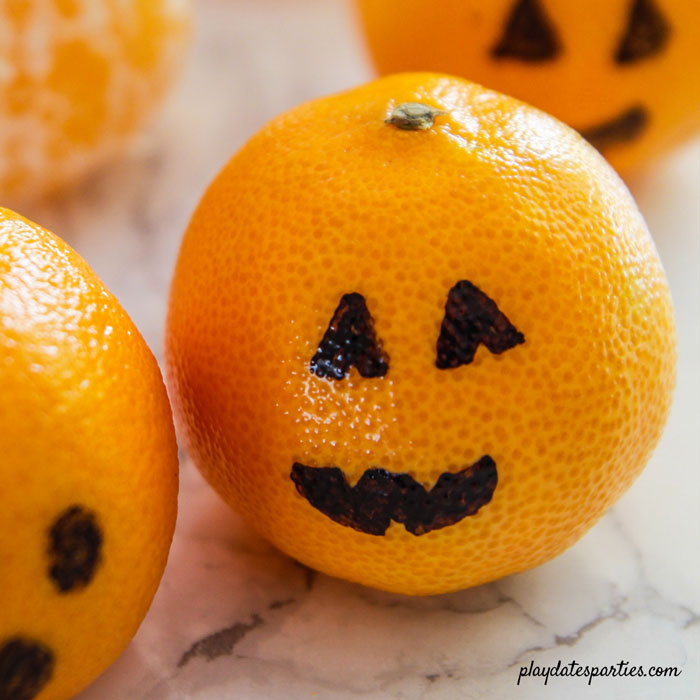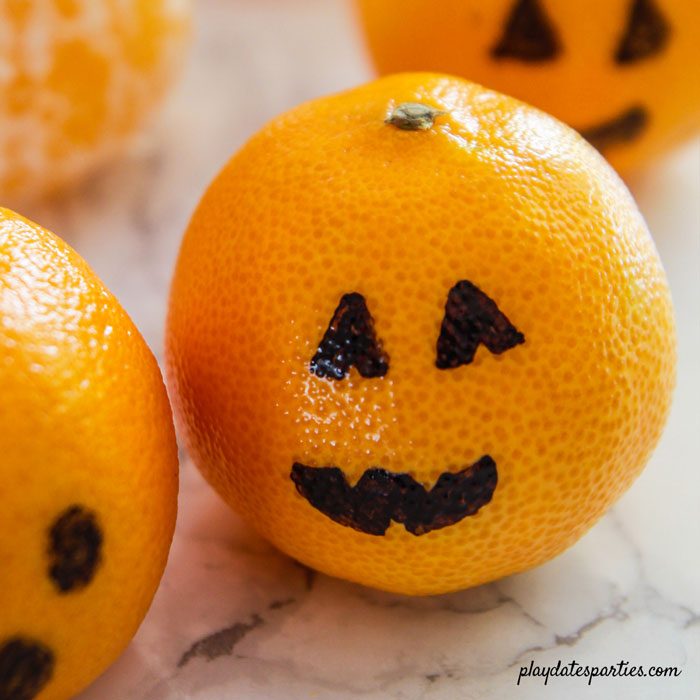 Clementine Jack-o'-Lanterns
Once your kids are old enough to peel clementines on their own, clementine jack-o-lanterns are a lot of fun. All you need is a black Sharpie and your imagination.
And for anyone who is concerned, Sharpies are non-toxic, so this shouldn't be a problem for your children
That said, if you don't know the right tips, clementine jack-o'-lanterns can get pretty frustrating.
Here are a few tips I've learned over the years:
Always always always start with a dry, room temperature Clementine.
Because Sharpies are oil-based any water on the skin of the Clementine Will resist your design. Cold clementines will sweat, ruining your design and leaving you frustrated.
Sometimes the Clementines just don't warm up fast enough. In this case, carefully dry the Clementine with a paper towel and make your design as best you can.
If your Sharpie stops working, swap it out for another Sharpie for a while. This will allow the water that got on the tip of the first sharpie to evaporate so that it can work again.
Keep your designs simple.
I found that ultra-fine point sharpies that looks more like ballpoint pens do not work well on Clementine pumpkins. But the standard fine tip sharpie can create a line that's a bit fat for the small Clementine.
If you keep your design simple, and outline the jack-o'-lantern face shape first then you should end up with a cute design.
More Halloween Ideas to Love: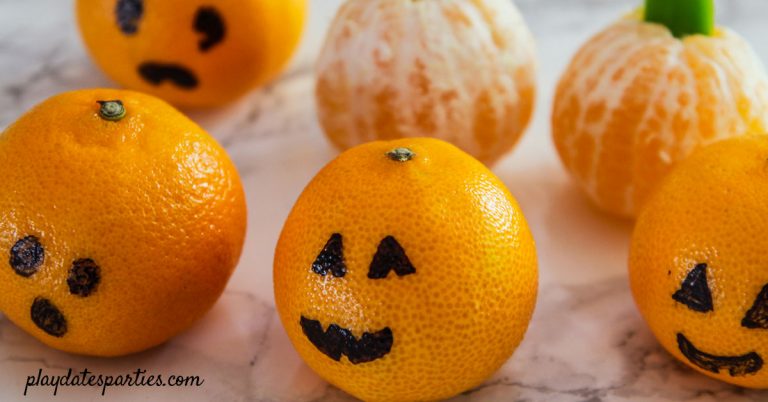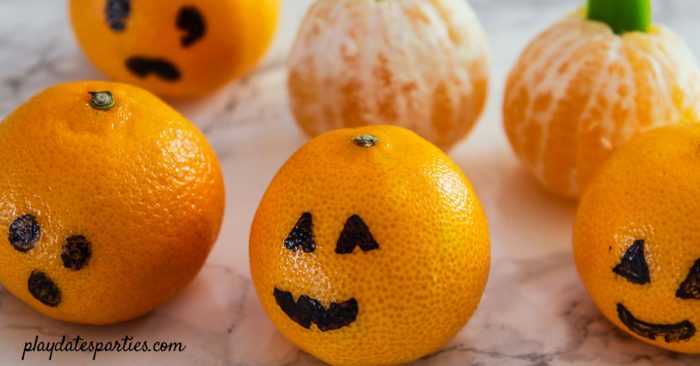 Now it's your turn
You don't have to be a Bento box mom to send cute seasonal themed treats in your kids' lunches. Clementine pumpkins are hands down my favorite way to surprise my kids in the lunchbox.
And it only takes about five minutes or less to make a Clementine pumpkin or a jack-o'-lantern pumpkin. But the smiles are always worth it.