Is it just me, or does it feel like there's never enough storage in your house? I'm constantly purging, reorganizing, and rearranging, but it never feels like there's enough space. Perhaps it's because we're a family of 5 sharing less than 1,800 feet of living space. Or perhaps, we just haven't purged enough. No matter the reason, we need every inch of storage possible.
So, it's no surprise that we agreed to look into storage beds when we decided to renovate our master bedroom. At first, I cringed at the thought, remembering the ugly storage beds of my youth. They were big, bulky, and definitely not attractive. But then we started looking around and realized that storage beds have come a long way.
No matter what your budget or aesthetic, there's a storage bed option for you. Take a look at these 7 storage beds and you'll see exactly what I mean.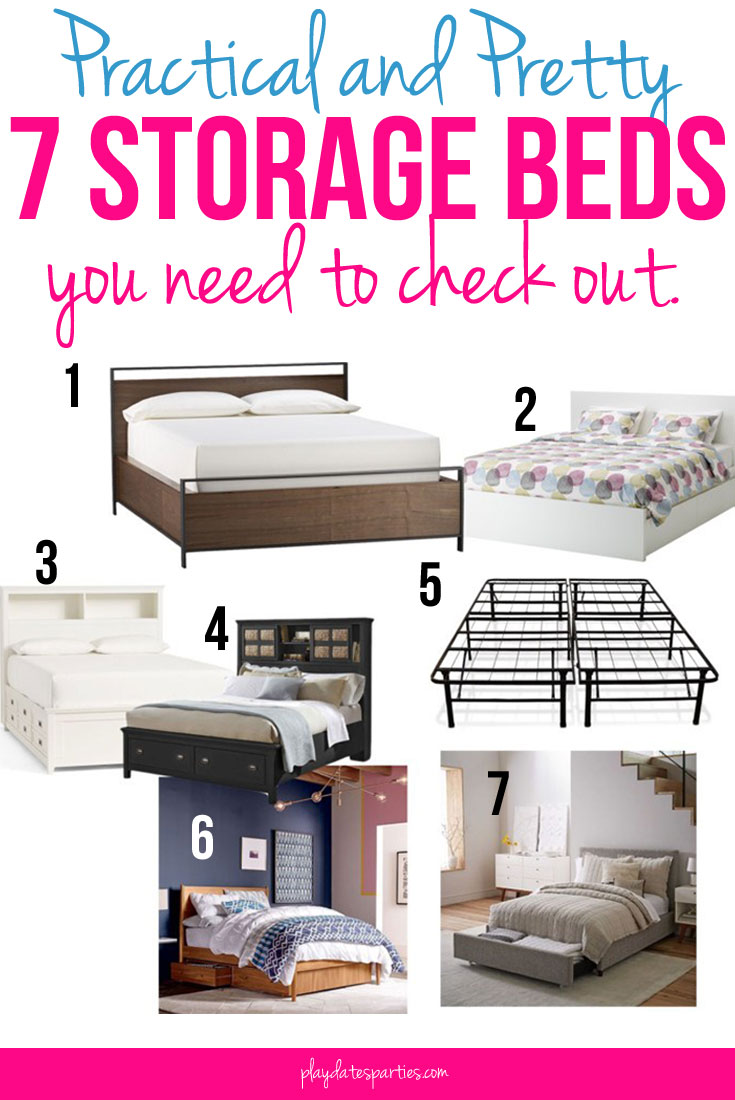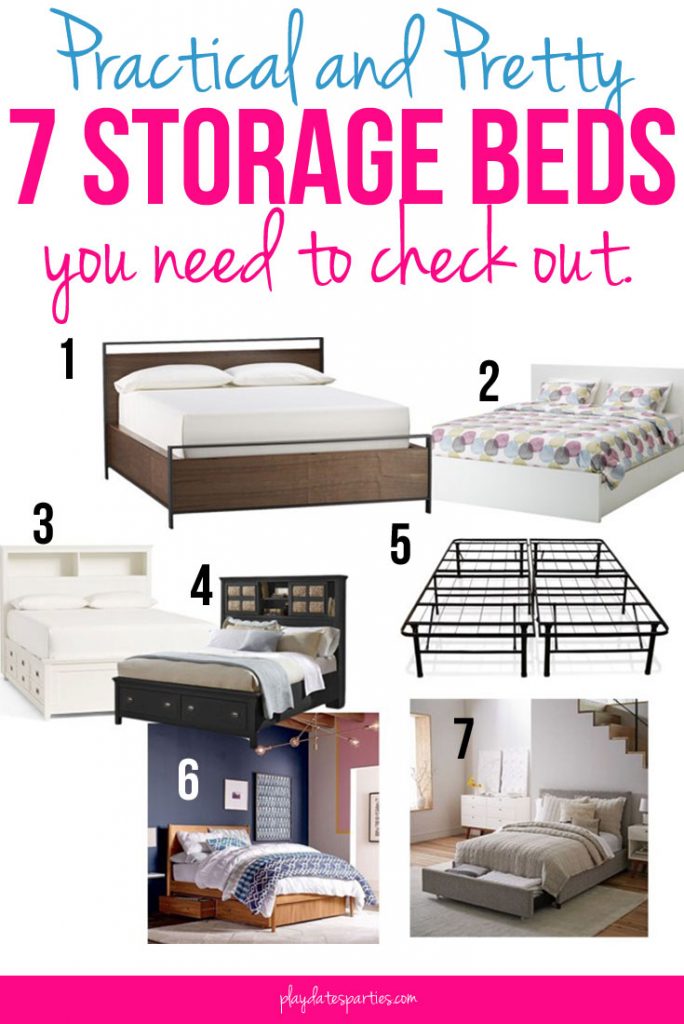 Cost: $2,400+
This was the bed that got the Husband and I both excited about looking into storage beds. We love the combination of wood and metal with the clean, crisp lines. And the open space at the top of the headboard and footboard keep the bed from looking too bulky. But, best of all, it doesn't even look like a storage bed! Sadly, by the time we started the renovation, this bed was discontinued by Crate and Barrel. They do have some new options though, that fit right in with our modern design.
Cost: $390 – $480
How can I write a post about functional furniture without mentioning Ikea? It's one of our go-to locations for any home updates. As a matter of fact, the Husband had a Malm bed when we got married. It worked well for him, but we wanted to upgrade when we moved into our first home together.
The Malm actually comes in two storage styles: 1) Configurations of 2 or 4 drawers under the bed (called boxes), or 2) a hinged platform under the mattress that lifts up the entire bed at once. Either option would provide storage space. Though I think the mattress lifting option would allow you to use every bit of space underneath the bed.
Cost: $2,795 – $3,095
I just love this storage bed from Pottery Barn. Unlike many of the other options, this bed emphasizes its storage aspects with beautiful paneling and hardware on the drawers. It also comes with an option for a storage headboard, though that might be a bit much for us.
Cost: $940 – $1,500
Like the Pottery Barn bed above, the Lindsey Panel Bed has storage in the headboard as well as drawers beneath. But this bed from Joss and Main has a rich, dark color. And the water hyacinth panels in the storage headboard help hide the clutter that is bound to build up.
Cost: $100 – $250
Okay, so this is just a metal bed frame, and doesn't include any headboard or footboard for styling. But it's such a different option, I just had to include it. At 14-inches tall, this platform bed provides maximum storage flexibility. Tall enough to fit storage tubs underneath, you can practically keep your entire house organized while you sleep. It also fits inside traditional bedframes, or can be adapted to attach a headboard or footboard of your choice.
Cost: $1,700 – $2,000
The Husband and I both enjoy mid-century modern design for it's clean, but interesting lines and warm wood tones. I like how this bed from West Elm doesn't pretend to cover up the fact that it includes built-in storage. Yet, it's also quite modern with the tapered legs and platform style.
$1,100 – $1,400
If you still need proof that storage beds can be both stylish and functional, this is it. Most upholstered beds don't include any storage options, but the drawer at the end of this bed from West Elm is the perfect place to keep bed linens if you don't have room for them elsewhere.
Clearly, storage beds are very different from the bulky and ugly versions that used to exist. With these 7 storage bed options, there's no excuse now for under-bed clutter. We made our decision already, and I can't wait for the bed to arrive so we can get our master bedroom properly organized. Though I may have to keep purging and decluttering the rest of the house!

See the Entire Renovation:
---
---
I want to extend many thanks to the readers who have enjoyed renovation and home DIY posts over the years. Unfortunately, in January 2018 I was diagnosed with Stage II breast cancer and had to stop doing home renovation posts due to treatment.
Since that time, my focus has been on making this website an amazing resource for the everyday mom's parties. Due to their popularity, the DIY posts and tutorials will remain on the website, but comments are now closed. Thank you again and I wish you the best in your DIY endeavors!