Can you completely change a room in just 6 weeks? In this master bedroom renovation week 5, things are finally coming together, including a sliding pocket mirror, faux vertical shiplap headboard, and a storage wall from multiple customized Ikea products.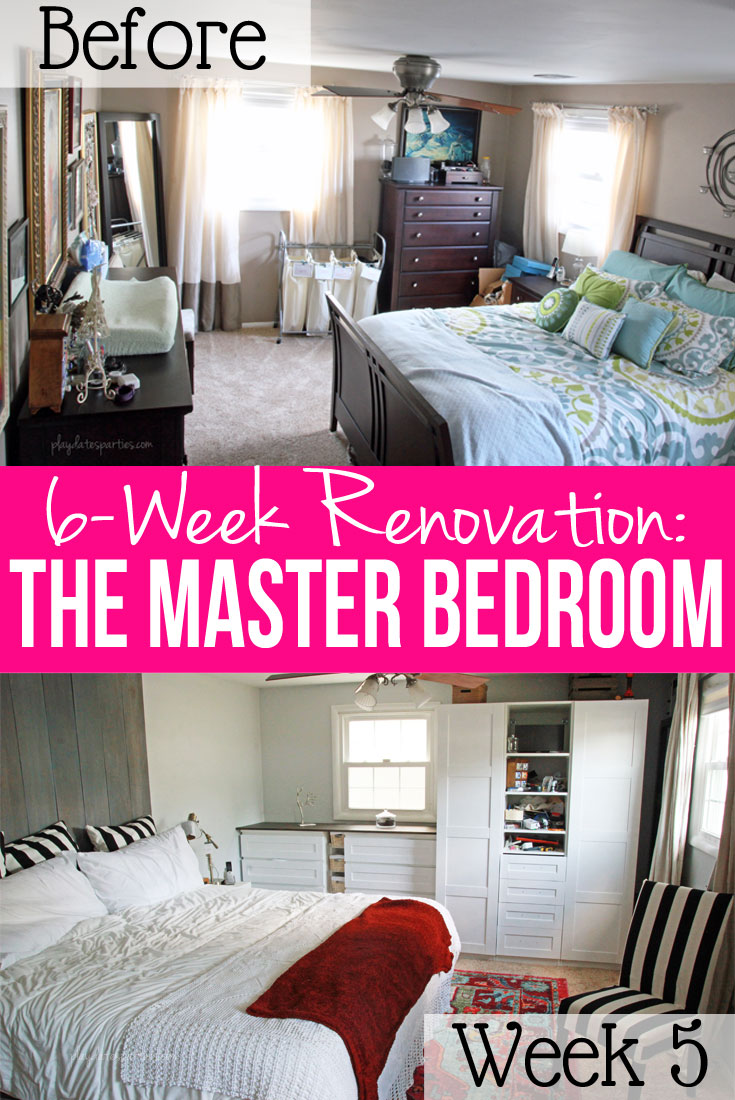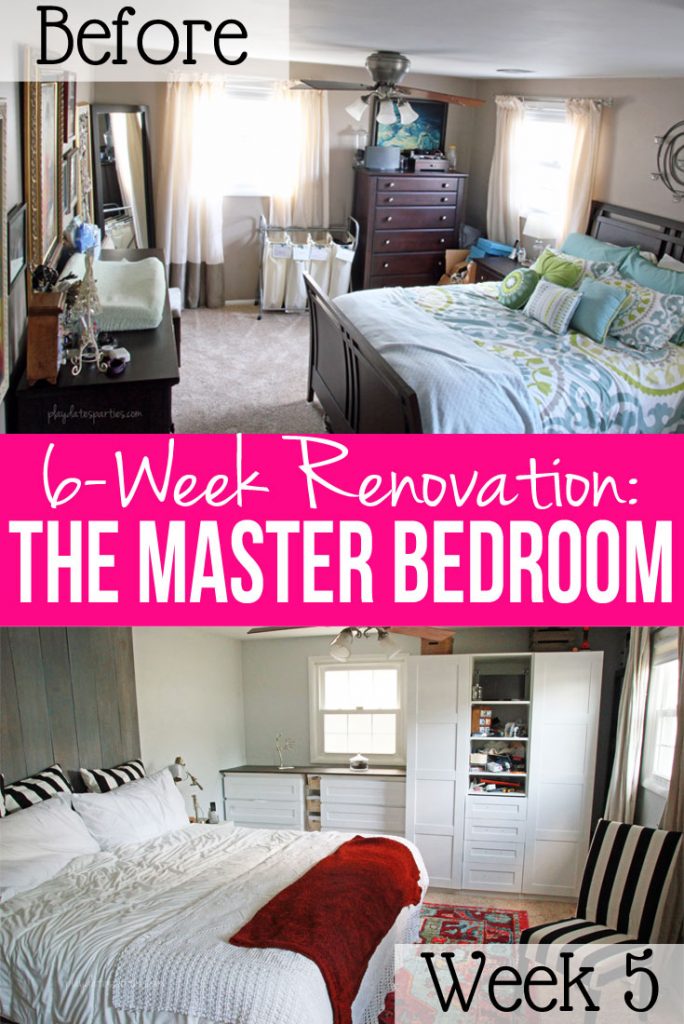 I don't know whether I should panic or rejoice.
The Husband and I have been working late most nights trying to finish our master bedroom renovation, and while we've made huge progress, it looks like there are more late nights ahead for the final reveal next week.
If you're just tuning in, I'm participating in Calling it Home's One Room Challenge. In week one, I shared our design plan and the before pictures. In week 2, our bedroom got a fresh coat of paint, and some new storage cabinets. Week three came with headaches galore. Week four recapped the status of each project. And in our master bedroom renovation week 5, we're officially in panic mode.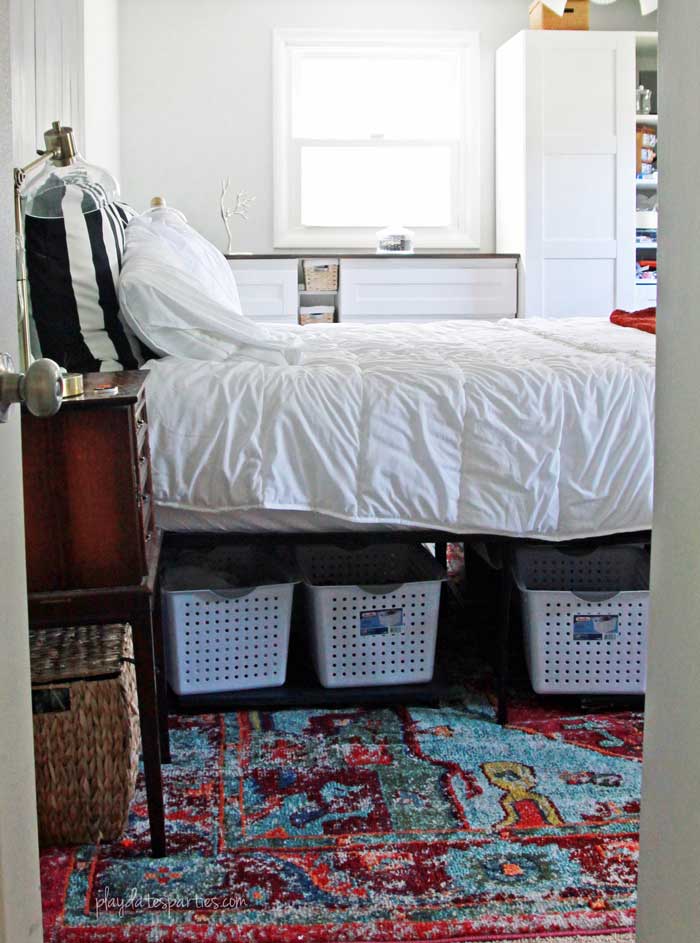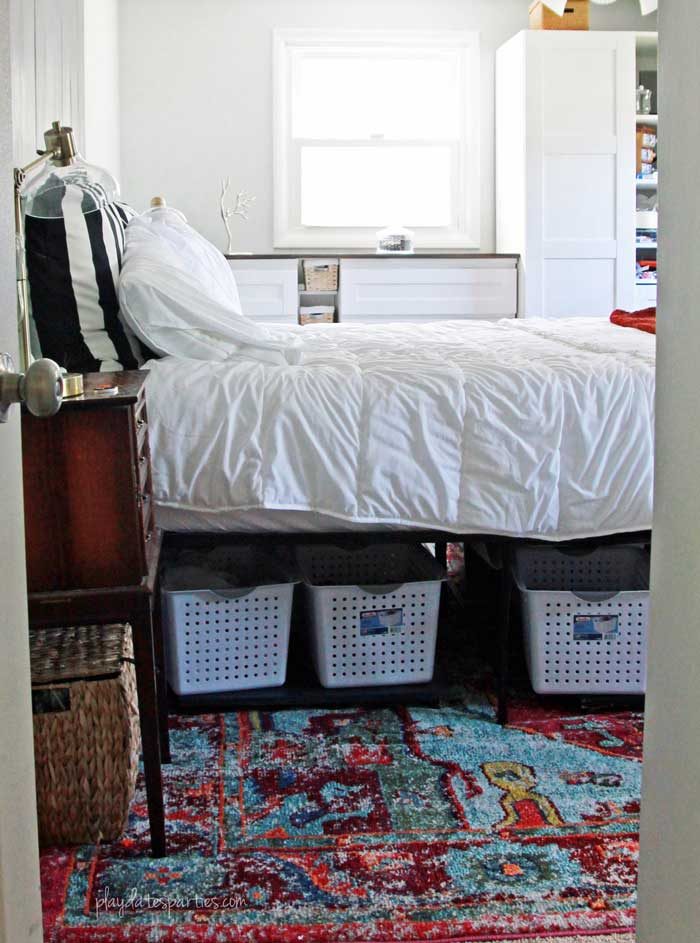 We finally got our tabletop and shelving for the dresser wall, and it makes all the difference. The baskets in the center were a lucky score at Target that turned out to be perfect. Now, all that's left is hardware. Once that's done I'll finally be able to share all the many details for pulling together this customized master bedroom storage solution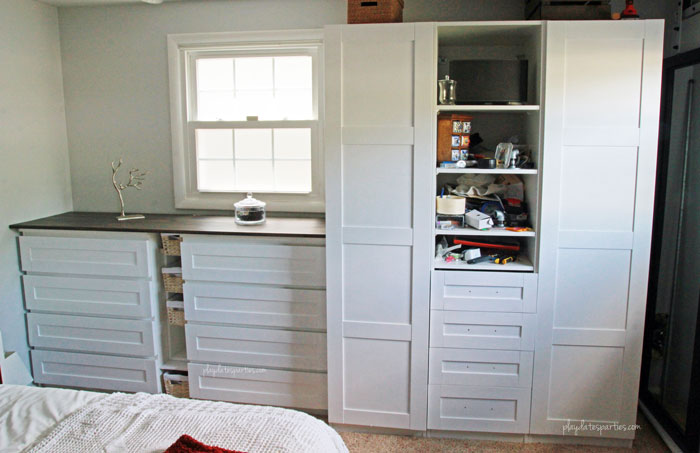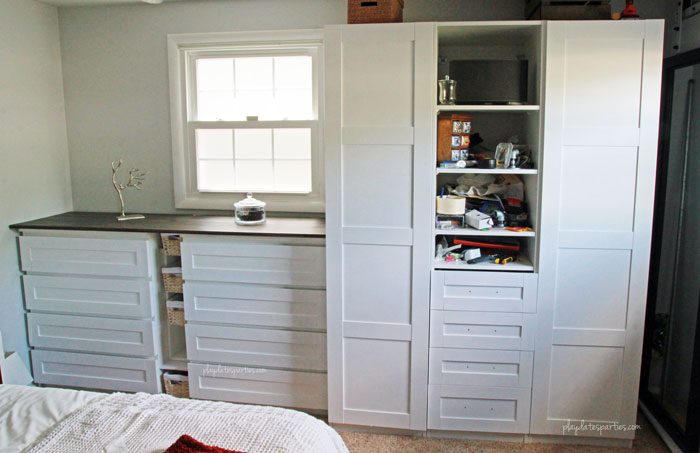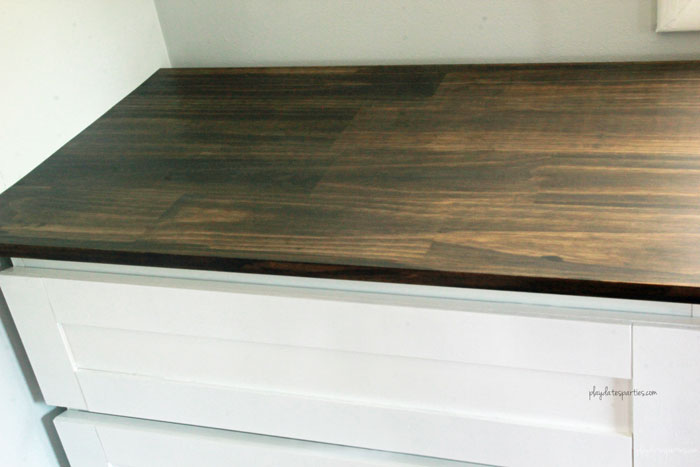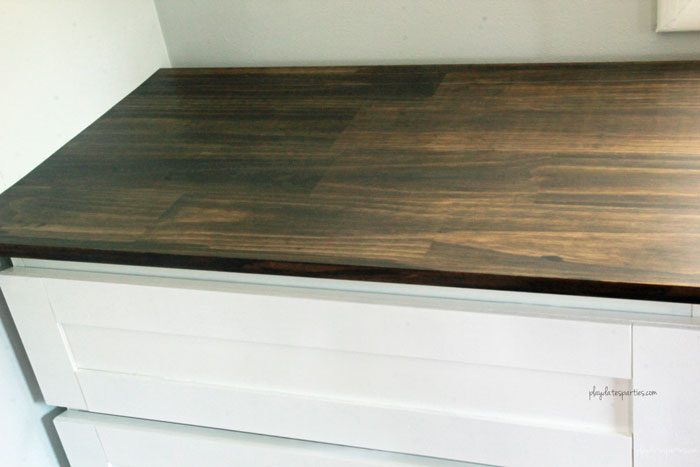 We also finally (finally!) got the pocket mirror installed at around 1 am the other night. Unfortunately, I don't have much control over the lighting in this space since it faces northeast and is partially below grade, so the pictures are pretty terrible. Keep an eye out at the bottom of this post for the details on that project. It's full of blunders and lessons learned that you don't want to make if you decide to make one for yourself.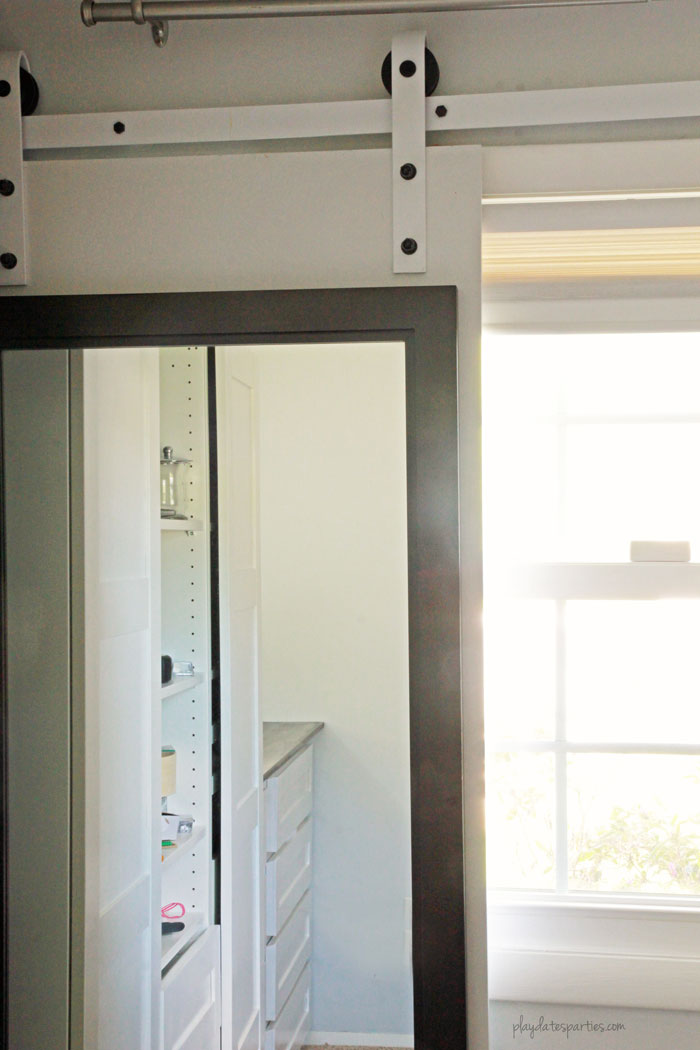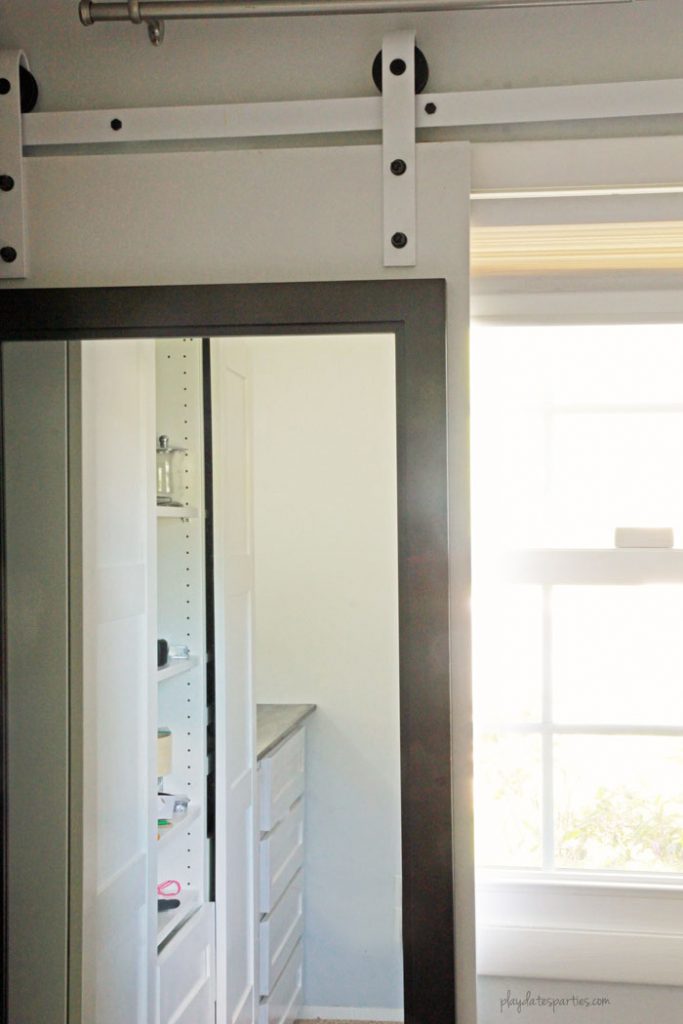 Most importantly, though, I finally installed the feature wall for our headboard. I kind of like to think of this project as what would happen if reclaimed wood feature walls and shiplap had a baby. I just love, love, love it! Keep an eye out for the post to go up tomorrow.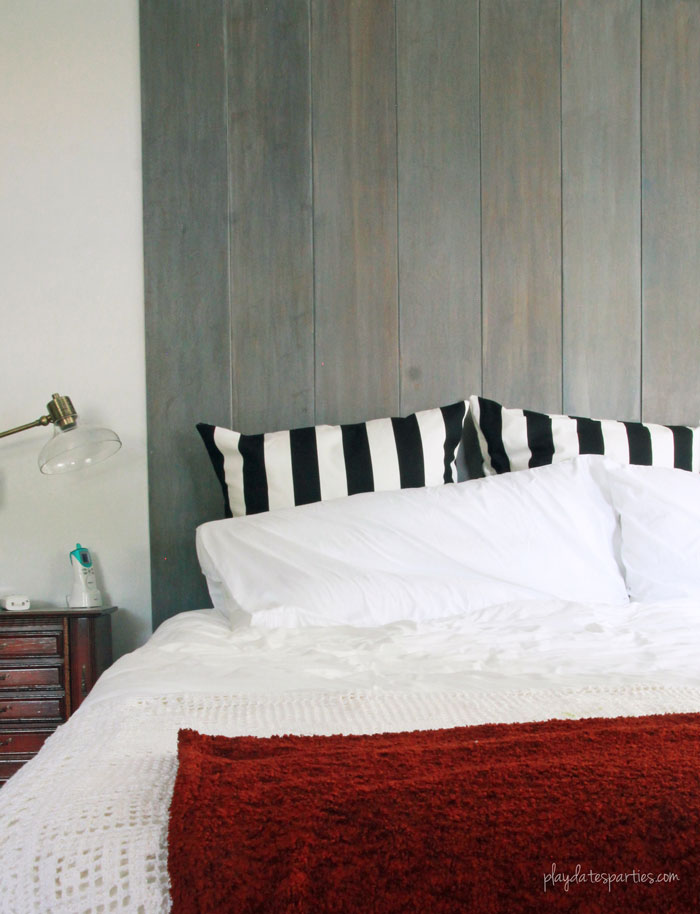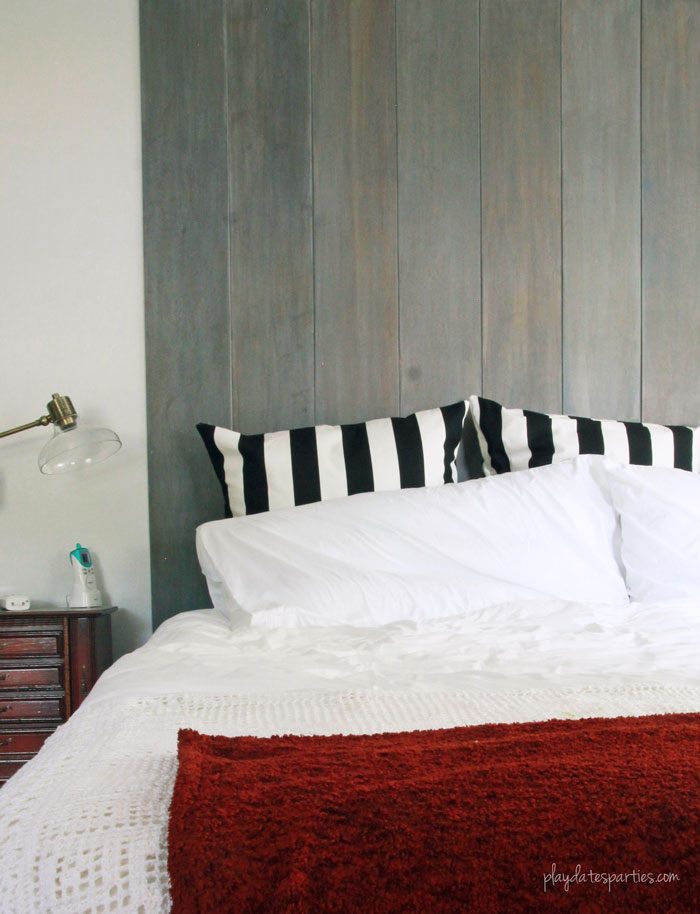 The coming week will be all about the details. We've got to finish trim work, install art on the walls, and there's a big surprise that I haven't mentioned yet. Let's just say that it's something I've wanted for a very long time.
So, for the last time, here's a look at the to-do list for this 6-week master bedroom renovation:
Paint Room
Install new closet wall (so close to done!)
Paint trim
New bed & linens
Make curtains & update curtain hardware
Install accent wall
Paint closet (removed from list)
Install shoe shelves in closet (removed from list)
Install pocket mirror
Make or purchase covers for chairs
Frame accent above bed
Find or make nightstands
Figure out space for laundry
How would you finish off this room?
See the Entire Renovation:
---
I want to extend many thanks to the readers who have enjoyed renovation and home DIY posts over the years. Unfortunately, in January 2018 I was diagnosed with Stage II breast cancer and had to stop doing home renovation posts due to treatment.
Since that time, my focus has been on making this website an amazing resource for the everyday mom's parties. Due to their popularity, the DIY posts and tutorials will remain on the website, but comments are now closed. Thank you again and I wish you the best in your DIY endeavors!