If you're just beginning to sew or still avoid needle and thread, add style and flair to your home with these 5 easy ways to make your own throw pillows.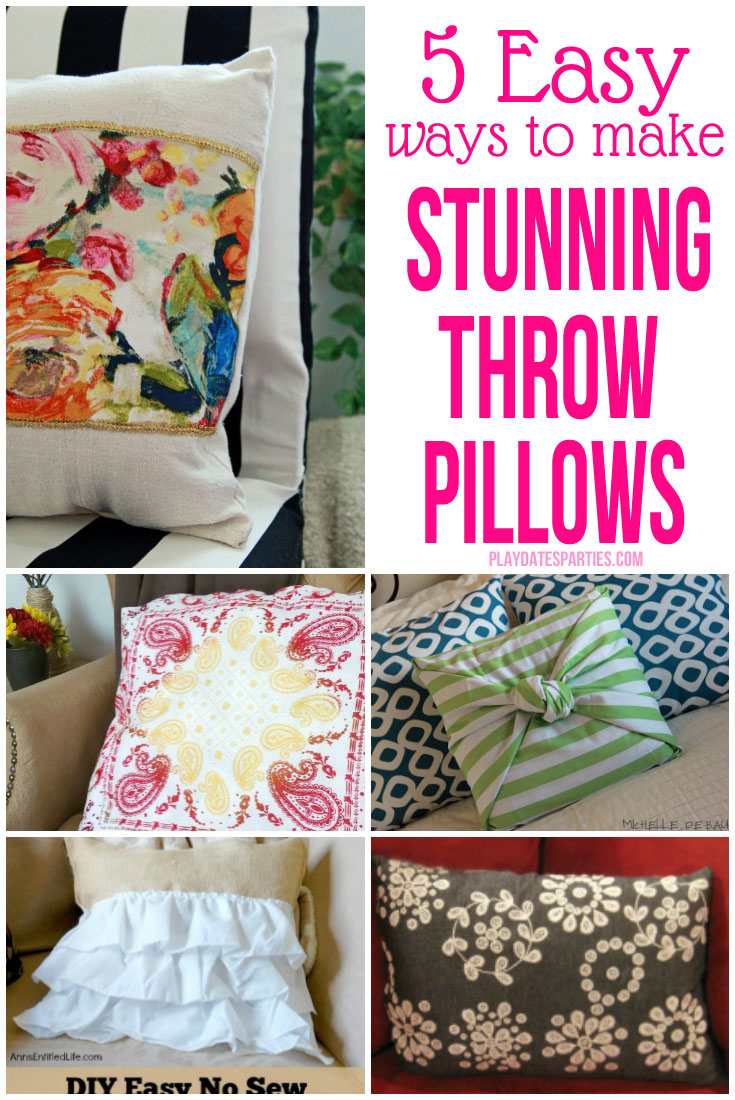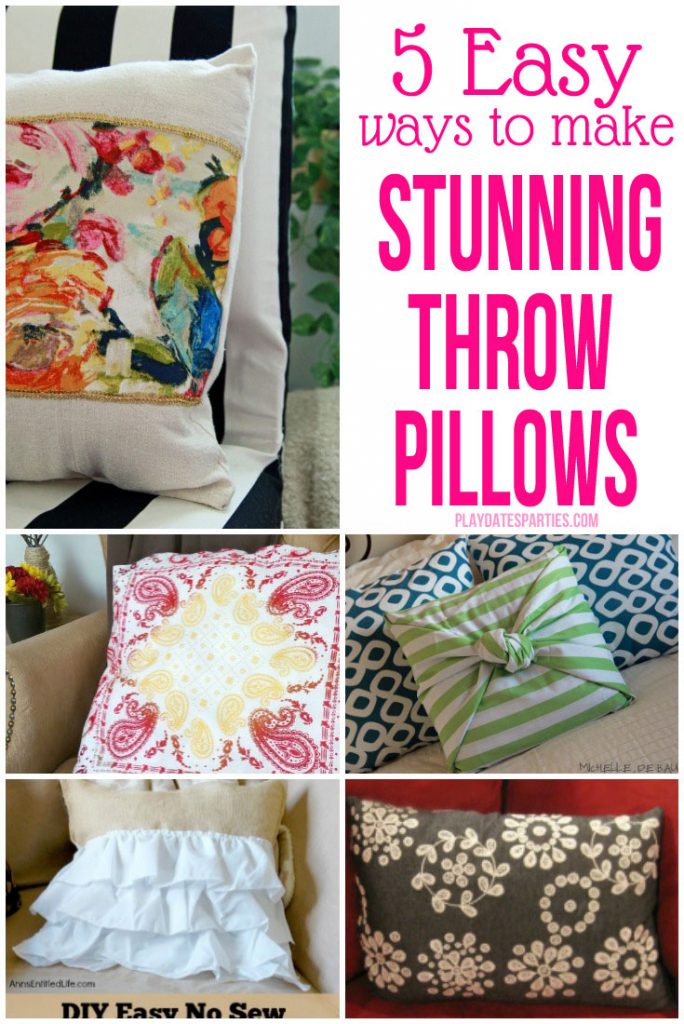 Is anybody else scandalized by the cost of throw pillows? Go ahead and call me cheap, but I just can't bring myself to spend upwards of $90 (or $50 or even $40 for that matter) on something that gets thrown on the floor regularly.
Wait, you don't have three kids under the age of 8 that toss every single pillow and throw blanket on the floor daily? Then I'll come over and enviously pet your $90 pillows. Until then, our pillows will continue to get abused.
[bctt tweet="5 Easy Ways to Make Stunning Throw Pillows. #handmade #home #homedecor" username="PlayDatesParty"]
Even if they're not getting regularly abused by kids, it just makes sense to make your own pillows. Not only is it thrifty, but you can coordinate the patterns and colors that go in your room to create a space you truly love. Talk about win-win.
The only problem is that I'm not very good at sewing. In fact, I'm terrible at it. But even if you insist that you're allergic to sewing machines, these tutorials show that even you can make stunning throw pillows.
5 Easy Ways to Make Stunning Throw Pillows
No-Sew Pillows
I was staunchly no-sew until about a year ago when I needed to assemble 14 aprons, hats and other accessories for my daughter's 7th birthday party (I know…still haven't posted that one). So there's no judging on my part if you don't want to use a needle and thread to make your pillow. If that's your style, then these tutorials are for you!

The Iron-Together Pillow
Stitch Witchery, and iron-on hem tape was always my favorite way to seam things together before adopting the old sewing machine. Reuse, Grow, Enjoy used this old standby to create an adorable pillow with bandanas.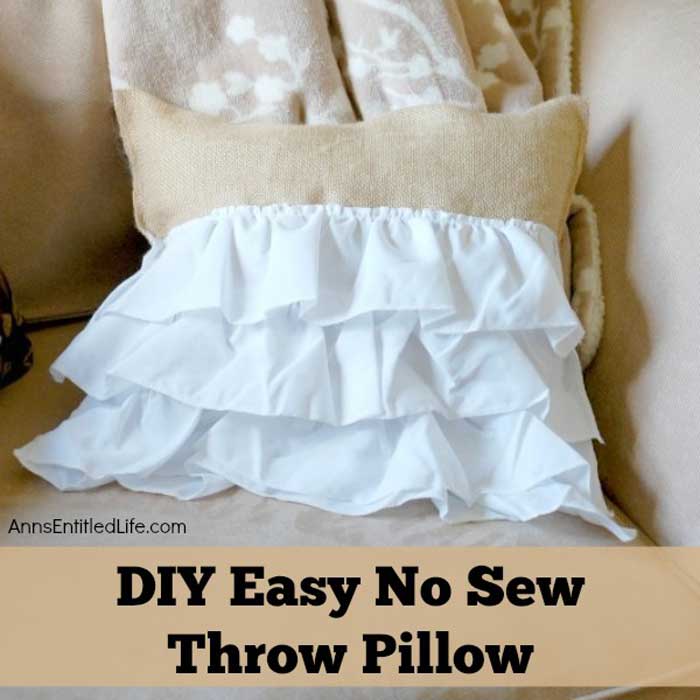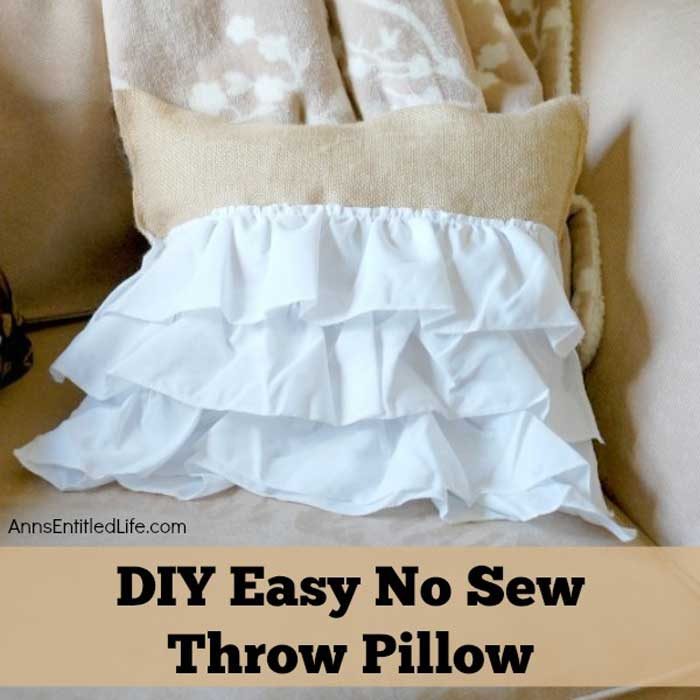 The Hot-Glue Throw Pillow
Can you believe Ann's Entitled Life put together this pillow with nothing but hot glue? How awesome is that?! Glue guns are so cost effective, and extremely easy to use. Just make sure you don't burn yourself!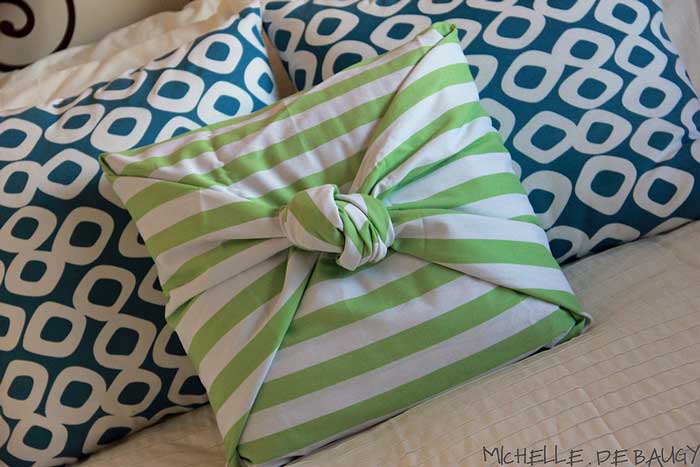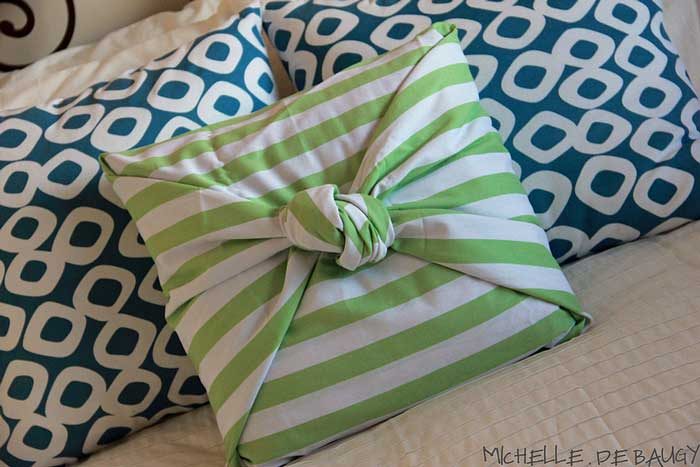 The Knotted Throw Pillow
I first saw this in action at my sister's house and had no idea that her 'new' pillows weren't new at all! The best thing about this method is that it only takes a few minutes and no glue, no thread, and no iron. Sounds pretty awesome to me. Get all the details over at Our Life Down Unda.
Pillow Tutorials for Beginning Sewers
If you're like me, and just dipping your toes into real sewing, then making a pillow cover is a great place to start. I sewed 8 pillow covers for our master bedroom remodel. Even though it was the first time I'd sewed a pillow cover since middle school I think they all turned out pretty great! These next tutorials are perfect for those who are just learning how to use a sewing machine.

The Envelope Pillow
I made every decorative pillow in our master bedroom as an envelope pillow, including the 3 black striped euro pillows, 2 drop cloth pillow shams with tassels, and the throw pillows made with floral fabric. And I made plenty of mistakes along the way. I even had to rip apart and re-sew one of the black striped pillows! But with my mother-in-law's sewing machine, it only took a few days to complete all of them. (Remember, my time is limited to naptime and bedtime).
Envelope pillows are great because they don't require you to sew the pillow shut, which means you're done as soon as the filling is in. It's the perfect place to start if you want to step it up from the no-sew game. Check out Hey there Home for a step-by-step tutorial for making the perfect envelope pillow .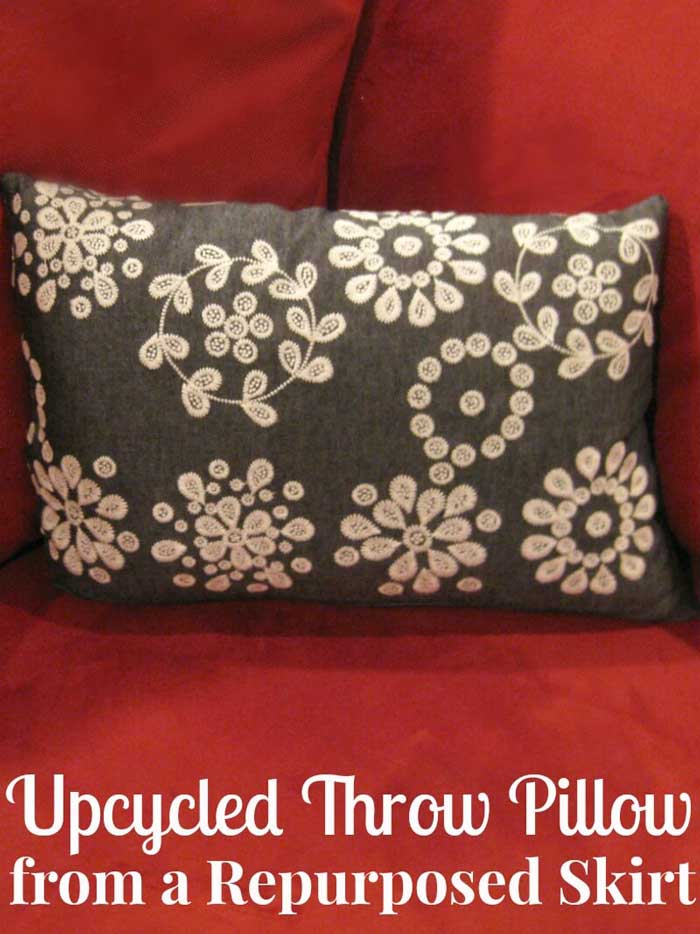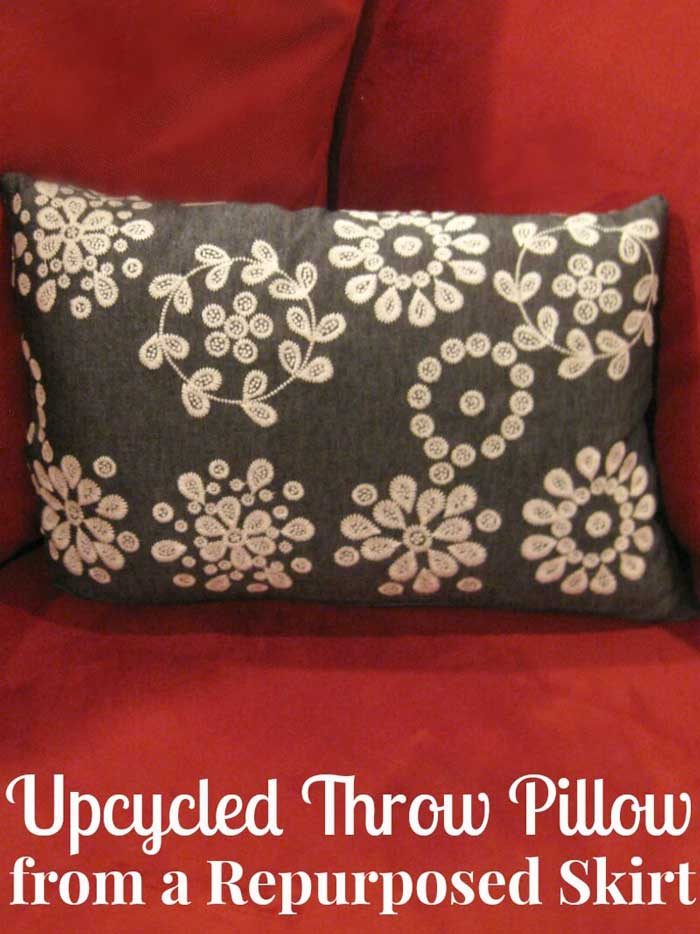 The Upcycled Skirt Pillow
How clever is this? Organized 31 used an old skirt to make a cute pillow. Since the skirt is already sewed together on two sides, that cuts down the sewing by half! That's thrifty on both time and money, which is totally my kind of project.
See, there's no reason to spend a fortune for decorative pillows. With just a few minutes and some pretty fabric, you can make your own throw pillows and love the results!
Have you ever made your own throw pillows?
What home decor items do you think are overpriced?
See the Rest of the Renovation:
---
---
I want to extend many thanks to the readers who have enjoyed renovation and home DIY posts over the years. Unfortunately, in January 2018 I was diagnosed with Stage II breast cancer and had to stop doing home renovation posts due to treatment.
Since that time, my focus has been on making this website an amazing resource for the everyday mom's parties. Due to their popularity, the DIY posts and tutorials will remain on the website, but comments are now closed. Thank you again and I wish you the best in your DIY endeavors!