I'm so sick of painting, and I've barely even gotten started.
Just in case you missed the post last week, I'm joining with Linda from Calling it Home for my third round of the One Room Challenge. Last spring, I made over my two-story backyard, in the fall I cleaned out and reorganized our teeny tiny linen closet. And this time, I'm finally getting a master bedroom worth sleeping in.
In week 1, I shared our design plan and before pictures. And after one short week, the room already looks totally different: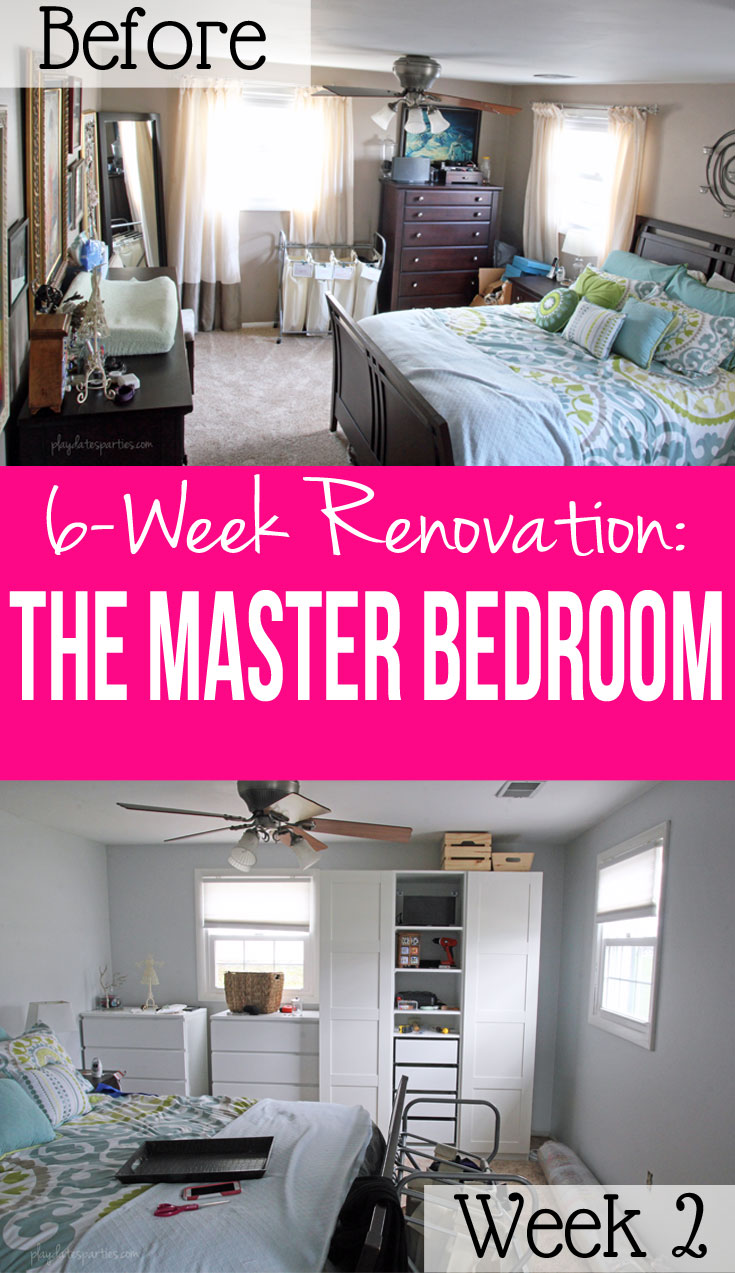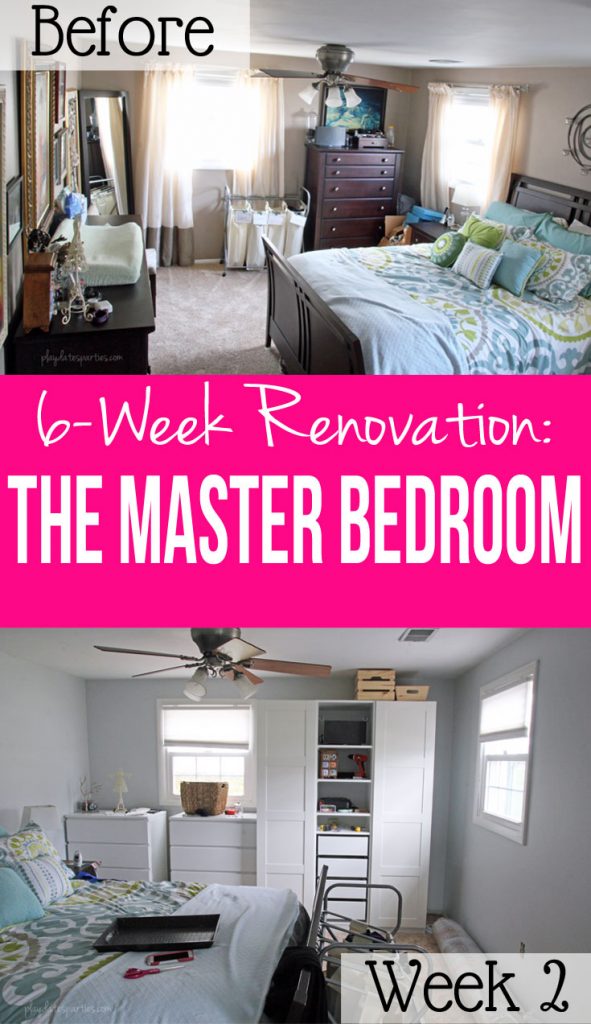 I know our room looks smaller in the progress picture. That's in part because of the angle, and also because the bed is pulled away from the wall. Since the Husband was busy most nights last week with work, I prepped and painted the room by myself over the course of three days. There is no way I am letting our freshly painted walls get dented and scratched by the dark brown headboard.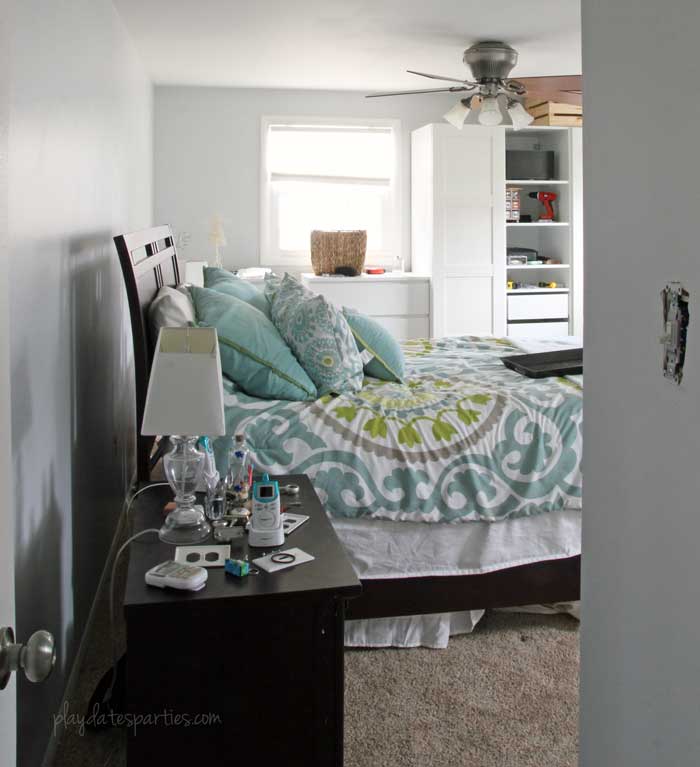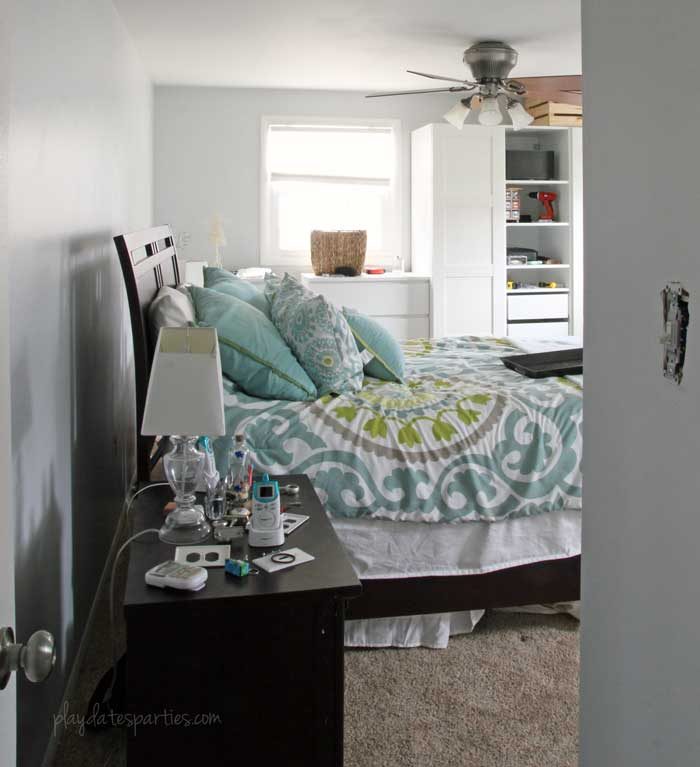 It's funny, actually. I remember when we first got this house before we had kids. It was so easy to come home after a day of work and paint for a good 3 or 4 straight hours before going to bed. Almost ten years and three kids later, I'm now limited to about an hour of painting during naptime and another 1 to 2 hours after the kids go to bed.
Thankfully, the husband and I both have plenty experience painting rooms all on our own and we've learned a few small, but important painting tips that help the process go much smoother when you only have short bursts of time available.
9 Simple Painting Tips for People with No Time

Get Everything Prepped in Advance
Go to the store and get all your supplies a day or so before you start painting. Don't forget the small things, like 4-inch or 6-inch rollers, drop cloths, sanding blocks, spackle, and any brushes you may need.
If You Miss a Spot when Spackling, Hairdryers are Fantastic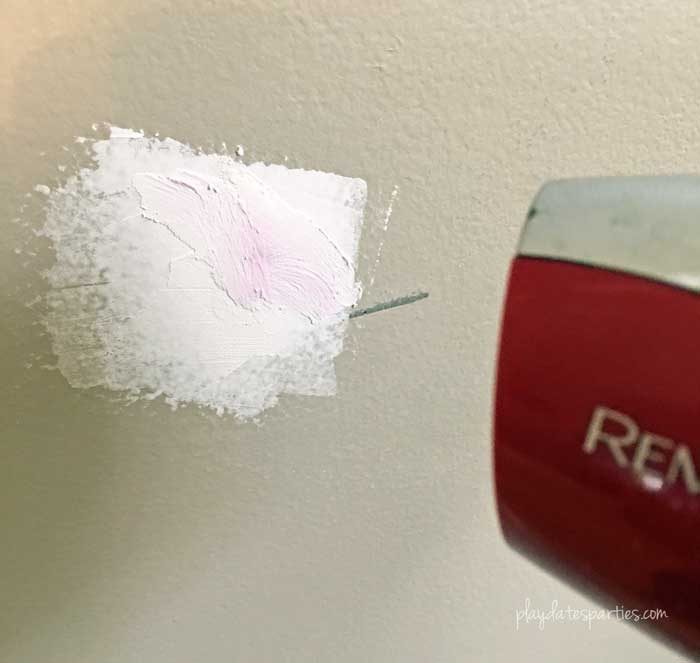 Don't rely on this trick for every hole, but in a pinch, hairdryers can quickly dry small patches of spackle. I was able to get this spot dry in about 15 minutes, which is far faster than the 1-hour minimum air drying would take.
Take Advantage of Disposable Items.
Disposable drop cloths and plastic pan liners were my best friends on nights when painting wasn't finished until nearly 11 pm. And wearing plastic gloves while cleaning brushes and rollers meant that I spent less time scrubbing paint off my hands afterward.
Don't Bother Taping.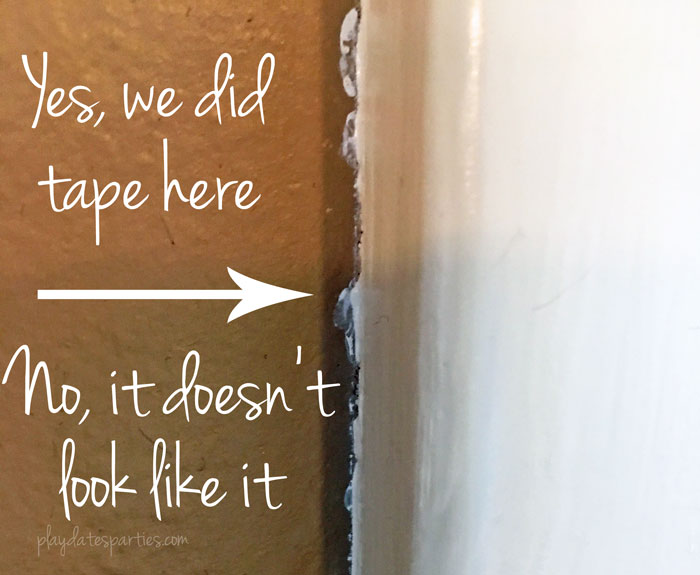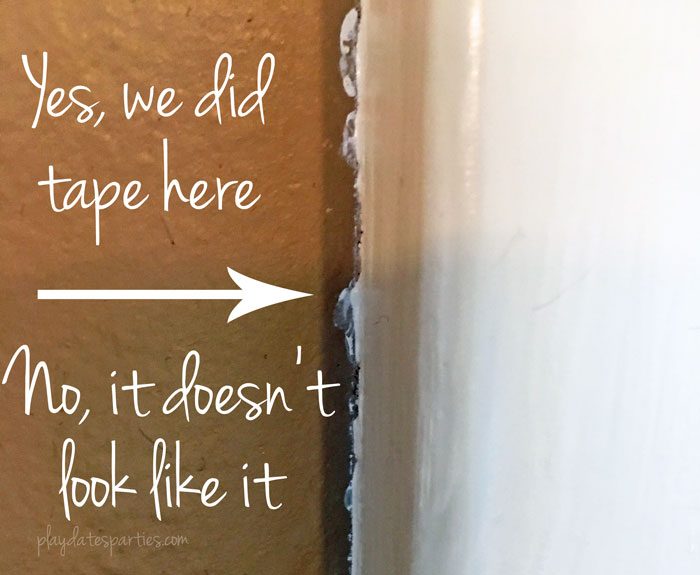 I know some people will disagree, but every professional we've ever hired has relied on a careful hand instead of painter's tape. Over the years, the husband and I have found that taping the room is generally more work than necessary.
Paint can still leak underneath the tape (we've tried several brands), it's hard to get separate pieces of tape aligned properly along the same wall, and when you remove tape, it's very easy for latex paint to peel off with it. (Fair Warning: There are times you definitely want to tape, such as painting trim next to carpet.)
Move the Furniture Just Far Enough.
When you're doing it all yourself, moving everything out of the room, or even all the way to the center of the room takes too much extra time. Instead, use furniture moving pads to push dressers and heavy items 2 to 3 feet away from walls. That way you have plenty of room to get behind the furniture while you're painting. Don't forget to cover any furniture you want to keep with lightweight drop cloths.
Wear Designated 'Painting Clothes'.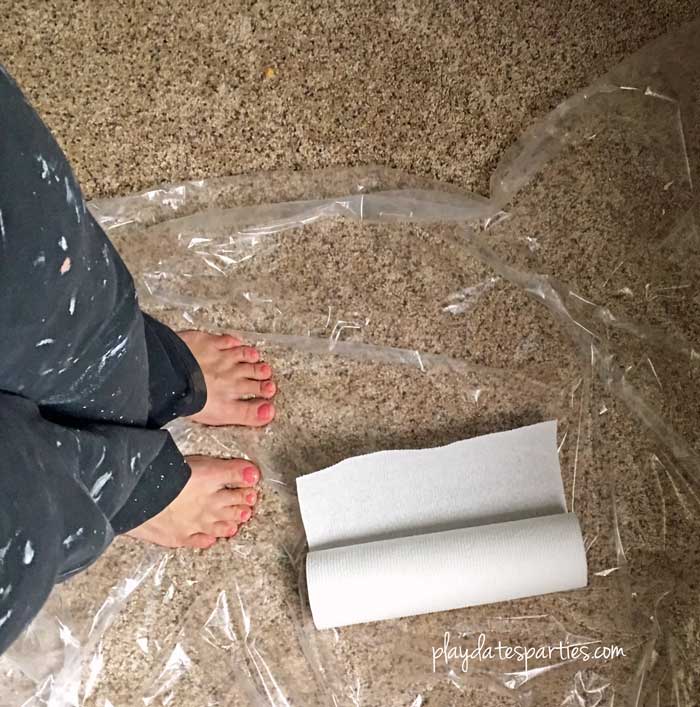 Years ago, I accidentally got paint on my favorite pair of black yoga pants. From that moment on, those are the only pants I wear when painting or doing dirty projects. They are now completely covered in paint splotches, and I love it. If a bit of dust gets caught on the wall while painting, I'm able to pick it off with my hands, wipe in on my pants, roll right back over the spot and keep moving.
Work Barefoot.
Drips and spills are inevitable. If you paint without socks or shoes, you will feel wet spots on your feet before you can track them throughout the rest of the room or the house. Yes, we've learned this the hard way.
Keep a Roll of Paper Towels and a Cup of Water Handy
Speaking of drips, spatter and spills, you never know when you'll need to quickly clean something up. I can't tell you how many times I used a damp paper towel to wipe drips and spatter off of my surroundings.
Take Your Time.
Break up your paint job into manageable steps that can be completed in the time you have available. Being limited to nap and nighttime, I focused on painting only one coat at a time, and (at first) only one wall at a time.
I regret trying to rush through two walls of painting on my third day. I was constantly worried that the baby would wake up before I was done. As a result, I was more prone to overloading my brushes and rollers. That's a perfect recipe for drips and other mistakes.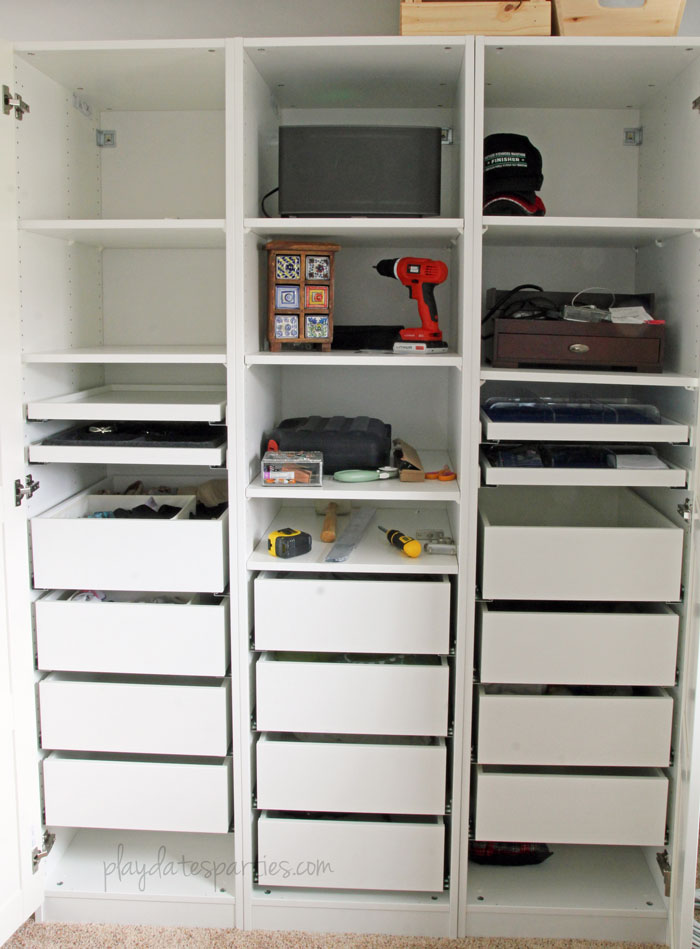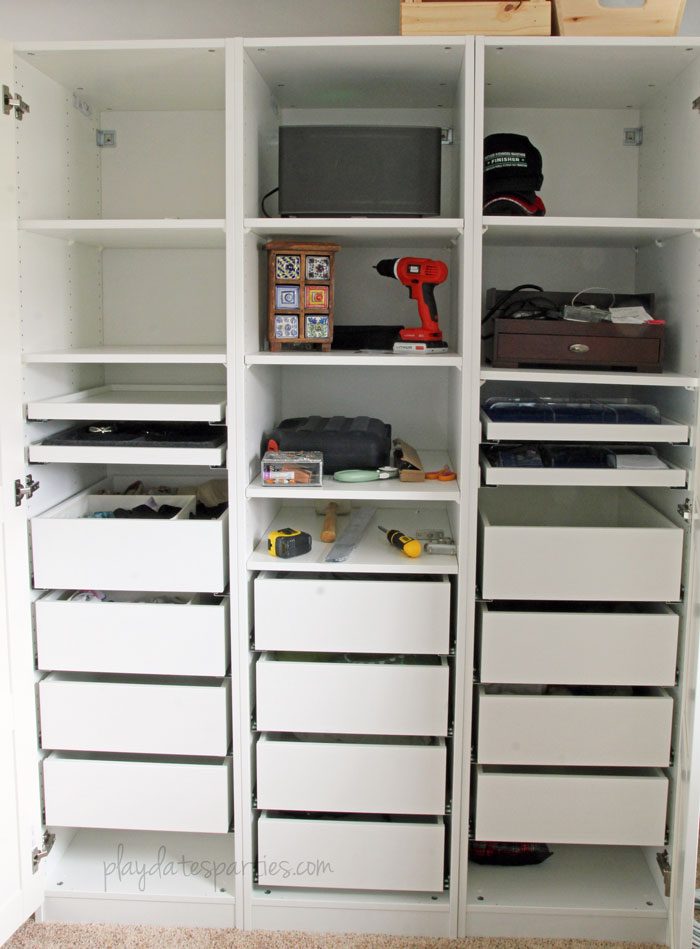 After the room was painted, the Husband and I spent a couple days putting together the three Ikea Pax cabinets. We are pairing them with the Malm dressers that were in the girls' shared room. Don't worry, the girls aren't dresser-less. I painted my old dresser white, and it's now sitting in their bedroom looking super girly and pretty.
So, that's a whole room and a dresser. I told you I'm already sick of painting.
Here's a recap of our to-do list:
Paint Room
Install new closet wall (halfway done!)
Paint trim
New bed & linens
Make curtains & update curtain hardware
Install accent wall
Paint closet
Install shoe shelves in closet
Install pocket mirror
Make or purchase covers for chairs
Frame accent above bed
Find or make nightstands
Figure out space for laundry
What did you get done last week?
What are your best painting tips for painting a room?
See the Entire Renovation Process:
---
---
I want to extend many thanks to the readers who have enjoyed renovation and home DIY posts over the years. Unfortunately, in January 2018 I was diagnosed with Stage II breast cancer and had to stop doing home renovation posts due to treatment.
Since that time, my focus has been on making this website an amazing resource for the everyday mom's parties. Due to their popularity, the DIY posts and tutorials will remain on the website, but comments are now closed. Thank you again and I wish you the best in your DIY endeavors!