Love the tassel trend, but don't want to commit too much? Find out how to make tassel trim pillows that pack a punch without breaking the bank.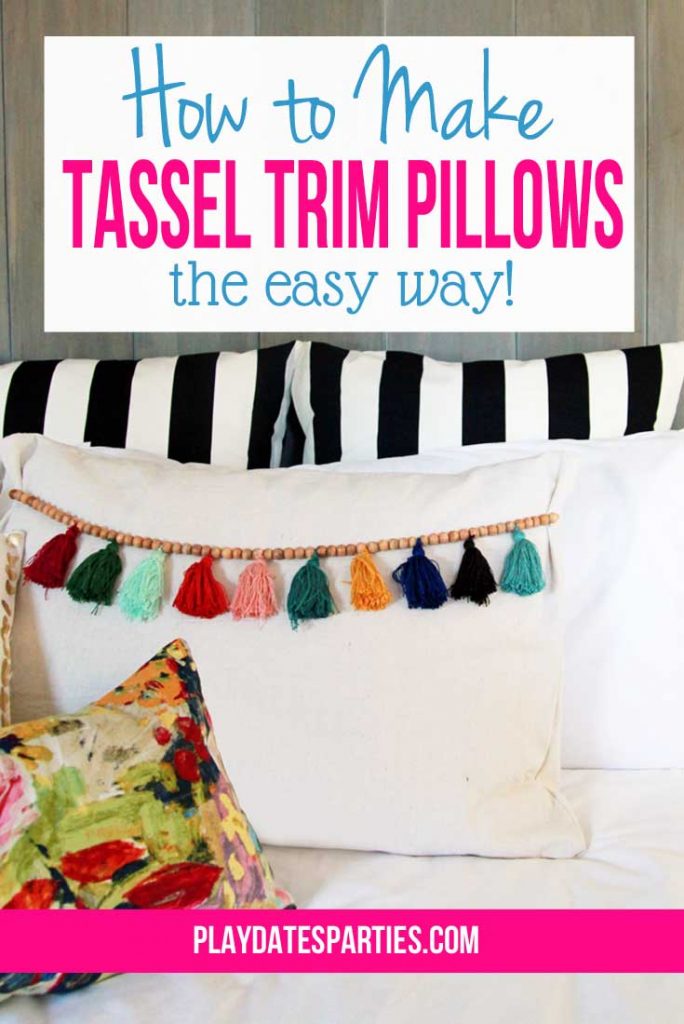 Tassels, tassels, everywhere!
Have you noticed all the fantastic tassel accents in the design world over the last couple years? It was the blankets with oversized tassels that first caught my eye. But these days, they're on just about everything you can think of.
But what if you're not sure you want to go all-in with this trend? Tassels are expensive. And when they're outdated in a few years, what will you do with all that decor?
Instead of spending loads of money on hyper-trendy tassel decor, why not pack a tassel-filled design punch with a couple pillows? It's so easy, it only takes a few minutes, and best of all, it doesn't have to cost an arm and a leg!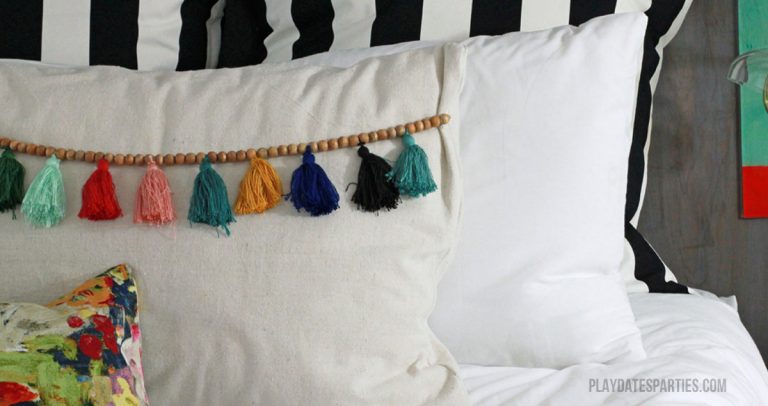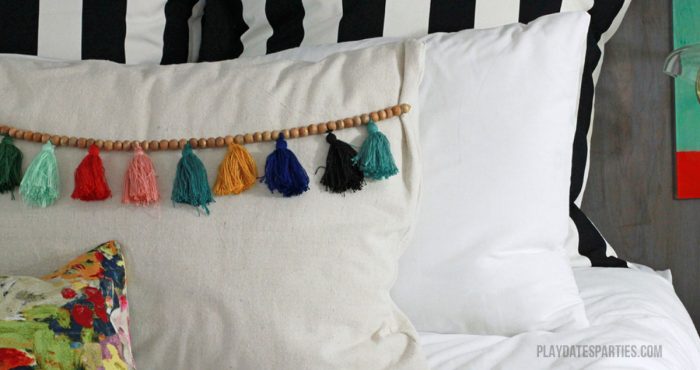 How to Make Tassel Trim Pillows…the Easy Way
Materials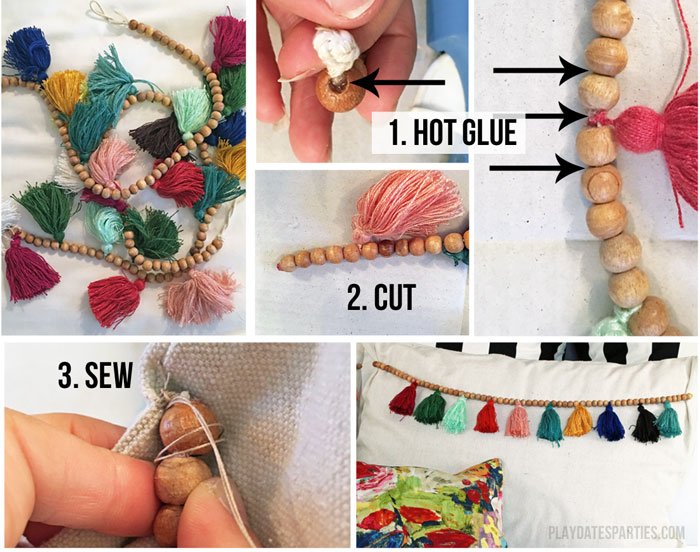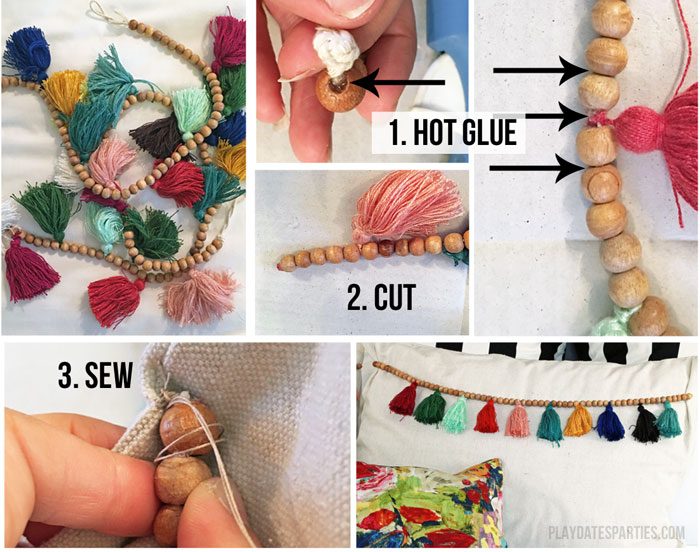 Directions
1. Start by measuring out your pillows to find out how long you need your tassel trim to be. Make note of where you will need to cut the garland.
2. Add hot glue to the center of each bead surrounding the cut points you identified and to the beads at the end of the garland. (I went a bit further and added hot glue between four beads on both sides of my cut point)
3. When the hot glue is cooled, carefully cut the garland to your desired length.
4. Thread a needle with heavy-duty beige or invisible thread. Carefully attach the cut tassel trim to one side of your pillow by stitching a loop around the garland, between the first and second beads. (Note: I later found out that I was basically using a blanket stitch, but only in one spot.)
5. Repeat the stitch on the opposite side of the pillow between the last two beads.
That's it! Fluff your tassels and garland as you like.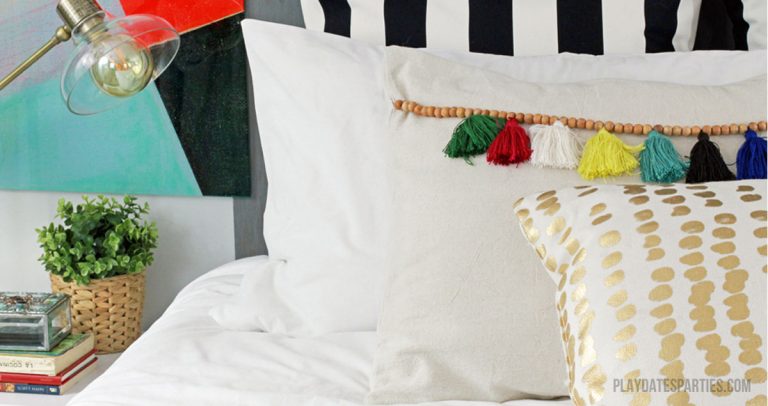 Things You Should Know:
1. Don't be shy with the amount of hot glue you use, it's vital to keeping everything together! The hot glue keeps the beads from falling off the garland after it is cut and also after the garland is attached to the pillow. Err on the side of too much, if necessary.
2. Longer pieces of garland will dip lower on your pillow once attached. However, they will also pull more on the sides of your pillowcase, causing it to wrinkle.
3. I chose to only attach the tassel garland to the outside edges of the pillow. The heavy-duty thread is pretty solid, but these pillows won't be abused by our kids like other pillows are. Be warned that adding this trim to a pillow in a public area might need a few extra stitches for strength.
4. The trim is attached to pillow cases I made out of bleached drop cloth that was leftover from a previous project. They work together beautifully.
5. Our standard size pillowcases used up all but about 4 inches of the 5-foot garland.
6. The distance between the hanging loops of the garland and the first and last tassels is wider than the distance between each of the remaining tassels. I decided to work with it, but you may want to adjust your cutting points based on that knowledge.
How Long Did it Take?
Two pillows took about 45 minutes from the time I started heating up the glue gun, to the time I placed the pillows on my bed.
How Much Did it Cost?
Tassel garland: $13
Hot Glue Gun & Hot Glue: On hand
Needle & Thread: On Hand
Total price: $13
Would I do it again?
Yes! The little bit of trim gives a lot of character to the pillows and to our bed overall. But tassels are hyper trendy. Since these tassels are only attached at the sides of the pillow, I know I can swap the trim out in a couple of years for something new.
Do you love the tassel trend?
Where would you add a tassel trim?
See the Rest of the Renovation:
Don't forget to share this post with your friends and family, and subscribe at YouTube, Facebook, and Instagram for more fun ideas and inspiration!

---
I want to extend many thanks to the readers who have enjoyed renovation and home DIY posts over the years. Unfortunately, in January 2018 I was diagnosed with Stage II breast cancer and had to stop doing home renovation posts due to treatment.
Since that time, my focus has been on making this website an amazing resource for the everyday mom's parties. Due to their popularity, the DIY posts and tutorials will remain on the website, but comments are now closed. Thank you again and I wish you the best in your DIY endeavors!