Stop making the same organizing mistakes over and over again. Read on to learn the smart way to clean out linen closet once and for all.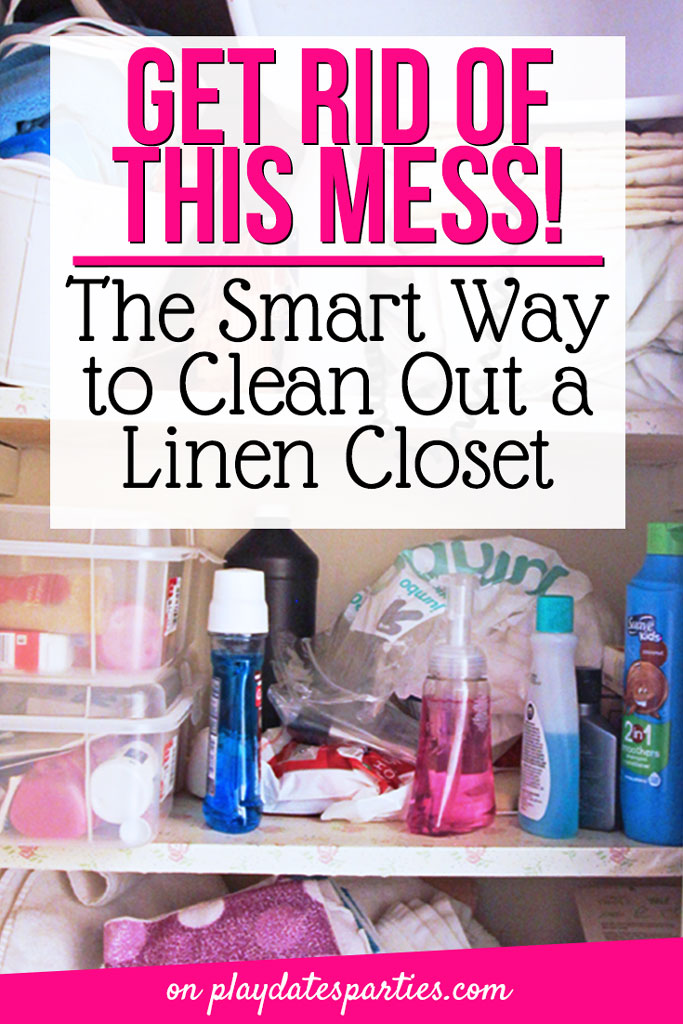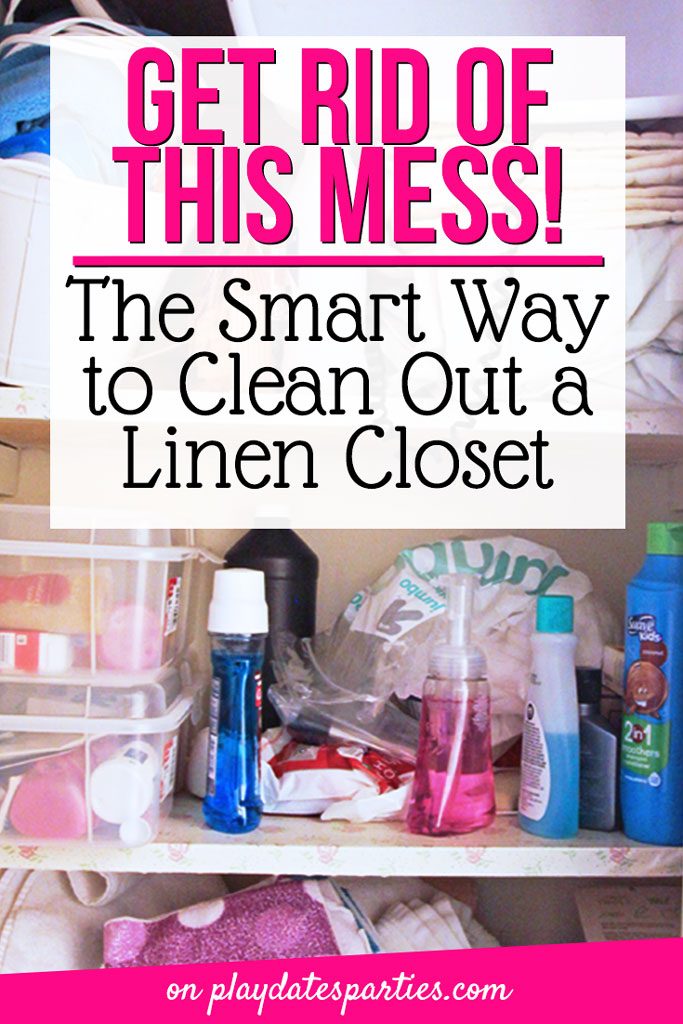 Whew, what a week!
In the last 9 days our family:
Flew to Denver,
Ended up the ER with the baby (for croup),
Drove on the outside edge of one the most dangerous roads in the United States,
Attended a wedding at a ski resort in southwest Colorado,
Missed our initial flight home by minutes, and
Were lucky enough to grab the last 5 seats on the next direct flight leaving immediately.
You would think that I would have just taken the week off from our linen closet renovation.
But no!
So much can get done with the right amount of determination.
Monday was officially purge day, and I couldn't wait to get my hands on clearing out the jumbled mess that has accumulated in our small linen closet.
But as excited as I am to get to the beautiful linen closet of my dreams, I didn't let my excitement get the better of me.
You see, I usually, I purge erratically.
One day, I decide I'm sick of the mess around me and just start throwing things out. But I wouldn't start with a clear vision for the final space. So I would just purge the old and useless stuff and then put everything else back without much rhyme or reason.
But this time, it's different. I took the crucial first step of creating a design vision, and it made a huge difference.
Now, I'm able to clean out linen closet the right way. And I'm so much more prepared for the final steps before our linen closet is completely done.
The Smart Way to Clean Out Your Linen Closet
1. Identify Your Design Plan and Goals.
I can't stress this enough.
Don't even start the next step until this first step is done because every other decision you make will be dependent upon your design plan. Skipping this step will almost guarantee that you will end up less satisfied with the end result.
Read more about creating the right design plan here.
2. Take everything out.
A good clean-out means you have to take everything out. And I mean EVERYTHING.
I know it's a lot. My entire dining table, sofa, and kitchen island were covered with junk after pulling it all out. But it's a critical step.
Emptying the closet helps you see it as a clean slate, and prevents distractions from the vision you created in step one.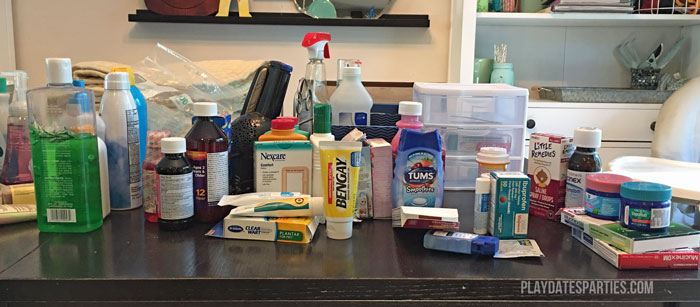 3. Throw out expired or useless items.
Grab a couple bags and start filling them with items that you no longer use and can't be donated. It might surprise you to find out how much junk is just sitting in your closet wasting space.
Note: Be sure to keep medications separate and to dispose of them properly.
4. Separate items to donate.
Even with five people in our family, we don't need as many towels as we had. It was just ridiculous.
Instead, we kept only two sets of bath towels per person, and an extra two for guests. That means 12 bath towels. Period.
I even found a set of bed linens that don't fit a single bed in our house. Why on earth keep those things?
Anything you don't keep, donate, recycle, or throw away. You probably won't miss it.
Tip: Be wary of holding on to towels and linens for repurposing. They often have a way of adding clutter to other areas of the home without ever getting used.
5. Identify items that need to be moved elsewhere.
There are always a few items that end up in a linen closet that could be stored somewhere else.
For example, we decided to keep bath towels in the bathroom and bed linens in the bedroom. This keeps those items where they are actually needed and keeps them out of our (very small) linen closet.
We also decided to move all the beach towels to a different storage closet. Since they only get used during the summer, there's no need to keep them in a closet we use regularly.
6. Sort remaining items according to your family needs.
Some categories are simple like the towels and sheets I mentioned above.
But other things need to be organized according to how your family is living. We keep more medicines and first aid in the linen closet than anything else, and they ended up being a huge source of clutter.
After clearing out whatever you won't bee keeping in your linen closet anymore, sort everything else into clear categories.
Here's what our family ended up with:
Holiday towels
Guest Towels
Spare soaps & large bottles
Nail Care
Cleaning Supplies
Outdoor Skin care: Sunscreen, bug spray, aloe
Allergy medications
Skin Care: Band aids, neosporin, skin powders, benadryl cream
Stomach care: Tums, Pepto Bismol, heartburn medications
Pain medication: Ibuprofin, Aleve, Acetaminophen
Cough & Cold: Vicks Rubs, cold medicine
Athletic Care: Heating pads, sports tape, Ben Gay, Ace Bandages
The categories for your family might be different. It all depends on your lifestyle, if you have kids, and so on.
7. Place categorized items in temporary storage and put together an organization plan.
If you're impatient like me, this is the hardest part of the whole process.
When I start a project, I want to get it done NOW. But trust me on this.
Don't start planning your organizational system until you've finished purging and organizing what you have.
If you do, you will either forget to plan for something, or you will plan to store something you don't really need.
The easiest thing is to use old shopping bags, small boxes, or gallon-size ziplock bags to keep everything organized. Then, figure out what the best type of storage is for each of those categories you identified above.
Take that information, and then go shopping! (Finally the fun part!)
8. Optional: Spruce up your closet with paint or decor
Since everything is out of your closet, you might as well clean it up a bit, right? Give your linen closet a fresh coat of paint to get rid of any smudges or spills that accumulated over the years.
Our Linen Closet Progress
I dedicated a couple days just to clean out linen closet.
Before
Before getting started, the linen closet was a disgrace. There was no organization. Junk was piled high, and even the shelves and walls were a mess. Talk about cringe-worthy: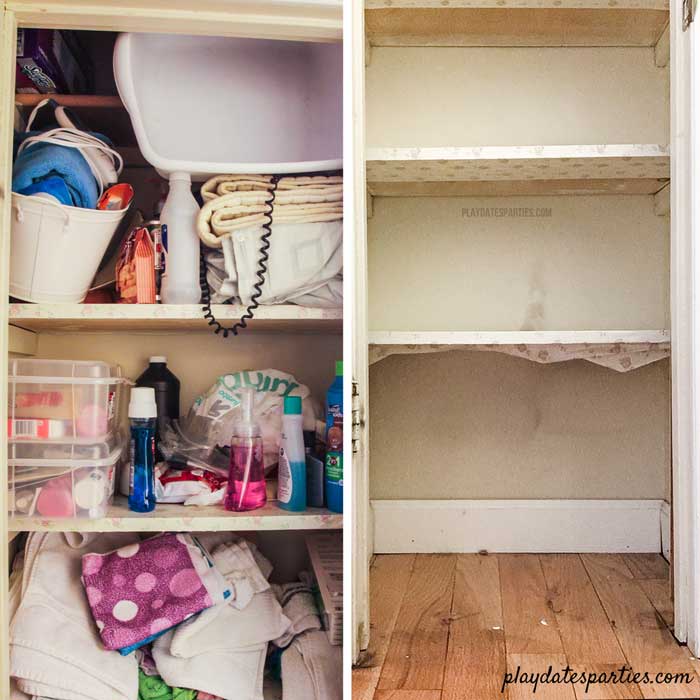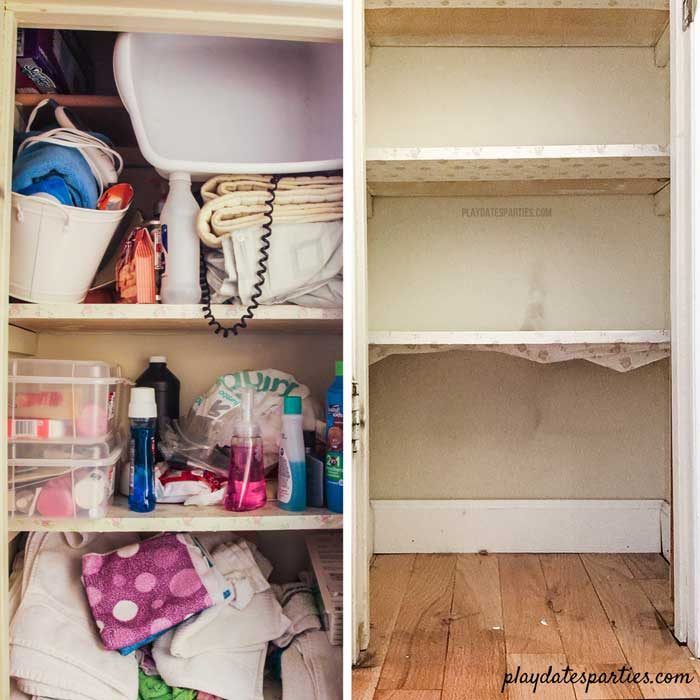 After Cleaning Out the Linen Closet
With a fresh coat of paint on the walls and the trim, it's just so much brighter!
You can see from these pictures that I've already done a little bit of shopping, but we're nowhere near done yet. That old contact paper definitely has to go.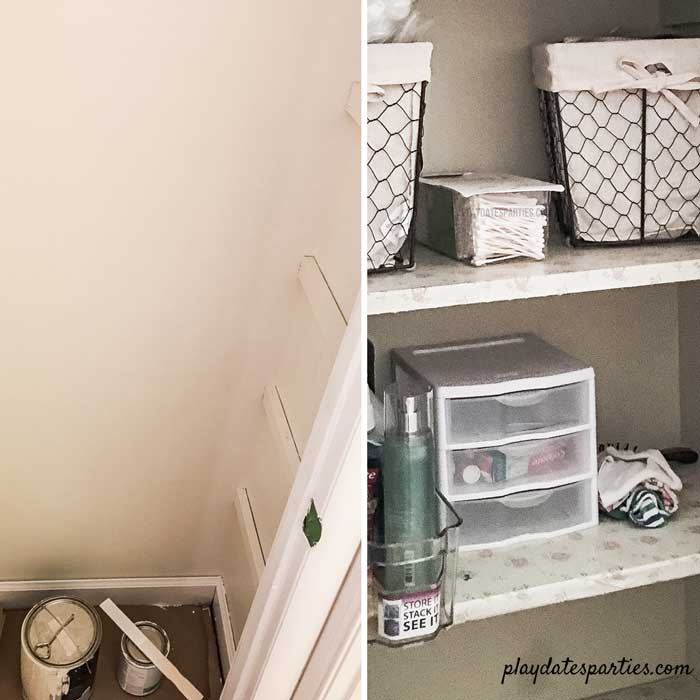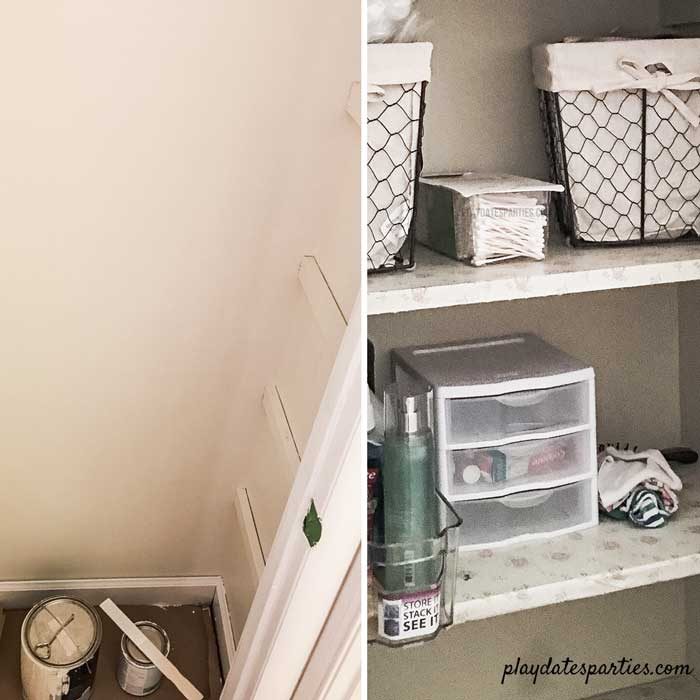 Now It's Your Turn
Hopefully you won't be hopping on a plane 3/4 of the way across country while cleaning out your linen closet. But if you do, you now see just how much you can still get done!
With these 7 steps (8 if you repaint), you will be on your way to a linen closet that isn't just cleaned out, but is functional for your whole family.
Do you purge with a plan or sporadically?
What color would you paint your linen closet?
See the Entire Renovation:
---
SaveSave
---
I want to extend many thanks to the readers who have enjoyed renovation and home DIY posts over the years. Unfortunately, in January 2018 I was diagnosed with Stage II breast cancer and had to stop doing home renovation posts due to treatment.
Since that time, my focus has been on making this website an amazing resource for the everyday mom's parties. Due to their popularity, the DIY posts and tutorials will remain on the website, but comments are now closed. Thank you again and I wish you the best in your DIY endeavors!
SaveSave