Want to make a Christmas appetizer wreath, but you're on a tight budget and don't know where to start? You might not be able to afford an expensive pre-made board, or all those specialty meats and cheeses, but you don't have to give up!
This easy to follow guide will walk you through creating your own charcuterie wreath using affordable ingredients like deli meats, cheeses, olives and other toppings. We'll show you how much of each ingredient is needed so you can plan ahead for your shopping trip or even just use what's already in your fridge. The result is sure to impress everyone at your party.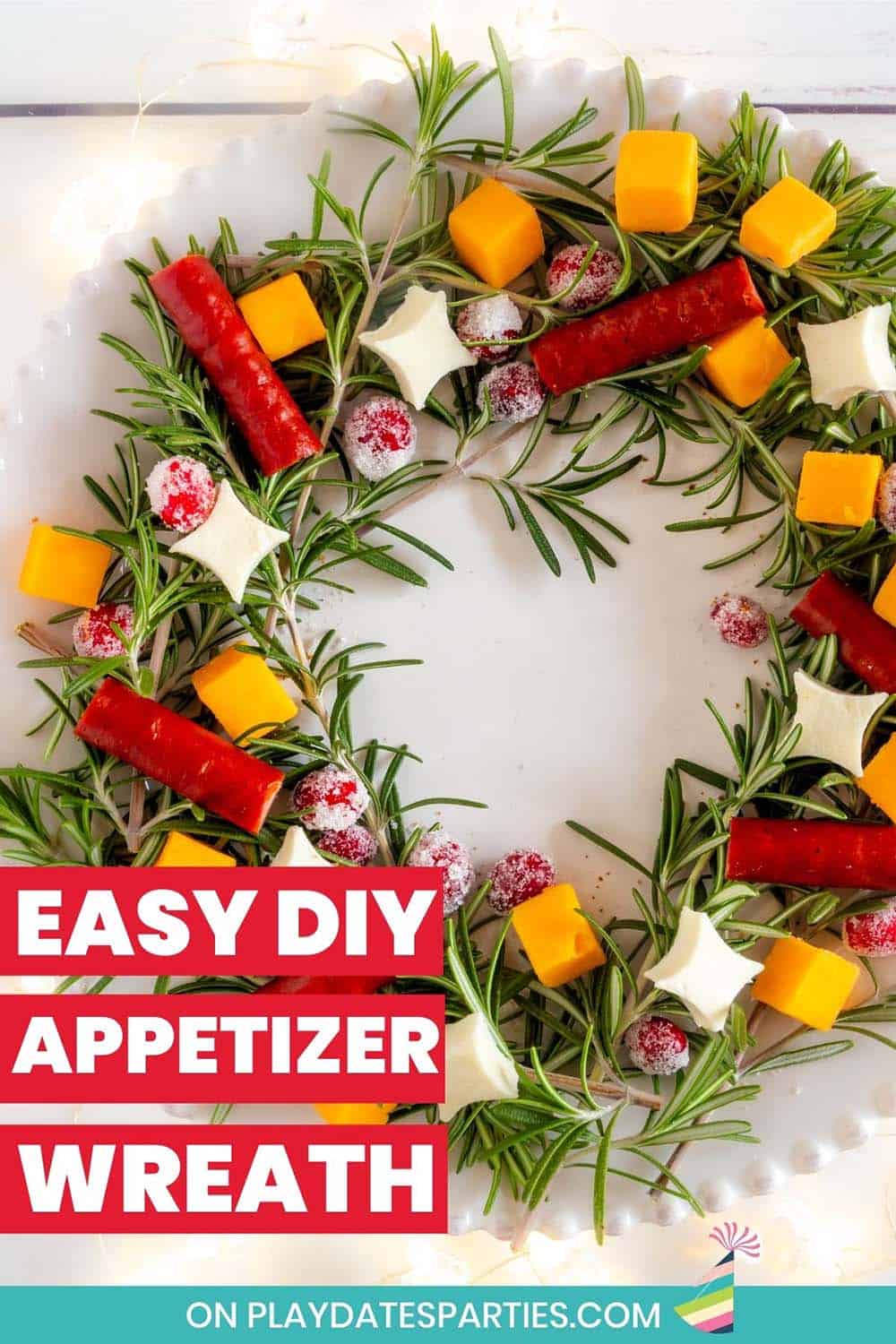 When I worked in catering, cheese boards were one of our staples. And then I started hosting parties of my own and quickly realized how expensive they can get!
This small plate version of a Christmas appetizer wreath is the perfect alternative to all those over-the-top charcuterie boards.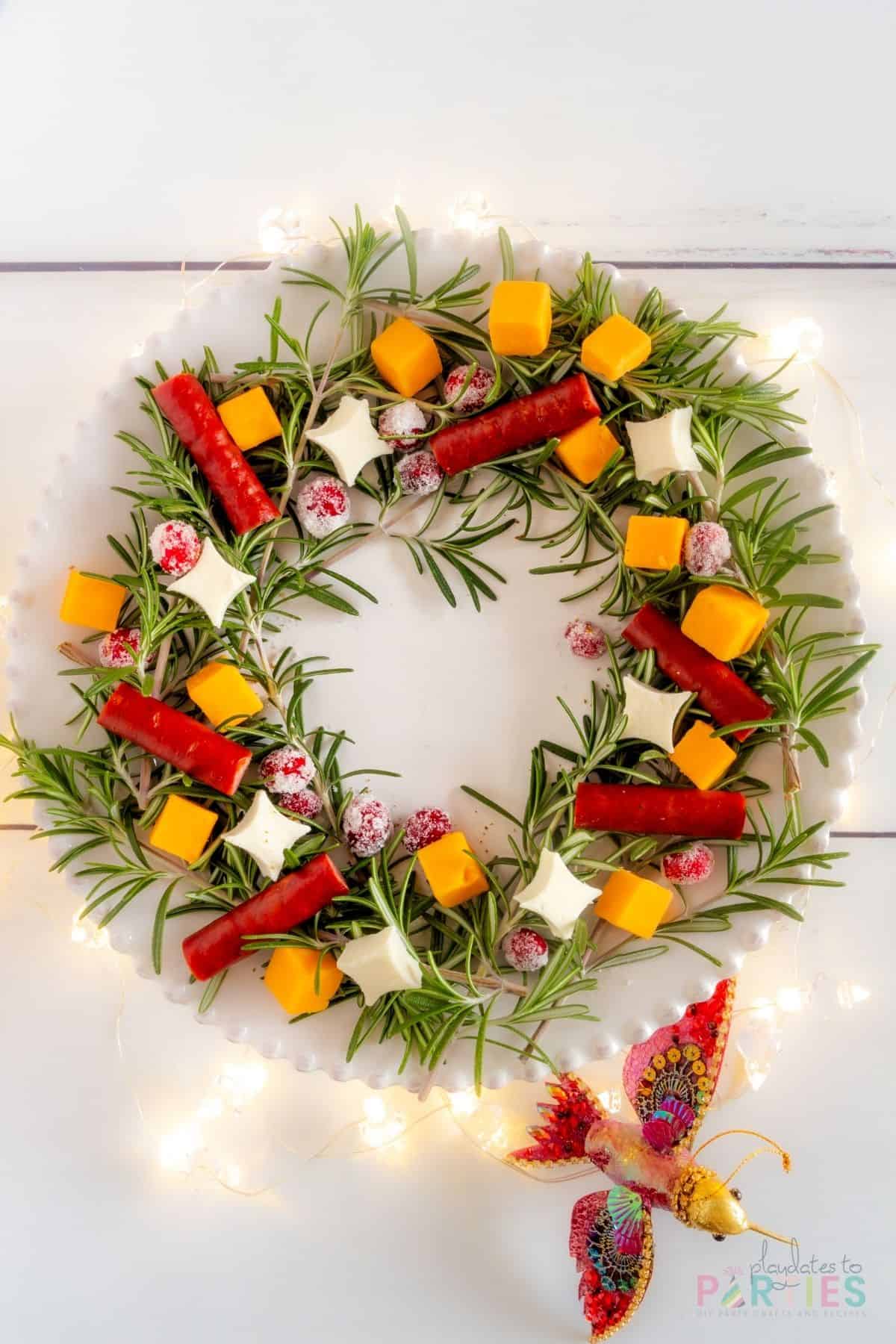 What You'll Need:
Ingredients:
Rosemary or leafy Greens
Fresh cheese (we used cheddar and mozzarella)
Deli meats and/or sausages
Colorful toppings (we used candied cranberries)
Supplies:
Round serving board or paddle board
Small cookie cutters (optional)
Tongs or forks for serving
How to Make a Christmas Appetizer Wreath on a Budget
You can add as much or as little to your Christmas appetizer wreath as you'd like. But if you're not careful, they can quickly overwhelm the budget. I shared the exact ingredients and measurements for our appetizer wreath in the recipe card below.
If you'd like to learn how to create your own unique appetizer wreath, here's a step by step guide to make your charcuterie board easy on your schedule and on your wallet.
Step 1 – Know your guest count
I love leftovers as much as the next girl, but this is not a place where you want to buy too much 'just in case'.
Our charcuterie wreath was just the right size as an appetizer for a small gathering of 3 or 4 people. (We had other appetizers too, so none of them needed to be very large.)
You'll want to make sure you use a good good Christmas planner like this one that includes party planning pages to help you keep track of how many guests you will have at your party.
Step 2 – Choose the right base
For most charcuterie boards, you'll be looking at using a wide, flat surface. But for a charcuterie wreath, I prefer to use a round board.
Because we weren't serving many people, a 12″ dinner plate was the perfect size for us. But if you're serving more people you might want to use a large round serving platter, or a paddle board like this.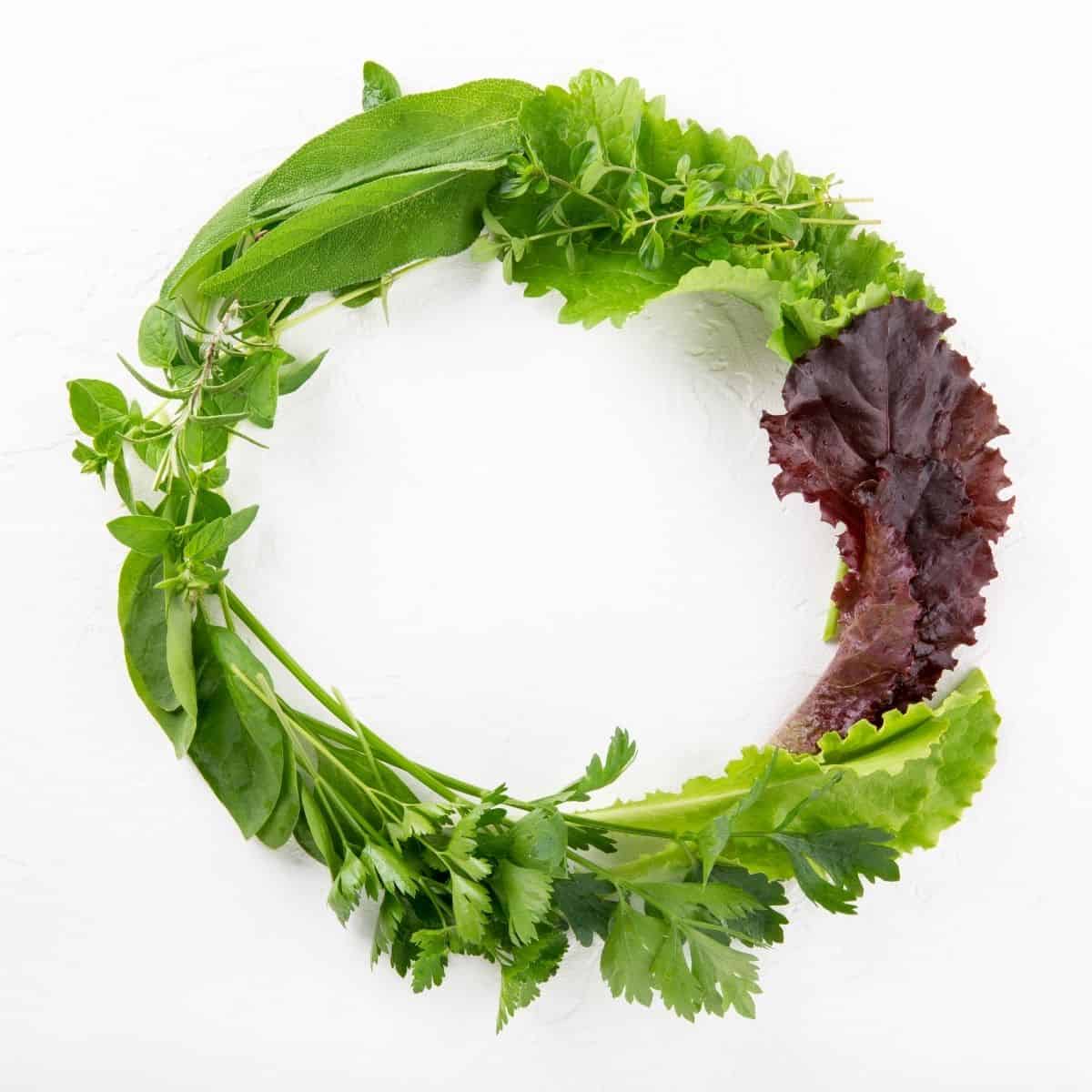 Step 3 – Make a ring with Low Cost Greens
We have a gigantic rosemary bush in our backyard, so it was the perfect budget choice to create the greenery for our wreath. But if you don't have fresh herbs in your garden, you can use any of these low cost options:
Green leaf lettuce
Curly kale leaves
Escarole
Swiss chard
Mustard greens
How much will you need?
These are all very ruffly, curly greens that are typically less than $3 per bunch – and one bunch should be more than enough!
How to Use it:
Create a thick circle of greens around the outside edge of your serving tray. Now you have a base for all the other tasty goodies.
Step 4 – Brighten things up with some Cheese
When you're serving charcuterie for a small group, you don't need to create massive piles of cheese and meat….which is great! That means you can have fun with your presentation.
Cheese cubes are easy and a favorite for kids
Fresh mozarella is an easy soft cheese to use. Slice it up and then cut it into smaller portions with a cookie cutter, or use mini snack-sized mozarella balls,
For larger wreaths, you can cut sliced deli cheese into ornaments or stars
Cut cheese slices into triangles and arrange them in to create a cheese bow.
How Much Cheese will you need?
Appetizer: Approximately 2 ounces of cheese per guest
Main course: 3 ounces of cheese per guest
How to Place the Cheese on the Wreath:
Option 1: Sprinkle small cheese cubes around the wreath, nestling them among your greens
Option 2: Make a purposefully lopsided wreath with your cheeses arranged all in one area of the wreath
Option 3: Create groupings of cheeses around the wreath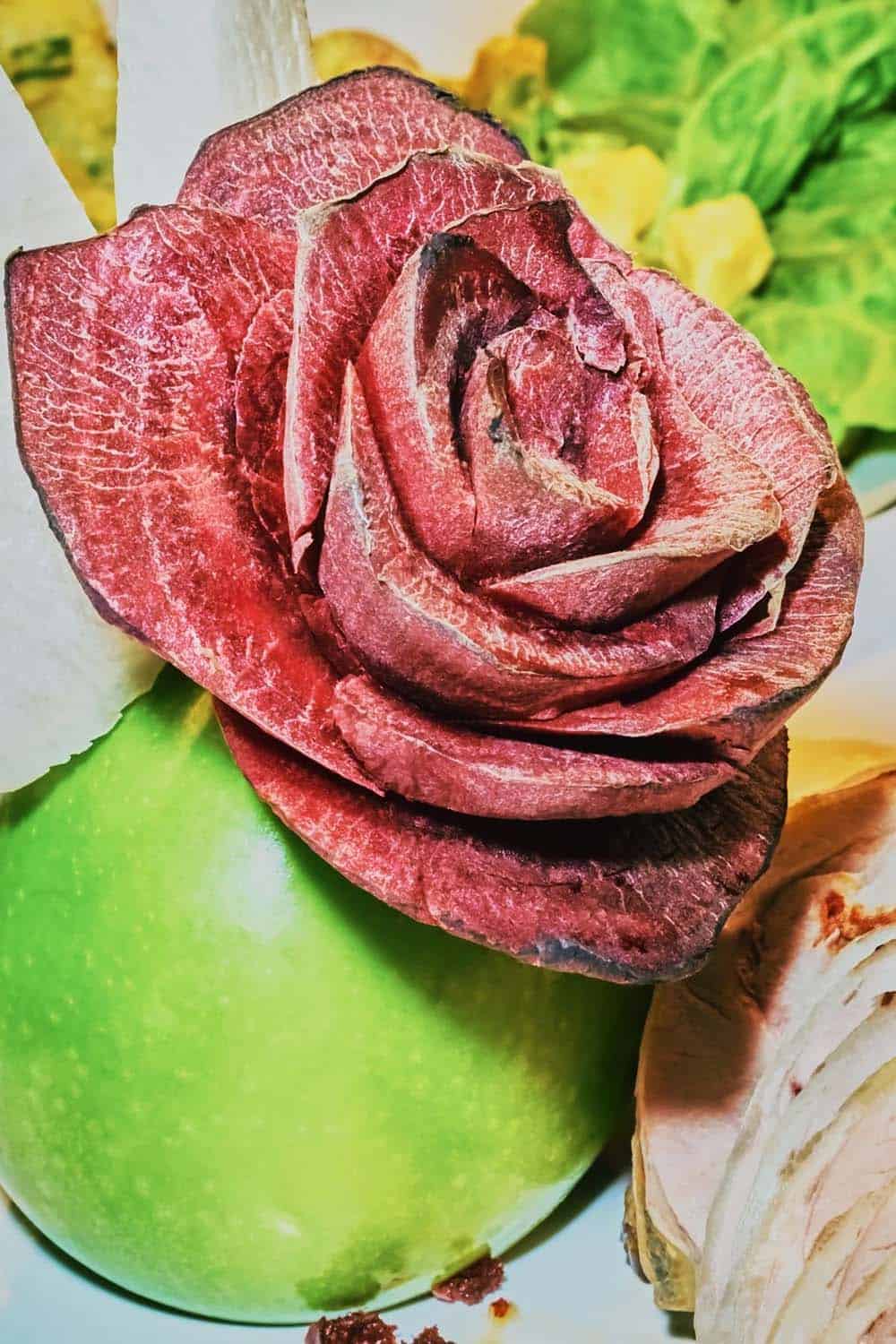 Step 5 – Add Your meats
It's not charcuterie without some kind of cured meat on your board! That said, there's no right or wrong with how you display your meats. Here are some ideas:
We used snack sized salami sticks (from Aldi!) to imitate ribbon wrapped around a wreath
The same effect could be made with rolled up slices of deli meat,
Up your game with salami roses. They're so pretty, and are easier to make than they look.
How Much Meat will you need?
Appetizer: Approximately 2 ounces of meat per guest
Main course: 4 ounces of meat per guest
How to Place the Meat on the Wreath:
Option 1: Layer your meat slices intermittently around the wreath. Make sure to let the greens show through.
Option 3: Create groupings of meat around the wreath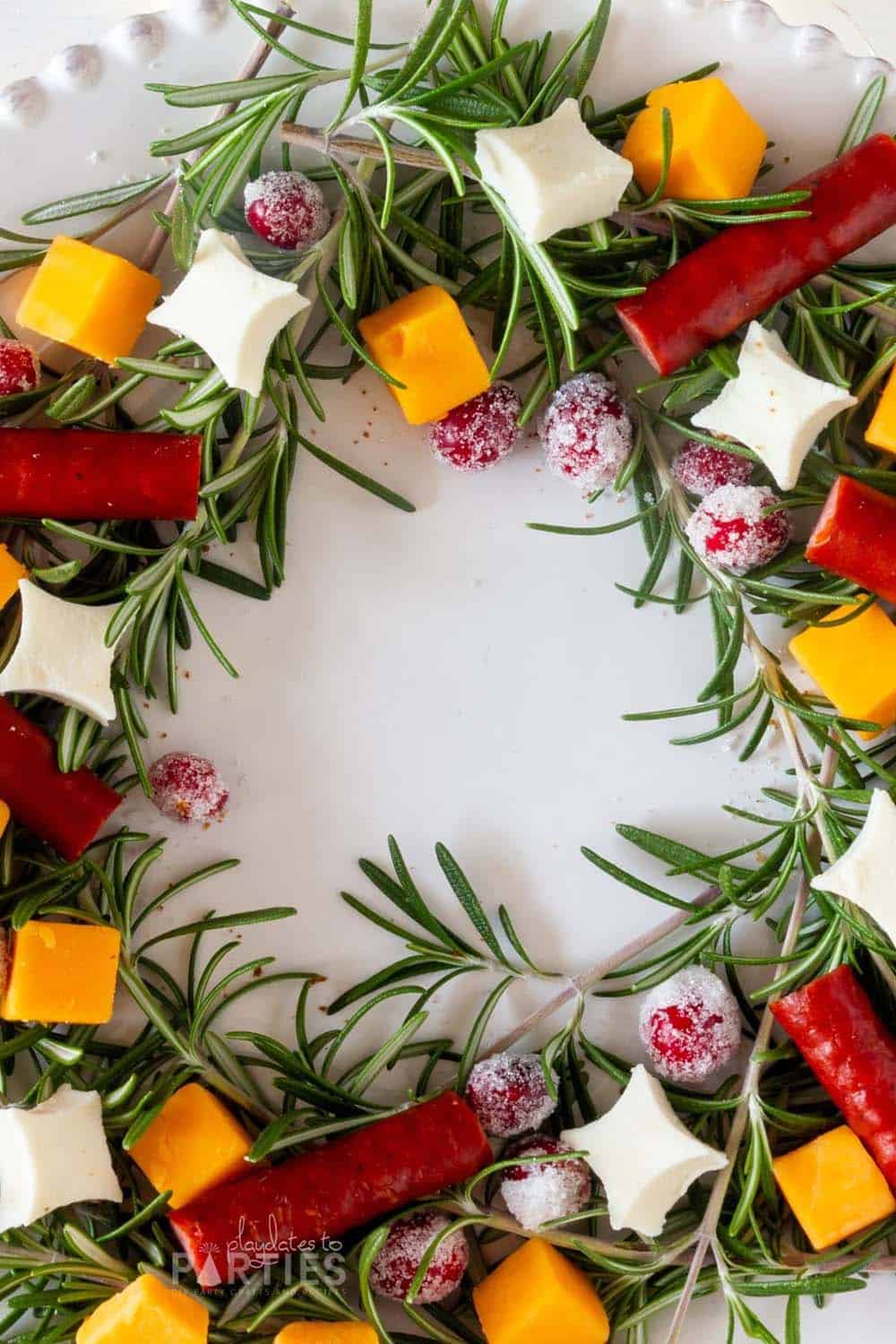 Step 6- Make it colorful with some extras
This is where you get to really make your charcuterie board shine. Sprinkle on a few treats to add a pop of flavor or texture. Here are some ideas
Candied cranberries are beautiful and look like frosted holly berries, or
Sprinkle some pomegranate seeds around your wreath for color
Candied pecans or other nuts give something to crunch on
Fresh fruits like grapes and orange slices are easy and seasonal,
Add in a few stuffed olives or mini peppers to break up the richness of the meats and cheeses
A few apple roses with puff pastry would also be unexpected, but beautiful.
How Much will you need?
Appetizer: Approximately 2 ounces of fruits and vegetables per guest
Main course: 3 ounces of fruits and vegetables per guest
How to Use It:
Option 1: Sprinkle the extras around the wreath between the meats and cheeses
Option 2: Create groupings of fruits and vegetables in a few spots around the wreath for a big pop of color
Want more ideas for tasty treats to add to your charcuterie board? I shared a list of 20 ideas with our Heart shaped Valentine's Day charcuterie board.
Step 7 – Optional: Finish the Christmas Appetizer Wreath with Crackers or bread
Sure you can eat meats and cheeses all by themselves, but they're so much more satisfying with a crunchy carb to go with it.
We made toast points with a few spare bits of sandwich bread
Crackers are always a crowd pleaser
Slice up a french baguette for a more upscale option
How Much bread will you need?
Appetizer: 4 ounces of bread or crackers per guest
Main course: 7 ounces of bread or crackers per guest
How to Place the Bread:
Option 1: Place the bread or crackers in the middle of the wreath
Option 2: Use rows of crackers to create 'ribbons' around the wreath
Option 3: Place the bread in a bowl or tray to the side of your charcuterie wreath.
If you liked this budget friendly Christmas appetizer wreath, you're going to love my edible ornament shaped cheese ball for Christmas. Not only is it delicious, your guests will be in awe at the 3 dimensional shape and colorful pesto ribbons.
Or you can check out my other appetizer recipes right here.
Yield: 1 Christmas Appetizer Wreath
Budget Friendly Christmas Appetizer Wreath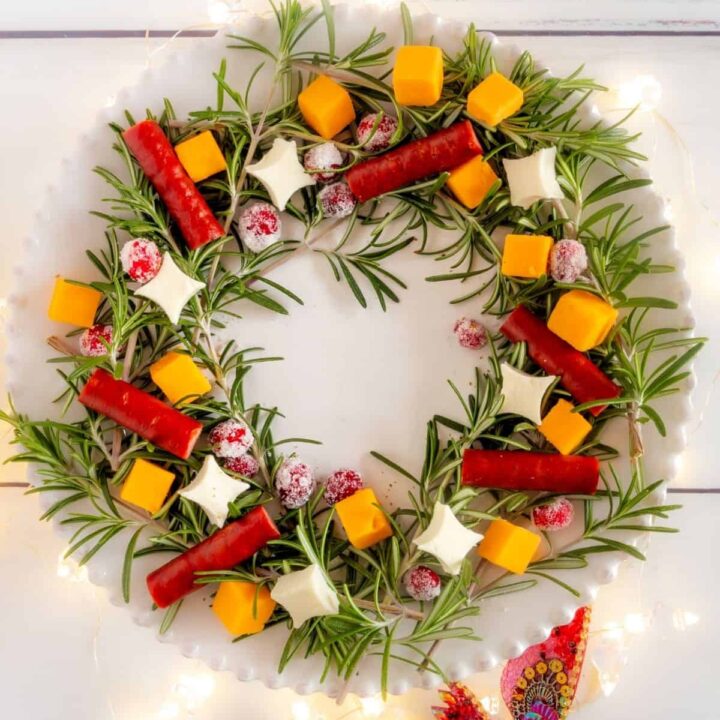 This holiday season, why not set out something special for your guests instead of the usual boring cheese plate? Follow this easy step by step guide to create an inexpensive Christmas appetizer wreath that your guests are sure to love.
Ingredients
1-2 bunches fresh rosemary
6 ounces fresh mozzarella
6 small sausage sticks
6 ounces cubed cheddar cheese
1/3 cup candied cranberries
10-12 crackers, optional
Instructions
Slice the fresh mozzarella and cut it into cute shapes with a mini cookie cutter. Cut the sausage sticks in half.
Arrange the rosemary sprigs in a circle on a 12 inch plate or round paddle board.
Sprinkle the cheese cubes and mozzarella pieces around the wreath, nestling them among the rosemary sprigs.
Arrange the sausage sticks around the wreath as though it's wribbon wrapped around the wreath.
Sprinkle candied cranberries around the wreath for color.
Optional: Place crackers, sliced bread or toast points in the center of the wreath.
Notes
Don't forget, the recipe post has much more detail and inspirational photos to help you build your perfect charcuterie wreath - including the full process, more ingredient ideas, and ways to change up the look of your wreath.
To calculate portions for your situation:
As an appetizer:
Cheese: 2 ounces per guest
Meat: 2 ounces per guest
Fruits & vegetables: 2 per guest
Bread & crackers: 4 ounces per guest
As a main course:
Cheese: 3 ounces per guest
Meat: 4 ounces per guest
Fruits & vegetables: 3 ounces per guest
Bread & crackers: 7 ounces per guest
Recommended Products
As an Amazon Associate and member of other affiliate programs, I earn from qualifying purchases.
---