Cranberry sauce is a must-have on your Thanksgiving table. Instead of buying it from the store, make this easy homemade cranberry sauce with orange juice for a from-scratch experience that is sure to please!
We've tested and tweaked this recipe for over 10 years, and it's become a family favorite – and I hope it becomes your favorite too.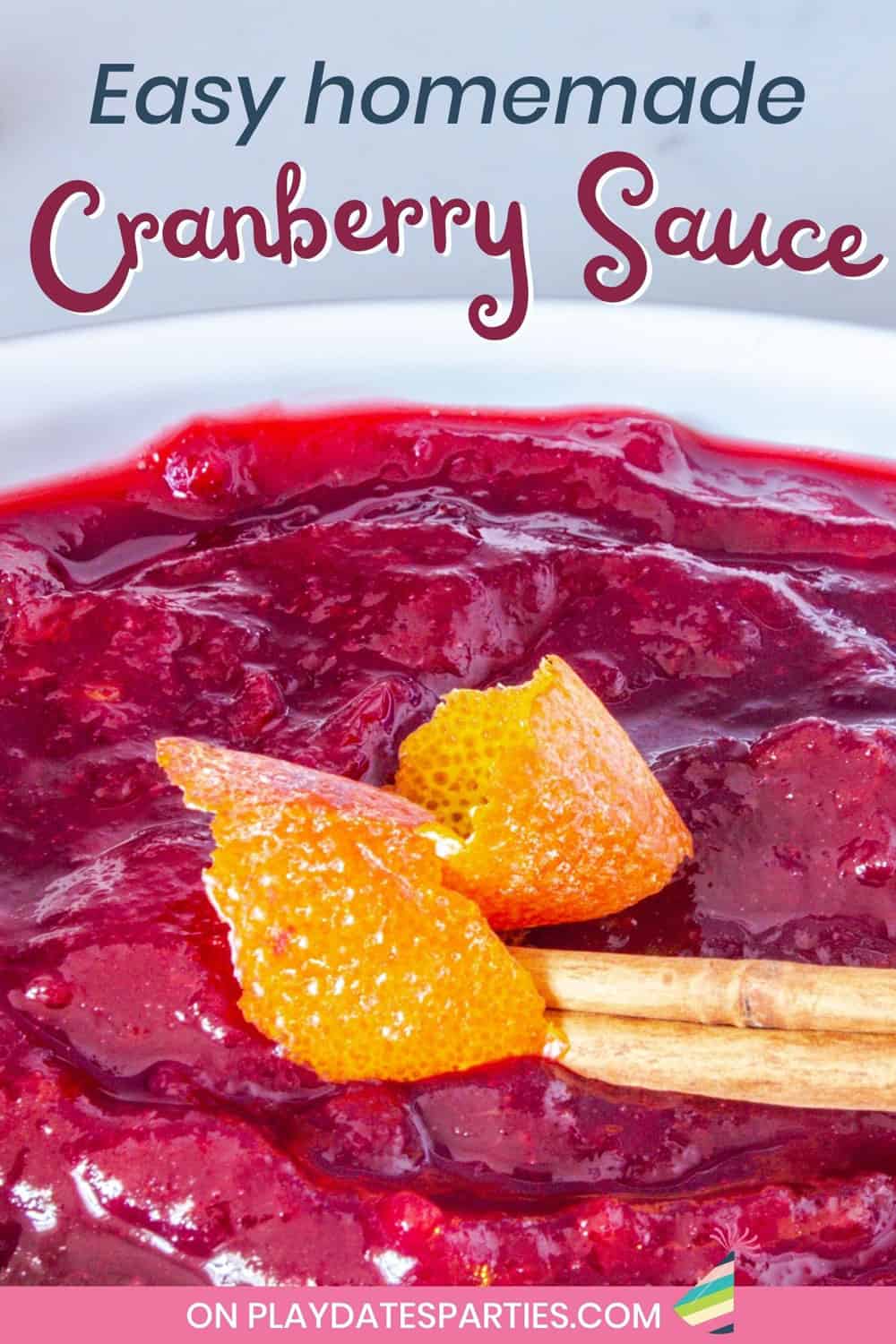 What makes this homemade cranberry sauce so special?
We all know you can buy the canned jelly from the store, so why bother with homemade?
A combination of white and brown sugar creates a more interesting taste with just enough sweetness.
This recipe is best made a day or so before. That way it won't take up any time on Thanksgiving Day.
You can choose how thick or thin and smooth or chunky your sauce gets. So you'll never be disappointed with the texture of your sauce.
You control the ingredients! That means you can avoid too much added sugar and preservatives that might be hidden inside that canned jelly.
What You'll Need:
Ingredients:
White sugar
Light brown sugar
Orange juice
Water
Fresh cranberries
Orange
Whole cinnamon stick
Supplies:
2 quart pot or saucepan
Wooden spoon
Microplane, or grater
Measuring cups
Step-by-Step Directions:
To make things even easier for you, I created a simple photo guide below. For all measurements and a more detailed guide, check out the recipe card at the bottom of this page.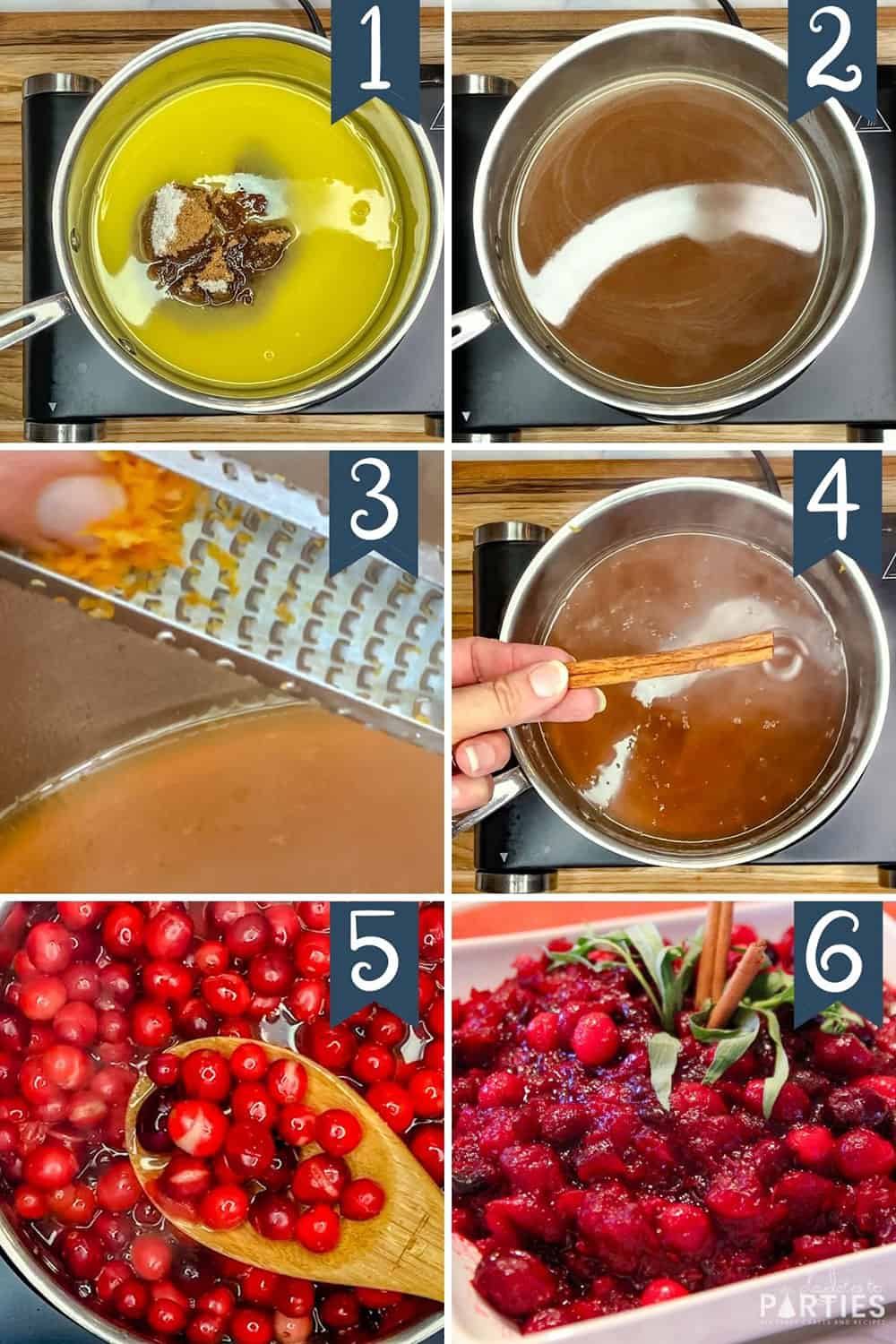 Step 1 – Add sugars, orange juice, and water to a saucepan.
Step 2 – Stir until the sugars are dissolved.
Step 3 – Zest orange peel into the syrup
Step 4 – Add cinnamon stick to the pot
Step 5 – Add cranberries and cook until they start to pop.
Step 6 – Remove from heat and transfer sauce to a bowl to let it thicken.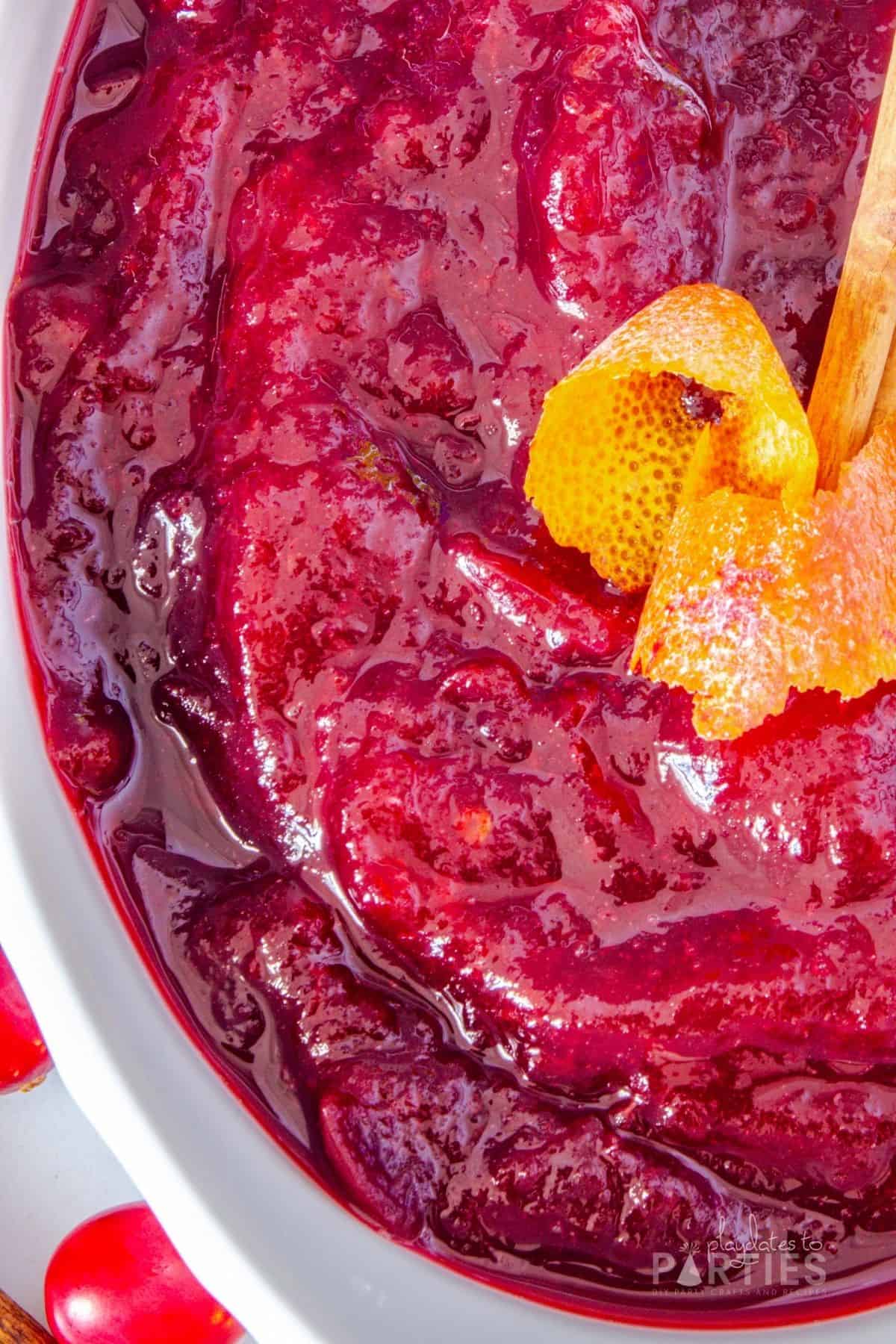 Essential Tips:
Don't skip these tips – read them before baking to avoid any potential mistakes.
Spices for Cranberry Sauce
I love the classic combination of cinnamon and orange in our easy homemade cranberry sauce, but if you want to change things up a bit, here are a few other spices that work well with cranberries:
Ginger will add a sharp spiciness which is fantastic if you have an older, more adventurous crew.
Cloves are one of my favorite ways to add a subtle warmth and sweetness. (you'll find a dash of cloves in most of my cookie recipes)
Allspice is more pungent than cloves, and will add a more peppery flavor to your sauce
Nutmeg is another sweet spice that instantly makes us think of the holiday season.
Just remember, that if you use whole cloves or allspice, you will want to put them in a bouquet garni or a reusable tea bag so you can pull them out before serving. No one wants to bite down on a hard seed during Thanksgiving dinner.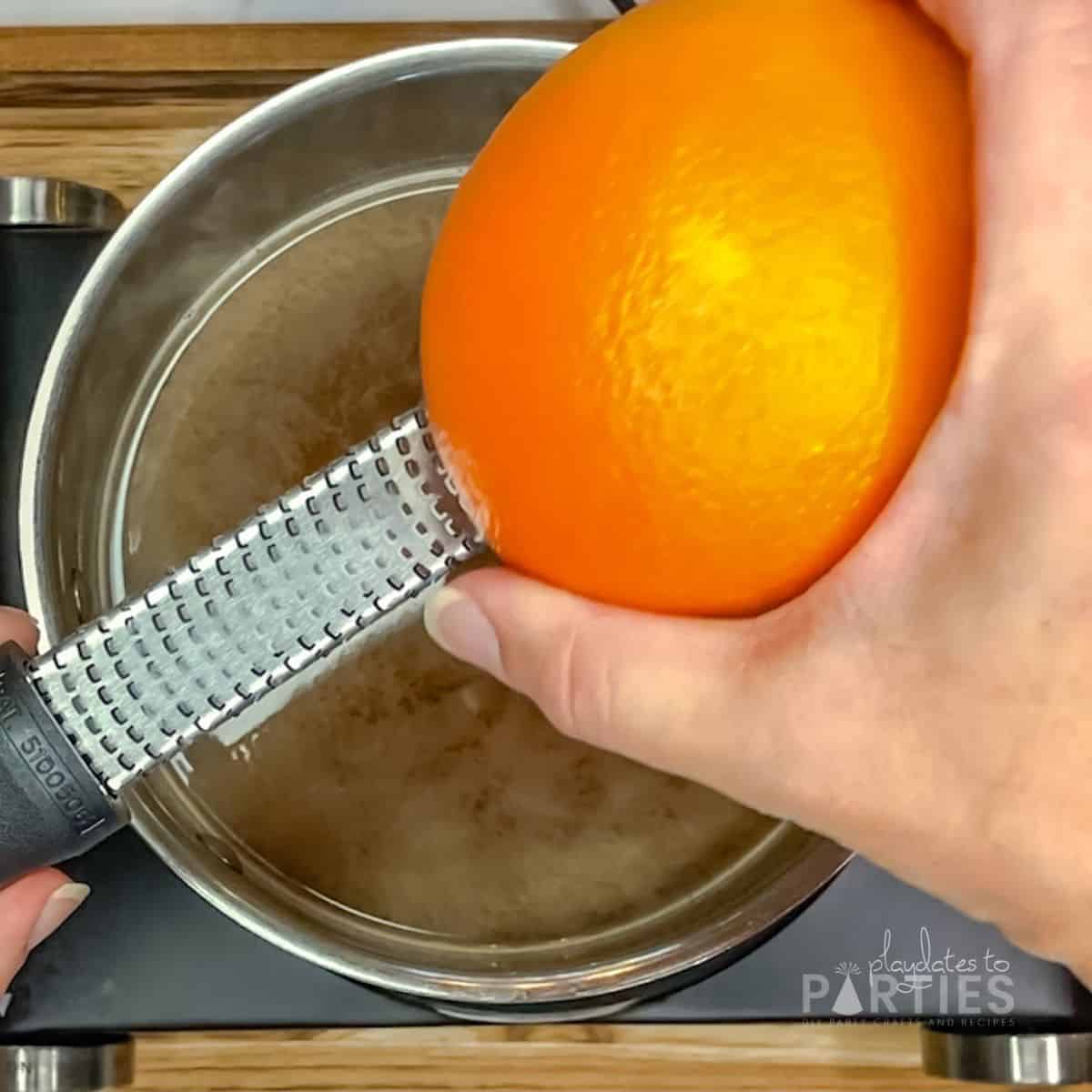 Use a microplane to zest the orange
Our long microplane is our favorite way to zest citrus for recipes like this. It makes the bits of orange peel nice and tiny so the orange flavor really shows through in the cranberry sauce.
If you don't have whole cinnamon stick
You can use up to 1/2 teaspoon ground cinnamon in place of the cinnamon stick.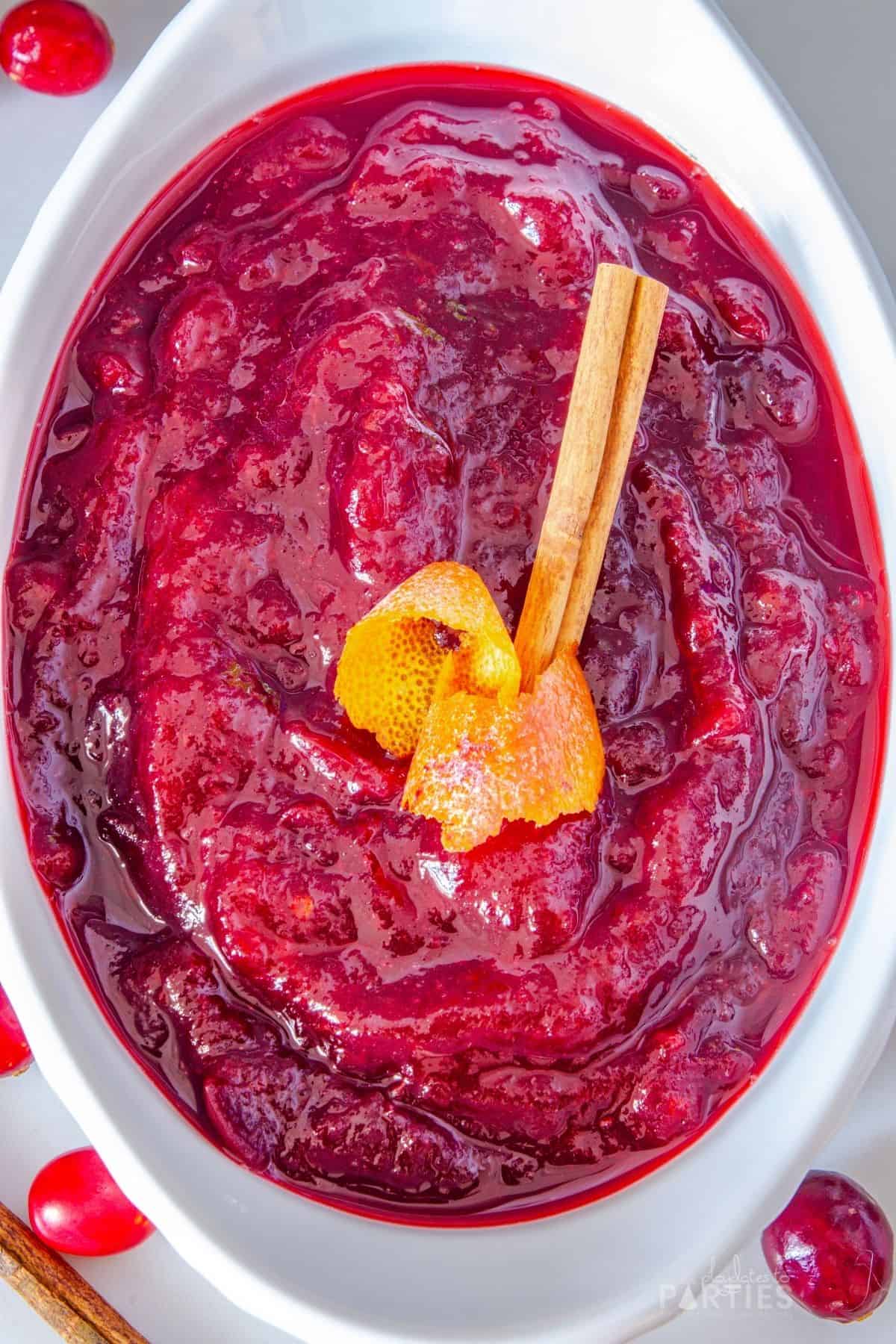 FAQs:
Can I freeze homemade cranberry sauce?
Yes! Pack it in an airtight container (I like to use a ziplock bag) and keep it in your freezer for up to two months.
After two months, the texture will start to break down, but it will still be safe to eat. At that point the sauce is best for using in other recipes (see some ideas below).
How much fresh juice should I substitute?
If you want to reduce added sugar, you can use the juice from one half to one whole orange (depending on size). Tip: juice the orange directly into a liquid measuring cup to double check measurements.
How to thicken homemade cranberry sauce
The sauce will naturally thicken as it sits, but to ensure that it's nice and thick, continue heating the cranberries an extra minute or two after the first berries start to pop.
If you still have problems with your sauce being too thin, this forum offers a couple good options depening on how much time you have before serving.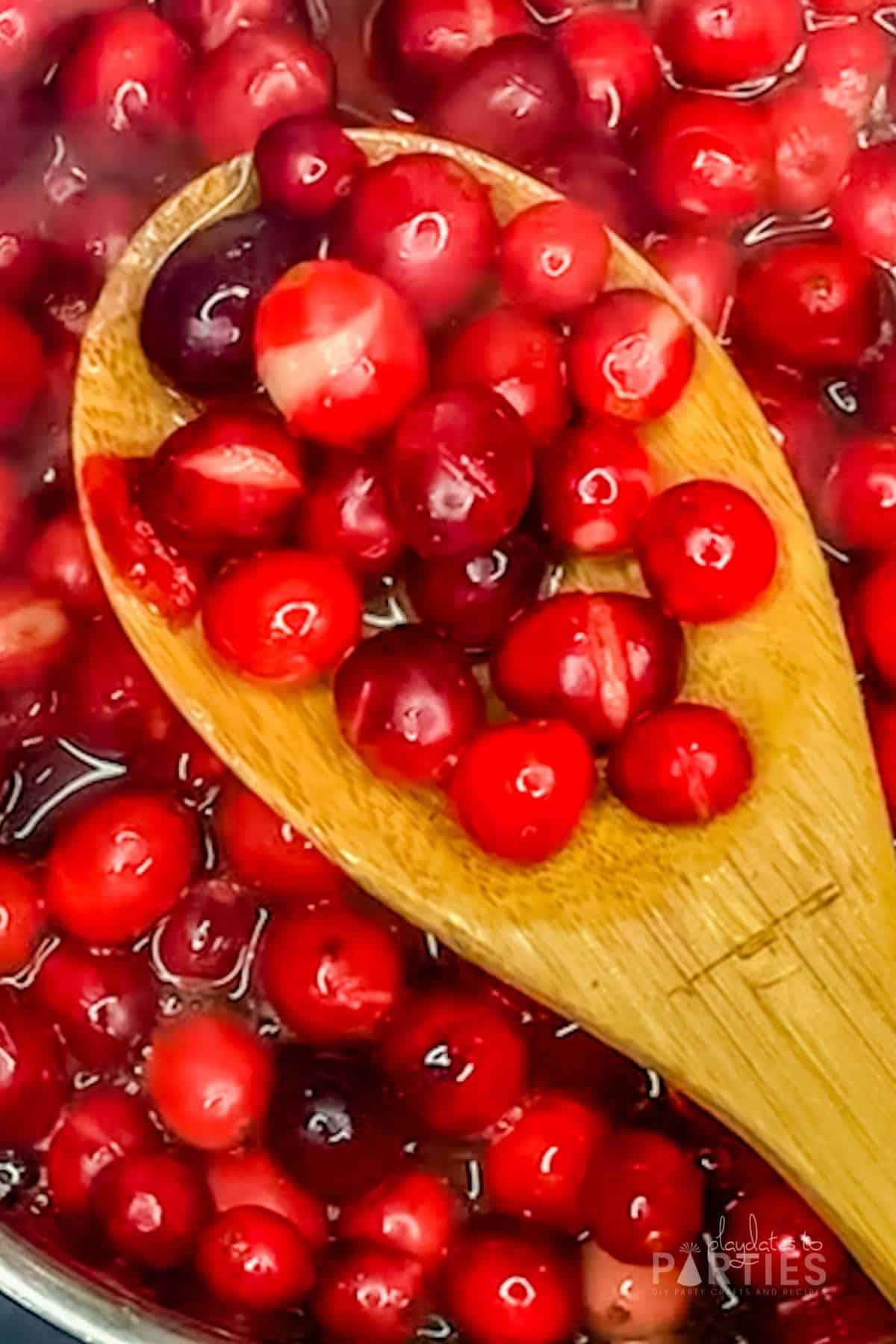 What can you make with Cranberry Sauce?
Cranberry sauce with orange juice is a fantastic ingredient in other recipes.
Of course, it's always delicious in a leftover turkey sandwich, but we've used homemade cranberry sauce to make cranberry brie bites, and as a cream cheese topping for holiday parties.
I've also seen leftover cranberry sauce used as a filling for other desserts like cookies, oat bars, and hand pies.
Tips for Garnishing Your Cranberry Sauce
There are a lot of easy ways to garnish your cranberry sauce, but my best recommendation is to use the fresh produce, spices, and herbs you probably already have on hand. Here are some ideas:
A whole cinnamon stick is always a festive addition
Fresh green rosemary sprigs or sage leaves contrast beautifully with the bright red sauce.
Use a vegetable peeler to create citrus curls from the peel of another orange. (or steal some citrus curls from your bar setup)
If you really want to impress, you can also add a few candied cranberries on top right before serving.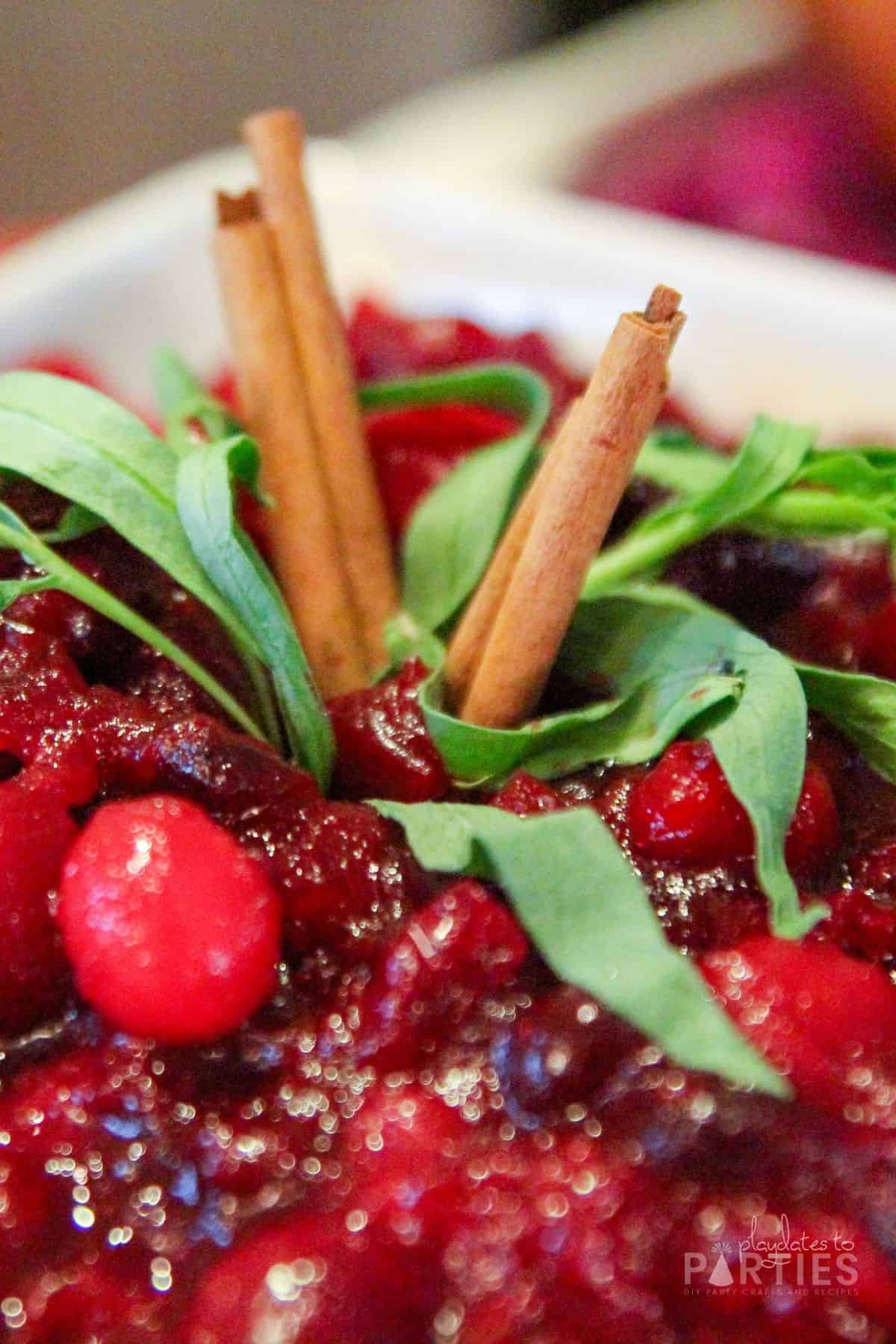 If you liked my easy cranberry sauce with orange juice, you're going to love my tried and true Thanksgiving recipes. Those are the recipes that we keep going back to year after year.
Or you can check out all my Thanksgiving ideas right here.
Yield: 8-12 servings
Easy Homemade Cranberry Sauce with Orange Juice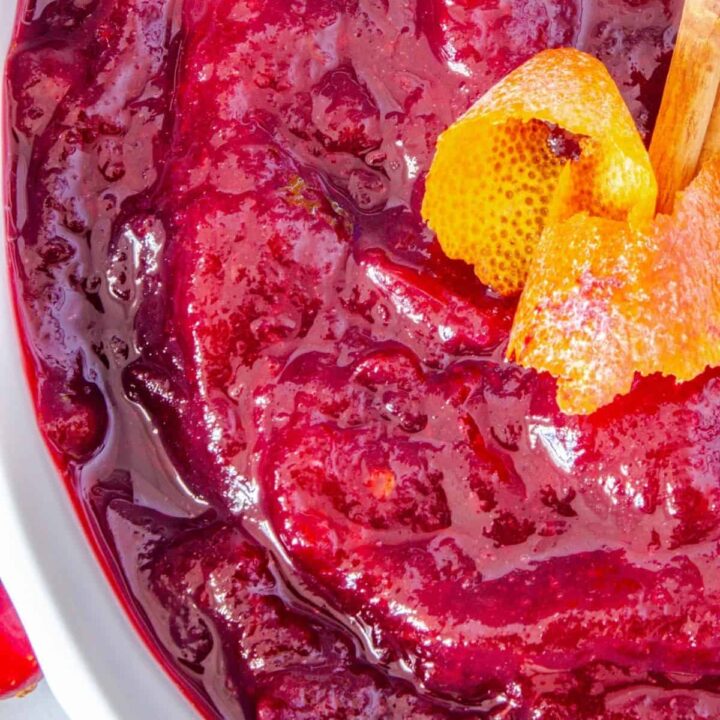 Looking for an easy homemade cranberry sauce with orange juice that's perfect every time? Your family will love this simple time-tested recipe.
Ingredients
1/2 cup white sugar
1/2 cup light brown sugar
1/2 cup orange juice (juice of 1 orange?)
1/2 cup water
12 ounce bag fresh cranberries
Zest of 1/2 an orange
1 cinnamon stick
Instructions
Add 1/2 cup white sugar, 1/2 cup light brown sugar, 1/2 cup orange juice, and 1/2 cup water to a medium (2 quart) saucepan.
Stir over medium heat until the sugars are dissolved, about 3-5 minutes
Stir in orange zest and cinnamon stick.
Add the cranberries to the pan and continue to cook over medium heat, stirring frequently, until the cranberries start to pop, about 5 to 10 minutes.
Remove from heat and place sauce in a bowl. The sauce will continue to thicken as it cools.
Notes
Don't forget, the step-by-step photos in the recipe post are there to help you if you feel stuck on any of the techniques.
Feel free to experiment by adding other spices like ginger, cloves, nutmeg, and allspice. (Just make sure to test it before Thanksgiving day)
For a thicker, less chunky sauce, allow the cranberries to cook until most of the cranberries have popped.
Fresh cranberry sauce can be frozen for up to two months. After two months, it will still be safe to eat, but is best used as an ingredient in another recipe.
Recommended Products
As an Amazon Associate and member of other affiliate programs, I earn from qualifying purchases.
---