I have a soft spot for kids with winter birthdays. Even though all of our children were born during the summer months, the Husband and I have many family members with winter birthdays. And we can always tell that the parents of young children with winter birthdays are extra stressed. Can we find a place to have the birthday party that we haven't been to a dozen times already? Will the weather hold out? If I have the party at home, will my house get wrecked by stir-crazy children?
Parents of winter babies, I feel for you.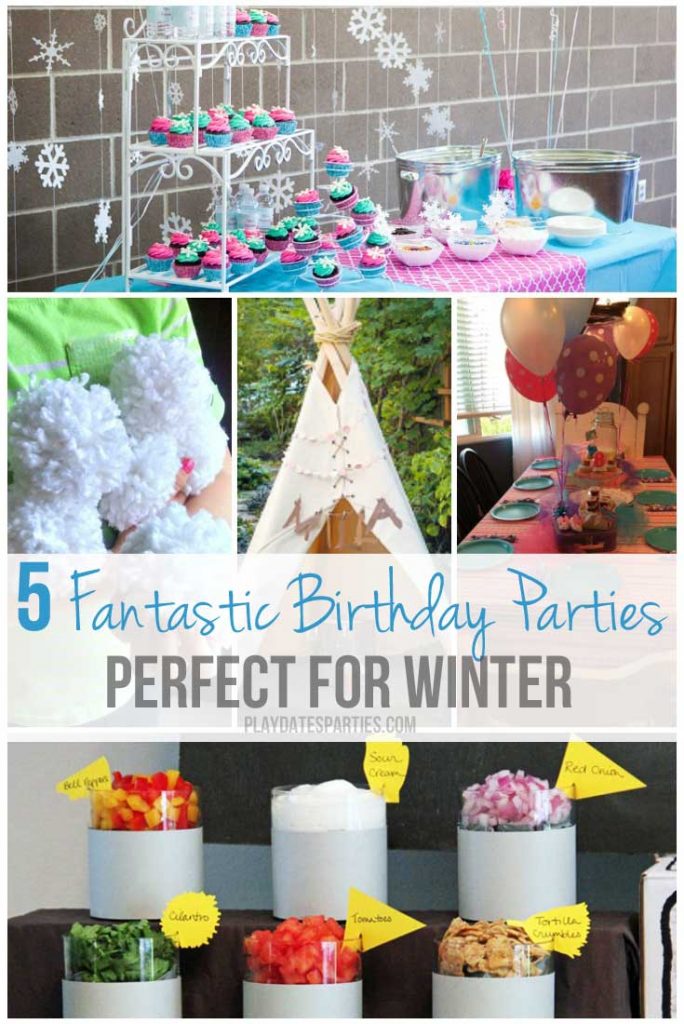 But don't get stuck thinking you have to stick to Winter Wonderland and holiday party themes, just because your kids' birthday is in the dead of winter. Here are a few fun ideas that would be fantastic for any kid with a winter birthday.
5 Fantastic Birthday Party Themes Perfect for Winter
Come take a look at these 5 fantastic #kids #party themes perfect for winter birthdays!
Click To Tweet
Indoor Camping Party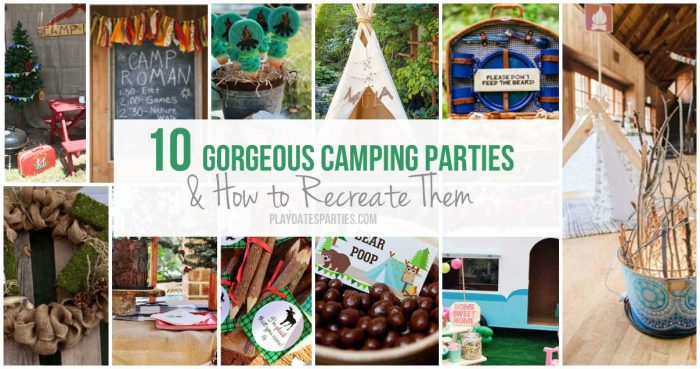 How fun would this be? You can turn your living room into a campground with teepees, plenty of faux greenery, and a fake fire pit. Let the kids make indoor smores, drink hot chocolate, and munch on camping themed snacks.
To make it even more memorable, close the curtains, turn down the lights, create a starry scene with a  star light projector and have the kids tell scary stories around the fire pit. They'll be talking about the party for weeks!
Indoor pool party
It's easier to host an indoor pool party than you realize. If your neighborhood association doesn't have an indoor pool, you can see if your county or a local swim school has an indoor swim facility that can be rented.
Indoor pool parties are less about decor and all about fun, so you just have to show up with some fun snacks, and a few creative decorations. Above you can see some pictures of T attending an indoor pool party when she was about 2-years-old (with a fun pirate twist), and this adorable Swimsuits and Snowballs party found in the Project Nursery archives.
Of course, if you're lucky enough to live close to an indoor water park, then you can go as simple or extravagant as you like!
Winter Olympics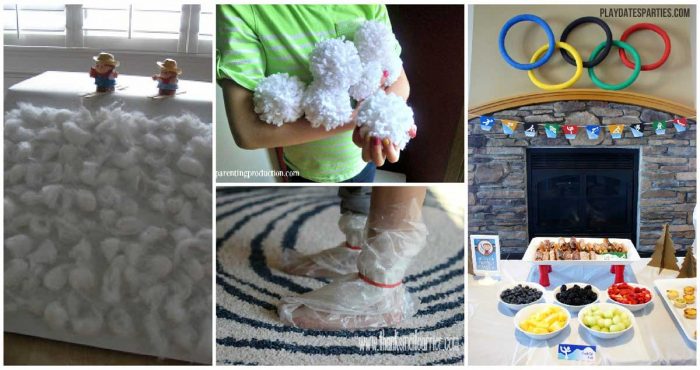 (Sources: Ski Hill via Toddler Approved, DIY Indoor Snowballs via A Parenting Production,
Wax Paper Ice Skating via Thanks, Mail Carrier, Olympics Themed Party via Dolled Up Designs)
There are so many ways you can have fun with this theme. If you're lucky enough to have snow on the ground, make the best of it with sled pulling relays, snowball fights, and igloo making contests. If not, there are plenty of fun indoor projects you can do like making a miniature ski hill, indoor snowball obstacle courses, or even turning your living room into an ice skating rink with wax paper ice skates. There are also plenty of Olympics-themed birthday parties out there, but my favorite is definitely this one from Dolled Up Designs.
A word of caution: If you're tempted to make fake sensory snow. It is fun…but can get messy quickly.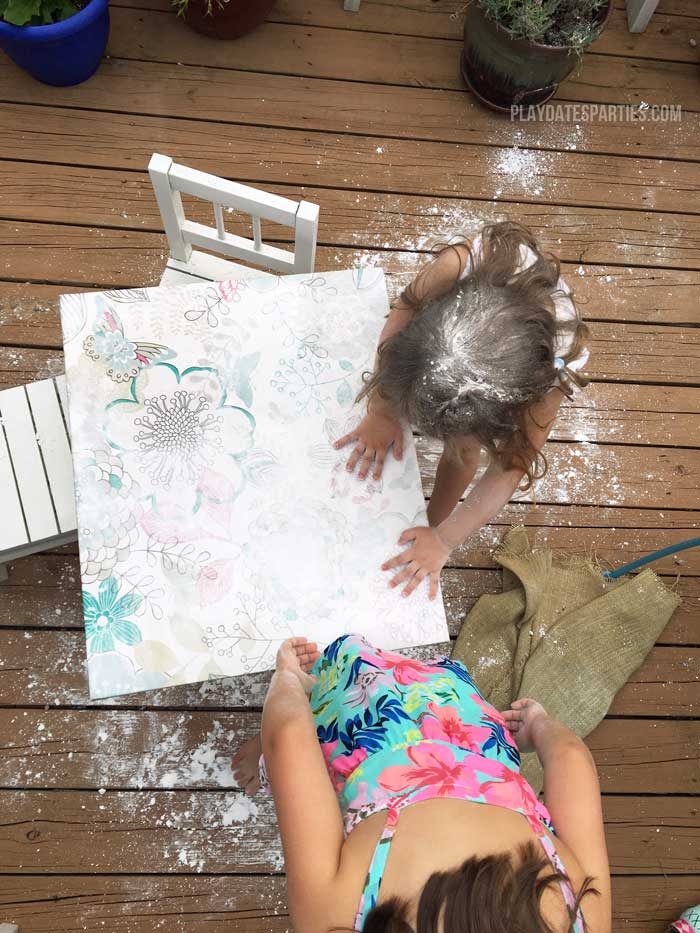 Sleepover Themed Party
Sources (Far Left & Far Right: Catch My Party, Center Images: The Frugal Girls)
Is your child begging to have sleepovers, but you're not really ready for it? Have sleepover themed party instead! Invite kids to come over for a late afternoon party wearing their pajamas and serve breakfast foods (or their look-alikes) for dinner. One popular way to decorate for a sleepover themed party is to simply dress up your table as though it's a bed. Add a fake headboard like the one shown above, or just put the table against a wall and add pillows to the short end. Easy and cute!
This is one party where I would have no problem letting the kids chill out in front of the TV with a movie. After all, that's a traditional sleepover activity, isn't it? But that doesn't have to be the whole party. I love the ideas of letting the kids color in pillowcases and decorate flip flops as fancy slippers.
Winter Sports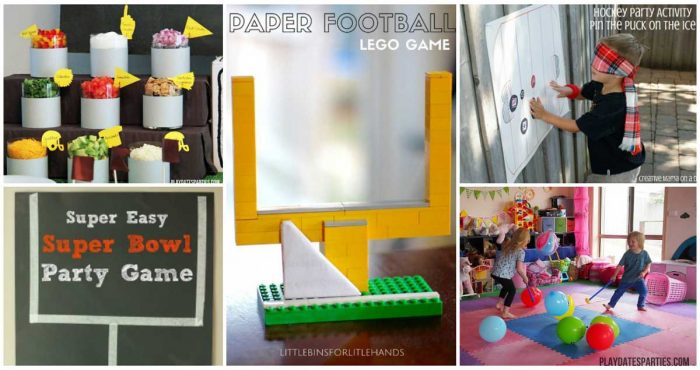 (Sources: Football Stand Condiments via From Play Dates to Parties, Black backdrop Football game via Play Party Plan,
Lego Football Uprights via Little Bins for Little Hands, Pin the Puck on the Ice via Creative Mama on a Dime,
Balloon Hockey via Learn with Play at Home)
Is the birthday kid a football or hockey fan? Winter is the perfect time to find awesome party decor for both themes. For football fanatics, you can have a paper football contest, and I love the idea of a supersized throwing contest with a nerf ball against a black paper background. Hockey fans are sure to love indoor balloon hockey, and pin the puck on the ice is a fun twist on an old classic.
I can't guarantee that you won't have a house full of stir-crazy kids, but at least you can have fun doing something different than everybody else for your winter birthday parties, right?
Subscribe via
Bloglovin, Facebook, and Twitter
to get more updates!