With simple party decorations and menu ideas, you too can set up these adorable mermaid birthday party ideas at the last minute.
(Seriously, the whole party was set up in less than 2 hours when I was 8 months pregnant!)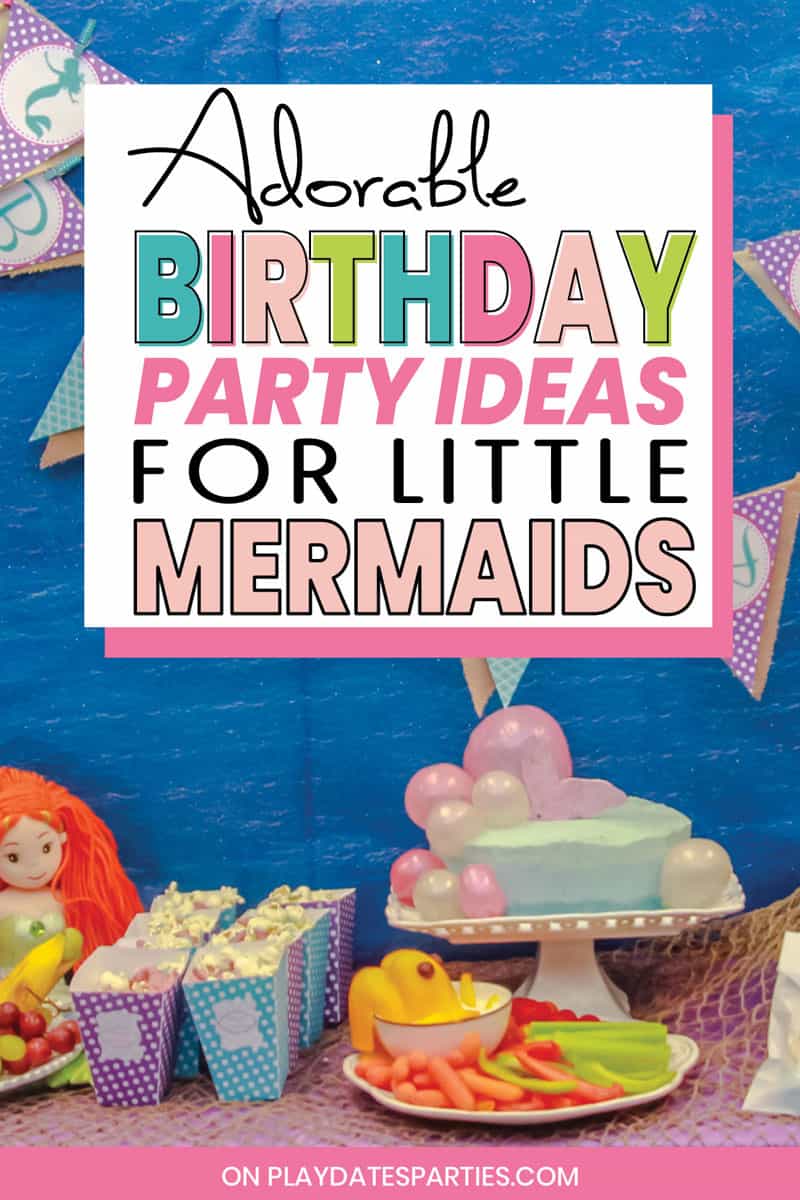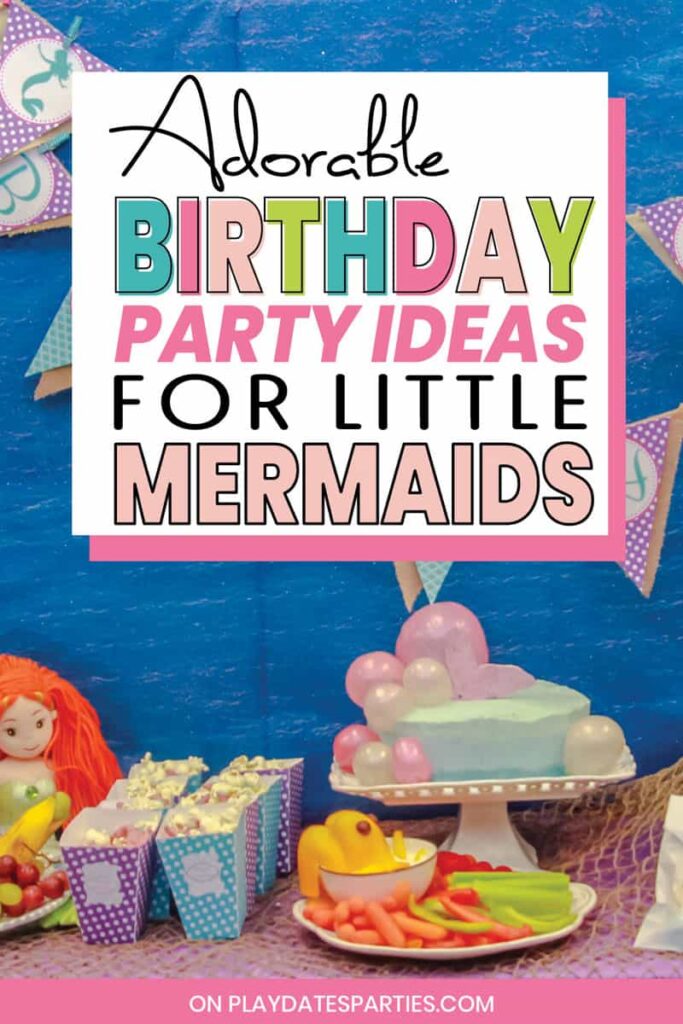 Are parties outside the home easier or more difficult?
Several years ago, when my oldest turned 6, she asked to have her mermaid birthday party at our local aquatic center. And, since I was going to be 8 months pregnant at the time, somehow a mermaid pool party somewhere else seemed like a good idea.
(Little did I know that our baby boy would be born less than a week later!)
About the Party: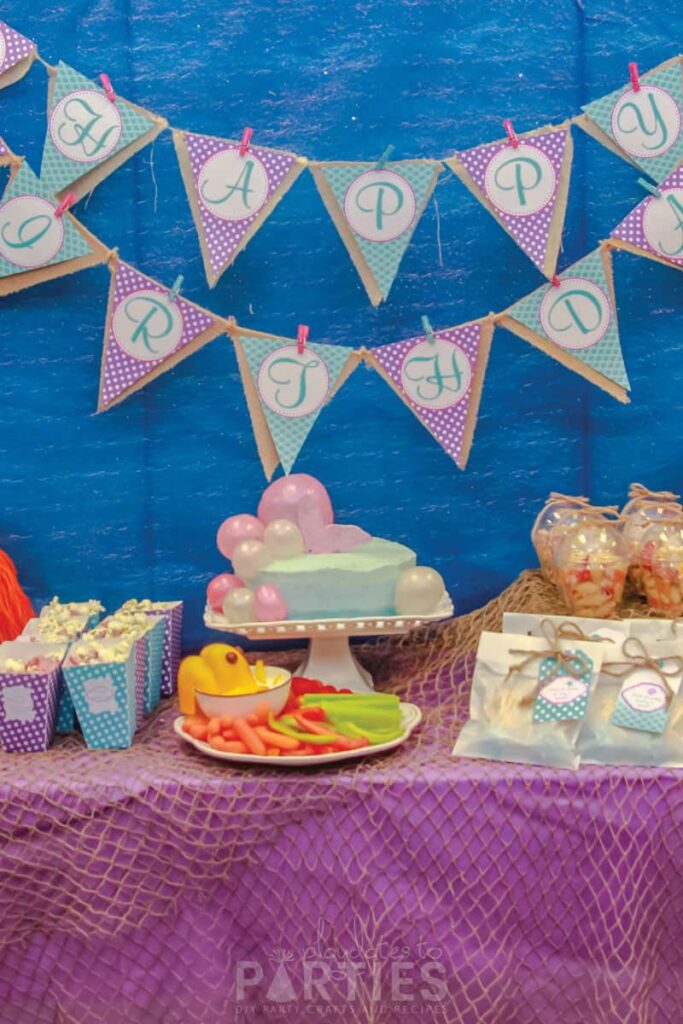 What Made the Party Challenging
Ironically, being ready to pop – and even being on a super tight budget due to mounting medical bills – wasn't the biggest challenge for this party.
Nope. The biggest challenge was that we were only allowed 2 hours for the entire rental: from setup to breakdown.
That meant that while the kids were playing in the pool, I was frantically pulling together all the mermaid birthday party ideas – including decorations, centerpieces, and the ombre mermaid cake.
Not only that, but before everyone was gone we were already taking everything apart.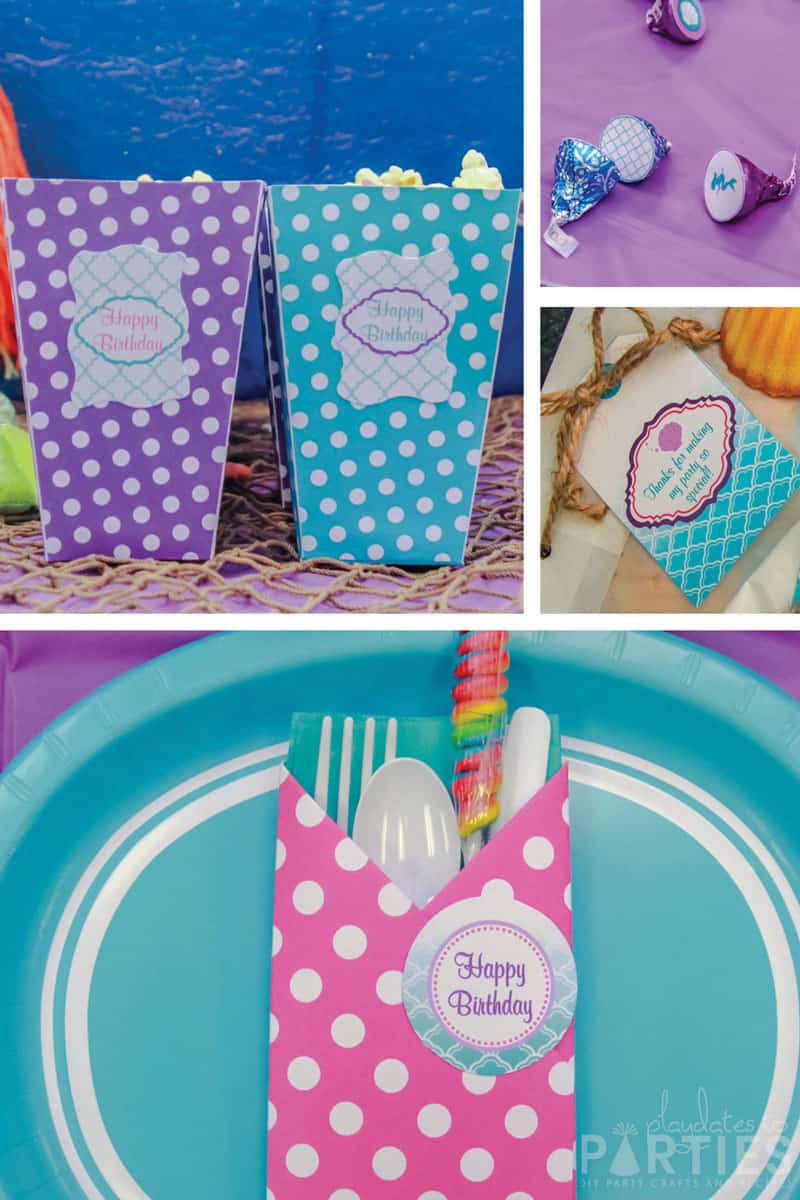 Mermaid Birthday Party Decorations
The best thing we did to stick to a budget was to find a printables package that could decorate the entire party. This mermaid birthday party kit from Cupcake Express fit the bill perfectly.
An all-inclusive printables package not only sets the tone for the party, but also helps you with DIY decorations, by providing a color palette to go off of.
Don't be afraid to use printable party decorations in ways that are different than originally intended. For example, I used the cupcake toppers to label the popcorn boxes and the utensil holders.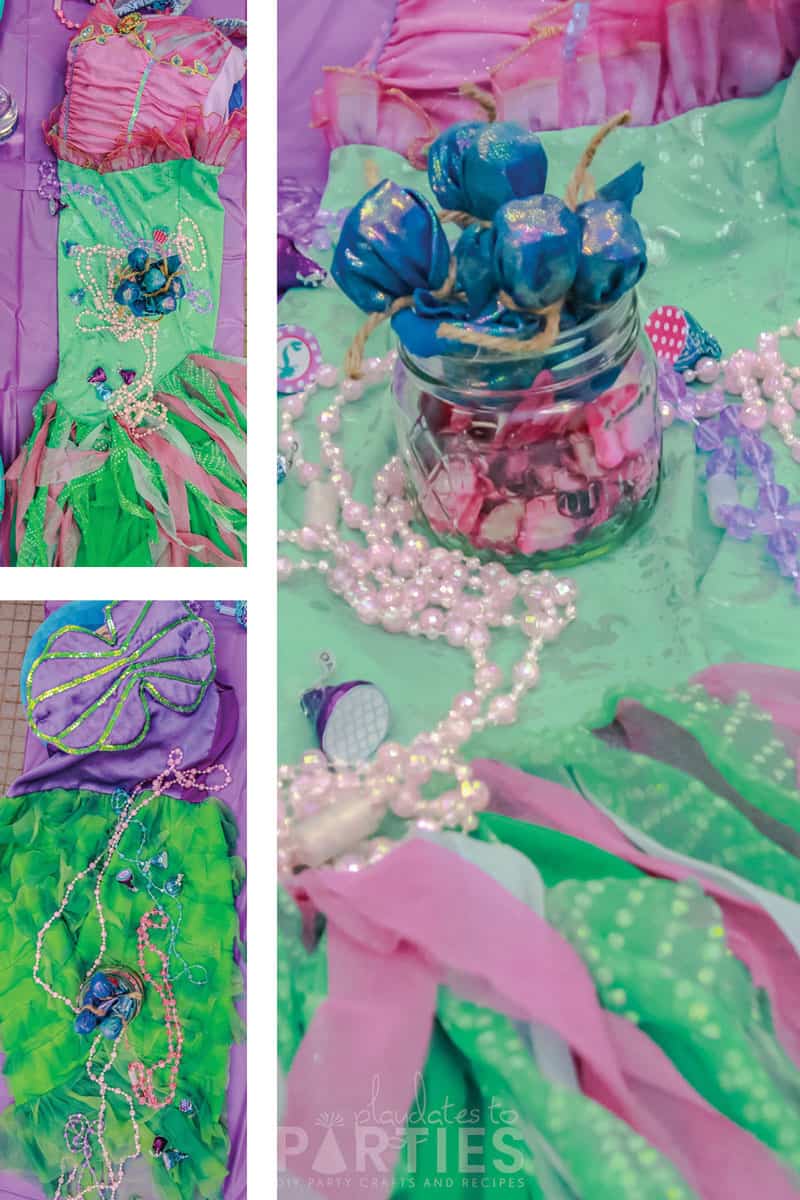 Want an easy way to save money on party decor? Shop your house!
Our daughter had no less than 3 mermaid dress-up costumes, several mermaid dolls, and countless plastic necklaces in her toy box. These made for easy (and free!) decorations for the party tables.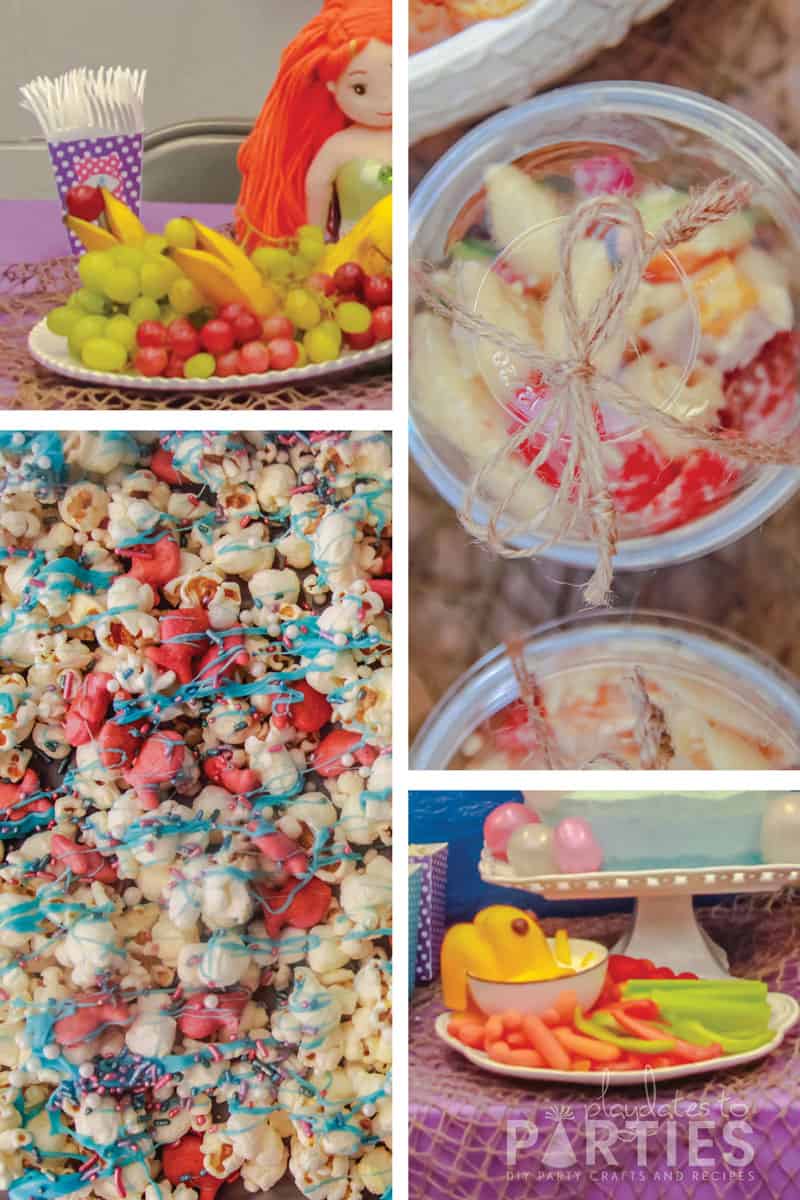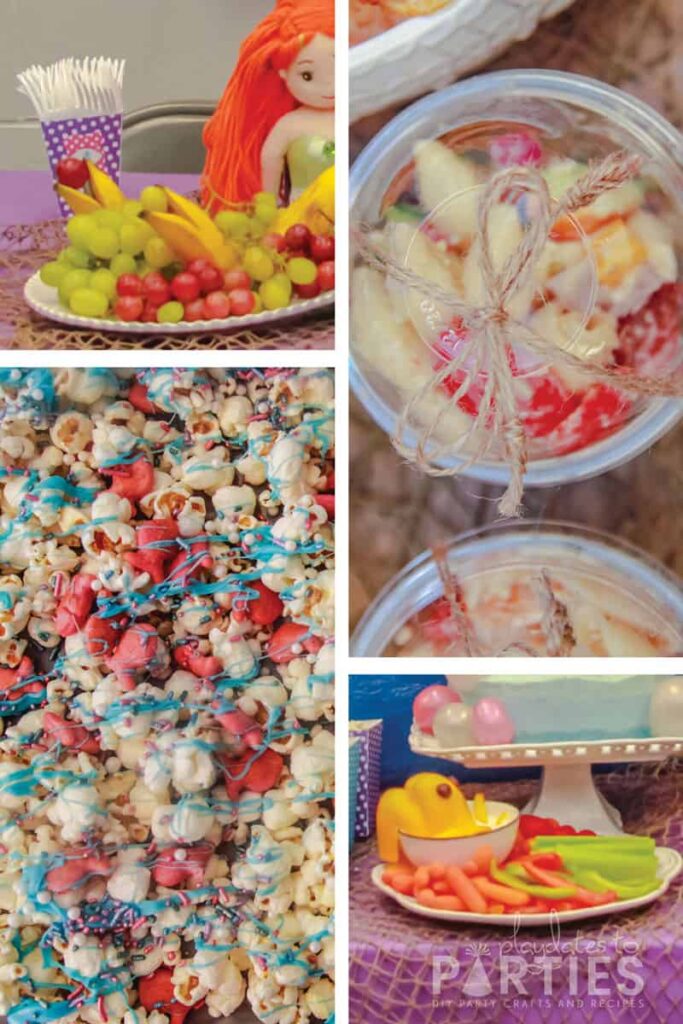 Mermaid Party Food
Party food doesn't have to be complicated to be fun. Here's what we served:
It was more than enough to feed all the guests plus their parents.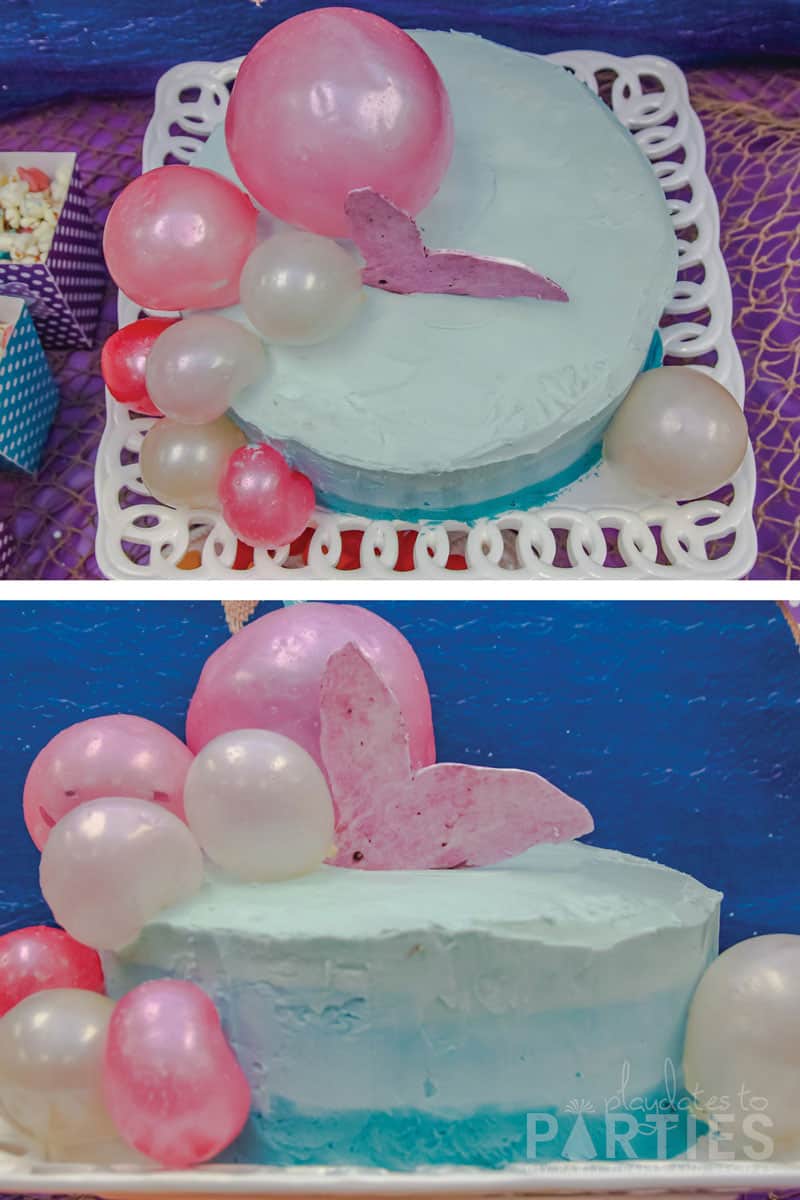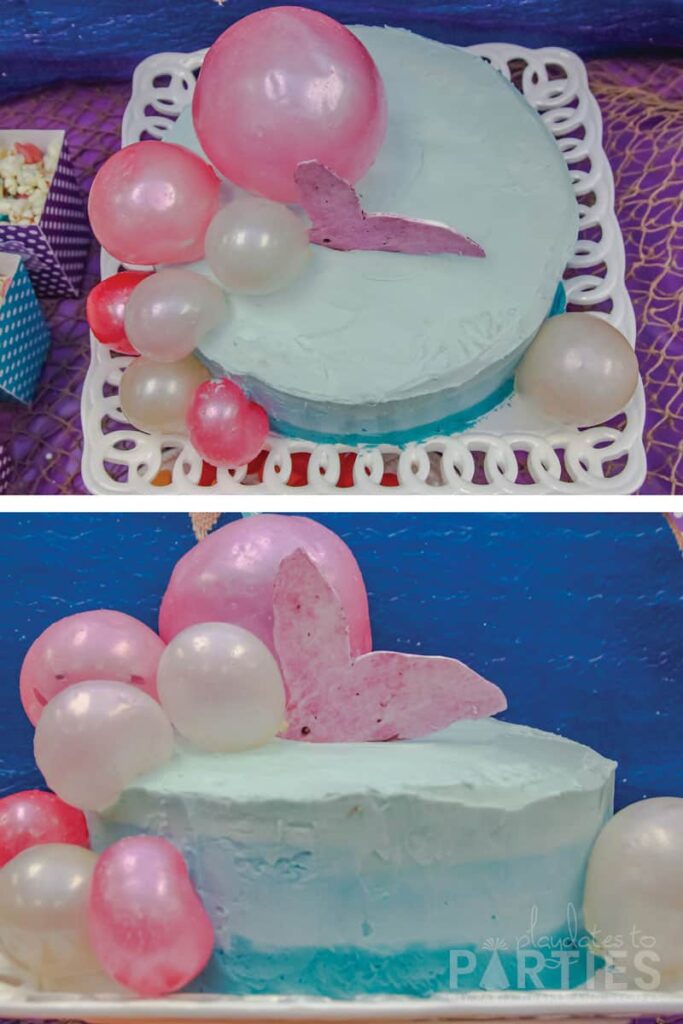 If you have enough time in the days before the party, you can save money by making your own cake.
Guests were surprised to know that this ombre mermaid cake came from a box, and that I made my own gelatin bubbles and mermaid tail to decorate it.
Find out how to make that ombre cake here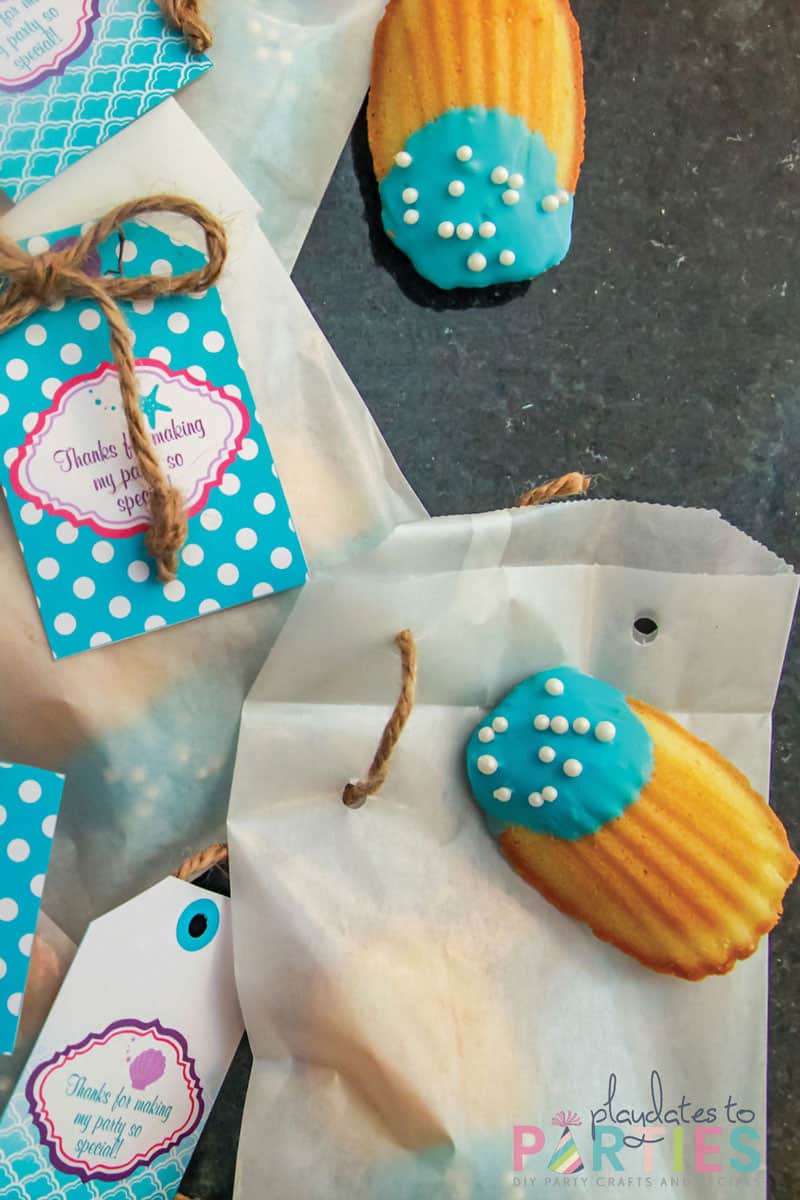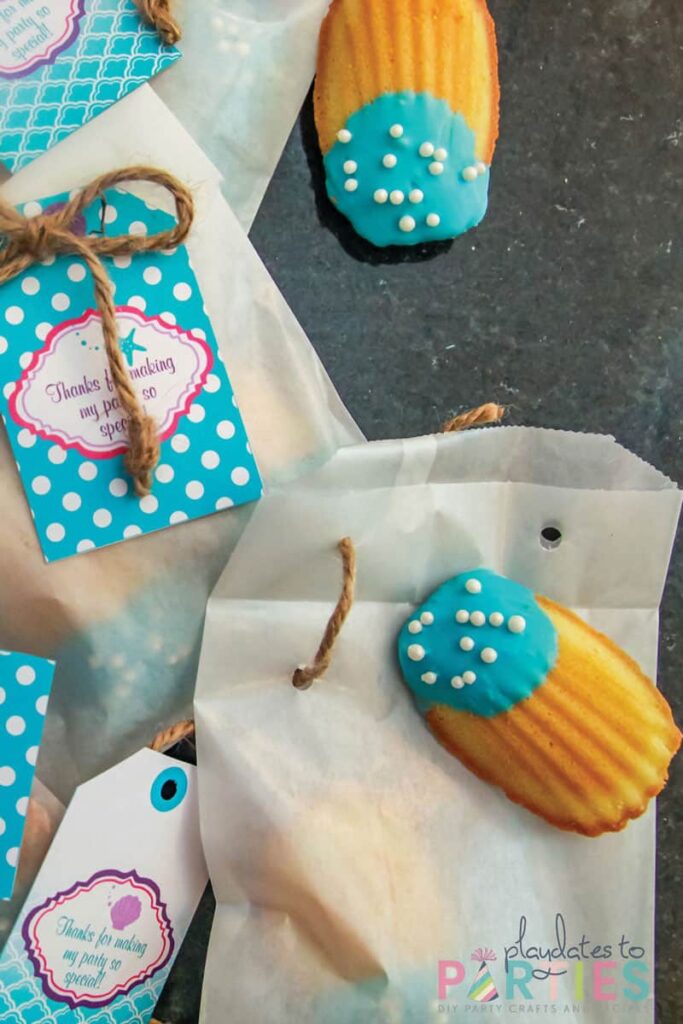 Party Favors
One of my least favorite things is party favor bags filled with a bunch of plastic junk that breaks as soon as it gets home.
So instead of toys, we added some blue candy melts and pearl sprinkles to store-bought Madeline cookies, and placed them in these pretty bags.
Tying the bags off with natural brown twine and adding nautical knots at the end of each bow really took them up a notch.
It only took about 30 minutes to make the batch, and they coordinated with the theme perfectly.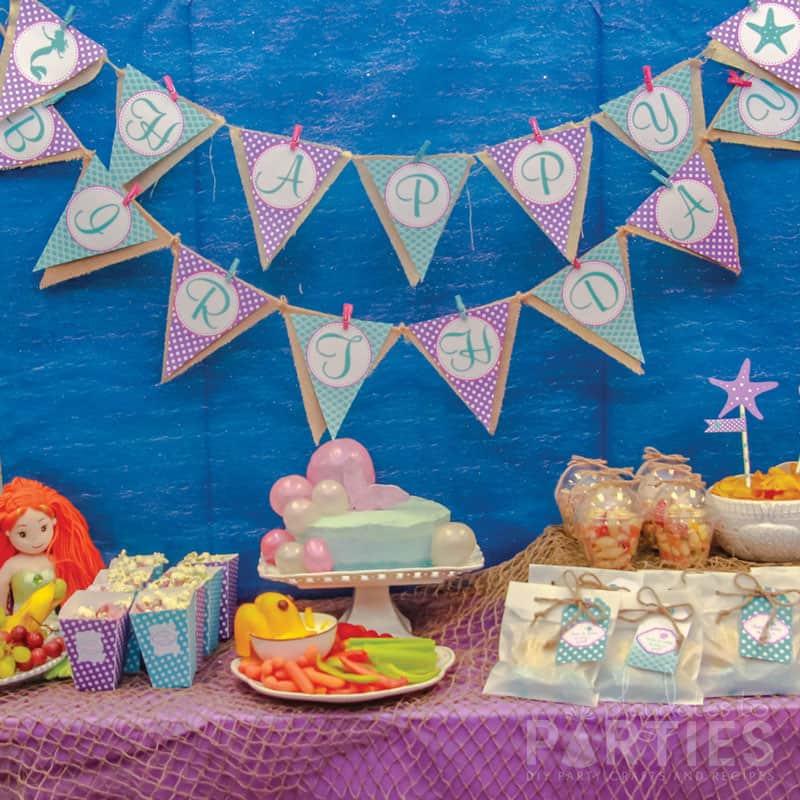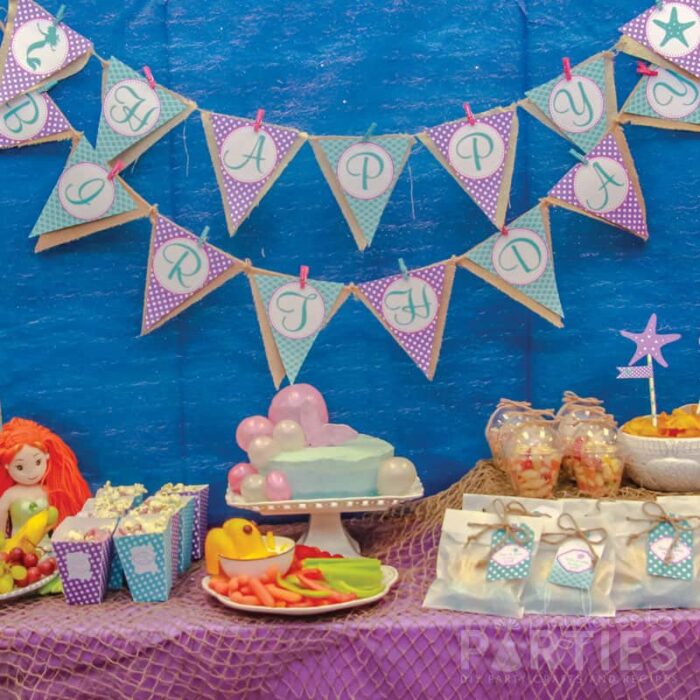 Of all the mermaid birthday party ideas, which is your favorite, and why?
I love to create backdrops for buffet tables. It's just so much fun to find fun and creative ways to demonstrate a party theme in a visual way.
But backdrops take time – and that was the one thing we didn't have.
So, I ditched my normal setup and prepared a tri-fold foam core board with layers of blue and sparkly fabric.
I even layered the printable birthday banner on top of a burlap bunting and added it to the tri-fold board before we left the house to go to the party.
That meant all we needed to do was unfold the board and prop it up behind the food. Simple and easy with LOTS of visual impact.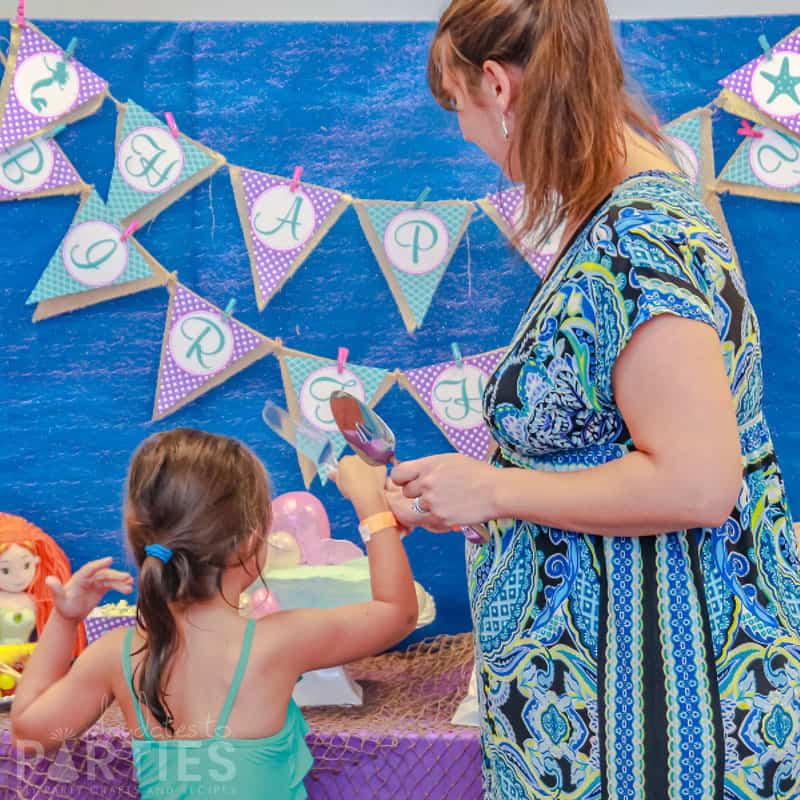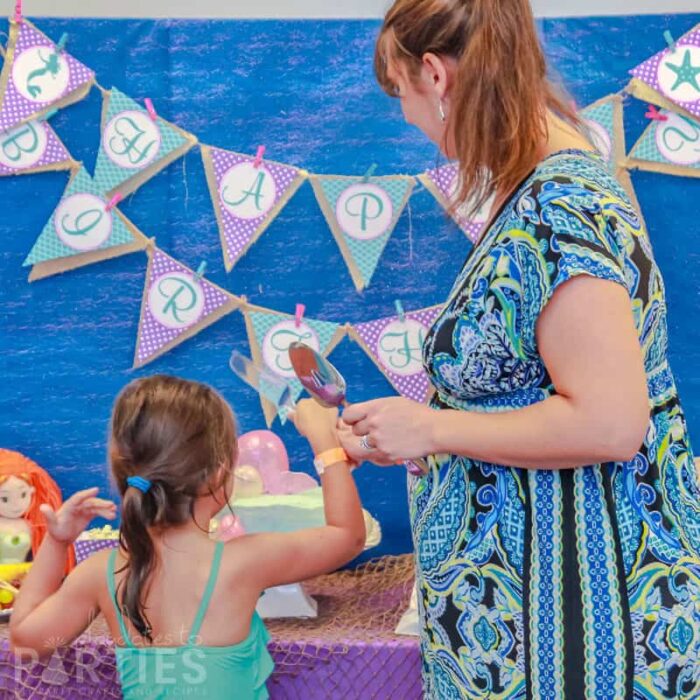 Mermaid Party Supplies:
Mermaid Party Tutorials & Recipes:
Party Planning Tips & Ideas:
Now It's Your Turn
As you can see, there are plenty of mermaid birthday party ideas that don't require you to take all morning to set up for a party. All it takes is some planning and these tips for decorating in a time crunch:
Of course, had we partied at home, we wouldn't have been so crunched for time. But we would have had more cleanup to do around the house.
Considering my very pregnant state, however, I think this was the right choice for us at the time. What do you think?
Do you prefer parties at home or at a center?
What is the shortest set-up you've ever done for a party?
---