Stuck for St. Patrick's Day party ideas? Here are the BEST games, crafts, recipes, and decorations to get your party planned in a flash!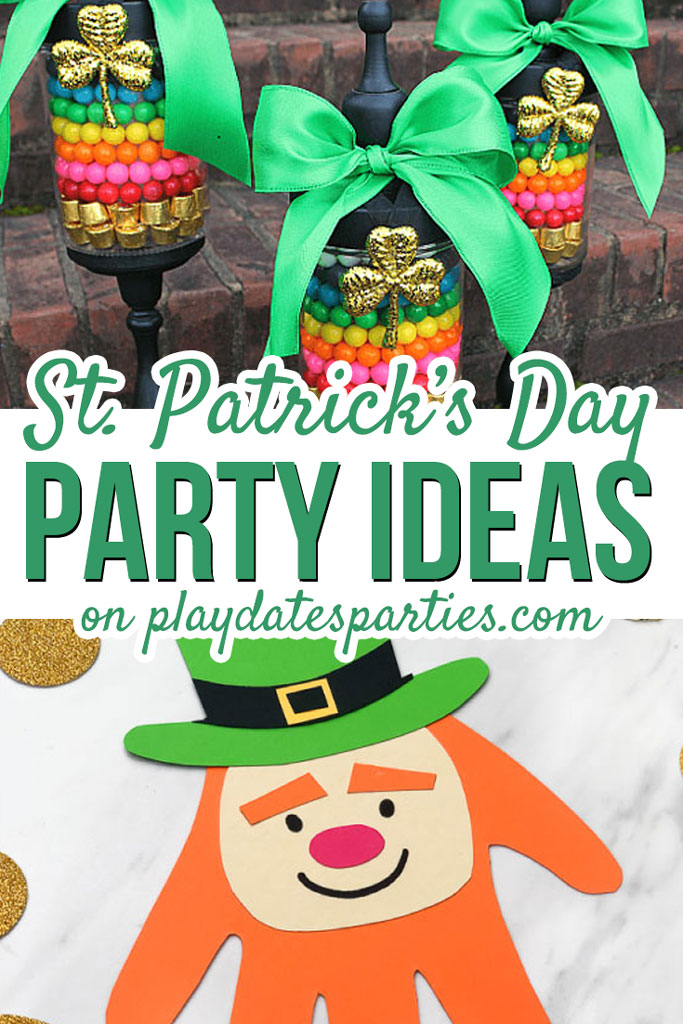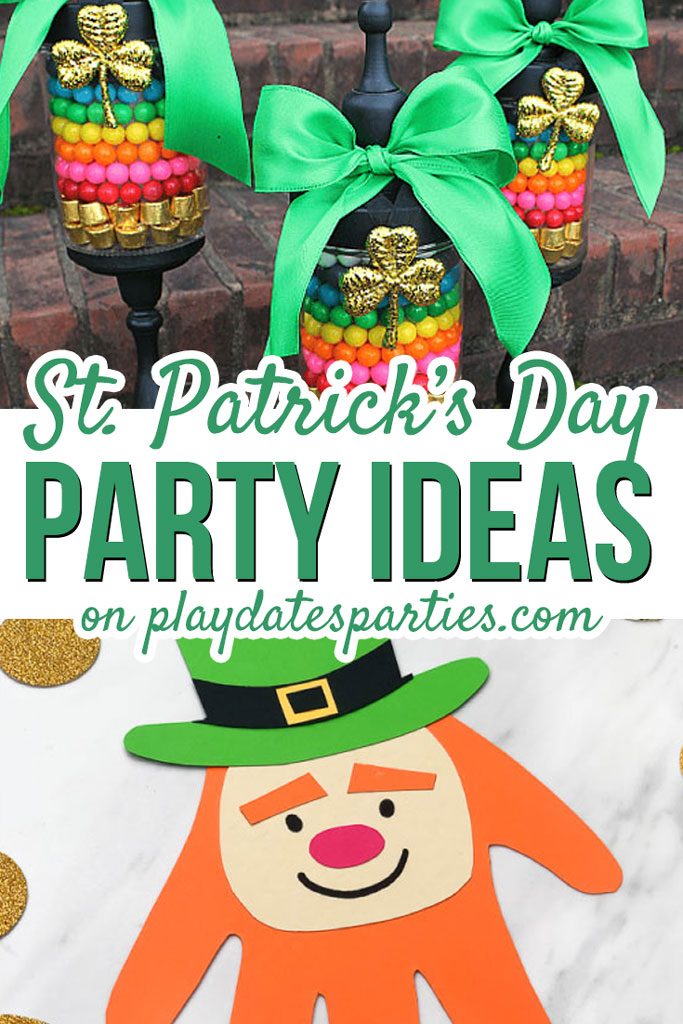 You know, I'm starting to think that the month of March isn't too far off from being a mischievous little leprechaun.
One day it's freezing and the next you hardly need a jacket at all. Or maybe it's ridiculously windy one day and then cool and calm the next.
Now it's starting to make sense why St. Patrick's Day is in March!
In any case, it's still a fantastic time to celebrate, whether you're Irish or not. And boy do I have some fantastic St. Patrick's Day party ideas for you today!
20+ Insanely Fun And Easy St. Patrick's Day Party Ideas
I could have separated this all out into separate posts, but sometimes it's just more convenient to have a one-stop-shop for inspiration. And I'm all about making life easier.
So I've gathered together for you the best St. Patrick's Day party games, recipes, and decorations that are simple enough for pretty much anyone to do.
Don't Forget these Party Essentials:
As you browse, you'll notice a few common themes (beyond just being St. Patrick's Day related). Grab a few of these essentials and you'll be halfway stocked for all the St. Patrick's Day party fun!
St. Patrick's Day Crafts and Games to Play
Wondering what on earth to do with the kids for your get together? Here are 7 super easy St. Patrick's Day party ideas that are sure to keep the kids entertained!
Aren't these leprechaun handprint crafts from Simple Everyday Mom adorable? Cut out all the face and hat decorations and have them ready before the kids arrive. Then simply trace their hand and let them cut out their own handprint with some safety scissors.
I'm a big fan of making sure there's a quiet spot for kids to go to at a party…especially the little ones. Set up a coloring station and let the kids go hog wild with these free St. Patrick's Day coloring pages.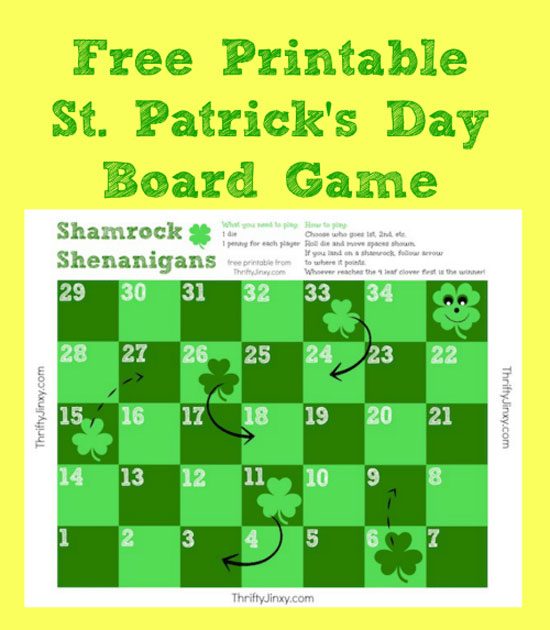 Shamrock Shenanigans by Thrifty Jinxy is a fun St. Patrick's Day take on traditional shoots and ladders. And set up is easy. You just need her printable, a die, and some pennies.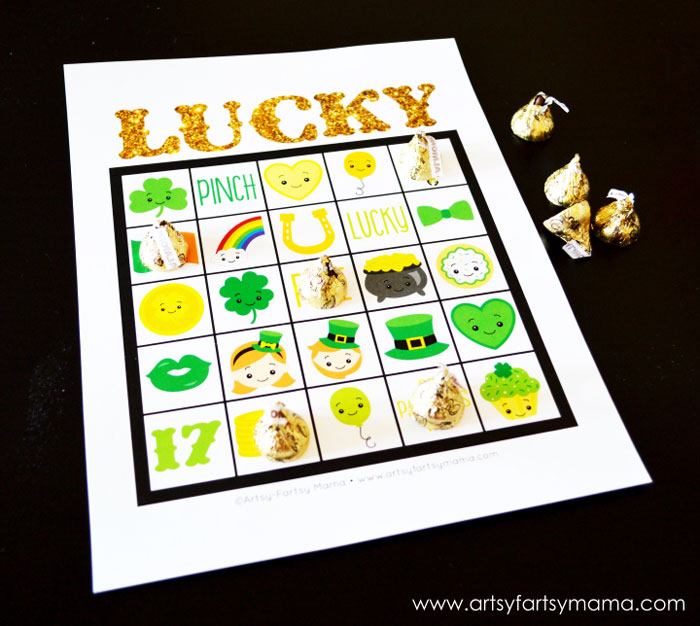 Bingo is a classic game for a reason…and I'm gaga for this colorful St. Patrick's Day version by Artsy Fartsy Mama!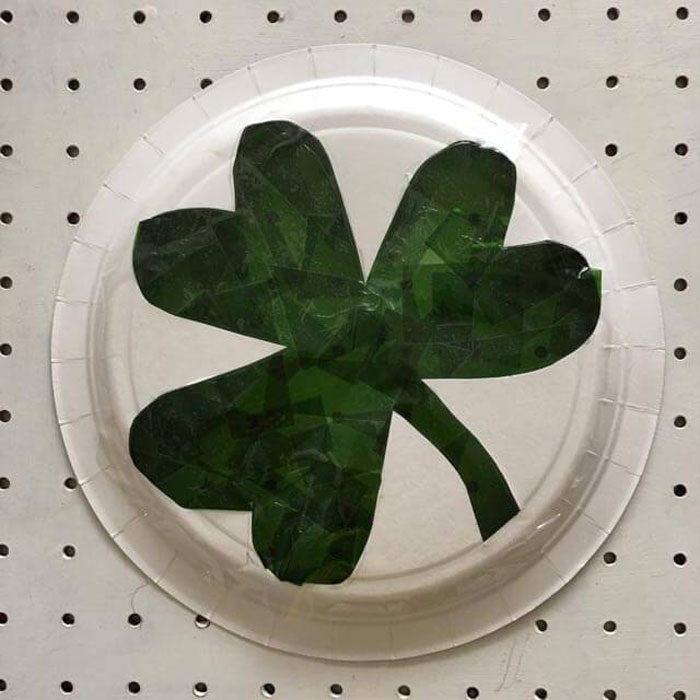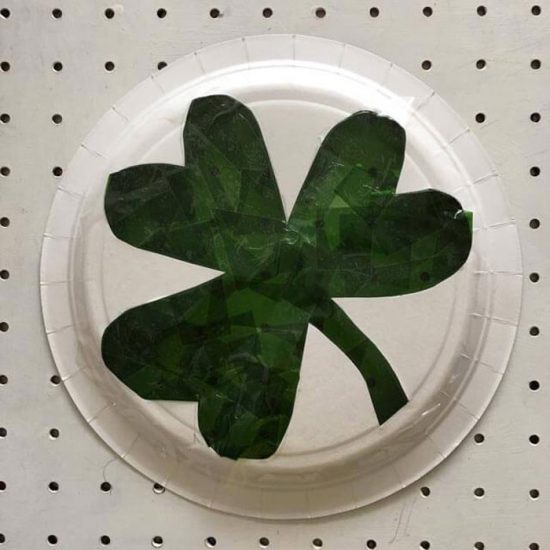 Have little kids or toddlers coming over? This shamrock sun catcher from The Gingerbread House is perfect for them!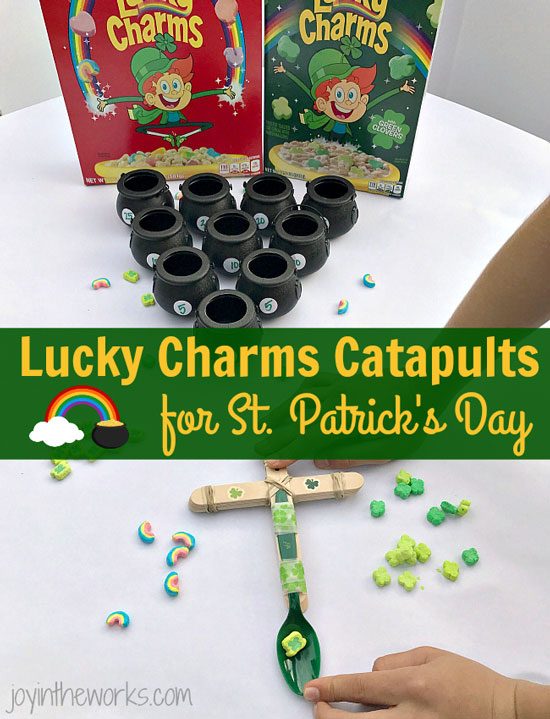 OMG, what kid wouldn't have a blast with this Lucky Charms catapult from Joy in the Works?! I can't wait to try it out with my kids!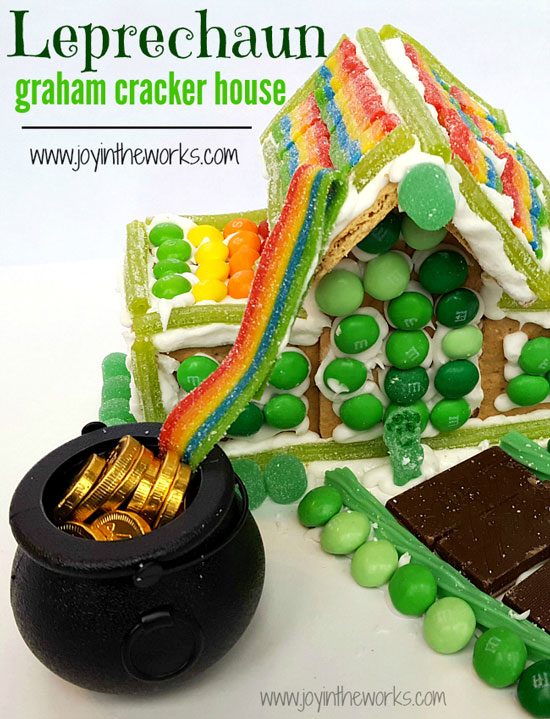 We're all familiar with decorating gingerbread houses for Christmas, but Joy in the Works shared a fun way to turn it into a St. Patrick's Day activity with these adorable graham cracker houses.
St. Patrick's Day Food & Recipes:
St. Patrick's day food isn't all Irish soda bread, shepherd's pie, and beer. All the kids will be thrilled with these adorable St. Patrick's Day party recipes and ideas:
This is so my kind of recipe! Mrs. Happy Homemaker shares an adorable way to spruce up your favorite dip for St. Patrick's Day with a clever presentation. (https://www.pinterest.com/pin/138556126022321307/)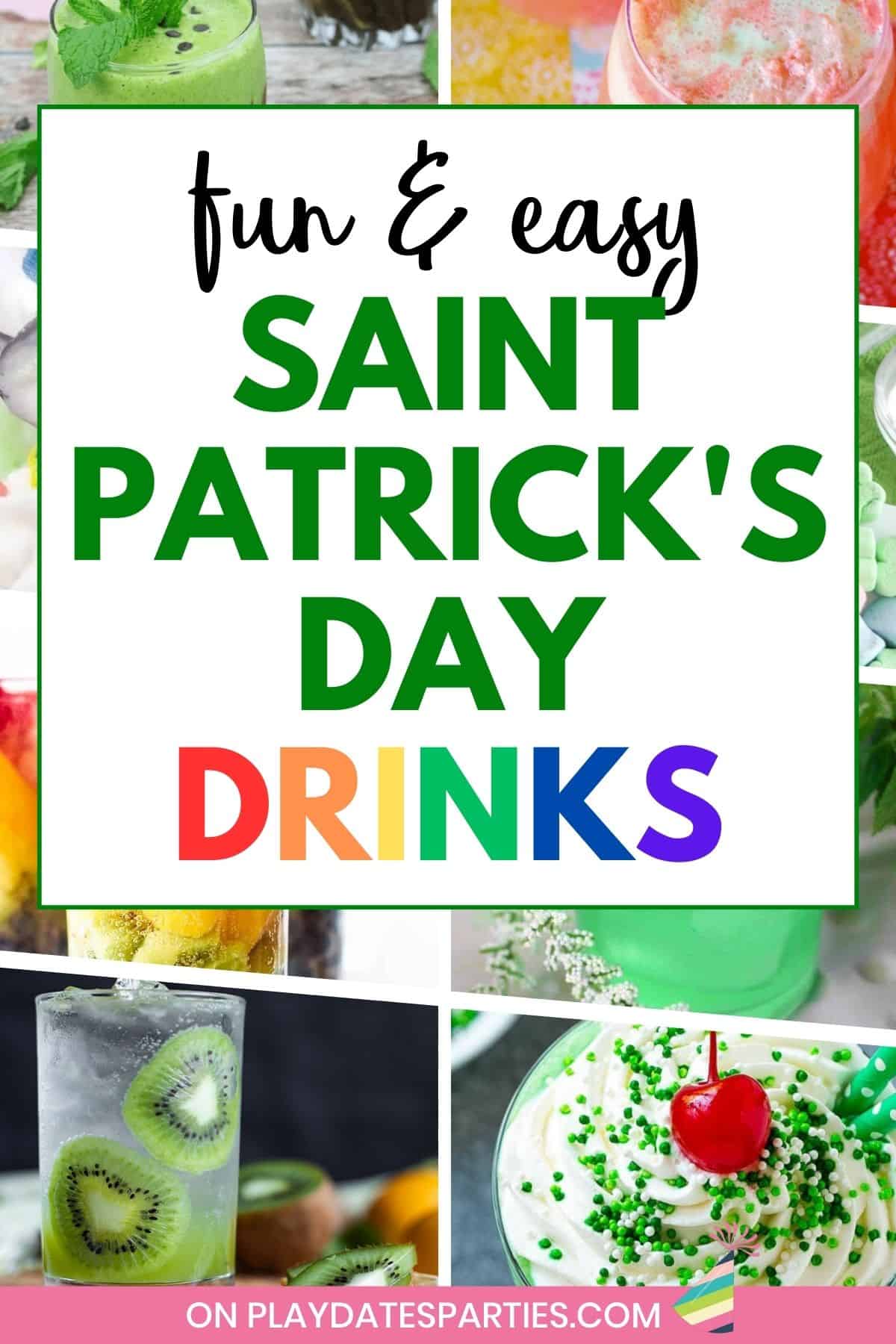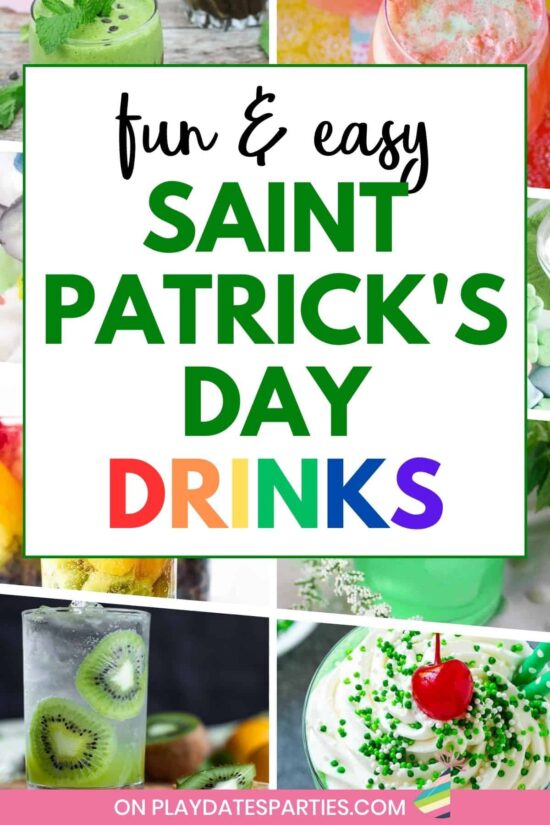 There are so many delicious ways to satisfy the little leprechauns' thirst at a St. Patrick's Day party. Here you can choose from 7 fun and flavorful 'mocktails' that will make the kids feel just as grown up as everyone else.
This rainbow fruit platter from Life Love Liz combines special treats and healthier fruits just perfectly!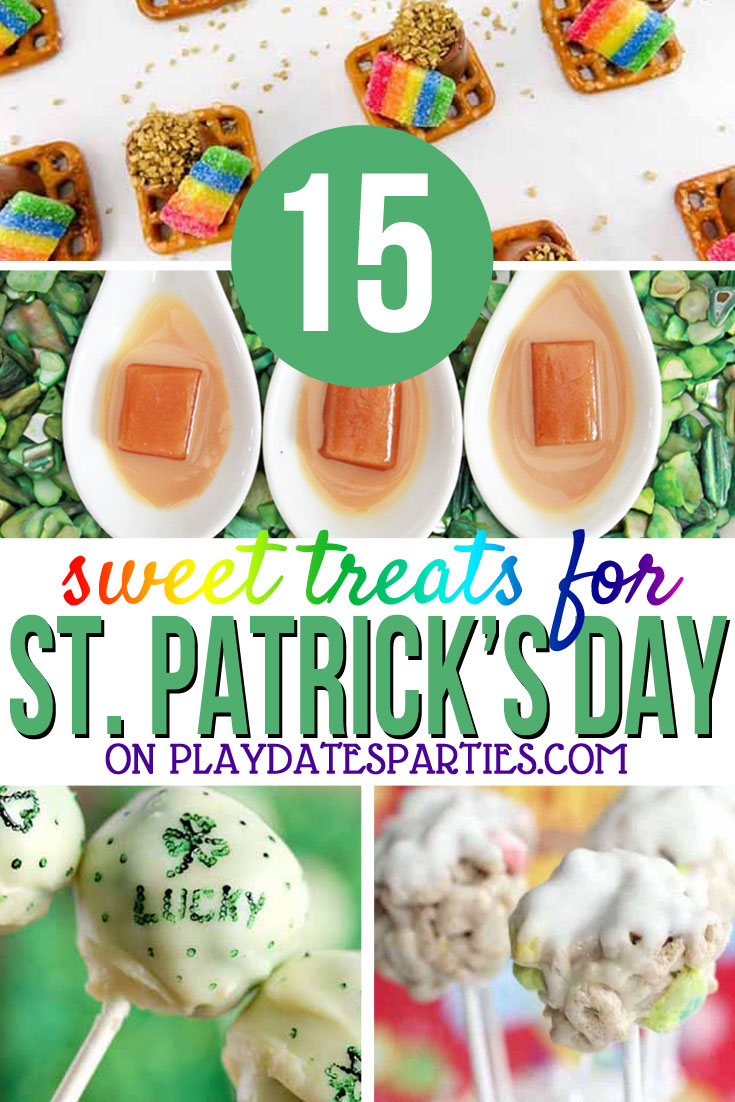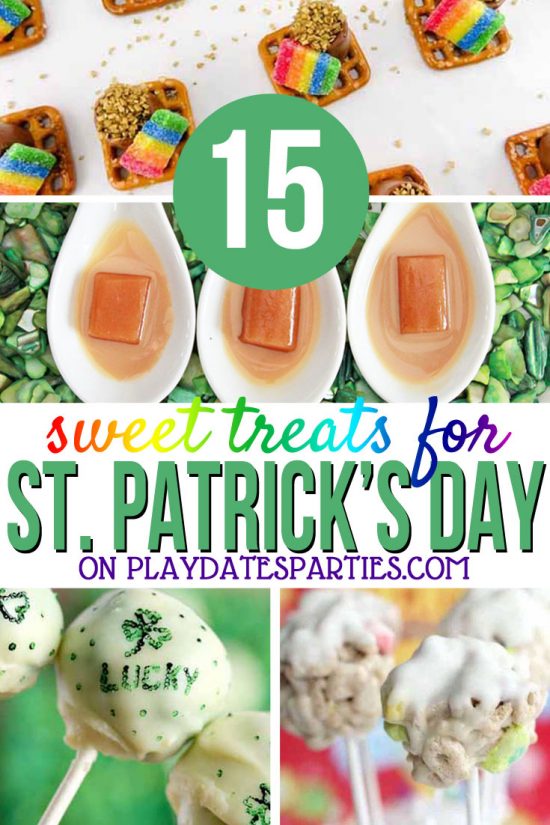 Well, there are no shortage of sweet treats to include in your St. Patrick's Day party ideas, and I've collected 15 of the best right in one space. Yay! (st-patricks-day-sweet-treats)
Wanting to limit the sweets? I'm loving this list of healthy St. Patrick's Day snacks from Little Family Adventure.
St. Patrick's Day Decorations and Favors: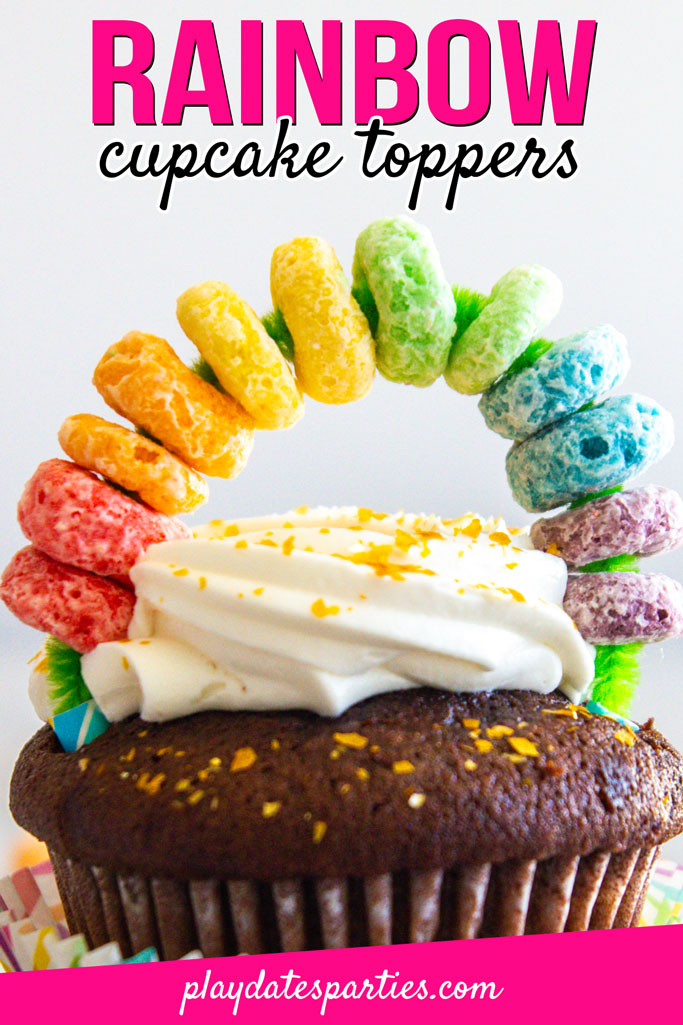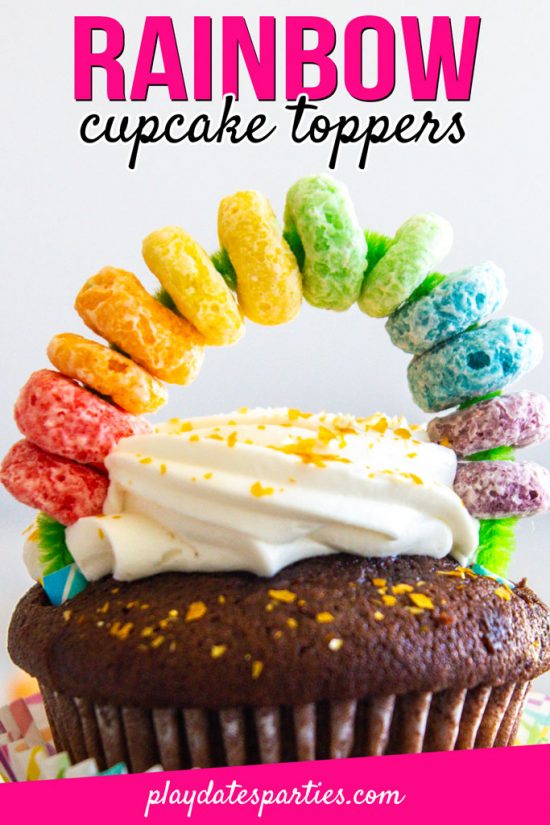 Fun to make, fun to eat. All the kids will love these adorable Rainbow Cupcake Toppers.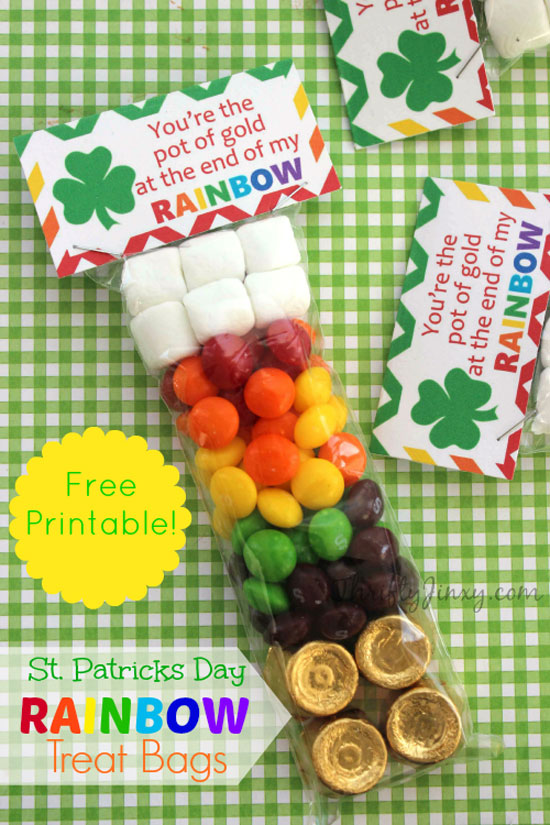 These rainbow treat bags by Thrifty Jinxy are filled with just about everything that kids love…marshmallows, colorful candy, and chocolate!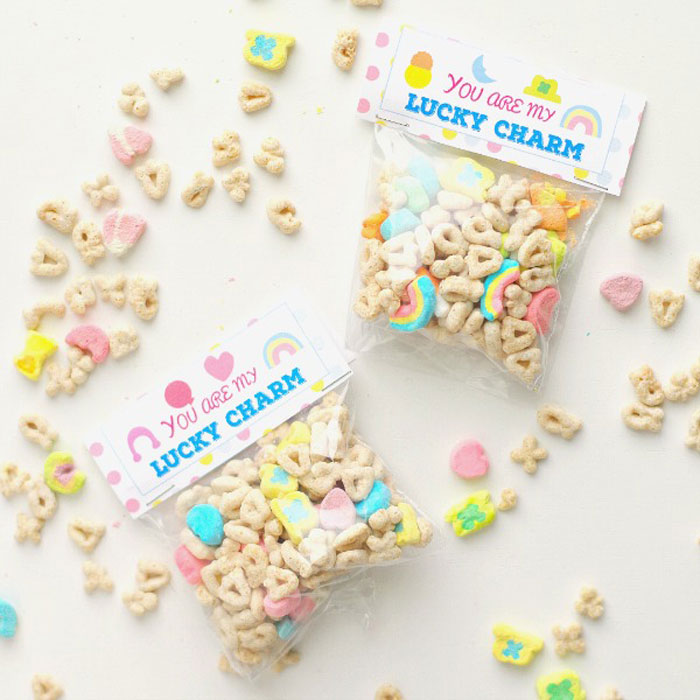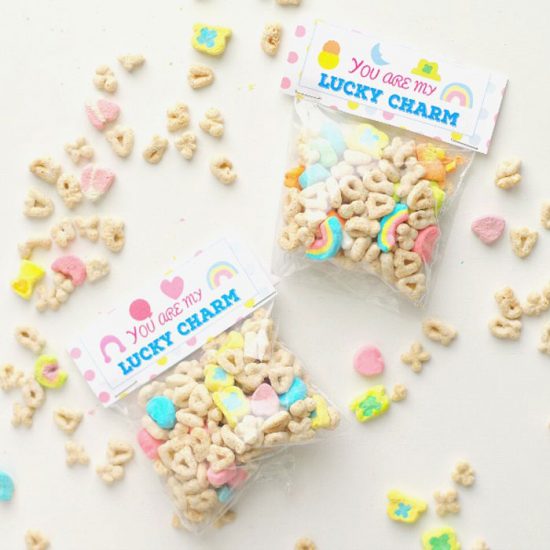 Don't feel like separating a bunch of different ingredients for your party favors? Val Event Gal has some adorable treat bag toppers for treat bags filled with Lucky Charms cereal! Easy peasy.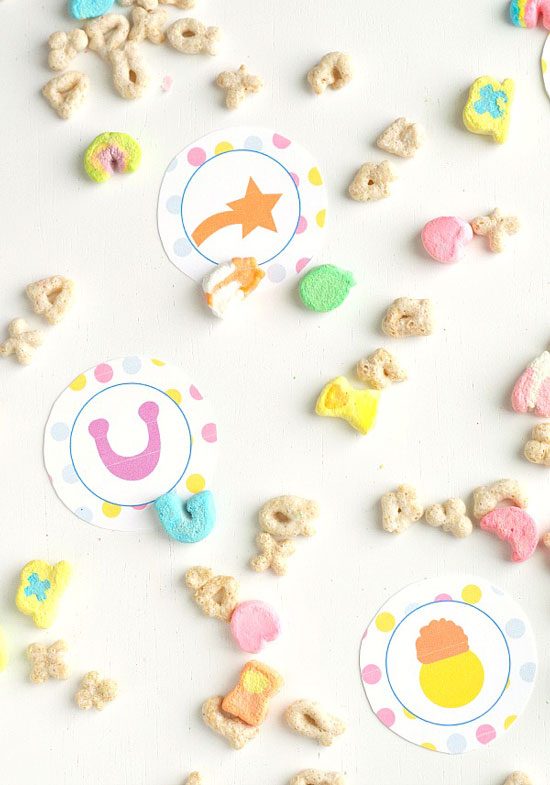 Speaking of Lucky Charms, Val Event Gal even has a set of free party printables inspired by the iconic cereal. Perfect if you're looking for something a bit more colorful!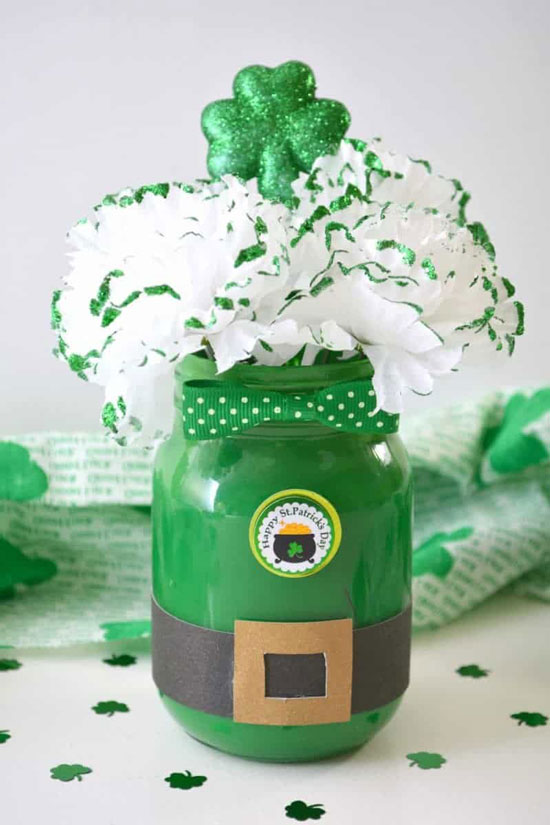 Crayons and Cravings' Leprechaun mason jar makes a cute centerpiece, or could be used to hold forks and spoons for the buffet table!
Want a centerpiece that packs a punch but is easy on your schedule and your wallet? Grab your free printable and make this DIY pot of gold rainbow centerpiece and put it right on your table.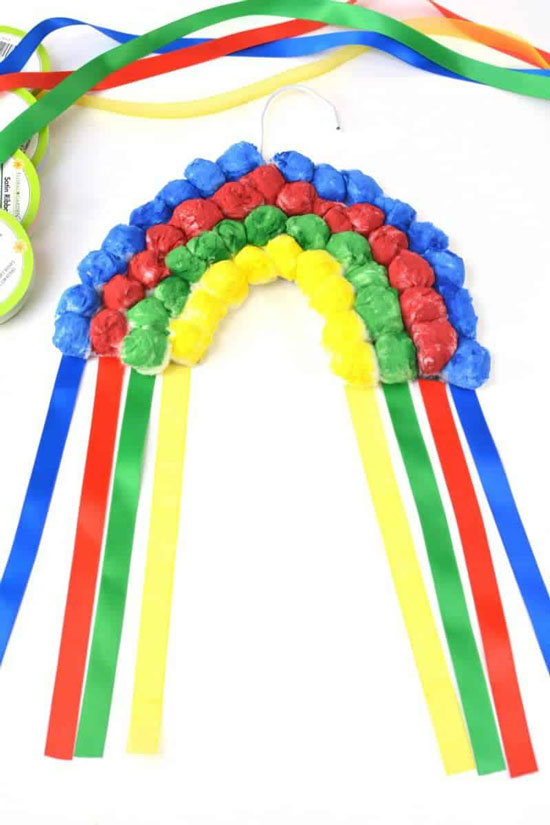 I love decorations that the kids can help to make, and this cotton ball and ribbon rainbow from Crayons and Cravings would be perfect as a buffet table backdrop!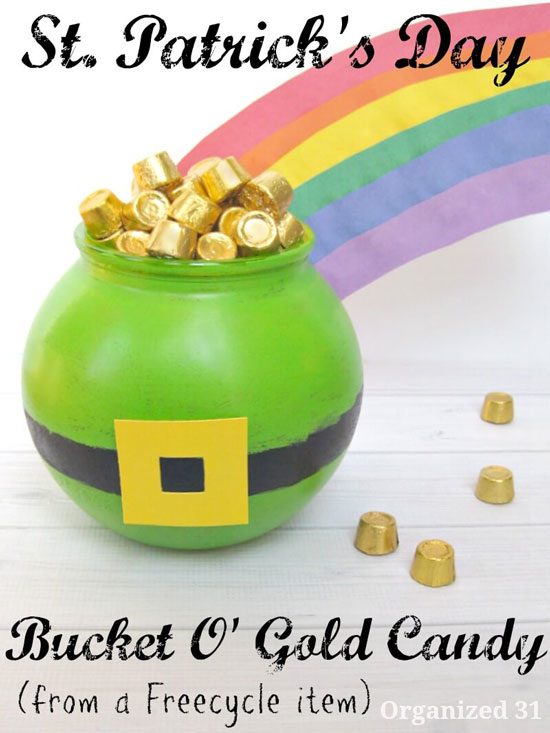 Finding affordable and creative ways to display food is my favorite. And you'll never guess what Organized 31 used to make this St. Patrick's Day Bucket O Gold.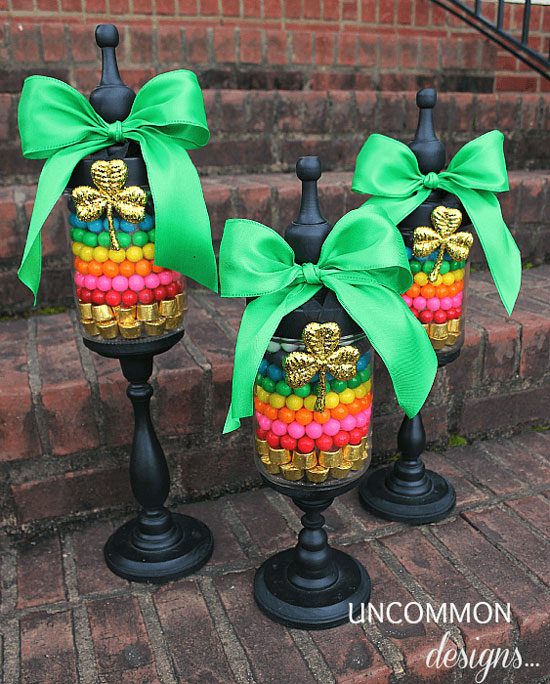 Talk about packing a punch! Uncommon Designs shared how to make rainbow-inspired apothecary jars, and I'm totally in love. (P.S. If you didn't already know, you can get plastic apothecary jars! We have this set and I love them.)
Now It's Your Turn
Hopefully March won't be feeling mischievous with the weather on St. Patrick's Day this year. But at least you now know that you can have an amazing party prepared in no time!
We've seen more than 20 incredible (and incredibly easy!) St. Patrick's Day party ideas, including kids crafts and games, delicious recipes, and gorgeous decorations. So what are you waiting for?
Which of these St. Patrick's Day party ideas do you like best?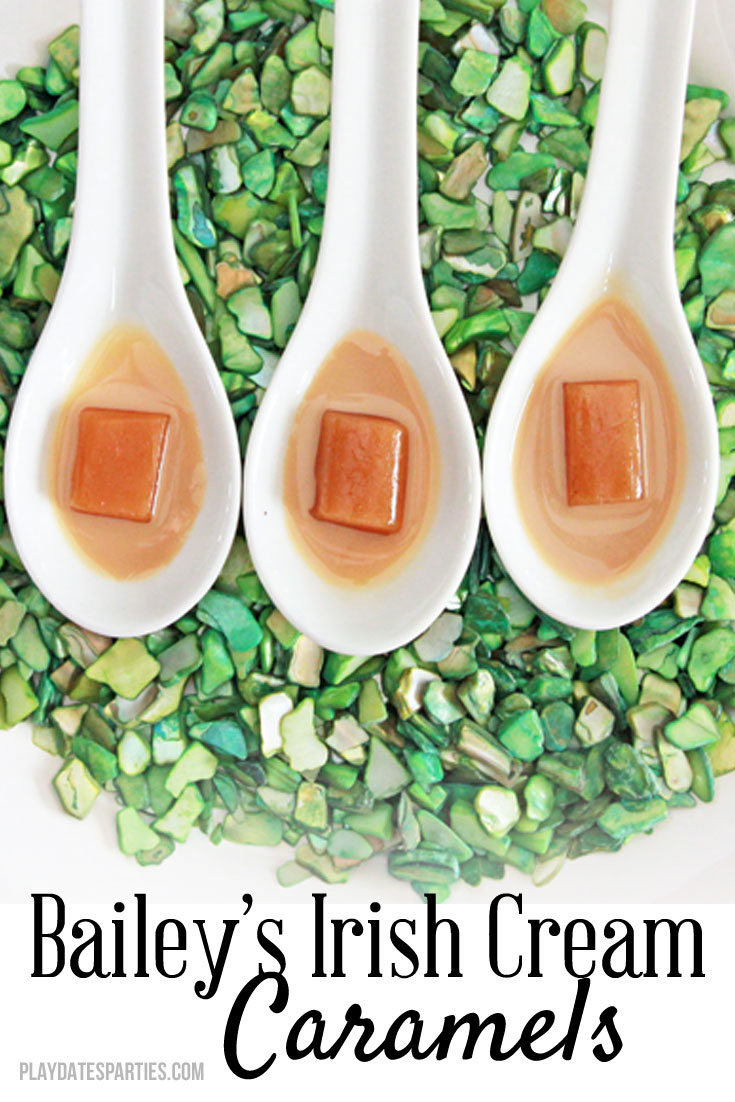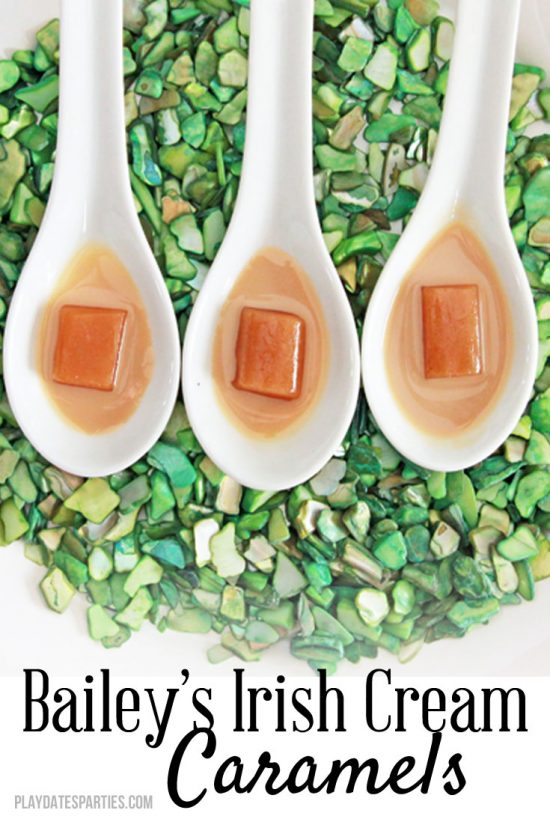 Don't forget to subscribe via
Bloglovin, Facebook, and Twitter,
to get more updates!