Not only are these rainbow cupcake toppers simple and inexpensive party decorations that pack a punch. They're also fun for kids to both make and eat!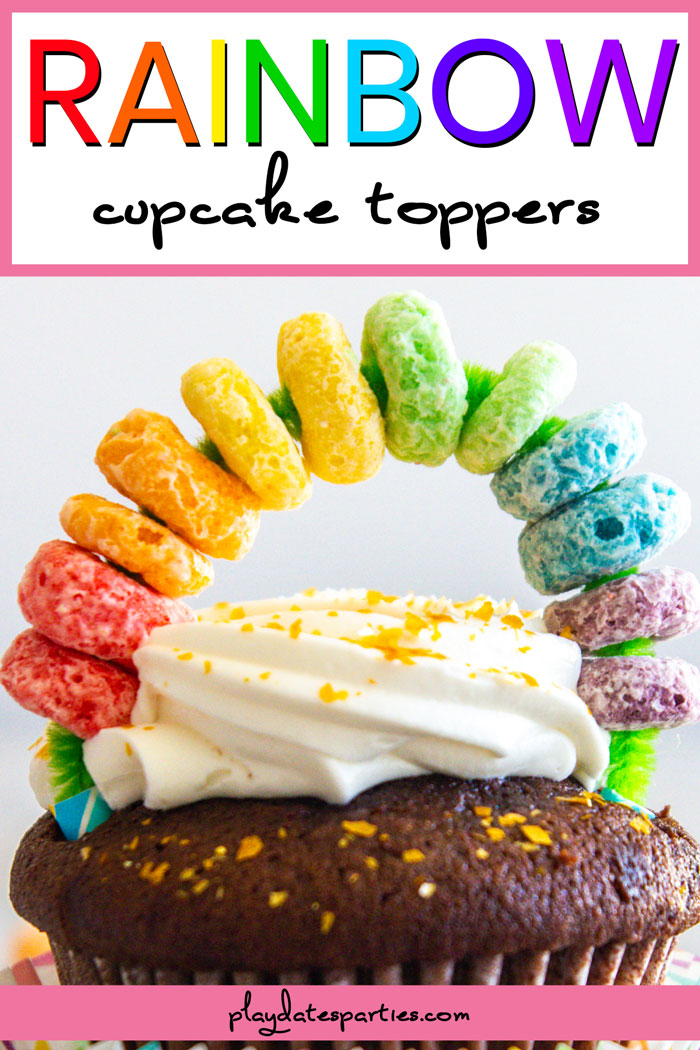 "Somewhere over the rainbow
Bluebirds fly
And the dreams that you dream of
Dreams really do come true"

(Somewhere Over the Rainbow from The Wizard of Oz)
Admit it, you're singing that song now aren't you?
I know I am. I can't help it. These rainbow cupcake toppers are just so sweet and dreamy.
My kids were definitely feeling like their dreams came true when they saw I bought a box of Fruit Loops. Sugary cereals like that are typically kept for special occasions.
And when I told them that they were going to get to make fun rainbow cupcake toppers with the cereal…and then get to eat it too. Well, suddenly I turned into the best mom ever.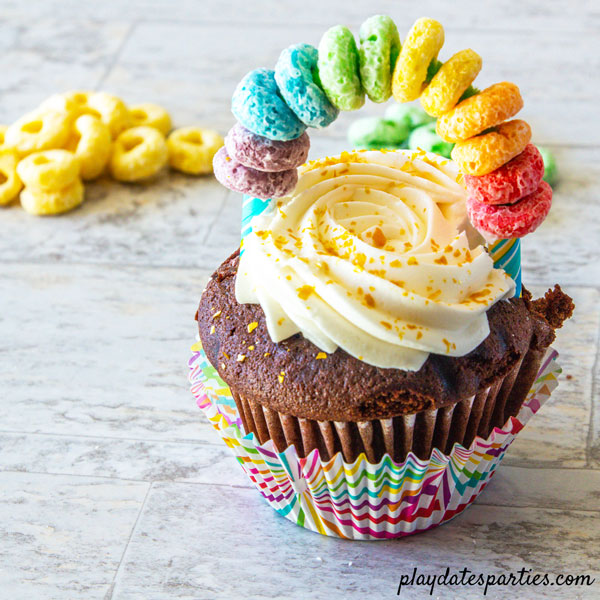 RELATED >>> 15 Super Fun St. Patrick's Day Treats
Super Easy DIY Rainbow Cupcake Toppers
You see, when it comes to celebrating St. Patrick's Day, I need to keep things simple. Really simple.
And while my favorite easy way to decorate for parties is with some cute printables, these are almost just as easy. Plus, if you get the kids to help make them, then that's even more time you get back! (Okay, so maybe that's my true ulterior motive)
Even a toddler can get involved in this activity and help with sorting and stringing. Just make sure to have extra cereal on hand, because toddlers will spend more time eating the cereal than actually crafting with it. And sometimes we just have to be okay with that. 
Not Just for Cupcakes
So, parties are pretty much always on my brain. Big surprise, right? And that's why my first instinct was to turn this craft into rainbow cupcake toppers.
But, there are so many more ways you can use them! It wasn't long after making them for cupcakes that I thought how much fun they would be for a quick stack of pancakes on St. Patrick's Day morning. See?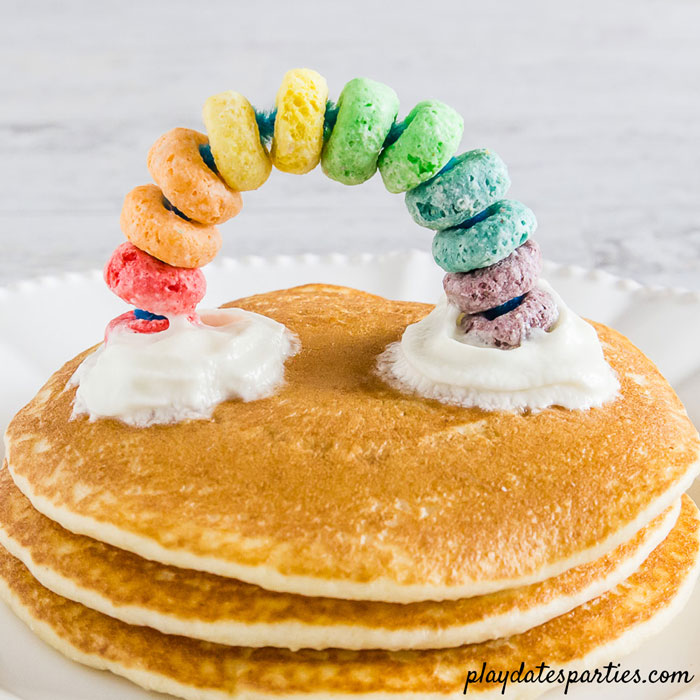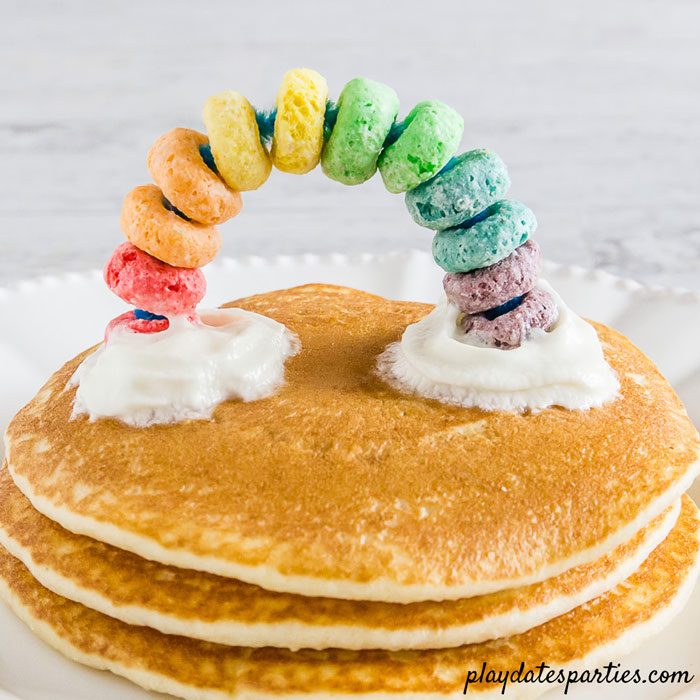 RELATED >>>>Freezer Friendly High Protein Pancakes Even Kids Love
Tip: Use frozen pancakes to make this easy enough even for school mornings. Talk about a win!
But there are so many more ways that the cupcake toppers could be used. Can't you just see these rainbows on a mini cake with frosting clouds at the base? That would be simply adorable for a first or second birthday. 
Or cut the paper straws a bit shorter and add a mini powdered donut to each end . (You know what, I think we'll be doing that sometime!)
A Quick Note about Which Cereal to Use
We made them with both generic and name brand and found that the name brand cereal had brighter, bolder colors.
But if that's not important to you, go ahead and save a buck or two and buy generic.
Which Party Themes Will Rainbow Cupcake Toppers work for?
You know what's awesome about these? They're super versatile! Here are just a few party themes where they would be perfect as both party activity and decoration. (Don't you love it when two things come together so perfectly?)
St. Patrick's Day
Unicorn parties
Rainbow parties
Wizard of Oz parties
Art themed parties
The list could go on and on!
How to Make Easy Rainbow Cupcake Toppers

Directions:
1. Start by sorting your Fruit Loops into separate colors.
Tip: Have your kids help out with sorting the cereal. Just make sure to have plenty of extra cereal on hand because you know that it's going to get snack on while sorting. (and that's OK!)
2. String two of each cereal color onto a pipe cleaner in rainbow order: red, orange, yellow, green, blue, purple.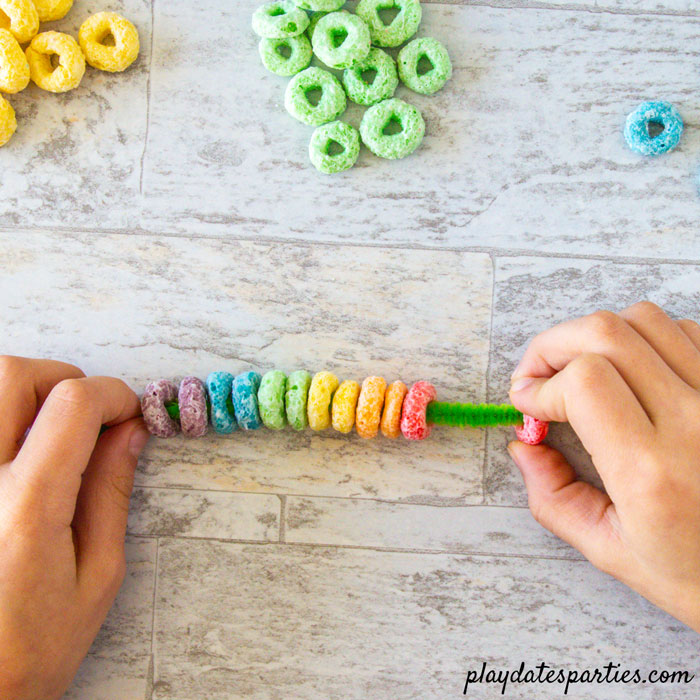 My oldest was helping out here, and she decided to go in reverse order. And if that's what you'd rather do, then go for it!
3. Cut a paper straw into pieces that are 1.5 to 2 inches long. Slide each of these pieces onto either end of the pipe cleaner.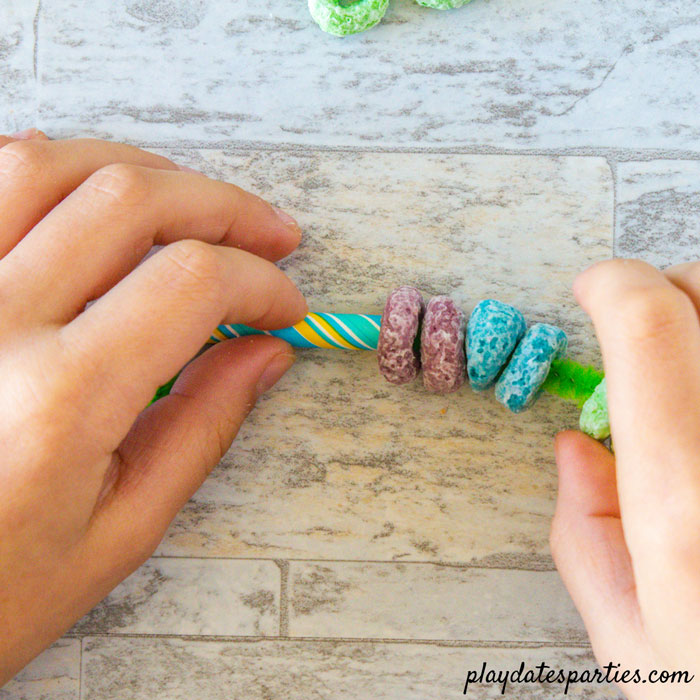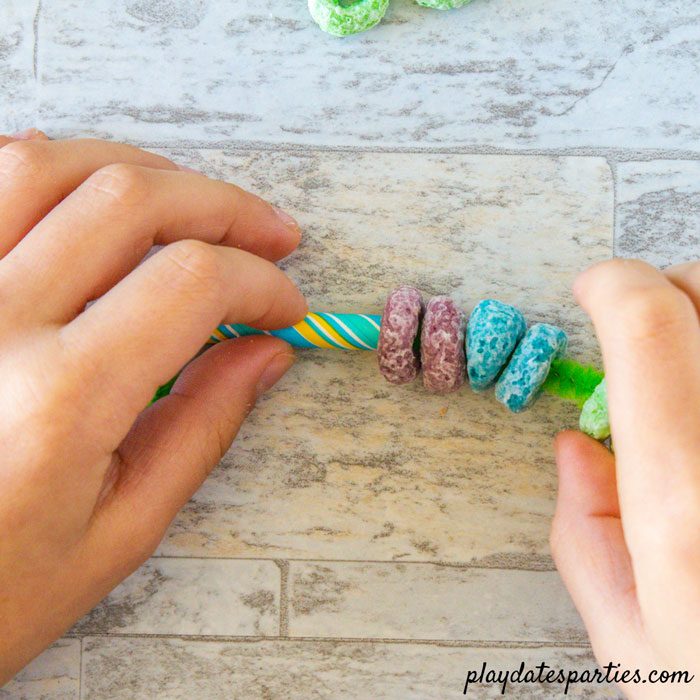 4. Trim Any excess pipe cleaner that is sticking out of the paper straw.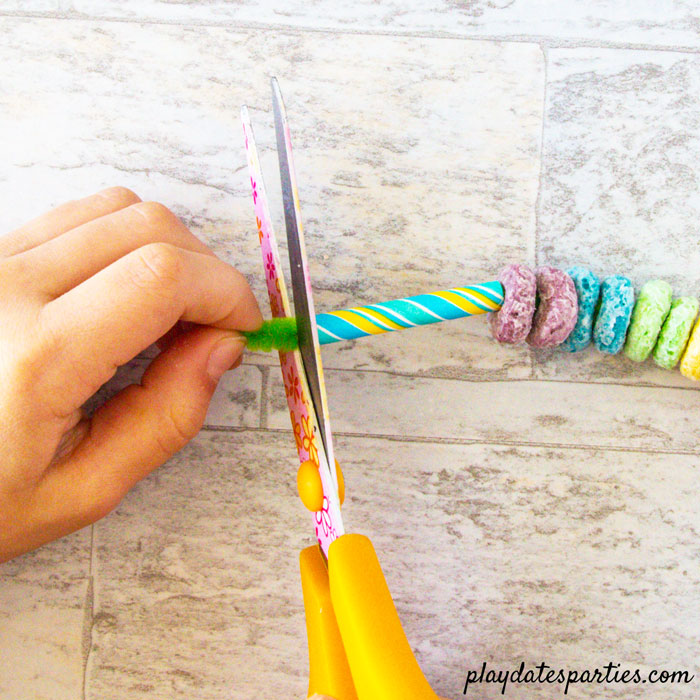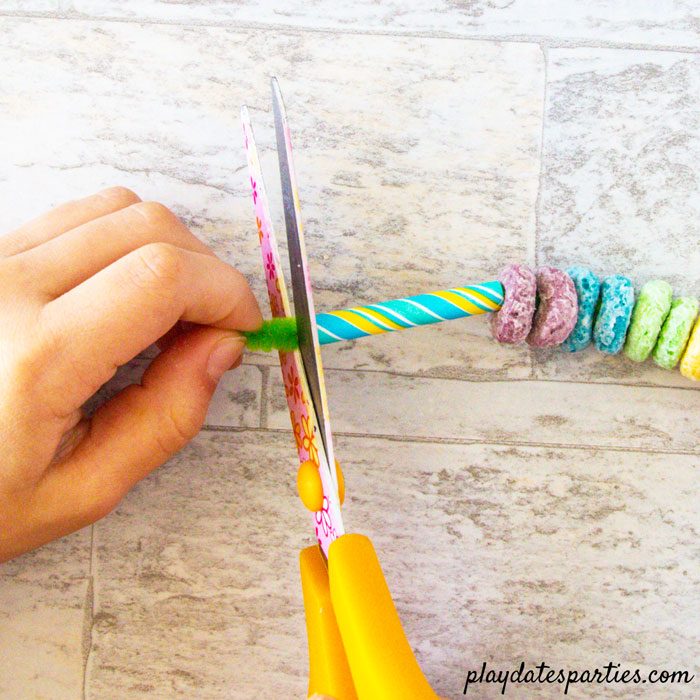 Tip: Trim one end first and then slide your rainbow a little down so that there is no pipe cleaner fuzz sticking out of the end.
5. Holding both paper straws, gently push the paper straw ends into the top of a frosted cupcake until the straws can go in no further or are not visible.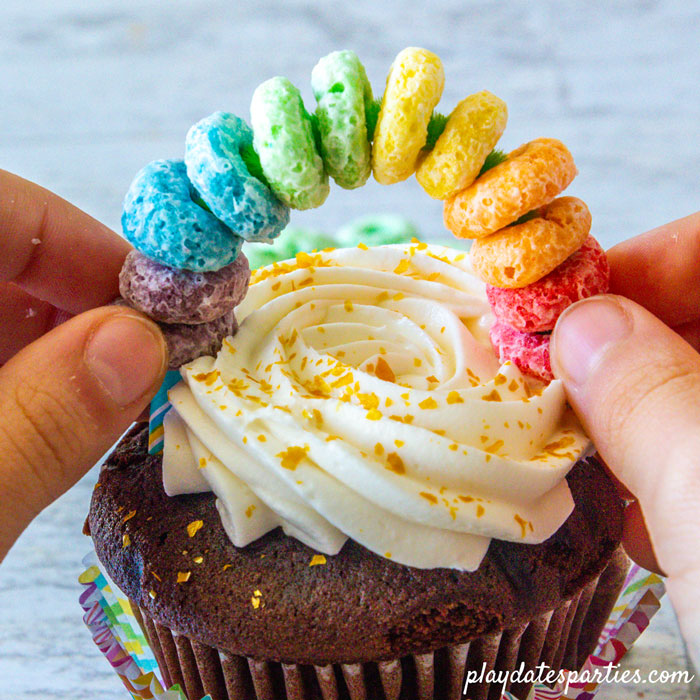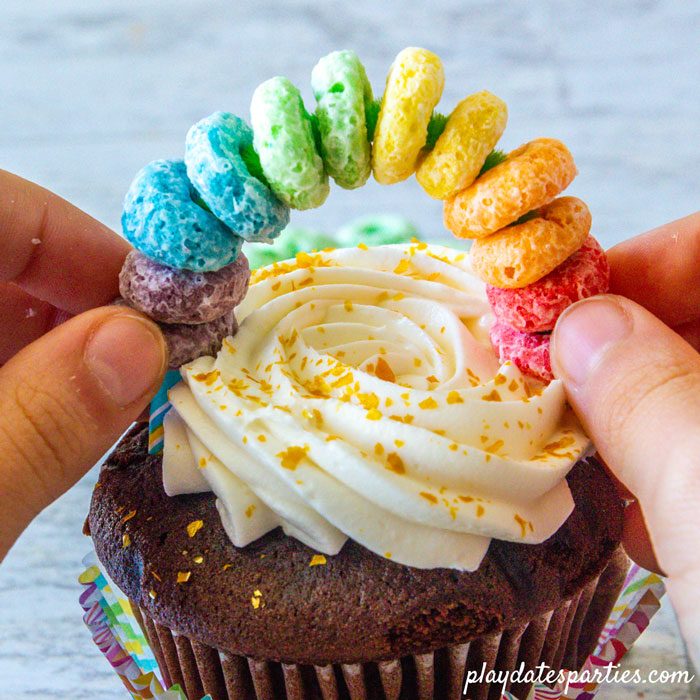 Since we're doing this for St. Patrick's Day, we used chocolate cupcakes and edible gold glitter to represent a leprechaun's pot of gold. So cute, right?
More St. Patrick's Day Fun
Now It's Your Turn
We had so much fun making these rainbow cupcake toppers, even if we were singing "Over the Rainbow" on repeat. Now that you know how easy it is to make them, I want to know…
What party theme would you use these for?
Would your kids go gaga if you brought home some Fruit Loops?
---