This pot of gold rainbow centerpiece is the perfect addition to your St. Patrick's Day decorations. Grab your free download and make yours today!
"Well, at least I have the leftovers for another party"
I can't tell you how many times I fell into the trap of thinking that was okay. And every time I hear someone say it to me, I'm cringing on the inside.
Now, I'm no Marie Kondo. Actually, compared to her I'm probably a hoarder!
But we have five people in our family, crammed into roughly 1,800 square feet of living space. Less than that if you exclude my husband's office.
That doesn't leave much room for leftover craft and party supplies.
Pot of Gold Rainbow Centerpiece
Which is why I love crafts like this adorable pot of gold rainbow centerpiece.
In fact, I bet you already have most of the supplies in your house. And if you don't, they're easy to find and inexpensive.
Simple Print and cut Cricut Pattern:
First up, no you don't need a Cricut for this project. A sharp pair of scissors will work well, too.
But, since my husband generously gave me a Cricut Maker for Christmas last year, I've been learning everything I can to make my own projects. And that's why I designed the pot of gold rainbow centerpiece pattern to work as a Print and Cut project in Cricut Design Space.
If you have a Cricut and want to use it to make your pot of gold rainbow centerpiece, then here's what you need to do:
Convert the PDF download to a PNG file: I use a Mac, and showed how to do that in this video. If you're on a PC, I've heard good things about PDF to PNG, but haven't used it myself)
Start a new project in Cricut Design Space and then upload the PNG files.
Click on the white spaces just outside and just inside the large box to define the cut areas. (The box is there to help ensure that the project is within Design Space's print and cut size limits)
Do not remove the white space inside the text box at the bottom. That will cause your Cricut to cut out each letter.
Once both sides of the pattern are uploaded, insert them into your project. Keeping the sizing locked, change the width to 9.25 inches.
Then you'll be ready to follow the Design space print and cut directions!
One More Quick Note
The rainbow itself is completely custom designed, and as a result, it's not entirely symmetrical. The download includes a page marked "Side 1" and a page marked "Side 2."
It doesn't really matter which side is the front or back. They're just labeled that way so you can keep track of everything. But please remember that the rainbow won't line up if you try to print two copies of the same side.
The clouds in the pattern are all identical. Go ahead and mix and match them to your heart's content.
Now that we have all of that out of the way…let's get to the fun part!
How to make the Pot of Gold Rainbow Centerpiece:
What you'll need:
Bright white card stock or matte photo paper
Plastic party cups* (I used 18 ounce Solo cups)
Yellow or gold tissue paper
Printable Rainbow and clouds pattern (you can download mine from my free resource library – request the password at the bottom of this post)
Optional*:
Black paint
Wax Paper
Gold wrapped candy (I used Rolos)
* I already had paint and green party cups on hand, so I chose to paint my cups. But if you don't want to do that, you can find black party cups right here!
Get your materials ready:
Print out the rainbow pattern on a color printer using the best quality settings you can on bright white card stock or matte photo paper.
Cut out the rainbow pattern with sharp scissors or with a cutting machine such as a cricket.
If you are painting your party cups, prepare a surface with wax paper. This will help prevent any pain to the area from sticking to your surface.
Using a black foam brush paint your party cups black. Note: I found that I needed three full coats of paint to get good coverage.
Assemble your Pot of Gold Rainbow Centerpiece:
1. Lay the side 2 rainbow pattern print side down on a flat surface. Place the side 1 pattern print side up on top of the other piece and make sure everything is aligned properly.
2. Using a hot glue gun, glue together the two rainbows, leaving at least 1.5 to 2 inches at each end of the rainbow for the lollipop sticks.
3. At one end of the rainbow, hot glue a cloud cutout to the outside of the side 2 print.
4. Next, use hot glue to attach a popsicle stick between the ends of the rainbow and onto the bottom half of the cloud.
5. Align the top cloud image on top of the popsicle stick and glue to the cloud underneath.
6. Repeat steps 3-5 on the other end of the rainbow.
Put it all together:
1. Stuff a sheet of yellow or gold tissue paper into each black cup. If you have a lot of gold wrapped candy, then you can make the tissue more compact. If you don't want to use a lot of candy, fluff the tissue paper up.
2. Place some gold candy on top of the tissue paper and then insert the lollipop stick into the center of the cup. Adjust as necessary.
Now It's Your Turn
See, you can have an adorable centerpiece without buying a lot of craft supplies that will just sit in your house wasting storage space until you can find a way to use them again. Grab your free template here and make this fun project for your next party!
And you know what's really great? You can use this rainbow pattern for all sorts of other projects! Let me know in the comments section if you have any other ideas!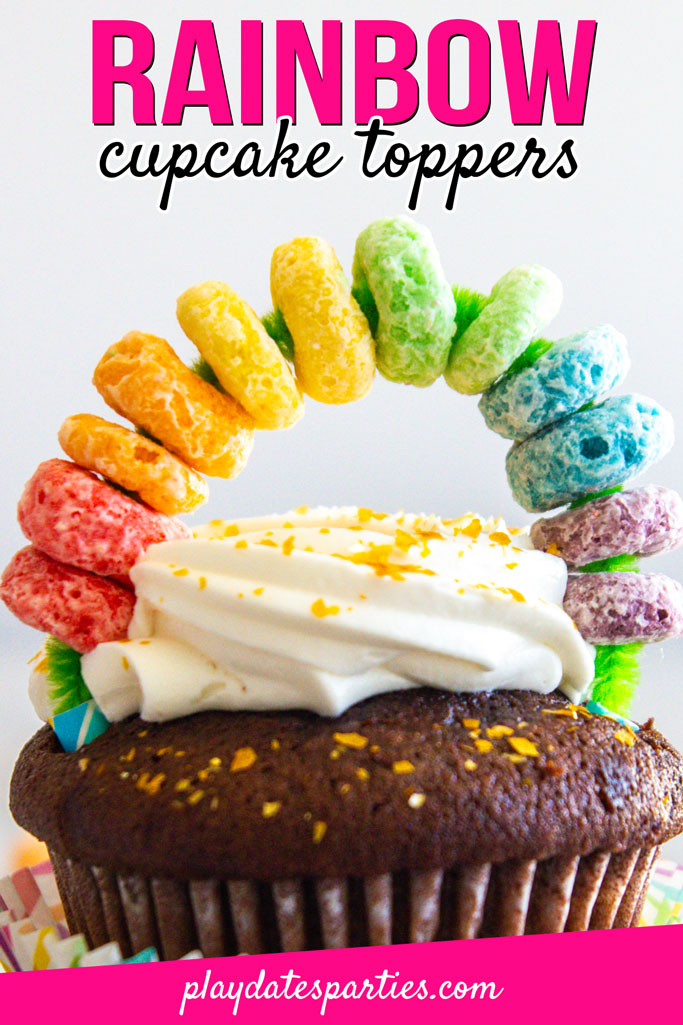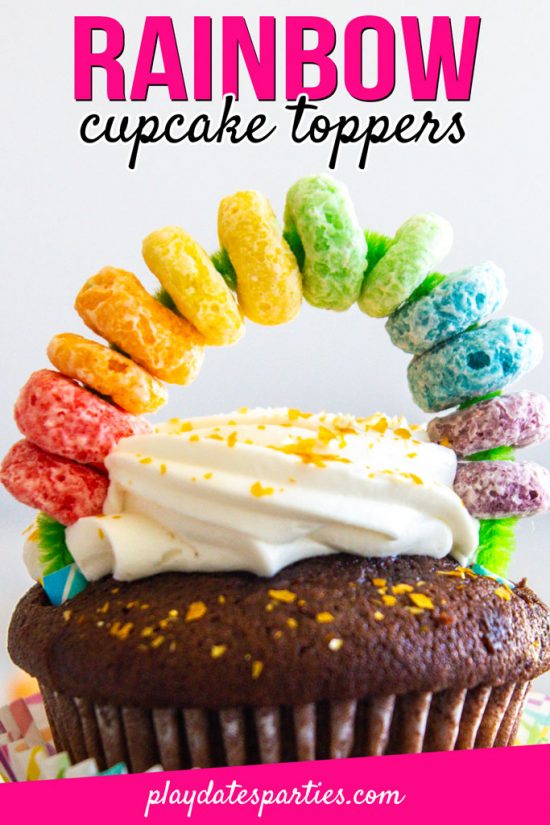 Don't forget to subscribe via
Bloglovin, Facebook, and Twitter,
to get more updates!