Are you looking for a fun football party game to play with just about the entire family? Hut Hut Hike is a hilarious minute-to-win-it party game good for everyone from kids to adults.
This game is perfect for the Super Bowl, but is also great for sports themed birthday parties too. So, go ahead and grab some balloons and a couple baskets, and get ready to see the fun fly.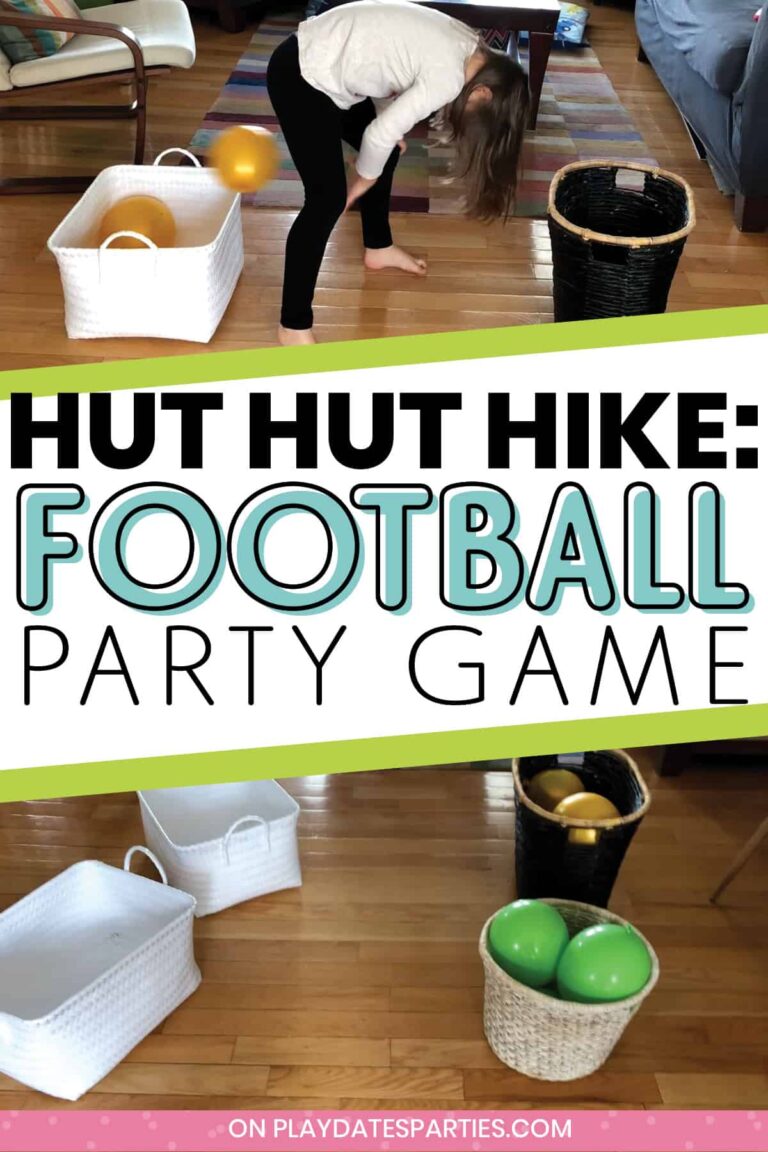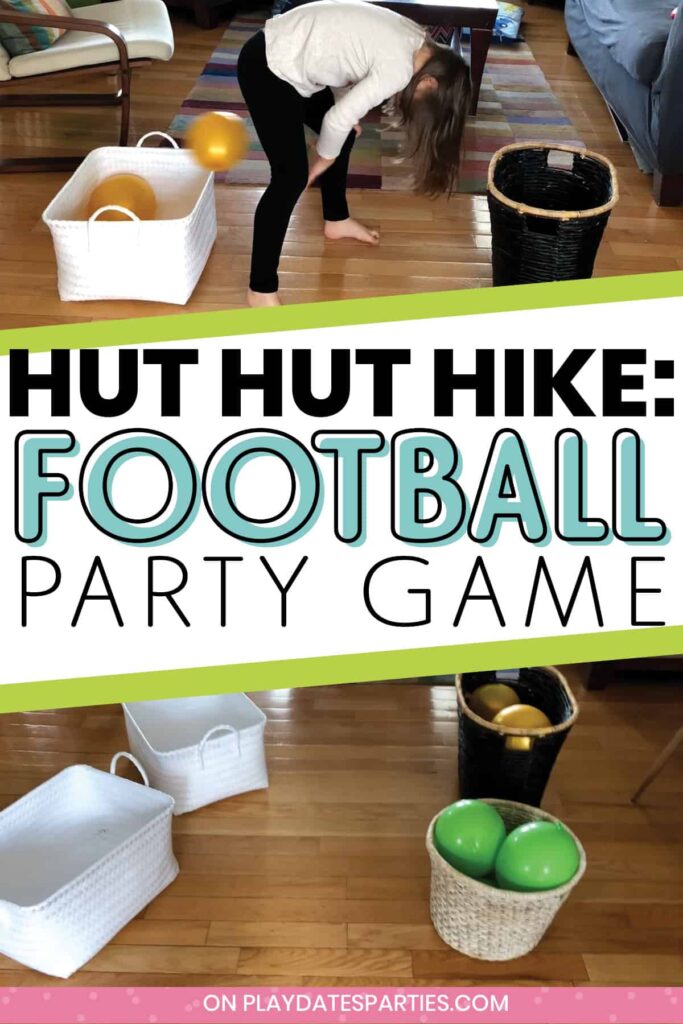 A couple years ago we invited our neighbors over for a Super Bowl party. And with only two families, it was a nice, small get-together.
But here's the rub: between our two families, we had 6 kids running around ranging from ages 3 to 14.
Which is why I went in search of fun games that everyone could enjoy playing. And Hut Hut Hike fit the bill perfectly.
What You'll Need:
5-10 balloons for each player, in separate colors,
Two baskets per player, (we used laundry baskets)
How to play Hut Hut Hike:
The Objective:
Players have one minute to hike balloons between their legs into a basket behind them.
The player who gets the most balloons in the basket within one minute wins.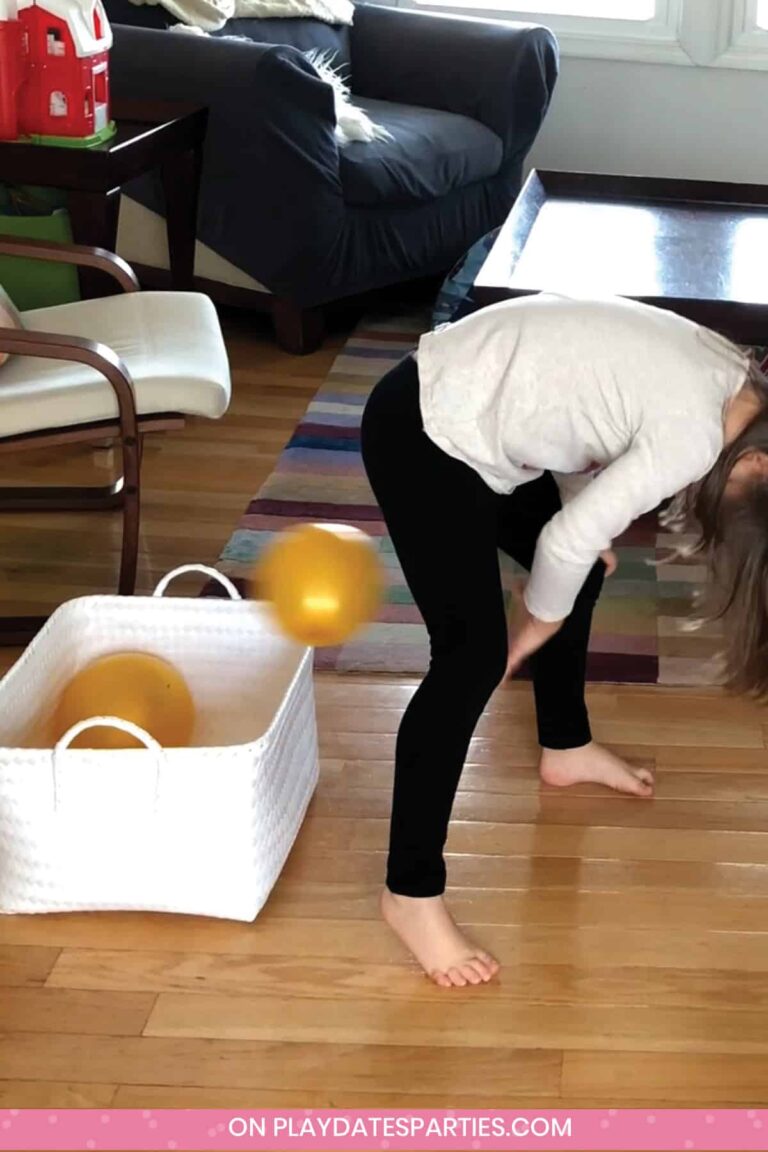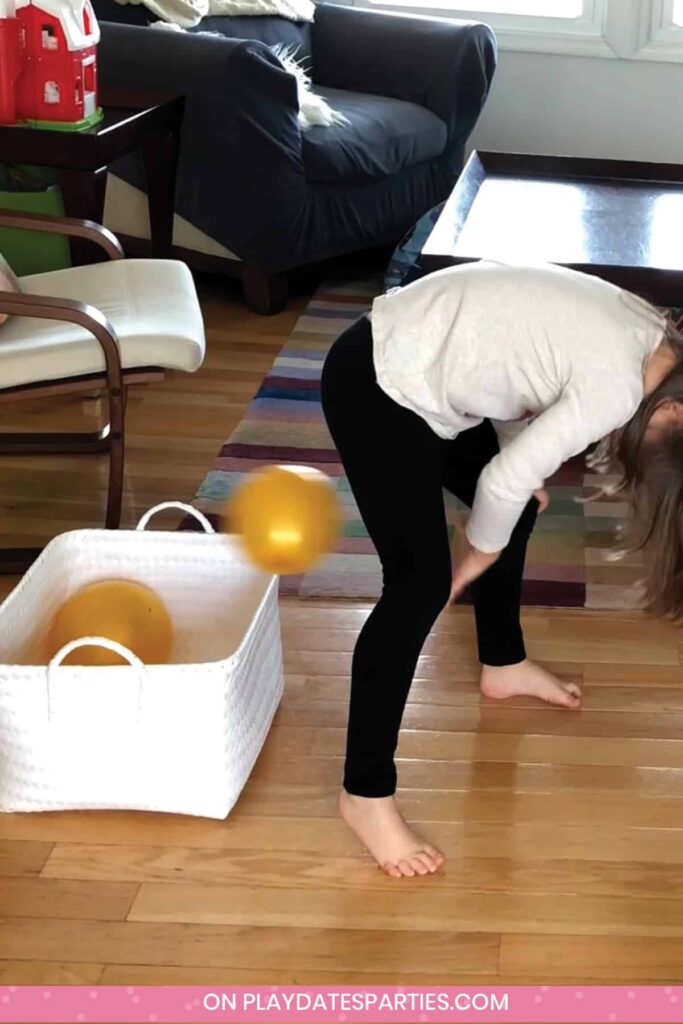 How to Set Up:
Each player will get two baskets, one in front and one behind:
The basket in front of the player holds the balloons to be hiked.
The basket behind the player is what they're aiming for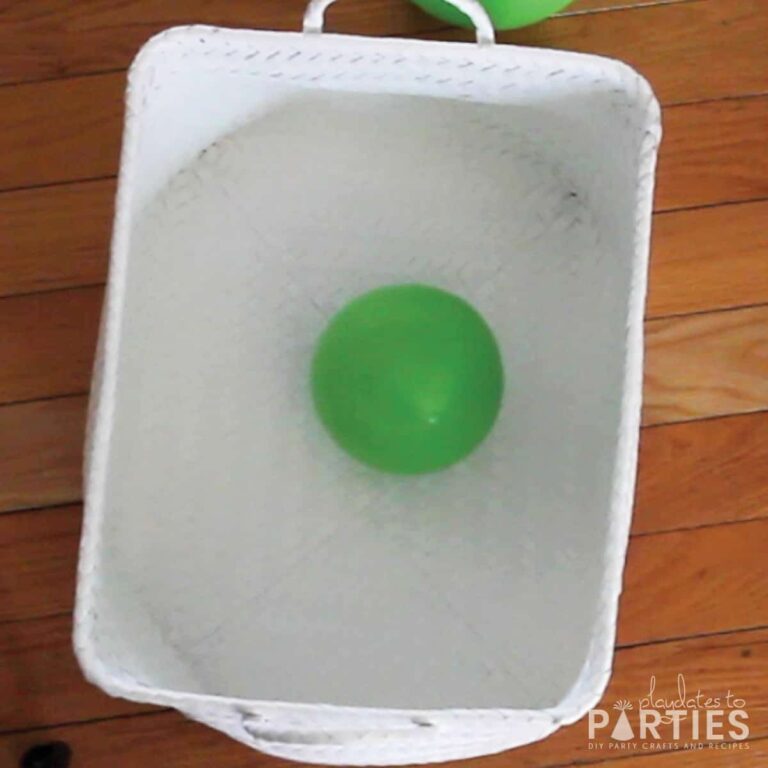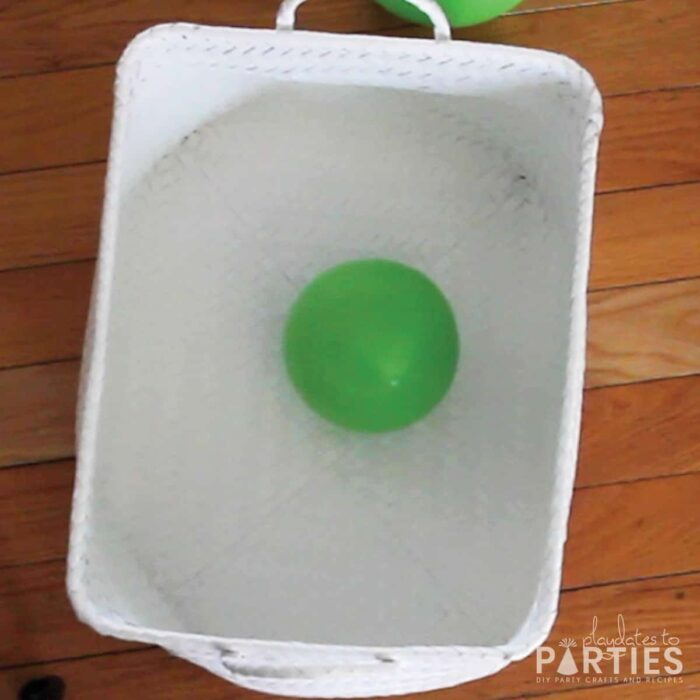 What age range works best for playing this game?
Well, our six-year-old was able to play, but struggled a bit. So I wouldn't recommend any age younger than six unless they're very coordinated.
But, honestly, adults can have just as much fun playing Hut Hut Hike too.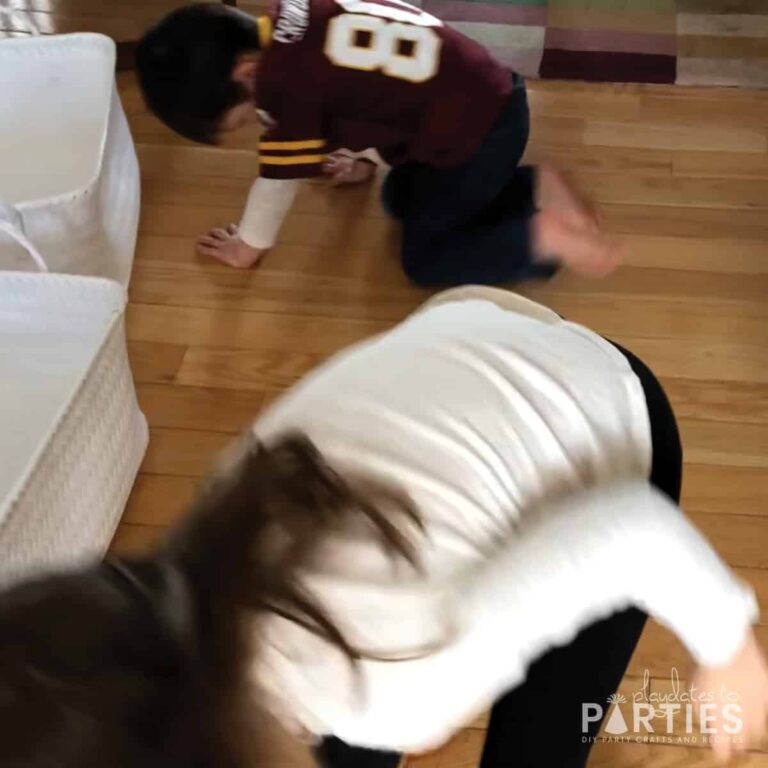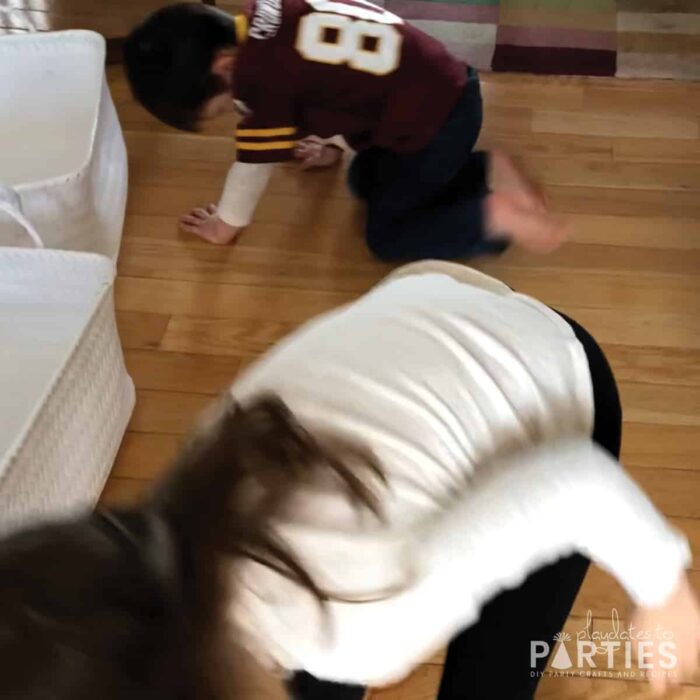 How far apart should the baskets be?
This is really going to depend on the age of the players.
My nine-year-old was able to get balloons in a basket about 2 feet behind her. But my six-year-old struggled with the same distance and did better with the basket almost right behind her.
And the toddler? Well, he just fell over and started goofing off.
Want to see how all the kids did? You can see it all in the YouTube video right here.
How many players/teams can you have?
If you have enough space, you can probably have up to three players going at once.
But if you're in a small space like our living room, you might want to stick to two players. The balloons tend to fly everywhere and that means that players can quickly get in each other's way.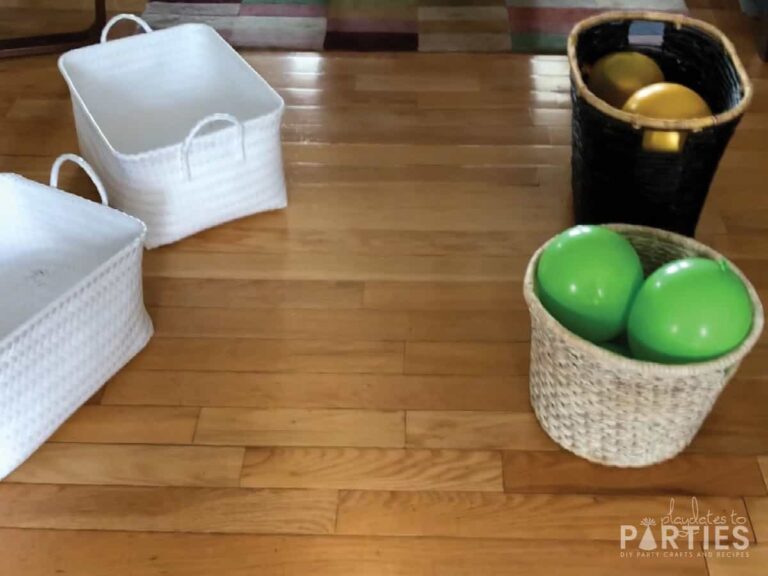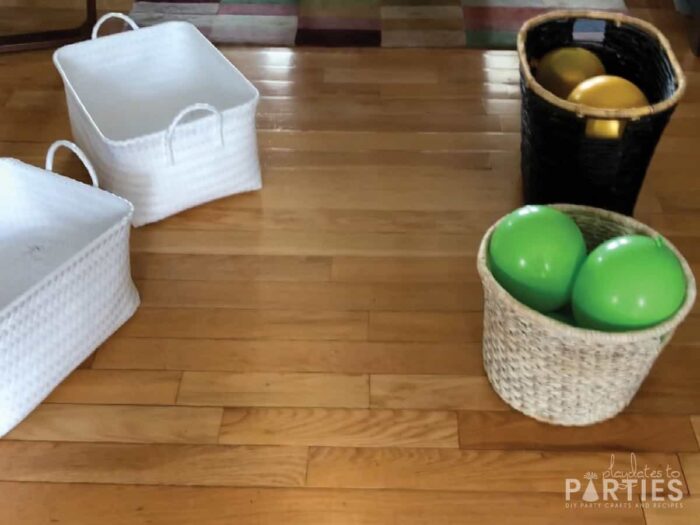 Why different colors of balloons?
We found that the balloons go flying into the other team space, so keeping the balloon colors separate makes sure you know exactly which balloon belongs to which player.
It's also helpful in making sure that each player gets an equal number of balloons to start.
More Party Games to Check Out:
Even with a small group, it's nice to have the neighbors over for the Super Bowl. And with fun football games like Hut Hut Hike, the entire family can enjoy the big game.
What do you think of this game? Will you be playing it with your kids?
---