Looking for a fun and easy football party activity for kids? Grab this printable download and let's play Touchdown Tango!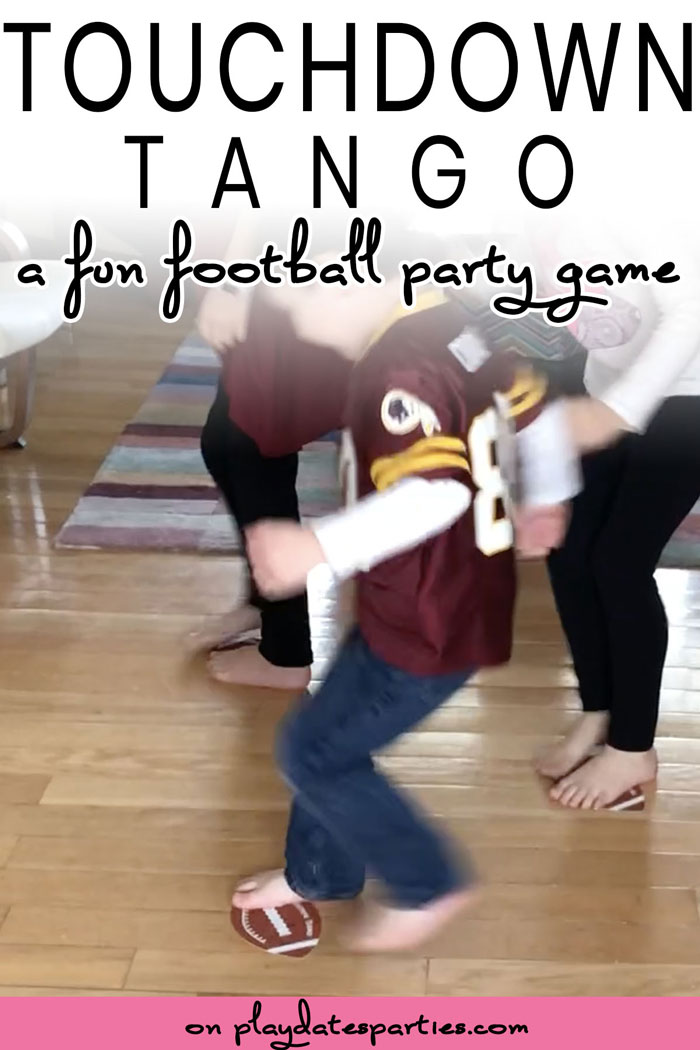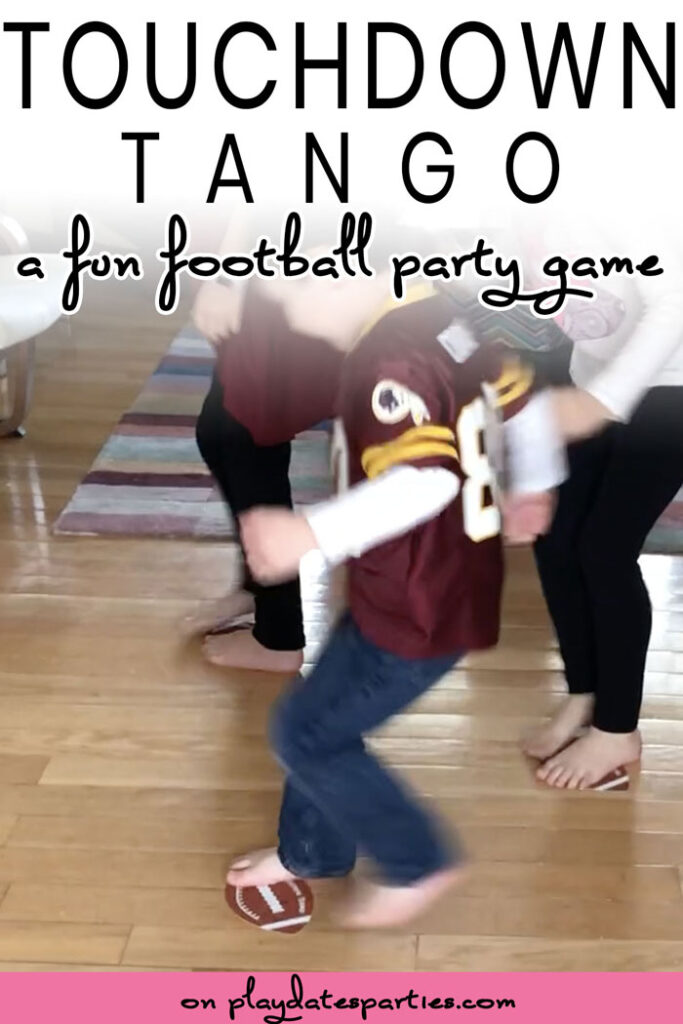 I really wanted to name this game excessive celebration.
But does anybody still remember when the NFL was penalizing teams for doing touchdown dances? Besides, I have a thing for alliteration and just loved the name "Touchdown Tango."
All you need to know is that it was those wild and crazy touchdown dances that inspired this musical chairs style football party activity. That, and I wanted to find a game that even my toddler could participate in.
Seriously, why is it so difficult to plan party games for toddlers?
Touchdown Tango | Easy Football Party Activity for Kids
Touchdown Tango is such a fun football party activity for the whole family. And because it's based on a game that even little kids learn to play, it's perfect for any of these occasions:
kid-friendly Super Bowl parties
sports or football themed birthday parties
Days stuck inside during winter
family game night.
and so much more! And the best part is, it only takes a few minutes to set up.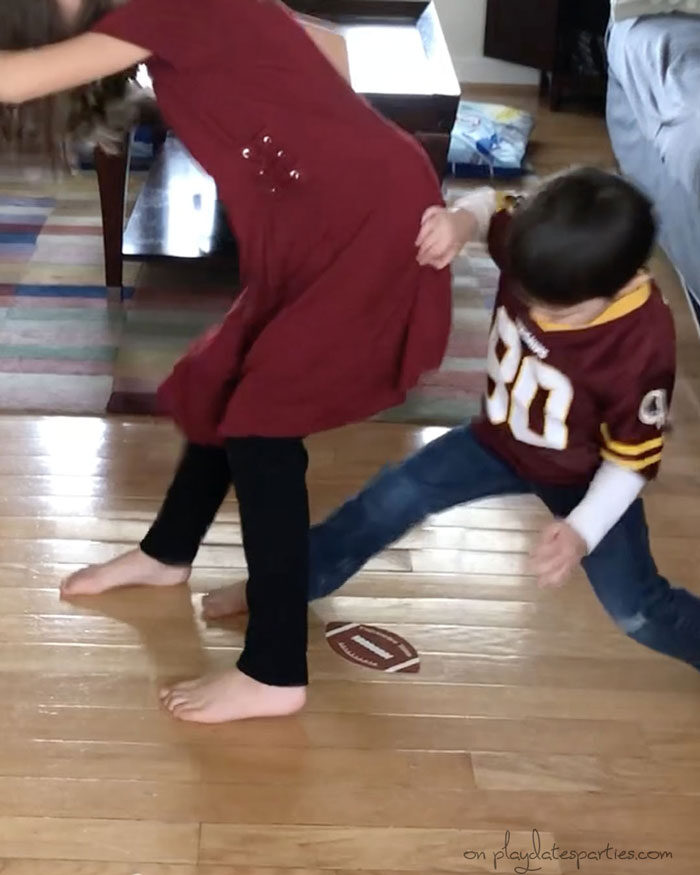 Have a Cricut cutting machine?
The printable football template is sized to fit within the Cricut print and cut size limits. Yay! Here are a few tips to help your upload run smoothly:
Go to pdf2png.com and follow the instructions for converting PDF documents to PNG documents.
Upload the PNG files to Cricut Design Space.
When prompted, choose "Complex"
On the next screen, click on the outside area to erase the outer white area.
Then, choose the eraser tool and erase all the copyright information on the document.
Do not erase the corner marks. These are provided to ensure your banners all print to the same size.
Continue through and save the document as a Print and Cut file.
When the file imports into your project, it will be far too big. Simply resize the short side to 6.75 inches or the long size to 9.25 inches, and it should fit the sizing perfectly.
Once that's done, follow the standard Print and Cut instructions and you'll be ready to go.
*You can see a video that shows the entire process with another one of my printables, right here.
Of course, you can always cut these out with a pair of scissors, too. It's a nice, simple shape and shouldn't take too long.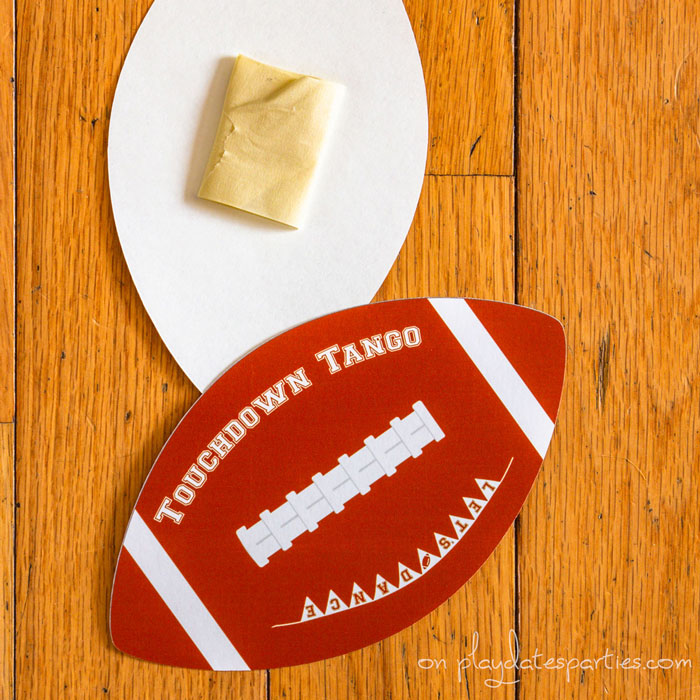 Setting Up the Football Party Activity:
Print the football template as many times as needed to have enough football shapes for each one of your guests.
Clear enough space on your floor to scatter the footballs all over. Don't place them too close together, we want the kids to move around as much as possible!
For each football, tear a piece of masking tape and loop it around to stick to itself. Then fix the masking tape to the back of the football template and place the football on the floor with the masking tape side down This way the footballs don't move all over the place while the kids are dancing.
Find your team's theme song or other music of your choice and have it ready for the game.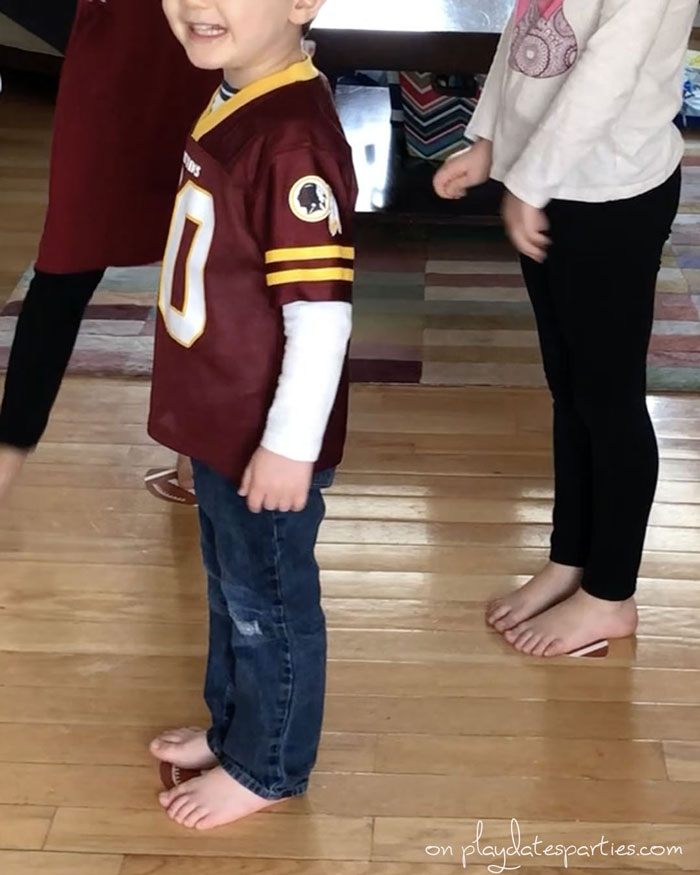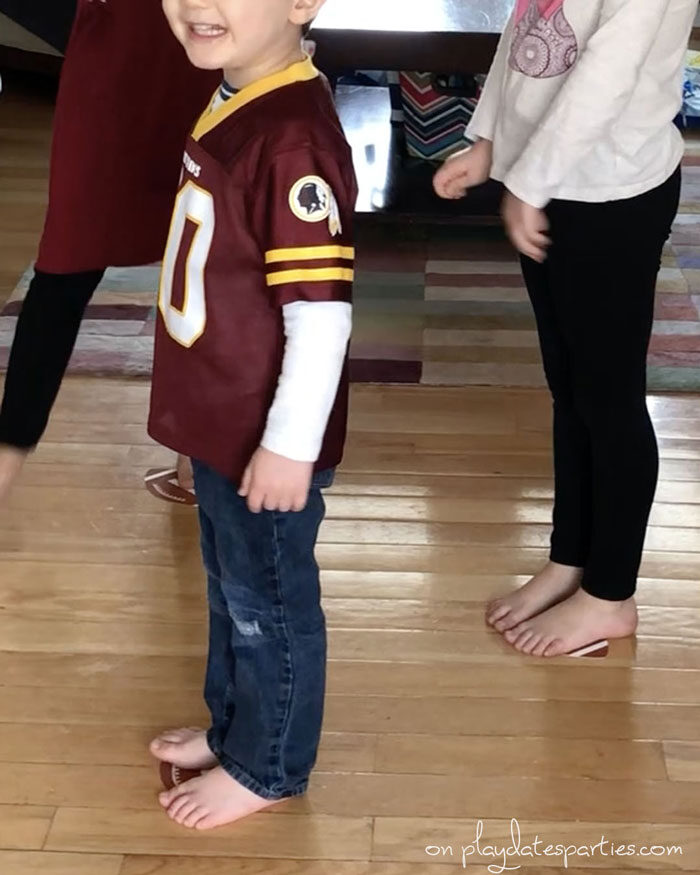 How to Play Touchdown Tango:
I like to start games off with a role playing scenario to get the kids excited. Feel free to make up your own, or use this:
"Your team just scored the biggest touchdown ever! And it's time to celebrate. While the music is playing give us your best touchdown celebration dance. Move all over the place and get everywhere. But don't touch any footballs while you're dancing. When the music stops you need to need to get to football as soon as possible, otherwise your team is out. The last person standing wins the championship!"
Have all the players start off standing on a football. This helps to settle things down and get everybody's attention.
Start playing your chosen music. While the kids dance, remove a football from the floor.
At a random point, stop playing the music and let the kids all get to a football. Whoever is not standing on a football is out of the game.
Repeat until there is only one football remaining. The last child on a football wins the game.
More Football Fun
Now It's Your Turn
Talk about a lot of fun! I love that this football party activity is so easy for the little kids to play and it helps them get some energy out too.
It's perfect for a football party game or even just a new way to have some fun when you're stuck indoors for a day. Grab your Touchdown Tango football party template and get dancing!
Would your kids enjoy playing Touchdown Tango?
What teams' music would you play?
---