Get all the details on staining wood with steel wool and vinegar. It's a gorgeous way to naturally get that reclaimed wood look!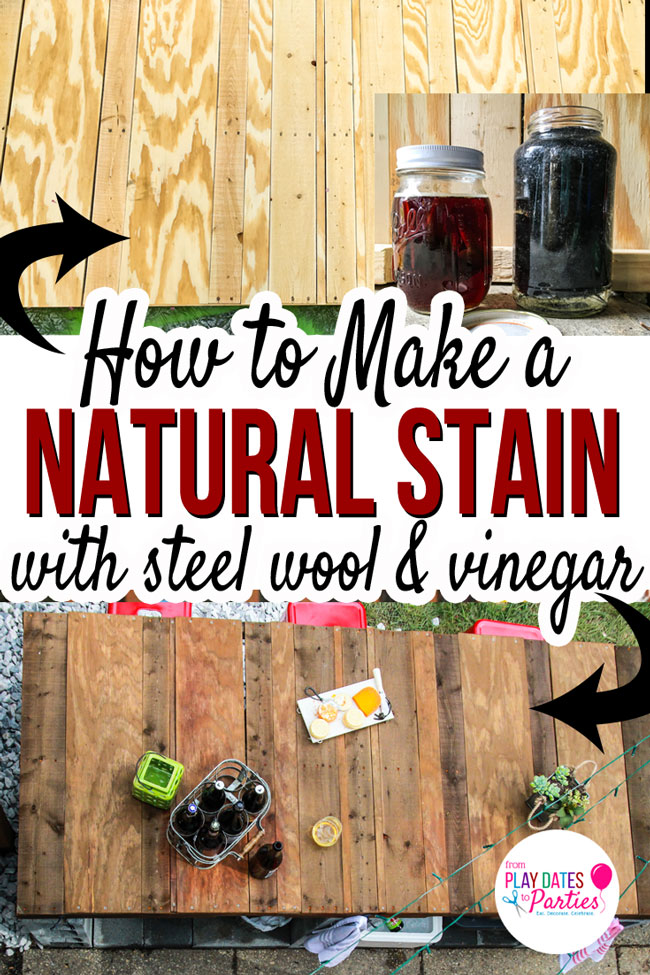 Have you ever read a blog post or article that stuck with you years later?
It might not even be about anything truly deep or earth-shattering, but you never seem to quite forget about it.
For me, it was a random DIY post on staining a wood tabletop with steel wool and vinegar.
And when I decided to turn our 7-foot by 3-foot pallet into a tabletop for our outdoor bar, I couldn't get that natural stain out of my head.
Now, I could have played it safe and used one of the countless cans of leftover paint and stain that is in our garage. But, honestly, I didn't like the colors.
Our house is trimmed in white and black, and those are the corresponding stain colors we have. But I wanted warm, reclaimed wood tones to contrast with the corrugated steel facade of the bar.
So, inspired, I went in search of that original post…and found it! And in the meantime, I ended up going down the rabbit hole of researching steel wool and vinegar stains.
But the more research I did, the more anxious I got.
You see, there's a ton of variability with this technique. The final color of your project is going to be affected by any number of factors, including:
Which type of wood you use,
The type of vinegar you use
How much steel wool is in your vinegar solution,
Whether or not you pre-treat with tea or coffee, and which type of tea or coffee you use, and
How long the solution sits before you put it on the wood.
If you have the time and the materials, it's best to test things out with some scrap wood. Or, you can just dive in and hope for great results!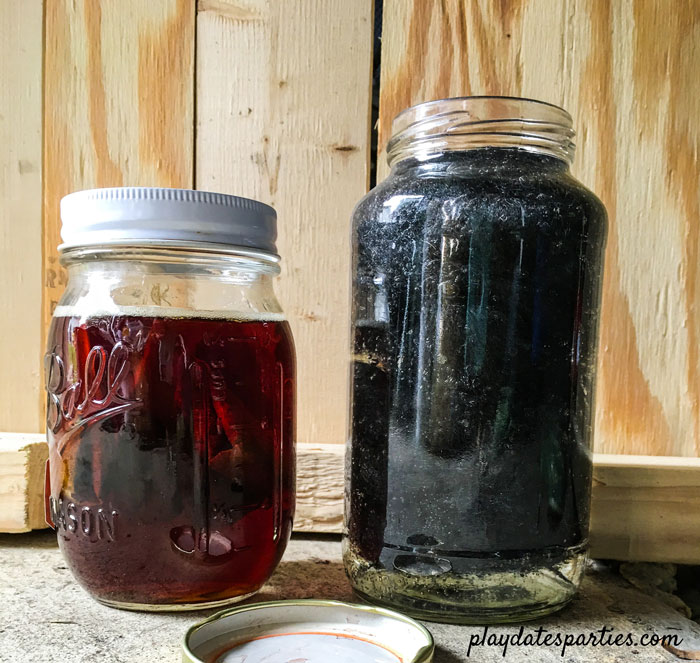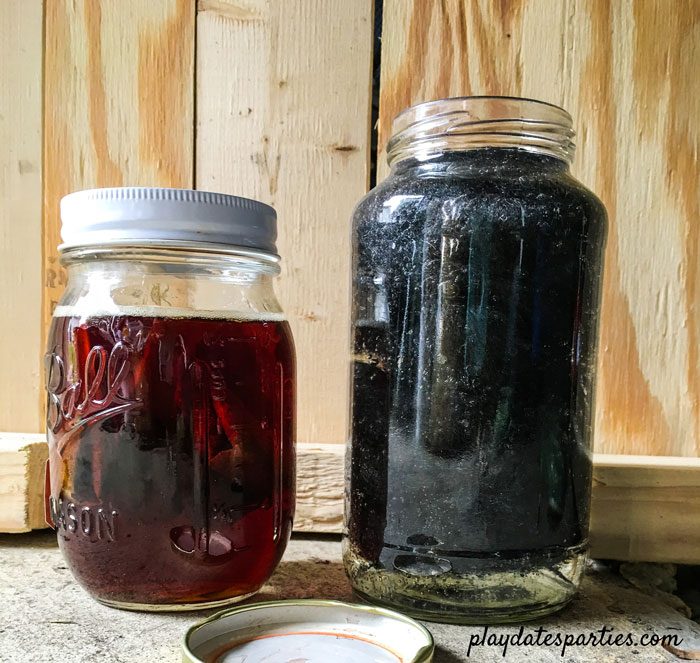 RELATED>>>> How to Make Custom Live Edge Wood Shelves
How does Steel Wool and Vinegar Stain Work?
The reason that there is so much variability with this technique, is because it's all based on a scientific reaction.
When steel wool and vinegar are combined for an appreciable amount of time, the components start to create an iron oxide. When the iron oxide is brushed onto the wood, it reacts with the tannins in the wood to naturally oxidize the wood, creating a stained effect.
The final color will be a result of how much iron oxide your solution has combined with how much tannin is in your wood.
This is also why many use a pre-treatment with brewed tea or coffee. When added to low-tannin wood (like pine), the tea and coffee increase the tannins to create a deeper result.
My experience staining wood with steel wool and vinegar:
With this project, I had three major challenges:
Time. The One Room Challenge deadline was approaching, and I didn't have time to wait for the solution to come together properly.
Weather. This pallet was HUGE, and we've practically been living in monsoon season here. So, I was working in a narrow area of our garage to get this done.
Unknowns. I had no idea what type of wood was used to make the pallet I was staining, so there was no way to predict the final result without some testing. That combined with the time limit made this a real nail-biter!
Challenges aside, I was committed to the project. And it was excited, even if it was nerve wracking.
So, one night, I broke apart 1.5 steel wool pads (most recipes only use one pad), and placed them in a leftover pasta sauce jar. That got covered with white vinegar and then left to do it's thing.
Just over 24 hours later, my impatience got the better of me. I brewed a VERY strong batch of 5 black chai tea bags in a mason jar and started prepping the pallet.
Thank goodness the pallet was large enough to do plenty of testing on the underside.
Panic, and Second-Guessing
I painted some tea on one area of the pallet and then tested the vinegar solution with and without the tea base.
That's when the panic set in.
The places with the tea solution were black, the pine plywood had a strange black and yellow zebra effect, and the tea-free areas were hardly changed at all!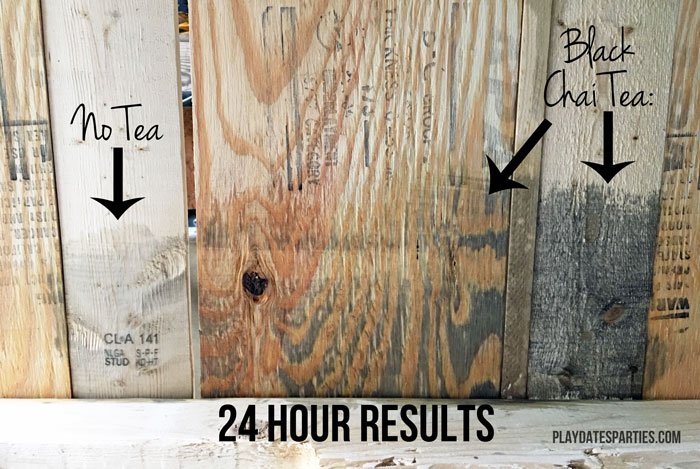 After a few minutes of pouting, I calmed down and decided to give the steel wool and vinegar solution another day to soak.
But this time, I left the lid off, in hopes that it would help create more iron oxide. (After all air=oxygen, and oxide is a combination of oxygen with other components, in this case iron)
The good news is, that it only took about 30 minutes to paint the tea solution on the entire pallet, which was left to dry overnight.
The next day I went out and tested a small area again.
This time, a silver-brown color started to develop immediately. Talk about relief! And as I worked, the colors changed further to a richer shade of brown.
The alternating boards of whatever the pallet is made of and the plywood I used to fill in the gaps means there are slight differences between each board, which makes the pallet truly look like a reclaimed wood creation instead of something perfectly manufactured.
I totally love it. What do you think?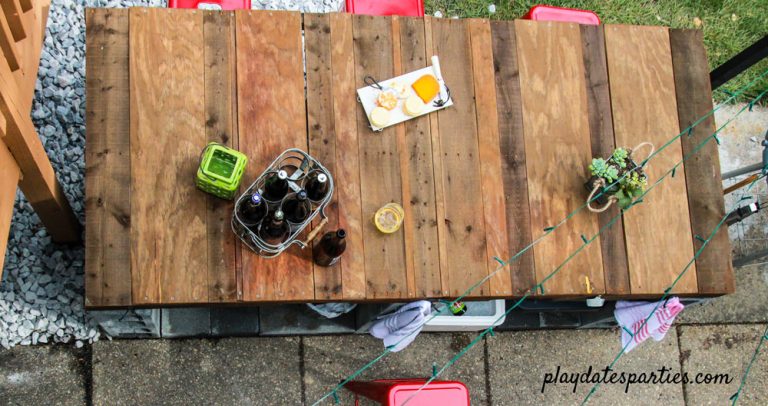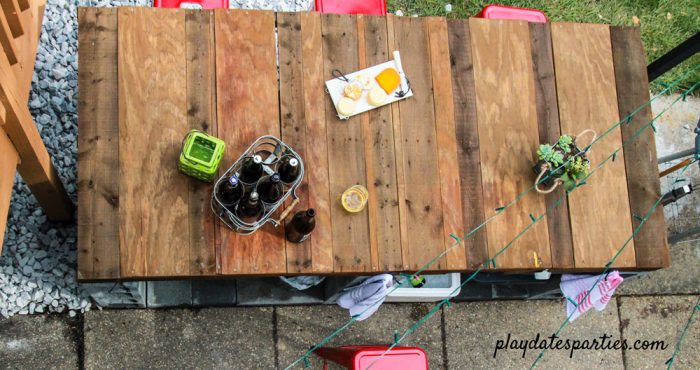 How to Stain Wood with Steel Wool and Vinegar
If you're ready to give this technique a try, here are your step-by-step instructions!
Materials:
Directions:
At least 48 hours before you want to stain your wood, break apart a pad of steel wool and put it into a jar. If you want to stain your wood sooner, leave the jar open. Otherwise, you can leave the jar closed for up to 5 days.
While your solution sits, prepare your wood by sanding it down well. Every once in a while, give the solution a little stir or shake to help break up the steel wool.
If you have a low tannin wood, like pine, paint the wood first with brewed tea or coffee and let dry completely.
Strain the steel wool out of the solution to remove the particles, and then paint the remaining solution onto the wood using an inexpensive brush
Allow the wood 24 hours to fully oxidize and dry. (It's a lot of fun to see how the color changes over that time!)
Seal the wood with a polyurethane or other sealer of your choice.
A close-up of the results: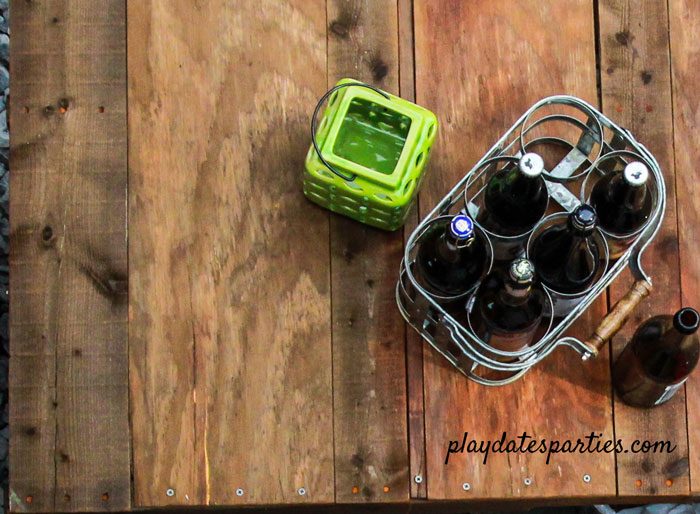 You can see here that some glue in the plywood didn't absorb the stain (of course), and some boards even took on a reddish tone while others are a rich brown color.
Have Fun with It!
I'm so glad I remembered that old post.
There's something so exciting about seeing transformations like this take place before your eyes, and to keep experimenting with more an more pieces.
I used some leftover stain on the outside of this unfinished wood tray from Target. Isn't it just perfect for summer?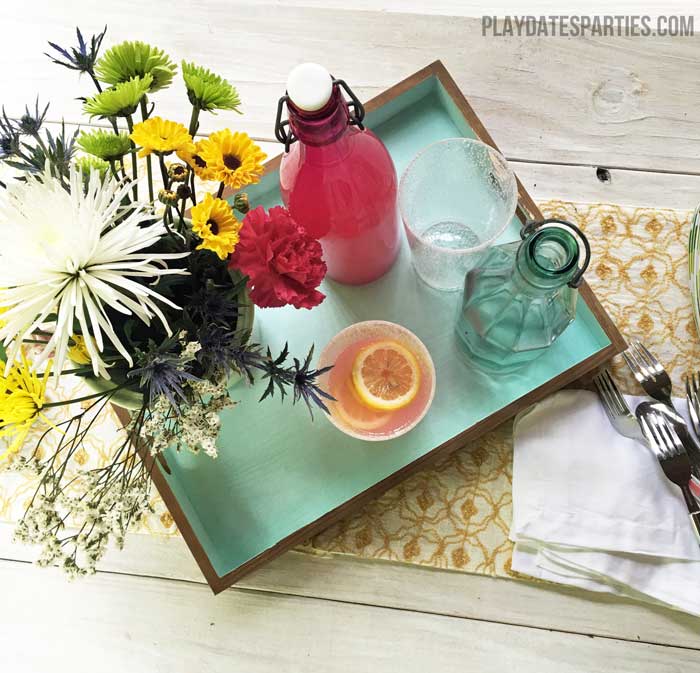 RELATED >>>> How to Make Your Own Chalk Style Paint
Want to Read More? Here are The Best Resources
There's so much information available on staining wood with steel wool and vinegar. (I know because I spent hours looking at every single post I could find!)
Here are the very BEST articles I read to help you supplement Avoid all that time spent and take a look at these great resources:
Have you ever used a natural stain before?
What would you stain with steel wool and vinegar?
Don't forget to subscribe via
Bloglovin, Facebook, and Twitter,
to get more updates!
[pt_view id="02aefc87c3″]
SaveSave
SaveSave
SaveSave
SaveSave