Are your kids' outdoor toys a cluttered mess? Here are 5 tips to get your kids' outdoor toy storage organized once and for all.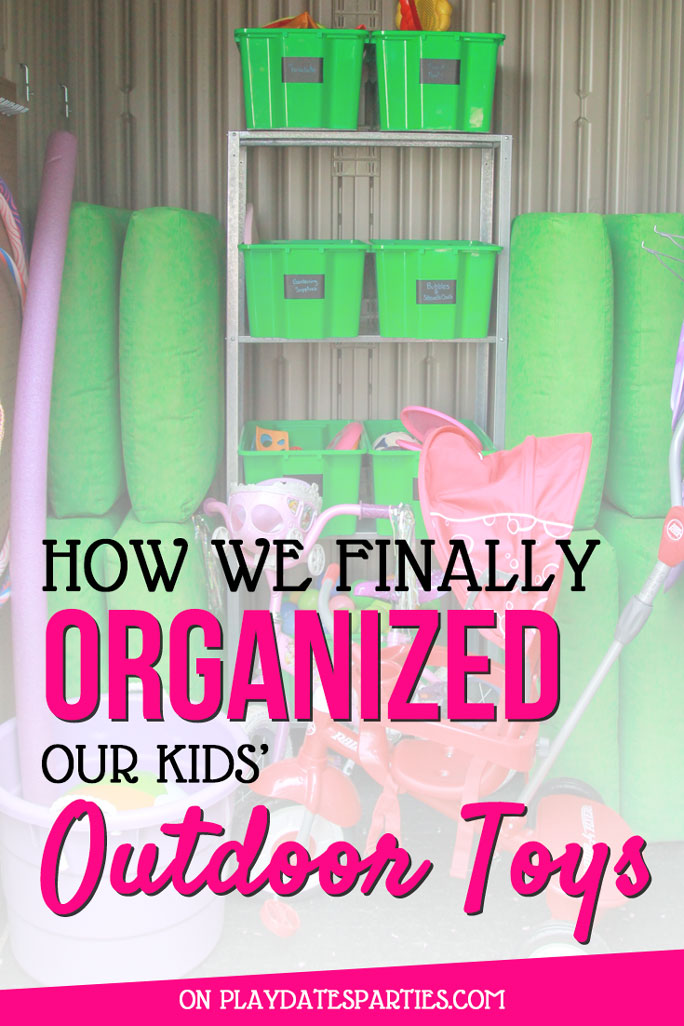 This backyard renovation turned out to be so much more work than I originally expected.
Not just because it's a huge space, but because we seem to keep adding projects to our list.
And that really doesn't help when you're on a short timeline, with only two weeks left.
Case in point: Organizing the kids' outdoor toy storage.
The Dilemma:
Y'all, the kids outdoor toys have become a bit of a nightmare.
The kids are finally getting old enough to really enjoy playing outdoor games. But with that comes a need to store a all those games and toys.
Heaven knows our house is too small to keep them inside, and our little one-car garage is already packed with tools and gardening supplies.
So, what to do with all those toys?
Well, we started off just keeping the toys inside a large resin deck box. You can see it here from before we started the renovation: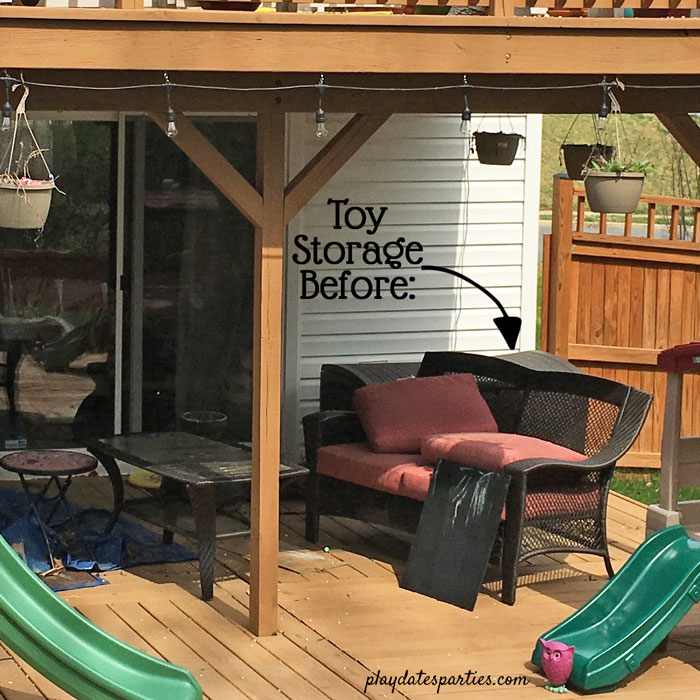 RELATED>>>>Real-Life Tips to Get Your Garage Organized
That box worked just fine for a year or two, and when we just had one kid running around.
But it's not working anymore. Here's why:
We now have three kids at different ages, meaning they need different types of toys. That means LOTS of toys altogether.
If the kids accidentally leave the lid open (happens all the time) rain gets in and collects at the bottom.
After about two years of use, the hinge broke on one side, meaning it no longer closes completely. Now rain and leaves get in whether or not the lid is closed.
Lizards seem to love hanging out in the box. They're not dangerous, but try telling that to a 3-year-old.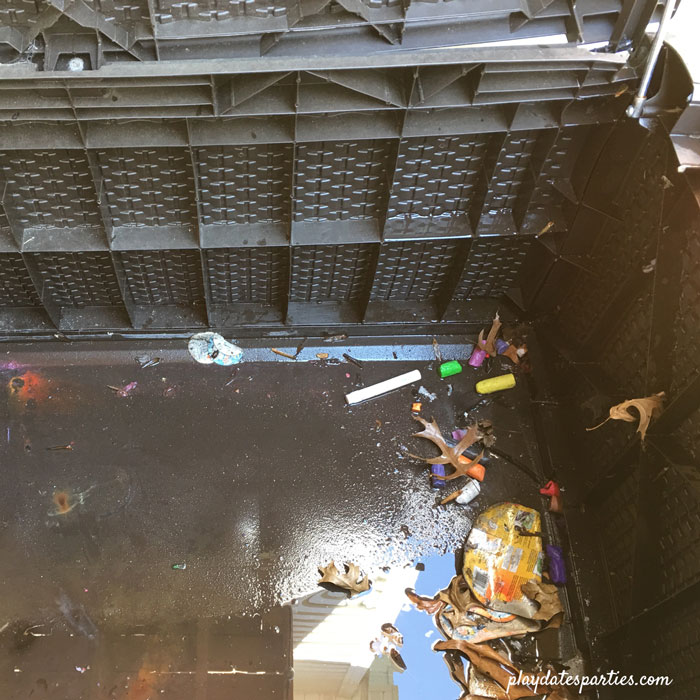 See what I mean? It's so gross in there. Not only that, but most of the kids toys ended up ruined from the rainwater, and it was just asking for mosquitos to lay their eggs. (also gross)
Clearly, we needed something different.
The Plan for New Outdoor Toy Storage
Well, at first I was just thinking of getting a new deck box. But then I started seeing the trash can enclosures that look like a mini-shed:
It's perfect, right? It's just tall enough for the kids to open, and with some shelving, the small toys could be easily organized.
It turns out my husband liked the idea, too.
Well, he liked the idea so much that he convinced me to supersize it to a full 4×5 foot shed!
Honestly, he was right.
5 Tips for Outdoor Toy Storage
1. Find (or create) a dedicated space for toys
Everything has a place, and everything in it's place, right? If you have one spot to keep things, then your kids know exactly where to go to find things and where to put them back.
Ideally, you'll have a few feet of garage space that you can dedicate to outdoor toys storage. Or even a bit of space in your mudroom. If not, you may need to consider one of the options above to keep everything tidy and safe.
Some things to consider when deciding where to keep your kids' outdoor toys:
Make it easy for your kids to get what they want on their own. You don't want them to have to open a rolling garage door by themselves.
Keep dangerous tools and equipment out of reach of small children
Make sure everything can stay dry and bug-free. Don't make it a home for mosquitos or other insects

2. Use Shelving and Outdoor Boxes to Organize Small Toys
There are dozens of options for outdoor shelving that will hold up to the elements.
We decided to use Ikea's Hyllis galvanized steel shelving unit, though you can get plastic and stainless steel shelving at pretty much any box box store.
A lot of people will use boxes and baskets from the Dollar Store for their outdoor storage, which can be great.
We wanted to make sure that the boxes we were using were rated for outdoor use, and Ikea's Gles boxes fit the bill (and the budget) perfectly.

The best thing about the boxes is that they're lightweight enough for the kids to get them down, too.
Peel-and-stick chalkboard labels help to make sure everything stays organized once you put it in place.
Tip: If your kids are too young to read, you may want to consider drawing pictures of what belongs in each box, too.

RELATED>>>> Easy DIY Magnet Wall
3. Use pegboard to hang toys that don't fit in the boxes
This is one of the best things we've done to get the toys organized. And all we had to do was go to the hardware store, get a pice of pegboard cut down to fit our space, and buy a box of assorted pegboard hooks.
Then you just put it all up and get it organized!
Outdoor toys to store on pegboard:
Hula hoops
shovels
Buckets with handles
Baseball bats
Jump ropes
Water guns
Butterfly nets
Pretty much anything with a handle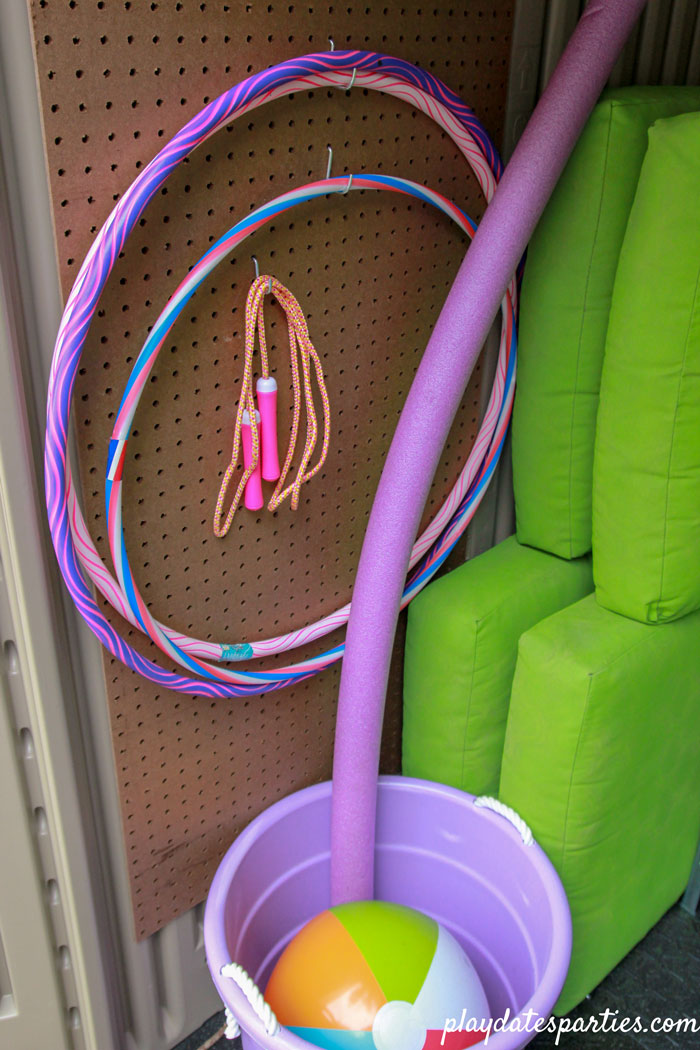 4. Put Irregularly Shaped Items into a Large Bucket
We've had a couple of these big outdoor buckets over the years, and they're great! You can use them for water play with the kids, or as ice buckets for a party.
And, when you're not playing with them, they're also great for storing the toys that are too big to fit in small outdoor toy boxes, and also don't fit on a pegboard.
As you can see, we're using ours to hold pool noodles and a large beach ball. But you can also use it to any other number of items, too.
5. Make Sure You Regularly Purge Broken or Destroyed Toys
Now, this is the hardest part. But it's also the most important.
We all know that toys tend to accumulate over time, and outdoor toys also seem to get broken or lost more easily.
It's important to regularly go through the toys and get rid of any of the following:
Toys your kids don't play with anymore (donate these to someone who does want them)
Broken toys, and
Games that are missing pieces.
If you do this often enough, you will help prevent the need to expand your outdoor toy storage any further. And isn't that something we all want?
Our Outdoor Toy Storage Solution Completed:
I love that now when we tell the kids to go play outside, they can get to their toys on their own, and I don't have to worry about what's scurrying around in an inch of standing water.
Our kids can easily access most of the toys, and they don't have to go rifling through the garage amongst all the tools and other dangerous items.
Even though buying a whole shed for outdoor toy storage was a bit extreme (and definitely expensive), it was worth the time and expense for a solution that will save our sanity for years to come.
Plus, we can even keep our refinished patio cushions in the shed, out of the rain and dirt!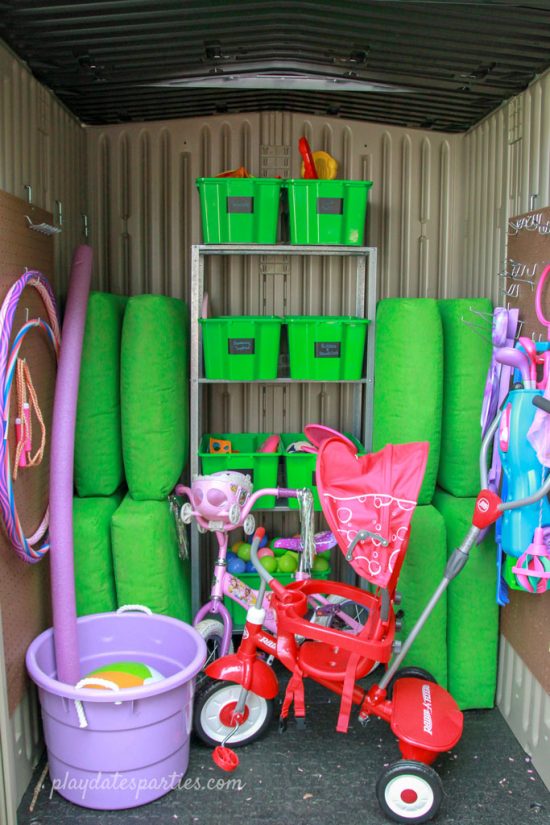 An Unexpected Suprise
Aside from the fantastic organization our kids outdoor toy storage now has, we got another awesome surprise.
When the shed was delivered, it was on this giant pallet!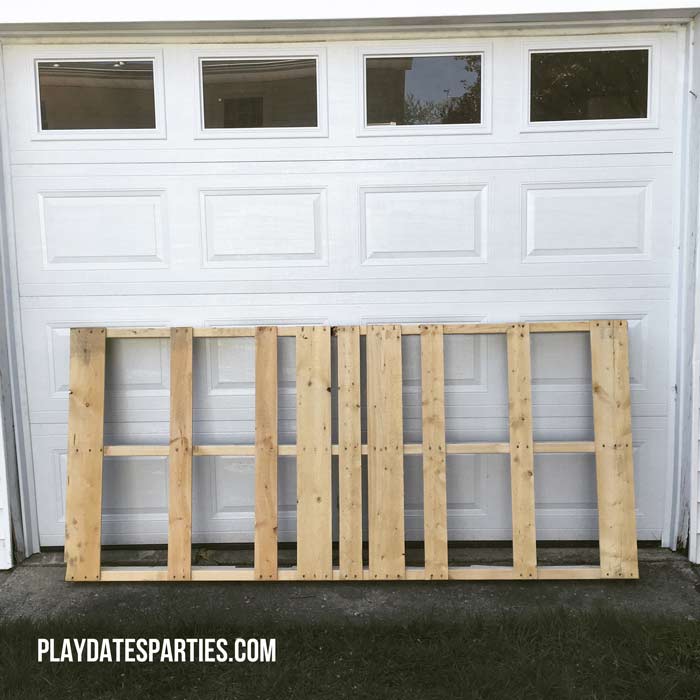 The pallet is over 7 feet long…and I've got big plans for it.
Wait a minute…wasn't I just saying we needed to stop adding projects to the renovation? Oh well, this one is just too incredible to turn down. (Updated: Click here to see what I did with that pallet!)
Now, It's Your Turn
You may not need to purchase an entire shed for your kids' outdoor toy storage, but these 5 tips will definitely help you get those toys under control. And everyone in the family will be happier for it. Now, I want to know…
What would you do with a giant pallet?
How do you store your kids' outdoor toys?
See the Entire Renovation:
---
SaveSaveSaveSave
---
I want to extend many thanks to the readers who have enjoyed renovation and home DIY posts over the years. Unfortunately, in January 2018 I was diagnosed with Stage II breast cancer and had to stop doing home renovation posts due to treatment.
Since that time, my focus has been on making this website an amazing resource for the everyday mom's parties. Due to their popularity, the DIY posts and tutorials will remain on the website, but comments are now closed. Thank you again and I wish you the best in your DIY endeavors!
SaveSave