In this backyard renovation update, find out how to make easy DIY potted plant benches using leftover deck boards and simple hardware.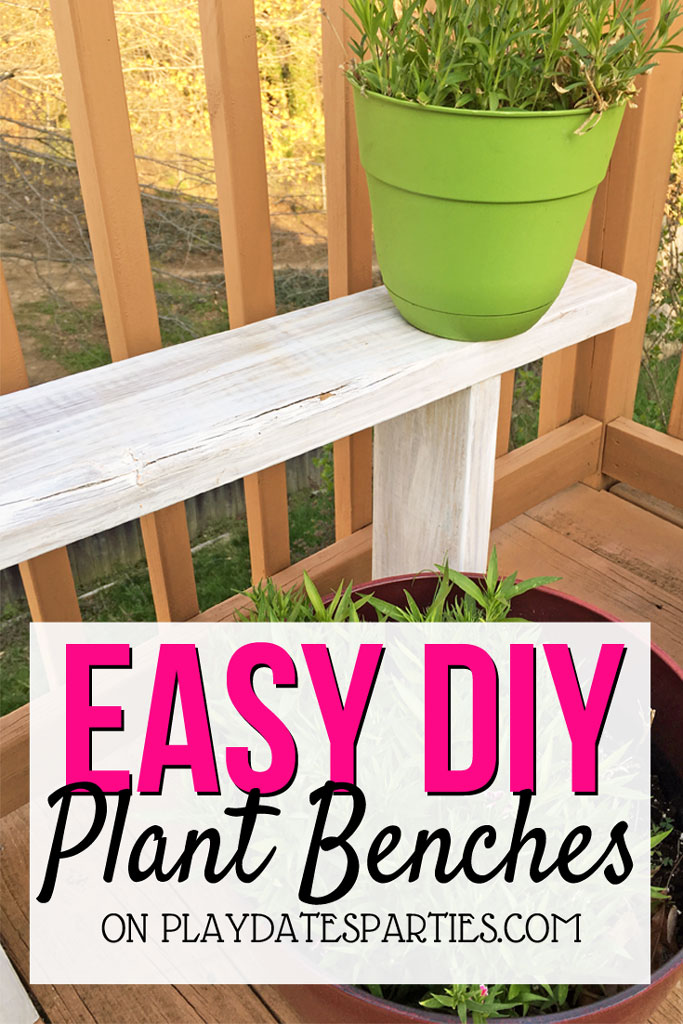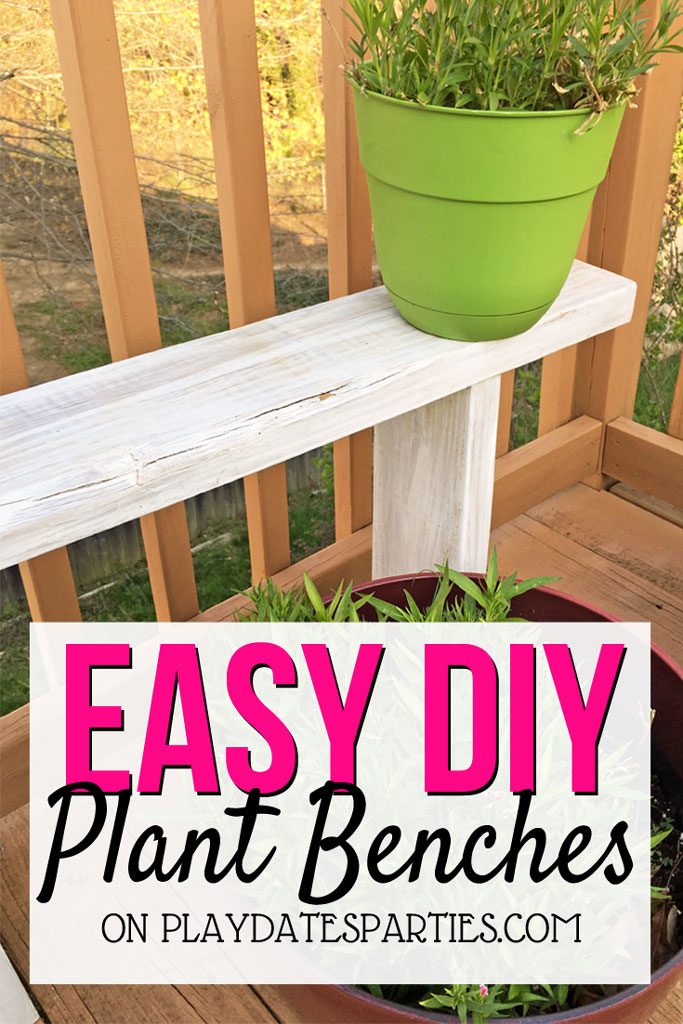 I wish I could say that we had more done on the deck this week for the One Room Challenge.
Unfortunately, the cold/snowy/rainy weather in conjunction with our family schedule kept a whole lot from happening.
Most of the last week was spent on cleaning up the existing spaces, planning what the updated space will look like and painting for planned projects. But other than that…not a whole lot was actually accomplished.
In the process of cleaning and prepping materials, I found myself stuck on decision-making for two big projects:
the existing flowerpot benches and
the planned privacy screen.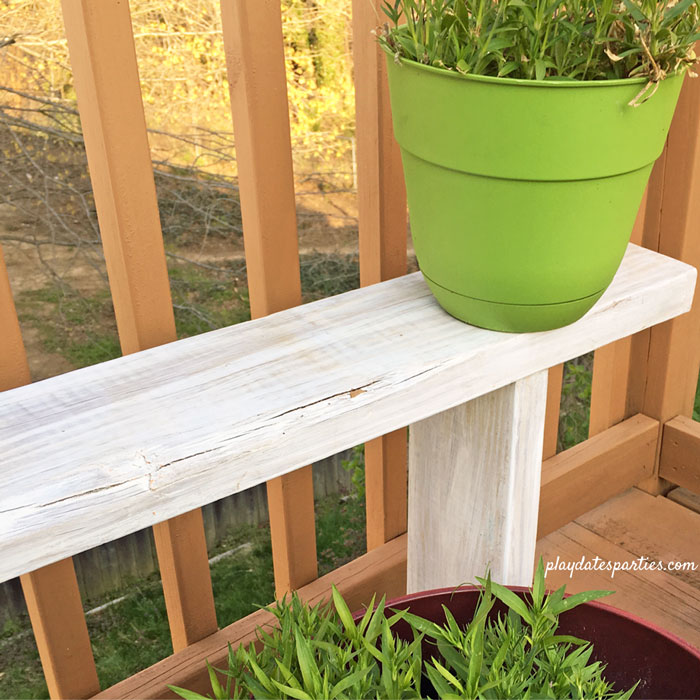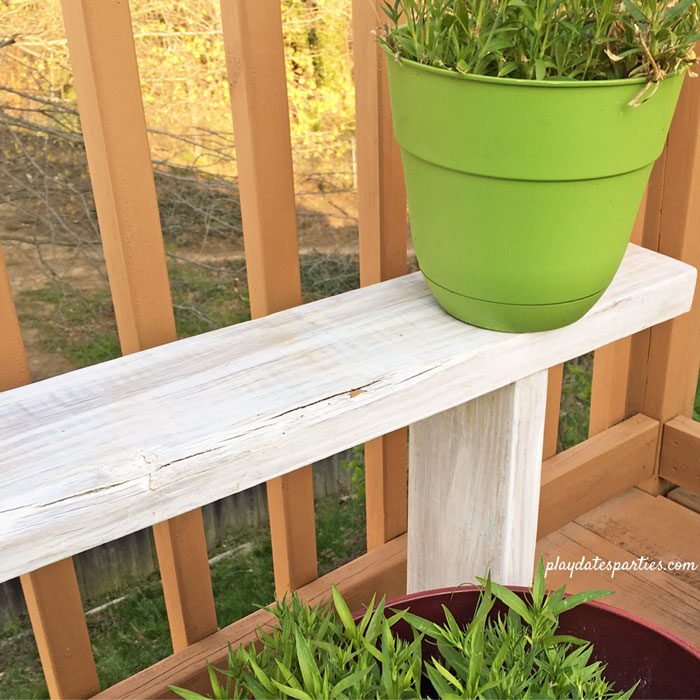 How we Made Easy DIY Potted Plant Benches
In my last post, I mentioned the potted plant benches that I made last year. They are one of my favorite things I've ever made for our yard. Here's what you'll need to re-create one of your own:
Materials
Directions
If you're so inclined, go ahead and cut your deck boards to size. We had 35.5-inch boards left in our garage by a previous homeowner, so I attempted to saw them by hand. (That said, I don't recommend that route. Go ahead and ask the hardware store to cut them for you!)
Sand down any rough edges that look like they might splinter. Start with the lowest grit sandpaper and work toward the smoothest. I usually use 80, 100, then 120.
Stain your boards on all sides before assembling. This will make them withstand the weather much better throughout the years.
Decide on the location you want your legs to be and mark them off. Make sure the marks are square with the front edges of the bench top. (I don't recommend anything further in than abut 6-8 inches. Remember, they will need to be sturdy enough to hold the weight of potted plants after they are full of rainwater.)
Pre-drill holes for the screws in the bench top.
Using a power drill, attach the legs of the bench using the pre-drilled holes, making sure the 'legs' stay as straight as possible.
If you prefer, add L-brackets to the corners underneath the bench where the legs meet the top. We have some benches with L-brackets and some without, and the L-brackets definitely add a bit more stability.
That's pretty much it! Don't they look pretty with plants around them?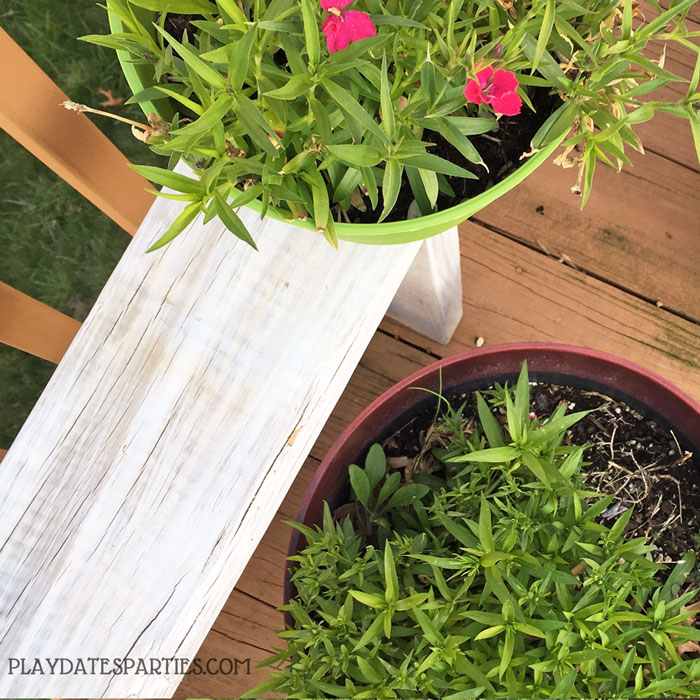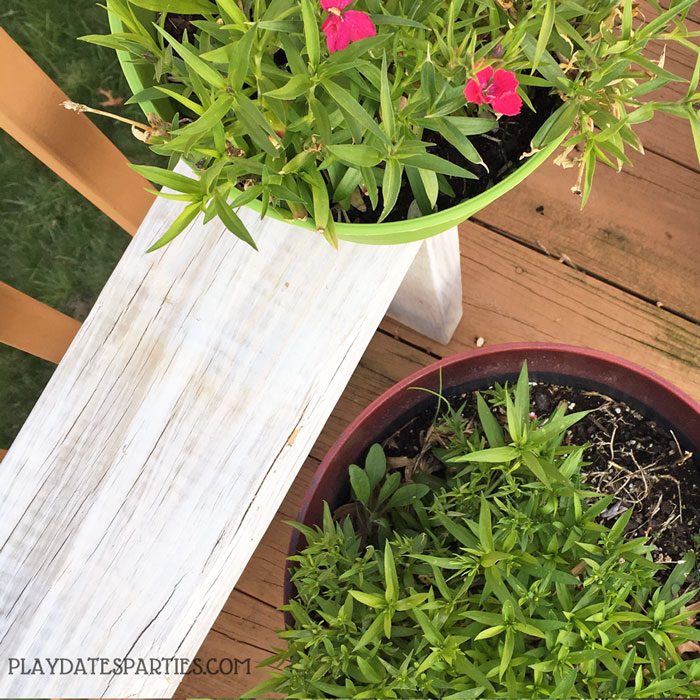 My Biggest Mistake Making These DIY Potted Plant Benches
If I could go back in time, I'd tell myself not to try a whitewash look on the plant benches.
The thin coat of stain I applied didn't hold up as well as I'd hoped. It's starting to chip off of some of the potted plant benches and was stained by dirt runoff from the pots.
I already gave the benches a good washing with a brush and a bleach solution, but they're still clearly stained. I still have that can of white stain and could apply a new coat for the summer. Here are a couple shots of them as they are today: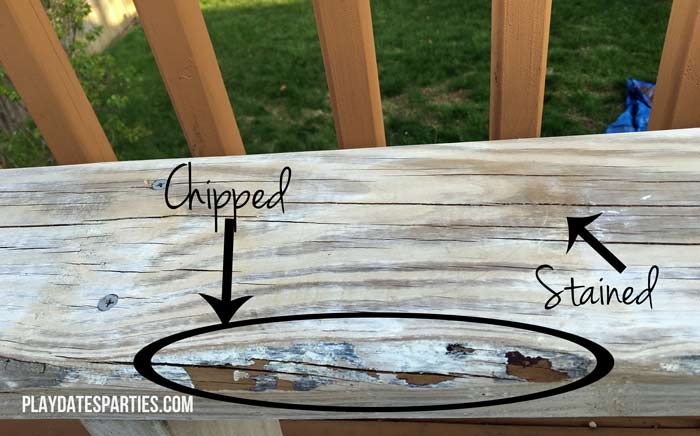 Pros of not staining the benches:
With two levels of deck to redecorate, leaving the benches as is would allow precious time to be spent on all the other projects that are planned.
The chippy, stained look is hot right now, let's just call this embracing that trend.
When the benches are covered in pots again, the stains won't likely be very visible.
Because the stain is white, any new pots put on the bench this year will likely cause new dirt stains as well.
Cons of not staining the benches
The privacy screen is freshly stained, and will be brighter than the benches, possibly making them appear dirtier
New stain would provide extra protection against the full sun and rain that beats down on the upper deck
Multiple layers of stains with new plants could compound how dirty the benches look over the summer.
What would you do: New layer of stain or not?
DIY Privacy Screen: Single or Double Width
Second on my list of undecided items is the privacy screen that I'm creating.
I can't wait to tell you my secret source for this project when the full tutorial comes out. But in the meantime, I'm still trying to decide if I want it to be single or double width.
The upper deck looks directly down onto our neighbors back yard, and let's just say it's not the prettiest sight. Our neighbors are nice enough, but their dogs have pretty much ruined their back yard. Putting up a screen will help to create the feeling of being in a completely private space.
Here's the rub: I only have 12 horizontal boards to work with, so the level of privacy will be affected by the width. Here's a quick and dirty shot of what the screens would roughly look like (as photographed on our very dirty driveway):

Pros of a Single Width Screen
The horizontal boards would be very close together, which would provide lots of privacy within that width.
The materials are all pretty much ready to go, so there would be far less additional time needed for assembly.
A single screen wouldn't take space away from the potted plant benches on the upper deck.
Pros of a Double Width Screen
A double width screen would be about 2/3 the width of the deck space, which would look more substantial than a single screen.
The extra space between the boards would make it easier for hanging small pots and other items with hooks, or for using the screens as supports for climbing vegetables (we will be using the self-watering planters in front of the screen(s) this summer)
If the gaps between the boards are filled with other items, the double width screen would actually do more to cover the neighbor's yard.
What would you do: Double or Single Width Screen?
Tell me in the comments your votes for both the potted plant benches and for the privacy screen. Based on the comments between today and Friday night, I will complete these projects before next Wednesday's update.
See the Entire Renovation:

Want more party inspiration? Join me over at
Facebook
, and
Twitter
, for regular updates and fabulous finds from around the web.
---
I want to extend many thanks to the readers who have enjoyed renovation and home DIY posts over the years. Unfortunately, in January 2018 I was diagnosed with Stage II breast cancer and had to stop doing home renovation posts due to treatment.
Since that time, my focus has been on making this website an amazing resource for the everyday mom's parties. Due to their popularity, the DIY posts and tutorials will remain on the website, but comments are now closed. Thank you again and I wish you the best in your DIY endeavors!