Need a gathering spot while you grill in the backyard this summer? With just some cinder blocks and an outdoor pallet, make this stunning DIY outdoor bar.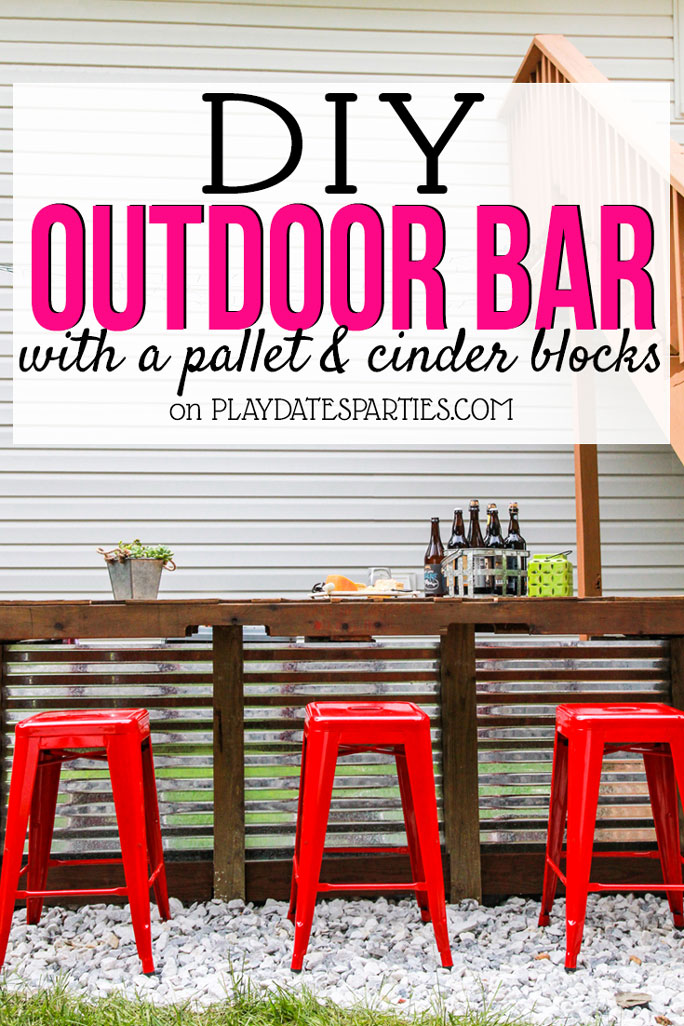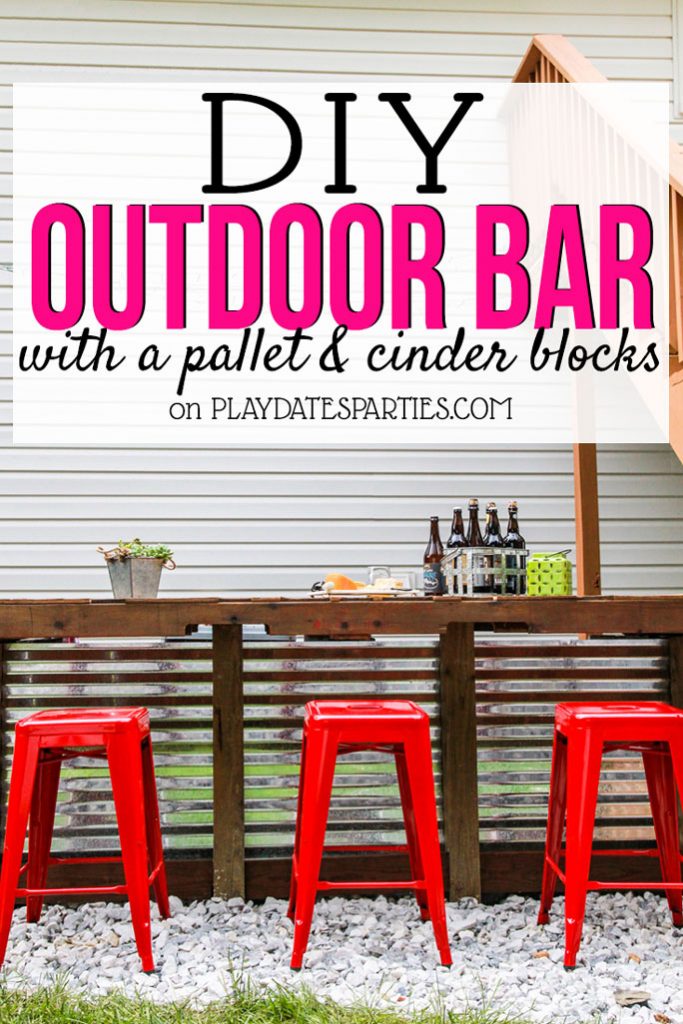 Imagine having to cook dinner with your stovetop and oven on the main level, but your refrigerator and countertop upstairs.
That's exactly what the Husband dealt with for three years any time he grilled.
You see, we live in a split-foyer home, which means that he was running up and down the stairs to get food and utensils. It's no wonder he finally insisted on getting a prep table for the grill this year!
And if you've followed along with our backyard renovation, you can probably tell that we have a tendency to plan small, but end up going big.
How we ended up organizing the kids outdoor toys is the perfect example. And that big project ended up leaving us with a big bonus: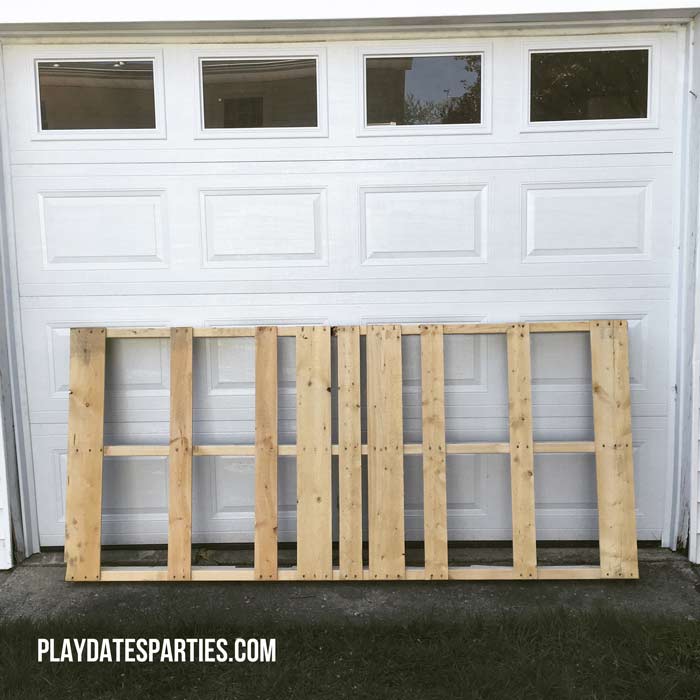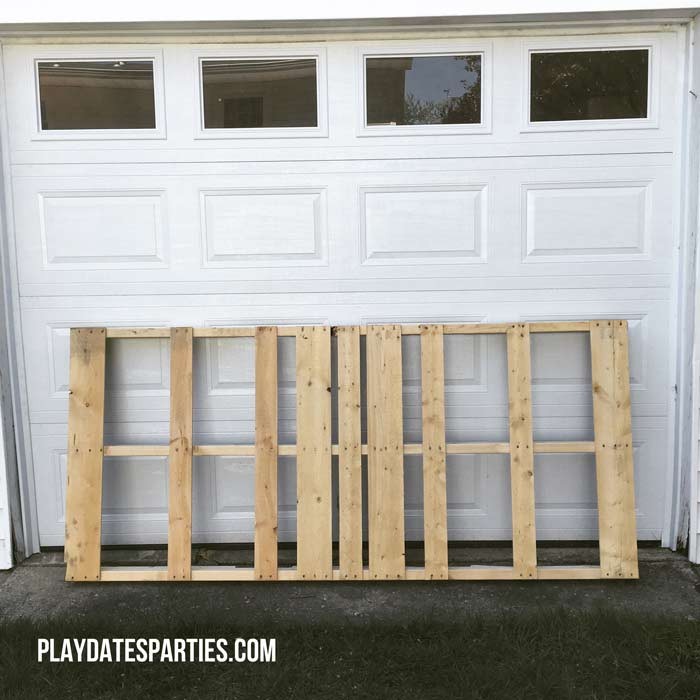 That, my friends is a 7-foot by 3-foot pallet! And once I saw it, I knew it would be the perfect way to give my husband the outdoor prep table of his dreams.
Even better…how about prep table and DIY outdoor bar!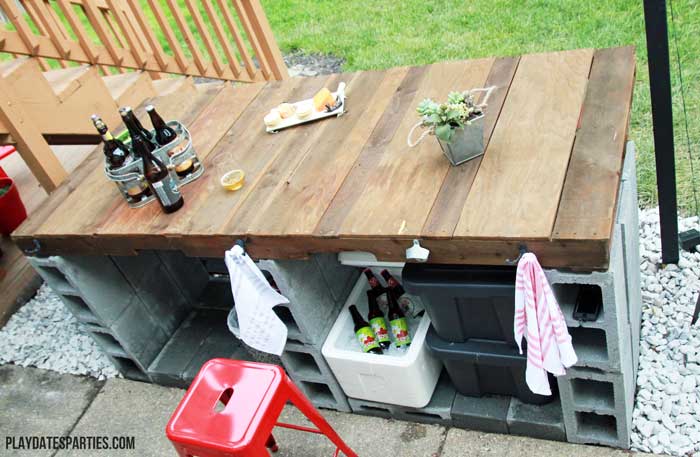 I won't lie, this gigantic outdoor bar was a lot of work. But we're both in love with the results.
The most time-consuming parts were actually the preparation of the pallet (filling in the gaps) and leveling the ground underneath. After that, the build was pretty fast.
Seriously, as the husband sat in meetings, I texted him pictures of my progress. By the time he came home, it was completely finished.
I'll apologize now for the muddy build pictures. That's just what I was dealing with after the rain we've had. So, it was messy, but it was FUN.
DIY Outdoor Bar with Cinder Blocks and a Pallet:
Materials:
Large Pallet, 7′ 3″ x 3′ 3′
4 x 4 x 1/2 plywood, cut into appropriate lengths by the hardware store
1-5/8″ exterior screws
3 1×4 boards cut to the width of the bar
Patio Base/Pea Gravel/Sand (I used marble rock)
18, 8 x 8 x 16 Cinder Blocks
12, 4 x 8 x 16 Cinder Blocks
4, 4 x 4 wood posts, cut to 36″ lengths
8-foot sheet of corrugated steel roofing
3 1×4 boards cut to fit between posts
2, 1 x 1/2 x 36 plywood strip
Exterior Wood Glue
Optional: Sleeve Anchors and/or Construction Adhesive
Prepare the Pallet
Carefully measure and note any gaps between the boards in your pallet. Make sure to measure the width of each gap at several points, to ensure they are fairly even.
Cut 1/2-inch plywood according to the measurements noted. (I had the hardware store do this for me)
Sand down the plywood to remove any rough edges and stain the plywood and the pallet. Don't forget to add a water sealant to these as well.
Screw in each board to the gaps in the pallet using exterior-grade screws.

Prepare Your location:
Do your best to level an area wider than your pallet. You can either rent a tamper, or use a hand tamper as we did.
Lay down landscaping fabric to help prevent weeds
Our ground just couldn't seem to level off, no matter how much we tamped. So here's what we did: I found 1×4 boards in our garage to act as 'skids" with marble rock underneath them in the low areas. (FYI, Paver base, sand, or pea gravel would have worked better)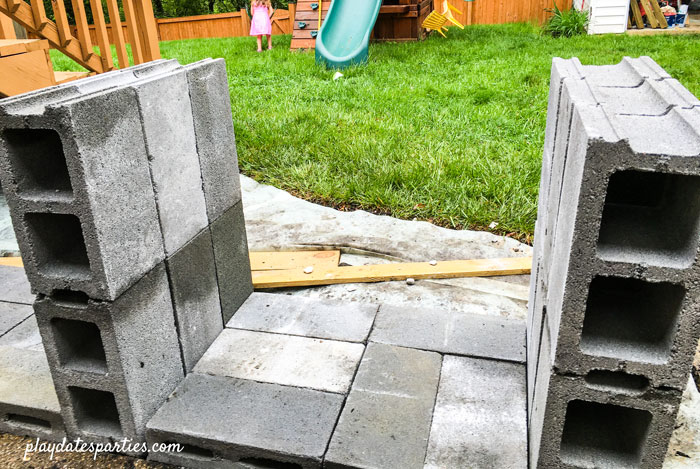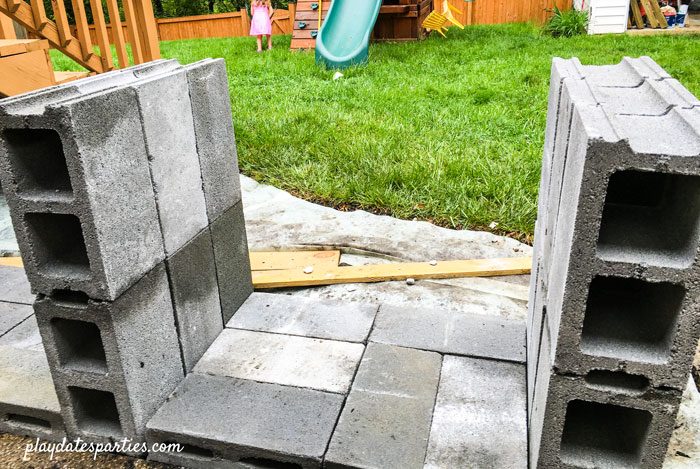 Build the DIY Outdoor Bar:
Now for the fun part!
Arrange the 8x8x16 cinder blocks on the 'skids' to create the legs of the table. In this case, we stacked them on their short sides, 3 across and 2 high.
As you build these table legs, make sure that the cinder blocks are placed directly under a pallet brace. This will add stability. Construction adhesive can be used to bond the cinder blocks together for more stability.
Arrange the remaining 4x8x16 cinder blocks between the legs to act as a floor for your table. This will make it easy to slide bins and coolers in and out from the underside of the table.
Carefully place the finished pallet on top of the cinder block legs. Add a heavy weight or an extra cinder block on top while you do the next steps.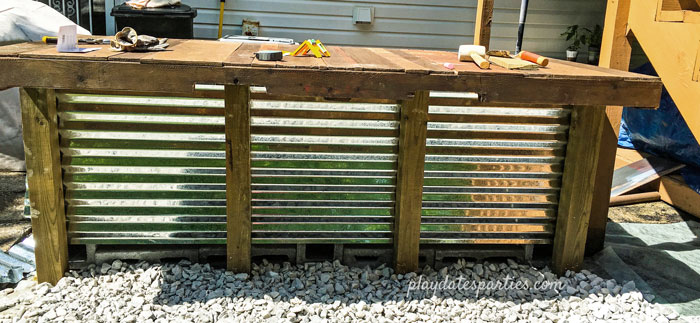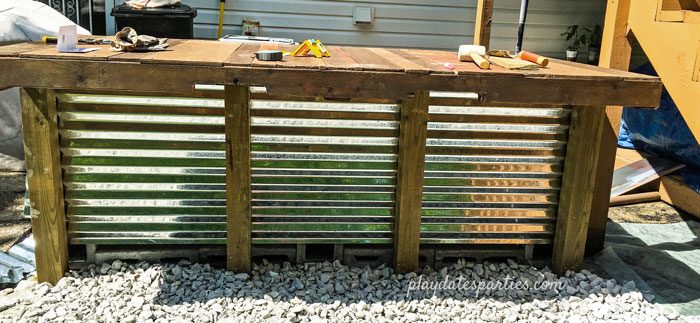 Add the Corrugated Steel Facade:
Carefully cut corrugated sheet metal to the length of your table. I used tin snips, which was not easy, and left sharp edges. If you have the right power tools, definitely use them here. And always be sure to wear protective gear, no matter how you're cutting metal.
Cut four 4×4″ exterior posts approximately 36 inches long.
Placing the corrugated sheet metal against the cinder blocks and then install the 4×4 posts evenly along the front of the sheet metal. (In our case, that was about 24 inches between posts).
Attach the corrugated sheet metal to the back of the posts using exterior screws. (I started each hole by hammering a screw in the spot that needed the hole.) Don't forget to wear ear muffs to protect your ears. This gets very loud!
Stain and seal three 1×4 boards cut to fit between each post. The should be long enough to be held in place with pressure, but, you can add some wood glue if it makes you feel more comfortable.
Finally, add a 1-inch furring strip of wood between the post and the cinder blocks to hide the outside edges of the corrugated sheet metal. Again, you can use glue to hold this in place if you like.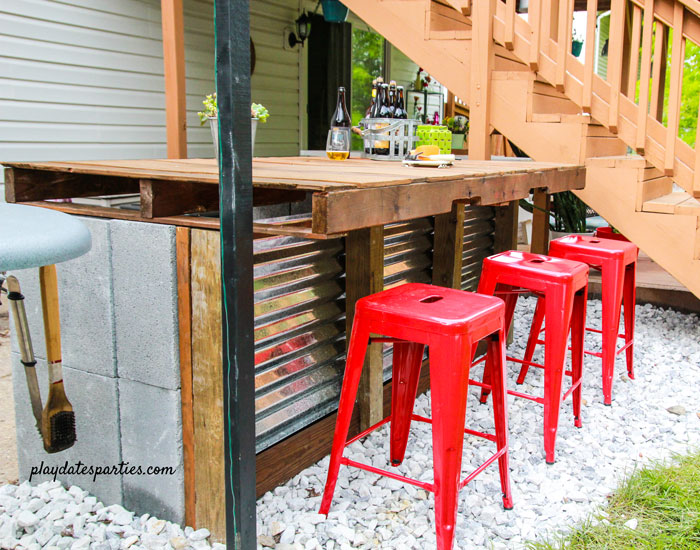 Attaching the Pallet to the Cinder Blocks
Although the weight of the finished pallet should make it pretty secure, there is still a risk of the bar tipping from guests leaning on it.
2018 Update! How we resolved holding the pallet in place.
At the time I originally shared this post, the Husband and I couldn't agree how to actually attach the pallet to the cinder blocks.
I wanted to use sleeve anchors, which are made to go into masonry, but we couldn't figure out exactly how to get the drill bits into the tight space that was allotted by the pallet.
We considered using construction adhesive, but were still concerned that it would degrade over time.
So, my husband came up with an interesting, easy, and inexpensive alternative: clamps. He bought a set of clamps, and clamped the bar to each of the concrete pillar legs. I'll admit it's not the prettiest solution. And I was concerned about kids running into them. But they've worked well.
I'm hoping to do a full video update on the bar soon, and will embed it here when it's done.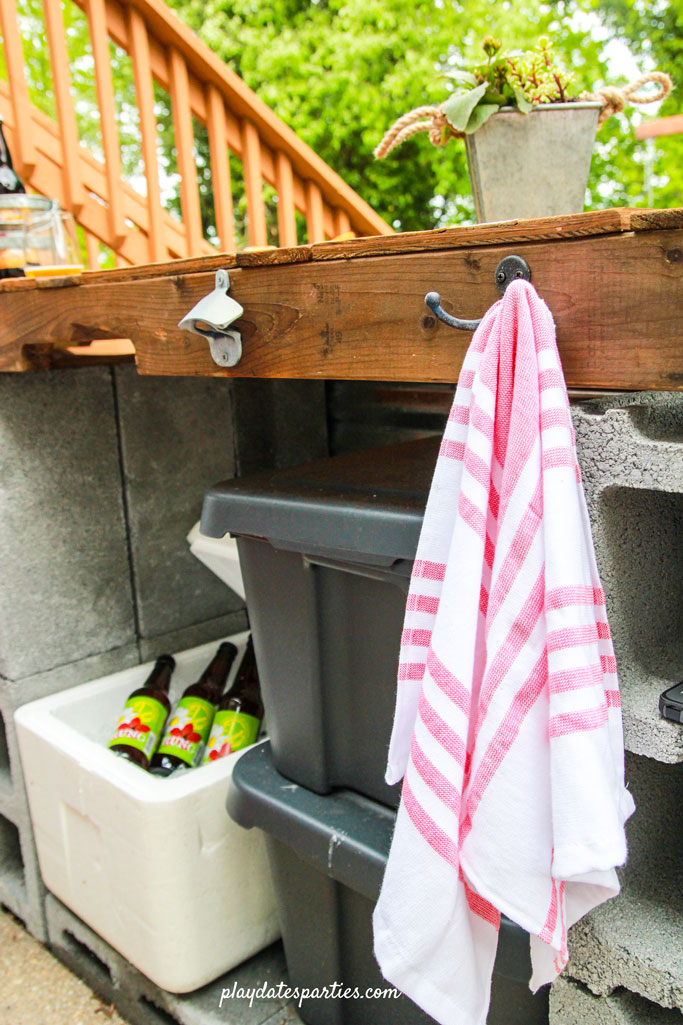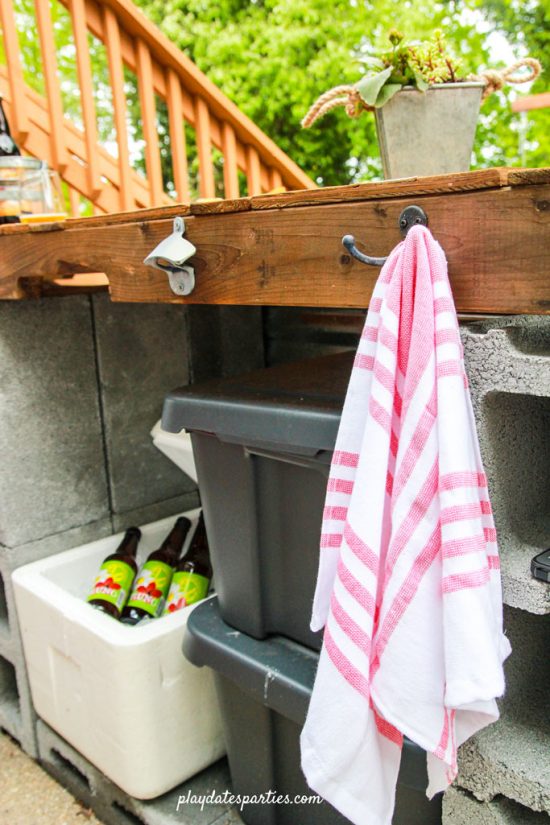 Don't Forget the Extras:
Now, The bar is pretty darn awesome, I have to say. But what makes it even better is that it's outfitted with some fun extras like:
Wall-mounted bottle opener right on the side of the bar
Hooks for towels and grilling tools
My Husband wants a Yeti cooler, but until then, we're using an old styrofoam cooler inside the bar (that way we don't care if it gets left outside)

Notes about Making a DIY Outdoor Bar:
Make sure you use plywood rated for exterior use. Even with treatment, cheaper plywood will absorb moisture and will start to fall apart.
Counter height is 36″. The cinder blocks are listed as 16″ wide, but are actually closer to 15.5″ wide. The pallet has a depth of 3.5 inches. With the skids underneath the cinder blocks, the table is almost perfectly counter height.
Pallets come in all shapes and sizes. Our pallet was 7'3″ by 3'3″. The length and depth turned out to be the perfect size to create an outdoor bar.
If you don't have a pallet the same size, please do all your measurements first. Pull out that graph paper and make diagram after diagram to check your design before you get started.
Now, It's Your Turn
Even if you don't have to worry about going up and down stairs constantly while grilling, this DIY outdoor bar is a great addition to any backyard. Once you have the land prepared and the pallet finished off, it shouldn't take more than a day to complete.
You can enjoy a beer at your new outdoor bar by the end of the evening. Sounds nice, no?
What would you make with a leftover pallet?
Would you use cinder blocks to create furniture?
See the Entire Renovation:
---
---
I want to extend many thanks to the readers who have enjoyed renovation and home DIY posts over the years. Unfortunately, in January 2018 I was diagnosed with Stage II breast cancer and had to stop doing home renovation posts due to treatment.
Since that time, my focus has been on making this website an amazing resource for the everyday mom's parties. Due to their popularity, the DIY posts and tutorials will remain on the website, but comments are now closed. Thank you again and I wish you the best in your DIY endeavors!