Let's get ready for summer! It's the time of sunshine and lazy days. But not too lazy, because we're checking out 100 fun summer activities for kids to help beat the boredom.
With a simple structure, and plenty of ideas for sunny and rainy days, you'll have plenty of affordable ways to make summer fun. The best part is that many of these activities are fun for everyone, so you can join in on the memory-making.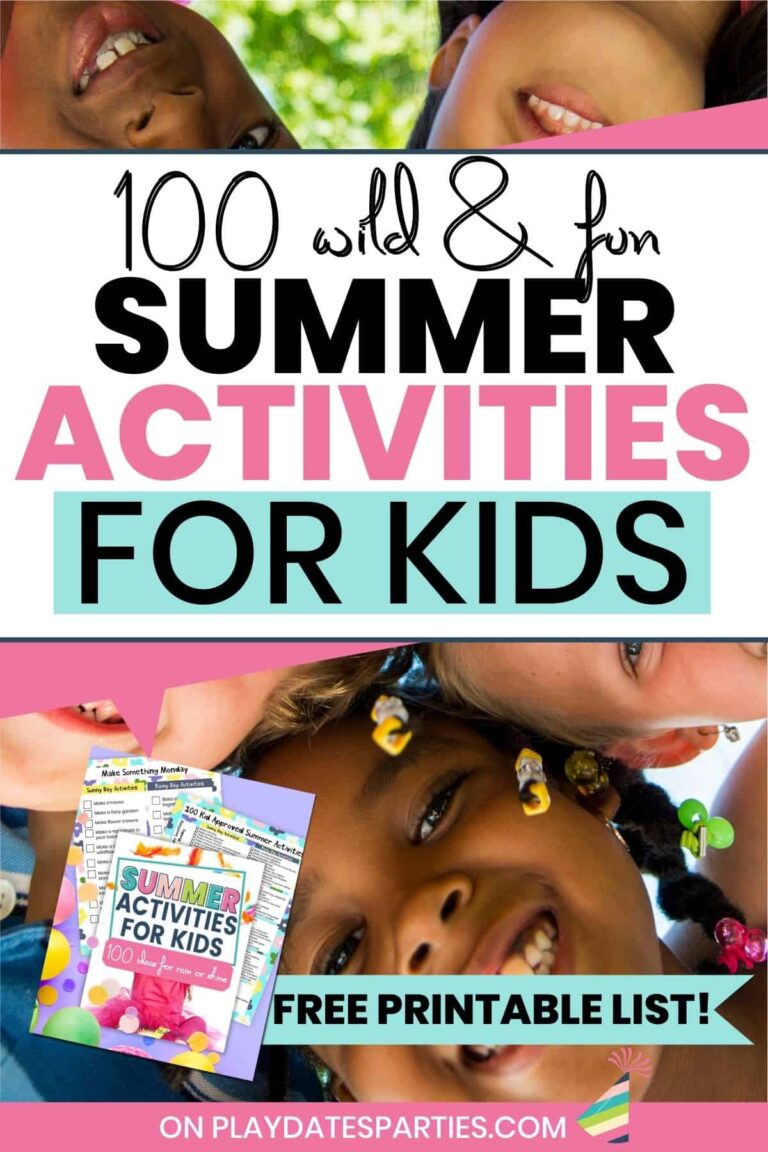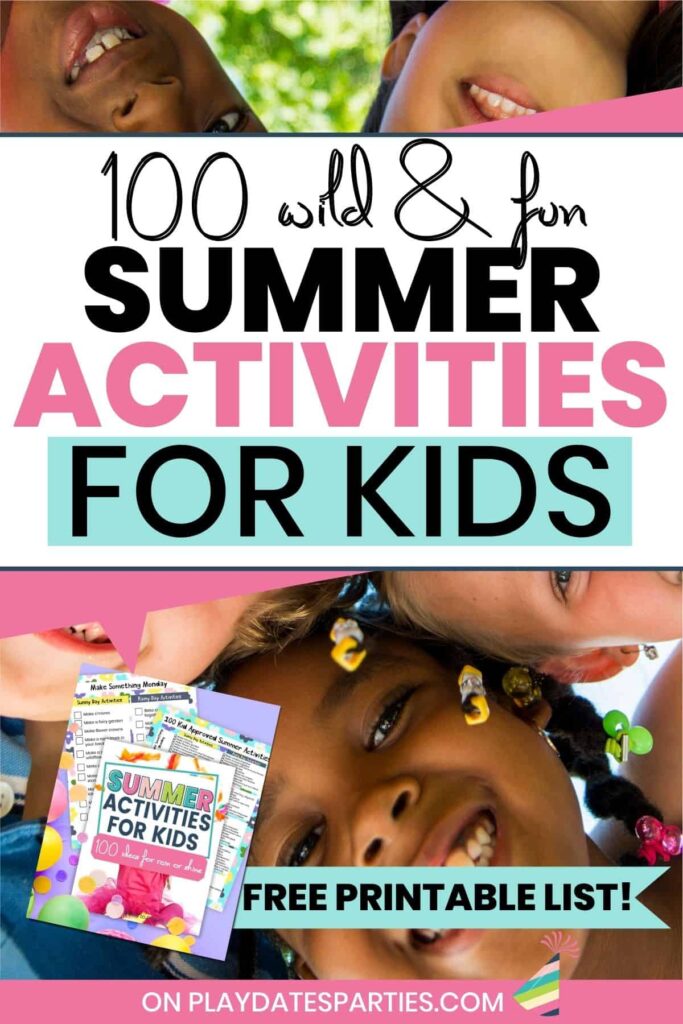 Around here most summer camps are already booked solid by mid March. Am I the only one who thinks that's kind of insane?
We've got three kids between the ages of 5 and 11, so finding summer camps and activities can be a real challenge. Seriously, it's so hard to find activities that both tweens and kindergarteners will enjoy.
And did I mention that my husband and I both work from home? So, yeah…it may sound like we can just hang with the kids drinking blueberry wine slushies. But if we're not prepared with a plan, then summer can be disastrous.
100 Summer Activities for Kids
I'm not really a fan of bucket lists (summer is supposed to be relaxing, right?)
So my kids and I spent time coming up with 100 kid-approved summer activities for kids that fit into a "Daily Theme":
Make Something Monday
Try Something Tuesday
Wander Somewhere Wednesday
Thoughtful Thursday
Fantastic Friday
We also made sure to include ideas for both rainy and sunny days so there are no excuses! 🤣
Want an easy, printable version of this list? Click here to grab your free copy.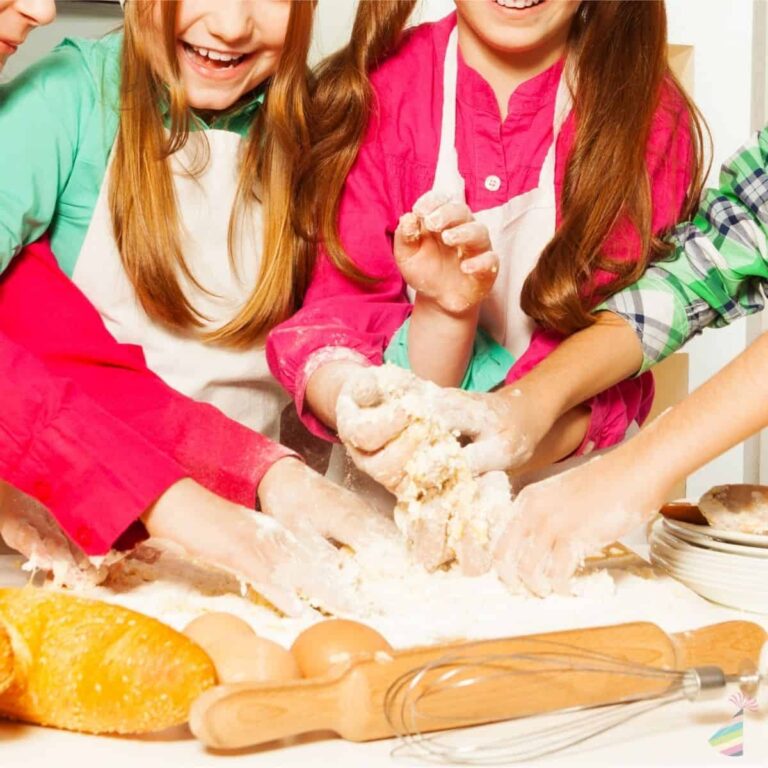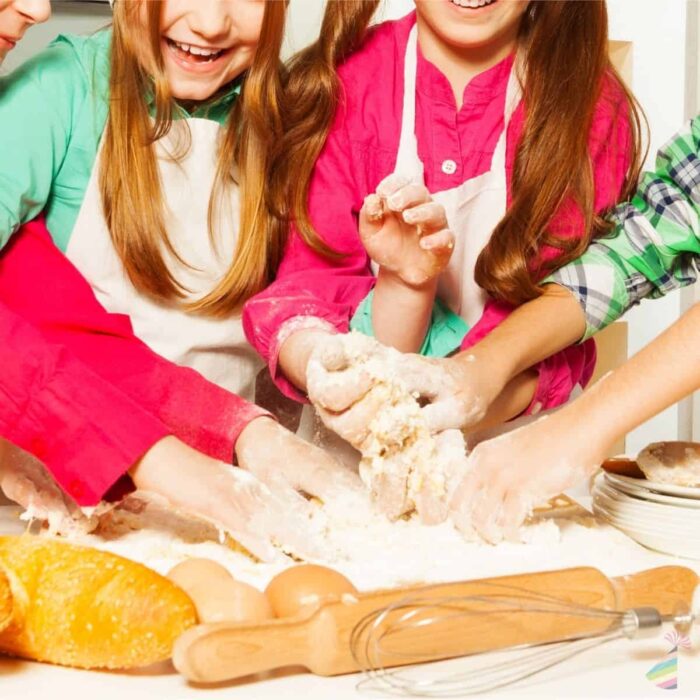 Make Something Monday
Sunny Day Activities
Make a fairy garden
Make flower crowns
Make a race track in your backyard
Make a bouquet with wildflowers collected from your neighborhood
Make a rock garden
Make a lemonade stand
Make your own garden stone
Rainy Day Activities
Make a meal together
Decorate crazy hats with items around the house
Make a pillow fort
Make a family video
Make a homemade bird feeder
Make a time capsule
Make a homemade puppet theater & put on a show
Make paper airplanes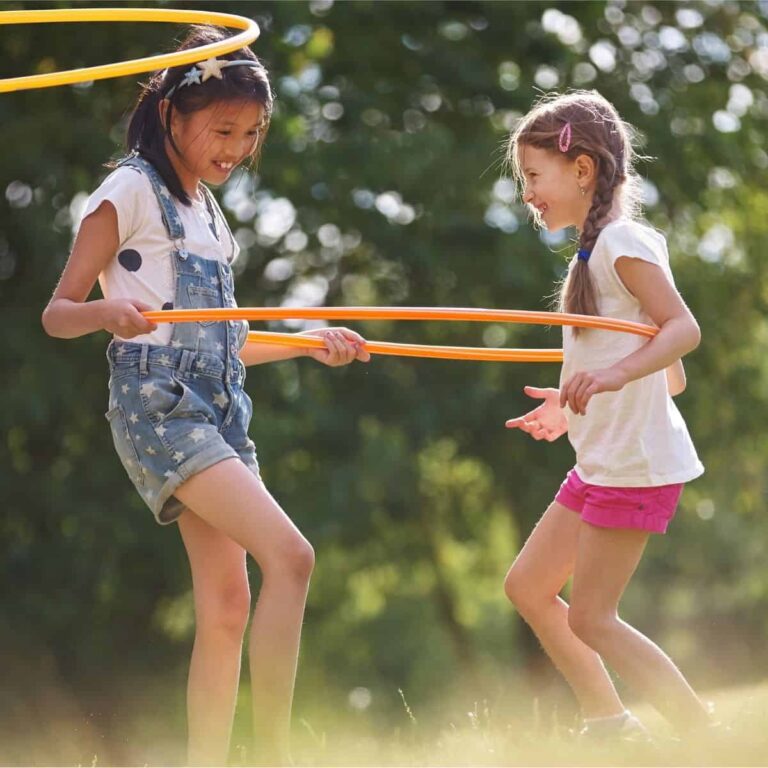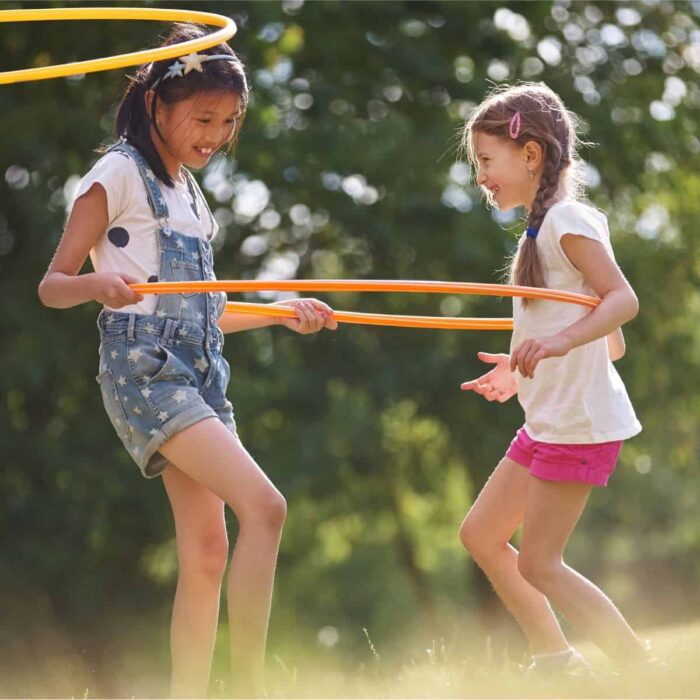 Try Something Tuesday
Sunny Day Activities
Plant a vegetable or herb you've never planted before
Try a new sport
Try to build something with things you find in the backyard/garage
Try splatter painting
Try to see how long you can hula hoop or jump rope
Try to beat one of your own records (eg. Monkey bars, distance on bike)
Try a game that kids played 30, 40, 50 years ago
Rainy Day Activities
Have a mud day
Try a Lego Challenge
Learn a new card game
Learn a magic trick & put on a magic show
Try a new food
Have an anagram contest (see who can make the most words out of another word)
Try a new restaurant
Try to fix something that's broken
Learn a few words in another language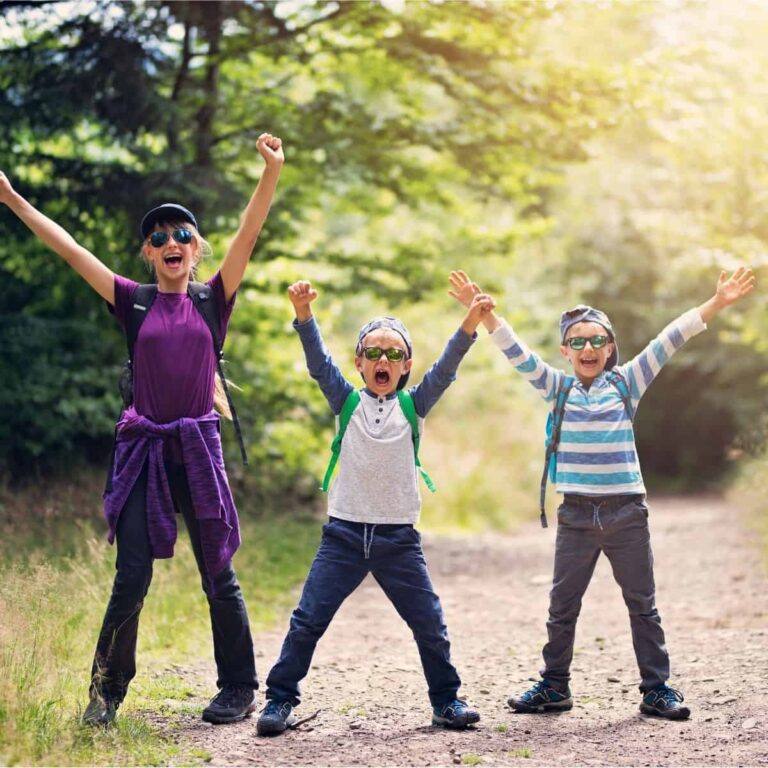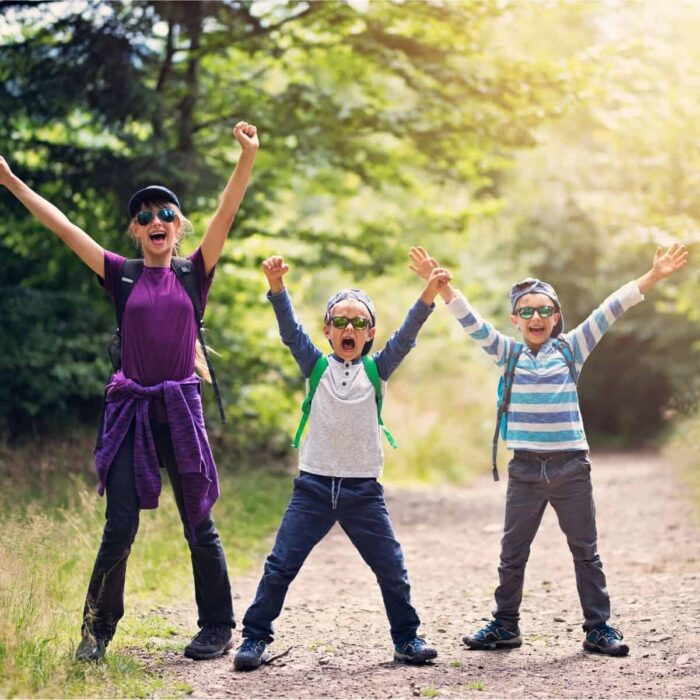 Loving these ideas? Click here to grab your free printable list.
Wander Somewhere Wednesday
Sunny Day Activities
Go to the farmer's market or a local farm
Find a new park to visit
Go explore a new neighborhood
Go on a photo walk. Take photos together and compare perspectives
Go to a free local concert
Go to a state park for a hike or a splash in the water
Research a local historic site and then visit it.
Go to a baseball game
Go geocaching
Go on a scavenger hunt
Rainy Day Activities
Go to the local library
Go bowling
Go roller skating
Go see a show at the local children's theater
Go to a local children's museum
Take a kids class at your local craft or hardware store
Go see a movie at the movie theater
Go to an open play session at your local gymnastics or bounce house provider.
Find an indoor pool or water park
Window shop at the local mall.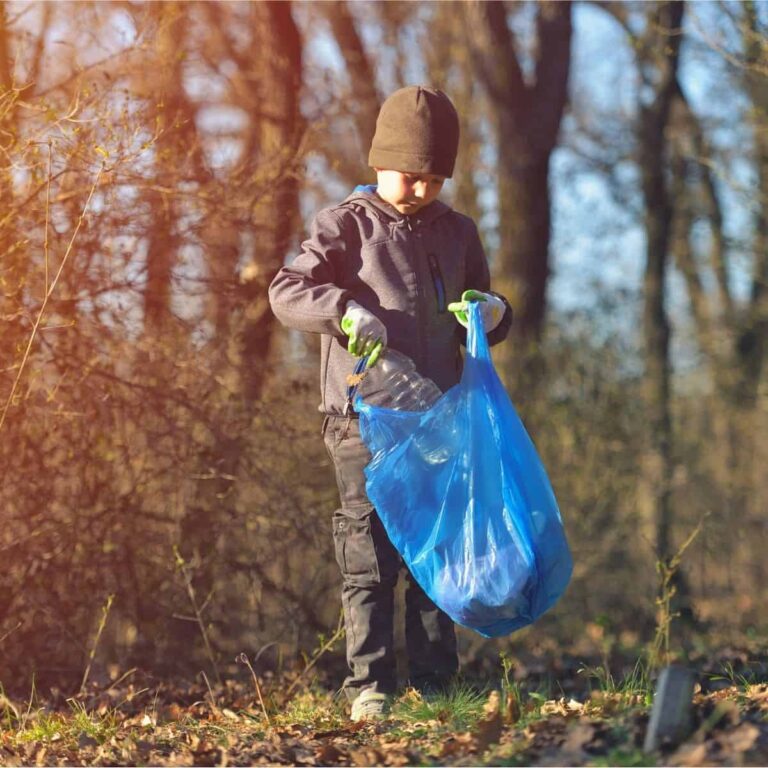 Thoughtful Thursday
Sunny Day Activities
Go out for ice cream and pay for the person in line behind you.
Clean up some litter in the neighborhood
Take treats to your local police or fire station
Help take care of a neighbor's yard.
Do chores around the yard to earn money for your favorite charity
Put coins in random people's parking meters
Put away all the carts left out in a parking lot
Help a stranger load bags into their car at the store
Write a thank you note and make a treat for the garbage collectors.
Help play with the little kids at the park.
Rainy Day Activities
Read books to each other
Make food pans for the homeless shelter
Bake cookies for a neighbor
Have a donation day & clear out old clothes & toys
Make and mail cards to grandparents
Make and mail cards to cousins
Make a care package for some soldiers
Make scarves to donate to the homeless in wintertime.
Do something extra special for a sibling or parent.
Make pet beds for shelter animals out of fabric scraps and old linens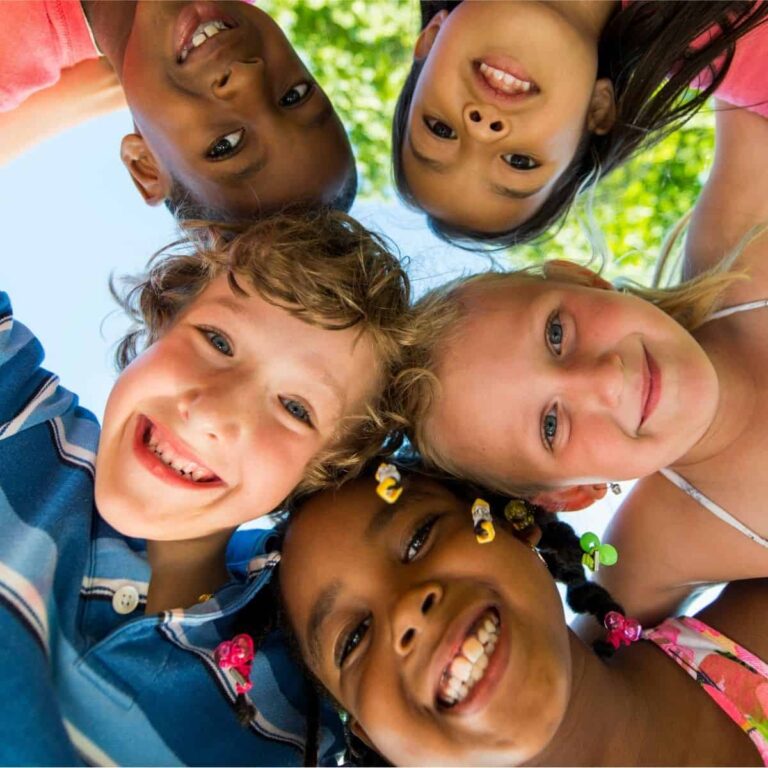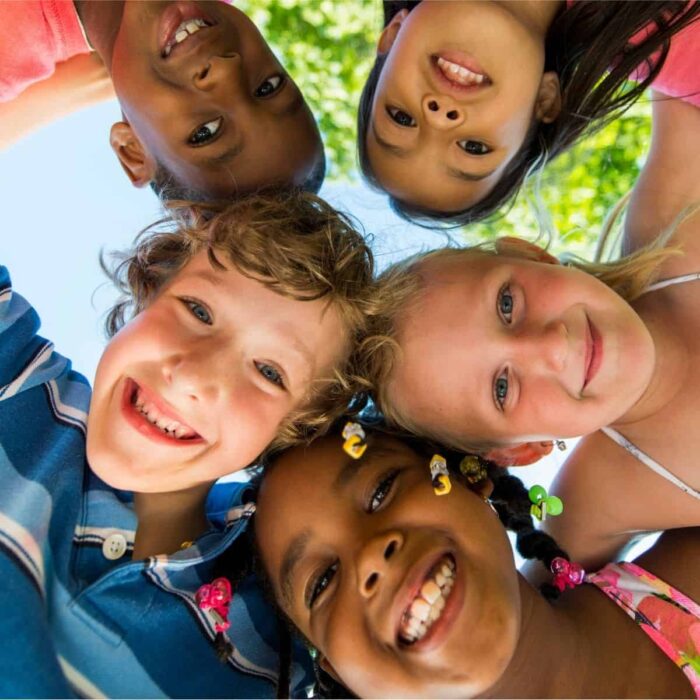 Fantastic Friday
Sunny Day Activities
Have a picnic
Roll down a grassy hill
Have a water balloon fight
Catch fireflies at sunset
Camp out in the backyard.
Have a bike decorating contest for Independence Day (or just because!)
Rainy Day Activities
Have a dance party
Make it a movie day
Have a pajama day
Mother/Son or Father/Daughter dates
Have a backwards day
Have a video game day
Camp out in the living room
Play board games
Have a 'Yes' Day
Want more fun summer activities for kids? We're always adding more fun crafts and activities to our Kids Crafts and Activities page. It's a great place to look for new games to play with your kids, easy crafts for all ages, and even more free printable to enjoy together.
Grab Your Free Printable Summer Activities List Here
And there you have it – summer activities for kids with at least two things to do for nearly every day of the summer break.
Most importantly, the list was partially created by a kid! Which means there's no excuse for hearing "I'm bored" during the next three months!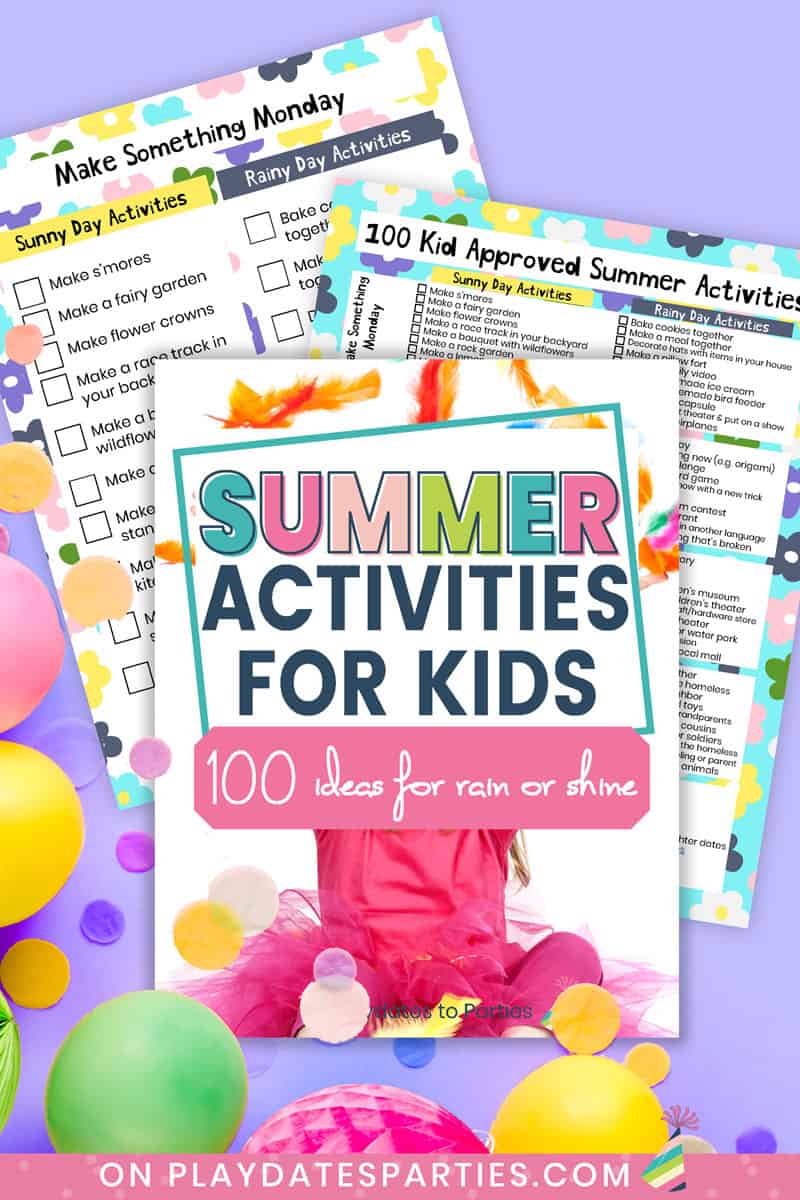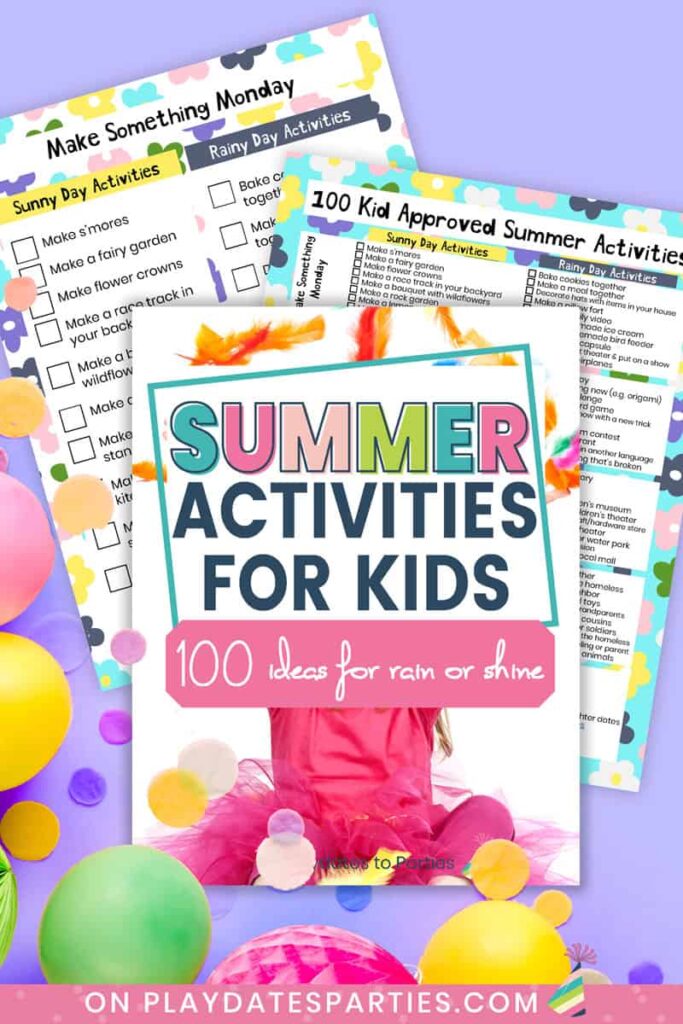 As an added bonus, I've got an easy-to-use printable version of these summer activities for kids. It's available FREE for subscribers. Just add your name and email to the form below and I'll send it straight to your inbox.
Don't want to subscribe? No problem! I've also got this list available for small price in my shop.
Now I want to know…
What summer activities do you have planned for your kids?
What summer activities would you add to this list?
---
---
This post was originally published on June 2, 2016. It has been updated with fresh ideas, new graphics, and an improved printable checklist.