Looking for a fun way to keep the kids entertained? This printable mask template for kids is a fun way to let your kids creativity shine.
The shape works well for superhero masks as well as masquerade masks, which means it's perfect for both boys and girls.
Grab your copy of the printable template, and let your kids do the rest!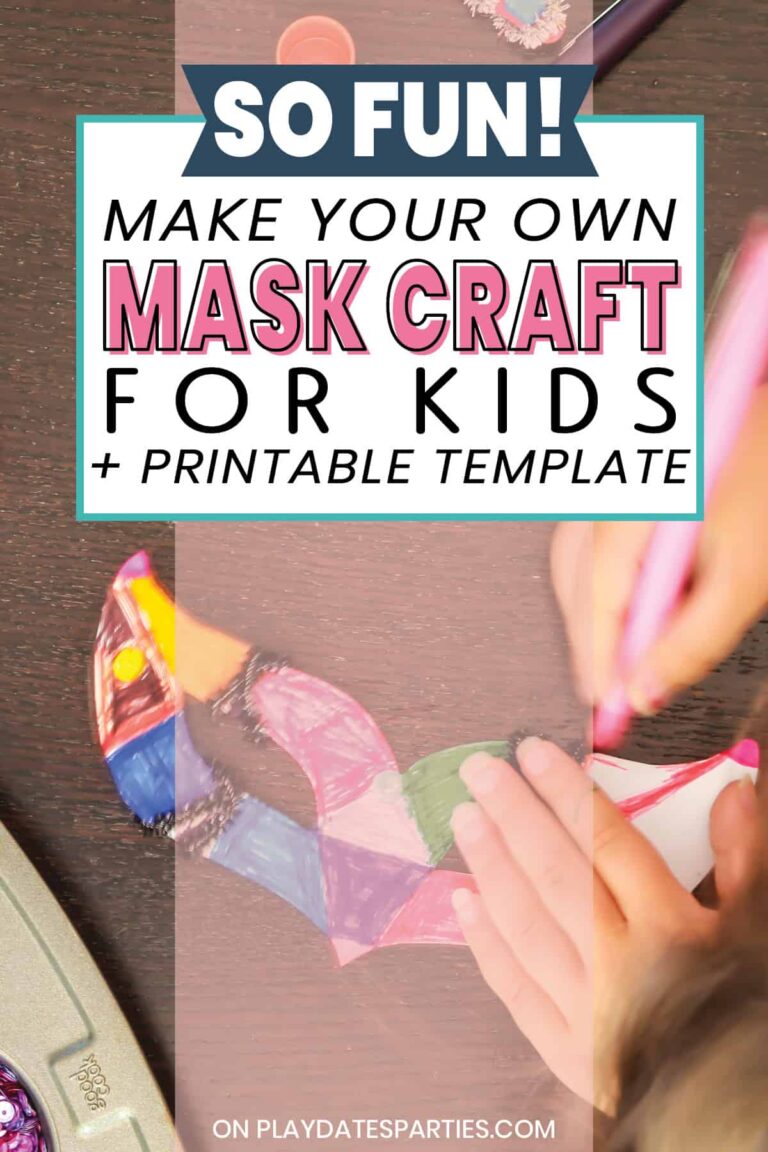 Masquerade! Paper faces on parade
Masquerade! Hide your face so the world will never find you
Masquerade! Every face a different shade
Masquerade! Look around, there's another mask behind you

~Phantom of the Opera
A couple years ago, our family had an interesting dilemma:
How to keep two kids entertained in the weeks between the end of camp and the start of school…while recovering from chemotherapy for cancer treatment.
Yeah, it was a challenge.
One of the ways I kept them entertained was by introducing them to some of my childhood favorites, like Phantom of the Opera.
(I grew up in the late eighties/early nineties. I'm pretty sure everyone had the Phantom bug.)
Well, it's safe to say they loved it. And one of their favorite songs is "Masquerade."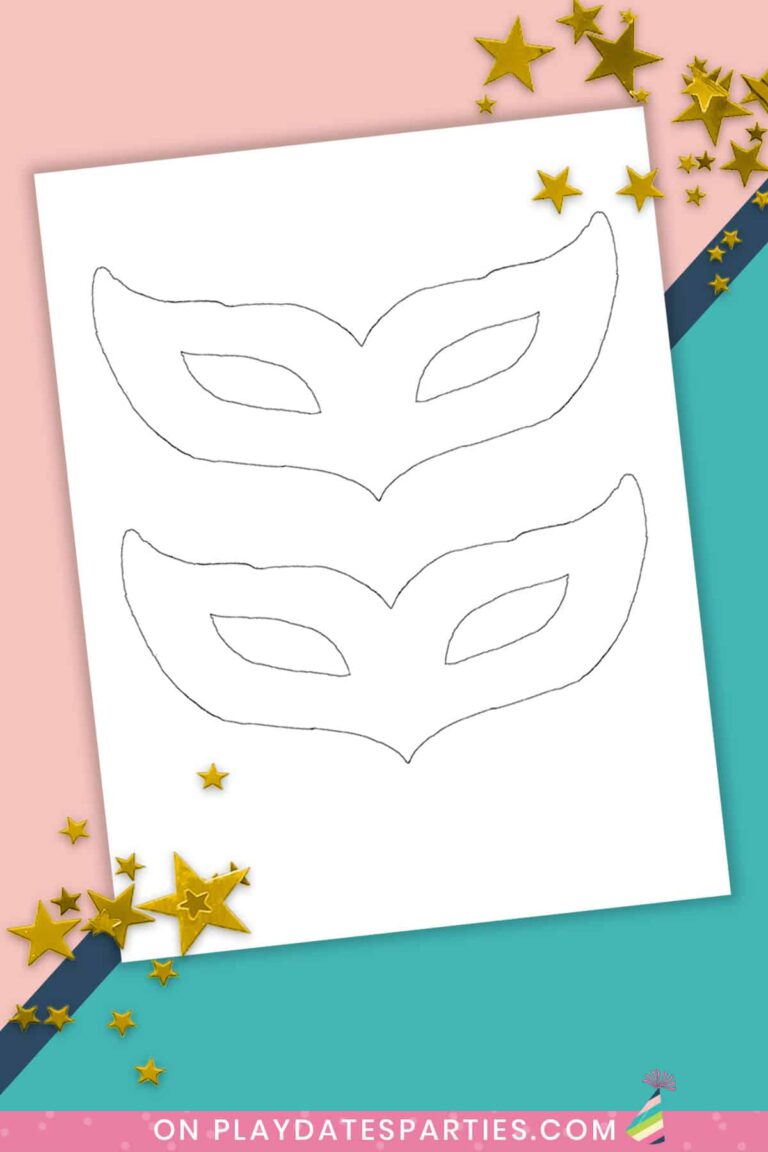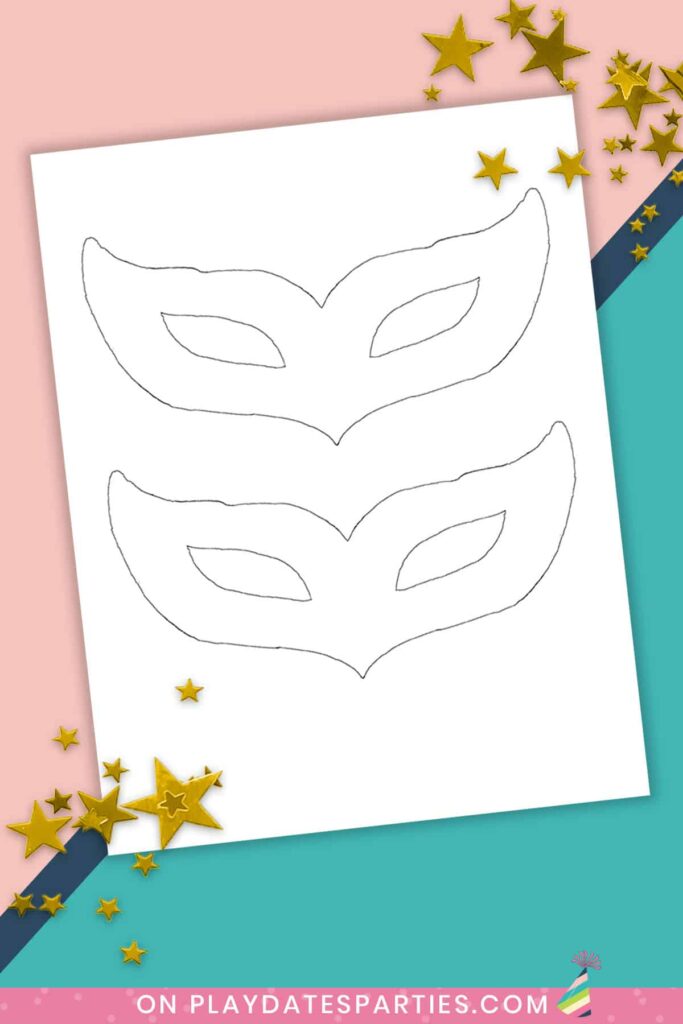 Mask Templates for our Own Masquerade Ball
Since the kids were all in on Phantom and were at the perfect age to love getting dressed up, we decided to have our own little masquerade party.
I made a simple mask template, and the girls went hog wild decorating them.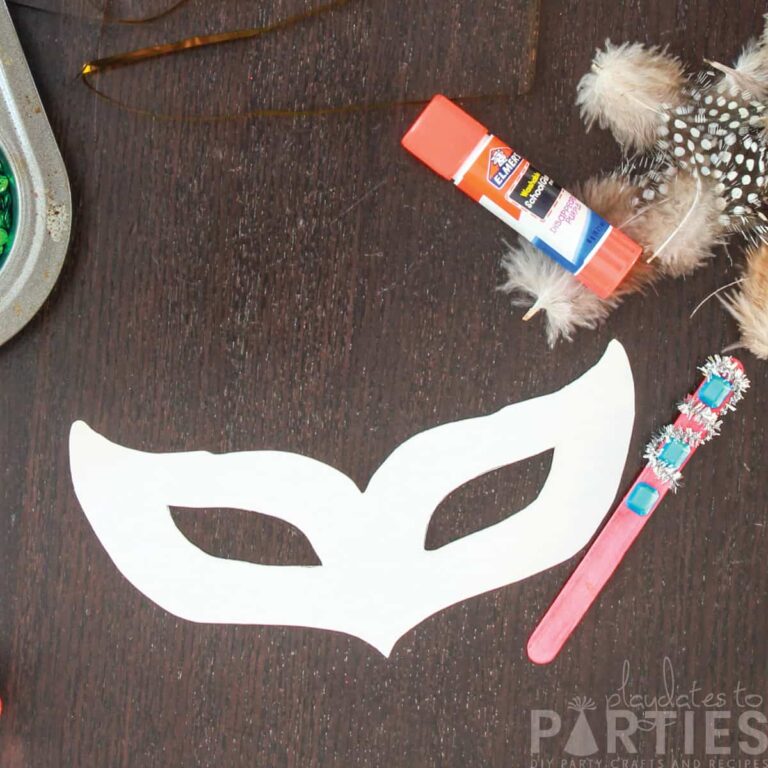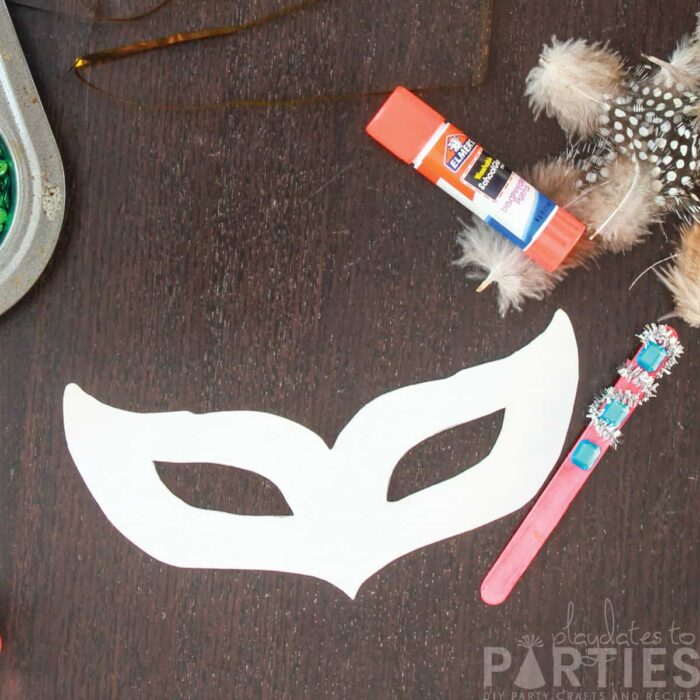 Then they dressed up in their favorite party dresses and pranced around our house dancing and singing.
The girls loved getting all dolled up with these masks and disposable glitter champagne flutes. It didn't matter that the glasses were filled with apple cider…they just love any opportunity to dress up!
It was definitely an afternoon well spent.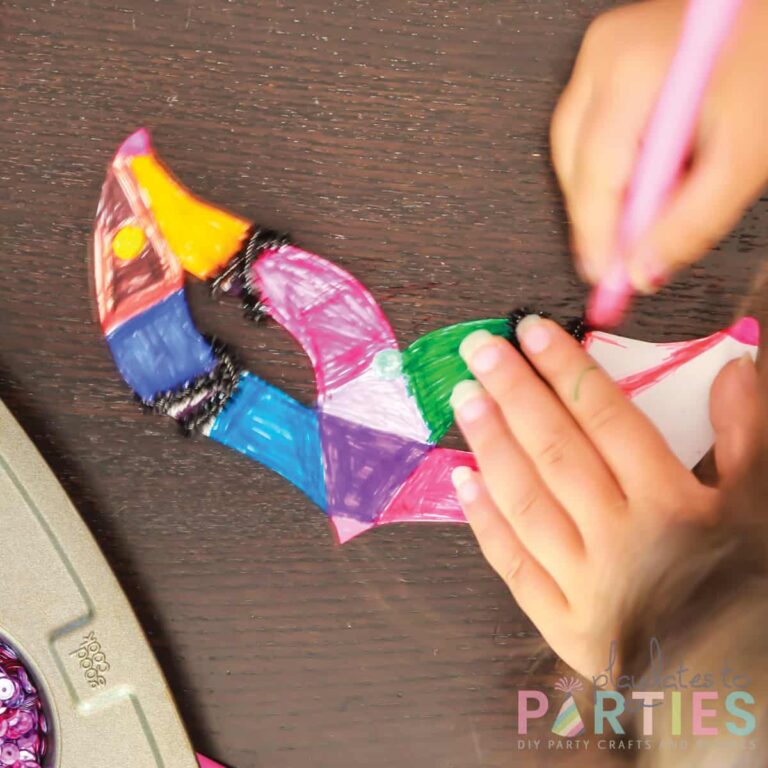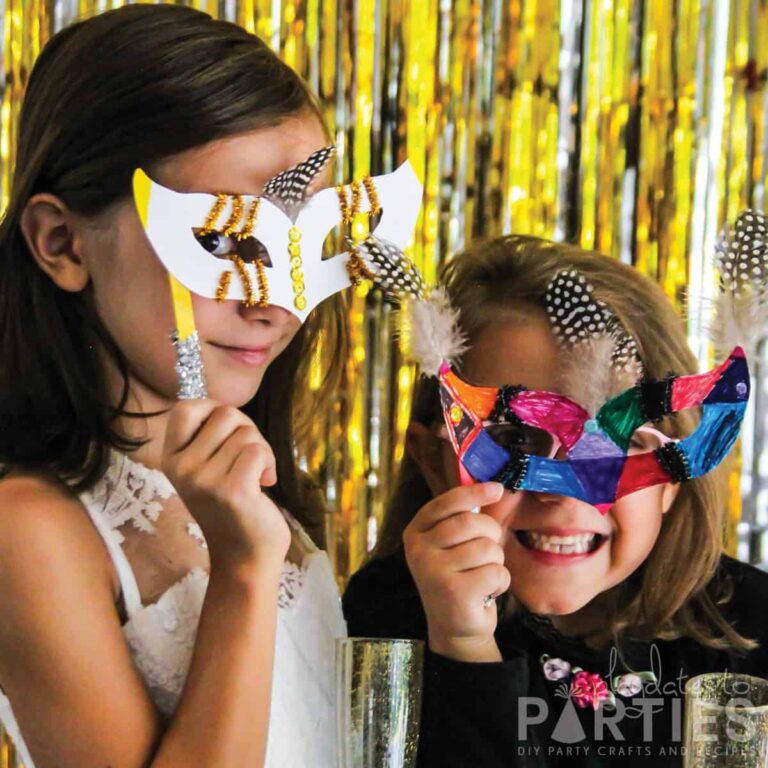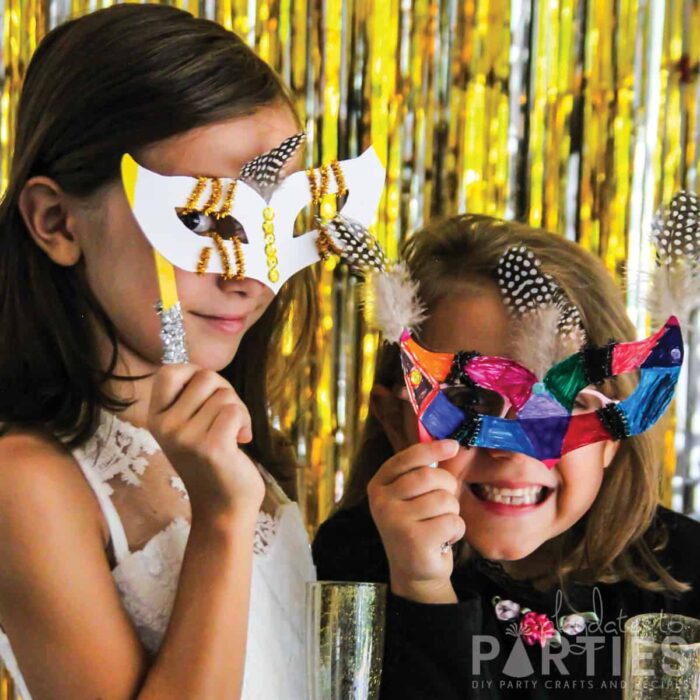 Other Ways to Use the Mask Template
Your kids can have a fun afternoon with the mask template too:
This template would be a fun family activity for New Year's Eve, Mardi Gras, Halloween, or just a fun summer afternoon (like ours).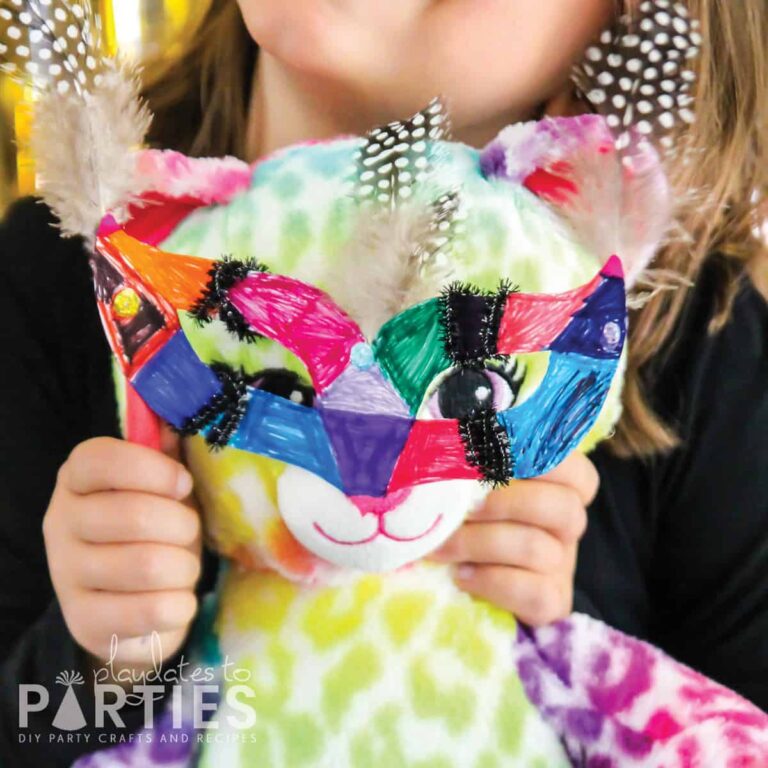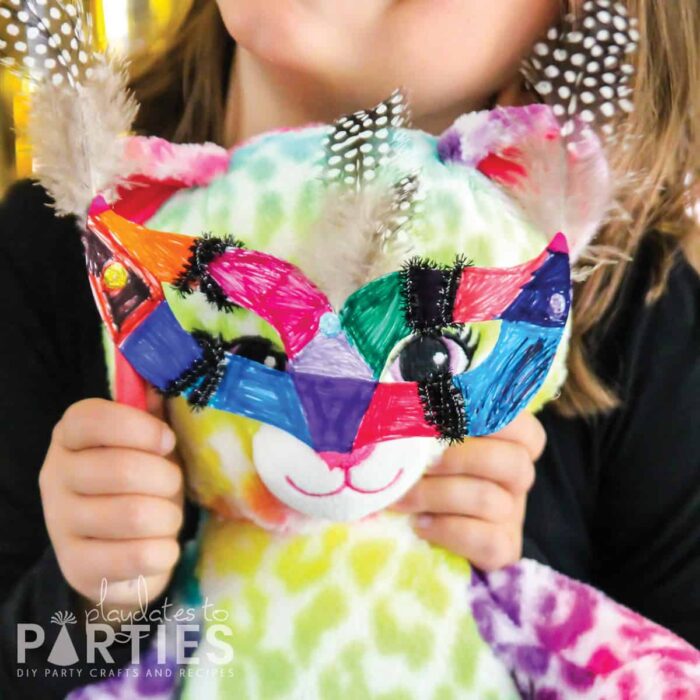 To get your free copy of the mask template, simply opt in to the newsletter below. If you don't want to sign up, you can also purchase a copy of the template for a small price in my shop.
Yield: 2 masks
How to Use a Mask Template for Kids
Perfect for parties, holidays, or just a fun afternoon at home, this mask template for kids can be used to make masks for New Year's Eve, Mardi Gras, or Halloween.
Materials
Scissors
Decorations such as sequins, feathers, pipe cleaners, pom poms, stickers, torn tissue paper pieces, etc.
Instructions
Print out your copy of the printable mask template.
Cut the template with scissors.

Glue a craft stick on the back side of the mask to create a handle.
Set up an activity tray with glue sticks and decorations, such as colored pencils, crayons, markers, feathers, rhinestones, pipe cleaners, pom poms, stickers, and whatever else you can think of.

Let your kids decorate the mask and handle with colored pencils, crayons, markers, and the decorations you set out.
Let the masks dry and then have fun together showing them off.



Notes
Let kids decorate the masks while they arrive at a costume or superhero party as a combination party favor and activity.
Let your kids make some for their stuffed animals and have a stuffed animal masquerade ball.
Instead of glueing craft sticks to the masks, punch small holes on the sides of the mask and tie elastic to the back to create a superhero mask.
How do you plan to use this printable mask template?
What is something from your childhood that your kids now love too?
* This post was originally published on December 13, 2018. It was updated for new content and for easier reading.
---