Looking for a refreshing summer drink without the hassle of a bag mix? It's time to try this blueberry wine slushie with plums.
You won't believe how easy this recipe is to make. With just a few ingredients easy ingredients you'll be sipping your way through those hot summer days in no time!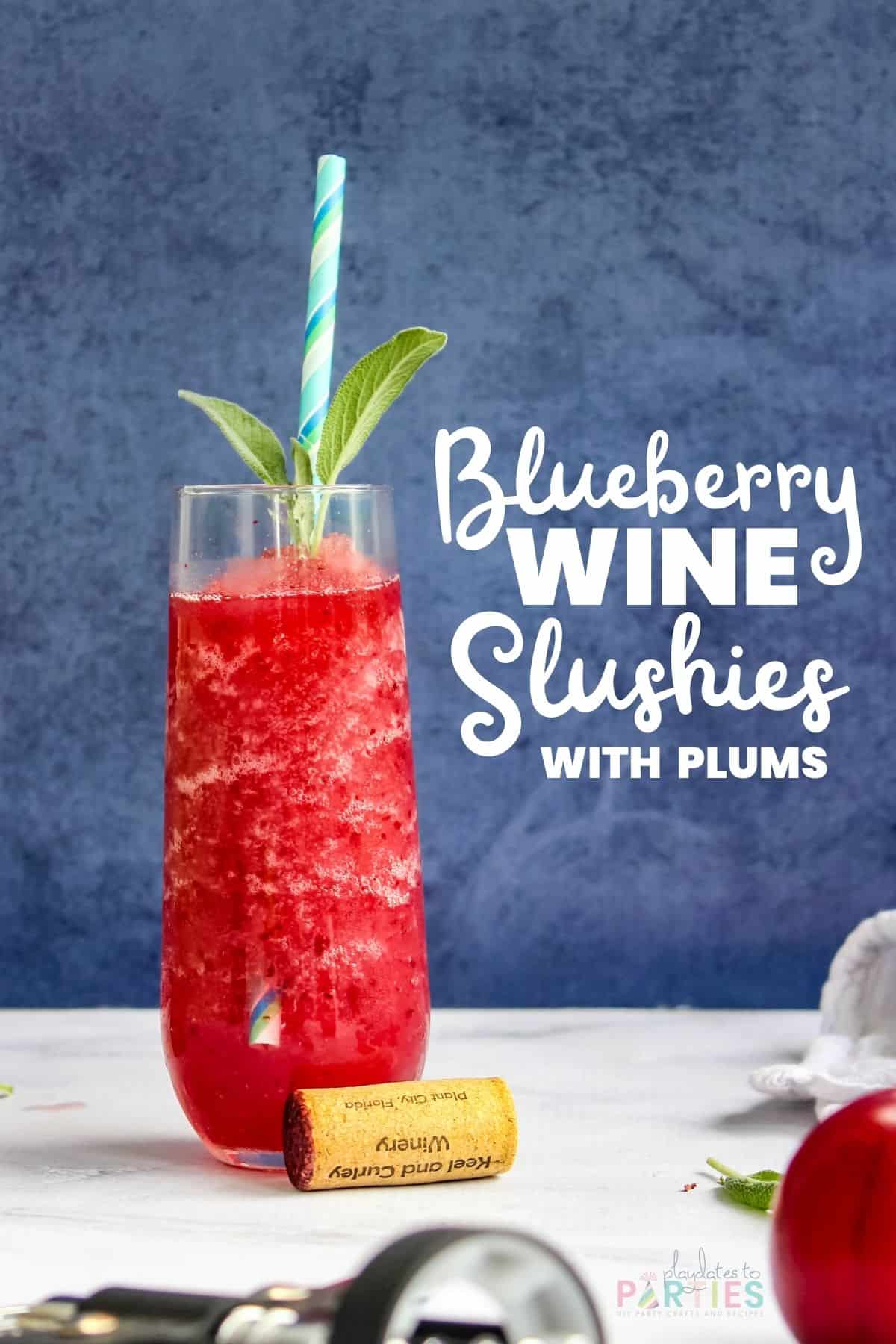 For many people, summer means hours spent outdoors in extreme heat. Or worse, wasting the day inside trying to escape the heat under an air conditioner at full blast.
So, what are you supposed to do when you're trying to beat the heat at the beach this summer?
Sure, there's always the go-to margarita, mojito, daiquiri, or Pina colada. But when you're looking for something just as fruity and fun, but a bit lighter…wine slushies are the perfect treat.
They're easy to pull together in just a few minutes,
With only three ingredients, you don't need to spend a fortune, and
It's fun to experiment with different wines to see how they change the final flavor of your slushie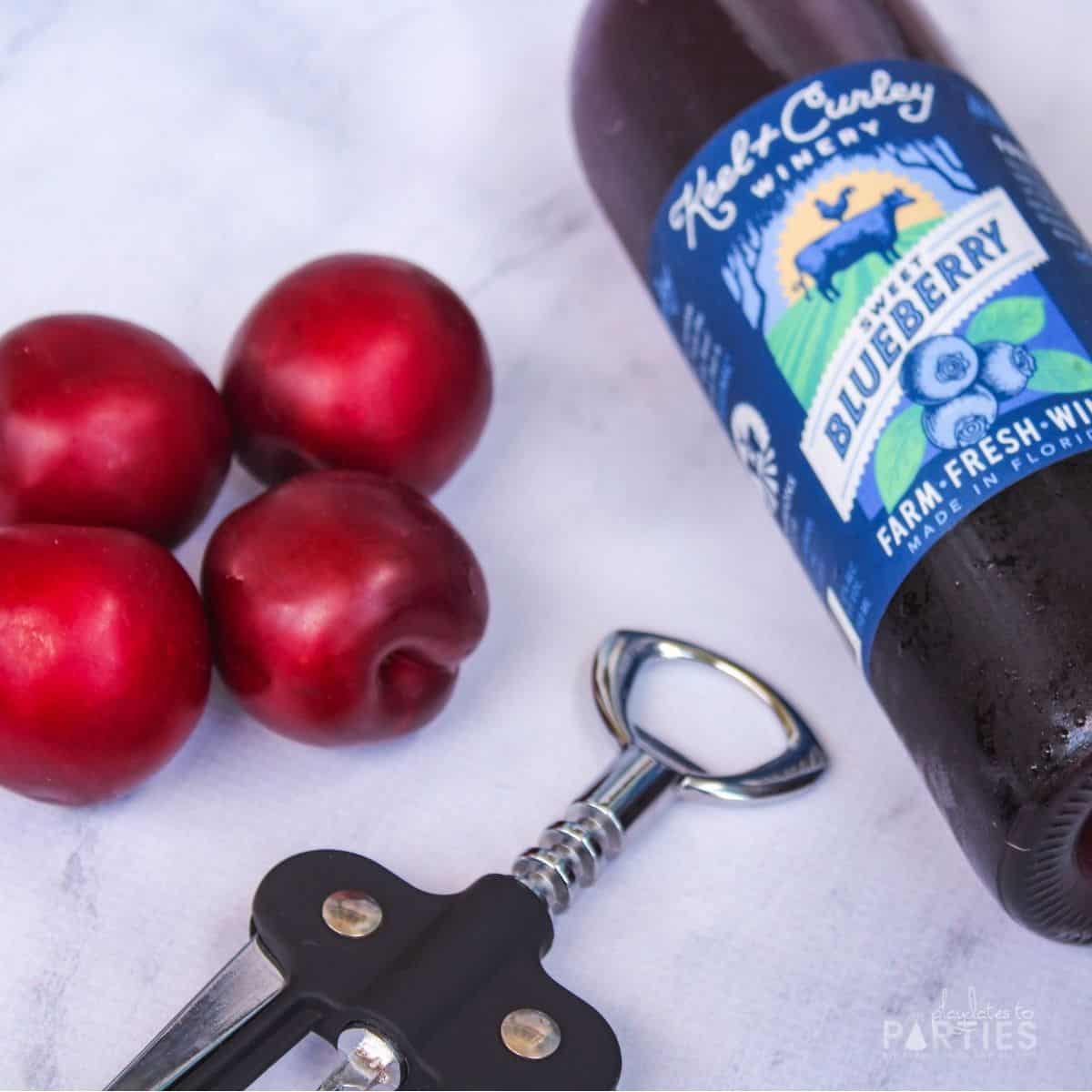 What You'll Need:
Ingredients:
Blueberry Wine (nothing too sweet)
Black Plums
Ice
Supplies:
Blender or Food Processor
Small knife
Wine Bottle Opener
A Few Notes about the Ingredients/supplies:
Blender vs. Food Processor: Our all-in-one blender system is perfect for these blueberry wine slushies. If you're making a big batch with the whole bottle, then you'll want to use a full sized blender. But if you just want to make one or two slushies for an afternoon treat, then a food processor will do.
I've even used my smoothie cup to make a single serving.
Make sure your black plums are fully ripe. They should give a little, but should not feel like they're about to burst if you squeeze them.
Step-by-Step Directions:
To make things even easier for you, I created a simple photo guide below. For all measurements and a more detailed guide, check out the recipe card at the bottom of this page.
Step 1 – Cut the plums into wedges. No need to be precise. You don't even need to remove the skins. (hooray for easy!)
Step 2 – Add all the ingredients to a blender or food processor.
Step 3 – Blend until smooth
Step 4 – Pour into glasses and garnish with fresh herbs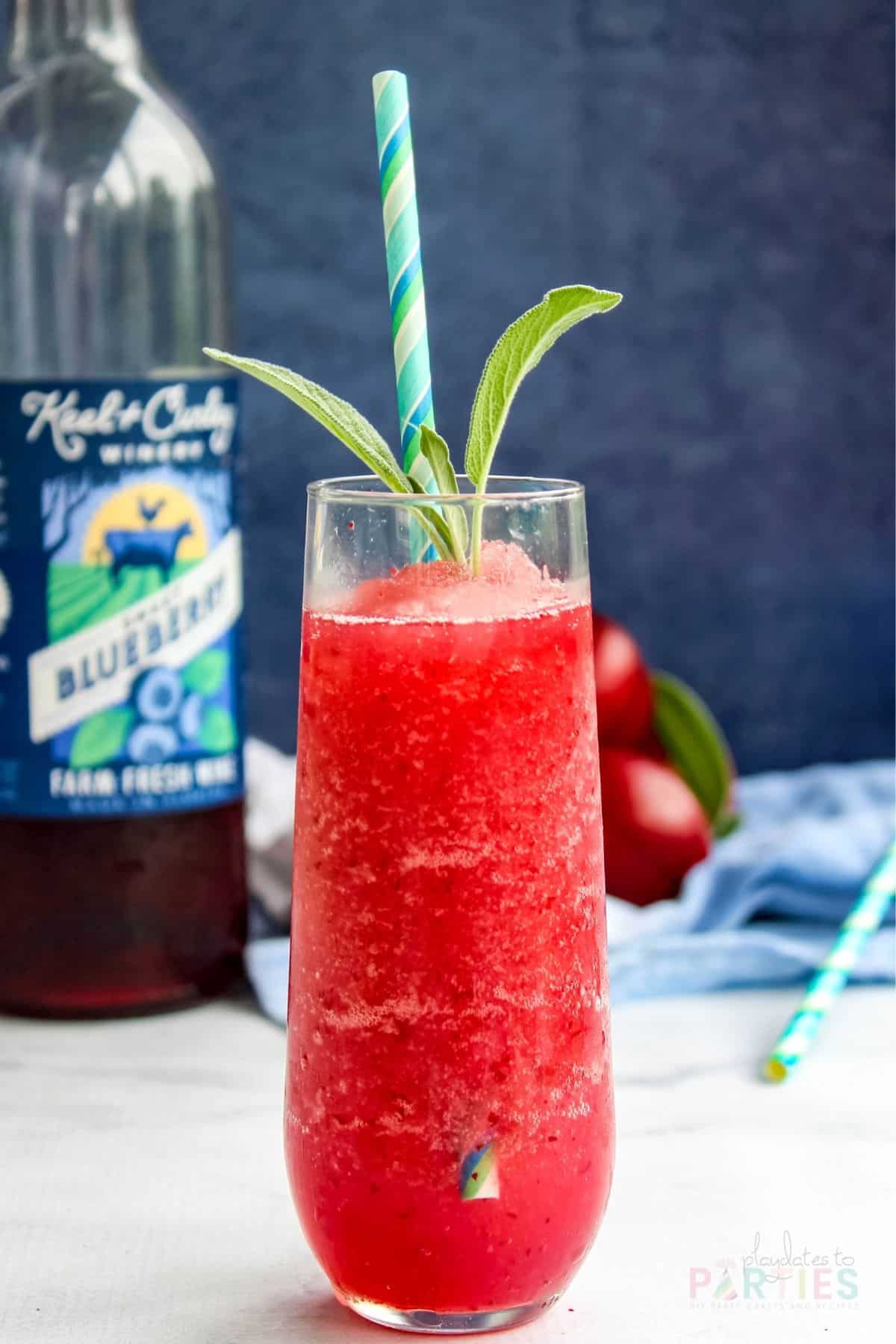 Essential Tips:
Don't skip these tips – read them before mixing to avoid any potential mistakes.
Don't Use Wines that are too sweet
Yes, fruit wines tend to run on the sweet side in general. But I tested this with a few wines and found that you want a semi-sweet wine more than a true dessert wine.
Seriously…I've got a pretty big sweet tooth, but when I tested it with a blueberry moscato, it was even too much for me. (To quote one of my test-subject friends: "It tastes like a popsicle")
Don't skip the herbs
It sounds odd to pair something so sweet with fresh herbs, but the earthiness from the herbs (my favorite is basil) perfectly compliments the sweetness of the blueberry wine slushie.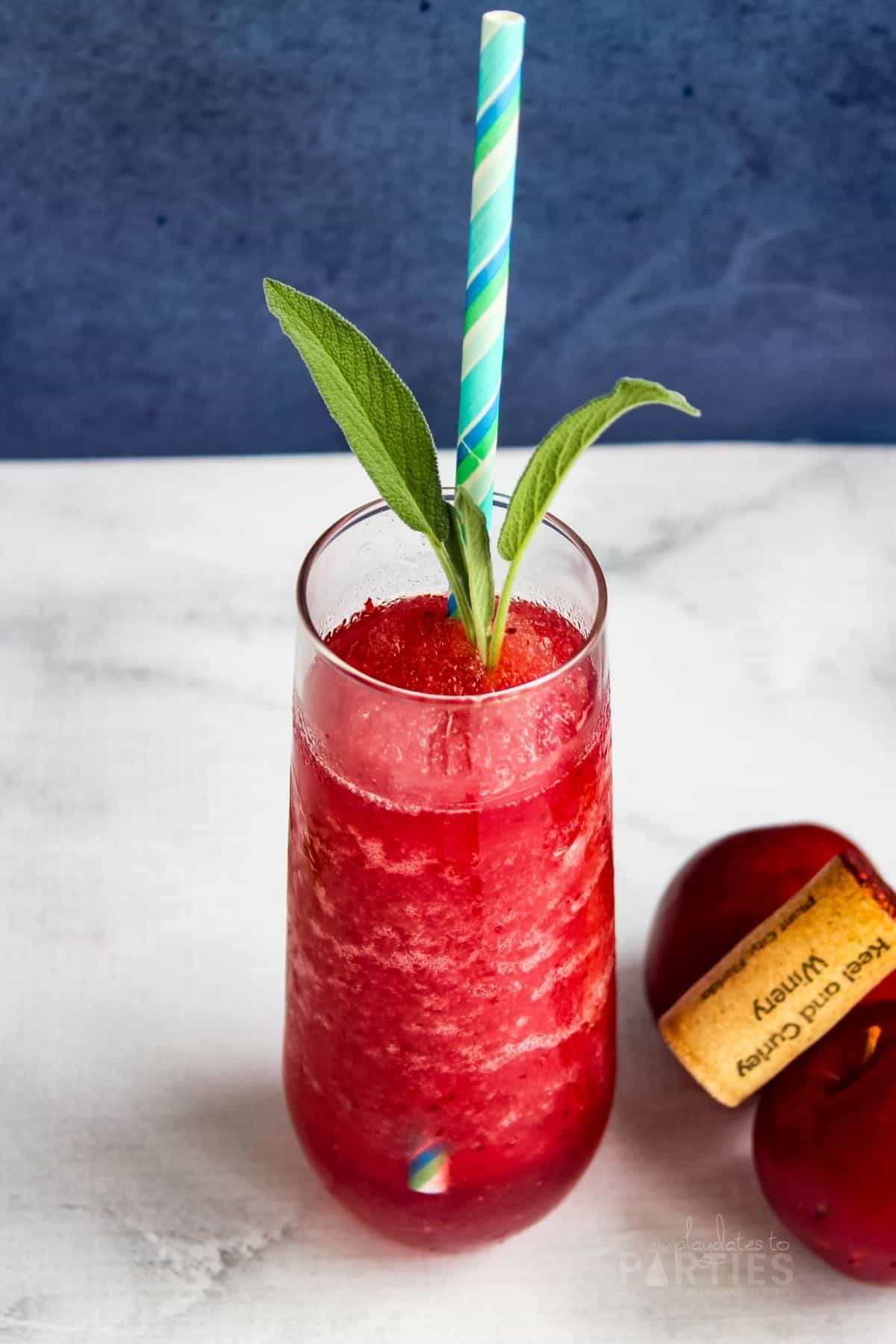 FAQs:
What's the Best Kind of Wine to Use?
The photos here were taken with Keel & Curly Sweet Blueberry wine…which isn't as sweet as some other fruit wines. I've also enjoyed this recipe with Sweetland Cellars Zinberry wine.
But, as mentioned above, I do not recommend using an extra sweet moscato-style fruit wine.
Can You Make it ahead?
This isn't the kind of large batch recipe you make hours in advance and just leave the pitcher out for guests.
That said, you can very easily slice the plums in advance, so all you have to do is blend everything up right when you get back from the beach.
Mine ended up too sweet, what can I do to fix it?
The best thing to do in this situation is to add more ice to your slushy. In a pinch you can also try adding a squirt of fresh lemon or lime juice to each glass to counteract the sweetness.
What kind of glasses should I use?
No need to fuss, we used stemless champagne flutes for these wine slushies, but feel free to use a regular wine glass, or even a water goblet if that's what you have on hand.
If you liked my blueberry wine slushie with plums, you're going to love my quick and easy mimosas and my white wine holiday sangria. They're both simple recipes that are perfect for any special event.
Or you can check out my other cocktails and drink recipes here.
Yield: 6 large slushies
Blueberry Wine Slushie with Plums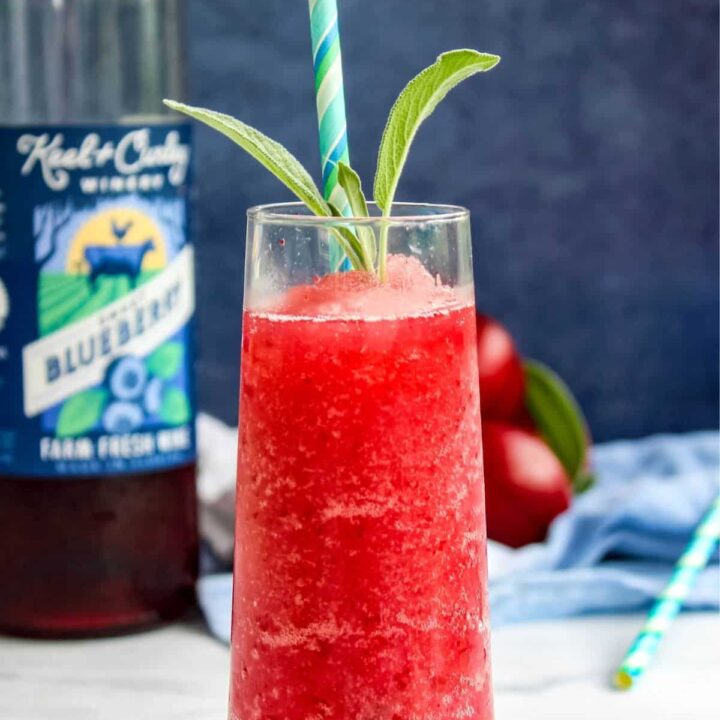 This frozen blueberry wine slushie with plums is a refreshing and simple treat for a hot summer day. And the best part is that it's so easy you can start enjoying this sweet treat in just a few minutes!
Ingredients
4 cups cubed ice
4 ripe black plums
1 bottle blueberry wine (see notes)
Basil, sage, or rosemary to garnish
Instructions
Slice black plums into 8 sections, discarding the pit. You don't need to remove the skin.
Combine 4 cups of cubed ice, sliced plums, and 1 bottle blueberry wine in a blender.
Blend on high for 90 seconds, or until the mixture is smooth.
Pour into tall glasses and garnish with fresh herbs. Serve immediately.
Notes
Don't forget, the step-by-step photos and FAQs in the recipe post are there to help you if you feel stuck at any point.
Semi Sweet blueberry wines work best with these. In our tests, we found that blueberry moscato wines tended to be too sweet.
If your slushie is too sweet, you can add a bit more ice or a squeeze of fresh lemon or lime juice
If you want to prepare in advance, slice your plums and store them in the refrigerator early in the day. Then all you have to do is throw it all in the blender when you're ready.
To make a smaller batch (2-3 large servings):
Mix 2 cups cubed ice with 3 sliced black plums and 2 cups blueberry wine in a blender. Pour into glasses and garnish with fresh herbs
Recommended Products
As an Amazon Associate and member of other affiliate programs, I earn from qualifying purchases.
Nutrition Information:
Yield:
6
Serving Size:
1
Amount Per Serving:
Calories:

42
Total Fat:

0g
Saturated Fat:

0g
Trans Fat:

0g
Unsaturated Fat:

0g
Cholesterol:

0mg
Sodium:

2mg
Carbohydrates:

6g
Fiber:

1g
Sugar:

4g
Protein:

0g
__________________________________ The nutrition information provided above is estimated using an automated calculation system. Actual nutrition will vary depending on brand and measurements used in your recipe. To obtain the most accurate representation of the nutrition information for any given recipe, you should calculate the nutritional information using the actual ingredients you used in your recipe.
---