Setting up a shaving cream slide with your kids is such a fun activity for a hot day! You definitely want to add this to your summer bucket lists and pool party ideas.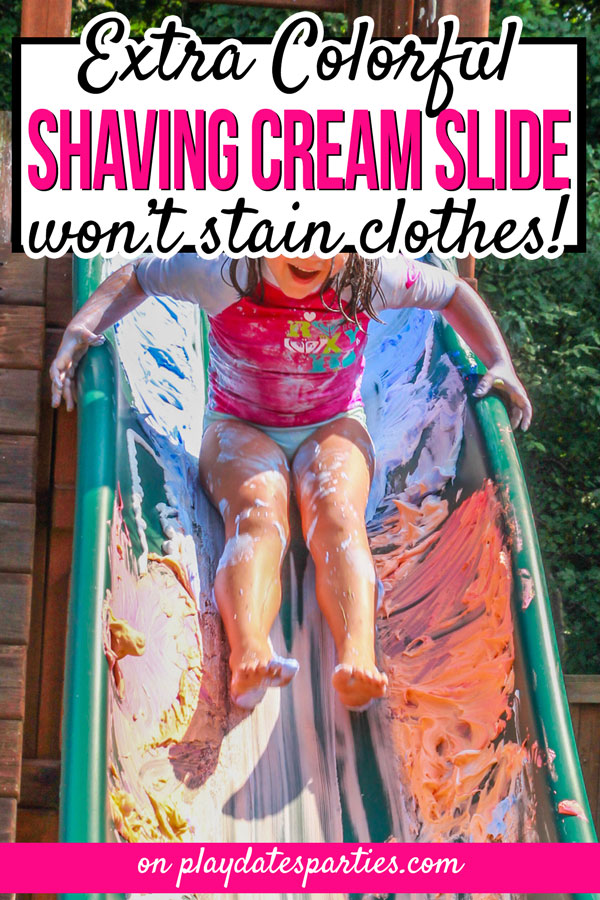 Does your swing set sit in your backyard unused too?
When the husband and I had our swing set installed, we had wonderful dreams of the kids playing happily while we grilled a tasty dinner and watched from the sidelines.
Those really were beautiful dreams.
Sure, at first the kids would spend lots of time outside with their swing set. But now, they play for a minute or two (five minutes tops) and then complain it's too hot outside.
Shaving Cream Play
So one hot day, I figured it was time to test out an idea I've been thinking of as a fun summer play date activity…the shaving cream slide.
I love using shaving cream as a play activity for kids. There's just so much potential! You can make fake snow in summer, shaving cream slime, paint with shaving cream, and so much more.
But I wanted to mix that fun up with the most expensive piece of unused play equipment we have: our swing set.
And why not mix in some paint with it too? To keep things washable (and affordable) we mixed leftover tempera paint into our shaving foam. The colors weren't as vibrant as we'd hoped. But at least it washed out!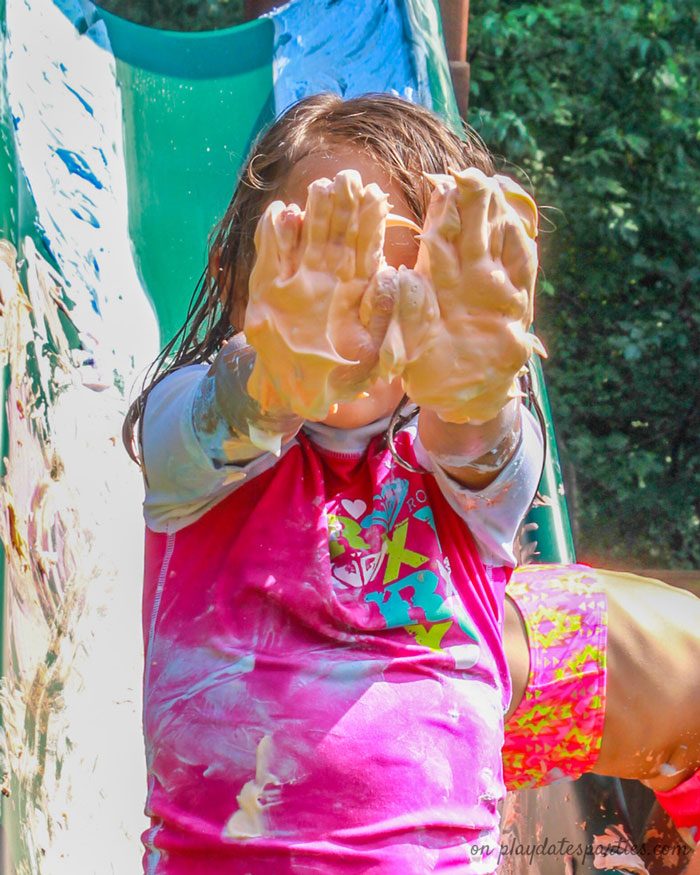 RELATED>>>7 FUN SHAVING CREAM CRAFTS TO DO WITH YOUR KIDS
How to Set Up Your Shaving Cream Slide
Directions: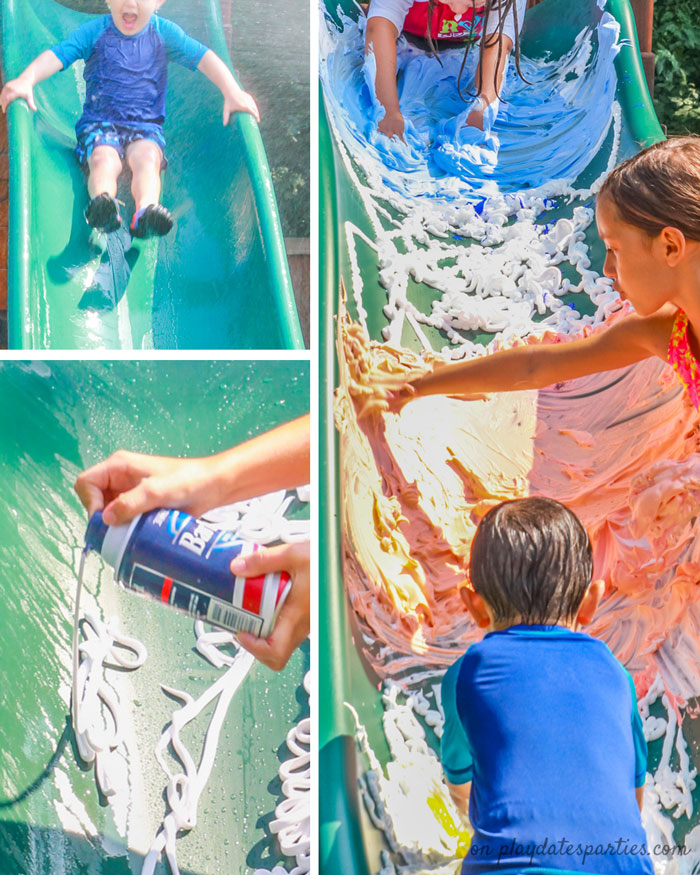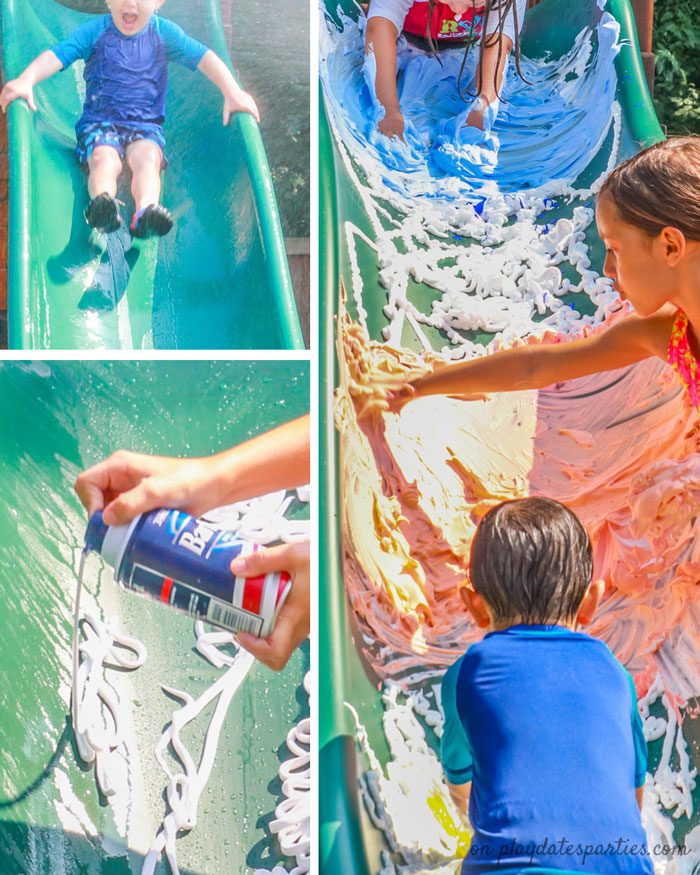 1. Wet down your slide with a hose
Our oldest loved being in charge of this. And the younger kids had fun sliding down while she sprayed.
2. Spray Shaving Cream All Over the Slide
Get a kid to help you and squirt a bunch of shaving cream onto your slide
3. Mix in Some Paint (Optional)
Squeeze a good bit of paint onto the shaving foam and mix it in.
Since we have three kids, and only had primary colored paint left, I let each kid take a section. That way they all got to enjoy the satisfaction of squishing some shaving cream between their fingers. Fuuuuuun!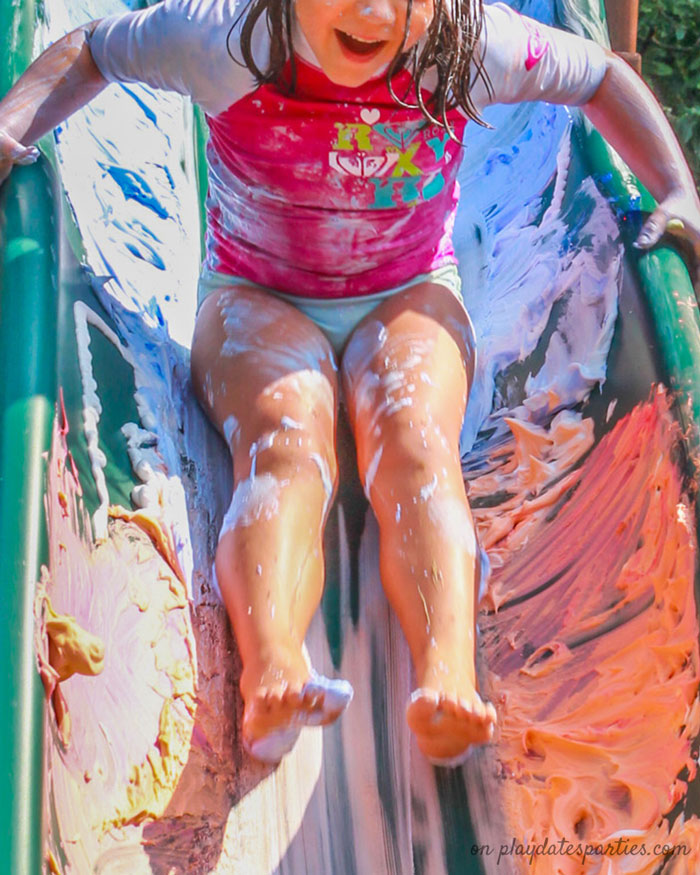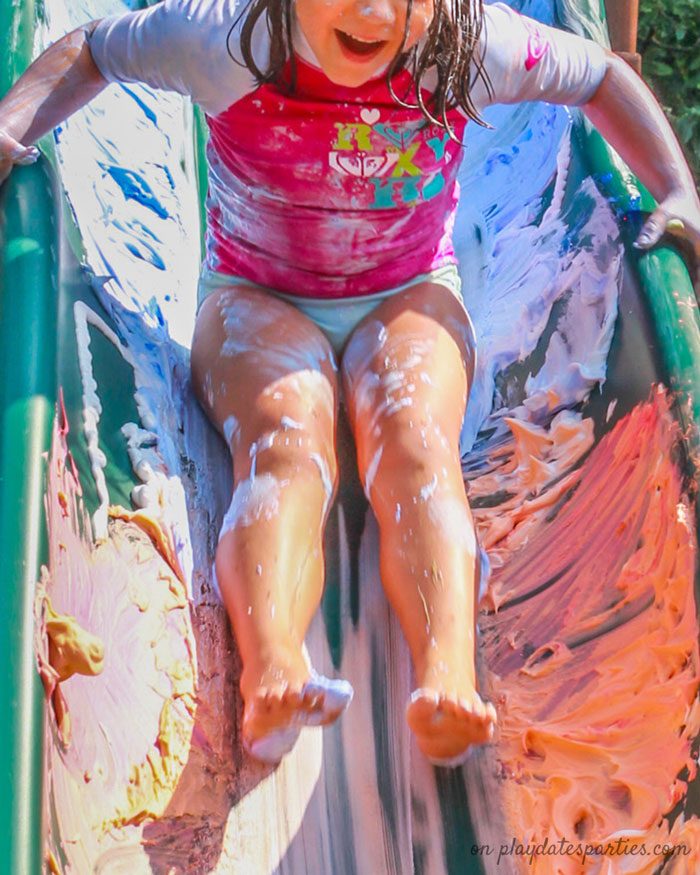 4. It's Time to Slide!
Now it's time for the fun part…sliding down! Most of the shaving cream gets pushed down the slide, so the kids will have to get in there and push it back into the center after a couple turns. But it's still a lot of fun.
Tips (and a Couple Warnings):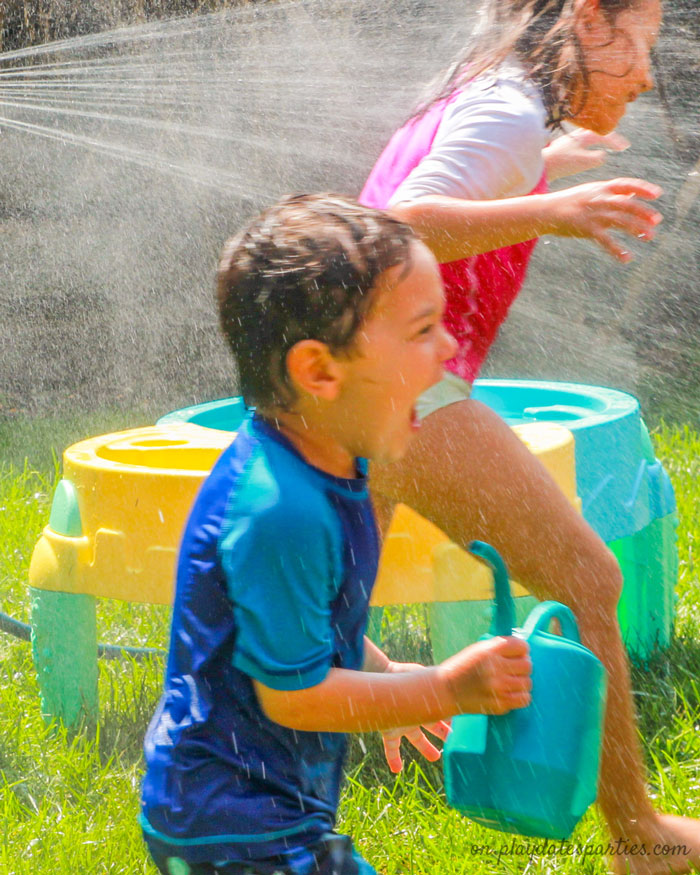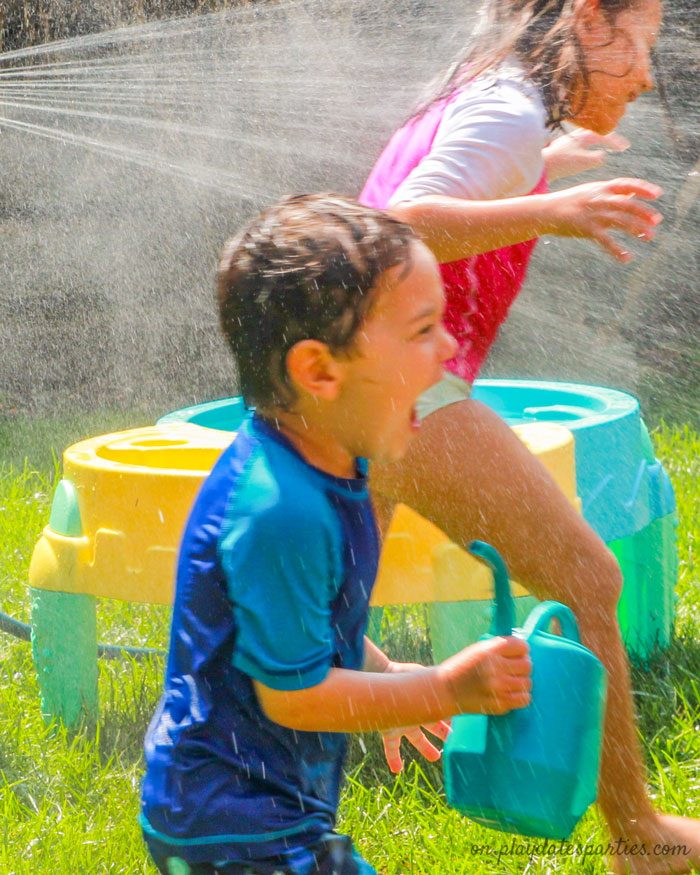 Tip #1: Have Clean Water Nearby
Everyone will be covered from head to toe in shaving cream. (Can we consider it an outdoor bath?) We had the toddler's water table nearby, which was a great place for the kids to rinse their hands every now and then.
Tip #2: Keep an Extra Can of Shaving Cream Nearby
After a few trips down the slide, the shaving cream gets pushed off. We ended up adding a little bit more every now and then, so don't use up all your shaving cream with the first run.
Tip #3: Make Sure You Use the Right Paint
Tempera paint is perfect for adding color because it won't stain the kids clothes. I even got some on a nice dress and it washed right out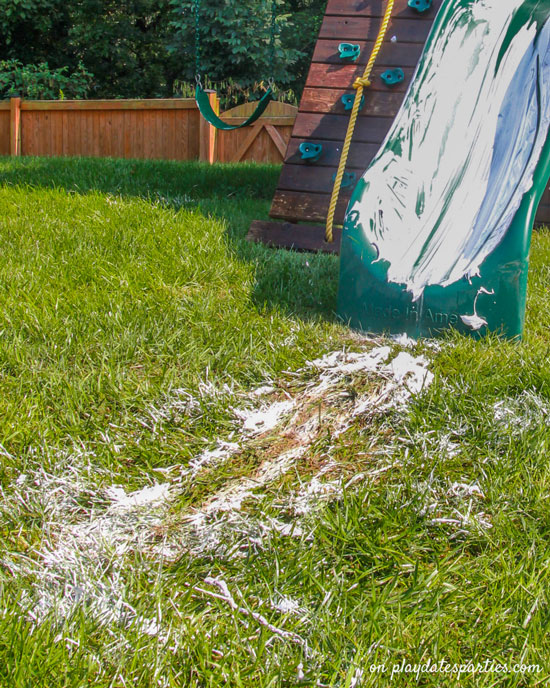 Warning #1: It's Super Slippery!
The slide gets so slippery, it's crazy. That's all part of the fun, but it makes the kids really fly off the end. Our kids were sliding a good four feet from the end of the slide!
The kids got a few bumps and bruises as a result of hitting the hard ground, but they were troopers about it. And the 3 year old didn't complain at all.
For that reason, I don't recommend using a full size slide like this for toddlers. See my adaptations below for some ideas that would be better for the little ones.
Warning #2: Watch out for your grass
After our experience with shaving cream snow, I was worried that the soap it would ruin our grass. Thankfully, the grass perked back up within a day or so.
Still, if it's a concern of yours, you can always add a small tarp to the end of your slide.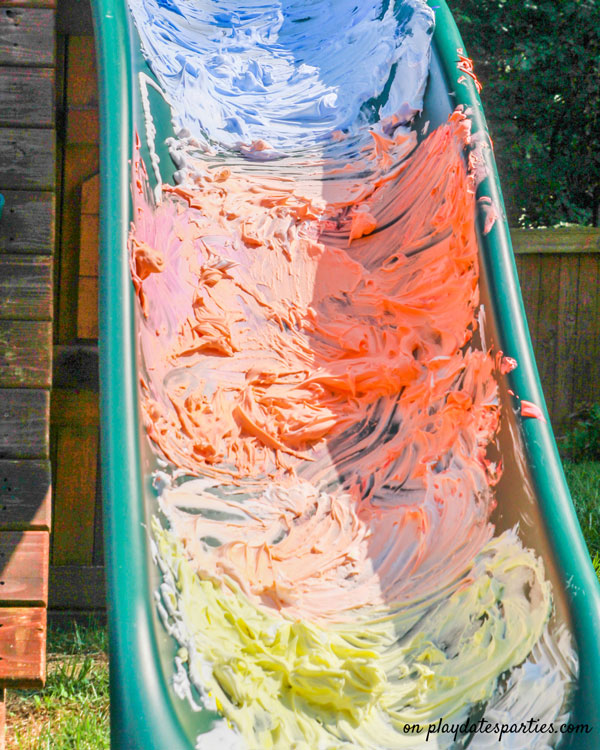 More Ways to Make a Shaving Cream Slide
If you don't have a swing set or slide, or if you're worried about how slippery a full slide might be, try adding shaving cream to any of these:
Slip and slide
A tarp or plastic tablecloth (for a cheap slip and slide)
Water blobs
A small play pool that doesn't have water in it
Now It's Your Turn
Between getting everything set up and actual play time, our kids spent several hours playing with our shaving cream slide. They loved having something different to do, and I loved that they were actually playing on their swing set!
If you've got a swing set that goes unused all summer, or if you just want to get the kids outside more, this is a really fun option. Plus, adding paint to the shaving cream gave the activity a little bit more for the kids to do, and made it just a bit more fun.
How do you get the kids outside during the summer?
What's your favorite way to play with shaving cream?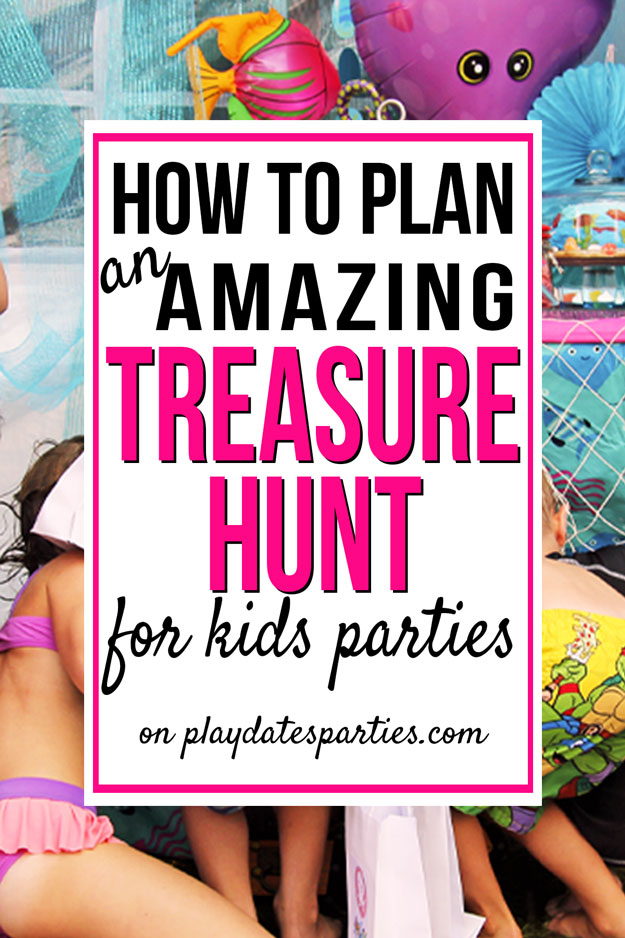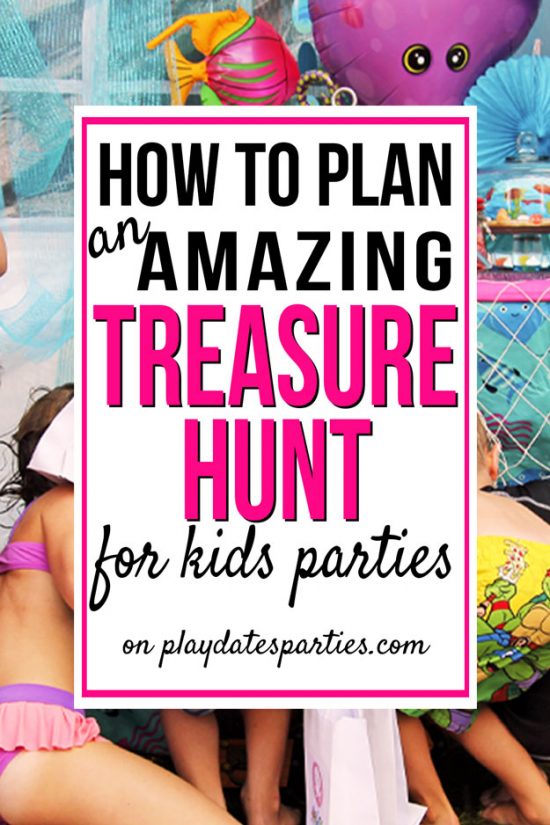 Don't forget to subscribe via
Bloglovin, Facebook, and Twitter,
to get more updates!