Are you looking for fun (but not overwhelming) Harry Potter party ideas to celebrate an upcoming birthday? Keep reading for creative DIY ideas any muggle can pull together.
A little Background:
My oldest has been a Potterhead since she was a kindergartener.
As she's gotten older, she's developed a close knit group of friends who share her love for everything Harry Potter.
So, when I told her that for her 10th birthday she could have her very first sleepover, we decided to go hog wild and turn our basement into Hogwarts' great hall.
It was a ton of fun, and full of magical surprises.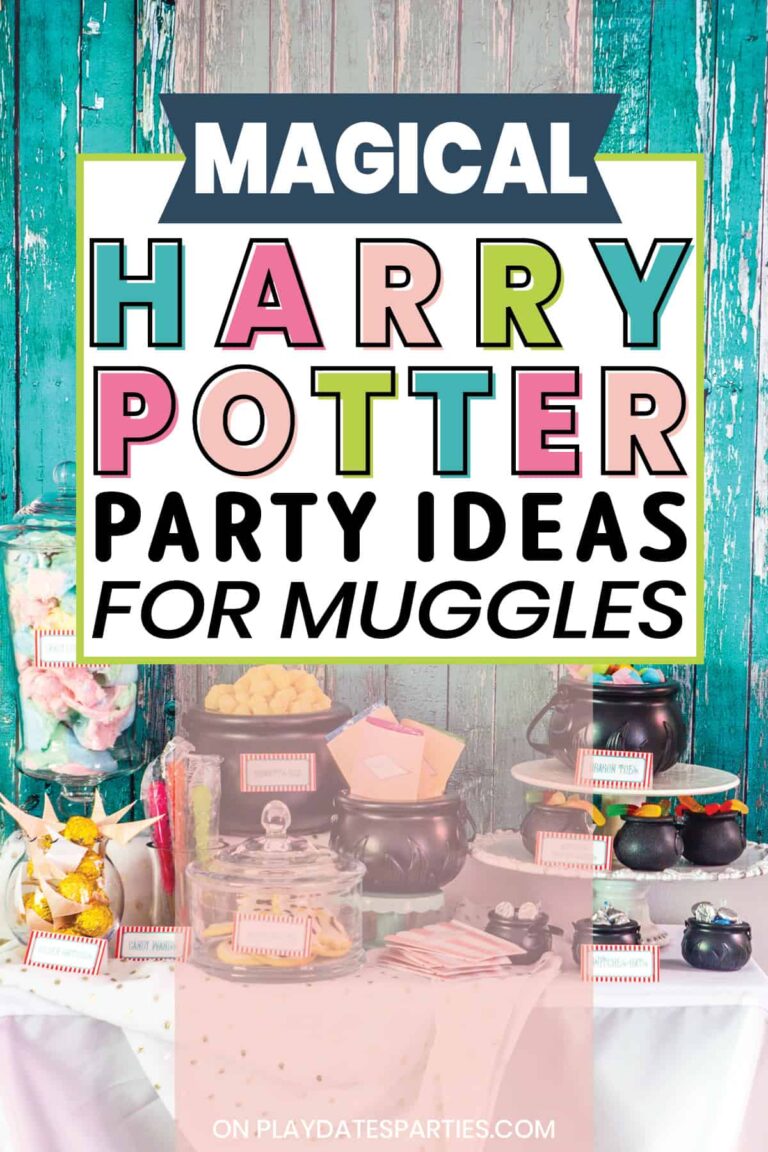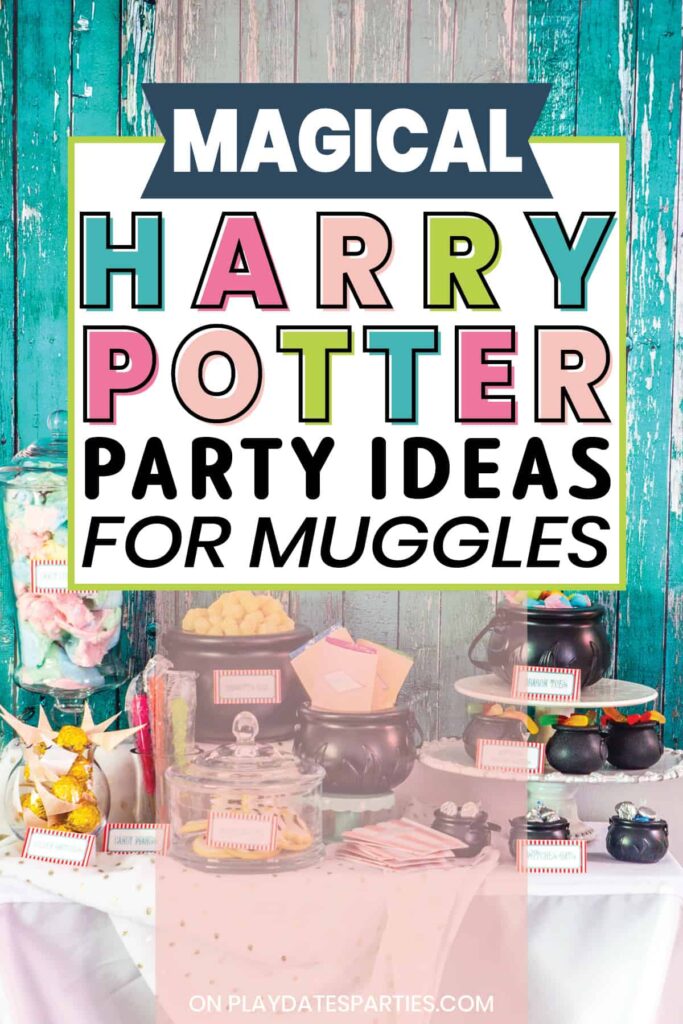 Now, to add a bit of context, we were on vacation with my family until a week before the party. So I didn't get the chance to go as wild and crazy as I would have liked.
About the Party:
What Was the Occasion? 10 year old birthday sleepover
How Many Guests Did You Have? Birthday girl + 2 guests
What time of Day? 8pm
Where Was the Party Held? Our Basement
Harry Potter Party Decorations
There's an abundance of Harry Potter party ideas out there, so we could have gone completely bonkers with the decorations.
…but, like I said, we had only a week to prepare. And during that week I was also taking care of all three of our kids.
So, yeah. We kept it simple.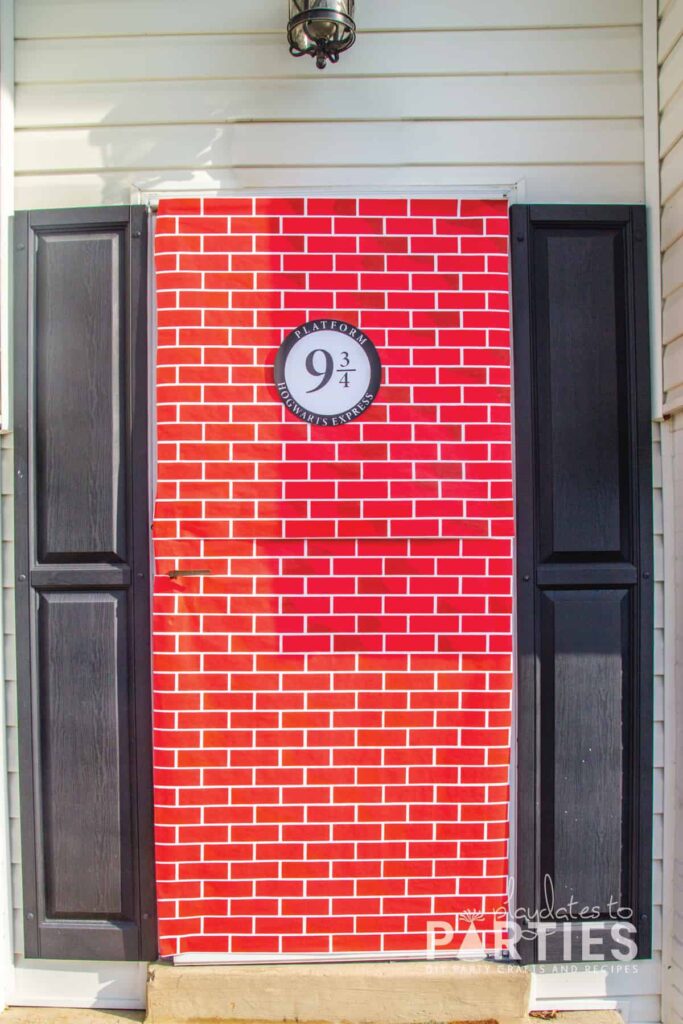 Platform 9 ¾
To set the tone, our front porch transformed into the barrier at platform 9 ¾.
But instead of painting or cutting out dozens of bricks, I simply covered the front door with brick style bulletin board paper.
Add a slit for the door handle, and a sign that says Platform 9 ¾ and you're all set.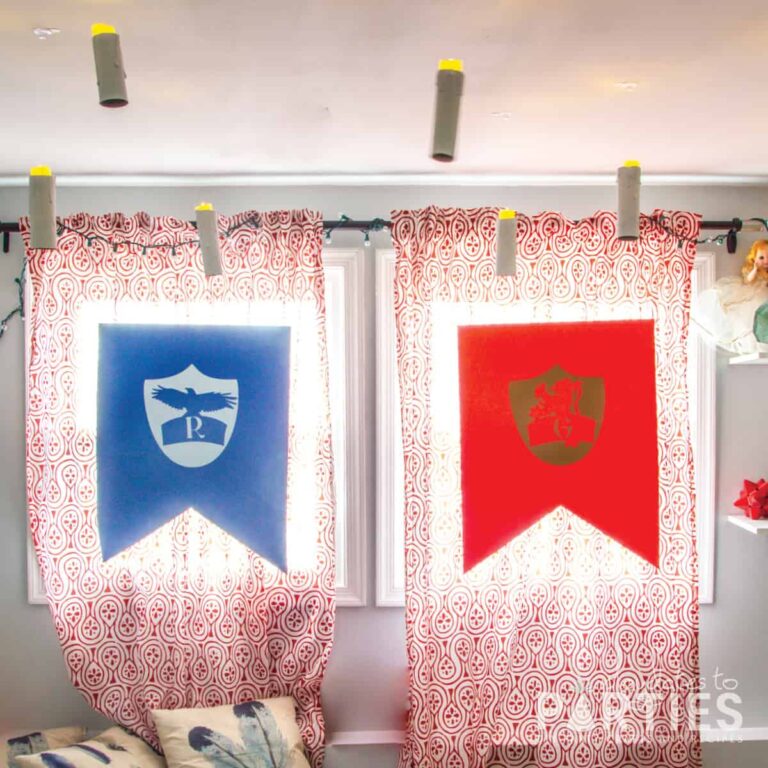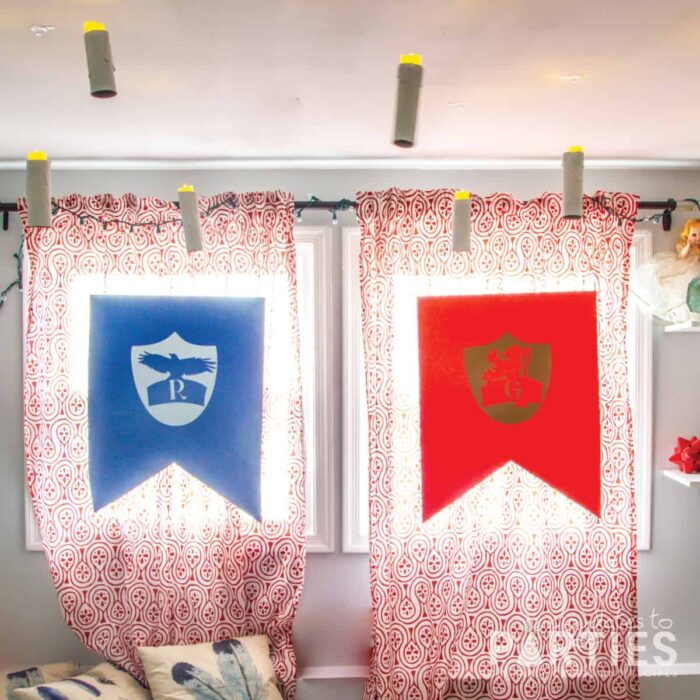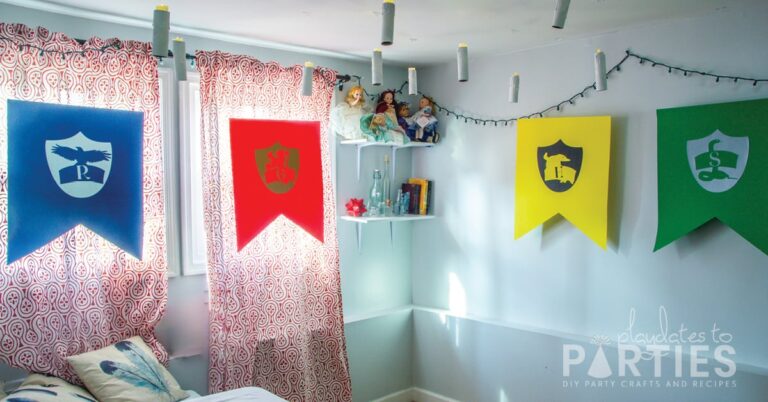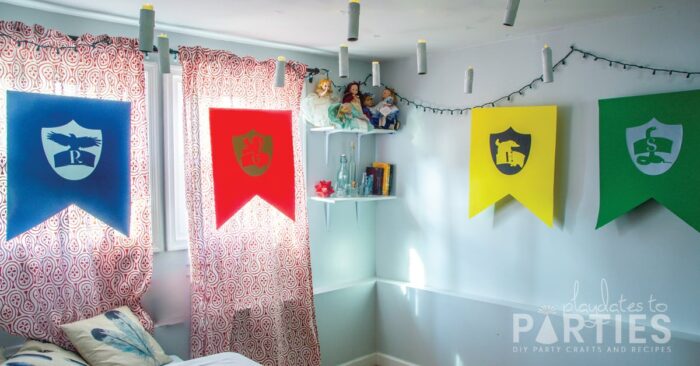 House Banners
The common area in our basement is a pretty long and narrow space. And at one end is a set of benches and a card table.
So, we decided to let the kids sleep down there, and make the space feel like the great hall, with DIY house banners and floating candles.
The house banners were pretty simple to make. I used my Cricut to cut out a logo for each house and glued them onto poster board that had a triangle cut out of the bottom.
The hardest part was hanging the banners, but a dowel rod on the back of the banner and some fishing line made all the difference.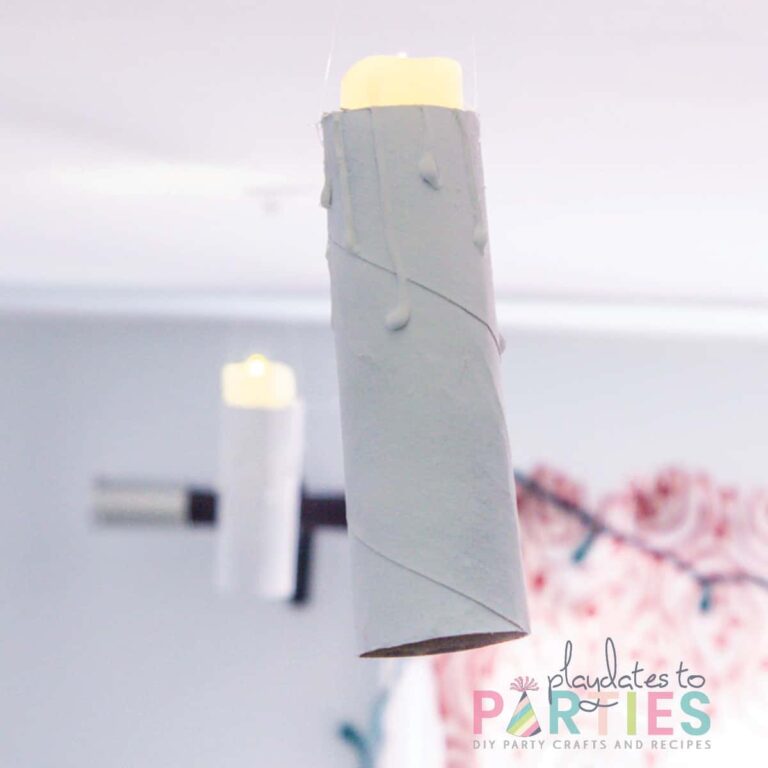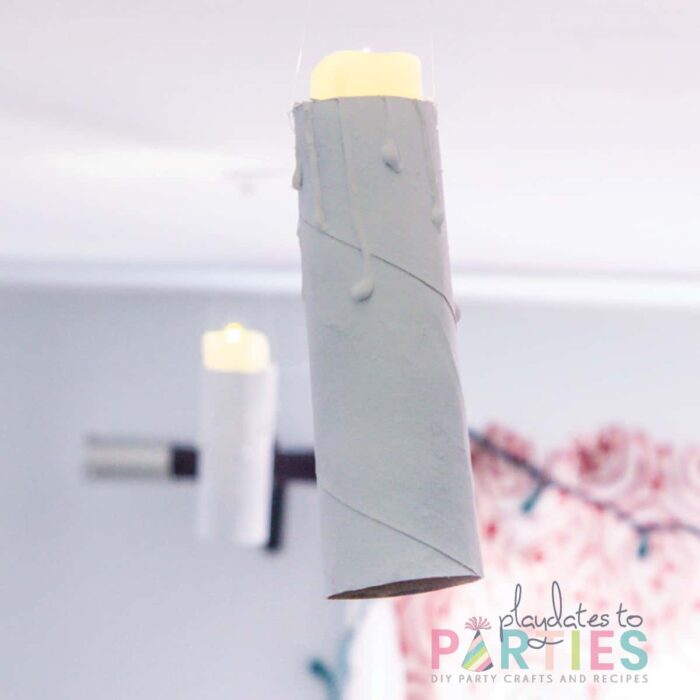 Floating Candles
We've all seen the floating candles made from toilet paper and paper towel tubes. They're such a fun touch, and not too expensive either.
That said, they were more difficult to make than I expected. LED candles are all different widths, as are paper towel and toilet paper tubes!
It took a little bit of rigging, but we made it work…and a year later we still have the candles floating in our basement.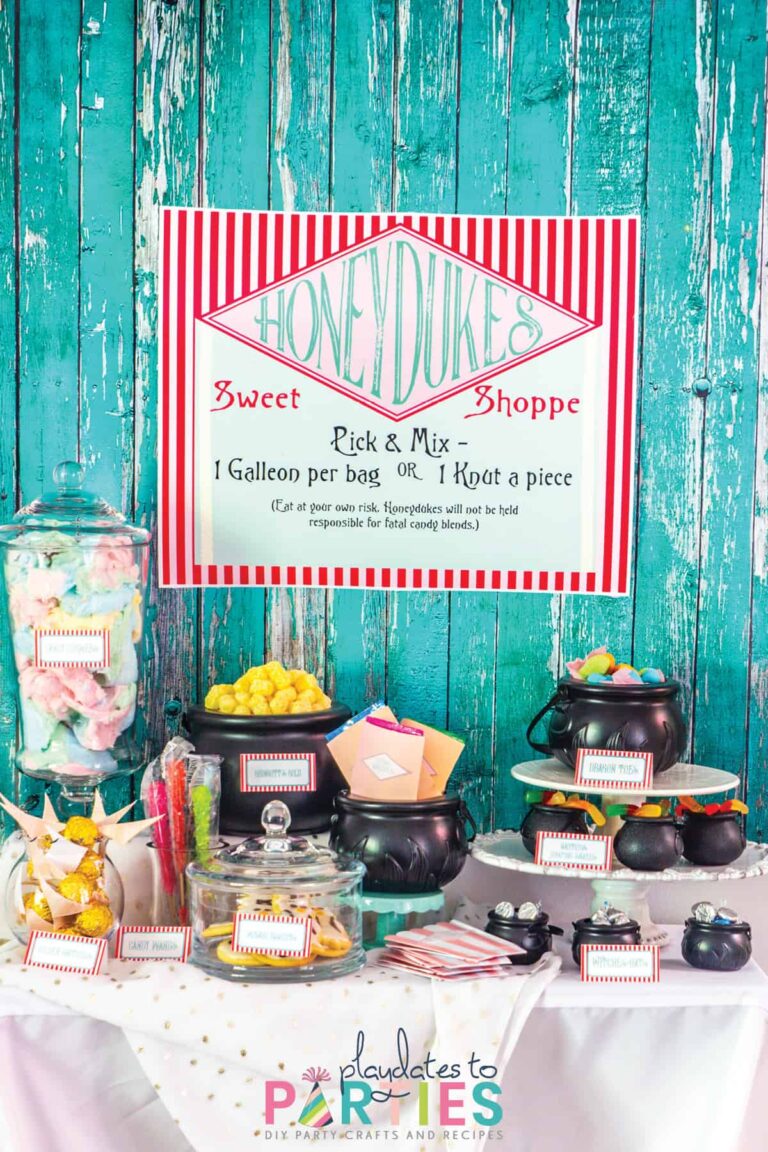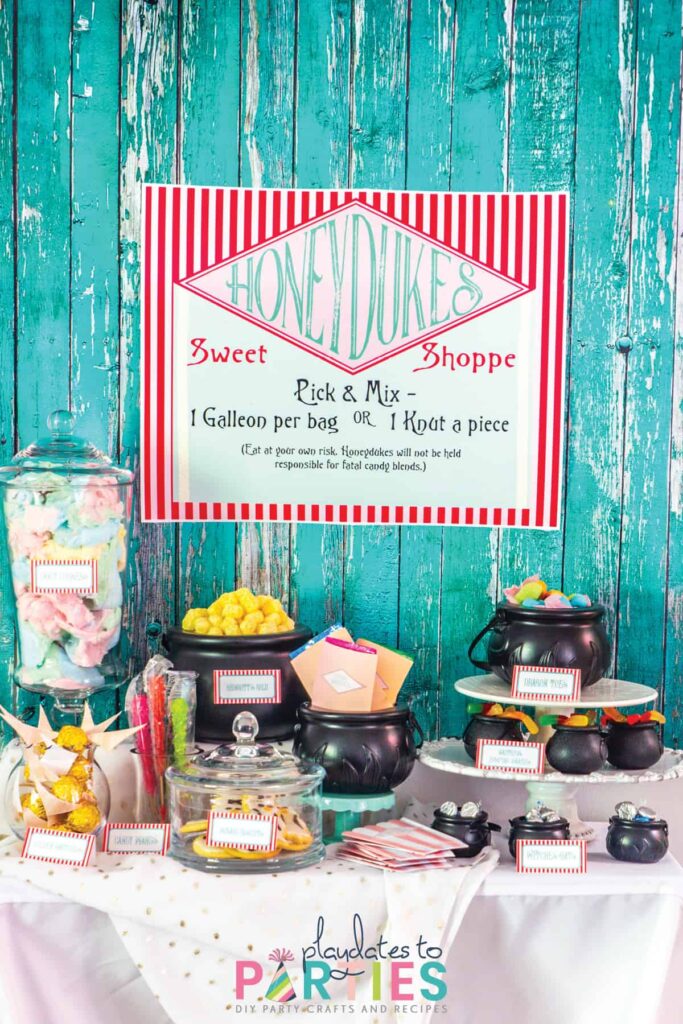 Honeydukes Candy Buffet
Now, what's better for a sleepover than a candy buffet?
I admit, it was a lot for three girls. But my other kids took the opportunity to help themselves too. 🤣
The wood backdrop is actually one of my photography backdrops, and matched the Honeydukes colors perfectly. (though it was a little heavy for hanging)
From there I used plastic cauldrons in a variety of sizes, and every apothecary jar and clear vase I could find.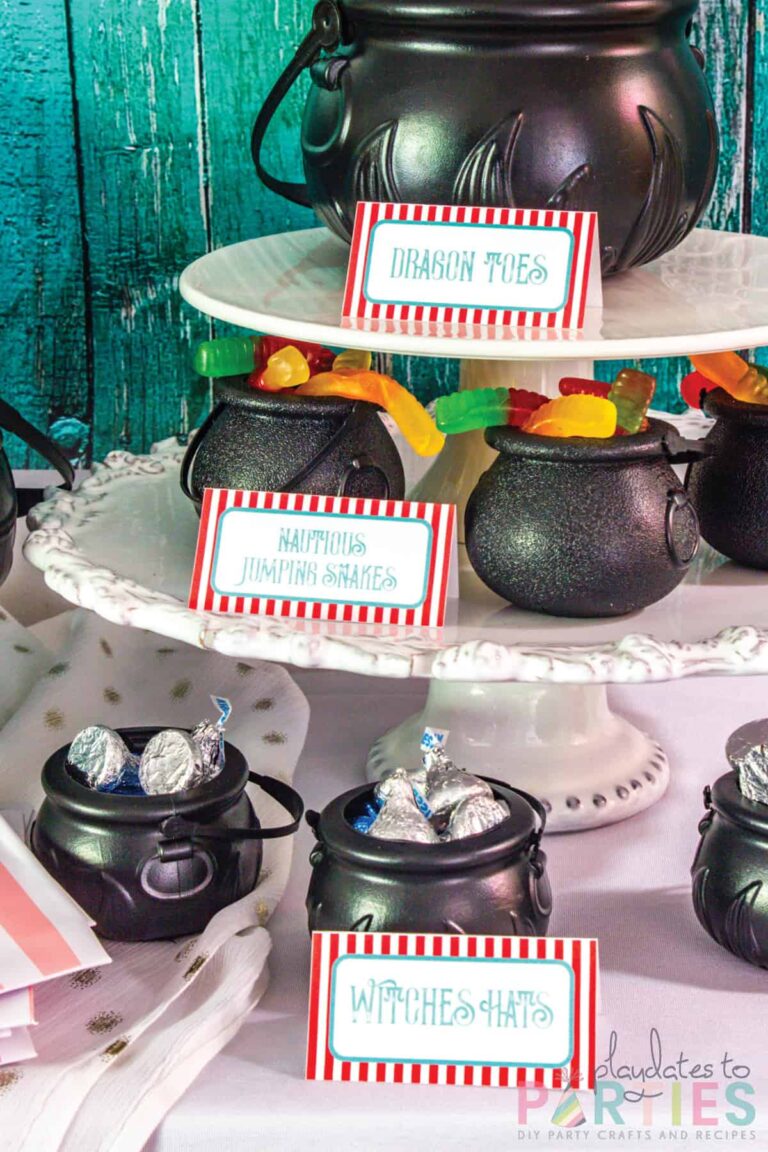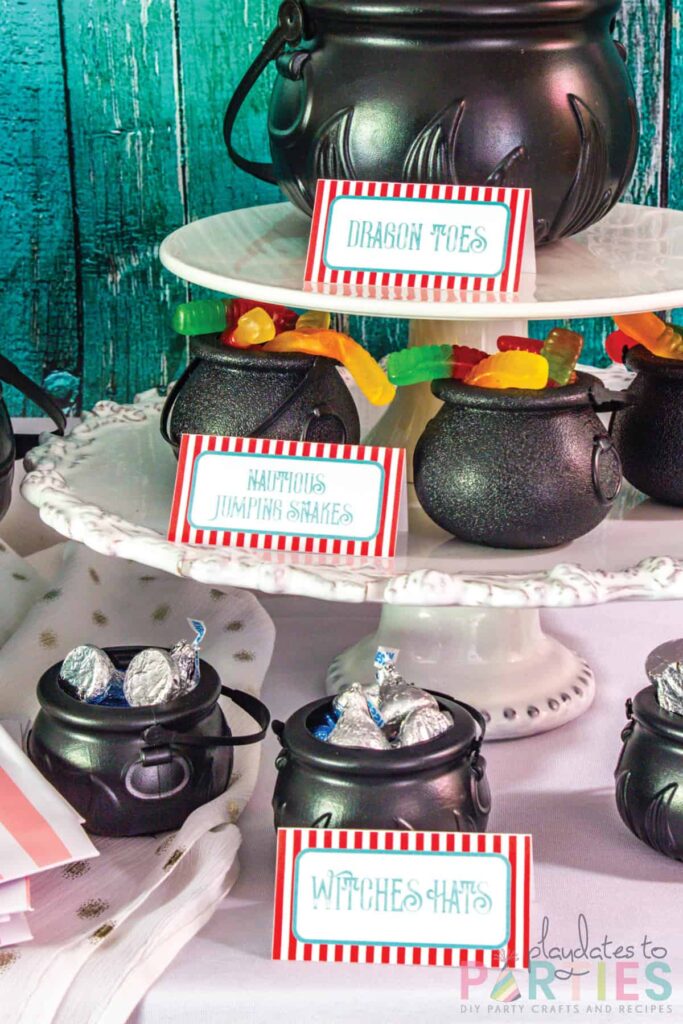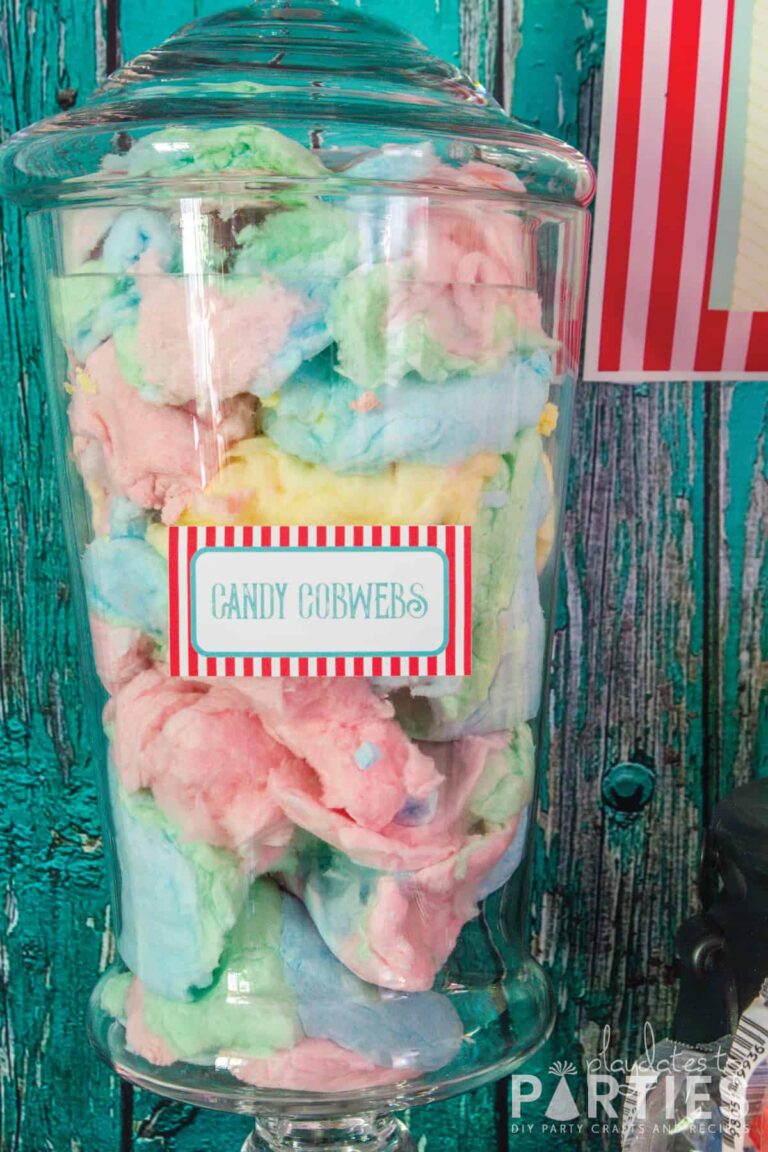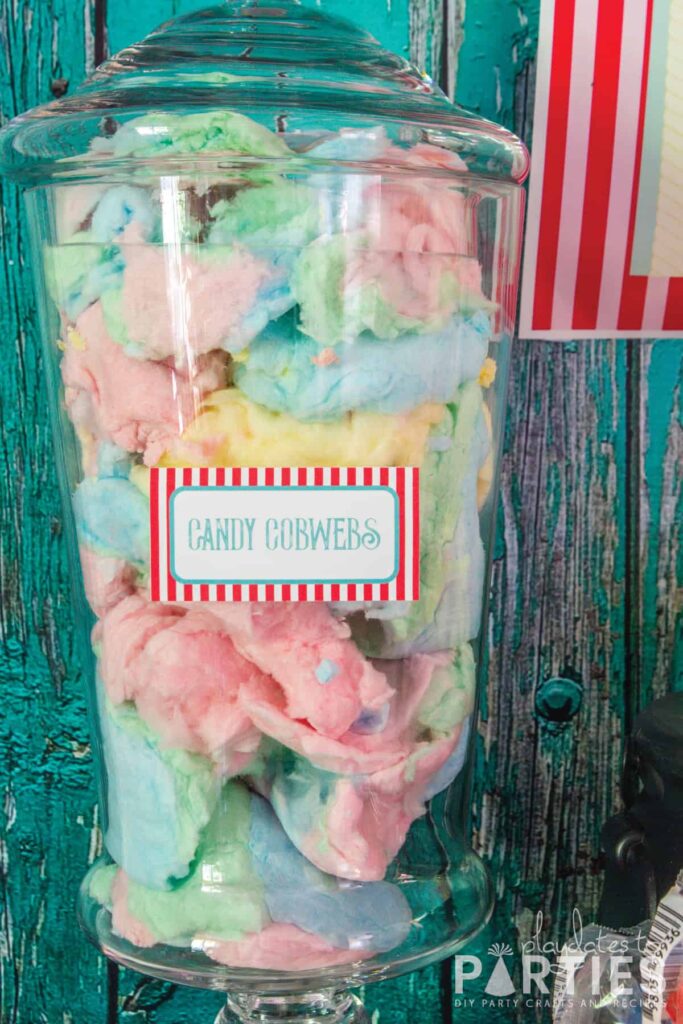 Best of all, most of the food came from the Dollar Tree, so it was a smaller quantity than it seems, and didn't break the bank either:
Candy Cobwebs – Cotton Candy
Gringott's Gold – Yellow Cheese Balls
Fizzing Whizbees – Pop Rocks
Dragon Toes – Candy Peanuts
Nautious Jumping Snakes – Gummy Worms
Wizard Biscuits – Owl Shaped Sugar Cookies
Candy Wands – Rock Candy Sticks
Witches Hats – Hershey's kisses
More Harry Potter Party Food Ideas: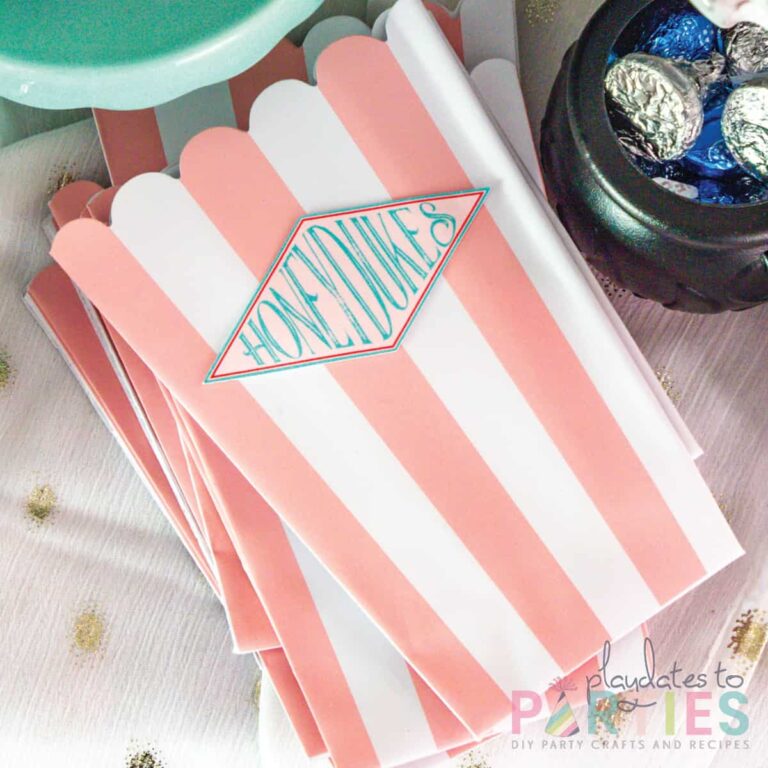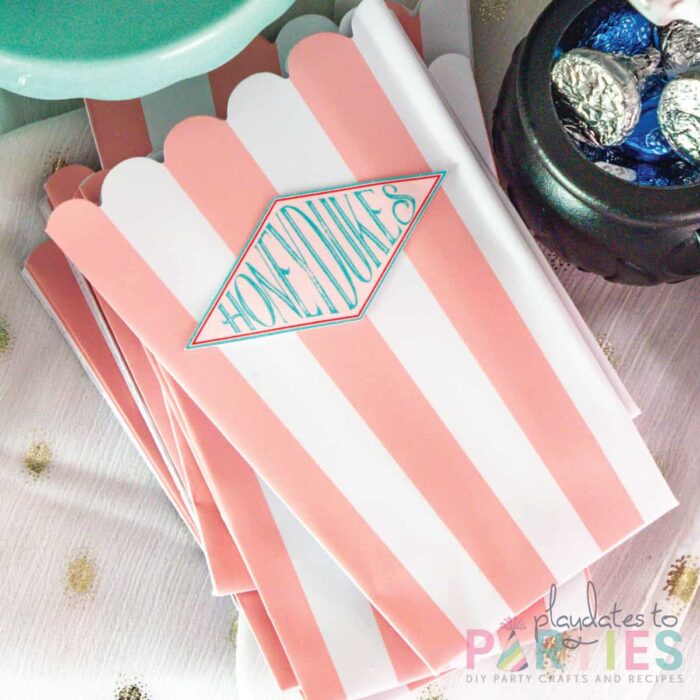 Party Games and Activities
Being 10-year-olds the kids were pretty good at entertaining themselves. A few of the things they did include:
Played Harry Potter Trivial Pursuit,
Watched at least two of the Harry Potter movies,
Pretended to be witches and wizards with their wands
…and just generally hanging out.
There were no tears or hurt feelings. We're lucky that they're such a great group of kids.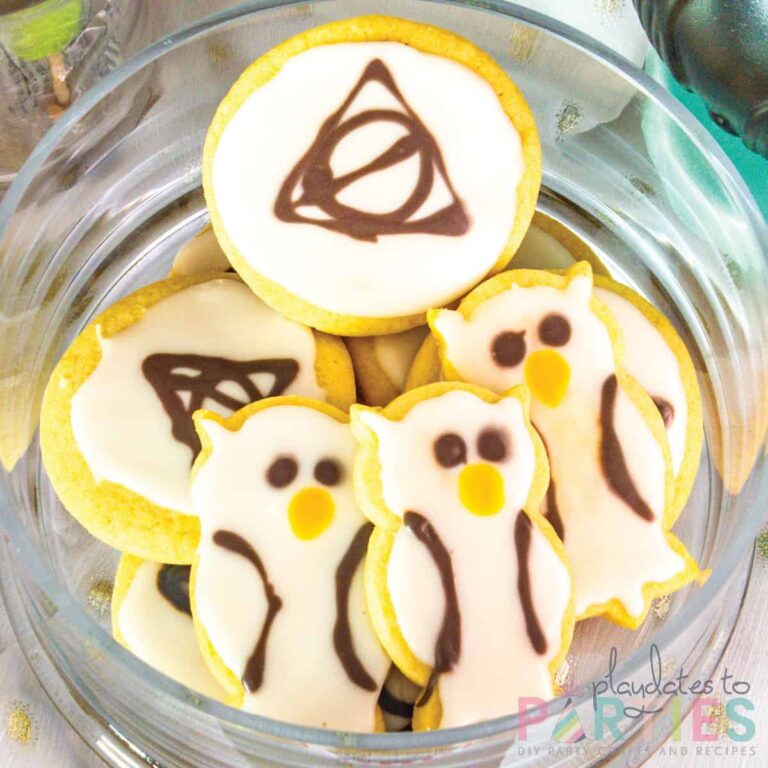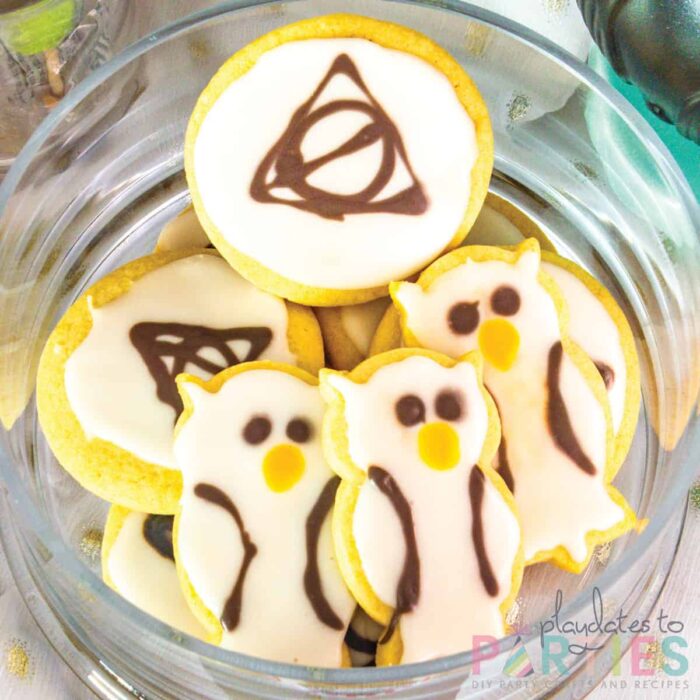 What is the one part of the party setup that you loved the most, and why?
The Honeydukes buffet was definitely my favorite. If you can't tell, I love bright colors, and all those treats just look so pretty.
It also helps that I love to create designs like the sign and the table tent cards.
Where can I find the same supplies you used?
Poster board from Dollar Tree
Candies from Dollar Tree
Popcorn boxes from Dollar Tree (with custom Honeydukes labels)
Floating Candles – DIY using these LED candles
Honeydukes sign (coming to the shop soon!)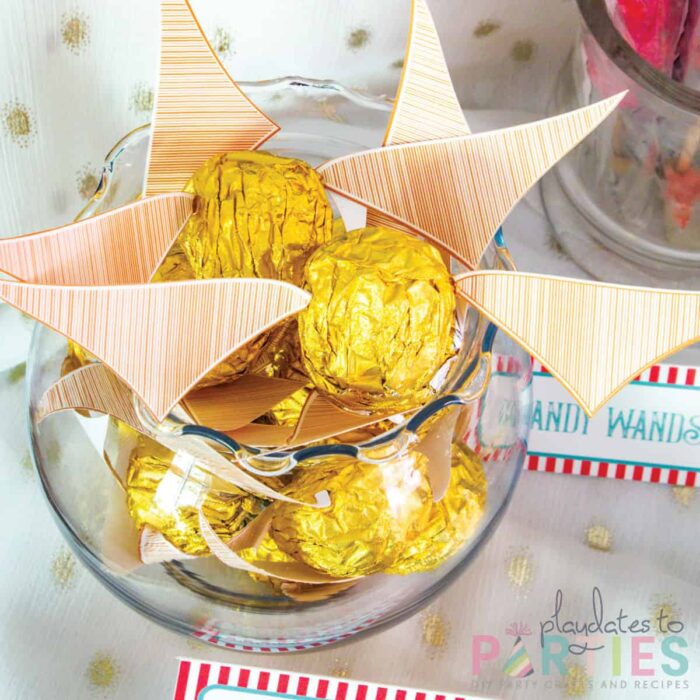 More Party Themes to Consider
Now It's Your Turn
It may not be the biggest Harry Potter party, with a slew of homemade cloaks and gourmet everything. But the most important thing is that the three Potterheads that were there, all had a blast.
Hopefully you were inspired to keep your Harry Potter party ideas simple too. After all, parties are first and foremost about spending time with loved ones.
Let me know in the comments section what part you liked most!
---