Follow this easy recipe for reindeer food and top it off with an adorable reindeer food printable and poem. It makes great party favors or preschool gifts!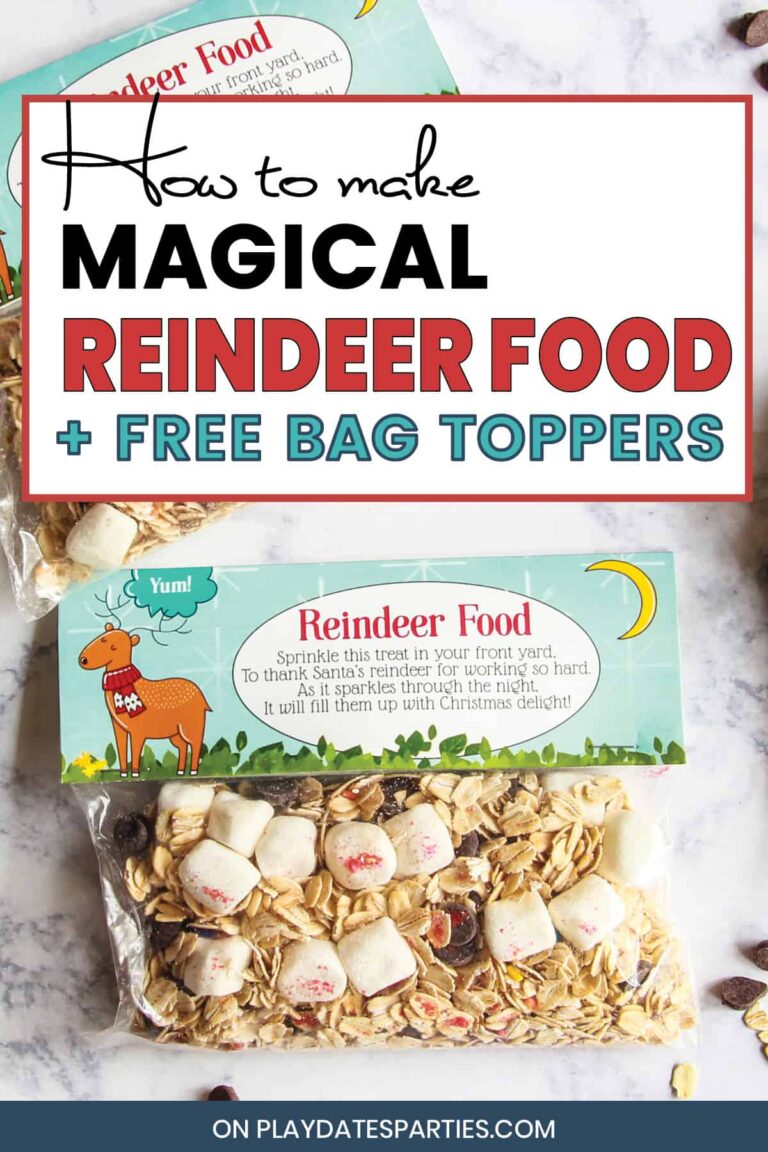 Sometimes it seems like Santa gets all the love.
But around here, we love to take care of his reindeer as well. I mean, they work so hard pulling that sleigh all night long. They deserve a little snack.
But not just any snack will do. No, it has to be special homemade reindeer food!
Our kids love sprinkling magic reindeer food on the front yard on Christmas Eve night. Because we often are traveling back from visiting family, it's our kids' way of telling Santa's reindeer where they are that night.
Reindeer Food Printable with Poem
But why limit the fun to just one home? We thought it was time to spread the Christmas cheer and share this reindeer food printable and poem with you.
Isn't the little reindeer adorable as he enjoys his special treat? What a cutie!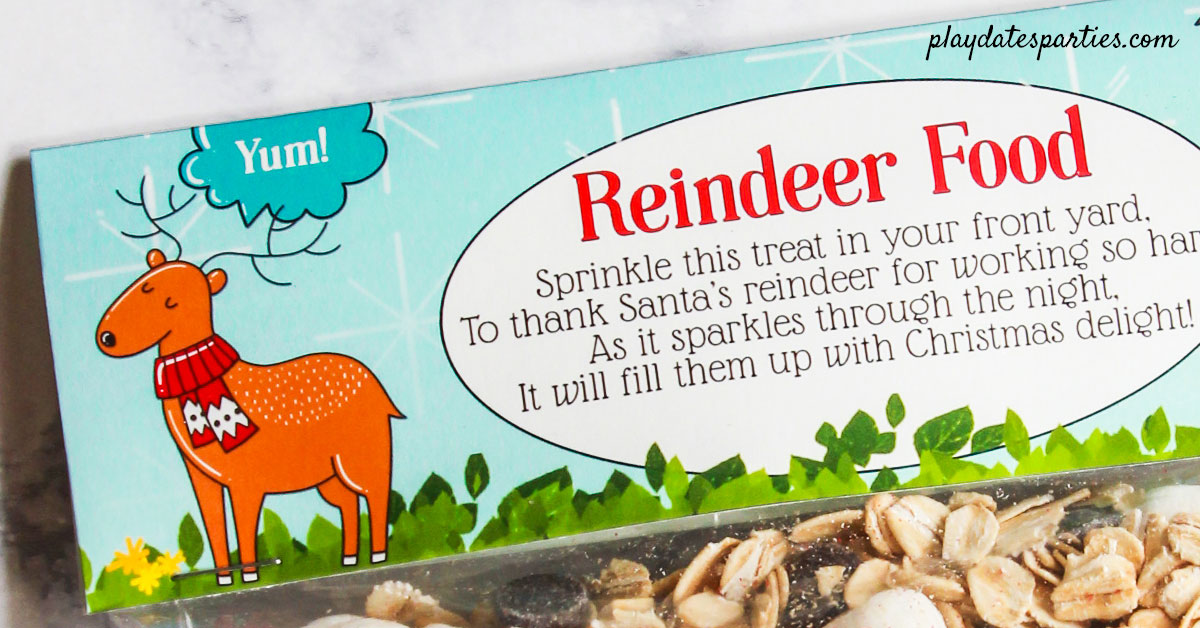 I even added a little poem on the bag topper to help reinforce to the kids that this is an act of kindness. We're doing something special to thank Santa's reindeer…not just making sure that the presents make it under the tree.
Reindeer Food 'Recipe'
Around our house we don't follow a set recipe for reindeer food. After all, it's all about imagination! But we do follow one rule: Always include sprinkles; the sparklier the better! Those reindeer need to see it shimmer from high up in the sky! That said, here's our basic reindeer food 'recipe':
Start with any of these Base Ingredients:
Oats
Cheerios
Chex Mix
Bird seed
Then add your mix-ins:
Chocolate chips
Marshmallows
M&Ms
Chopped carrots or celery
Nuts
Craisins/raisins
Sprinkles or edible glitter
Putting It All Together
Have the bag toppers ready by printing them out on white card stock or matte photo paper. Using a straight-edge cutting tool makes it so much easier to cut a bunch of these. And an embossing tool and ruler will help you make quick creases that look nice and sharp.
Let each child make their own special blend of reindeer food using the base ingredients and the mix-ins. With nine reindeer to feed, there's no such thing as too much.
Once the kids have mixed everything together, you simply pour it into the zip-top baggie, and staple the bag topper to the top.
Perfect for Classmates Gifts
This makes an awesome gift for little kids to hand out to their classmates. I love that it doesn't add any more sugar to their diets or junky toys to their bedrooms.
And if you keep it chocolate and nut-free, it's pretty safe allergy-wise. Just make sure to ask your kids' teachers about allergies first. No one wants to be the parent giving out gifts that kids can't enjoy.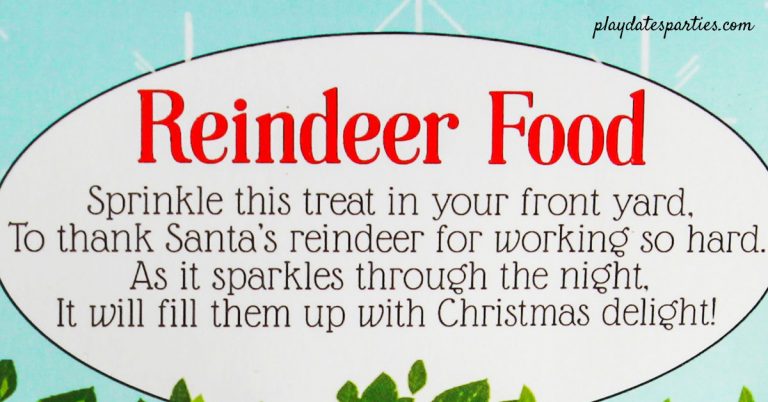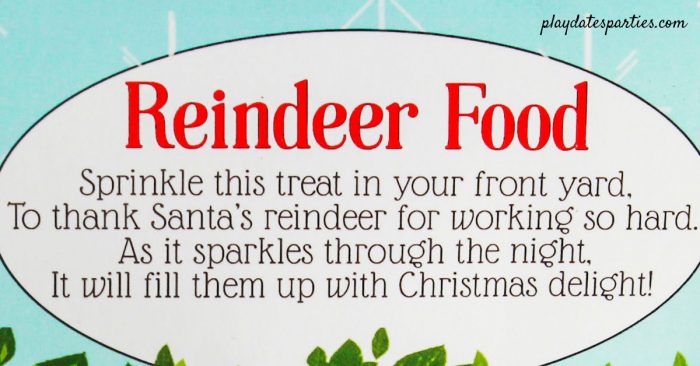 Make it a Party or Play Date Activity
Set up a station at your Christmas party or play date to let kids make their own special blend of reindeer food. Then let them take their reindeer food home as a party favor.
Here are a few tips for your party's Reindeer Food Station:
Cover the table and floor with tablecloths or bedsheets to make cleanup easy. This is definitely one of those party crafts that can get messy fast!
Avoid wet or sticky ingredients.
Keep the ingredients in separate containers so they can be passed around.
I strongly recommend you use shatterproof cups or bowls for your ingredients. You can use disposable ice cream cups to hold individual ingredients, or get creative with items you already have. (We own a set of these stemless plastic wine glasses, which were perfect for our oldest's cupcake decorating party a couple years ago)
Double check your guests allergies. You never know if a kid is going to be allergic to nuts or the other ingredients.
Designate an adult "bag topper" to do the stapling. Alternatively, you can slip the topper into their ziplock bags.
More Holiday Activities for Kids:
Now It's Your Turn
Santa's awesome, but let's not forget those reindeer that pull a heavy sleigh all night long. Grab a bag topper, whatever ingredients you have on hand and let your kids come up with their own mix.
Subscribers can get a copy of the reindeer food printable and poem completely for free. Just add your name and email address to the form below to have it sent straight to you.
Don't want to subscribe? You can also purchase the bag toppers for a small price here in my shop.
What mix-ins would you use to make reindeer food?
How will you use this reindeer food printable and poem?
---